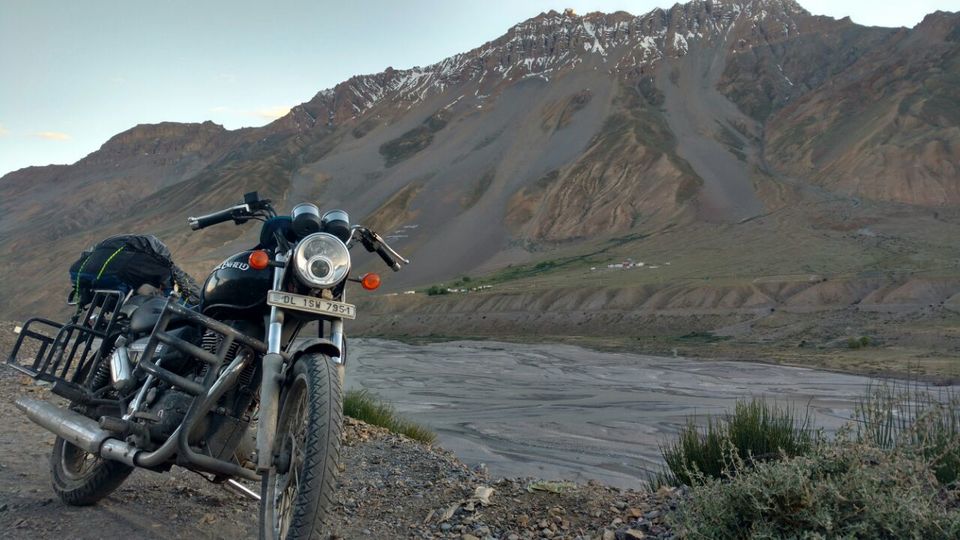 Day 1 :- ARRIVE TO US VIA NH 21 SHIMLA TO CHANDIGARH HIGHWAY
After long night travel in Volvo from Delhi to Shimla morning arrive Rental Packs office (Shoghi) we placed 90 km (2:40 hrs) travel to Chandigarh. Check in your hotel take some rest come to office do some paper work and inspect your bike go back to tour hotel after having your lunch take your bike and go for shimla city that is 10 km far from your hotel. Explore Shimla city and then come back to your hotel and stay overnight there.
Day 2:- SHIMLA -SARAHAN (190 KMS /8HRS)
Proceed to Sarahan early morning via Kufri we will reached Narkanda after having some snacks further move to Hatu Peak which provides an awesome side seen there. Then you drive to further Rampur and visit local market and around 50 kms along with Satluj River reached Sarahan. A tiny village offers the splendid view of Shrikhand Mahadev peak (5155 m.) you will also visit the famous Bhimakali Temlple. Stay overnight.
Day 3:- SARAHAN-SANGLA (204 KMS/8 HRS)
Drive along the Hindustan-Tibet road through sculpted rocks and along with furious Satluj River. Enjoy view of Kinner Kailash peak is splendid from Sangla. After taking some rest and having your meal visit remote villages Racksham and Chitkul. Arrive Sangla relax yourself and stay hole night.
Day 4:- SANGLA-KAZA (260 KMS /10 HRS)
After breakfast ride to Kalpa along with Kinner-Kailash mountain range and Kalpa village and seen the beautiful Kinner-Kailash peak. Then further with tough terrain move to Nako which is beautifully placed on the bank of a small lake. After that arrive Kaza and stay overnight.
Day 5:- KAZA-KEYLONG (290 KMS/12HRS)
In morning we ride to long distance for Keylong via Kungum Pass (4558 m) which provides beautiful view of CB rangs. Lahakh introduces you to the mountain capped with snow all around. Proceed to Jispa along with visit several villages of Spiti and Lahaul valley. Check in hotel enjoy your dinner and stay overnight.
Day 6:- KEYLONG-LEH (360 KMS/12HRS)
Early morning drive to Leh another long and tough journey to the Himalayas over Baralacha Pass(5000 m) with an awesome side seen of ladakh range. Here you climb gatta loops including 32 hairpin bands on the way to from Sarchu and drive through the Tanglang-La Pass (5328 m) which is second highest motorable Pass in the world. After crossing the Pass drive through awesome view of Zanskar Range further drive to leh and stay overnight.
Day 7:- LEH-KHADUNG LA PASS-LEH(100KMS/4HRS)
Have your breakfast further proceed to the world highest Pass called Khardung-La Pass (18260 ft) one of the world's highest Pass. Afternoon come back to Leh and explore the beauty of leh city and visit nearby places. By evening spend time in the market and some shopping then return to hotel and enjoy your meal.
Day 8:- LEH-PANGONG LAKE (170 KMS/6 HRS)
Morning start ride to Pangonk Lake (17350 ft). Water is crystal clear largest salty lake in Asia. Explore around the lake and spend some in there and click tour photographs do your launch there and proceed back to the Leh by evening visit around the city and go back to your hotel stay overnight and relax yourself.
Day 9:- LEH-SARCHU (215KMS/12HRS)
Have your breakfast leave Leh to Sarchu along with beautiful Himalayas where you cross the magnifying view of its snow filled mountain of Lahaul valley and landscape. Enjoy a night by staying at the camp.
Day 10:- SARCHU-MANALI (220KMS/8HRS)
Enjoy the splendid view as you pass through Baralacha Pass reach Manali by evening after take some rest come out and sight seen the Manali mall road and the local market at the evening and come back to your room stay overnight.
Day 11:- MANALI-SHIMLA (250KMS/8HRS)
Start your journey through Shimla–Manali high way along with enjoying the beautiful side seen of Kullu and along with Beas River. By evening come back us do some paper work and go back to your hotel have dinner and stay overnight. In the morning leave further your destination