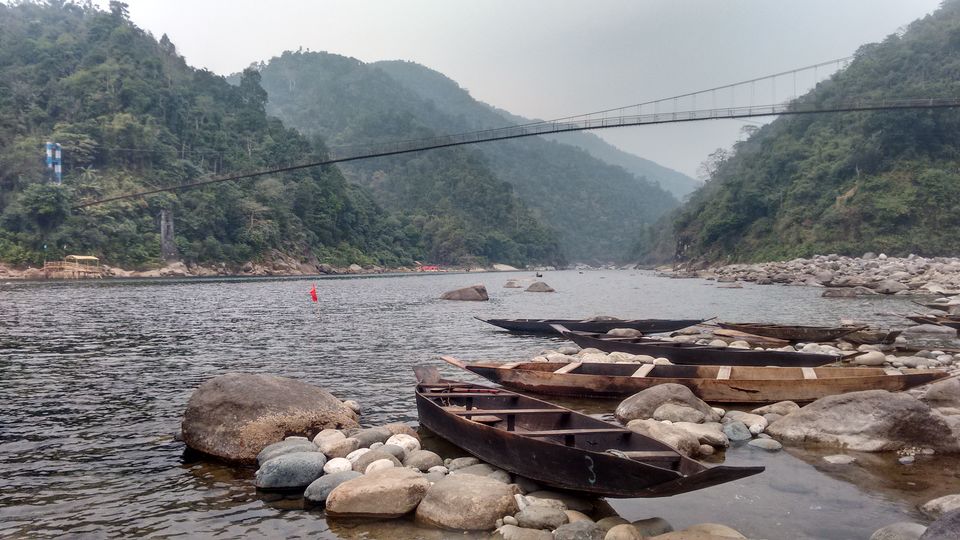 If you are looking for an offbeat destination around Shillong/Cherrapunjee, then Shnongpdeng is the place to go!
Location: 20 minutes from Dawki and 2-3 hours from Shillong and Cherrapunjee.
Mode of Transport: I traveled by a yellow Sumo from Shillong to Dawki (Rs. 130 approx.) and a shared taxi (Nano) for Rs. 30 from Dawki to Shnongpdeng. You can always opt for a private taxi too.
Attraction: Stay by a riverside, go boating, cliff jumping, fishing, swimming, zip lining, kayaking and snorkeling (though this is seasonal) too. The crystal clear water and green mountains, the tranquility of the place, and the lovely villagers are a welcome relief from the hustle bustle of the city.
Ideal for: All! familes, couples, friends and solo travelers too.
Accommodation: There are cottages and tents which you can rent out. I also noticed a few groups who brought their own tents and camped by the river.
Safe for women? Yes! I couldn't have felt more comfortable and welcome!
Network coverage: Aircel, Airtel and BSNL. Then again, no network coverage is an absolute relief unless of course, you are a first-time solo traveler and have friends and family concerned about your safety which was true in my case. I had an Airtel dongle, thankfully, that helped me keep in touch with my near and dear ones.
Food: There are food stalls around, so finding food is not an issue. Try their fish curry and rice at Rs. 50.
Best time to visit: Preferably any time except the monsoon. Though I was told that people do visit during the rains too, especially for fishing.
Contact:
Lasting – 9612116712 (Riverside tents and cottages)
Ailam – 8132011420
Mode of communication: English works better than Hindi.
Worth a second visit? A third and a fourth too! Especially if you have a creative bent of mind. It sparks your imagination and the silence is just perfect.