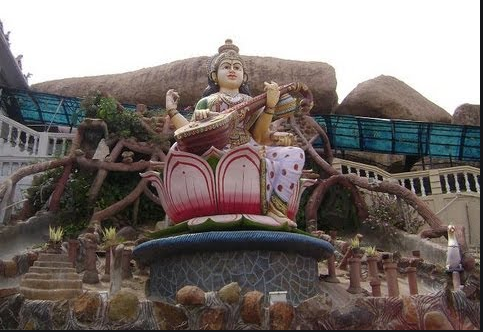 It was long since i have justgone out for a casual trip to planned something to visit Wargal - Sarawathi Devi temple.
Wargal - Saraawathi Devi Temple is conisdered next to Basara. Located at a distance of 52 km from Hyderabad. Its located on a Hillock & is easily reachable by road and can be found on google maps.Free parking is available and Car/Bikes can easily reach till the temple parking lot.
Temple is very famours for Aksharaabhyasam & Lord blessings to perform well in exams.
it cost 150 for aksharabyasma and 200 for the related items
The Wargal Saraswati Temple is one among the few temples of goddess Saraswati in Telangana. Also known as Sri Vidya Saraswati Temple, it was built by Sri Yamavaram Chandrashekhara Sharma. The temple foundation stone was laid in 1989. On 1992 Sri Vidya Nrusinha Bharati Swamy has laid the foundation to the statues of Goddess Sri Vidya Saraswathi Devi and Lord Shani. Now it is maintained by Kanchi Mutt.
The Wargal Temple is dedicated to Goddess Saraswati Devi. The garbhagriha is located at a level nearly equivalent to the third floor. The Goddess is seen to be in full glory decorated with a lot of jewels and garlands and adorned in a saree. There is an idol of Goddess about 10 feet high in front of the temple, which is a magnificent piece of art.
The other temples in the complex are Sri Lakshmi Ganapathi, Lord Shanishwara and Lord Shiva. There are two Vaishnava Temples here, which are almost in ruins as of now. These two Vaishnava Temples are said to have been built during the reign of the Kakatiya rulers. A huge victory pillar is also located nearby. With a height of about 30 feet, it has statues of Lord Rama, Goddess Sita, Lord Lakshmana and Goddesses Lakshmi over it. The temple has a Veda Paathashaala on its premises where many students learn Vedas.
Many families visit this temple for their children's Aksharaabyasam before they join school for the first time. Meals are provided for free for all the devotees at the temple premises called as Nitya Annadanam.
Vasantha Panchami, Navartri Mahaotsavams and Shani Tryodasi festivals are being celebrated in a grand manner in this temple. Moola Nakshatram (Birth star of Goddess Saraswati) is the most auspicious day for worshiping Saraswati Devi. During this day special rituals are performed at the temple.
Thousands of families attend the Aksharabhyasa along with their children on Vasantha Panchami (Jan/Feb) which attracts around 25-30 thousand devotees. Darshan usually takes 2-3 hours during Vasantha Panchami and Aksharabhyasa might take at least an hour extra.
I started from home at 7am and reached there by 08, after buyign basic things for my son aksharaabhyasa we joined the Queue for the pooja.
It was well orgaised 01 hour activity after that we had our darshan.There is a annadanam program( Free food served by temple management) which we had.
Then we retuned back to home and were in home by 2pm.
Frequent Searches Leading To This Page:-
about warangal tourist places, about warangal rural district, about warangal fort in english, history of warangal fort, warangal on telangana map, warangal diaries