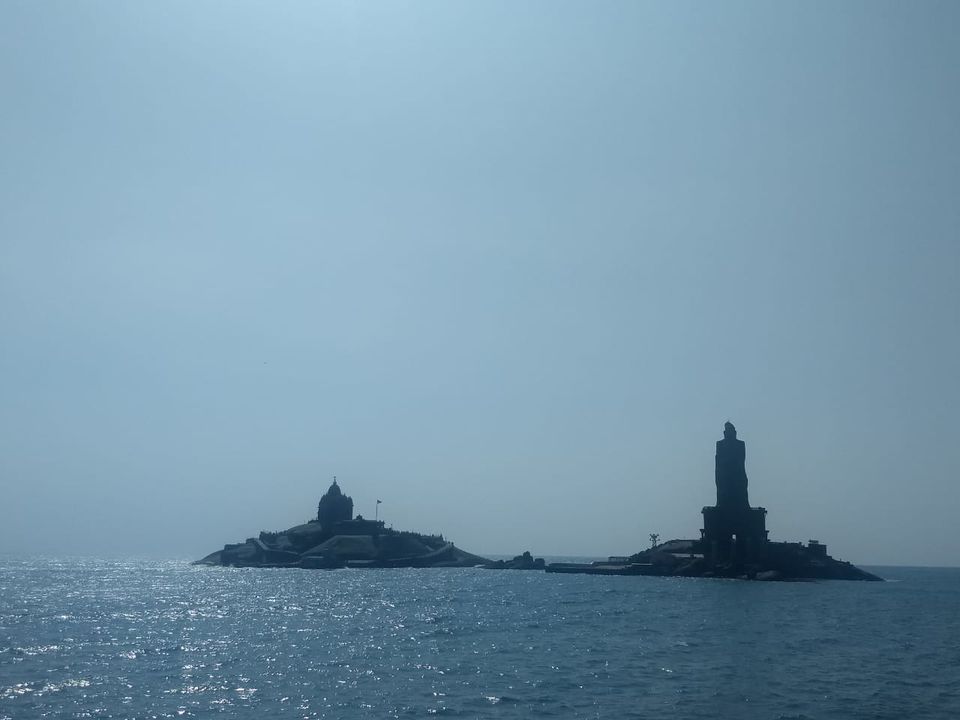 Me and my friends were invited for the conference in Trivandrum (Kerala) on 24 January 2019. We attended the conference and presented and our papers and got free by 25th evening. So, we planned for the visit to Kanyakumari on 26th Jan. We book a SUV from a private travel agency and he arrived at our guest house at 3 A.M on 26th. We started our drive at 3:30 A.M and reached Kanyakumari at 5:30 a.m. around. While traveling to Kanyakumari it was dark so we were not to view the scenery on the way.
Trivandrum to Kanyakumari = 2 Hours approx. journey (5000 for 7 people in a SUV for whole day including return journey)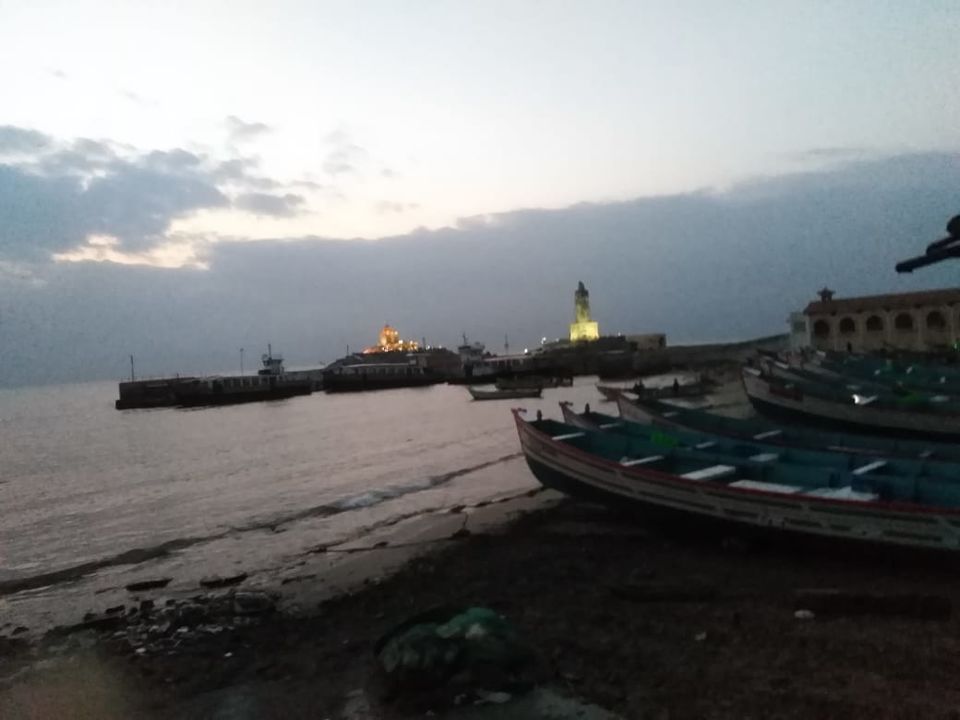 We straight away reached to see the sunrise at "SUNRISE POINT KANYAKUMARI". The rise was so beautiful and elegant. Indian ocean was so blue in colour it was such a bliss to visit there. Then after viewing the sunrise we went to stand in the que to take the ticket to visit "VIVEKANANDA MEMORIAL". The Vivekananda memorial was very beautiful, the ambiance was so attractive and from there we can clearly see "TRIVENI SANGAM" i.e. the merging of three oceans "Bay of Bengal, Indian Ocean and Arabian sea". Arabian sea is muddy in colour and Indian ocean is blue in colour. We spent almost three hours there and then came back for "FEERI".
Then we had some local food and went to "BHARAT MATA TEMPLE" in Vivekananda trust. The temple was so well designed (photography was not allowed), one will get astonished while visiting this temple, whole RAMAYANA is carved on wall with hand-made paintings. There was a idol of "Hanuman" it was so big and the manager of the temple told that this idol is carved from a single "STONE". The outside scenery of the temple was very well planned and made.
After visiting "BHARAT MATA TEMPLE" we started towards Trivandrum. We took a break at a shop to buy local famous eatables, spices and cloths. We bought Banana chips, original coconut oil, handmade chocolate, spices, fresh tea and handloom saree. That was so nice, they were having their own garden to grow coco, spices and so many more eatables items, chips were being prepared in front of us.
We again started the journey and stop to take a back water ride to "POOVAR BEACH", WoooooooW!!! That was so beautiful. I love that place it costed 2500 Rs for 7 people in steamer for 1.5 hours. I personally suggest everyone should visit at that place.
Then we came back and finally moved to Trivandrum, in-between we stopped at "Sree Padmanabhaswamy Temple". The culture there says that boys have to wear only Lungi to go inside the temple and girls can wear saree on their cloths (Lungi and saree is available outside the temple for very cheap rates, I took saree for Rs. 100 approx. and lungi was for Rs. 65Rs.). The temple was very beautiful. The idol of "VISHNU" was epic, one can see his Face, Nabhi and Charan from three different gates. Then we roamed around the temple and took prasad and went out. General Ticket is for 50 (single person), but I would suggest taking ticket of Rs. 200 (2 people and You will get a can of prasad also).
We then went to kovalam beach and took a bath there and then waited for the view of sunset. After watching sunset we finally ended our journey at around 7 at our guest house.