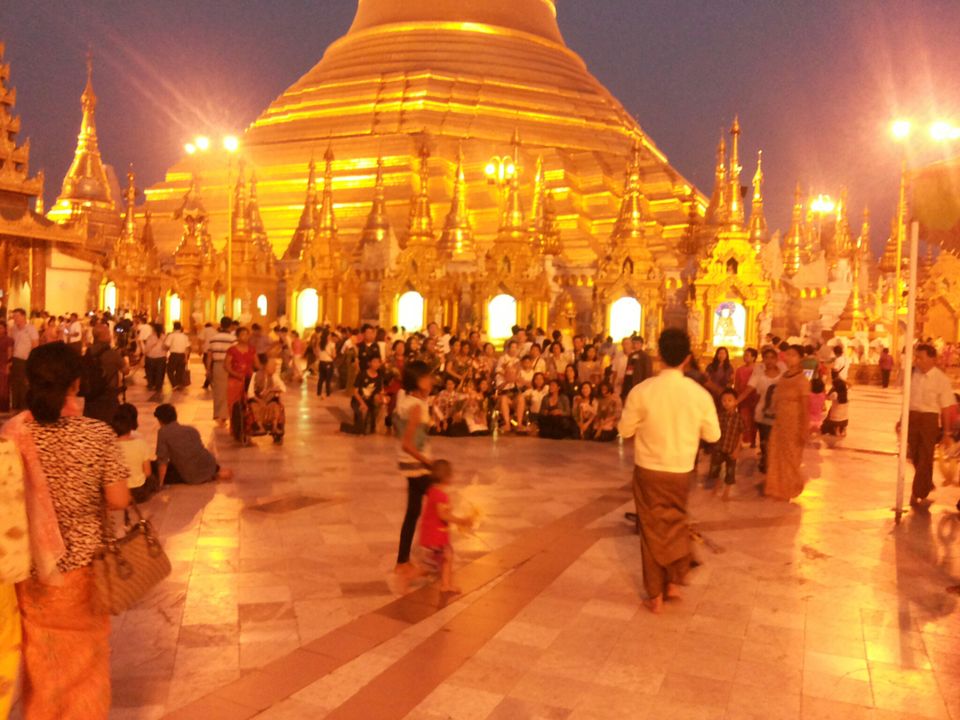 Shwedagon Pagoda, Myanmar
This 2,500 year old Buddhist Pagoda is considered to be the oldest in the world. My trip to Shwedagon Pagoda was during my short stint in Myanmar. Strategically placed over the Singuttara hills, the skyline of Yangon radiates with the golden glow of the pagoda. With not many high rises yet in Yangon. Shwedagon can be seen from quite a distance throughout the city. The Pagoda has 8 strands of Buddha's hair and many other holy relics which has been preserved with utmost care and is considered to be the most sacred place for the people of Myanmar and worldwide following Theravada Buddhism.
About Shwedagon Pagoda
Built by the Mon, currently Shwedagon pagoda stands at 110 metres on a 114 acre hill with several gates for entry. The pagoda has been gilded using gold plates and the tip of the stupa has been encrusted with 4531 daimonds and various other precious stones. There are several stupas, shrines and statues within the premises and devotees worldwide are seen to be worshipping the Buddha in his various forms. The most captivative sight is during the evening when the devotees offer their prayers along with incense sticks and flowers infront of the main shrine. With the sun setting in the backdrop it can be a photographer's delight.
Shinbyu (novitiation ceremony), a tradition with Theravada buddhism is followed at the pagoda, where a monk offers a saffron robe and other objects to help him enter monkhood. While my trip to the Pagoda I could see quite a few Shinbyu processions where the boy was carried by his friends or family under a decorated umbrella and given princely status. I had also witnessed a few marriage ceremonies, where couples along with their families had come to offer prayers for prosperity and a happy married life.
How to reach
Myanmar can be reached directly by flight. Yangon international airport is now well connected. I took a direct flight from Kolkata.
Entry fee – $8 for foreign visitors, while locals pay less
Timing – 2.00 pm to 10.00pm
Best time to visit – Avoid summers, as summer in Myanmar is pretty harsh. Though, evenings are quite pleasant.
Currency – Kyats
Dress code – Visitors are expected to wear knee length bottom wear and elbow length tops/shirts. In case one isn't carrying appropriate dresses, one may use the Myanmar traditional dress, Longyi available in the premises.
# shwedagonpagoda#myanmar#world'soldestpagoda#buddha relics#theravadabuddhism#rangoon#burma#spiritual retreat#asia#buddhism#yangon#buddha