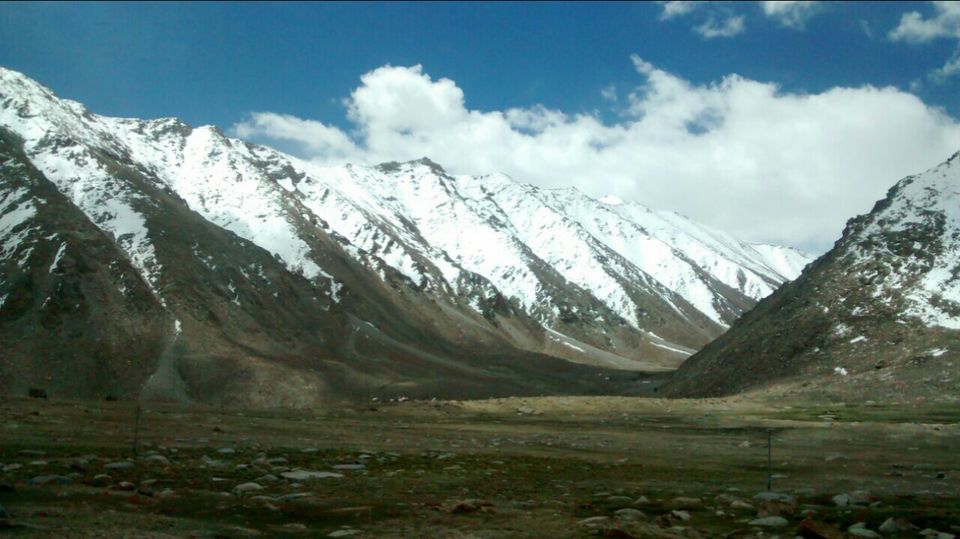 As much as I would like to write about Ladakh, there's little that is not already written or not already published in 100s of other posts. So I'll just pen down my experiences about Siachen glacier, which only a privileged few can visit. 
Being the highest battlefield in the world, the Siachen glacier lies in the Karakoram ranges and is a place where the Indo-Pak border lies on one side and the Indo-China border on the other. There's a local saying which goes thus
"The land is so barren and the passes so high that only the best of friends and fiercest of enemies come by.
And our brave soldiers are deployed at such extreme altitudes just so that we can have a peaceful life. As we set foff from the picturesque Nubra valley, and along the course of the Shyok river, little did we imagine what we would be heading into. A couple of hours of drive later, we passed the last village before the Siachen base camp,
Turtuk
. It seemed like a small nondescript village and the locals here mostly serve the army by being their suppliers. The feeling that encompasses you upon reaching the last base camp of the Indian army, surrounded by snow covered peaks on all sides is something out of the world. It makes you feel so small in front of the people who   give their all to safeguard our country. It's a beautiful place nonetheless, but the army stories you get to hear are sure to give you goosebumps. That they survive in temperatures of -50° during winter, that it takes them months of training and an incredible amount of strength to endure the harshest wraths of mother nature,speaks volumes about their commitment for the sake of the nation. 
Upon visiting the war memorial one is reminded of the number of soldiers who have made the greatest sacrifice in those unforgiving mountains. We then visited OP Baba
Ka
mandir. This is the most unique temple I've ever come across. Gods of all faith are worshipped in a single temple located at the world's highest battlefield. It was built in memory of OP Baba, who lost his life fighting in the Siachen region. Legend has it that he guards these mountain ranges and warns soldiers of impending danger. 
For the first time in my Ladakh trip, the beauty of mother nature was eclipsed by the sheer warmth and care that was bestowed upon us at the base camp. I couldn't help being overwhelmed by during the entire duration of our short visit to Siachen. It was indeed a once in a lifetime experience. 
Hats off to the Indian army!