This award-wining film is a Journey through the Sikkim and Nepal Himalayas: 14 day trek along the Singali la ridge, overlooking the views of Mount Kangchenjunga and Mount Everest.
With ten porters, two guides and a cook, the team of three: George, Alexa and Blanchet starts their epic trek from Yuksam in West Sikkim.
The team head north to Goecha La Pass to see early morning views of Mount Khangchenjunga and, then head west to the border of Nepal or the Singalila Ridge.
From there they head south along the Singali La ridge to see Mount Everest and Mount Khangchenjunga.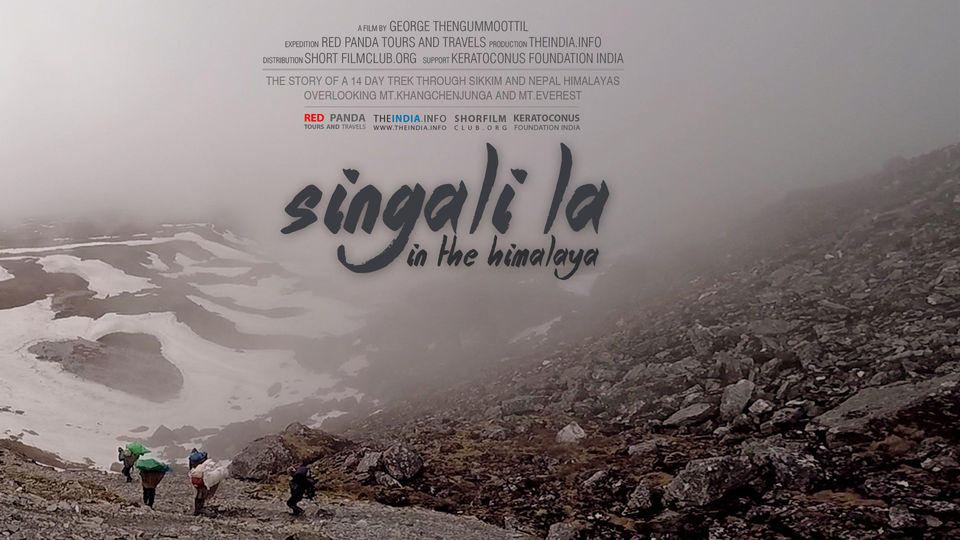 On the 13th day, the team reach a remote village at the border of India and Nepal, inhibited by a nomadic yak herder. The film was shot using camera powered by custom made solar chargers, as there was no power facility during the entire trek.
George was affected by Keratoconus, a rare eye disorder which decreases the thickness of cornea and results in a distorted vision, during his childhood. During his teenage years, he lost all his hopes about life as this took him away from what he wanted to do in his life and what he dreamed. George finds that traveling is one of the best medicines for his eyes and end up trekking in the Himalayas to find solace and tranquility.
A film by
GEORGE THENGUMMOOTTIL
KERATOCONUS FOUNDATION INDIA
Produced by
DHANRAJ GURUNG
RED PANDA TOURS & TRAVELS
Cast
SURYA GIRISH
AS GEORGE THENGUMMOOTTIL
Stock footage
KANUPRIYA RANIWALA
RAMSHAJ WAYANAD
Camera Assistant
BIRKHA LIMBOO
Location Manager
TULA RAM GURUNG
Location Assistant
NAMSANG LIMBU
Logistics
ATM RAI
BHIM HANG LIMBOO
DHAN RAJ RAI
MANGAL SING LIMBOO
NAMSANG LIMBU
PASSANG LEPCHA
PEMA SHERPA
UGEN KARTHOK
Trekking Team
ALEXA HONE BLANCHET
BLANCHET RICHARD
GEORGE THENGUMMOOTTIL
Transport
RAJU
Film Editor
GEORGE THENGUMMOOTTIL
Songs
1. SINGALILA IN THE HIMALAYA Writer AMAN JOHN Singer ADITI SIVARAMAN
2. HIMALAYA Performer/Writer JO KELLY CAFE MANTRA MUSIC
Music
1. Om Mani Padme Hum
2. SAD DAY Composer Benjamin Tissot / bensound.com
3. BETTER DAYS Composer Benjamin Tissot / bensound.com
4. HIMALAYA Composer Edoardo Romani Capelo
5. KEEP IT SIMPLE Composer 9loops
Engineering / Solar Power
DR. THOMAS THENGUMMOOTTIL
Special Thanks to
BINOY VALSAN
MALAIKA VAZ
Thanks to
DHEERAJ AITHAL
DOMINIC XAVIER
GIRI SHANKAR
NISHITHA IYANAHALLY
NOBLE MATHEW
PHUB NAMGAY
SIDDHARTH REDDY
SOORAJ PUTHIYEDAM
VISHAL SUVARNA
VYDHEHI KADUR
DR. J. BHUNIA
KINZONG BHUTIA
PRIYA SINGH
ADARSH NC
SANDESH KADUR
FELIS CREATIONS PVT LTD
KHANGCHENDZONGA CONSERVATION COMMITTEE (KCC)
THE HIMALAYAN CLUB
FORESTS, ENVIRONMENT & WILDLIFE - MANAGEMENT DEPARTMENT, SIKKIM KANGCHENDZONGA NATIONAL PARK SINGALILA NATIONAL PARK VARSEY RHODODENTRON SANCTUARY
MINISTRY OF FOREST AND SOIL CONSERVATION, NEPAL KANGCHENDZONGA CONSERVATION AREA
INFORMATION & PUBLIC RELATIONS DEPARTMENT, WAYANAD, KERALA
VAGAMON HEIGHTS, KERALA
BASED ON THE 14 DAY SINGALI LA
ROUND TREK IN SIKKIM
2016 THEINDIA.INFO / theindia.info