21st July 2017 - 18 months, 547 days, 13128 hours, 787680 minutes, 47260800 seconds of marriage and now a new destination – Singapore. All was just decided in just a week and this was the first trip without much research. But we were sure cruise would be the best part of it, and it was indeed. It was an eight day tour. We arrived at "Changi Airport "at 7 in the morning (Singapore Time). It's a 5 hour journey from Delhi.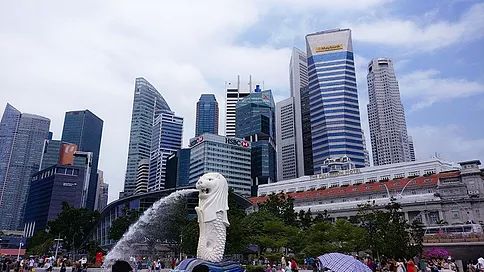 A hot and humid climate welcomed us with a strict rule – NO chewing gum and NO Smoking/Drinking after 10pm. We were dropped at "Hotel V Lavender", which was at a perfect location for us. MRT, food courts, Buggis, Little India all were with a radius of 3 km. We had a plenty of food options near to our hotel. The first thing I would like to say it's a tough place for vegetarians (mainly Indians). These people are very fond of boiled cabbage and lettuce leaves, and it becomes tough for vegetarians just to survive on this. Again if you are non-vegetarian with restrictions again it would be tough for you. There are plenty of options like duck, beef, oysters, squid, lobster, prawns, chicken and sushi. Mainly food courts do not have pork and lard. So a great option to explore various dishes.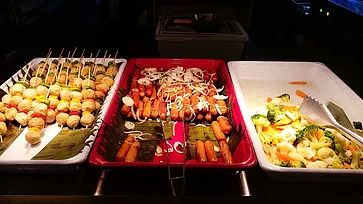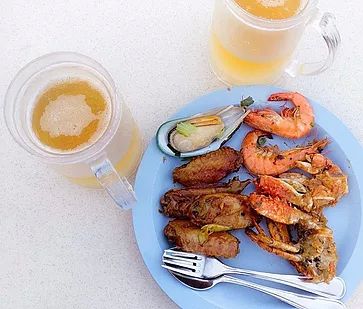 We went to jungle safari the first evening (night safari and animal show). A long queue (about 1.5 hrs), but it was worth. So many animals that too so near. I wonder why not they jumped over us. We went through a tram to the dense jungle. Starting from Deer, ducks, lion, elephant, tiger, buffalo, cow, rhino, dogs, and many other animals (Few I don't even remember the names) all were around. Lions were thrown meat in front of us just to make us sure they were not automated.
And next day was the pickup for the cruise (4 days). The most exited part of the trip was on the way. A fourteen floor ship, the giant view got captured in my eyes. We got our room at the 10th floor and our luggage arrived near to our room before us. The crew was very quick and helpful. The view from cruise was amazing. At the port we could see the cable cars just above us and small ships and speed boat around us. We went for a tour just to know our "Star Gemini". It had an amphitheater where some performance always goes on. Two pools where you can enjoy. Multiple restaurants where you have the most delicious food (veg and non-veg both).The best part was the casino (although we lost a lotL).I just saw such things before in movies. I also experienced a great magic show (similar to many real time shows on TV) and comedy show too. The cruise experience was altogether a different experience. When it is sea all around and you are standing on the edges with your soul mate- no words can explain that feeling. We halted at two ports – Port Klang and Port Penang. We were again back to Singapore after 4 days of superb experience.
Next we had the city tour. We went to the Singapore flyer – an operational wheel. It gives a 360 degree view of Singapore and beyond. Then we went to the Merlion- the national personification of Singapore. We also went to China town and the oldest Chinese temple. Then we went to Little India –it was a glimpse of south Indian market. Now the next exciting phase was SENTOSA Island. We went there though a cable car which gave us the bird's eye view of the port and Singapore city. We reached the island (almost a theme park).First we saw a 4D movie –Journey2. Then we went for luge-ride and Sky-ride. It was a different experience. Then we were given the tickets for the SEA Aquarium where we saw many types of fishes (quite similar to the Dubai underwater Zoo).It included octopus, sea dragon, eel, Dolphin, Jellyfish and many more. It took about an hour to complete the sea aquarium. Then we had the tickets for "Wings of time". It is a light water and sound show. It was a surprising show where water and played the main role.
Next day – again Sentosa and now a full day for Universal Studios. The full park has various parts
Jurassic park, transformers, Disneyland, Roller-coaster, The Mummy, Treasure hunt, Madagascar and I even don't know what all I missed. The first ride we took was the transformers. It was a long 2 hrs. queue but a fantastic ride. You feel as if you are inside the movie. You are a part of it. You feel that you are being hit, bomb explosions and everything. Then again a wait of 2 hrs. and we are in Egypt. That was a dangerous roller coaster that too without light. A horror interior with unexpected twist and turns made it a stupendous experience. Then we went for Jurassic Park, it was a lazy river where you are taken in boats in the world of Dinosaurs. It was a simple ride but an enjoyable one. Then we went to Disneyland and met all characters. We also saw a 4D movie of Shrek. Madagascar characters were good. We felt full day was less to complete all the rides. But it made us very tired. Our feet were screaming to rest. After the tiring and exiting day we were dropped back to hotel.
We had a day to relax. We explored the city on metro and by walk. We interacted with local people, went for shopping on local markets. We had street food. We had a amazing and breath-taking trip.