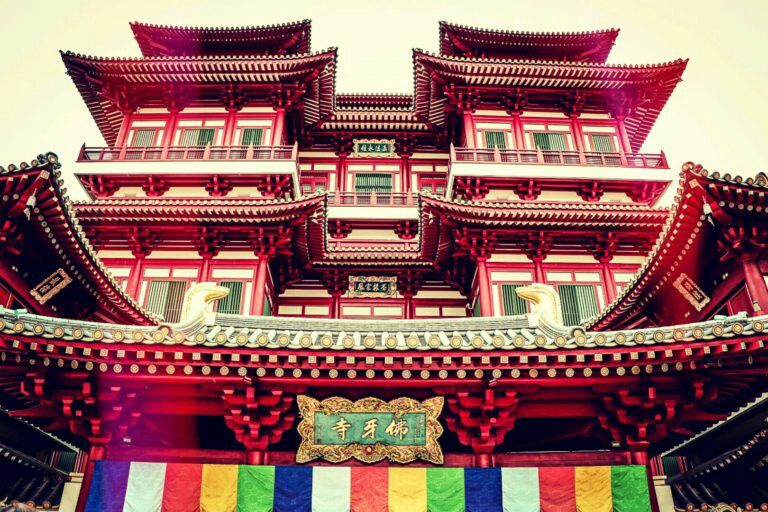 Singapore: a glimpse into the Culture, Unity and Utopia by Ruchi Acharya
"Over centuries the city of Lion has been roaring for its bold facade of Peranukan culture and vivid range of cuisine. From lush green corridors, to amaranthine blue sea-shores, Singapore is beyond the illuminating skyscrapers. Embrace yourself to explore the unexplored history at Haw Par Villa and Buddha Tooth Relic Temple. Enter into the legendary living monument Thian Hock Keng or walk into the aviary that houses over 600 birds in Jurong bird park. This year get ready to fill your soul with adventure and a bit of pixie dust."
Singapore is one of the most emblazoned and energised in Southeast Asian cities. There is not any perfect time to visit this place. It's warm, tropical and welcomes tourists whole-heartedly all year around. The island city-state of Singapore boasts a rich mélange of Chinese, Malay, Indian and Western influences. The ethnic mix diversity reflects the various tastes, tradition and style. Howsoever, before you're carried away by the whimsical bits of meridional air, there are some local laws and etiquette you must follow. Violation of draconian laws is forbidden and can cause you to pay a huge amount of fine, and even canned or jailed.
Yet, beneath the glasscrapers, pompous shopping malls and elegant city-life, Singaporean culture is all about living. Take a stroll in one of the oldest monastery in the country, Siong Lim Temple and have a spiritual awakening experience. Beautifully crafted and embellished with Chinese architecture, the temple unweave the threads of Buddhism and holy sacredness of life. The dazzling entrance gates open into the Hall of Celestial Kings followed by Mahavira hall and later carried on to the Dharma hall. The fragrance of incense sticks and the sound of chimes adds alongside with the divine 'Mantras', scripted on the pillars of the temple. The flamboyant ceiling, flickering ornamental lamps, story-telling paintings, mini sculptures, netted windows, perfect hedges and pagodas together yields a beautiful scenery. Despite of suffering damages during World War II and adverse weather conditions at time, Siong Lim halls still don't hesitate to flash its traditional glamour throughout the century. Henceforth, Siong Lim shrine is a must visit place. It lifts us and points towards the celestial path of love and harmony. If your thirst for Buddhist culture has not yet been quenched, do visit the most famous Buddha tooth relic temple in Chinatown. A bless retreat!
Give this majestic garden a chance to amaze you with its enchanting stories restored back from the history. Be a time traveller and leap back into the sands of time and take a glimpse into the Chinese folklore at Haw Par Villa. The garden is located on the hills of Pasir Panjang and famous for its pictorial illustration of ten courts of hell from Chinese folklore. Move forward into this tremendous park and begin your long-awaited journey yearning for adventurous storyline. Keep an eye for the marvellous animal statues, iconic panorama, dragon tales, Chinese warriors and mythological creatures into the nature's symphony. These artefacts are painted with exquisite colours gleaming its reflection upon the emerald lake. The place is well suited for family to come along with their little ones and has an amazing family weekend. A true remedy for photographer's lust!
Refresh your theoretical modelling of greenery and flutter into the balmy atmosphere of Sentosa Wildlife Park. Singapore has succeeded in preserving its natural heritage alongside with the economic growth and development of the country. The country has been victorious in creating the perfect balance between nature and fun altogether. Whether it's about encountering our animal friends in Palawan amphitheatre or taking a skywalk to Fort Siloso en-routed among tall trees, jungle vines and scout vibes. If you're thinking it's over, pause and rethink about dancing butterflies in the Butterfly & Insect Kingdom. The fun is unlimited and yet embrace yourself to be welcome into the marine realm by the majestic sea creatures in S.E.A aquarium. Furthermore, step on-board at Super Yacht Royal Albatross and be the pirate of the seven seas. It's never enough when it now comes to thrilling amusement parks. Hold your breath and take a dip into the pool of ecstasy for mind blowing experience at the Resorts World and Universal Studios at Sentosa. Discover you're happy with your beloved ones and spend a good quality of time. Have a blast!
There is no doubt while travelling we get tired and our real star is 'food'. So, grab your fork and often chant this Singlish Mantra, "Die, die must try!". In Singapore, a wide spectrum can be seen in dining options ranging from its menu from deliciously street food to pricey haute multi-cuisine. Extinguish out your hunger-fire at unique, octagonal Hawker centre, Lau Pa Sat. The moment you slide into the chair at the restaurant you can smell the rich aroma of the dishes muzzled in sauce rich enough to beckon you. Aloo-Paratha, Croissants, Pizza, Sushi, Murtabak, Pad Thai, Tapas or Chicken drumsticks just name it, it is ready to serve. The multi-cuisines here win the heart of numerous tourists every year. The exemplary flavoured meal and strong savoury drinks will make you irresistibly fell in love with the country. Sharing your neighbourhood or dining table along with the different races from across the globe gives a convincing imitation of social inclusion and friendship.
The more you discover this country, the further it moves away. Live your dreams and fulfil your passion at Singapore.