Don't just dream your life, But also live your dreams....
It all started with a dream which was soon transformed into a wish and the rest is just antiquity. It's all about yesterday when this desire became a plan and the plan was soon materialized as bookings were done after a lot of exploration. From comparing Travel agents' quotes, to finding excursions and planning our vacation we did it all. All this while there was one who trusted me, my dream and my plan and together we both made it possible; my sister.
Soon we booked our flights through Jet Airways directly and our accommodation; Ibis, Bencoolen through MakeMyTrip. One of the most intimidating things as woman traveller is a safe place to stay in an unknown land. My research helped me find a serene yet innocuous hotel. We created our own itinerary with the help of some friends, travel Vlogs and blogs.
It wasn't just a normal vaccay but a destination for my birthday, so had to be very special. From counting months, to days and to hours; time just flew. Finally the day was here; 16 January 2019 when we were flying to live our dream. Super excited we started our dreamy vacation -- SingSing Singapore....
It was a six hour flight without any halts; next morning we landed at one of the World's best Airports; Changi. The vibes flinch the moment you arrive at the Changi Airport. It is quite huge yet can be easily navigated through the signage. All we had to do was to complete a quick immigration check, submit the completed immigration form and we were permitted to explore the city of Lions; Singapore.
Day 1 - Arrival, Basics & Night Safari
After collecting our luggage, we went straight to board MRT (metro) which was just a few steps from the Departure gate. We did explore sim cards at airport; however, the ones available were costly so we decided to buy it from the local market itself. We picked a few brochures and maps from the Airport which abetted us throughout the trip.
We purchased the EZ-Link Card from airport itself. From our research, we learnt EZ-Link to be more economical than the Tourist pass. Tourists pass even though gives unlimited MRT and bus rides however, turns out to be expensive as compared to the EZ-Link pass. This is because you won't get to ride as many metro and buses as many times to realize its worth.
After exploring airport and having a chat with our parents; we started for our homestay for the next seven days; Ibis Bencoolen which is just at five minutes' walk from Bencoolen MRT station. The hotel stood up to our expectations as it was clean, peaceful and cosy.It was a complete value for money with all the luxuries of a four star with only swimming pool missing; which we were anyways not looking for.
Day 1 was all about checking in to the hotel, buying EZ link passes, sim cards and exploring Night Safari. Buying sim cards turned out to be quite tedious task as we had issues finding the shop from where we had to purchase it. We were running in circles at Bugis yet couldn't find the shop which was just minute away. Just when we were about to give up; I spoke to a local who guided me the way to the shop. Our search finally came to an end as we purchased the sim cards for 18 SGD each which we were looking for. It was the best deal at it not only provided minutes of calling to India, extensive internet coverage, free messages, validity of 7 days, MRT pass with a value of 3 SGD but also offered couple of discounts on excursions and also a free cable car ride in Sentosa.
It was an electrifying day throughout not only due to jet lag, trouble in finding places but also because of incessant rains. We learnt a lot at the very beginning of our trip itself.We were running late for the Night safari which was quite far from Bugis. After reaching Khatib MRT (closest one to Night Safari) we were searched everywhere around to board the bus to Night Safari but to our dismay. So we had to make last minute changes and book a Grab for the venue as Uber isn't available in Singapore.
Singapore Zoo, Night Safari and River Safari all belong to the same location; however, we chose only Night Safari for its exclusivity. We had already purchased tickets online and couldn't afford to miss it in any situation. For all our excursions, we chose Klook, which a friend of mine recommended. It proved to be the best guidance I received for my trip. It not only provides you the best rates but also year-round discounts as well as cash backs post-completion and reviews of the event. As per my experience; Night Safari is good only if you have kids travelling along with you. As adults; we both felt we could have easily evaded this one. There is also a show in end which was cancelled due to unremitting rains. On our way back we took, the bus shuttle which charges you only 1 SGD and drops you at the Khatib station. I didn't miss a chance to talk to fellow travelers in the shuttle to understand their experience. From Khatib we boarded a MRT to Bencoolen and reached our hotel around 11 in night.
Day 2 & 3: Birthday, Sentosa & Meeting family
Being my birthday; we envisioned it as a day for Sentosa activities. We boarded the MRT to Vivo city Mall to take Sentosa Express to reach Sentosa. The Express train costs SGD 4 and one can commute between stations without any further charges. Another good alternate is a bus; which will cost you only SGD 1 and can be taken from the bus stop beneath the mall.
We bought the Sentosa fun pass (120 tokens) from Klook which is valid for 2 consecutive days and covered it on day 2 & 3. It allows you access to the alluring attractions on the island basis the tokens for each activity. Below are the ones we covered:
We started our day with the Merlion which is also known as the guardian of prosperity. You can climb up to the mouth of the merlion to scout the panoramic views of Singapore's southern shores. However, we did not buy these tickets as we were content to click snaps from the front itself. Further we started explored all of the 4D Adventure land at Imbiah Lookout station. It is a high-tech interactive entertainment zone which is a home to four exciting experiences. We were stimulated by the exhilrating adventure rides. Thereafter, we went for Images of Singapore and Madam Tussauds. It starts with an illuminated boat ride; celebrating Singapore. This leads to a theater kind of thing where a bunch of individuals show as well explain the history of Singapore along with its success story. It leads one to Madam Tussads; a home beautiful wax statues.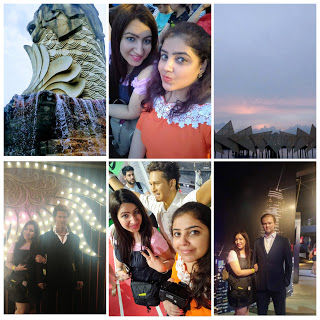 We ended day 2, my birthday; with Wings of Time show; a multi-sensory light, sound and water show. It takes one on a magical adventure through exotic vistas through to the fabric of time. I would highly recommend this sh o w. On Day 3, we head-first into this exciting marine World and spent our afternoon wandering the Maritime Museum and S.E.A. Aquarium at Resorts World Sentosa which makes a collective array. The Maritime Museum exhibits Asia's rich maritime history and Singapore's past as a trading port along the Maritime Silk Route. You can't leave Sea Aquarium without stopping in awe at the cinema-sized ocean habitat. The best part of Aquarium is the feeding time; when you see divers enter the aquarium to feed the fishes. You can spend as much time as you wish just watching the world swim all around. Due to its size it takes at least 3-4 hours to explore the aquarium properly.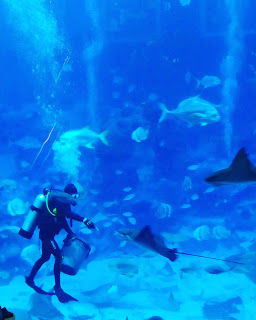 Though Singapore sleeps quite early as most of the restaurants were closed by 11. However, it was quite different as we entered Clark Quay and Boat's Quay; it was much thriving. From charismatic bars and alfresco restaurants to Bollywood nights and crowded roads; it was a different sight altogether. Crossing these all; we reached my favorite place - Boats Quay; the river side. This is what I was looking for; a perfect tranquil place to sit back and unwind. We had some deep conversations along with some photography and walked to our hotel only at 3 in morning.
Day 4: A Day to relax and local shopping
As the last three days were all packed; we wanted to keep this day light and relaxing. So we started our day with some shopping at Bugis where we shopped bags and purses. We also explored the local Chinese temples to explore the local culture. Thereafter, we spent the afternoon and evening chilling in our hotel.
Now was the time when we were badly craving for our desi delicacies. And our yearning brought us to one of the best vegetarian restaurants in Singapore; Kailash Parbat; a vegetarian Indian chain of restaurant. Being vegetarians and much choosy about food and restaurants; we were bit skeptical at first. However, the lip smacking and mouth-watering food not only brought a smile on our face but also made our taste buds happy and content in foreign land and made us visit them again.
Day 5: My Dream come true - USS
As a child I had always fancied of visiting Universal Studios and Disneyland. Finally the day was here when I was going USS. Despite it being Monday; USS was over-crowded which made me wonder if it was this crowded on a Monday; what would be the sight on weekends.
The rotating globe outside USS is so exhilarating; getting clicked in front of it was living a dream in its own. Our tickets were again booked through klook at much economical prices as there was New Year offer running that time. We did not go for the express pass as we decided we would cover the studio in single rider's line; though it wasn't as easy as we thought. It was way much crowded and it rained as well during the day because of which we were stuck for a while.
We had read that there are limited vegetarian options at USS; also, you aren't permitted to carry food along. However, we decided to carry a few eatables along for survival.
Plausibly USS is all about rides, shows and attractions yet it has lot more to offer and satisfy your thrill. It features around 18 rides and attractions including a pair of dueling coasters. Exciting loops, sudden turns, breath-taking drops and thrilling near-collisions will make you scream your heart out at Galitica. USS offers an experience that one will never forget.
We were thrilled to enter the Sci Fi City; where we experienced The Transformers ride. Next we headed to Ancient Egypt where we were greeted by two massive guardian statues and absolutely adored Revenge of the Mummy ride, a must for adults. I was so overwhelmed by these rides that I went to experience them not just once or twice but thrice.
Lockers are essentially required for rides like Galactica, Mummy and Jurassic Park. I had researched online regarding the charges for locker; however, couldn't find much detail so I'm including it in my blog. The good part about these lockers is that you get them free for an hour approximately and have to pay only if you have exceeded the time. One can always be mindful of the timing and replace lockers to save themselves from these charges
We were in much awe with the place that we didn't even want to exit and exited only when it was all vacated by the staff. Then was the time to explore the free cable car ride so we reached the Imbiah Lookout station to board the cable car. Though the cable provided us with spectacular views as it was also a full moon night however, it was way too windy that night which exhilarated the entire ride. We also spared sometime to shop at Vivo City before we ended our day.
Day 6: China Town, Mustafa & Garden's by the Bay
Our last day in Singapore; we started our day of travelling solo as we both headed to separate places. I had to shop some souvenirs and went to China Town as was advised it as the best place for them. This was another magnificent experience I had, as I sauntered by the streets of China Town all alone; showing my father the streets through video call. The market had some awesome collection of souvenirs at economical rates and my bargaining skills helped me a bit more to crack a good deal.
Soon we realized we were getting late for Gardens by the Bay which we couldn't ignore as it was our last night. All our trip we felt the time was running way fast; is it because of Singapore's proximity to Equator or we had too many dreams to be cherished.
Gardens by the Bay a colorful futuristic park in the bay area of Singapore offers an impressive skywalk over the gardens, with over-sized seashell-shaped greenhouses that recreate chilly mountain climates. The standout features are the famous Super trees. It a splendid attraction not only for kids but also for grownups, especially for those looking for a respite with stunning views. It offers a space to explore horticulture from around the world. The Super trees, Cloud Forest, and Flower Dome bring plants to life in a way you've probably never seen before. The best part is the free light and sound show in the night which is spectacular. I was in awe with the Singapore Flyer which was shining bright.
Day 7: Some last minute shopping
Our last day in SG was all about packing our stuff, checking out from the hotel, going to Mustafa yet again for more shopping for our love for perfumes and relishing our last meal before we head to airport.
Being shopaholics; we didn't realize the time and were running behind schedule so we had to take a taxi from hotel to airport. As soon as we reached airport; the first thing we did was to start the process of reclaiming the GST we paid at Mustafa; whoppiie we successfully reclaimed 14 SGD at airport. Changi airport is way enormous and we were much tired with only half an hour or so to explore. Soon we boarded the wings to fly to our homeland with a collection of splendid memories for our life.
Overall, the trip was budgeted 50-55K per person; where-in we not only had a gala time in Singapore but also not only relished some of the extravagances at the same time shopped a lot. We explored currency rates and purchased it through an agent in CP who gave us the most competitive rates. Further, we purchased HDFC currency card which offered much better rates than currency notes. Though we saved at a lot of places yet we managed to spend luxuriously at others making this trip the most astounding. It brought the best in both of us as we not traveled and enjoyed the places but also interacted with locals and fellow nomads. It is not the money you spend on travel but it I experience you make that matters; money can be made anytime but experience is what you carry with you always. This experience of mine even stimulated me to write my first ever blog which I would like to dedicate my diu (sister) who supported me in chasing my dream #SingSIngSingapore. I strongly believe that dreams are seen only to be materialized; I'm yet again dreaming to sail my ship to a new destination soon. Until then go, go and dream and leave no stone unturned to chase them.