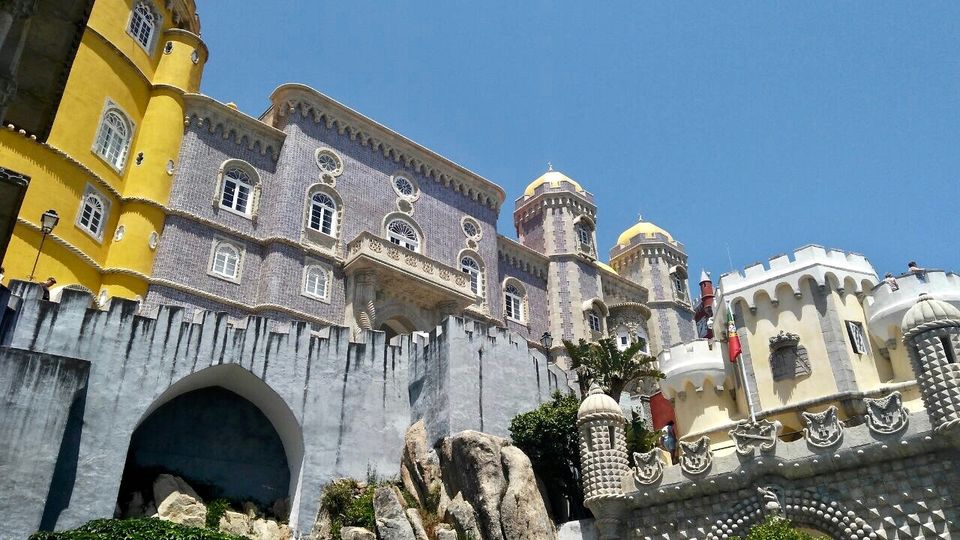 Sintra, a city permeated with green dewy forests, imposingly colour filled gardens and prepossessing grandeur of buildings from the 14th century Portugese reign make it look like a verse from a Roman poem was painted into reality. A city less than 30 kms away from the capital Lisbon will steal your glimpse at every nook and corner for its distinctive doors and windows. The city is spot-on for a day trip where one can enjoy its virtuoso architecture while strolling down this mystical town on Serra Mountains.
Listed as UNESCO Heritage Site, the Pena Castle in its rustic palette shades, set on a hilltop speaks of the flamboyant era of Portugese Romanticism. The castle was rather a holiday home for King Ferdinand in 1847 with the architecture high on symbolism. The misty profuse greenery on both sides of a small path leading from the Pena Castle is a fine example of the exotic gardens popular in the small Portugese dreamland.
The Quinta da Regaleria a.k.a. 'The Palace of Monteiro the Millionaire' is another exquisite spot for visitors. The Regaleria Castle, which is now turned into a hotel is another UNESCO World Heritage Site. What truly makes this location worth a visit is the ethereal garden with tranquil lakes, cone shaped grottoes, benches and deep wells, like the tales of Italian knighthood were blown to life.
George Gordon Byron in his monumental poem Childe Harold's Pilgrimage has been fondly lyrical of Sintra, ' There is pleasure in the pathless woods. There is a rapture on the lonely shore. There is society where none intrudes. By the deep Sea, and music in its roar: I love not Man the less, but Nature more..'
Sintra is a true romantic's place, if one is looking in Portugal. Whoever says you cannot find a little flavour of Italy in Portugal, I disagree.
Other places to see in Sintra:
Sintra is an amalgamation of majorly 5 unique castles; Park and Palace of Monserrate, Park and National Palace of Pena; National Palace of Sintra, Chalet Garden and the Countess D'Elda and Castelo dos Muoros. One can make a two-day visit to Sintra and cover all these archetypal monuments of Sintra. Have a meal at the outdoor cafes in the streets of Sintra. Visit the National Park of Sintra.
Pictures: