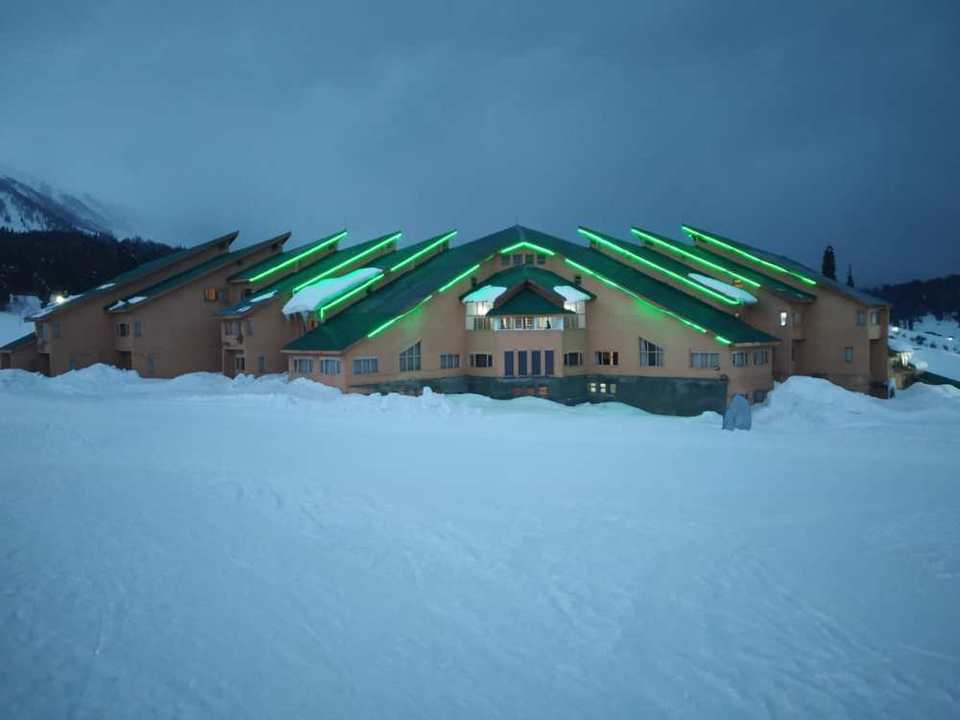 "If you want to learn to ski IISM is the place to be!"
This silly jingle I made up after I came back from IISM keeps ringing in my head but honestly it sums up my super awesome experience at IISM.
So every year IISM runs six, two-week long courses starting from mid December to mid March to coincide with the snowfall in the region. Each course has students doing the basic, intermediate or advance levels in a given course. The courses are heavily over subscribed and it stands in good stead to apply as soon as the course schedule and other details are published on their website in mid November.
Being pretty good at rollerblading and skateboarding, to learn how to ski seemed a natural progression to me. My mom always enthusiastic about all kinds of adventures quickly wrote to IISM, filled in the application forms, got the bank drafts ready and speed posted the entire bundle asap.
Now there were a couple of catches in this process as far as I was concerned. First of all I was now in a so-called 'big class' grade nine to be precise and my final exams were serious business. My school still hadn't finalized the exam schedule but we just decided to take a chance and booked the last course at IISM commencing in March. My mother booked our air tickets as well. Any clashes of dates would result in serious losses financial and otherwise. I did not want to face our tyrannical school Principal under any circumstances. Virago that she is!
And then on 14 February 2019 the dreadful Pulwama attack happened where nearly forty-five CRPF soldiers lost their lives to an IED attack. The entire Kashmir valley came to a standstill. We still had two weeks to go for our trip so we decided to adopt a wait and watch approach. The tensions instead of de escalating escalated a notch further with fighter jets getting involved and even the civil airspace being shut for a day. Througout the turn of events my mother and me remained firm on our plans of going. We were really fed up of my exam routine and just the day-to-day stress of living in a big metropolis and wanted this break so badly. Reassuring emails and phone calls with the Principal of IISM helped our plans to remain intact.
One of my mother's ex colleague's daughter Anna Awasthi had also decided to come along for the course with us. The media hype almost got to her and she wavered and dithered in her decision to come many times. Finally just a day prior to our trip she made up her mind and decided to come along. Good for us! Being a budding photographer the photo credits of this blog page go to her!
Last but not the least did I mention that along with enrolling me for the course my mother had enrolled herself too? Well she's quite a sport and anyways we'd be staying in different dorms-me in the boys and she in the girls. We were also assigned different groups for skiing so I only saw her when I wanted too and she wasn't in my way too much.
So finally all is well that ends well. My exams finished just the day prior to our flight to Srinagar. The airspace was declared open and we were soon flying over the mighty Himalayan peaks. The views from the aeroplane were spectacular and the drive to Gulmarg picturesque.
At Srinagar airport we had a cab waiting for us that took us to the small town of Tanmarg. Tangmarg is about ten kilometers short of Gulmarg and the point from where the gentle hills and the heavy snow begins. At Tangmarg we changed over to another vehicle with chains wrapped around the tyres. A good example of the famous Indian 'Jugaad' and a substitute for snow tyres.
As we started the climb the road became more and more precarious and there were mountains of snow piled up on either side of the road. At a narrow stretch an oncoming vehicle stalled and no amount of local driving expertise could release its tyres from spinning freely in the snow. Nearly an hour into this drama when all conversations with the occupants of the unfortunate car had been exhausted, the last of the crumbs of the carrot cake Binti aunty had packed for us polished off , we decided to trek the last kilometer or so to the institute by foot. And thus we arrived at IISM.
On arriving at IISM we were first allocated our dorms. Both me and my mother opted for the upper bunk in our respective rooms while Anna chose a single bed by the radiator and the window. Advantages of arriving in time!
About the accommodation at IISM- Men/boys and Women/girls are housed in separate wings at IISM. The wings have rooms and each room accommodates five people comfortably as there are five single beds in a room. There have been instances of up to seven people being accommodated in one room. Again we were very lucky as due to all the tensions many participants on this course had failed to show up. The picture of the room was taken on the last day and therefore please excuse the royal mess!
All rooms have two attached toilets. The bigger of the two toilets has a shower area. Hot water is available after dinner and again in the mornings. There are four full-sized cupboards in every room, a television and a radiator. The radiators are switched on every evening at six thirty till nine the next morning. In our room we sometimes watched a movie or mostly just Animal Planet. In my mother's room they never switched on the TV as they felt that it spoiled the silence and the energy of the place (whatever that means!)
Once we were settled in our room and had finished with the office formalities we were first of all issued with our equipment at the ski shop. We were issued with ski boots, skis and ski poles and were now responsible for the equipment for the entire duration of the course. It is imperative to choose your ski boots with care and of the correct size as the shoes are heavy, ungainly and cumbersome. An uncomfortable boot can result in blisters, shin and toe pain. My mother suffered from all of the above for the entire duration of the course.
Having kept our equipment in its proper place we decided to explore IISM further. Right next to the ski shop was the well equipped conference hall where classes are held every evening under the supervision of the chief instructor. Theoretical aspects of skiing and a daily debriefing is conducted during the class. It is important to pay attention as there are serious question answer sessions in every class. Also sometimes they showed us interesting videos covering aspects of skiing including amazing footage of avalanches and skiing as an olympic sport. Classes would generally end with songs or a comic presentation by the students.
Next we explored the dining hall which is located in one of the lower floors and has fixed timings for meals. The food we found was standard with rice, chappatis, vegetable, dal and salad with some variations on a day to basis. Dinners were more elaborate than lunch with paneer, eggs and a sweet dish also added. Breakfast varied between bread, eggs and porridge to paranthas or chole bahture. The serving staff is very friendly and hospitable and makes you feel at home.
Next to the dining hall there is also a canteen which stocks up on dry snacks such as chips, biscuits etc. They also make Maggi, eggs etc on order and has other small day-to-day essentials including skiing essentials such as gloves and goggles.
Upstairs on the first floor were the Snooker and the Table Tennis rooms and this is where all the action was once the days ski lessons were over. Both instructors and students would make a beeline and ardent, impassioned matches were the norm. Seeing every ones enthusiasm my mother used to joke that IISM runs concurrent courses in Snooker and Table Tennis along with Skiing at the Institute!
So the day at IISM starts at six forty-five or so in the morning when you are served bed tea in your room. On our course almost no one bothered with the tea except for old fogies like my mother and a couple of others. Breakfast is served at eight and mind you that one has to be properly dressed for all meals-shoes et all.
After breakfast everyone changes into their ski rig, applies a copious amount of sunscreen on their face, collect their gloves, caps and goggles and move downstairs to wear their ski boots in the lobby outside. At sharp nine all students must be assembled outside along with their skis. Late comers if any can expect innovative punishments! The instructors give a quick brief for the day and all students march to the slope with their skis on their shoulders. The slopes are about three-quarters of a kilometer from the institute.
Once at the slope, the batch breaks up into their respective group-basic, intermediate and advanced. The training starts with an instructor led warm up session which is invigorating and prepares you for the day ahead. After the warm up session the groups further divide to train with the assigned instructor. In our course there were eight to ten of us assigned to an instructor. All the Instructors are highly qualified and display a very high skill level.
In the initial days of training be prepared for many falls, some of your own doing and others when people come crashing into you out of seemingly nowhere! Also in the initial days be prepared to have some muscle soreness and to feel fatigued. Skiing is hard work especially as you have to come back up on the slope each time using the side step or herring bone technique. The IISM slope does have a ski lift but only intermediate and advance students are allowed to use it.
Through out the duration of the course you are taught a set of techniques based on a syllabus displayed before hand. By the end of the course the instructors ensure that all the students are proficient in all the techniques. At the end of the course there is a graded exam that is taken very seriously. More about the exam later.
At about eleven am or so there is a much awaited tea break on the slopes with kehwa (Kashmiri tea without milk) and biscuits. At one pm there is a break for lunch. During lunch the skis can be left on the slopes as you go back to the Institute for lunch. At two again the session resumes and carries on till about four or four thirty pm. This is the last skiing session of the day. Once back at the Institute, tea along with a snack is served at five pm. The next class is only at seven pm in the conference hall followed by dinner . If you need to go out somewhere in the evening then one can request for a outpass.
The overall atmosphere in IISM is very warm and friendly and I made many friends. There were people from all corners of the country and from different walks of life. The group was therefore very diverse and multi cultural. There were people from the South, North, East and West part of India. There were many locals also on the course and they were by far the best skiers and gave stiff competition to the rest of us. There was a large group from the CRPF also and they were all very helpful, generous and kind. For the cultural evening there would always be willing volunteers from their group. The instructors too off the slope were very friendly and easy to interact with. Here is a picture of our Motley Crew!
The initial days on the course are all pretty much the same as you adjust to the routine. Towards the end of the course the excitement palpably builds up for the exam, the slalom, the cultural programme and the award ceremony. The exam is taken very seriously and all students on the course are tested individually for all the techniques that they have learnt during the course. Students are graded by the Chief Instructor along with two other instructors and are awarded a grade based on their performance. Top students in all levels are given prizes. The maximum excitement and adrenalin rush is generated during the Slalom which is a timed race across a marked course. All students participate in the Slalom and there is much cheering and excitement during the event .
For the cultural evening the students did a small collection and bought gifts and mementoes for the Principal, the Chief Instructor and their respective group Instructors plus tips for all the staff that tirelessly served us day and night. There were also some fun activities with the instructors and the students put up a performance that included skits, songs and dance performances.
The award ceremony is a more formal affair and we all washed and dressed for the occasion. There were some speeches and the chief guest gave away the prizes. This was followed by a special dinner.
The course being formally over and the next day being our last in Gulmarg some of us decided to hire ski equipment and get a ski pass for the first phase of the Gondola. Some of our seniors who were locals agreed to accompany us. Skiing down the first phase was a totally different ball game we were told from the controlled environment of the IISM slopes that we were used to. Lucky for us we met some of our instructors at the Gondola and they gave us much-needed sane advice and warnings to be extremely careful. Skiing down the first phase was a real adventure with some of the slopes being pretty extreme. Lucky for me I didn't fall down even once unlike all the others. By our third run down we had gained a lot of confidence and were actually racing with each other down the slopes. The whole outing was a tad expensive with the hiring of the ski equipment, the gondola ski pass and the extremely over priced lunch at the top but overall totally worth the experience. A befitting finale to our ski course.
On my basic course I got an A grade, a prize in the slalom and am already planning to go back for my intermediate and advance course. My overall experience at IISM was very positive. The Principal Colonel J S Dhillon and his entire team at IISM be it the administrative staff, the support staff or the training team put in a lot of effort to maintain the high standards at IISM and since 2009 the Institute counts as one of the best Institutes in all of Asia.
I am wiser after my basic course at IISM and in hindsight I think it is very important to have a checklist of essentials that one should carry for skiing.
-Ski Socks (at least 3 pairs as the socks tend to smell very bad after a hard day of skiing and one might not be in the mood to wash them every night) -Ski Pants (these are water proof and have a warm inner lining. Since initially you will fall many times they will help you to stay dry and warm of course) -Woollen cap -Waterproof gloves (absolutely imperative) -Waterproof jacket (this can either be a warm jacket that is also waterproof or you can just have an outer waterproof shell which you can wear over a regular warm jacket) -Base layer (this could be any fleece only needed for the upper body) -Inner layer ( both for the upper and lower body and at least 2 to 3 pairs) -T shirts -Underclothes (sufficient number)
Waterproof shoes (for skiing you will be wearing ski boots but any other time you decide to go outside you will need shoes that are at least water proof) One pair of slip-on or laced indoor shoes for easy wearing inside the Institute(optional) Bathroom slippers (to wear in the room, you cannot wear slippers outside of your room)
Sun Glasses or ski goggles (preferably with UV protection and the kinds that don't fog) Sunscreen with a high SPF ( get ready to get terribly tanned nonetheless) Face mask (the only way to avoid getting tanned) Lip balm or boroplus ( lips can bleed due to dryness) Toiletries ( toothbrush, toothpaste, soap,shampoo,cold cream etc) Washing soap (to wash clothes) Thermos Some dry snacks
Basic medication Band aids Adhesive medicated tape (some blisters maybe too large to be covered by band-aid or maybe at awkward angles) Crepe bandage (2) Cotton wool (to make pads and put wherever shoe may feel uncomfortable) Pain balm Pain killer tablets
Creative talent And last but not the least and most important of all- A good and positive attitude!
Also no post on IISM and skiing can be complete without a mention of Gulmarg-"the meadow of flowers", the beautiful Kashmir valley and the lovely and warm people of Kashmir. During our entire stay we never felt that safety was any concern and were glad that we undertook the trip despite all advice to the contrary. The locals were really friendly and helpful. Being a tourist destination it did have its tourist traps like overcharging by some local taxis, expensive food, persistent requests for tips etc but these are minor hiccups and true for almost all travel destinations.