You can't visit New Zealand without nearly every person you meet asking if you have been to Queenstown yet, asking if you are going skiing, and telling you that the South Island is the most beautiful. While living in Dunedin, Andrew and I decided to take a weekend trip and see what all of the fuss was about!
We picked Treble Cone to go skiing, which is actually in Wanaka, a small town just north of Queenstown. It was indeed quite beautiful! Treble Cone boasts the South Island's largest ski area and features the longest vertical rise as well.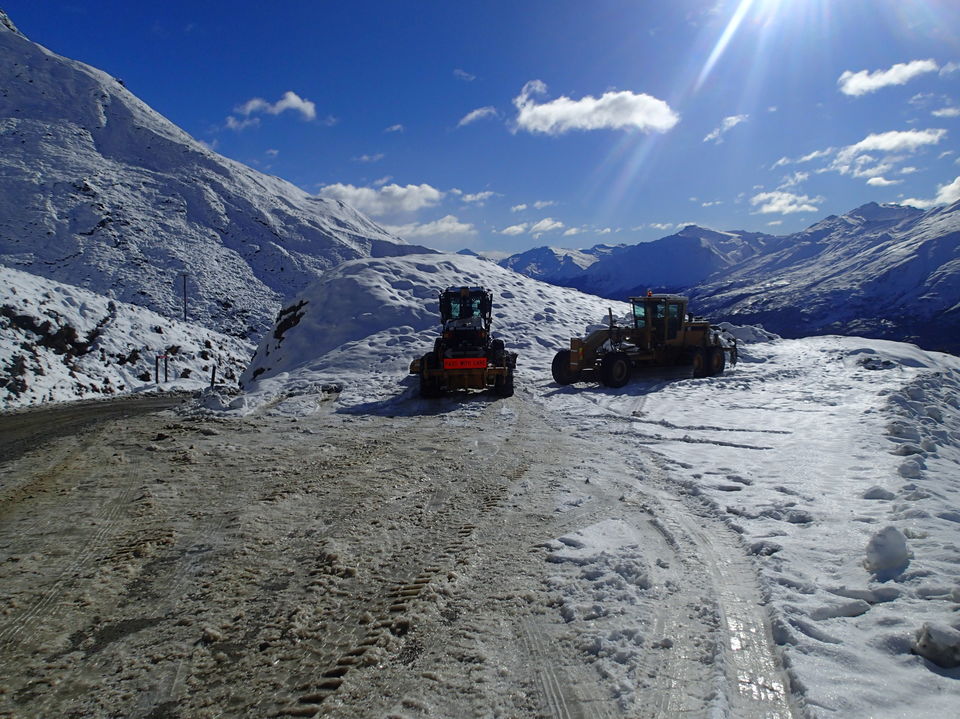 For us, Treble cone also made the most sense since, once we worked out the prices, it was cheaper to rent a car from Jucy, spend the night in Queenstown, and take advantage of the 'driver ski's free' program that the rental car company had.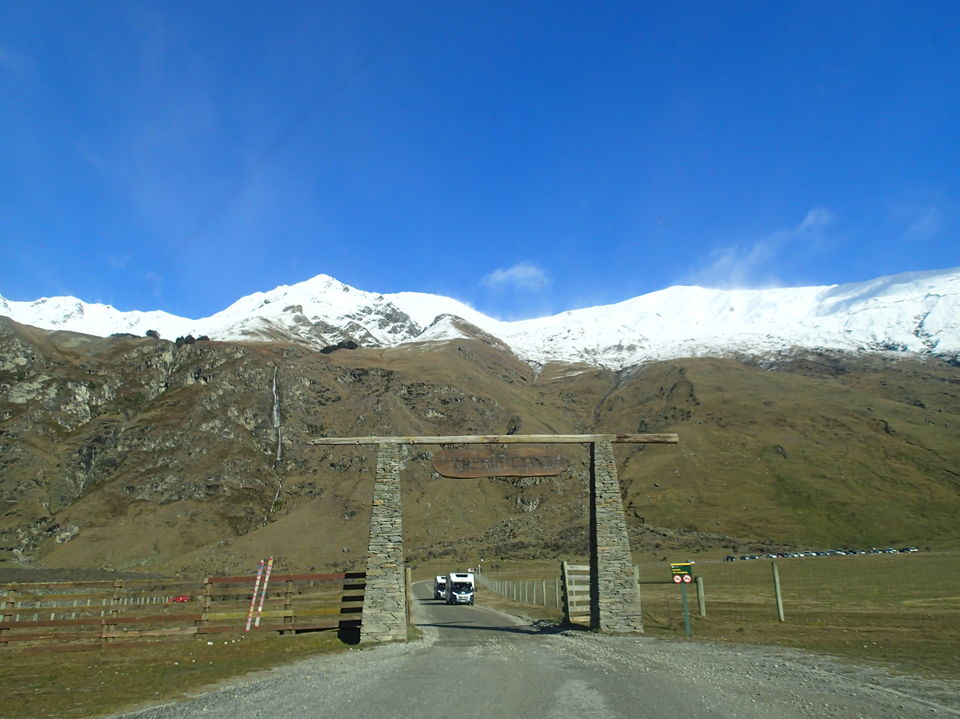 It was certainly a bizarre and different experience, right from the start. Andrew and I spent the night in Wanaka, where the overnight temperature hovered around 5C. We got up in the morning to beautiful blue sunny skies, green grass, birds chirping, and flowers on the bushes. The daytime temperatures were around about 10C in Wanaka itself! Certainly pleasant weather for the weekend. We saw snow on the tops of the mountains and, indeed, there had been a fresh snowfall overnight, giving us nice fresh powder on the slopes.
Getting There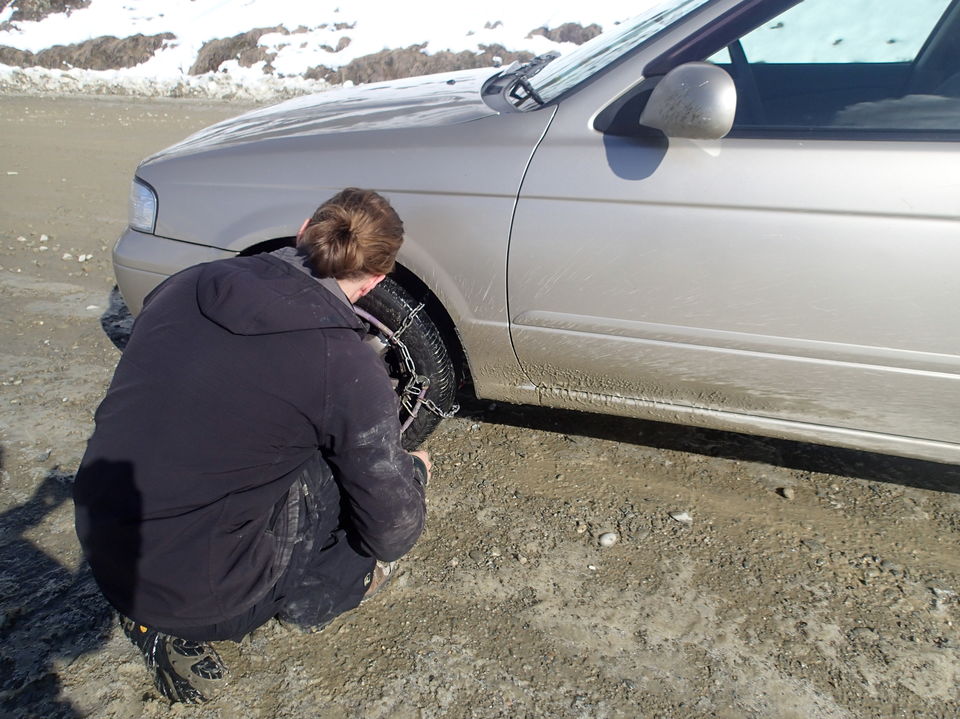 The drive from Wanaka to Treble cone itself took about 15 minutes, which was nice considering that we ended up making the drive twice. I am from Canada, grew up there, and I have never put snow chains on tires. I learned how to do it while working at Halliburton and even assisted the guys put tires on the trucks on occasion, but I have never been required to do so myself. Thus, we were not even thinking about needing snow chains in the rental car as we started driving up the mountain towards the ski field.
We hit chain up bay 2, where there was a ski patrol warden checking all vehicles for chains prior to allowing them the rest of the way up the mountain. The road was ridiculously steep, but it was muddy/icy gravel…I didn't feel unsafe driving without the chains, but apparently we had to have them. So, back down the mountain we went and back into Wanaka to rent snow chains.
We had rented skis, boots, and poles in Wanaka the night before since it was cheaper than on the slope and the same rental place was more than happy to rent us chains. They also apologised for not mentioning it the night before and offered us a discount, which was quite appreciated.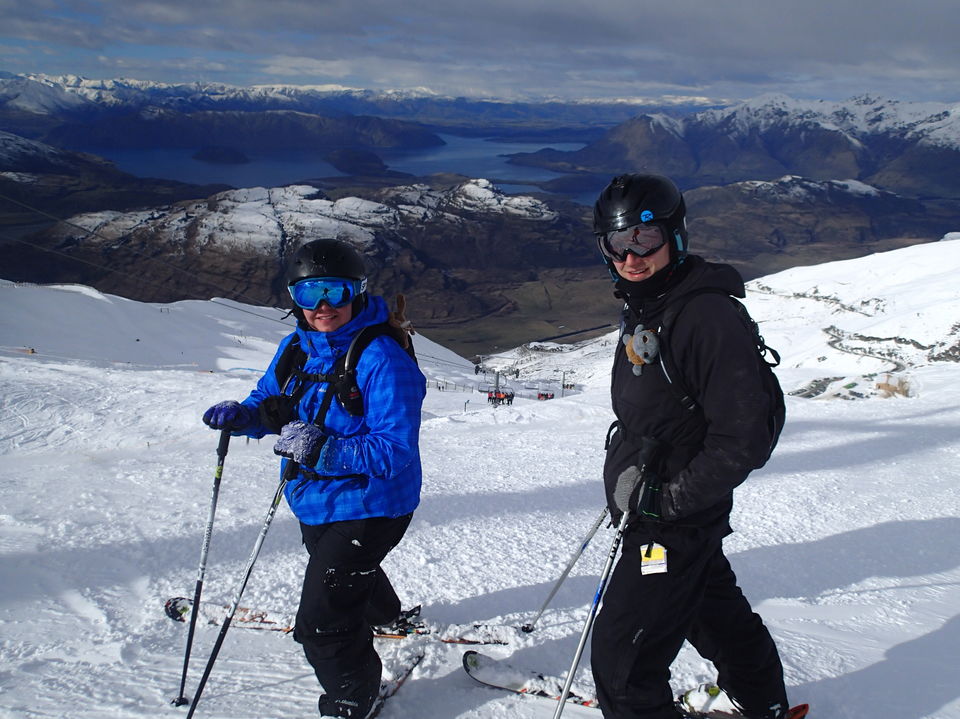 So, back out to Treble Cone we drove and back up the mountain. It was quite strange starting driving up a grassy mountain that slowly got more and more snow. There were signs for mountain bike trails and people actually driving up with mountain bikes! They just started on the trails that were still below the snow-line. Skiing and mountain biking on the same mountain at the same time…just weird. We hit chain up bay 2 and pulled over to put chains on. Andrew took one and I took the other. I got mine faster than him! Not that it was a competition, of course. We asked the warden to double check that we had done it correctly, which he was quite happy to do for us.
We continued driving with our newly chained tires around another couple of steep corners. I guess that the chains were more of a liability thing and mostly for those unfamiliar with driving in snow. They definitely needed a larger parking lot though since we ended up parked on the side of the mountain road with about 300 other vehicles. They were then running shuttles along the road to the top. I really don't understand why they don't just run the shuttles to the bottom where there is tonnes of parking available and people don't need snow chains. Either way…we parked, caught a shuttle, and went skiing!
Going Skiing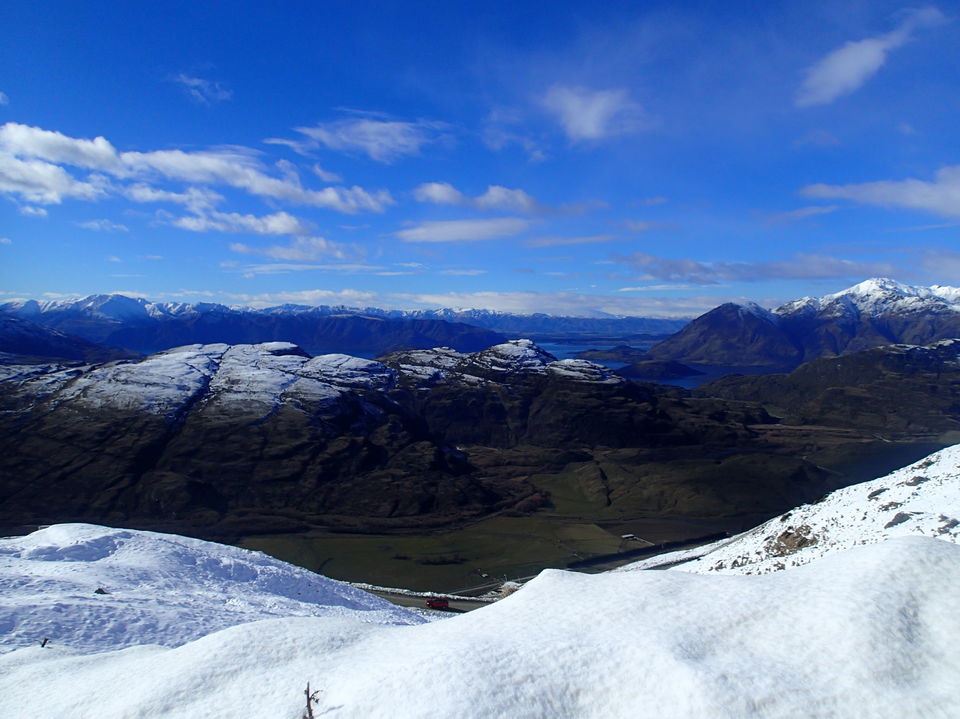 Getting our lift passes was a quick and painless process. We were handed little RFID cards with our pictures on them, even for a day pass. That way, if we came back, we could re-use them with no issues! They also had a discounted day rate for those skiing from after noon until close. Skiing closes around 5pm with no night time skiing available at Treble Cone.
Start with the green slopes!! This is always a good idea when it is the first run of the season. Andrew and I quickly learned, however, that what counts as a green or a blue slope in one country might be very different in another.
I am not the best skier. Green runs are great, along with the occasional blue slope thrown in. I can do easy black runs, but they are usually accomplished by spending almost as much time on my butt as on my skis. In Canada, that is. At Treble Cone Andrew and I spent the first few runs on the green runs and then the rest of the time on the blue and black runs. The blue runs here would be a difficult green at Kicking Horse and the black diamond runs here would be an intermediate blue to an easy black at home. Each run lasted about 10-15 minutes and then it took us about 5-10 minutes to get back through the line and up the chairlift to the top.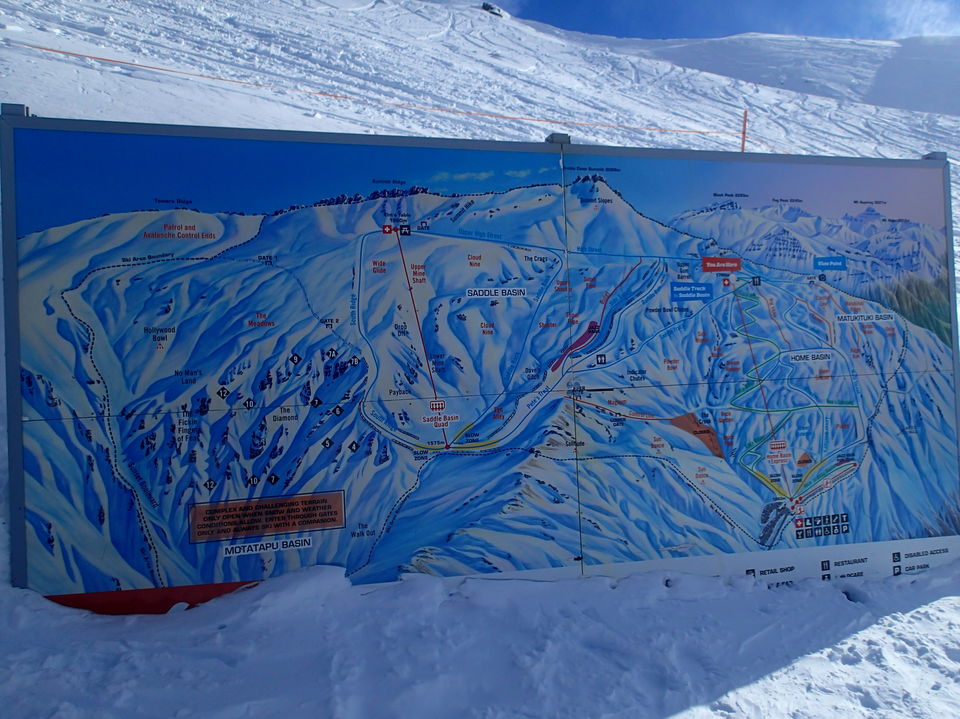 The snow was plenty thick with relatively little ice. Most of the runs were groomed with some soft powder. The snow was definitely a lot stickier than what is normal in Canada. The runs were nice and very open, with strong winds and colder temperatures at the top. There are two main ski lifts, along with a magic carpet lift for the beginners area. It is good to check the trail map and route closures. When we were there the entire Saddle basin and second lift was only open for about 2 hours due to the snow conditions.
One thing that I found really interesting and an excellent idea was that the bunny hill was completely free! They encourage parents to bring their kids and people to bring their friends to try out skiing for the first time for absolutely no cost. I guess the reasoning is that if they get you hooked on skiing that you are more likely to spend more on lessons and lift passes for life than if they try to get a lot of money from you right as you are learning. Beginner lessons also include a free 3 day lift pass to the easiest lift.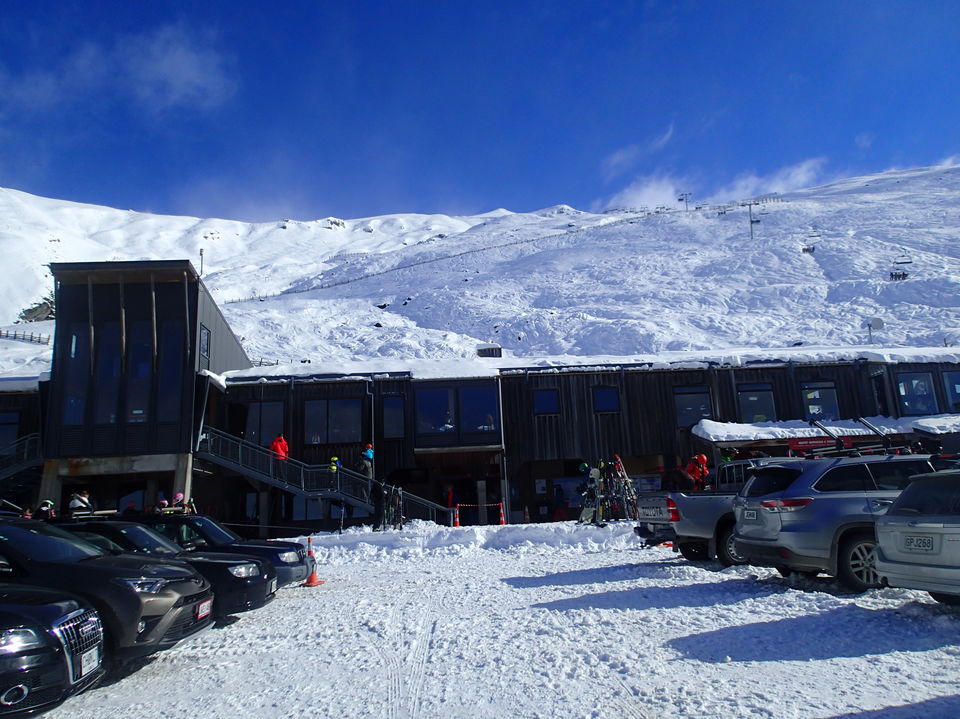 There was a nice little cafe and seats at the top of the mountain and a full service lodge at the base. Andrew and I packed our own lunch to make things cheaper, but the food from the cafeteria certainly looked and smelled fantastic! We shared a table with some other travellers while we enjoyed our lunch and then went back to skiing.
At the end of the day we were lucky enough to see a kea, a local New Zealand bird that is extremely rare. The views were simply stunning and the skiing was, although not as good as Kicking Horse, still fantastic.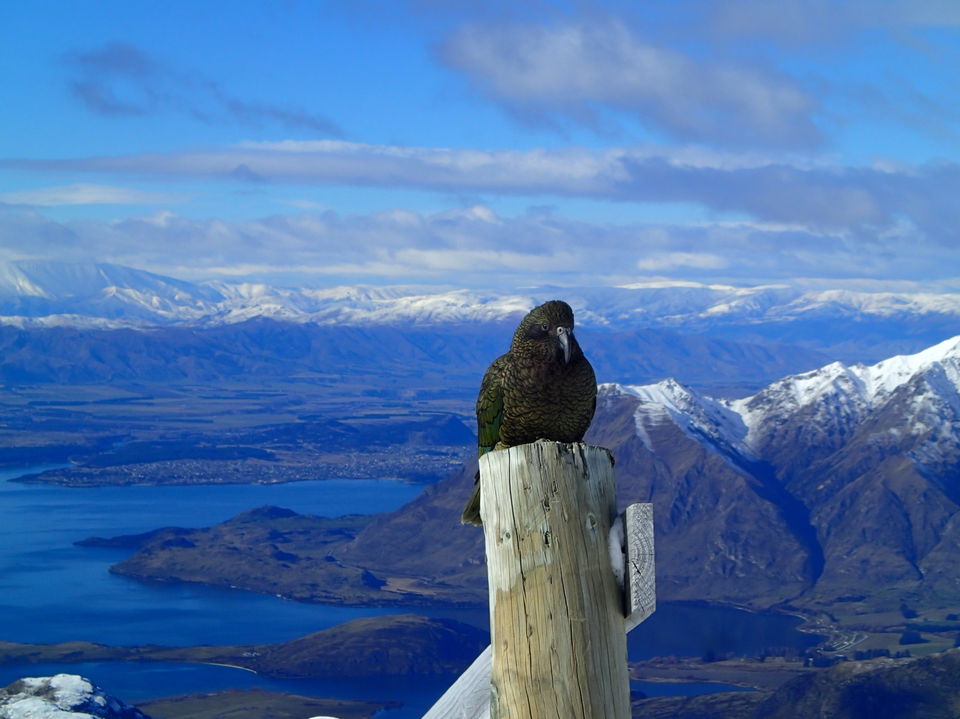 If You Go
The ski season in New Zealand is relatively short and somewhat unpredictable. The slopes are sometimes open as early as May and stay open into November. Some years the slopes don't open until July and are closed again by mid-September. The best skiing is generally mid-August to early September.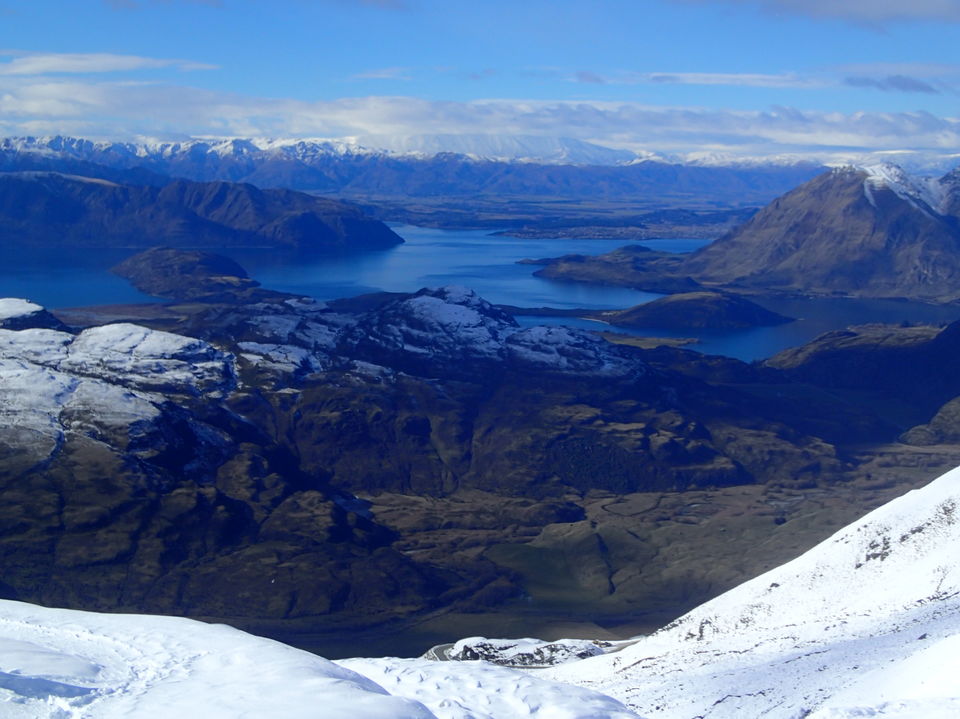 Bring snow chains. Most ski rental shops and most rental car companies are able to rent you chains for the day/week. The ski rental shops have less selection but are generally cheaper.
Most ski rental shops are also able to rent additional gear: snow pants, jackets, gloves, goggles, helmets, and other winter sport essentials.
Wanaka is cheaper than Queenstown and has a larger range of accommodation options. It is also good to remember that the holiday parks and campgrounds are open year-round. Most holiday parks offer cabins for extremely discounted rates (think around $50/night). The only catch is that you have to bring your own bedding for the cabins. I think for a $50 difference each night, I would make sure to pack my sleeping bag.