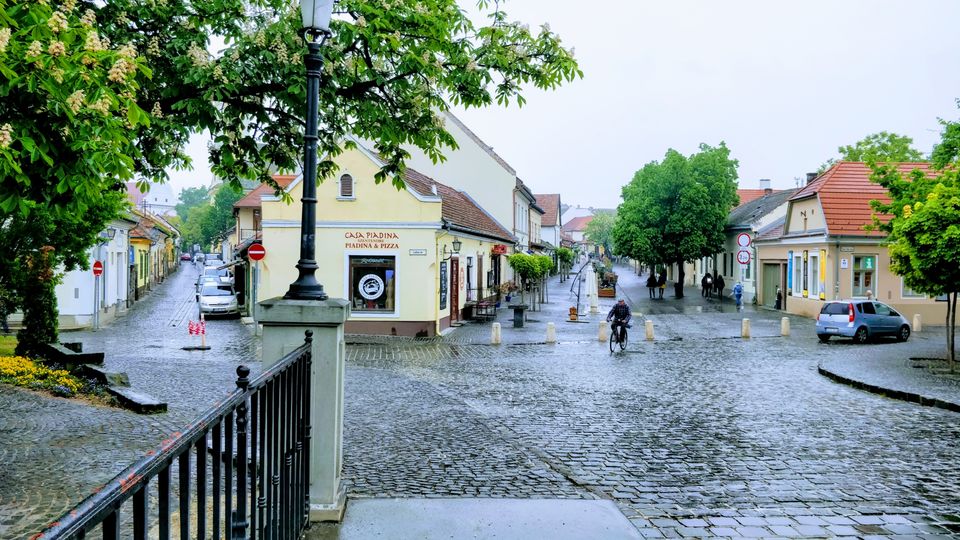 Well, no Europe trip can be complete without exploring the quintessential sleepy towns in the countryside. This was the exact thought that made me plan a day trip to the town of Szentendre. Located approximately 20Km from the capital Budapest, this Hungarian town looks like it has come straight out out of a fairy tale.
The very efficient suburban transport system of Budapest makes it super easy to reach Szentendre. The tickets are easily available on train stations and can be purchased from electronic ticket vending machines. There are trains running frequently from Budapest to Szentendre.
Szentendre is located on Danube on the northern side of Budapest. Once I got down from the train, it was a short walk from the station to the centre of the town. I visited in the beginning of May when it was raining and the temperature was quite low. But the rain only seemed to have enhanced the beauty of this cute town.
Szentendre, like any other European city, has a main centre which is lined with shops of different types. The main beauty of the town lies in it's cobbled streets and colorful houses. This gives a really vibrant feel to the town. This was a perfect place for me, as a solo traveler, to explore since I did not have to hurry up to see any "attraction"; I just walked through the town soaking in the beauty of the place. Life seemed to have slowed down in Szentendre. It was a total freedom from the daily hustle and bustle of life. It was a totally refreshing experience!!!
The small alleyways brought me to Danube riverbank. I spent a good deal of time strolling on the riverbank and enjoying the fresh breeze from the river. And yes, being solo traveler gives you the freedom to do something that you love. And I think that's the reason I was the only one enjoying the ice cream there while getting wet in the rain in such a cold weather 😂