Snorkeling used to terrify me. I would put my face under the water and instantly feel like I was being suffocated. Maybe that's what claustrophobia feels like?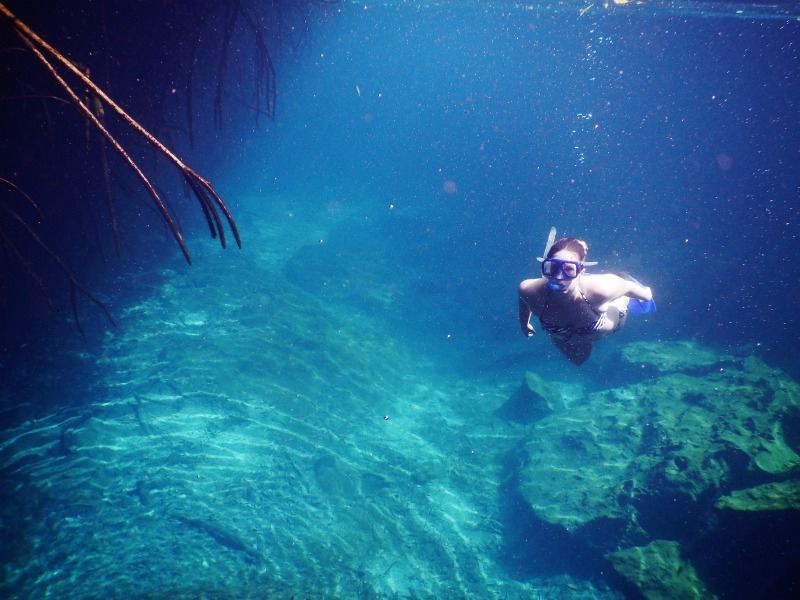 But living in the Cancun and Riviera Maya area, you have to get over your fear of snorkeling if you want to have any fun!
After 9 year living here, I'm finally comfortable snorkeling. The thought of barracudas still freaks me out more than I like to admit, but I'm trying to move past it. A few weekends ago, I went with a few of my coworkers from BuyPlaya Real Estate on a girls' day in Tankah Bay! First we snorkeled in the ocean (no pictures, sorry), where we saw lots of huge colorful fish and the entrance to an underwater cave. No barracudas in sight, thank you God.
Next, we walked across the street to the main cenote in Tankah. I'm unsure of the name, but from quick internet searching it seems to be called simply "Tankah Cenote" or "Casa Cenote" (after the nearby restaurant). This cenote is interesting because it connects to the ocean through a large tunnel… the same one we saw when snorkeling in the ocean! It's a completely open cenote, unlike many of the cave cenotes you'll find throughout the Yucatan Peninsula.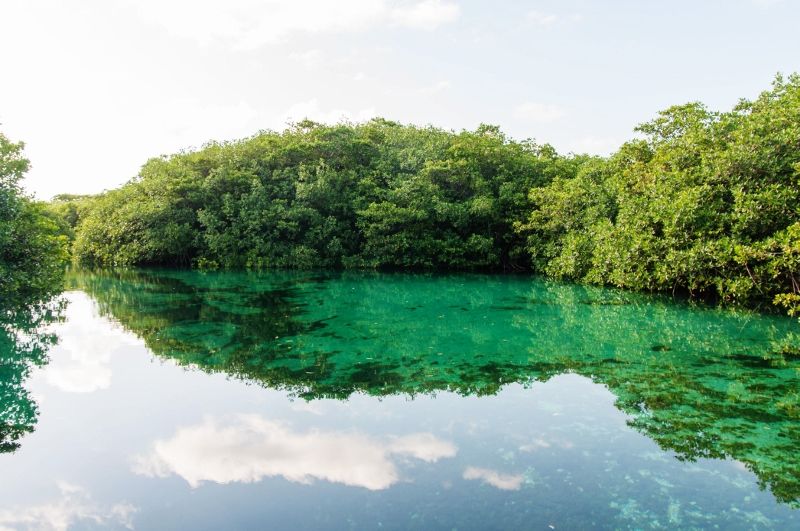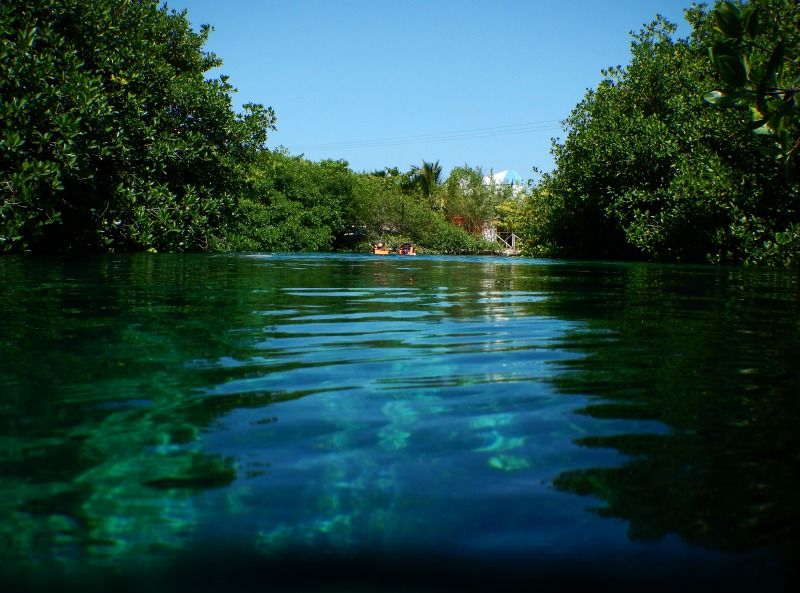 Our group of four girls spent an hour or two exploring Tankah Cenote, which begins as an open pond-type area then becomes a long river through the mangrove.
The water was simply unbelievable. It reached 4 to 5 meters deep in most areas, but everything was crystal clear. Like swimming in a pool!
What I loved about Tankah Cenote was the mangrove on either side. As you're swimming along, you see underwater forests of the long, thin roots on either side of you. The entire coast of the Riviera Maya is filled with mangrove, and it's a huge part of the local eco system. At this cenote, you can see why! Mangrove roots thrive when growing in mud and water, so they serve as the perfect filter to keep the water clean and free of debris. In fact, the mangrove tree system is one of the main reasons that the ocean and cenotes in this area are so clear!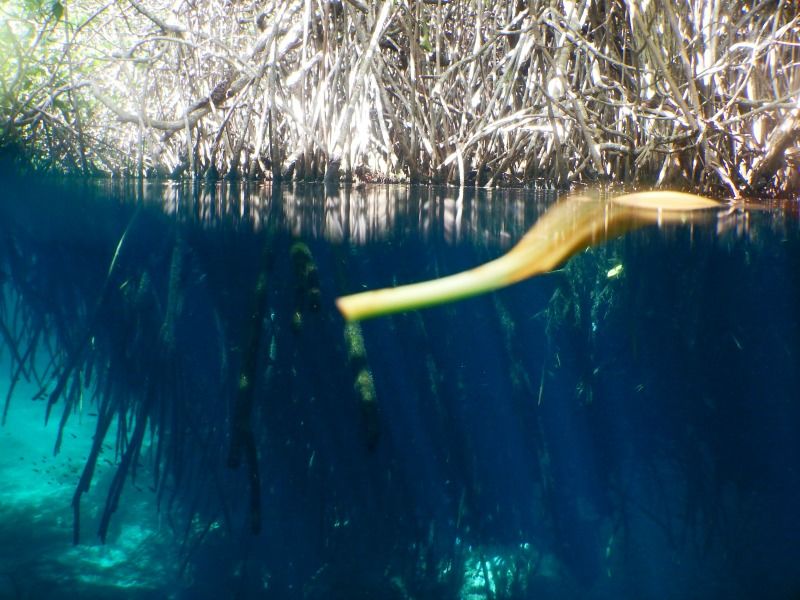 The mangrove is also home to lots of baby wildlife, as well. It must be fish hatching season, because we spotted thousands and thousands of baby fish living in the underwater mangrove roots. Just gorgeous.
During my snorkeling adventure in Tankah Cenote, I saw lots and lots and lots of baby fish, plus some bigger and more colorful fish near the floor. I even spotted a blue crab! (That little guy was hard to see because he was 5 meters below me and blended with the blue water. I had to dive down a few times to get better look.)
Tankah Cenote was also a fun place for me to get more comfortable with my snorkeling skills. Being in such clear, pool-like water made me feel safer than snorkeling in the waves of the ocean… with all the barracudas… ugh. And of course, my friends and I seized the opportunity to take some fun underwater pictures.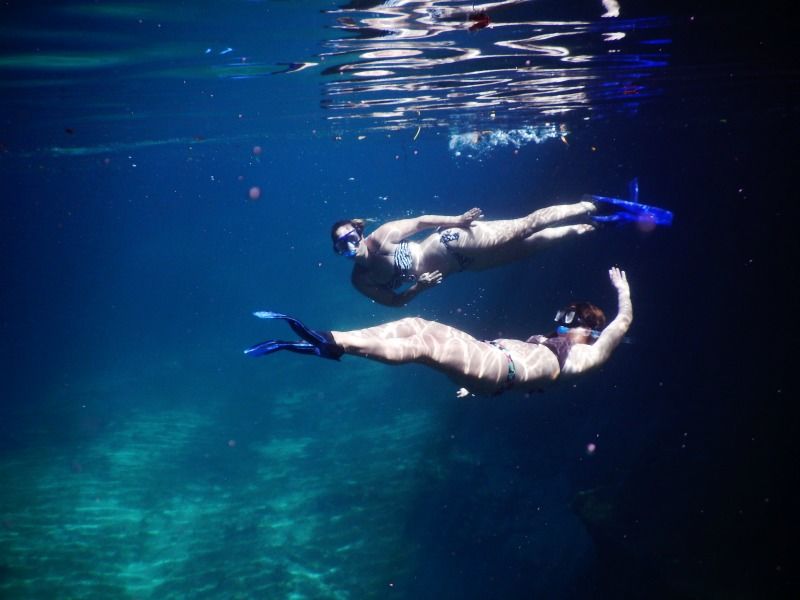 We also saw lots of divers. Apparently Tankah Cenote is also a popular spot for beginner divers, and there were several people there getting scuba diving lessons. I'll stick to snorkeling for now, thanks.
Tankah Bay is located in the Riviera Maya, just north of Tulum. It has plenty of beautiful beach homes to look at, and of course great snorkeling locations. To get to Tankah Cenote, we drove down the main highway and turned left at a sign with a large peacock on it about 10 minutes after Akumal. Sorry I can't be more specific!
All of these photos were taken by my friend Lisa Love Juliot, who works with me at BuyPlaya Real Estate.
Do you want the best offers of Tours in Cancun and the Riviera Maya? Visit Aquaworld Cancun