Have you ever nomadically wandered around the whole world but found solace in that one place which changed your life forever? Or even better; has any one place made you feel like home, so much so that it inspires you to travel the world, incessantly chasing just that level of comfort every elsewhere? Udaipur has been one such place to me.
The splendor of the city is such that it compels you to think back on time and reflect on your life in a peaceful state, and make you fall in love with being more alive every day.
We boarded a flight from Delhi to Udaipur (Maharana Pratap airport). It was a 90 minute journey. It's a small and tidy airport on the outskirts of the city with the basic facilities available. We took an Ola to take us inside the city to check in to our hotel. We stayed at a friend's hotel so it costed us quite less than what it actually was. Nevertheless, there is a zostel in Udaipur which is fairly priced at 399 a bed in mixed bed dormitory and then the prices rise towards deluxe and luxury rooms. We reached by the night so we could hardly explore the city.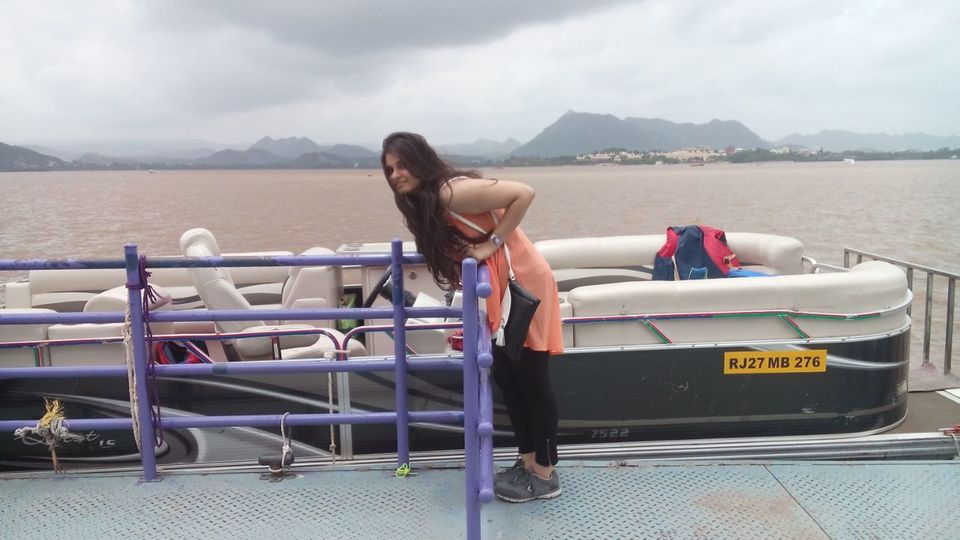 Our day started off with a divine breakfast at Paliwal kachori wala, who makes the most delectable kachoris in the town. The dal kachori seemed to melt perfectly in my mouth and the onion kachori was no less a treat to my gut. Also, the thin jalebis added a little sweet to the whole spicy aroma. After this wonderful start to the day, we headed to the most picturesque Lake Pichola which embraces Jag Niwas (a palace hotel located right in the centre of the lake) and Jag Mandir (which is a temple next to Jag Niwas). There are ferry services which take both personalised and shared boat rides inside the lake. My insights:
• The view: It is one of the best sceneries you will ever come across. A huge lake which is an abode to a mighty hotel (which looks like a tiny speck of grass in the lake, though). It's a beautiful sight, even more enjoyable if you visit it in the evening (we did not, and we regret).
• The ferry: The charges were quite high for a boat ride but worth it. They take 300 bucks for an adult and the ferry lasts for 45 minutes. The sunset ride is costlier- 500 bucks for an adult but as I told you, the sunset view is to die for. Evenings are a bliss in Udaipur.
Then we moved on to City Palace museum which is near to Lake Pichola. I did not try some things that I should have, so here's a list of my takeaways:
• The Entry: If you are a student, carry your ID card because the student ticket costs just Rs.100 and the normal one costs Rs.250. The museum is worthy of every penny you pay and the next few points will tell you why.
• Hire a guide: We did not, and we regret. I am not much of a history buff and therefore it can be justified, but I (and all of us) sure am a patriot and it feels extremely surreal to know about the brass tracks of such places which sing of our late kings (Maharana Pratap, Maharana Udai Singh) and their greatness.
• The architecture: The Mewari architecture speaks of our kings and queens, their conquests and their bravery. It is all visible in one place and that in itself is quite wonderful to experience.
• The food: A lot of foreign tourists visit Udaipur and hence, the city museum. This has made the restaurants right inside the museum campus quite expensive. I will suggest you to eat outside; there are plenty of eateries that can serve your taste buds.
• Take out time: such places require time, so make sure you have atleast 2 hours in hand before you actually start exploring city palace (yet another thing we missed out on :P).
We had our lunch at a local restaurant after the whole museum journey and we made sure that we tried every local Rajasthani food that Udaipur had to offer. My favourite is Dal Bati churma, an absolute delicacy. The best way to eat it is by crushing the bati into really small bits and spreading dal and churma all over it, and then savour it using your hand and not a spoon (heavenly).
Post lunch we returned back to the hotel for a quick nap.
The evening saw us at Sukhadia circle which is a beautiful recreational centre laden with local eateries and a bustling crowd. It appears as if the entire youth of Udaipur gathers around this place in the evenings. We met a few friends there who helped us pick the best food and showed us around Udaipur. It's always good to have a local company because they know every chapter and verse of the city.
After a wholesome meal, we tagged along with them to explore the ghats and the FatehSagar Lake. A few interesting details:
• Get hold of a car: hire a cab, or if you know how to drive rent a car of your own. Reason: The ghats and the lake are an absolute beauty and driving alongside them is no less than an experience. Nights in Udaipur are angelic. The weather is pleasant and driving on such a path makes the whole semblance very captivating.
• Walk: Halt your car for a while and walk beside the lake, or seat yourself on the ghat. If you're anything like me, you can spend almost an hour doing this.
• Explore the best ghats: Gangaur ghat and Ambrai ghat areboth very photographic. Ambrai ghat also hosts a restaurant with scenic seating and amazing food.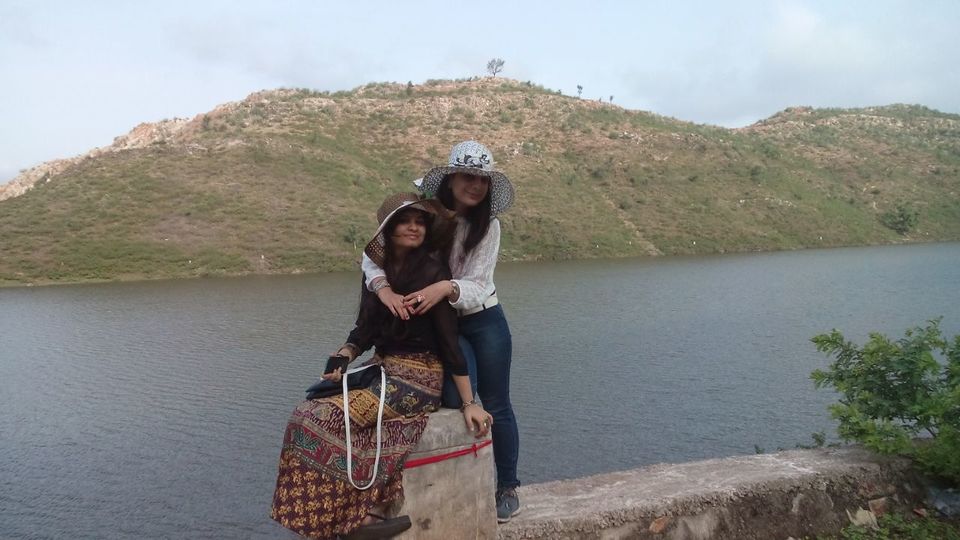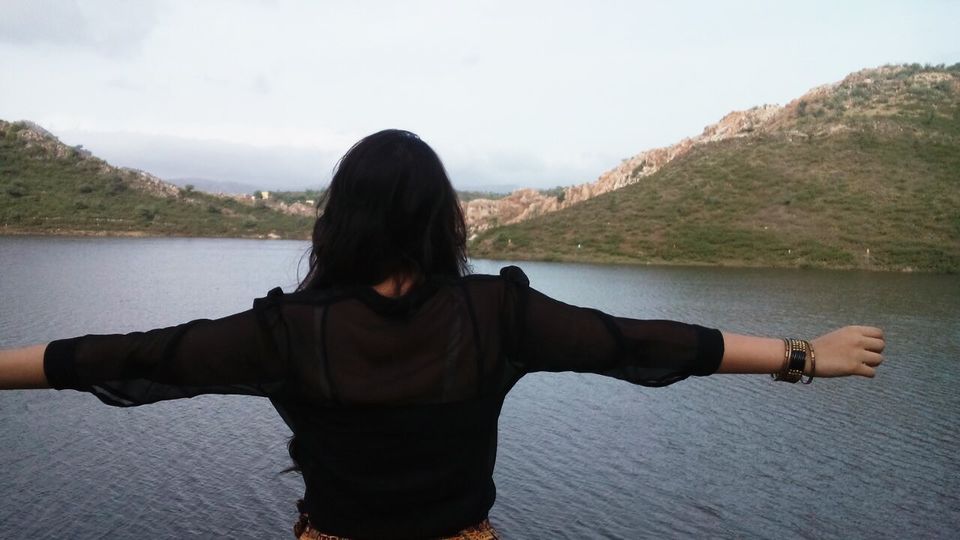 The next day we woke up quite early to visit the badi lake which resides on the outskirts of the city and is a 30 minute drive from the centre of Udaipur. Now this lake is huge. And the way which leads to it is very charming. Photography is an absolute joy in this area and very few tourists know about it as it is not well developed like the other lakes.
Nevertheless, it became my favourite spot in the city. Just make sure you reach there as early as 6 AM so that you get a glimpse of the sunrise and enjoy the view as well.
On returning back from the lake, we ate a filling breakfast at Bhole Nath nashta centre in Sukhadia circle and that was by far the BEST poha I have had in my life. If you like parathas, get your hands on Sai Baba Nashta centre at Gulab bagh. Dipped in butter, these cauliflower, potato and onion parathas are totally scrumptious. After this amazing breakfast, we went to visit the Sukhadia circle fountain. A beautiful garden which is home to this huge fountain is a good place to chill at. I could not find it very appealing so it will be okay to skip that.
Next, we went to Saheliyon ki baadi. This garden is quite a site to visit. Here's why:
• Deep history: This garden has some deep history attached to it, and you can know about the same from tourist guides there. They charge a very nominal amount and tell you a lot about every little spot. They also click your pictures, which is a bonus :P
• Photographic: This garden has many areas which will make you wonder. Fountains, bushes, aesthetic alignment of greenery make the garden very pictorial.
• Cheap deal: The entry fee is negligible (Rs. 5) and the guides also do not take more than 80 or 100 bucks. So you get a lot in very less.
Next we grabbed some lunch at Gordhan Thal. This Rajasthani thali-themed restaurant is a must visit (if you like Rajasthani food).
The seating, the ambience, the food and most of all, the service was commendable. It costs 500 rupees per person and you get served till you can eat. They will keep serving you less like a customer and more like a family member and you can keep eating. The food is so good that it calls for a little nap by the end of it :p Great experience!
We next went to a famous market for shopping called the Bapu bazaar. Now this market is an abode to some great bargains, authentic stuff and mouth-watering gol gappas. We picked up a few things and here's my little insight:
• Jutis: This basic Rajasthani footwear is a must takeaway. You can buy them for as cheap as 100 bucks and as expensive as 1000 bucks. Just bargain a lot and get your hand on some great deals.
• Suit materials: The suit material is also unique to Rajasthan, and you can purchase a lot of affordable suits and kurtis.
• Saris: Bandhni saris are a speciality of Rajasthan and its always good to carry them back home with you.
• Printed palazzos and skirts: Prints in India owe their inception to Rajasthan, so what better than to buy those from this place itself.
We wrapped up our shopping only by the evening and rushed to the hotel to keep the purchases and go out for dinner. We quickly had a few snacks at the Sukhadia circle and again went out for a peaceful drive along the Fatehsagar lake.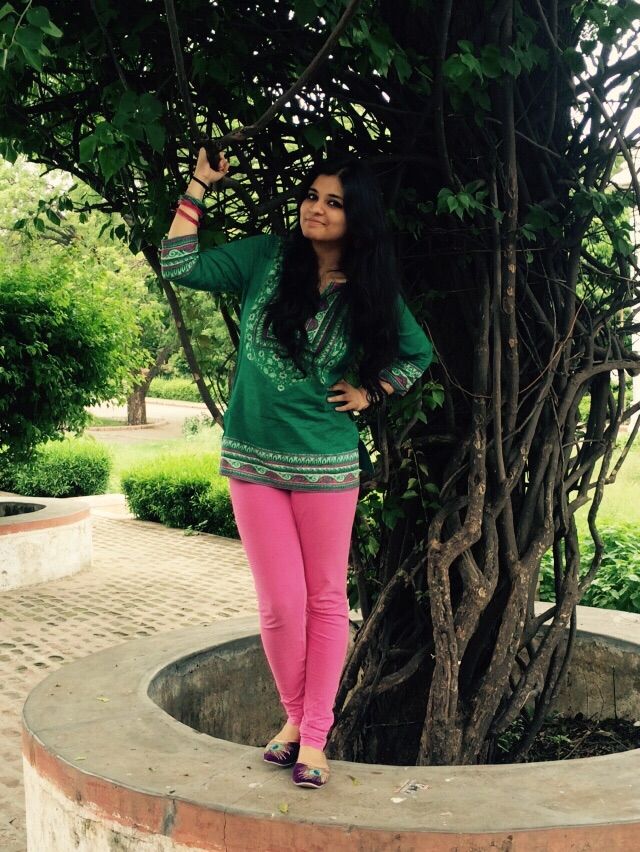 We got up early this morning to gear up for Ranakpur, a beautiful Jain temple located in the hills.
• The architecture: Ranakpur is known far and wide for its mystic architecture.
• The aarti: The aarti is a wonderful experience with diyas (both big and small).
• The view: Ranakpur is located on a hill and the view is enchanting. The outside of the temple is completely cinematic. Cameras and mobile phones are not allowed inside the temple. The whole way from Udaipur to Ranakpur is true-to-life. There are a few ponds that will cross your way.
• The timings: make sure to leave as early as 7AM so that you reach in time for the aarti. Also, the view looks its best in the mornings. It is a 45 minute ride to go uphill.
• The hunts: Make sure you buy a few snacks in the temple campus for home. The khakras (crispy dry papad-like ) are a MUST buy. Also, beware of Langoors. A langoor ran away with 6 of our khakra packets. Make sure you hide whatever food item you have.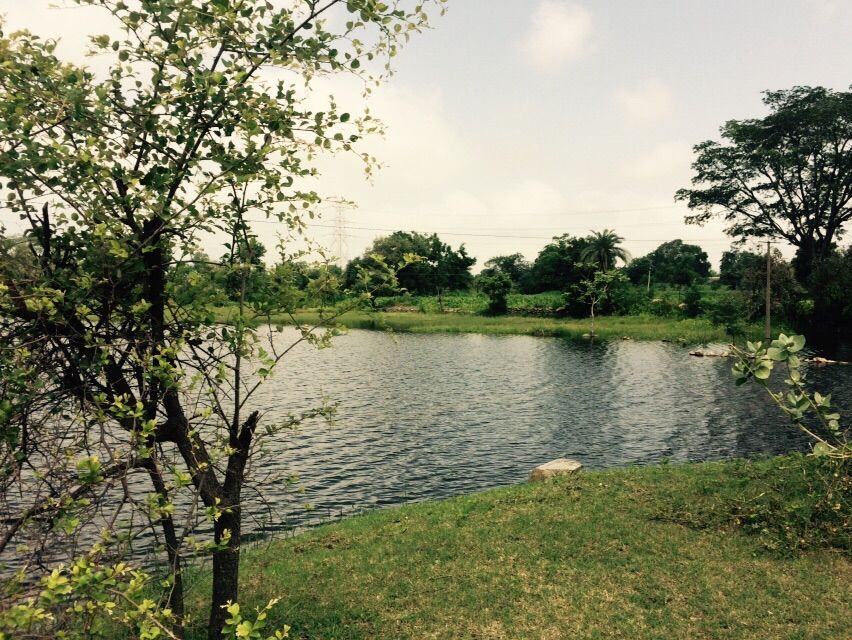 We came back to the city, had a quick lunch and proceeded towards the Railway station. Just as the train left the platform, I felt like I left a piece of my soul behind. This city made me fall in love with its beauty and hospitality. Since then, I have been travelling to find the same level of comfort in other places. Indeed a spectacular city Udaipur!