If you are a seasoned traveler, then this article won't interest you. As this is an account of a travel experience of a person who has only witnessed the majestic mountains in pictures and movies (and once on a family Vaishno Devi trip :/ )
It was a just another mundane day in office. A text from a friend came as a much needed reminder that I was in a desperate need of an escape. He was telling me about the recent trekking expedition he has been to. And just to show that my life is as happening, I told him am planning a trip to north-east. And it was while talking to him that I realized maybe it is time that I take the much awaited solo trip to Sikkim. So the next thing I knew, I was being overwhelmed with all the planning that was required to be done. Now unlike most of the travelers I know or have come across since then, I do not even belong to a family who have some tradition to take an annual trip to some place new. So the thought of being all alone on a journey to a place I have never been too, was scary. But it was good scary. Anyway, I booked my flight from Kolkata to Bagdogra and it was official that I WAS in fact going.
After doing my extensive research regarding the place and after answering a number of 'why-solo' 'how-are-you-going-to-manage-this' questions, the day finally arrived when I was supposed to leave. I was sleep deprived as I hardly had any sleep the previous night due to anticipations. But being an ever curious creature, I decided to go for it and see how it turns out to be and whether solo trips are as good as they seem when they are oh so romanticized in various articles and travelogues. Did I mention that I am an introvert? Well yeah. It takes a lot of effort from my side to start a casual conversation. So there was a high chance that this trip would have been a lonely one.
Now if you are not interested in the regular touristy stuff, skip to the later half of Day 6.
Day 1:--
I reached Bagdogra at around 3:00 pm and took a cab to Gangtok. Now for those people who are travelling solo and don't want to spend a bomb in reserving a whole vehicle but still are looking for a comfortable shared ride to Gangtok, try booking a seat through wizzride.
I had booked my first two nights of stay in a hostel named Tagalong Backpackers run by this wonderful lady and great host named Manisha. My first night wasn't really great as I threw up on my way to Gangtok (I blame airport food).
Day 2:--
My host helped me book a cab for local sightseeing. I was accompanied by a fellow solo traveler who happened to be a mountaineer back from some mountaineering course in Arunachal. We went to most of the clichéd tourist places (Ranka Monastery aka Lingdum Monastery, Ban Jhakri Falls, Namgyal Institute of Tibetology, Hanuman Tok, Ganesh Tok, Tashi view point) and it would be wrong if I say I didn't enjoy my own company. The paragliding experience was good too. Monastery without any doubt was beautiful. The waterfall was okayish as it was too crowded considering the peak tourist season (like a lot of other waterfalls I came across, making it look more like a water park). The sky was pretty clear and I was able to get a view of Mt Kanchenjunga from Tashi View Point.
Day 3:--
This was the day I left for North Sikkim. Now if you book this trip on a shared basis, then you will have to share the vehicle (Sumo/Bolero generally) with 9 other tourists (4+4+2). Undoubtedly it is not a very comfortable way to travel as there is a lot of road time involved in this 3 days 2 nights trip. But comfort was not my only concern. I was pretty skeptical about spending the coming 3 whole days travelling with absolute strangers. Mind you I was not concerned safety wise, but 'getting-along' wise. But I was lucky that during this trip I met these wonderful people. We all totally got along and had an awesome time together. It just couldn't have been better. Four among us were solo travelers and rest were couples from different ethnicity from across the country. We had a mini India in our vehicle :P.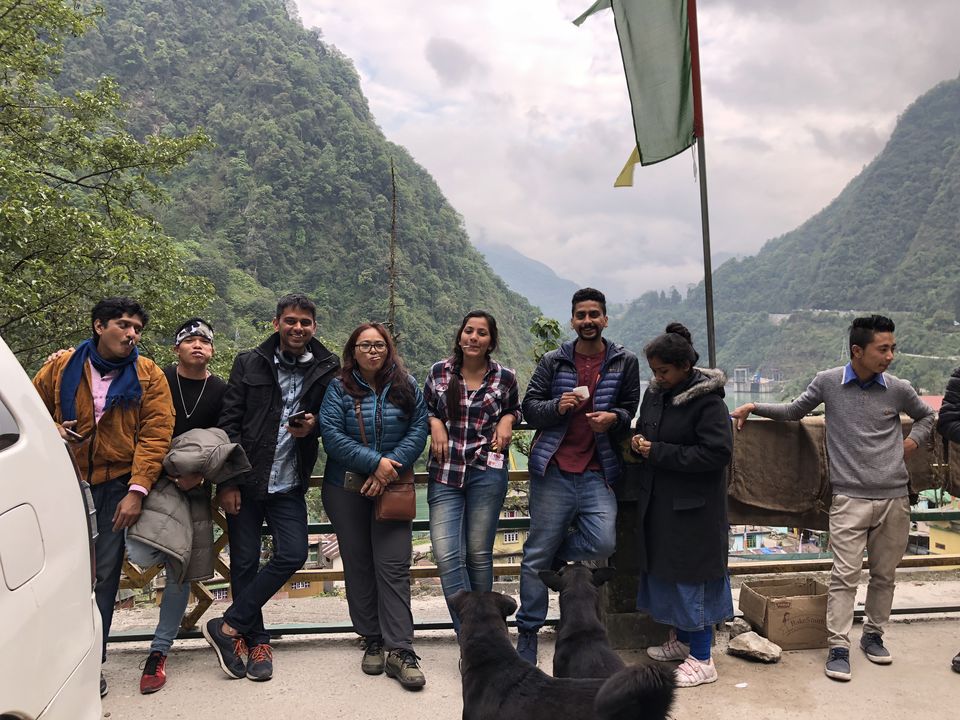 We reached Lachung that evening and on our way there were several stops at several waterfalls. Same crowded ones which I did not bother to get down and watch.
After reaching Lachung our group went on to take a stroll on the streets and chatted with few locals. It was a wonderful experience.
Day 5:--
We woke up early to an awesome view from our guest house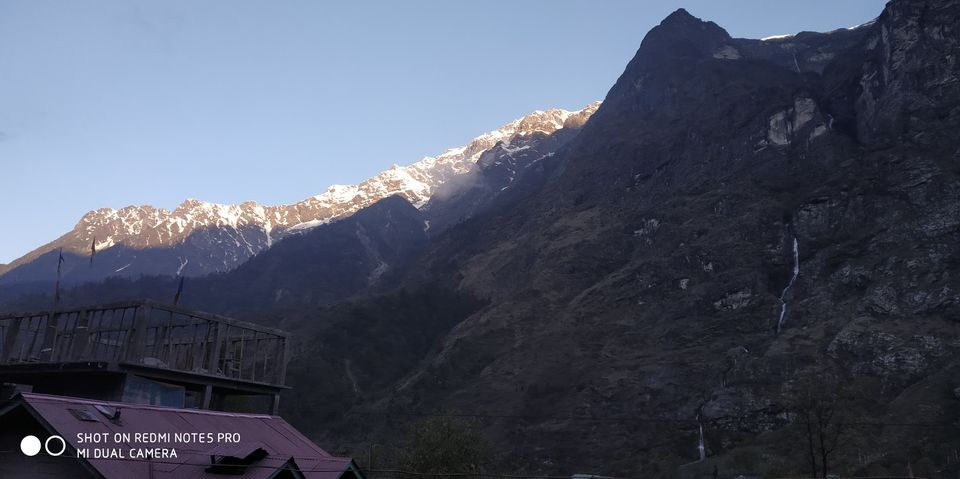 We left for Yumthang valley and zero point. For a girl who has never in her life witnessed snow, zero point was a real treat.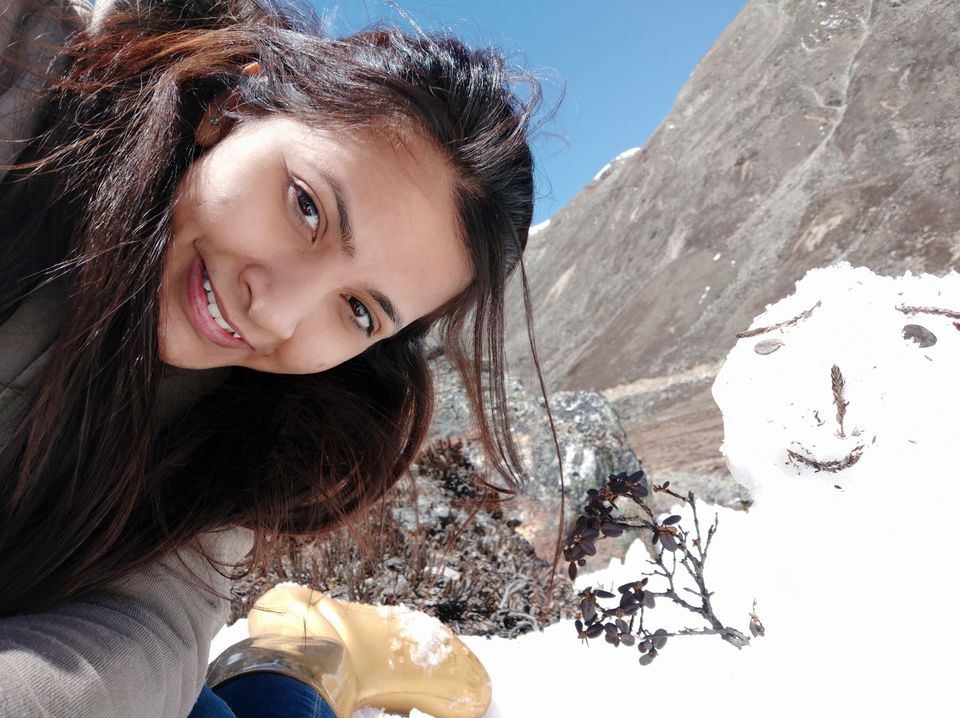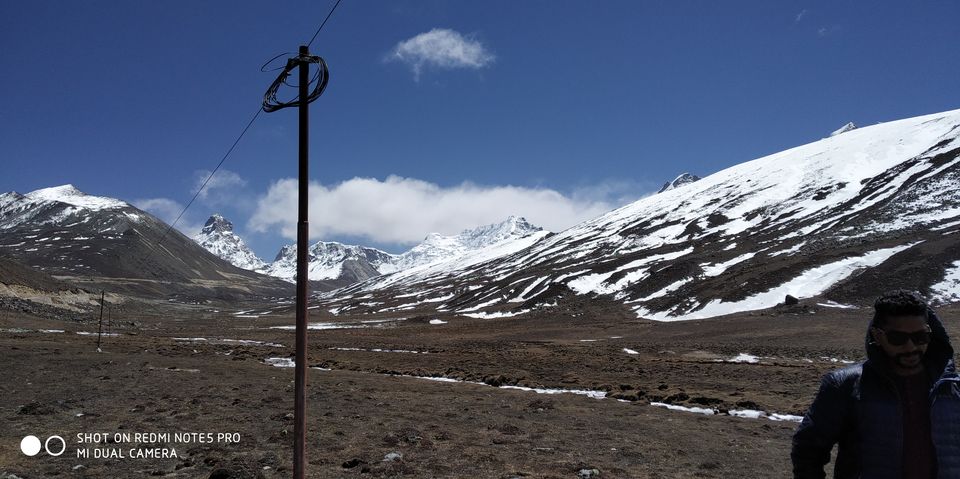 If you could find a place a little away from the crowd and just sit there doing nothing, the silence you witness is amazing. I could literally hear my own heartbeat (this was probably because of low oxygen level in the air there).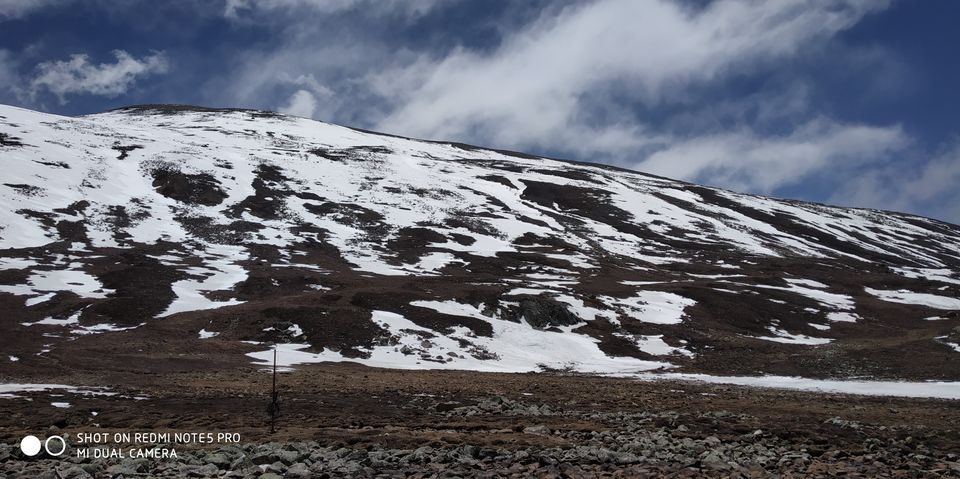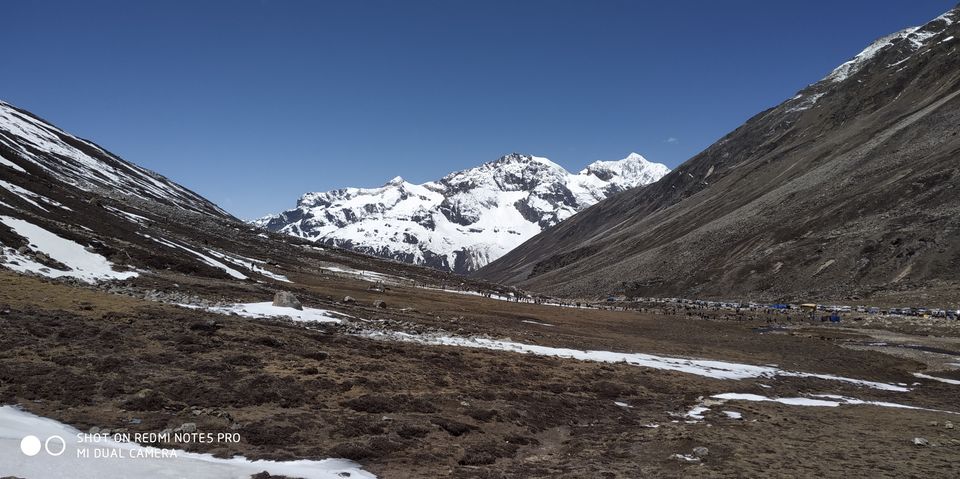 Next we returned to Lachung, had our lunch and left for Lachen.
Day 6:--
This was the day I witnessed snowfall for the first time while on our way to Chopta valley. We stopped and clicked a lot of pictures.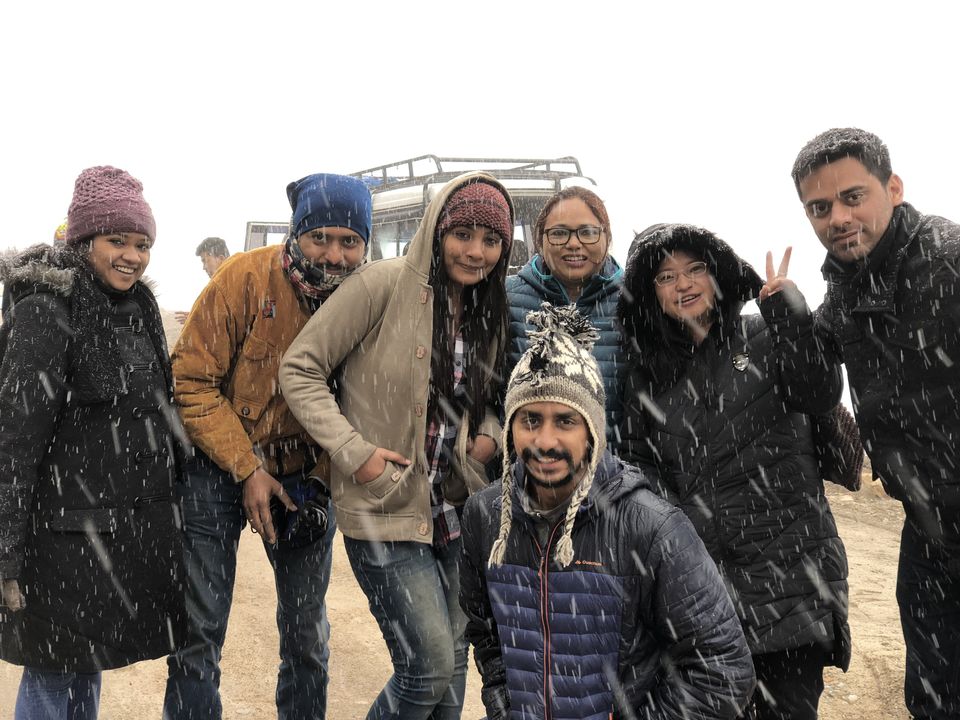 It is amazing how these little things tend to bring out the child in us.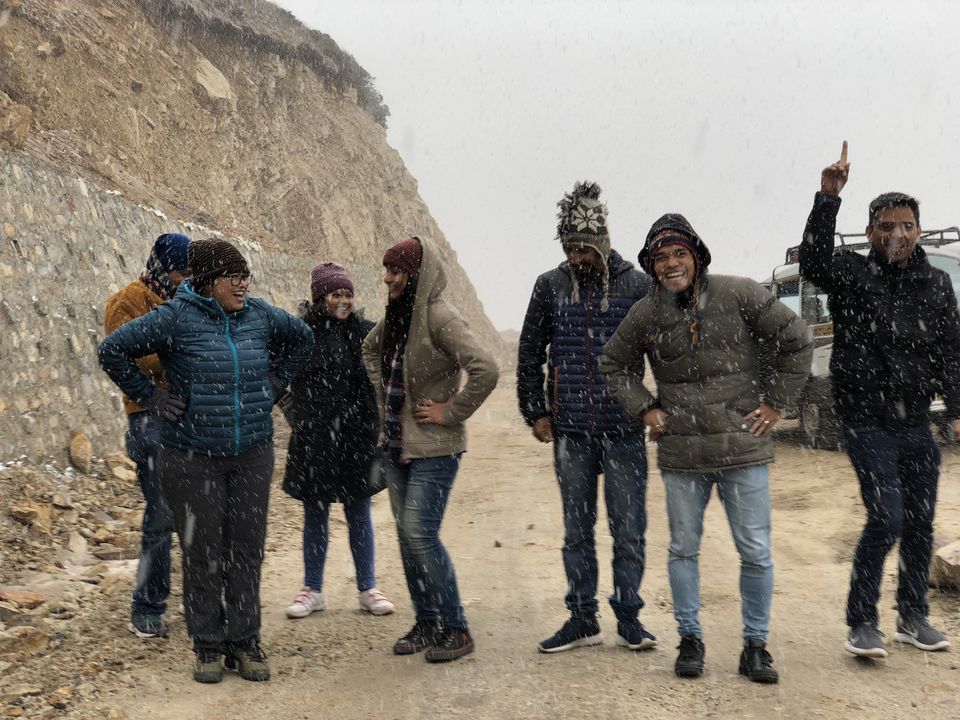 Next we left for Gurudongmar Lake. On the way we stopped at an army check post cafeteria and surprisingly the momo I had there were the best momo I had in Sikkim. They were playing 'cheap thrills' and with a fire in the middle of the room and unlimited black coffee, the ambiance was great. The way from there to the lake was so damn pretty. Straight from the lush green forest covered mountains into this rugged terrain which was en route to Gurudongmar Lake.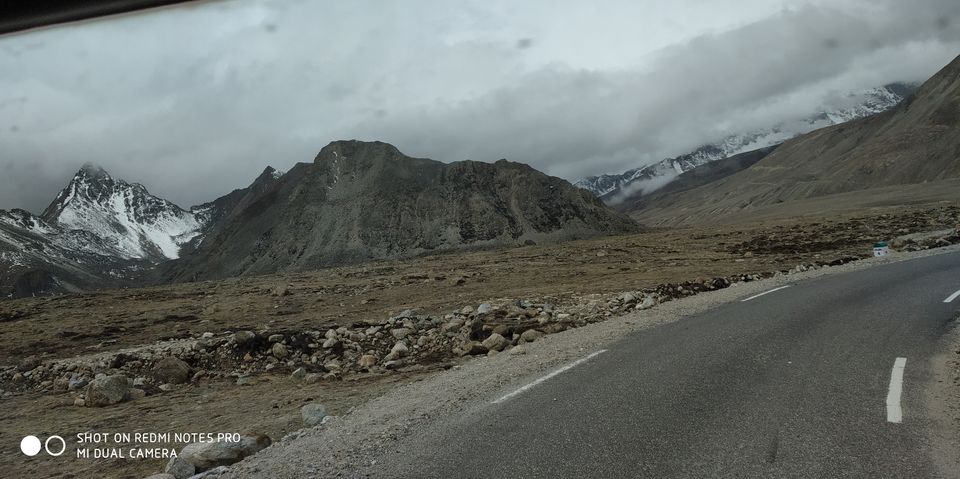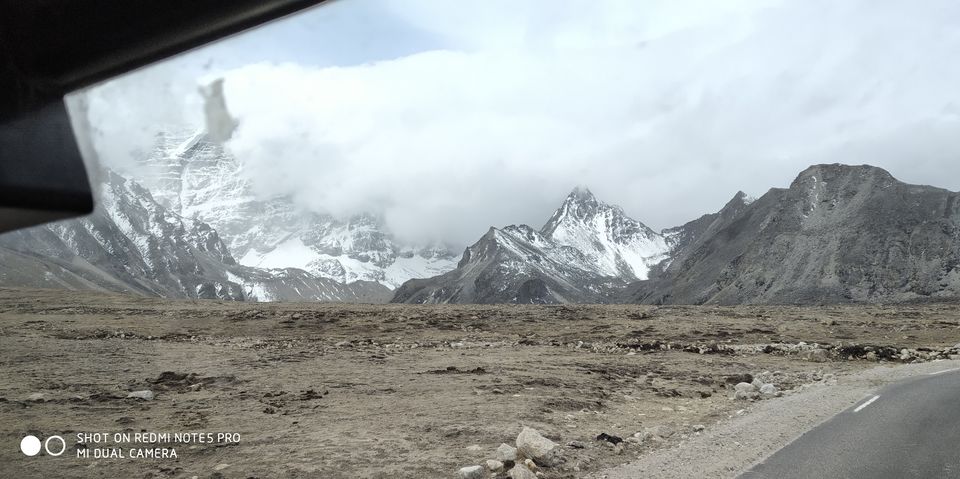 The lake was as beautiful as the road leading to it.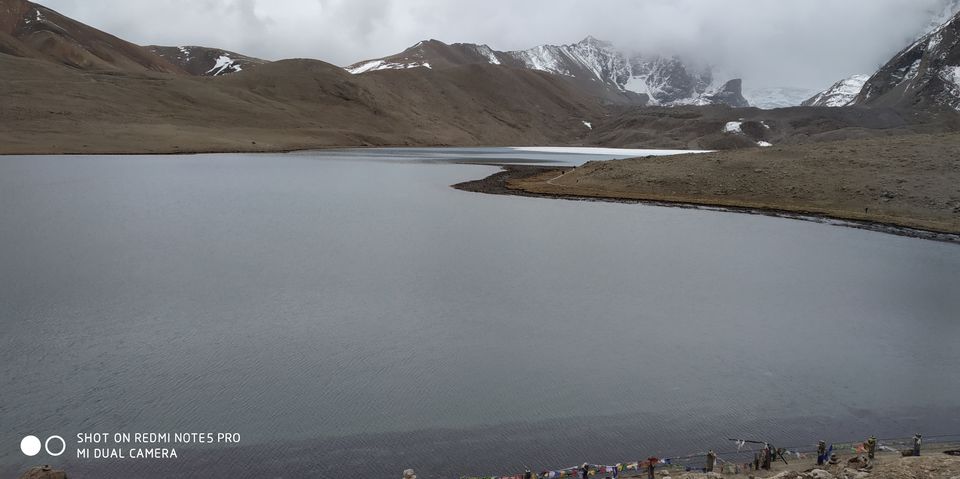 This was our last day of the 3 day 2 night trip. We had lunch in Lachen and left for Gangtok. Three of us, as per an impromptu plan, got down in a small town called Mangan (around 2-2.5 hours before Gangtok) as we were about to go to a small village in Dzongu. Little did I know that this was going to be my best experience in Sikkim.
So we were received by the home-stay (Rumlyang Home-stay) owner Mr Karma Lepcha at Mangan. He was the sweetest person I met in my whole trip. Along with him three of us went to his village named Tingvong. It was a little remote and we had to literally walk through shallow part of a river to reach there but it was oh so worth it. There was a bridge. But due to a heavy rainfall previous night the river had crossed onto the land a little. They tried to cross the river with a SUV but it got stuck. So we had to walk that part out but walking through the river on a full moon night was fun anyway. He and his nephew welcomed us with a traditional Lepcha drink called Chi.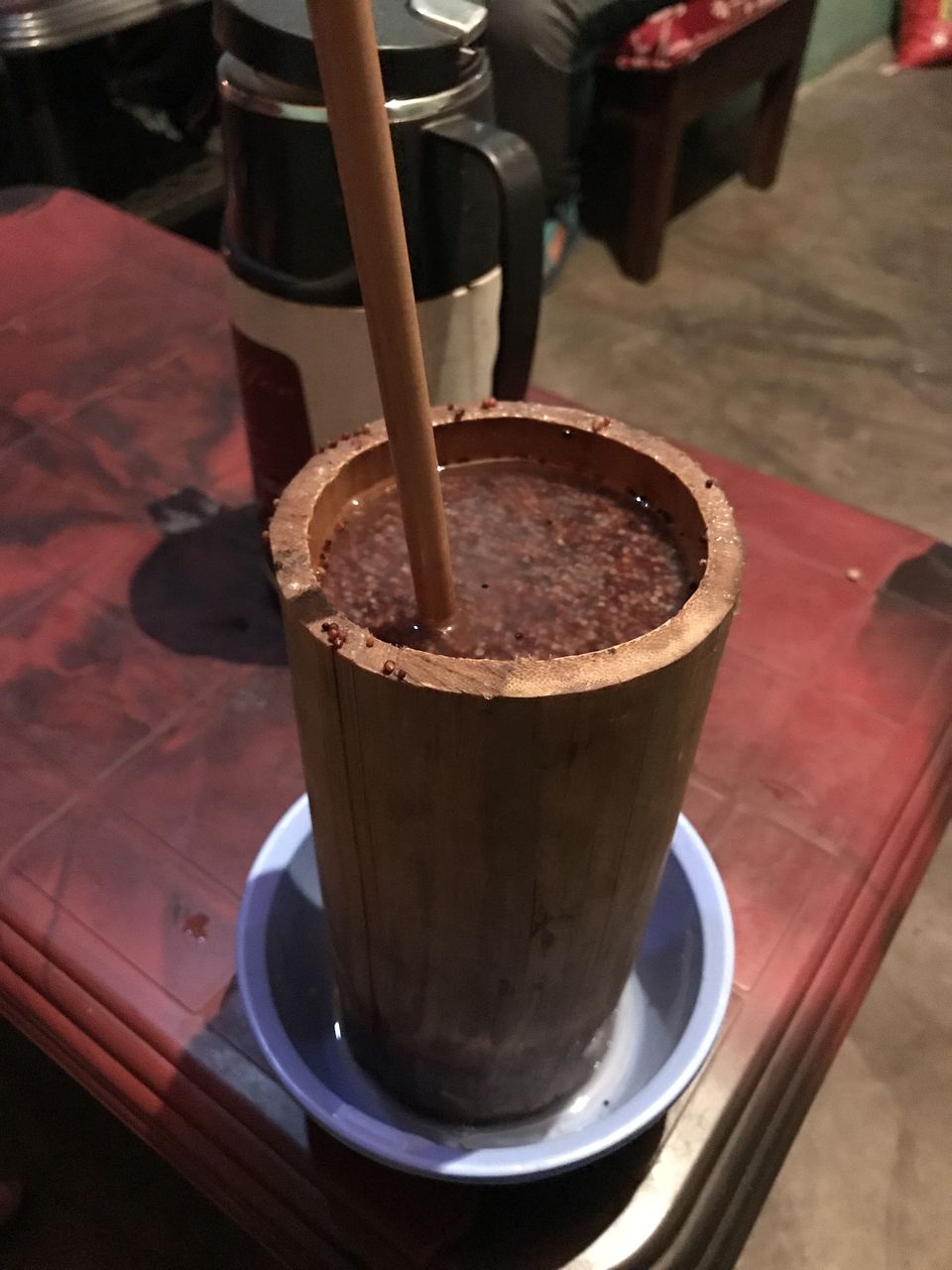 The dinner was simple yet deliciously cooked on wood. We had a great sleep that night.
Day 7:--
The first thing I did this morning was taking a walk around this beautiful mountain village. It was a small village with a population of 280 people of Lepcha community.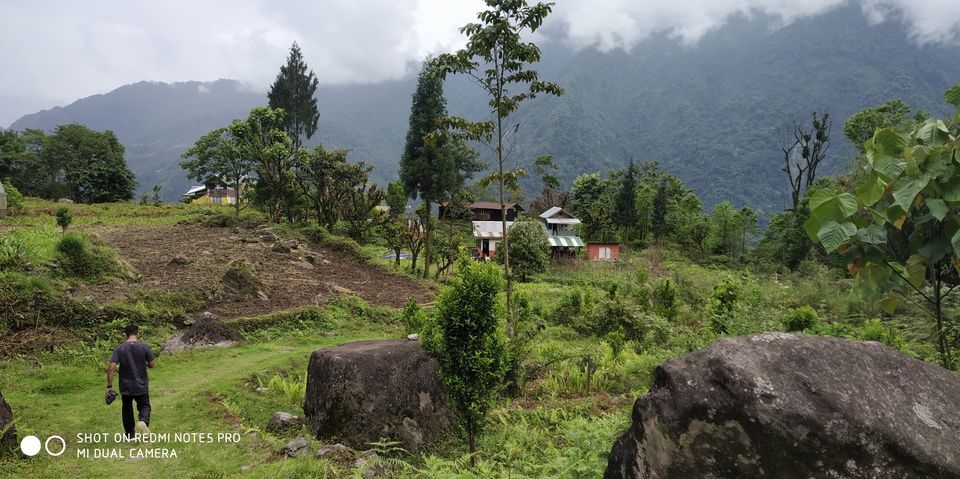 It was amazing how every single person I came across in that village was so warm and welcoming. Something which we rarely see in cities. Mr Karma gave us a little tour of the village school. There were very few students considering the low population. There was only one student in std. 4, two students in std. 1, and three students in std. 5. They had a small in-house museum in the school showcasing various aspect of Lepcha community, most of the art done by the school students themselves. Later we went to a waterfall. I was elated to finally find a waterfall without the tourist crowd. We played in the waterfall while Mr Karma and his nephew were cutting bamboos in which they were about to serve us another traditional drink called 'arak'. It was supposed to keep us warm and we loved it.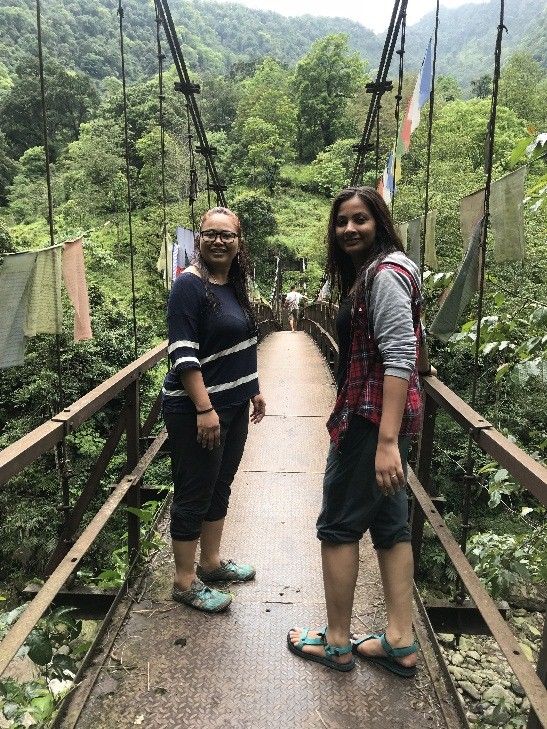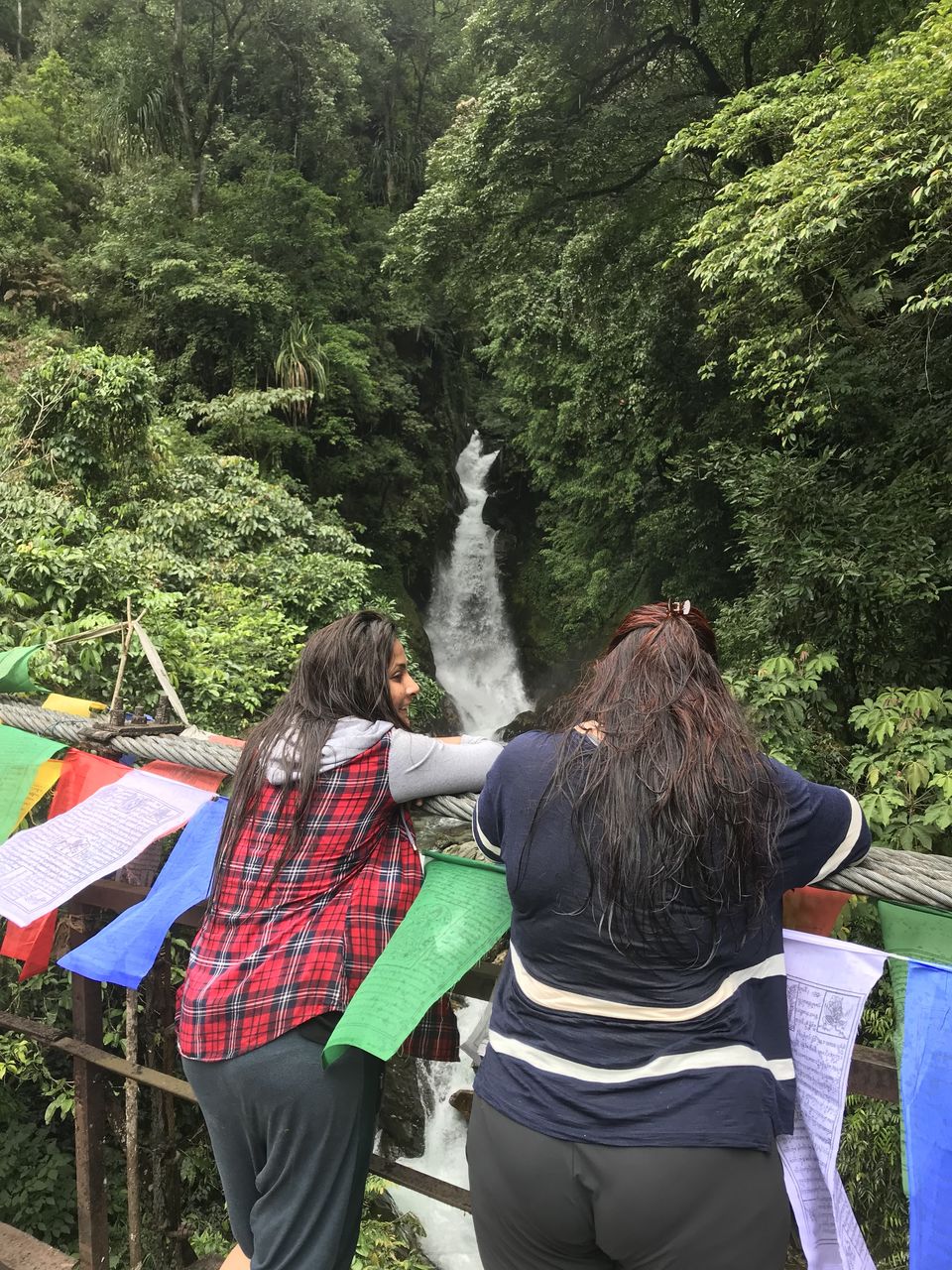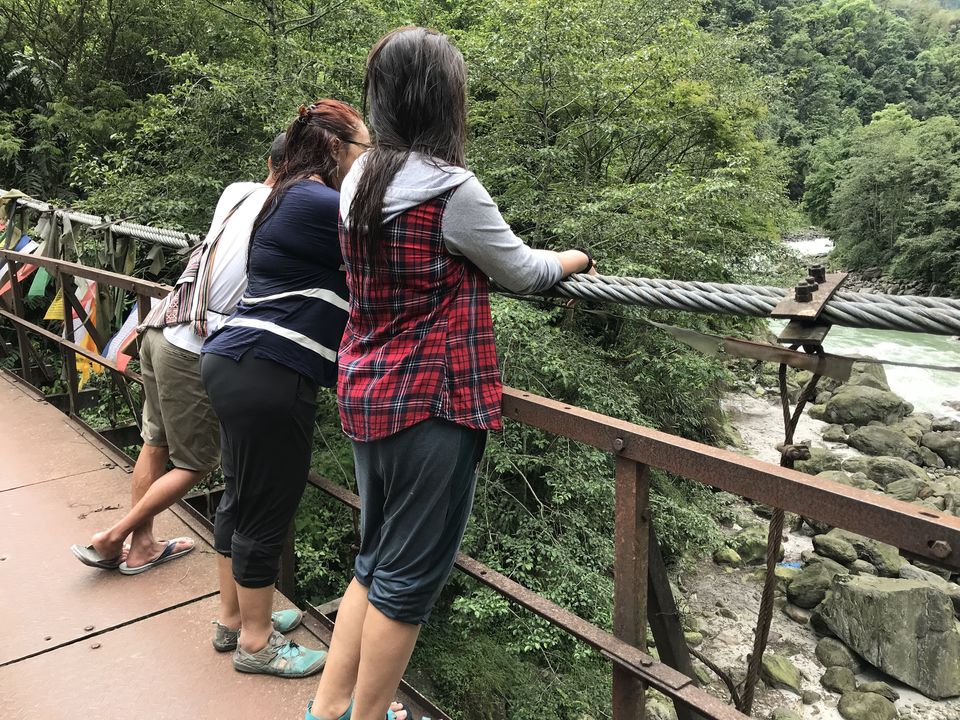 We hiked around a little and came back for lunch.
It is such a place where you can simply sit for hours listening to music or reading a book, watching the day go by and the sun setting behind the snow-capped mountains. That is what I did rest of the evening. I found an isolated huge boulder and just sat there listening to nothing but the sound of the river. The realization that my trip was about to end was dawning upon me and making me sad. But it was just too hard to worry when the environment all around you is so calm and relaxing. The best part was that we did not come across any tourist in Dzongu.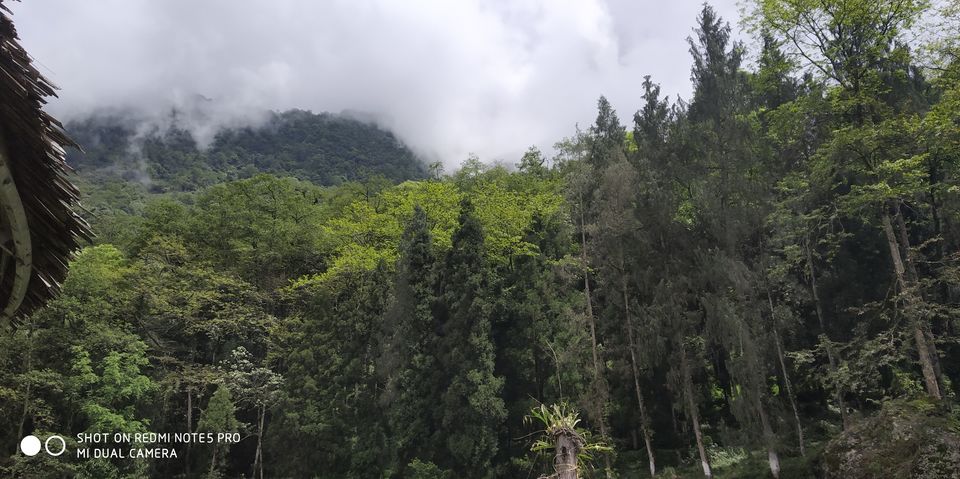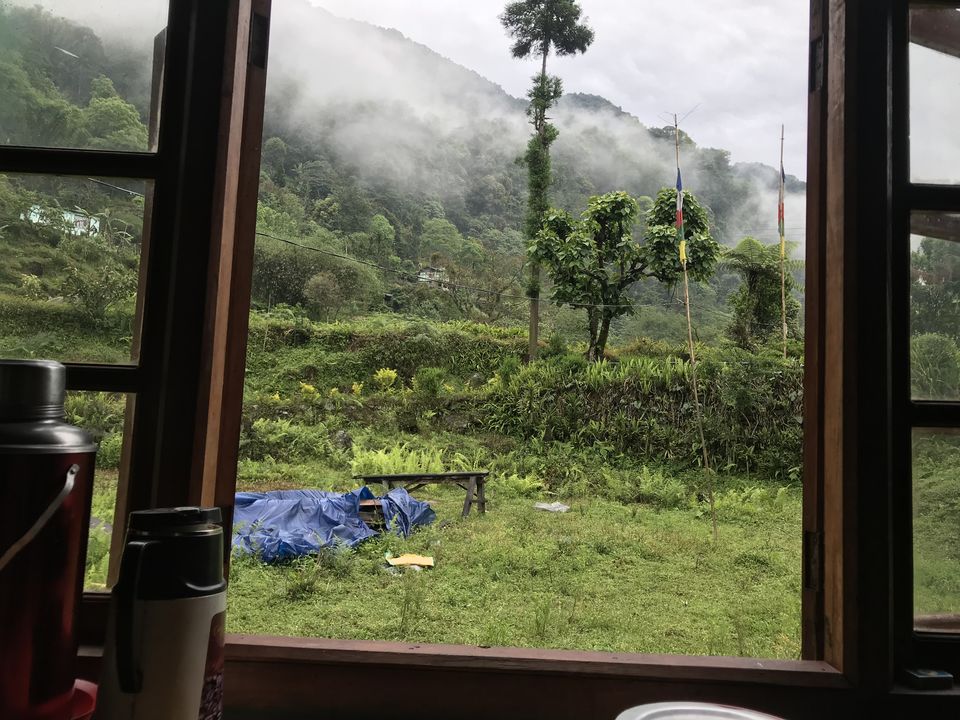 And look I made a friend <3.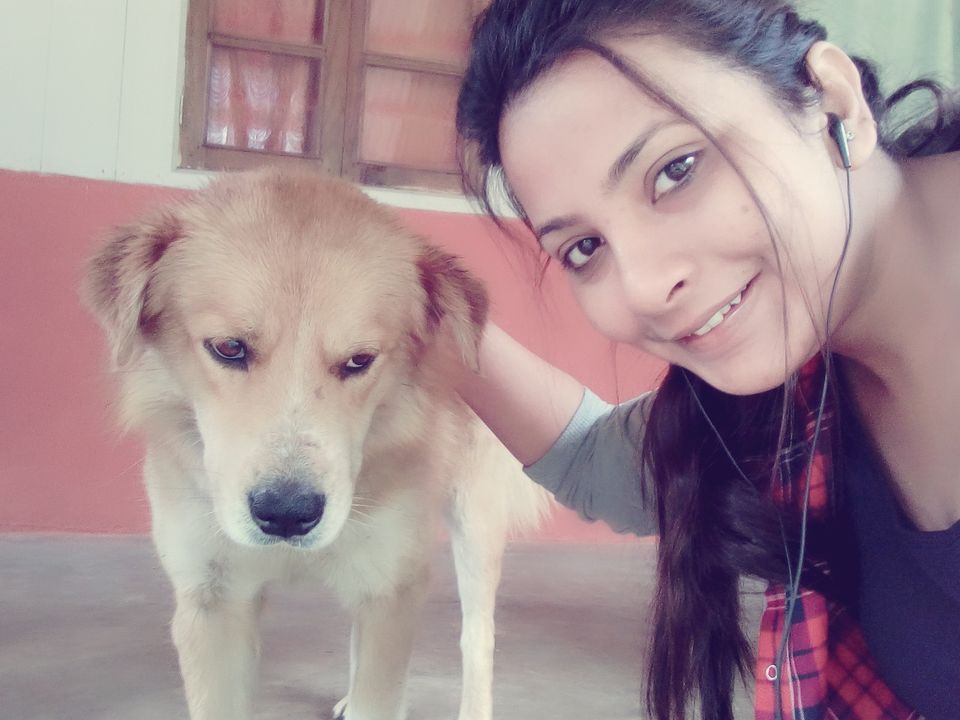 Never mind, he is shy.
After sunset we had a little bonfire in front of our homestay and sat there sipping Chi and listening to various Lepcha legends.
Day 8:--
There was only one vehicle which would leave every day at 8 a.m. for the nearest town Mangan. I took that vehicle and returned back to Mangan and from there to Gangtok. This day was spent pretty much doing nothing. Just walking around my hostel and reading a book in a café nearby.
Day 9:--
And with a truck load of memories I left Gangtok for Bagdogra to catch my flight home. On my way to the airport I was wondering what all I would have missed if I would have chickened out of this trip at the last moment. There were soooo many things I did for the first time in my life in these 7-8 days. It is almost a week since I have returned and what won't I give to go back in time and experience all those first-times once again.
I will sure go for a lot of trips and vacations in future, solo as well as in group, but this trip to Sikkim will always remain close to my heart because this was my first step.
Now a little something for someone who is as doubtful and skeptical as I was. If you never try, you will never know. There will always be a reason to not do it, to not take that trip, to not catch that train, to not do something you want to but are too scared to do. But once you do it, you come out with hell of an experience. It might not necessarily be as good as you expected it to be, but it sure will be something. And as they say, something is better than nothing. In my case, it was as good as it could get. I am glad I did it.