I was always fascinated about the idea of travelling on the two tough trans-himalayan routes located in India. These 2 circuits consist of Manali-Leh-Khardung la which I covered 2 years ago on my bicycle and the other one being Shimla-Nako-Kaza (Spiti)-Manali which was new to me. Both of these routes are challenging on their own and takes toll on traveller's body and mind with the first one (Manali-Leh-Khardungla) offering challenges due to altitude and lack of oxygen while this one (Shimla-Nako-Kaza-Manali) offers all sort of treacherous and bad roads (I mean no roads!).
How the planning started:
A year ago I had finalized that I will be doing the Shimla-Nako-Kaza (Spiti)-Manali route but was confused on how to do it? Was preparing myself for a solo bicycle trip but then I got my knee injured while training and had to drop the idea to cycle there. Then I slowly in the process of recovery got into hiking and thought of doing a trek somewhere in the remote Himalayas. So I designed a driving expedition on this circuit and added a 4 day trek to Pin parvati pass (altitude 5319 meters) in between with trek start and end point being Mud village located in Pin valley, Himachal with a total trip duration rounding around 14 days. Since the plan was designed by me, specifically for me so I wanted to get the best out of it and chose to go solo. Discussed with my dad if he could lend me his Ford Ecosport for 2 weeks, which was positive, booked a guide for the trek to Pin Parvati Pass, which was then planned to start from the Mud village on 30th June.
Past few months were spent finding and buying the right trekking gear like hiking shoes, hiking pole, tent, high altitude sleeping bag, portable water purifier, rain gear, gaiters, etc. Booked an air ticket from Pune to Delhi and booked a hotel room at Narkanda for stay during the first night of expedition. And with these tasks done, there was no looking back.
I left Pune on 23rd June late evening, flew to Delhi, ran the fastest kilometer of my life at midnight with 20 kgs in backpacks and boarded the bus heading from New Delhi Airport to Chandigarh which I had booked a day in advance.
Got down from the bus at Kurukshetra (my hometown) and reached home at 4.30am (thanks to dad who picked me up). Had a quick sleep after reaching home, got up and started to sort things with help of mom for the upcoming road trip. Went to fuel station owned by an uncle (he even had arranged a jerry can for me), picked up a 20 litre jerry can for carrying diesel as there is only 1 fuel station (At Kaza and is very unpredictable, story later) in between for 400 kms from Reckong peo to Manali. Prepared a big food basket with the help of mom, filled up a 20 litre drinking water can. Packed everything in car properly and went to sleep.
Day1 (25th June), Kurukshetra to Narkanda (via Chail):
Got up early in the morning and it was the toughest call to start the trip. This was my first solo road trip and I had chosen one of the toughest driving routes in the world. I had never even travelled for so many days before. I was nervous but did not think much and picked up the car keys and left home. It was a long 270 kms drive from home to Narkanda. I skipped driving through congested Shimla and took the route via chail. Had lunch at Chail and continued on the route. Reached Narkanda at 5pm, checked in to Hotel The Hatu.
Walked down to the market and bought cardamom (to keep throat healthy), long pepper (to give warmth to the body in case it gets too cold ahead) and a bottle of rum (in case I feel sick due to fever/cough/cold but it never got used). Had a simple dinner at hotel restaurant and was off to sleep soon.
Day2 (26th June), Narkanda - Rampur - Reckong peo - Kalpa:
Got up early morning and made an early start from Hotel after having breakfast. Parked the car at base of road that goes to Hatu peak. The Plan was to do a quick hike/walk to the top and started with it. Reached half way mark and saw the built up of clouds on hatu top, the cloud cover looked strong with water in them. Clicked a few pictures in the dense forest of Deodar trees and headed back to the car.
It was about 9am and I started towards the next destination. The roads were fine till Wangtu and after that road disappeared. Drove through some really narrow rickety routes with no paved roads anywhere and stopped for lunch at a tiny shop and that did satisfy my stomach.
Enquired on phone about few hotels at Kalpa and headed towards the same. Reckong peo is a small town 5kms off this highway and Kalpa is a small village 5kms above Reckong peo. As soon as I left the Hindustan-Tibet highway and took turn towards Reckong peo I saw about 50 people asking for lift stranded on road due to a broken truck that blocked the road for buses, I had space for only 1 as the rear seat was full of luggage. An old gentleman got in my car and I dropped him at Reckong peo as he guided me to Kalpa. While climbing up towards Kalpa I observed that the car was acting sluggish, so I got down to check the tyres, it was a puncture! I didn't panic, pulled out the electronic pump from boot and filled up the tyre. Since its tubeless, it works even if punctured till you keep filling with air repeatedly. Reached the last hotel (named The golden apple) of this village and after bargaining checked into this small cute resort. Expenses? Real cheap, just 1400 bucks including morning bed tea. Checked the cause of the puncture and found a barbed wire going through the side wall, left the task for the next day. Went out for a short sightseeing walk outside this village and was amazed by the peace and beauty of it. Quick dinner and was off to sleep early again.
Day3 (27th June): Mission Tyre and drive from Kalpa to Nako:
Post an hour's morning walk outside the village, checked out of the hotel with pancake and french toast in the stomach, pumped up the punctured tyre again and was off in search of a puncture shop.
Found one puncture shop on the way to Reckong peo and he screwed up the tyre even more while trying to put the patch. The hole was now 7mm big & no patch would fit in there. Swapped wheel from the spare wheel and was now on the hunt to buy a new tyre or at least a tube none of which was available in Reckong peo. Went to Silk route automobiles who were kind enough to mend my tyre quickly and installed a tube in it. I was on the roll again. Topped up the diesel tank at Reckong peo and headed to the most treacherous road in the world. Met these 3 guys (Maan Singh, Samrat, and third name I forgot) from Delhi who were together in a SUV and they were amazed to hear that I was travelling all alone. Had lunch at Spello and lost telephone signals since then. Had a mix of bad, manageable & good roads offering jaw dropping views, gave lift to a border roads organization worker who was heading home.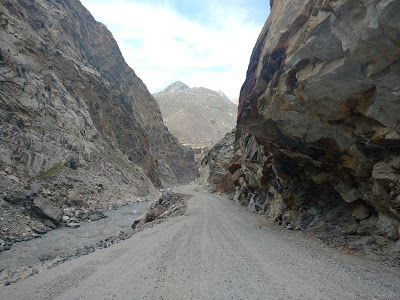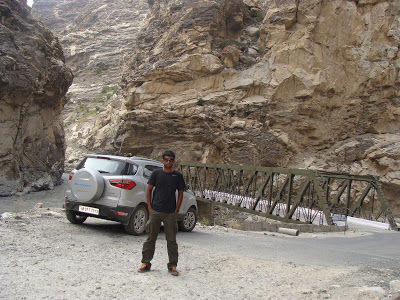 Met a solo biker Anuj Sharma and stopped to talk to him, got to know he was from Sonipat and was travelling all alone like me. He had plans to ride ahead to Kaza but I advised him to look for an accommodation before sun set and he took it. That evening we met at Nako again and checked into a hotel. Nako is a small remote village with about 5 guest houses and 3 cafes. Quickly freshened up and I was off for a walk to the village lake. A small, beautiful, man-made lake it was.
Back to the hotel and I met Maan Singh and his gang at intersection, they also checked in to same hotel. We all had quick tea & snacks and found some of them showed symptoms of altitude sickness. I pulled out my Oximeter and yes 2 of all (Anuj and Samrat) were down with altitude sickness. Advised them increased water intake and rest. Had soup and Thupka (Tibetan soupy noodles) in dinner with Anuj at one of the cafes. Off to sleep a bit late and I had a headache with body pain. Struggled that night a bit, but was looking forward to next morning's hike plan.
Day4 (28th June): Nako to Kaza:
Got up at 6am and geared up for one hike at this altitude. It was very cloudy in the morning as I headed towards a prayer wheel located on top of a nearby hill. Spent some time there admiring the Himalayas and made my prayer monument (a collection of 5-10 pebbles placed on top of one another) which one can find at any high altitude pass/temple. As soon as I finished with that, it started raining. I waited for the rain to stop for a while, standing next to prayer wheel, but the cloud cover got intense and I ran back down to the hotel with few things getting wet. It rained relatively strong for an hour.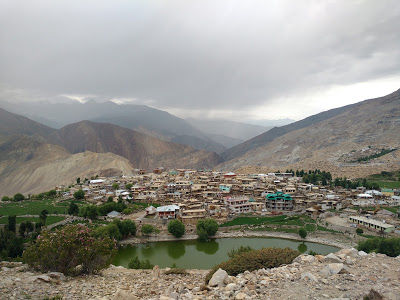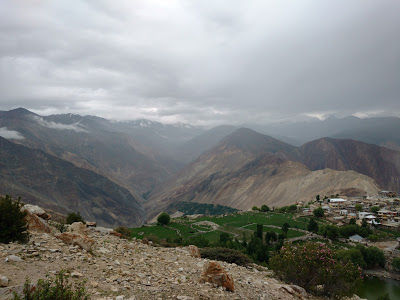 Got ready and left at 9.30am from Nako for Tabo on wet roads that morning. Reached Tabo at 12.30pm and had a walk across the 1000 year old monastery. Had lunch at Monastery restaurant (Hot chocolate milk and Thenduk) and enquired if I could stay in Tabo monastery tonight, but it was all booked by a medical team working in the region.
Since it was just 1.30pm so I thought to move to next town named Kaza. I reached Kaza by 3.30pm, parked car outside town and started to hunt a place to stay. I was looking for a Homestay this time, but had to settle in a hotel (Hotel Zangchuk). In search of a place to stay I bumped into Anuj again while he was getting his bike checked up. We both had a coffee at Sol cafe, interacted a bit with people sitting there and headed towards our respective hotels. I walked back to the car outside town and found it had a puncture. Pumped up the tyre again and drove towards the Hotel. As agreed, met Anuj for dinner at Taste of Spiti and had a local thali which was delicious.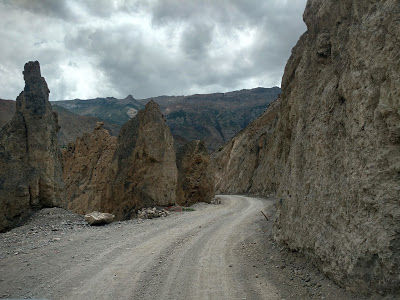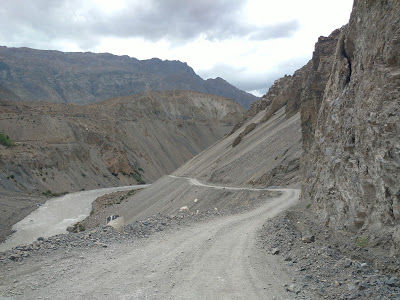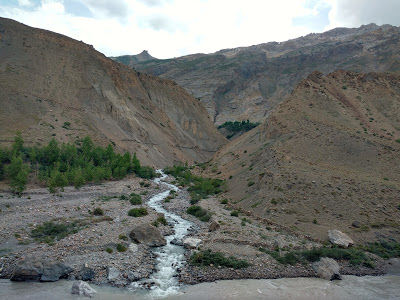 We discussed plans for the next day to which we came to a conclusion that Anuj and I will be visiting village Langza, village Hikkim and Ki monastery on his motorbike (Royal Enfield Thunderbird 500) starting at 11am. But before that I had to get my car's puncture fixed. Headed to my hotel and tried to connect to the wifi (wifi is truly a luxury here).
Day5 (29th June): Langza, Hikkim and Ki:
Went for a walk at 5am outside Kaza and located the puncture workshop, visited Kaza monastery and did spin the prayer wheels. Back to the hotel & I got ready, had pancake in breakfast at the Dragon's restaurant and headed for the puncture guy. I was the second customer to arrive. In order to get done quickly, I gave a helping hand in fixing the first customer's Tata Sumo who had come to grease few nuts and pins of suspension. There was this only 1 workshop in Kaza and with just 1 mechanic and who was such a skillful person. I had 2 punctures due to pointed stones on the road and he patched them quickly. Parked the car at my hotel and waited for Anuj to arrive at 11am. We first visited Langza village which is the most beautiful village I have ever seen so far.
Then we moved to Hikkim village which has a World's highest post office and posted our postcards/letters which we had brought with us from Kaza. It turned out to be a good decision as things (postcard, stamps) at Hikkim post office were all sold out. Had a quick chat with the postmaster and were on the move towards the Ki monastery. Had lunch at the Ki monastery restaurant and enjoyed the tour of most beautiful, biggest and famous monastery.
Rode back to Kaza in the evening and ended up the day at Sol cafe with a coffee and chocolate cake.
Day6 (30th June): 'Petrol laye kya?'
Had breakfast at The Himalayan Cafe and was getting soaked in the chilled out life at 11,980 feet above sea level . This was a rest day for me at Kaza and next day I was supposed to reach Mud village in Pin valley to start my trek to Pin Parvati Pass after a rest day in Mud (my trek guide was supposed to arrive on 2nd July afternoon in Mud as per his postponed dates). However, it wasn't the same for everyone else in this small remote town of Himachal Pradesh. There was no fuel (petrol or diesel) at Kaza's only fuel station (World's highest commercial fuel station) from past 1 day. Everything had come to a standstill be it the locals, taxi drivers or tourists. There were long queues for fuel refill around this fuel station and the oil tankers were still hours away. I had a 20 litres diesel can in my car's boot, but Anuj was running low on petrol in his bike and he had to head to Manali the next day. He was waiting for fuel and so were many other bikers. First few hours of my rest day I spent sitting at petrol pump with these bikers from around the country, interacted with them and we cracked jokes asking everyone 'Bhaisahab, petrol laye kya?' whoever walked through the fuel station office.
Rest of the day I spent at Sol Cafe (the most colorful and tasteful place in Spiti) playing different card games, interacting with travellers from literally everywhere and of course eating lots of delicious stuff available at the cafe. Evening passed by and now it was time for movie screening at cafe. They were screening 'the girl with the dragon tattoo' and around 10 of us chose to watch it. Later Anuj and me and one more guy got bored of the movie and we dragged ourselves out in searching of delicious food.
Hotel Deyzor is the best hotel in Kaza so we thought to check out its restaurant and it was well above our expectations. It looked very simple from outside but once we stepped in, we noticed the artistic work and details in every little thing. Finished our delicious food and it was time to say goodbye to Anuj and the other guy who joined us for dinner.
I was tired of staying in hotels by now and didn't feel a thing inside me for doing a 4 day trek and 4 more nights (2 before and 2 after the trek) in hotels. I had designed my entire trip around this trek and with impromptu change in dates of the trek I would have not been able to recover and be able to drive ahead. Also, I would have exceeded the leave dates I had applied for at the workplace. So I took a spontaneous decision and called off the trek. No regrets, I followed my intuition.
Next was the toughest part of this road trip, a 200kms journey from Kaza to Manali with no roads for over 150kms. I enquired a taxi driver about what time to start, road conditions, etc. Sorted my luggage and off to sleep.
Day 7 (1st July): Roads? You gotta be kidding me! The most memorable drive of my life!
In order to start at 4am to cover the 200kms on dreadful route I did hotel check out formalities last night itself. 4.15am, I started the engine and I was off towards Manali. It was dark, but the roads were fine for few kilometers outside Kaza. Had a Paratha and tea at Lossar and headed to tackle the mighty Kunzum Pass (15,060 ft). As soon as I rolled towards Kunzum pass the roads turned from bad to worse, the air got thinner,the views got better and boulders on road increased in size. Stopped 5 kms before the pass for a cookie and water break. Clicked a few pictures and heard a thumping and honking Royal Enfield approaching from below, it was Anuj. Felt great to see a human in the no man's land. Soon we both started again and the car started to struggle through deeply uneven route & boulders near Kunzum La. The roughness of the route so far was just the beginning, there was far worse ahead of me. Soon we reached Kunzum top, visited the stupas, clicked some pictures and started towards Batal.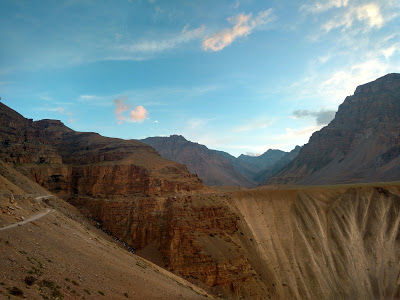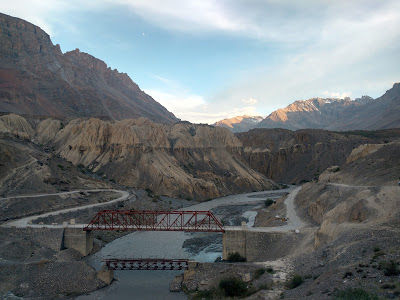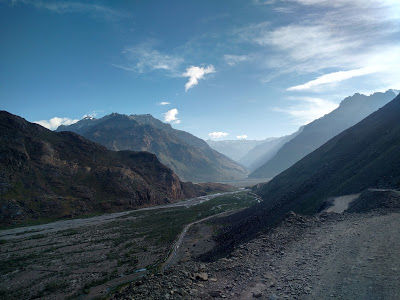 Downhill from Kunzum La to Batal was very tricky and I just barely managed to tackle through it. Had another breakfast stop at Batal at the only hut Chacha Chachi & Chandra Dhaba owners of which are famous for saving lives of countless travellers stuck in this barren region. Met those bikers there with whom we had cracked jokes at the fuel station in Kaza. There were 2 girls (Lavanya & Sakshi) also there who were on a backpacking trip and were waiting for a bus (or any vehicle) heading to Manali. They asked if I had space in the car and I got company for remaining 8 hours of journey. We started from Batal and headed towards Chhatru which never seemed to be coming. The road now had turned on a river bed with just a faint description of the route left by previous vehicles. The rocks below tyres were loose and car was just bouncing and slipping from one rock to another. There were waterfalls, ravines and nallahs flowing through the route with rocks and boulders of the size of Jupiter in between them. Thanks to Ecosport's remarkable ground clearance, we were through and stopped at the village Chhatru for lunch. A small dhaba serving rajma and rice felt like a feast. The toughest part of the journey was now done and I felt relaxed.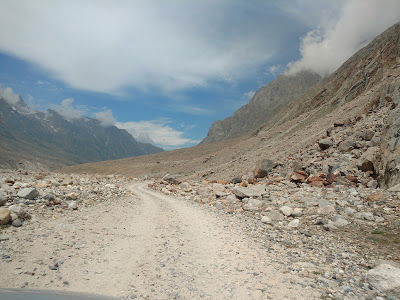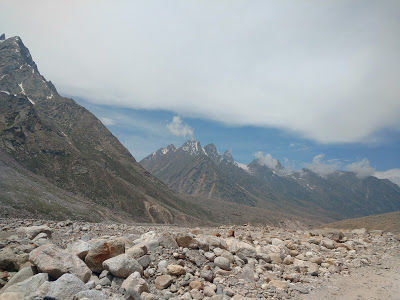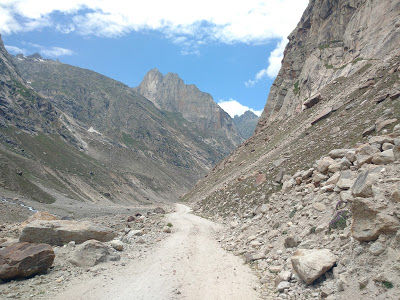 Started the engine again and climbed the rickety rackety roads of Rohtang La while enjoying the sight of tall mountains which slowly turned to greens from rocks. As we reached the Rohtang pass, I saw a long green stretch which if hiked would lead to a small snow glacier and asked fellow passengers (Lavanya & Sakshi) if they wish to go there and soon we walked up that tiny glacier.
Start early, finish early. Make sure you reach a place to stay/shelter in daylight.

Help others. There are very limited resources in remote mountains so one being is dependent on other. If possible help the one in need by giving food, drinking water or a lift in your vehicle.

Keep interacting with locals/other travellers and gather real time information of route ahead.

Eat wherever you get food, fuel up wherever you see fuel station.
Vipassana, a 10 day meditation course where I want to meet myself.

Paragliding pilot course, a 4 day elementary flying course where I want to fly.

Annapurna circuit, a 12 day trek in Nepal where I wish to experience life in lap of himalayas.

Basic mountaineering course by HMI Darjeeling, a 28 day course where I want to learn elements of mountaineering.