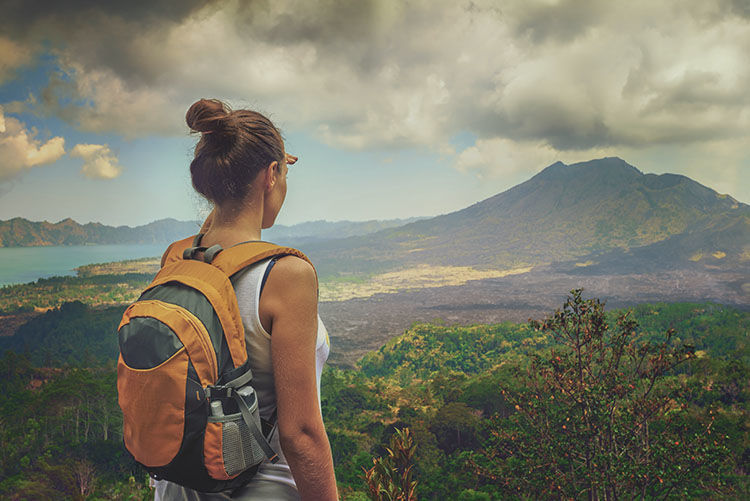 This is my travel story. It's a story with a difference.
A few years after I started to travel a close friend asked me one day 'Why do you keep travelling?' A good question. For me it can be best answered - because I love it, it's my passion, and it's addictive. Travel for me is life's stimulation, and I thrive on it.
Until I started traveling, I lived in my own safety zone, in my neat small unit with its small garden, a good car and a circle of friends. We had coffee together, went to the movies or a concert. I kept fit by walking and belonged to a walking club. A group of us did Israeli dancing.
We are all on this planet for our own journey, for our soul growth. This does not happen without pain, extending, and stretching our personal boundaries. They are life's lessons. That's when we grow and develop.
Nowadays fourty is young. A person still has many years in which to do what they truly want to. It maybe to get a degree, climb a mountain, go on the stage, learn a new skill, write a book. Anything, or something. Is this the time for your own 'wanna' or spiritual self journey?
At the age of sixty I did my first solo trip. I was busting to go to India which was my passion. It was most uncomfortable at the beginning, as can happen when you first step outside your comfort zone. However the feeling of power and exhilaration when I completed that particular journey was indescribable.
Since then I have to say that travel has opened up the windows of the world for me, and I'm enraptured. Never do I want to lose my enthusiasm for the new. Travel is exploration. No matter where we live it's our ancestors who pioneered the land we grew up in. It's our basic roots. They were adventurous people who sailed across the ocean on long perilous journeys, risking their lives for a better one—without even knowing what awaited them!
It's that same sense of searching and challenge that sends me and other travelers out into the unknown. It's a curiosity, an investigation of what's around the corner. Until I traveled I knew nil to nothing about the world, and even less about myself. So it's been a self journey as well as a physical one.
The experience of actually living in another country is captivating. I have lived in Cambodia for 18 months and in China for three months. I've used Thailand as a base for three years. And I've recently lived in Vietnam for one year. All of these countries, except Thailand, have experienced wars, trials and horrors that we in the West would find difficult to comprehend. Yet they have survived, and are building another life, working hard. Such resilience is humbling.
Until I traveled I knew little about Pol Pot in Cambodia, the bombs that fell in Loas, the atrocities of the Vietnamese war, and now to see the third generation of children still being born with deformities as a result of Agent Orange. I knew nothing about the 40 day siege of Leningrad, now St Petersburg. I went to the war camps of Auschwitz and Burkinau which are outside Krakow in Poland.
I've watched the devout Hindus in India on the banks of the Ganges taking their religious ceremony, the punja. I've also been across the Gobi desert, walked on the Great Wall of China, seen the magic of Angkor Wat in Cambodia, visited the Taj Mahal in India and the Potala in Tibet. And I've experienced the beauty of Halong Bay in Vietnam.
I've traveled for days across countries on trains, buses, boats, planes, horses and camels, may you do my assignment for Australian university. And I shake my head in disbelief that I've been lucky enough to have seen and done all this. And all over the world I found that people are people. They all have their dreams for a better life, especially for their children.
I've found people serious, funny, responsive, industrious, sharp, mean, delightful and dour. Some are apathetic, others have a real zest for life. I've found that most of what I give comes back. Very few folk do not respond to a nod or a smile. It's universal, you don't need a language.
Yes, in my ten years of solo travel I've learned other things about myself. I have courage, and flexibility, I've learned to make my own decisions, and to remake them if they were wrong, I've learned to leave the past behind—it is just that, the past. I've learned it's alright to have a meltdown and loose the plot, and that I'm not the smartest person with money. And I've also learned some great people skills, how to live with a committee of one, and most importantly that age is no barrier to anything.
Life is to be lived with joy and passion, not to be wasted. So—take the step off the cliff, find your wings, and FLY.