As a travel freak you will find a lot many times that you want to go to a certain place but there will always be a yes and no's among your friends. Same happened with me on dussehra 2018, it was long weekend holiday and we all planned for churdhar but at last moment all backed out, so i was let with one option either to stay at home a lament or could go all alone on my first "Solo Trip/Trek". The best thing about solo trip is that you always have that feeling "what if anything goes wrong, nobody knows me, i am all alone in a completely unknown area" and at the same time you could feel that rush and energy inside you that everything gonna be just great.I gather all my courage and packed up my bag and let for Churdhar at 5:00 am. I got on a bus to Solan from Sector 43 ISBT, Chandigarh. I reached Solan by 9:00 AM. From Solan I took a bus To Rajgarh. Solan to Rajgarh is 40km, which took me 2 hours as bus ride was slow and a bit bumpy. Rajgarh is a small town with good dhabas to eat. From Rajgarh I had to take a bus Noradhar/Norhra(As local people say it).
The best thing about solo Trek is that you meet some great people along the way, Here in Rajgarh I met some students and they were also to Churdhar. We has a great Chat while we were siting atop of bus. The views were great from here on as we have left big human settlements behind and the air here was cold and refreshing.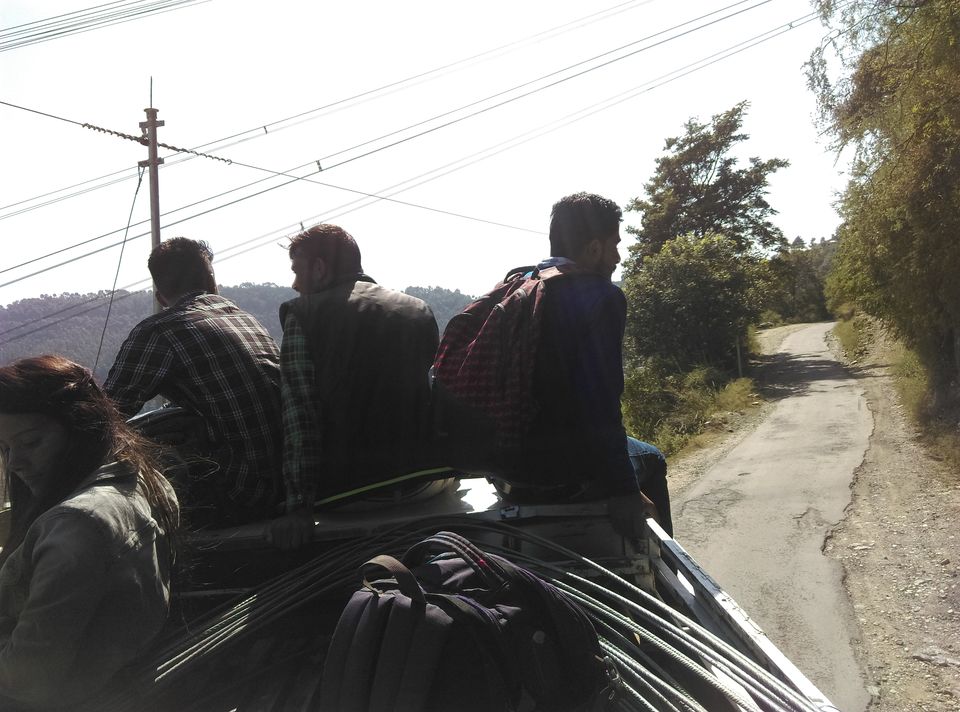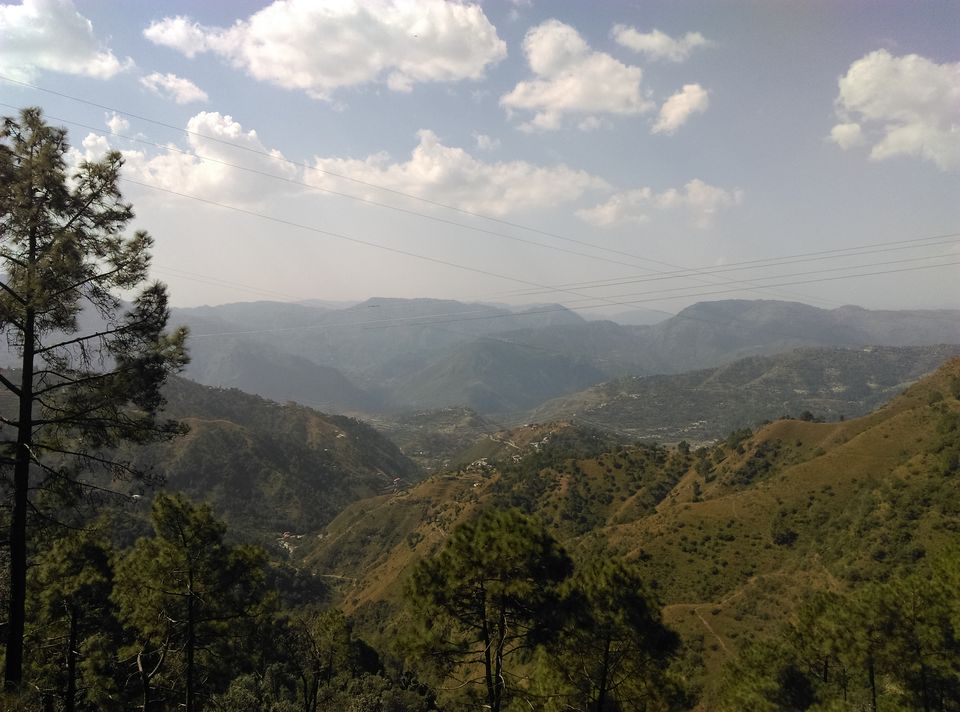 We reached Noradhar at Around 1:30 Pm. We had a quick lunch and were ready for the trek. One can easily spot the starting point of the trek as it is a religious trek and done a lot by locals.
The initials few km were steep over the rocks before we entered into the forest cover of deodar and rhododendron.
It was already 5:00 pm when we reached Jamnala (Doorsri), which was a meadow along with 2 shops, the student along me decided to pitch the tent, while i had a stay option in hut. We had a borne fire, on which we cooked some maggie and soup which we picked up from Noradhar itself.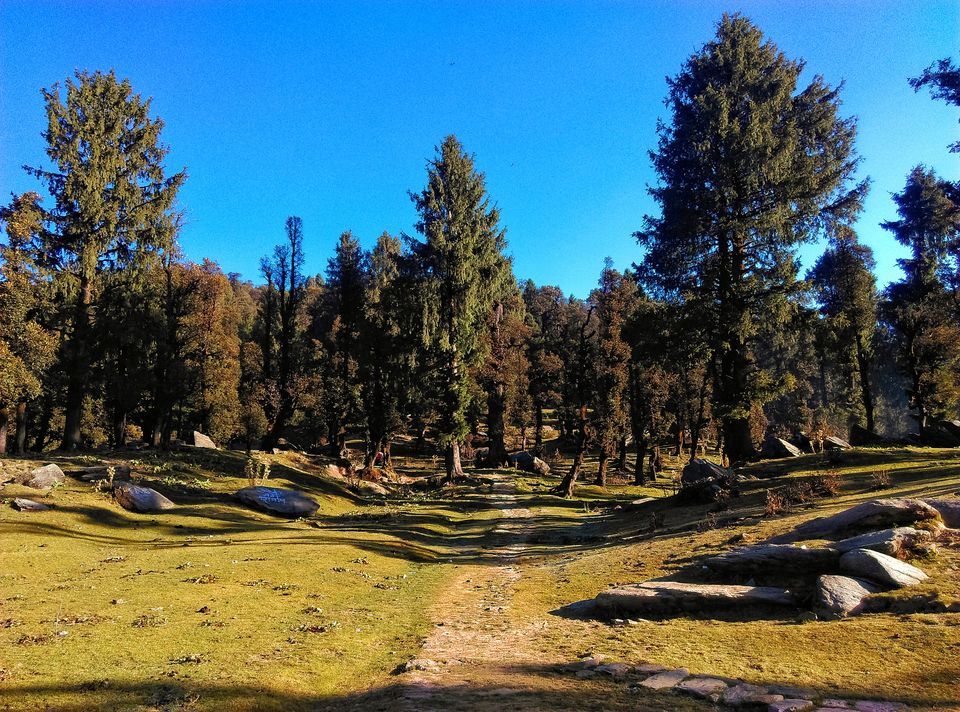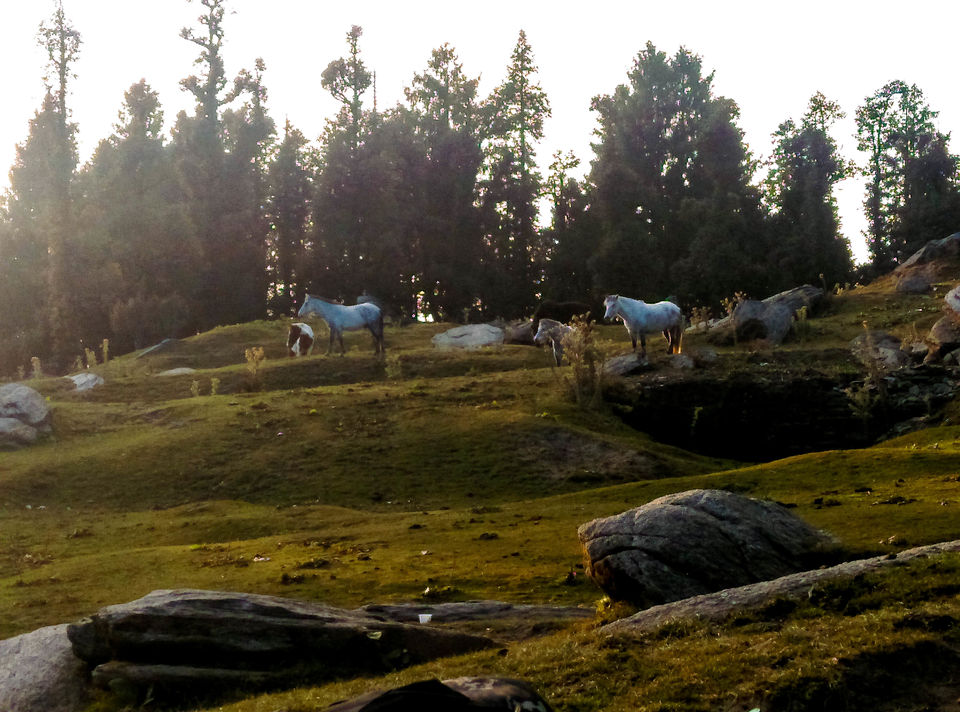 After a cozy sleep in hut i had a breakfast of tea and biscuits and was ready for rest of the trek.
The next stop was Tessri, some 2 hour trek at average pace from Doorsi. The trek here was is though Deodar forest, with sunlight playing hide and seek.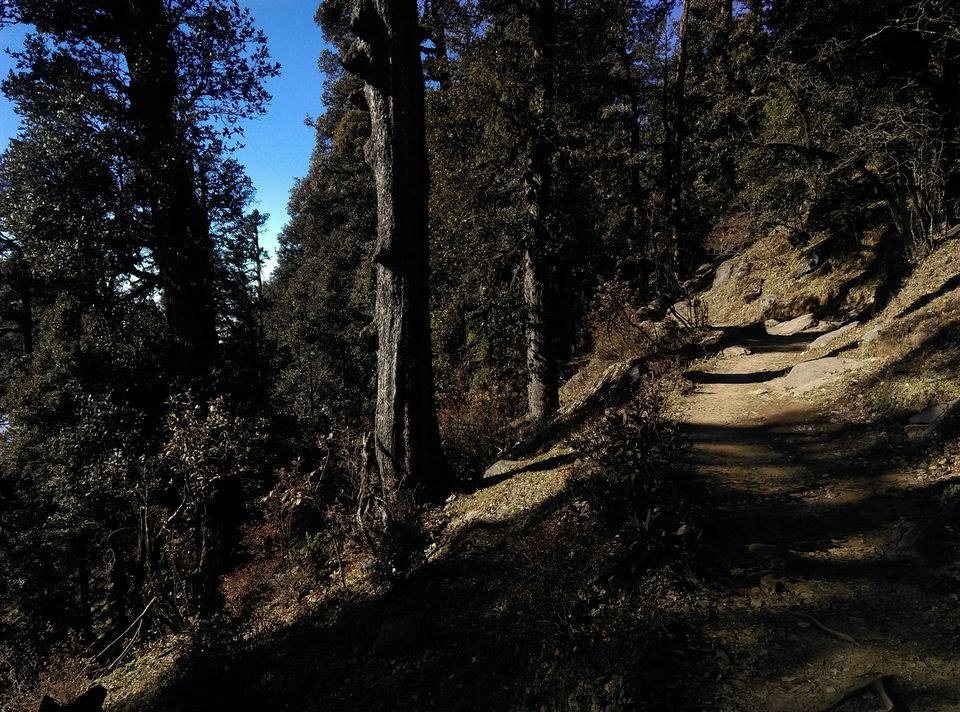 Well Tessri is on a ridge from here once can see the entire Noradhar valley on one side, and Shimla on the other as per the locals.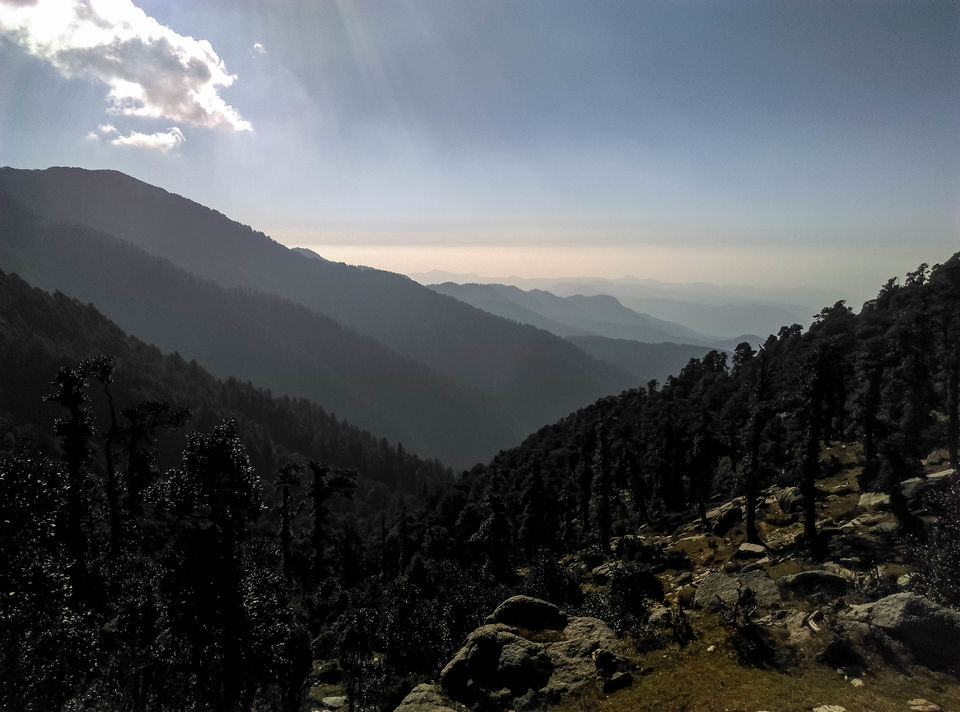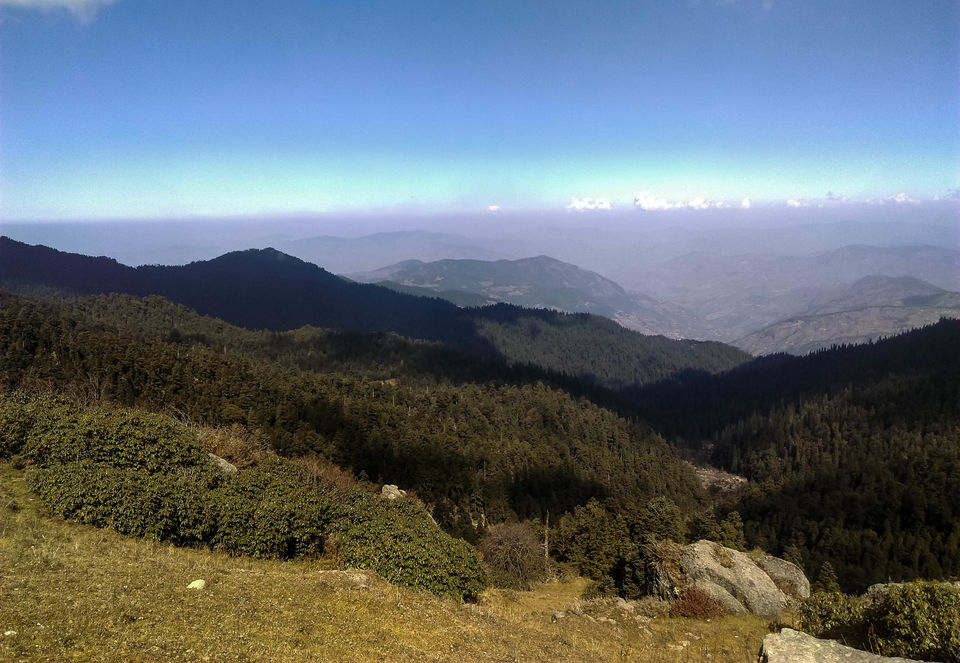 One can have a small tea break while enjoying the view here.
The terrain from here on gets rough, rocky and no forest cover.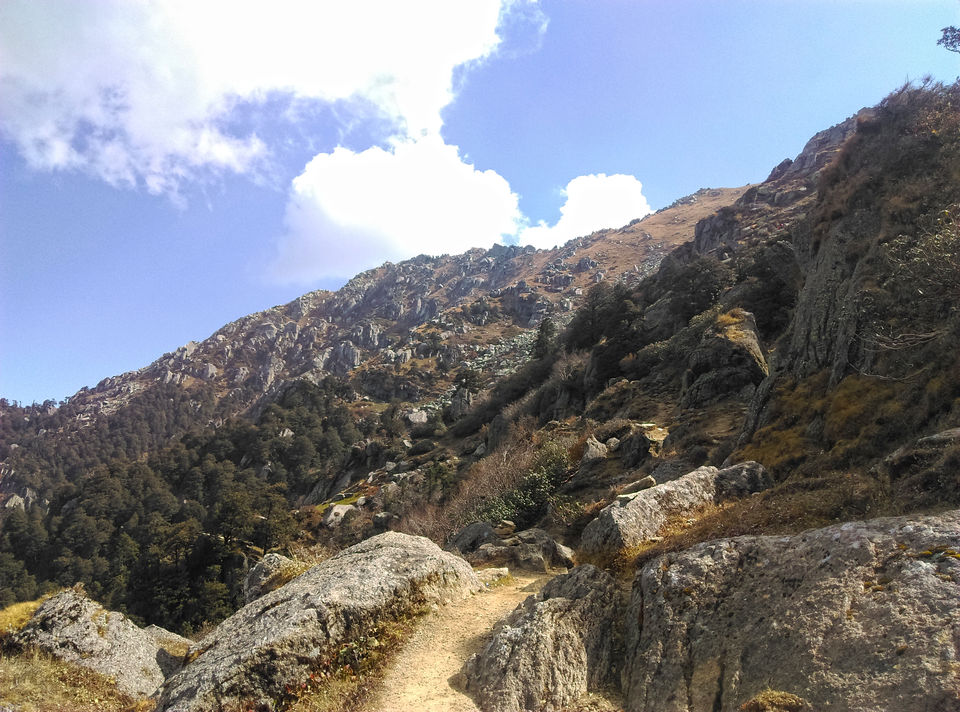 One can easily spot the peak from here. It takes usually 2-3 hours from Tessri To reach the peak. The last stretch is really exhausting and tiring as you have to cross over many boulders. There is no water supply on last stretch and unfortunately i dint refilled my bottle on Tessri, and i was without water halfway. The last stretch will test you and your spirits, but once you are on top, the view, the cold wind gushing on your face, the Shiv Idol will refresh you up, and fill you for more adventure.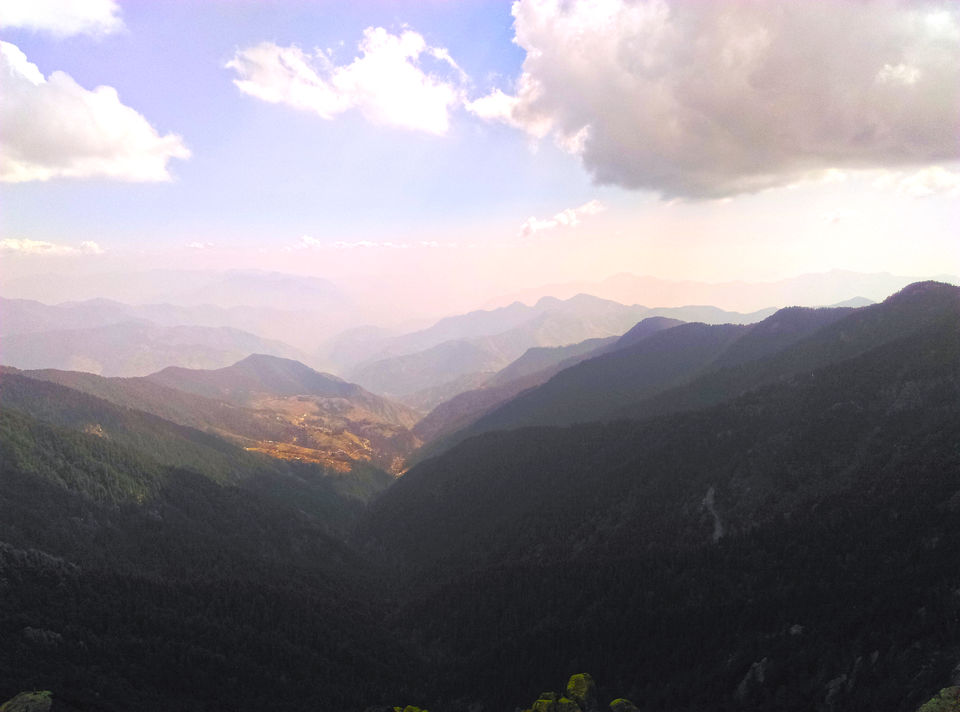 I Stayed on top for half an hour, and after that i started my way back to Noradhar.
By 6:00 pm i was at a dhaba from where i inquired about the bus to Solan, i discovered i that last bus was at 5:00 pm which i have already missed. I had a night stay at local shop owner house. Himachal will never disappoint, be it the natural beauty, or the hospitality of local people. They treated me really well, and gave a cozy stay for the night.
Next Morning i bid they good bye and was on my way back to my city life!
In my this trek i discovered that Solo travelling and trekking is not difficult and dangerous, till you are mentally ready for every situation and accept everything as it is, and cautious at the same time.
Happy Travelling!