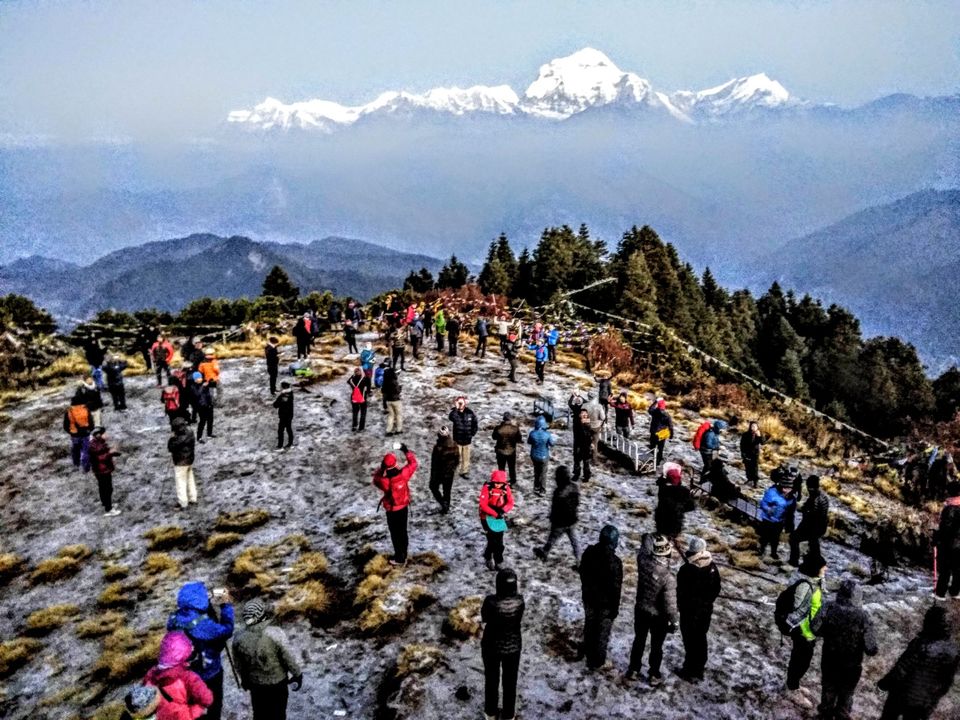 The Poonhill Ghorepani trek for obvious reasons sees a lot of footfall every year. It's a relatively easy trek and offers great views especially from Poonhill during sunrise and sunset. The trail is extremely well laid out with stone steps at most places and wide enough for two jeeps to pass. That said one should be prepared to be standing among 500 others during the sunrise at Poonhill. But still the Poonhill trek is a great one to do if you have less time and looking for a relatively easy trek in the Nepal himalayas. I trekked solo to the Mardi Himal base camp and combined that trek with the Poonhill trek on my way back to Pokhara. You can read about the offbeat trek to Mardi Himal Base camp here. The detailed itinerary of solo trek to Poonhill is below.
Day 1: Nayapul (1070 m) to Ghandruk (1940 m)
Any bus going to Baglung, Beni, Jomsom can drop you on the highway road to Nayapul. Alternatively you can take a taxi or Jeep to go there from Pokhara around 1h30m. You can start the trek at Nayapul itself or go further until Kimche (1640 m) and then walk towards Ghandruk and stay overnight there. There is ACAP checkpost at Birethanti a little further ahead of Nayapul where you need to register the TIMS card and the permit for national park. The walk from Nayapul to Ghandruk is around 5 hours part of which is walk on the dusty jeep trail which isn't much fun but good nonetheless. Since I was doing this trek on my way back from Mardi Himal trek, I came from Landruk (1565 m), a small village on the opposite mountain than Ghandruk. The trek from there is steep down to the river and then steep upwards. The village of Ghandruk inhabited by the Gurung tribe of Nepal is full of guest houses of all facilities. There are easily around 50 guest houses in Ghandruk and few bakeries too. Since I was coming from Landruk and started early morning to reach Ghandruk by noon. I had my lunch in Ghandruk and kept going further to reach Tadapani (2630 m) before evening and stayed overnight there.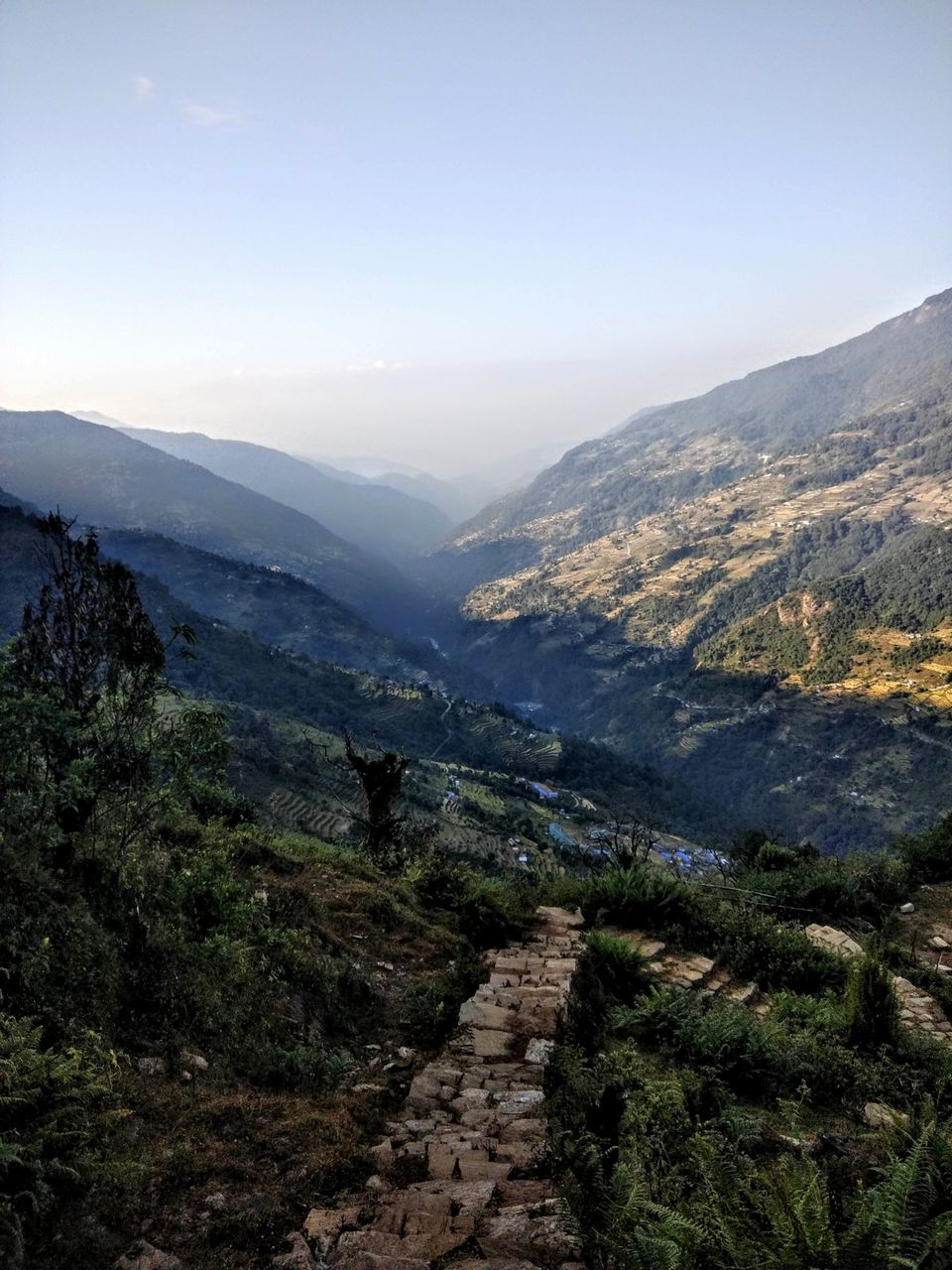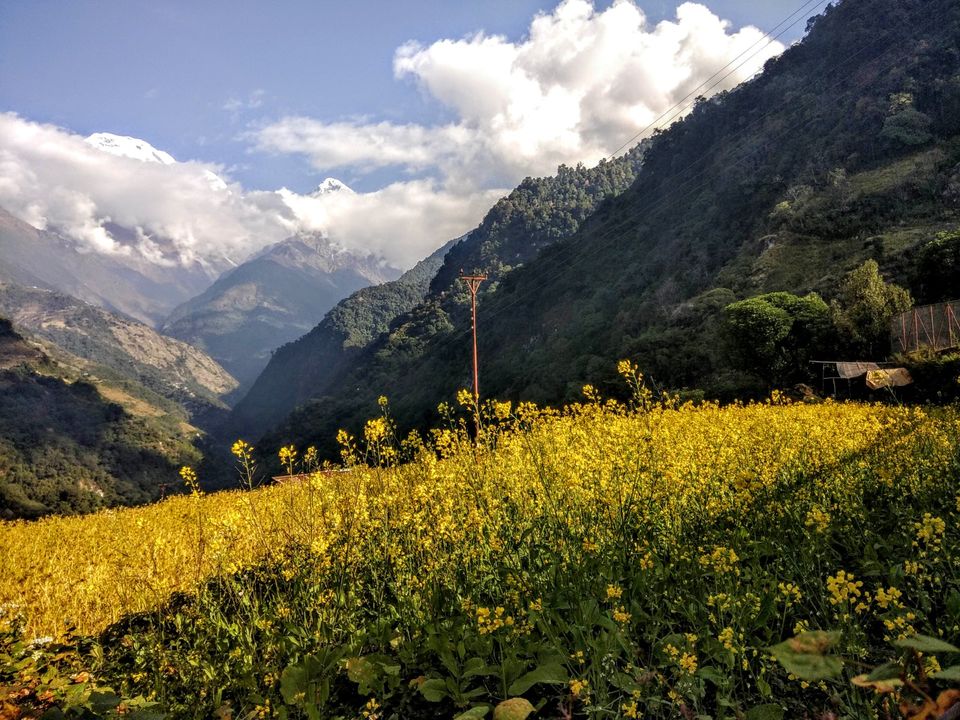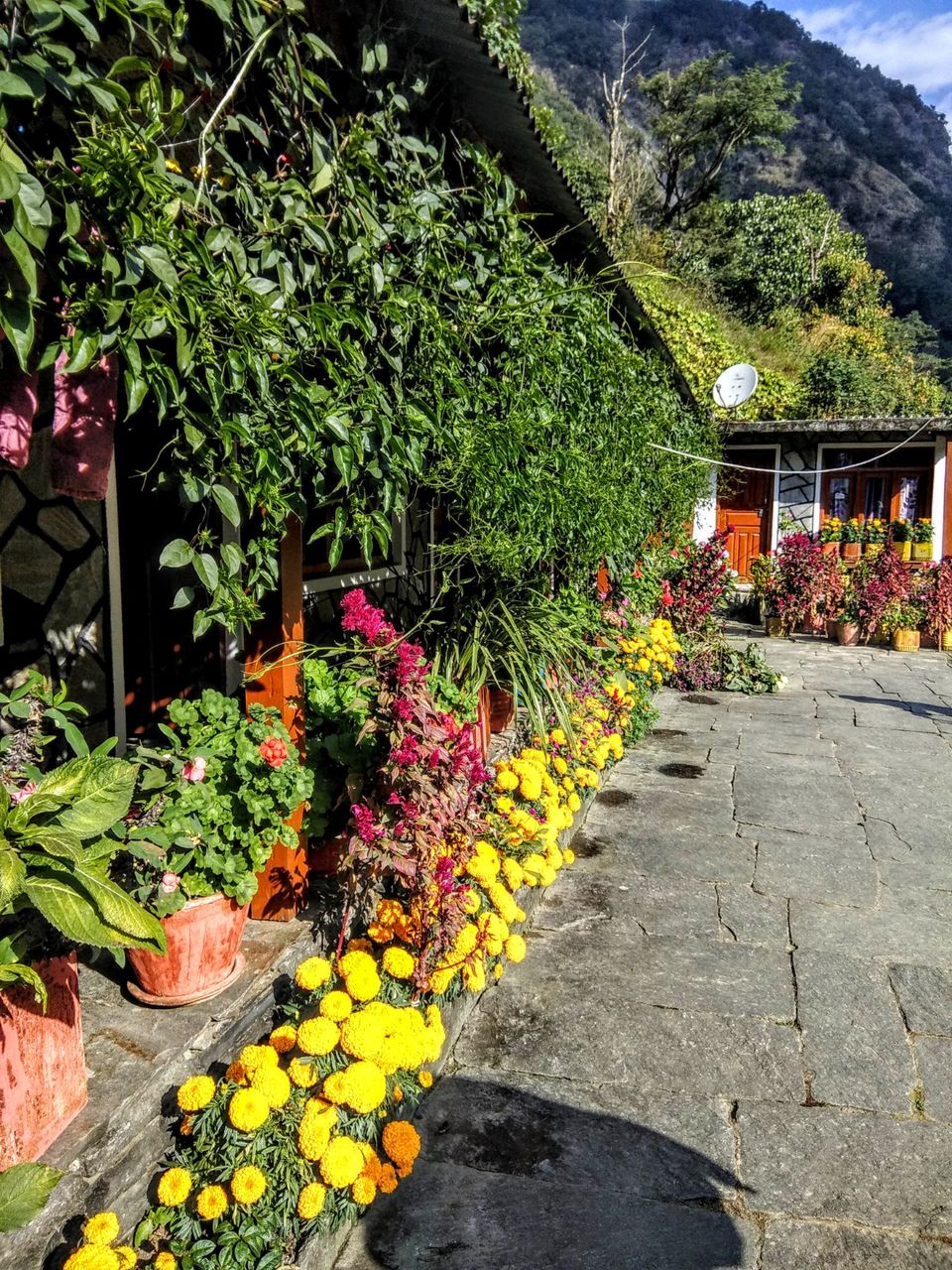 Day 2: Ghandruk (1940 m) to Tadapani (2630 m) to Ghorepani (2860 m)
If you are going all the way up to Ghorepani on this day from Ghandruk, It will be a bit tedious walk though not impossible at all. I started the say from Tadapani from where the walk towards Ghorepani was an easy one and I was able to reach Ghorepani by noon easily. Also from Tadapani, many other routes divert - one towards Khopra Danda via Muldai peak and other towards Chomrong and ABC trek. The Muldai peak sunrise is supposedly better than Poonhill but that will add another day to the trek. The weather was not too supportive and it was easier for me to make the call to skip this one to head straight towards Ghorepani. The trail to Ghorepani from Tadapani goes through Deurali pass (3100 m) and down towards Ghorepani. Ghorepani is split into two parts - Ghorepani lower and Upper Ghorepani Deurali. There are many options to stay at the upper Ghorepani and it's also crowded. I preferred to stay at Lower Ghorepani where I was the only one along with a french couple at the guest house.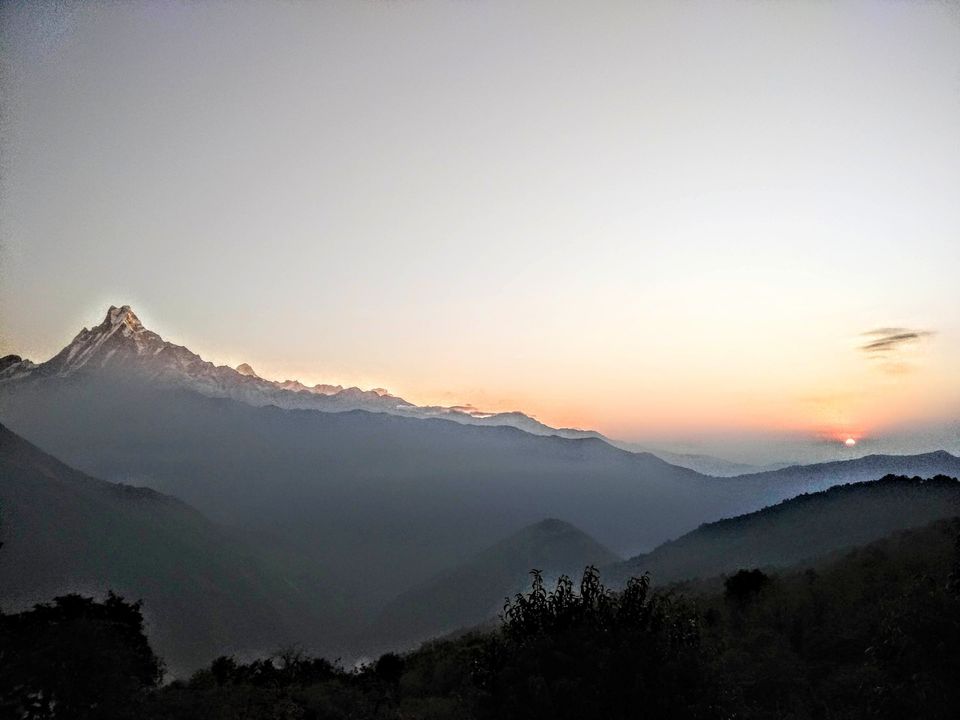 Day 3: Ghorepani (2860 m) to Poonhill (3200 m) to Ulleri (1960 m)
As with most peaks on Nepal treks, there is huge rush for watching the sunrise over the peaks at Poonhill. It's probably a lot lot higher than any other trek. Its about 45 min ascend from Ghorepani to Poonhill and there are hundreds of trekkers with torch lights in the morning at 5 am eager to catch the sunrise. There is an entrance fee of 100 NPR to enter Poonhill and there are easily 400-500 trekkers on the top every morning. The view of the Dhaulagiris and Annapurna (I & South) and The Machhapuchhare is no doubt awesome from up the hill at sunrise. If weather is clear which it generally is early in the morning, the entire range glows at dawn. Back to Ghorepani and some breakfast should get you ready on your way back down towards Ulleri. The descent is very gradual till Ulleri and an easy walk. If you want to go slow and have an extra day at hand, you can stay back at Ulleri or Tikhedunga on the way and then go to Nayapul on the next day. There are also Jeeps available at Tikhedunga but they are a bit costly. I walked all the way back to Nayapul on the same day. It was very much doable but taxing on the knees since the descent is quite a lot and the stone steps make it harder. The walk from Tikhedunga to Nayapul is on dusty Jeep track and not much fun but the eagerness to reach Pokhara once there keeps you going. On the way back to Nayapul, you need to get your card checked at the checkpost at Birethanti and then proceed.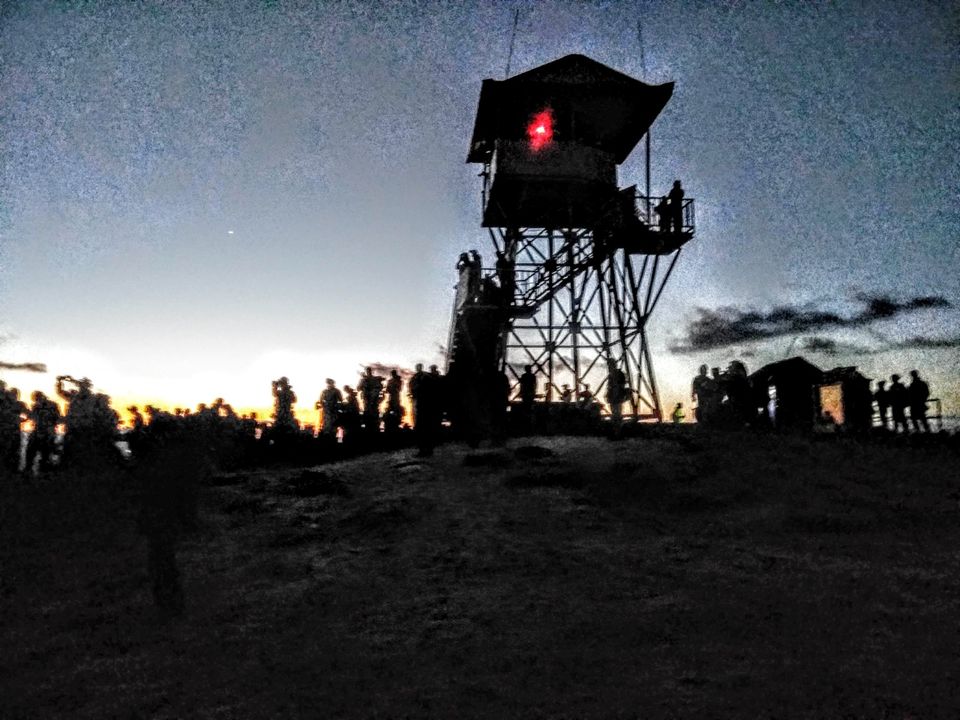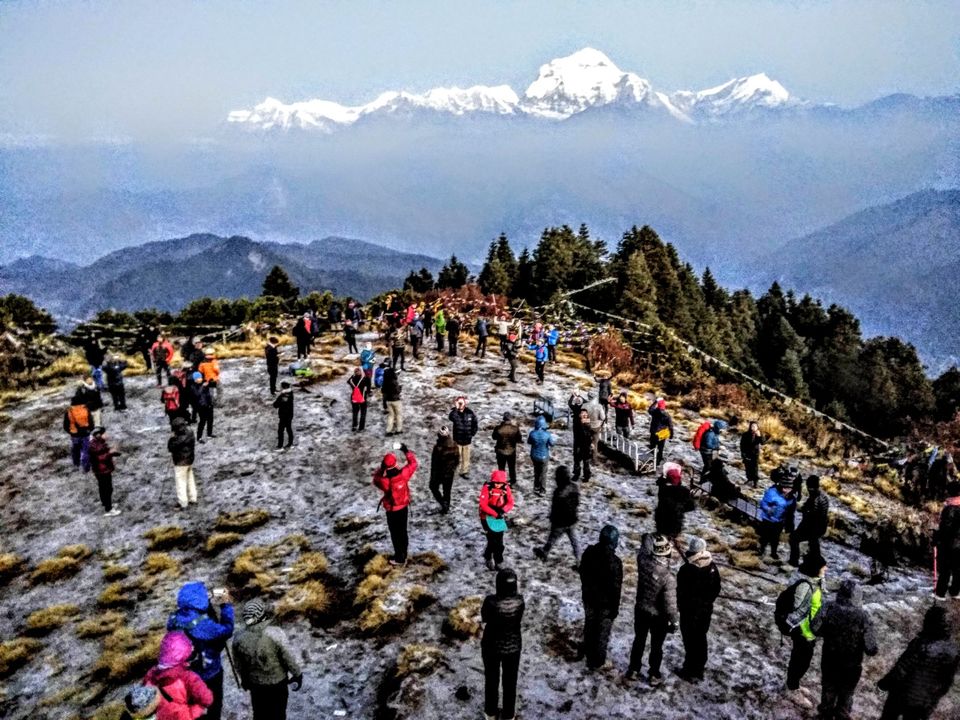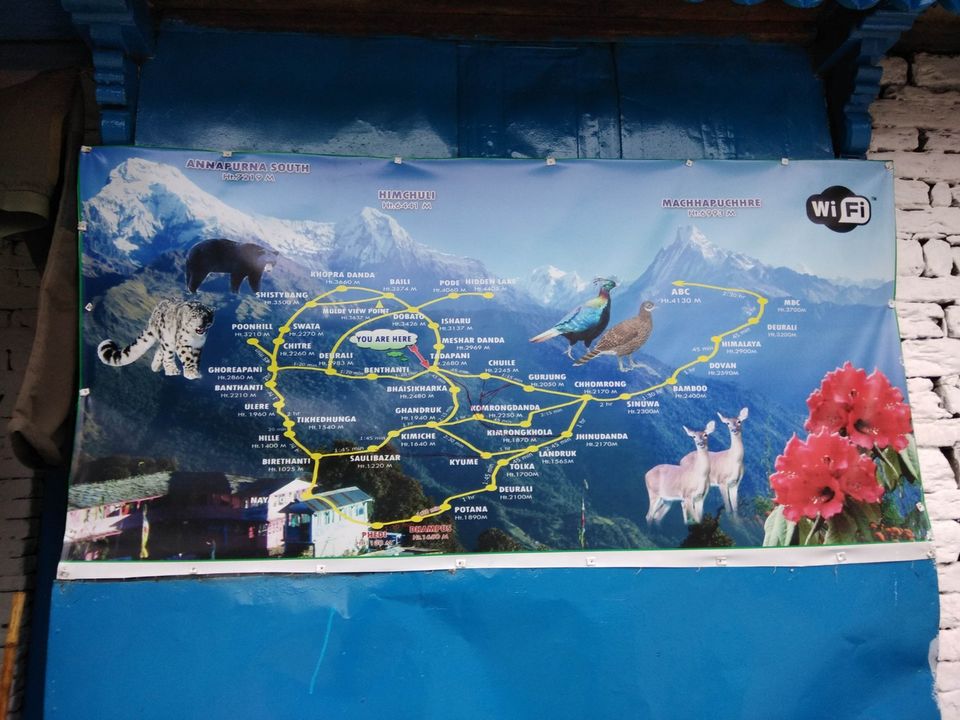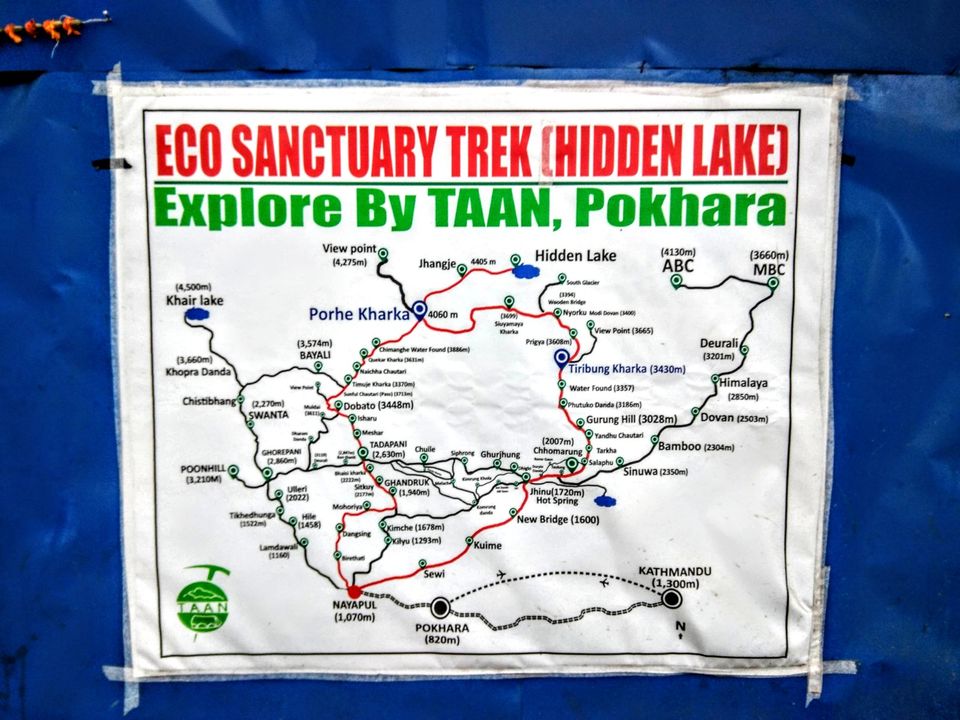 Accommodation
There is no dearth of accommodation on this trek as both at Ghandruk and Ghorepani there are multiple hotels. Also at Tadapani and Tikhedunga or Ulleri, there is enough accommodation available. But this route is also super busy during season and prices are likely to be up during that time.
Things to Note
- You need a TIMS (Trekkers Information Management System) card and permit to the national park. Both can be done at Kathmandu or Pokhara at the Tourist office
+ TIMS card (NPR 2000 for foreign nationals; NPR 600 for SAARC nationals)
+ Permit (NPR 2000 for foreign nationals; NPR 1000 for SAARC nationals)
- The entire route is well cut out and steps are there on the way. A trekking pole is good to have but not necessary
- Hot showers too are free at places or charged nominally at others
- Mobile charging is also freely available on this route
- Its best to start a bit early in the morning to avoid crowd on the route and stand a good chance to see some wildlife along the way