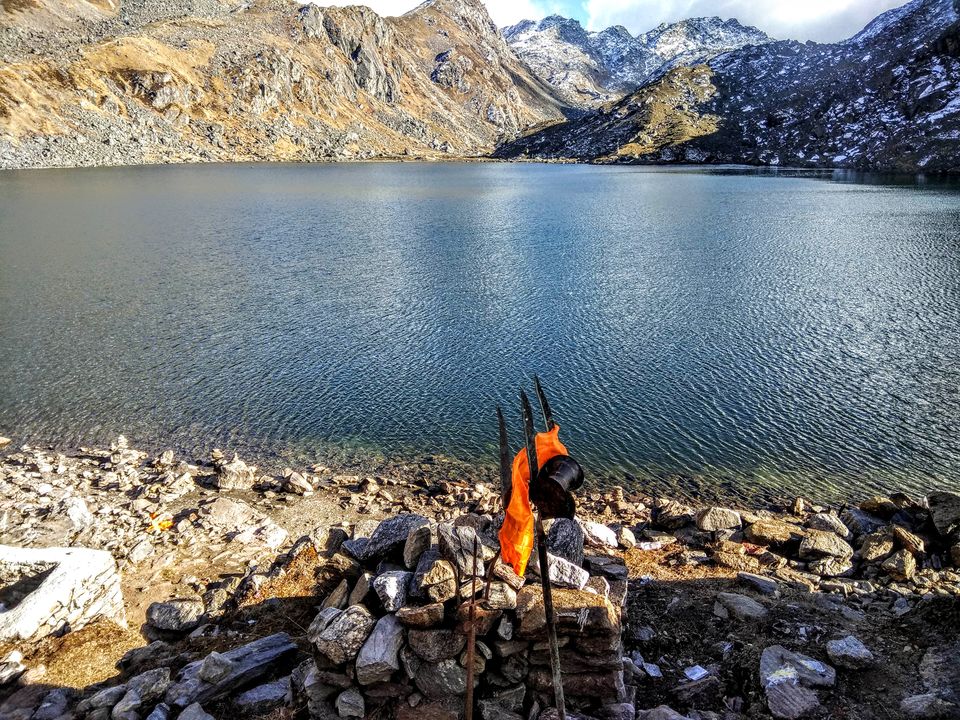 The Gosaikunda lake is an alpine freshwater lake in the Langtang National Park at a height of 4380 meters. The lake is a major pilgrimage site for Hindus who believe it to be abode of Lord Shiva and Parvati. But the pristine beauty of not just this lake but the group of lakes in the region will leave you spell bound on this adventurous journey. It's easy to do it alone as there are many tea houses enroute for food and shelter. I trekked up to the lake from the Langtang Valley trek in Nov 2018.
Day 1: Kathmandu to Dhunche (2000 m) / Langtang (3450m) to Thulosyabru (2100 m)
You will need to take a bus to reach Dhunche from Kathmandu. It's only about 80-100 kms but the road is bad and the journey a rickety one. The checkpost at Dhunche for the national park will require one to get the permit and have the TIMS card already made in Kathmandu. If not the TIMS card can be made here too. The bus journey will be 9-10 hours and one can only reach Dhunche late in the afternoon making starting on that day impossible. There are plenty of guesthouses to stay overnight at Dhunche. If you are coupling this trek with the langtang valley trek like I was doing, you need to take the diversion from the langtang valley trek after Pairo as in the image below.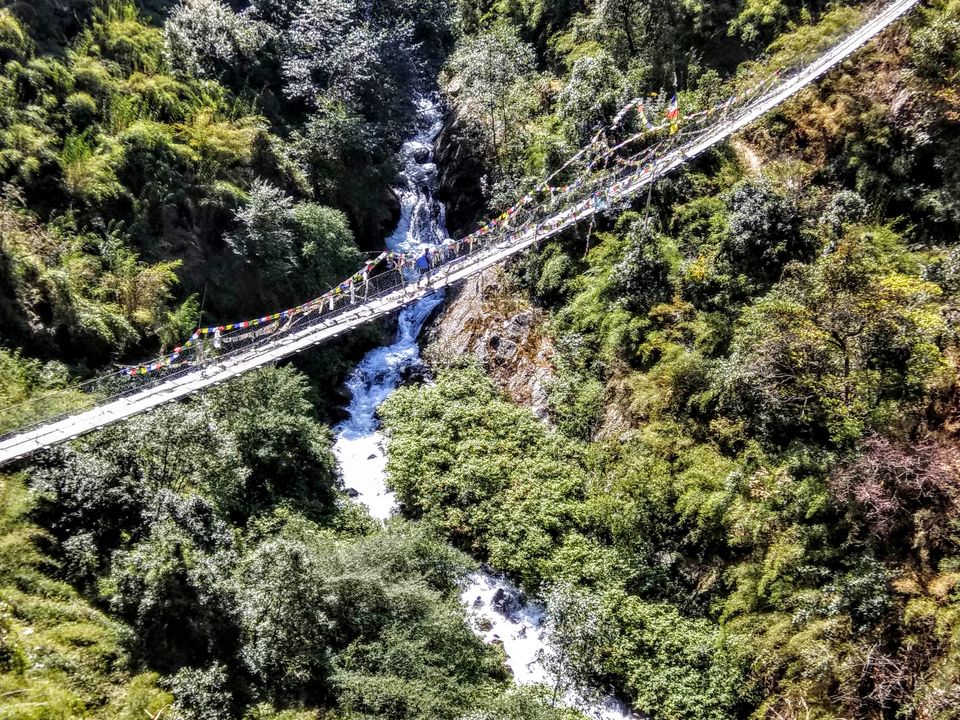 Day 2: Dhunche (2000 m) to Sing Gompa or Chandanbaari (3300 m) / Cholangpaty (3500 m)
The walk from Dhunche to Sing Gompa is a steep one with Deurali in between. It would take between 4-5 hours to reach Sing Gompa from Dhunche. Sing Gompa is a quaint little nice village to spend a night and walk around. There are quite a few places to stay there. Alternatively, couple of hours towards Gosaikunda is Cholangpaty which has couple of tea houses to stay over. I walked up to Cholangpaty from the other route of Thulosyabru. I started early morning from an hour above Thulosyabru where I stayed in a tea house. The route towards Cholangpaty is extremely steep and through the jungle. You would be lucky to see the Himalayan Monal here as the vegetation is ideal for them to hide in. I reached Cholangpaty around 10 am and stopped for tea there.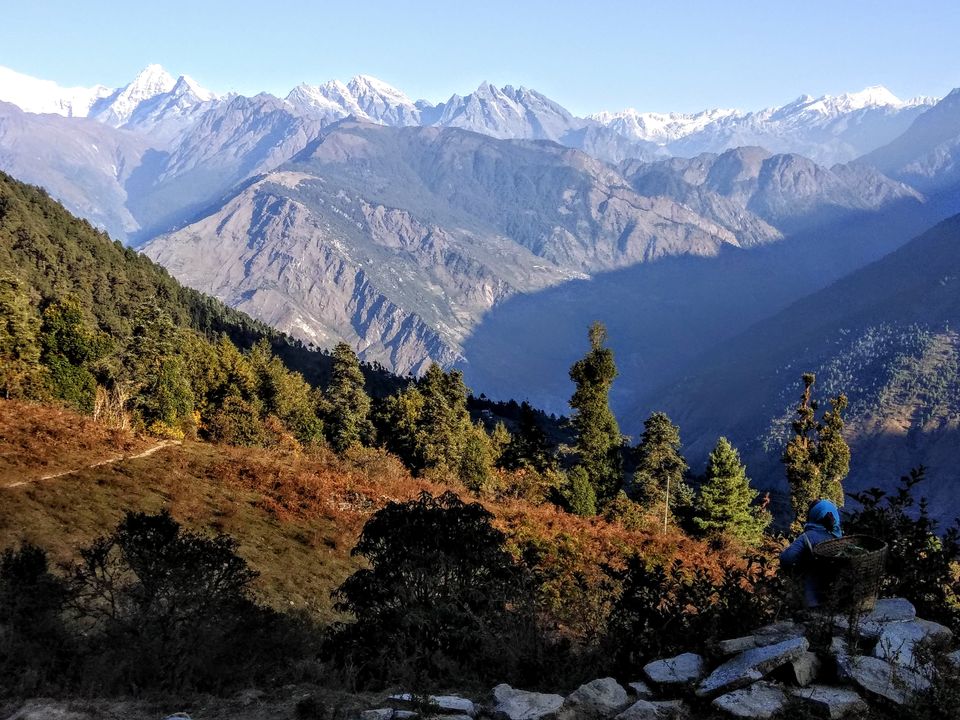 Day 3: Sing Gompa / Cholangpaty to Lauribina (3900 m) / Gosaikund (4380 m)
If starting from Sing Gompa today, it will take 2 hours to Cholangpaty, 2 more to Lauribina and 2 more towards Gosaikunda. If you stay overnight at Cholangpaty, it should be easy to cover the distance and reach by noon to Gosakunda. Lauribina is a good place to stop for lunch if starting from Sing Gompa else you can have lunch directly after reaching Gosakunda. The trail from Cholangpaty to Lauribina is a steep slope with tree cover diminishing and beautiful views of the peaks emerging. Further ahead from Lauribina, is an extremely steep ascent towards Gosaikunda for an hour and then the trail goes around the mountains in up and down to reach the cascading set of lakes and finally to Gosaikunda.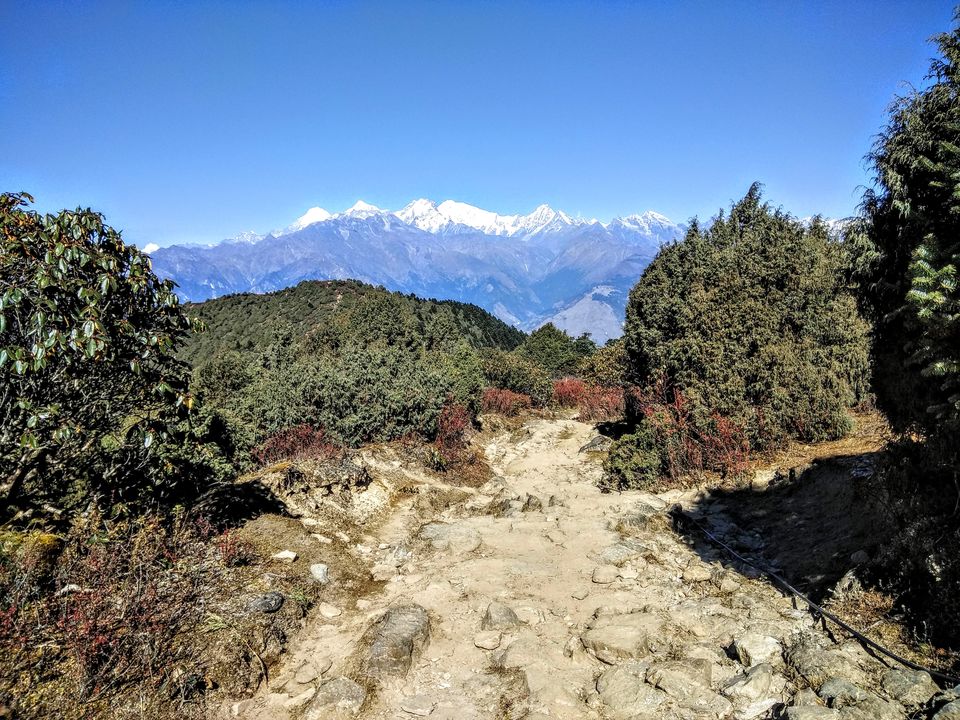 Gosaikunda Lake
The Gosakunda lake is one of the biggest lakes in the region and the most revered by Hindus. The Bhairavkunda lake, adjacent to Gosakunda is also stunning with snow dotted peaks and cascading turquoise water flowing. The sunset in this part is worth a mention and not to be missed. One can walk down to the Bhairavkunda after keeping their luggage in one of the tea houses. There are about 5 tea houses around Gosakunda and accommodation and other facilities generally expensive as everything is carried from Dhunche to here by porters or mules. The lake water is extremely clean and clear and freezing cold for a dip. There is a good view point about 45 mins from the camping site from where the views of surroundings are awesome. Its best to hike up in the afternoon as it gets very windy post afternoon. The Gosakunda temple is adjacent to the lake and as peaceful and spiritual place as none other on earth. Spending the afternoon meditating besides the lake in front of the temple is an excellent option. Sipping on hot ginger tea inside the tea house watching the sunset over Bhairavkunda is another marvel of this trek.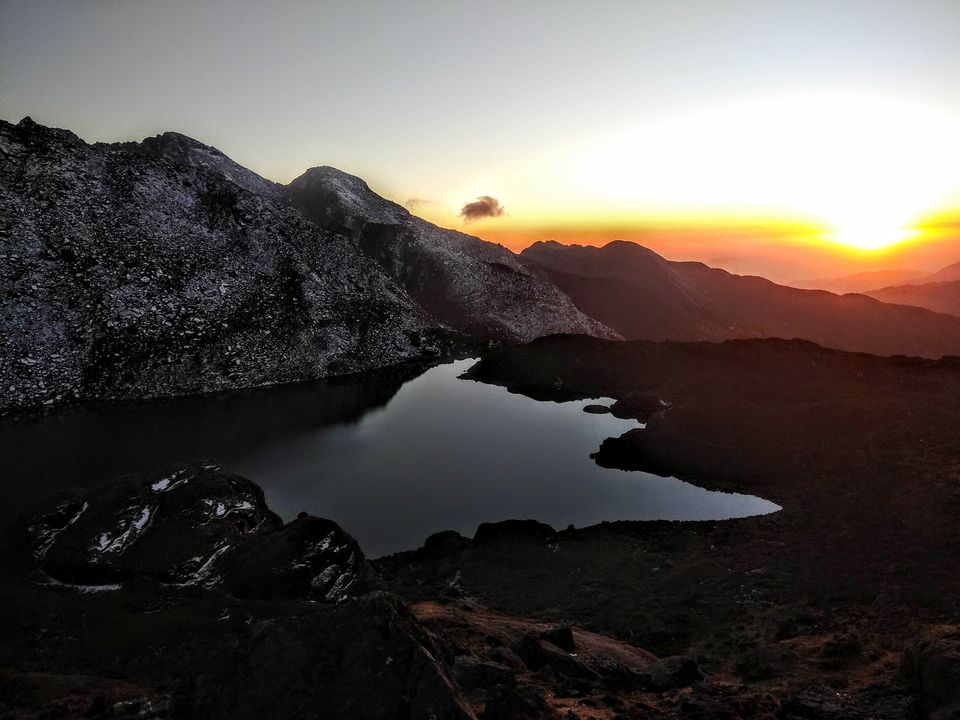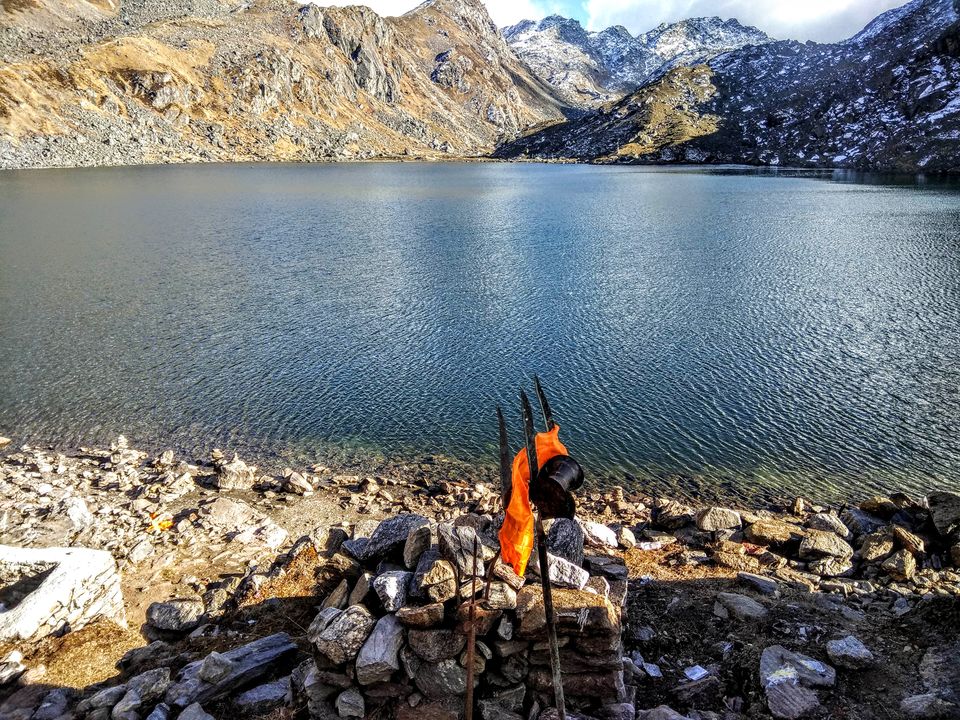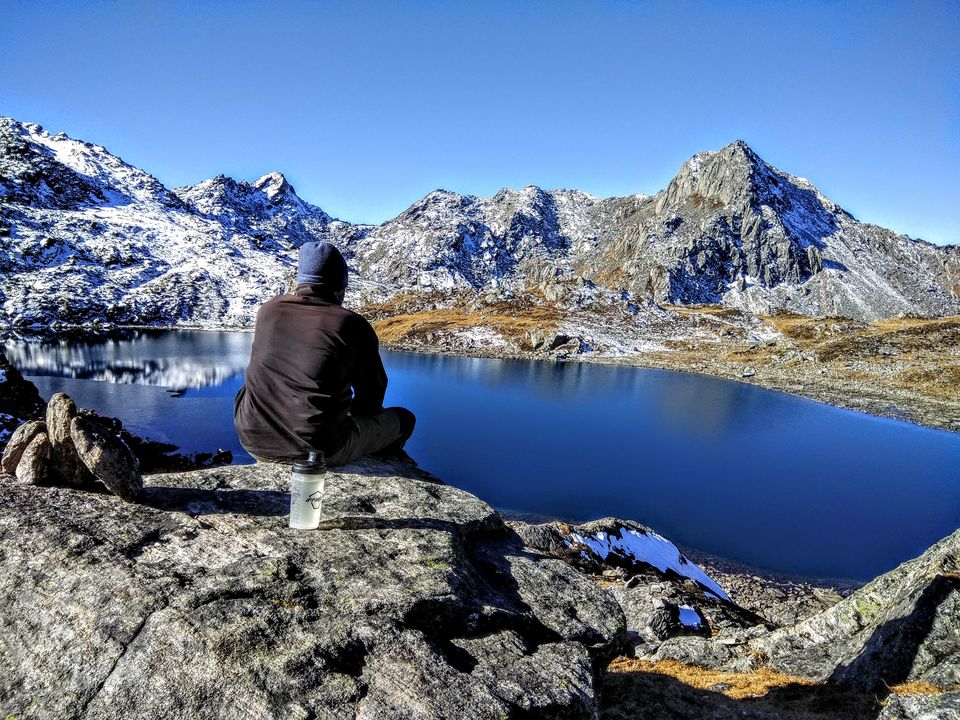 Day 4: Gosaikunda to Gopte (3200 m) / Thadapati (3450 m) / Sing Gompa
There are two way trails back from Gosaikunda – one is towards Lauribina – Cholangpaty – Sing Gompa and back to Dhunche and the other one is towards Kathmandu from Suryakunda – Gopte – Thadapati – Kutumsang – Chisapani – Kathmandu. Its possible to trek down upto Dhunche in a day but its a tiring journey with a lot of descent. Else one can stay back at Sing Gompa and reach Dhunche the next day and then to Kathmandu by bus on the third day. If you are good to walk for long and dread the bus journey, the other route will take you right up to Kathmandu in three days (Gosaikunda – Gopte / Thadapati, Thadapati – Kutumsang, Kutumsang – Chisapani – Sundarijal – Kathmandu)
I had got a bad blister in my left foot and had to stop at Gul Bhanjyang an hour after Kutumsang. I stayed there for a night and took the morning bus to Kathmandu at 8 am. Reached Kathmandu late afternoon to finish the trek.
Things to note
You need a TIMS (Trekkers Information Management System) card and permit to the national park. Both can be done at Kathmandu at the Tourist office
- TIMS card (NPR 2000 for foreign nationals; NPR 600 for SAARC nationals)
- Permit (NPR 3000 for foreign nationals; NPR 1500 for SAARC nationals)
There is no electricity on this route after Thulosyabru or Sing Gompa. The places run on solar power. Mobile charging is NOT free on this trail. Showers are charged upto 400 NPR higher up the trail.