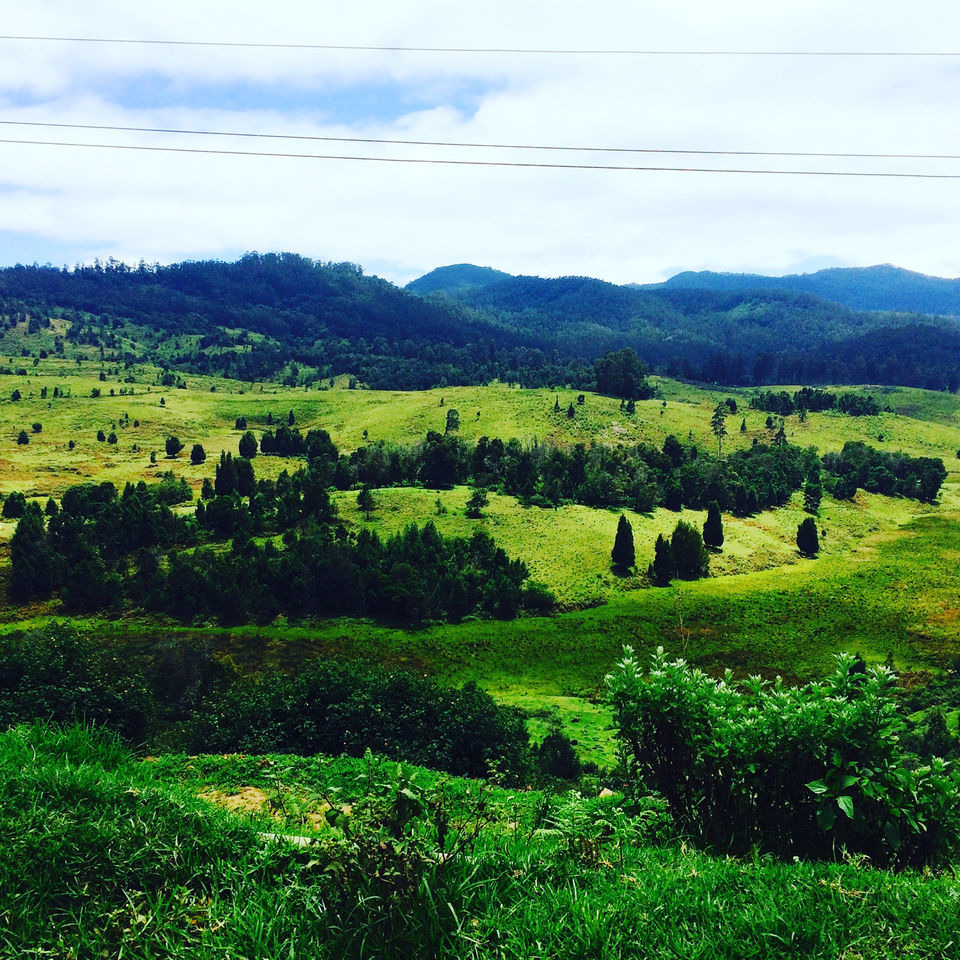 Kodaikanal is one place where everybody goes for picnic.I'm sure most of you didn't heard about "Mannavanur".Its a rural village situated 30km away from Kodaikanal.
After resigning my job,I was simply sitting in home and searching for a job via routine job sites.I was fed up with searching jobs because i wanted a job which I can travel my India.I was willing to do any job,but till now no way.
That time I was really broke.i didn't have any money,but fortunately I got my last month salary 15k.So I was really happy.At the same moment I think of going a trip.
I like to go solo trip because it feel good,no need of bothering anyone,can make my own decisions and becomes a good organiser.
I planned to go by public transport because it's really money saver.My home is in Thrissur,kerala.
It was end of September.And it was the end of monsoon season and starting of winter season.
"Best month to visit Kodaikanal is SEPTEMBER "
The route from Thrissur to Mannavanur is
Thrissur-Pollachi-Palani-Kodaikanal-Mannavanur (270km)
8 pm,First I got bus to pollachi.I was afraid of getting bus on right time.But thanks to SETC(tamilnadu road transport) because there is always bus to everywhere and they will respond to every phone calls and help us.
When I reached pollachi,at the same time I got bus to Palani.And in 1.5hr I reached Palani.It was about 2 o clock.
PALANI TO KODAIKANAL BUS ARE LITTLE TIGHT(check in photos)
I planned to board bus @4 but I still have 2 hrs to spend so I decided to go Palani hills which was really close to bus station.
When I reached there the the hills it was closed.I just visited a temple under the hill and there were many guys shave head for the pilgrims.Hair is an offering to "MURUGHAN",the god in Palani.
Then I get into Kodaikanal bus,it's a journey of 2.5hr.When bus started climbing mountains ...the temperature was getting lowered.
After halfway of ride they stopped for tea,when I get down the bus I saw the sun was starting to break down...it was something awesome breakfast for me..I took a deep breath and I feeled my body was getting lowered.
7 am I reached Kodaikanal bus station.i checked for the bus to Manamanoor and it will be coming in next 15 mins.And took a sudden coffee and get in the bus.
It was about 30 km ride and it will take 1.5hrs.
But the route to Manamanoor was entirely different from Kodaikanal hotspots.
The road was in between forest and the forest was full of eucalyptus trees.
I was inhaling the flavors of eucalyptus,it was something good to my respiratory system.
On the side of roads the woods were cut into pieces,when I asked to one locals he said that "here the trees will be falling continuously because it's monsoon"
Suddenly I saw a beautiful village in between mountains,it was really awesome,it was like outskirts of SWITZERLAND.
At last that happened in front of our bus the tree fall down.
But the locals were familiar with it they had saw and they started cutting the tree....here I see the unity "gramavasi's".They were like one family,I also joined them to remove the wood.We took only just 30 mins to clear the way,thanks for the unity.
At last I reached manamanoor.
Manamanoor welcomes me showing the beautiful meadow.
t was really an undeveloped village expect the hotels,all other were really pathetic.
But for traveller we have lot ways to stay there.
@subham guesthouse -9751871244
@aravind lodge
@campers club
The last 2 place I don't know the contact no.But for sure you will get space.(just ask the locals,they are willing to help)
But these are not kind of resorts or something like that..don't expect more because its a rural area.
I stayed at subham the owner was really helpful,and it was really cheap.For getting cheap you must bargain little bit.The view at the backside was really faboulous which feels the pulse of village.
Remember when you go to any hotels you must ask for the rates of food because the tourist are the only way that they can survive.
THIS VILLAGE IS FAMOUS FOR THE MAGIC MUSHROOM.
From the nearby forest it's getting magic shrooms.comparing to main central of Kodaikanal here the shrooms are really cheap.
Here in this village there is an old tea shop managed by a "paatti".it was something really old place I have gone in my life.
Being a foodie this place is a paradise.
Here you will get the real native food like head of goat,blood of goat and local chicken.
Don't be afraid of head,blood this something our grandmothers had.Its really nutritious.
Here you will get vegetables curries also.
The really interesting is that,the preparation is in mud pots,grinding is done by "ammikallu" so it was really tasty.The one and only equipment which developed was rice grinding machine others all are of late 90's....
"You must try the roasted blood of goat,i really like it"
There is eco tourism region by forest officers containing a lake and many more..
I hang around in this area and it was something beautiful.
They had boating,horse riding,off roading bikes etc.
The area was bit larger than we see with our eyes,when we wanted to go one hill to another it takes more time than we expect but we will not become tired because here the climate is really cool.
I spent almost 5 hrs in that meadows and it was the magic of nature......I really forget the time.
The sun was preparing to set and shivering increased....I had to say good bye to the meadows.
I return to home and the medium of transportation was walking...it was really near by village.
I got a local companion there and I talked about their living.
Almost all the houses in the village is plastered by mud.The income of the villagers is mainly through farming.Eucalyptus oil,garlic was their main commodities.
The daily expense for them was really low.
There is school near by I think every children is studying there,but almost all children had no footwear and proper uniform.
But when I walked through the village many students were begging to tourists,I really feel bad about it.
The local friend was an engineer,and I feel proud.
After long chatting....the night has arrived,the temperature was 12 degree.Unfortunately I didn't bring any jackets to reduce my baggage...the cold cannot be compromised.
Fortunately there was a wine shop near by, but bought some local rum and had it.
Back side of the room was really to see in night.the lights of the house on the opposite side was visible the me.And there was always a wind which always drizzle through my body.It made me more colder.
Next day I decided to leave afternoon.Before that I went for shopping.
Eucalyptus oil is one of the main commercial product in Kodaikanal.i bought one bottle and there we will get "Vella pooda"(GARLIC),its an organic thing and it's different from the ordinary garlic.
After the shopping I took bus to Kodaikanal.There I visit some hotspots.
And never forget to try hotchoclate from "chai wala"in kodaikanal market near to cokers walk.
After wandering in streets I took the last bus to Palani.
TIPS
@Always reach in the morning.
@If doubt ask twice for anything
@Trust google map
@Never try the shrooms without any measure
@Try to bargain with locals,it save money.
@Outskirts of Kodaikanal difficult to see ATM