I thought it would be a piece of cake. That was the reason I chose 8 hours of kayaking tour over 4 hours even after being warned a million times that I will not be able to finish it. I had no idea these 8 hours would change my perception about me and things around me.
Morning train from Varkala took me to Alleppey. I had booked a dorm bed in one of the hostels. This was my first experience with bunker beds, sharing rooms with fellow backpackers, watching an IPL match with people of different nationalities and a friendly debate if Virat Kohli is better than Root. They told me about their travel experiences in India and even invited to visit them back home. I slept early because I had a big day ahead of me.
I was asked to come here at 11AM from where my kayaking for the day was supposed to start. And probably the first time in my life I was there before time, that was the level of my anxiety.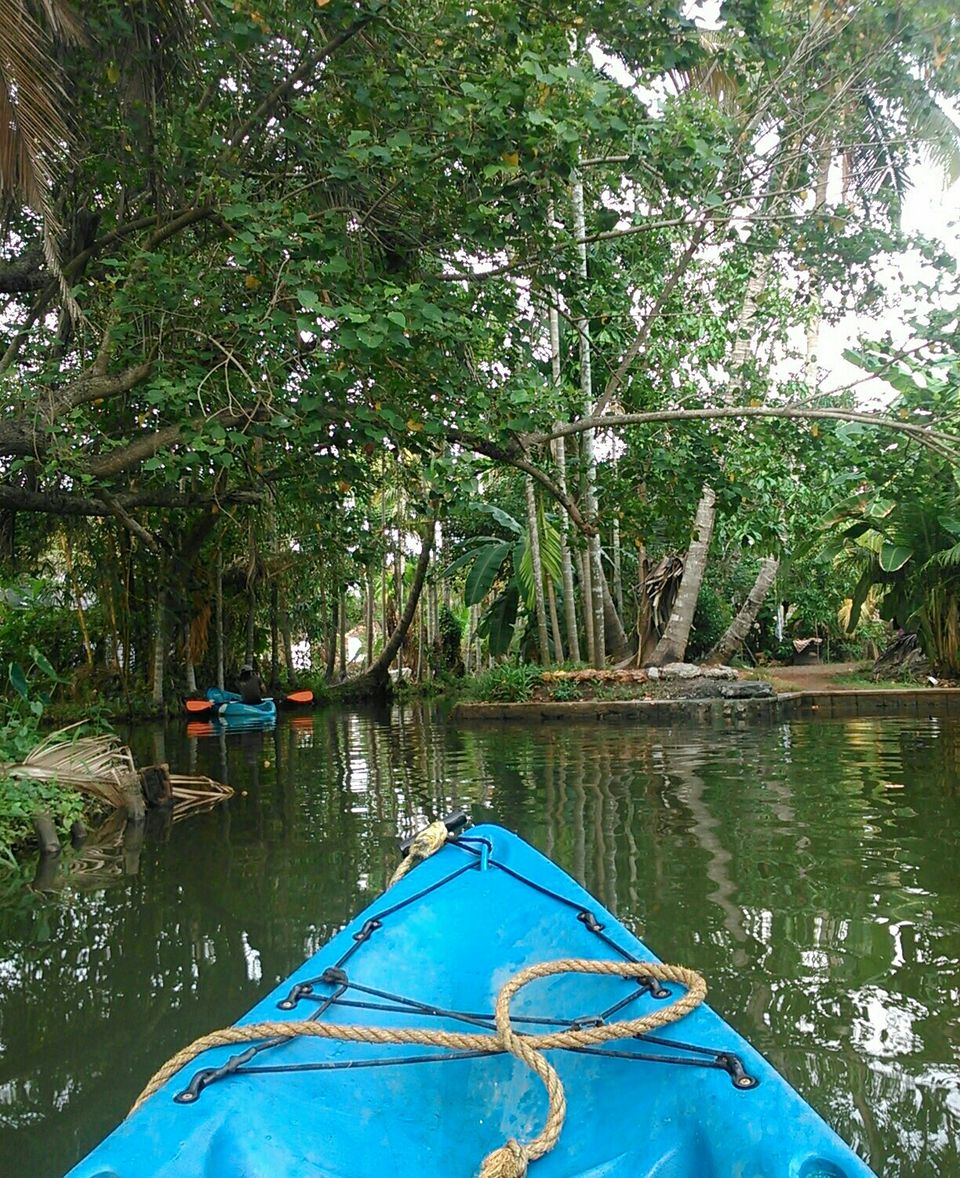 My guide came there in sometime along with a Chinese gentleman Martin who would also kayak with me. He looked like he was in his mid twenties, athletic built and he had long hair. So we were taken to the boat from where my most memorable 8 hours was about to start. We got into the boat and were taken to the place from where we could collect our kayaks and life jackets.
I have zero knowledge of swimming but I lied to our guide that I could 'float' in water with a life jacket on because swimming for mandatory. I have no idea what he interpreted when I said 'float with a life jacket on'. I was taught how to sit on the kayak and proper way of rowing. Martin knew it as he had done it earlier in Indonesia.
Activities for the day was set. Kayak for 1 hour, eat local cuisine at a local restaurant ( It wasn't a restaurant exactly. It was a very small dining place with seating for only 4 people), relax in the boat for 20 minutes while it passed through the bigger canals and then kayak for 1 hour again through the smaller canals, get into the boat, kayak for 1 hour, get into the boat and then if we have enough strength kayak for one more hour, snacks at a local place and back to the place where it all started in the morning.
I was on my kayak and I was rowing through the captivating canals of Alleppy backwaters. It felt more like I was sitting in top of the water, I was so close to the water.
Kayaking through the canal was no less that driving through Bangalore traffic. Water in place of roads. Boats, lots and lots of boats in all sizes were moving across the canals. I being the less mightier one in my kayak had to wait till the bigger boats had passed and made way for me. Every time a big house boat passed by me, it felt like there was an earthquake, as that would create a lot of tension in the water and balancing was difficult, but with time I became a pro at it.
There were ferry boats rowing to and fro. There were lots of house boats in different sizes moving leisurely.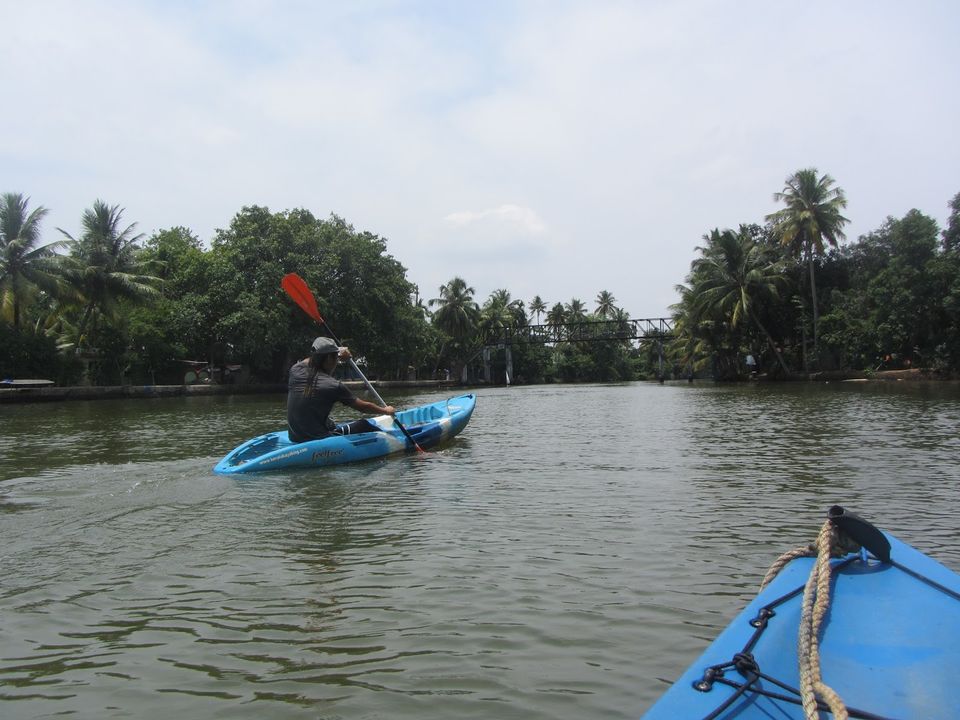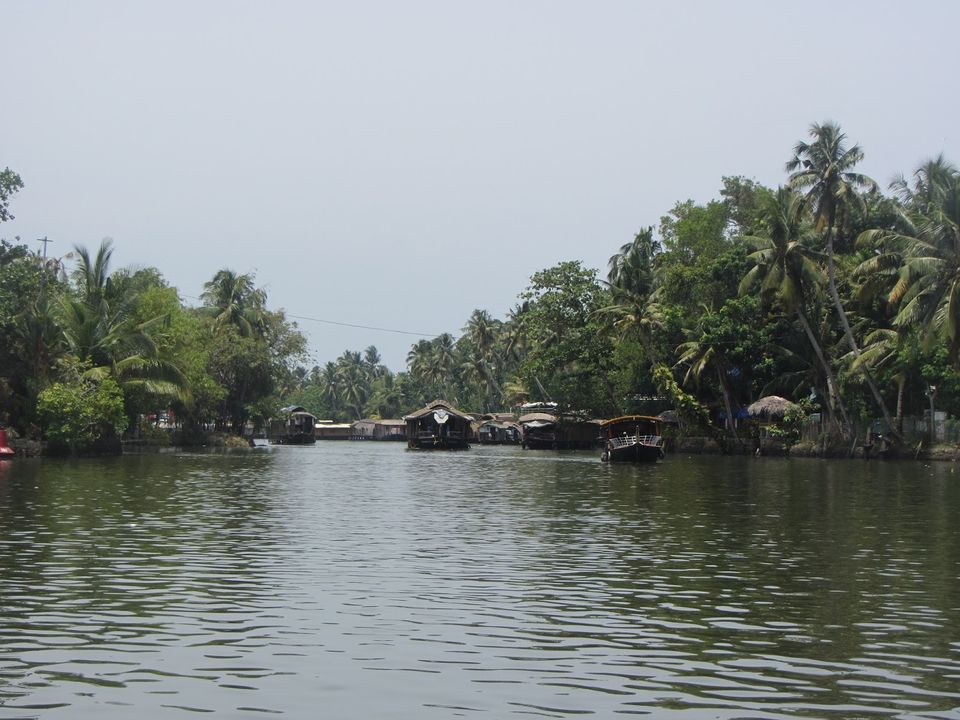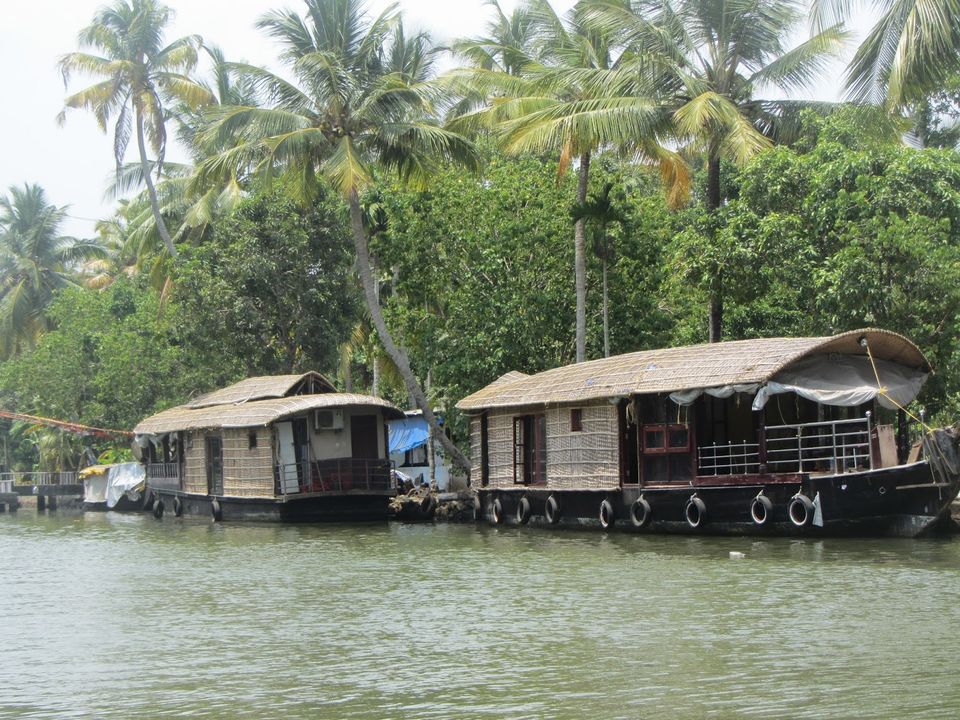 It was beginning of May and the sun was merciless. I was up for some serious tanning. Rowing was not easy for me. I do not exercise or play daily, so naturally I have weak muscles. After initial 15 minutes my shoulders and my upper arms were hurting. My palms had turned red. I was profusely sweating. While Martin had already gone way ahead of me, my tiny break of 2-3 minutes were becoming more frequent. Now even my lower back had started to hurt. But I was never taught to give up.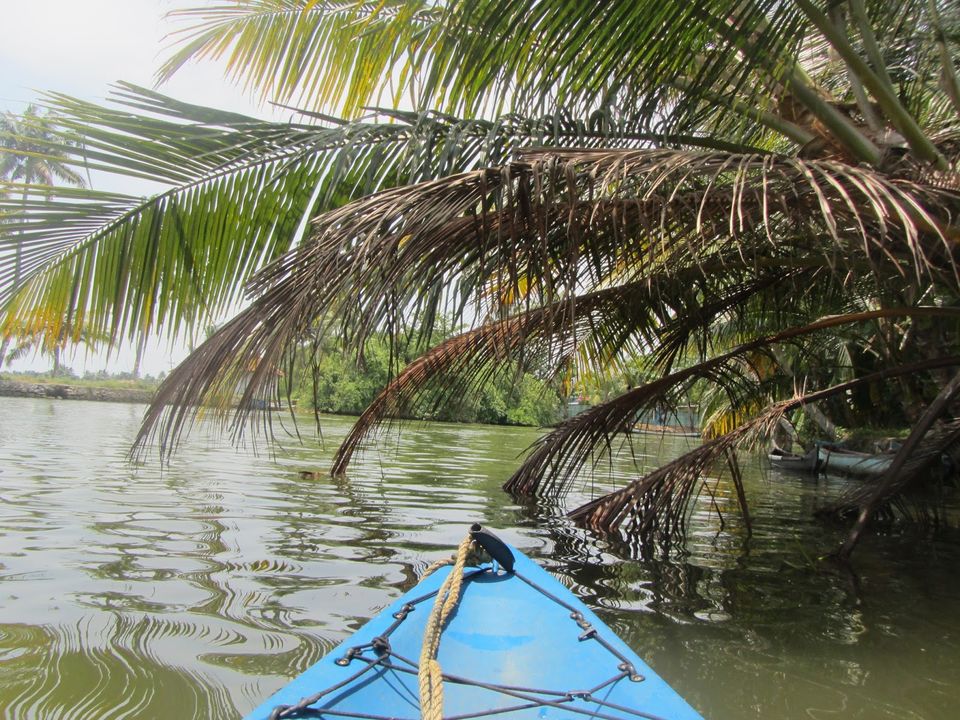 After a good one hour of rowing I reached a tiny restaurant where lunch was ready. I was exhausted by then. I couldn't feel my body, it was numb. The restaurant guy welcomed me with tender coconut water. He explained Martin that it is India's original energy drink. Then we were served the meal. Shrimps, pearlspot cichlid ( Karimeen) and delicacies made of raw banana, ripe banana and banana flower. That was the most fulfilling meal I ever had. I could row for another 2 hours if it was for this meal.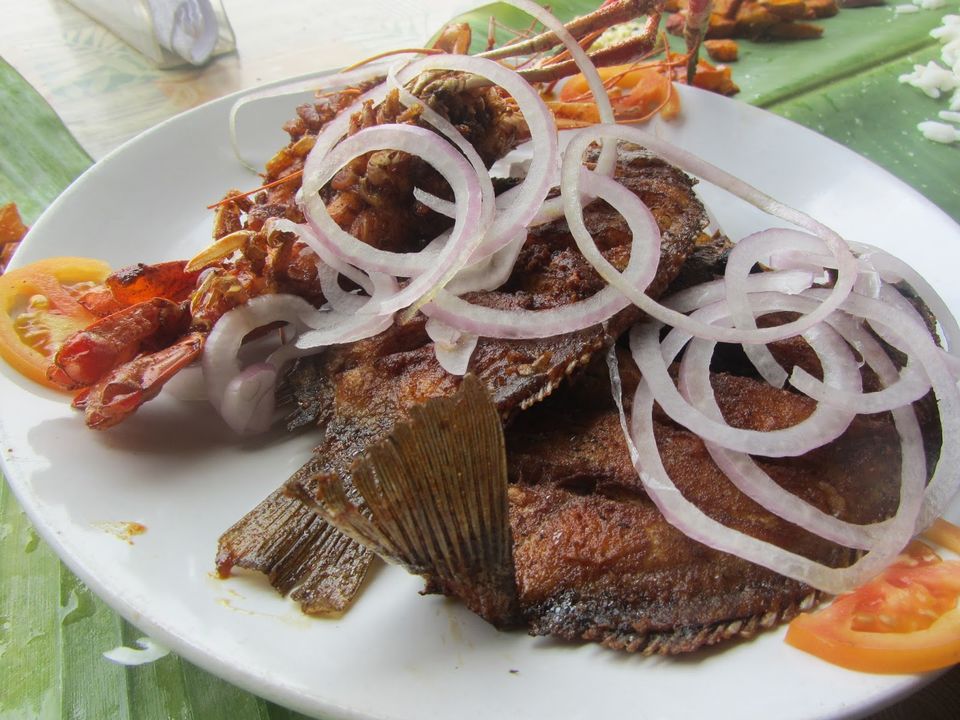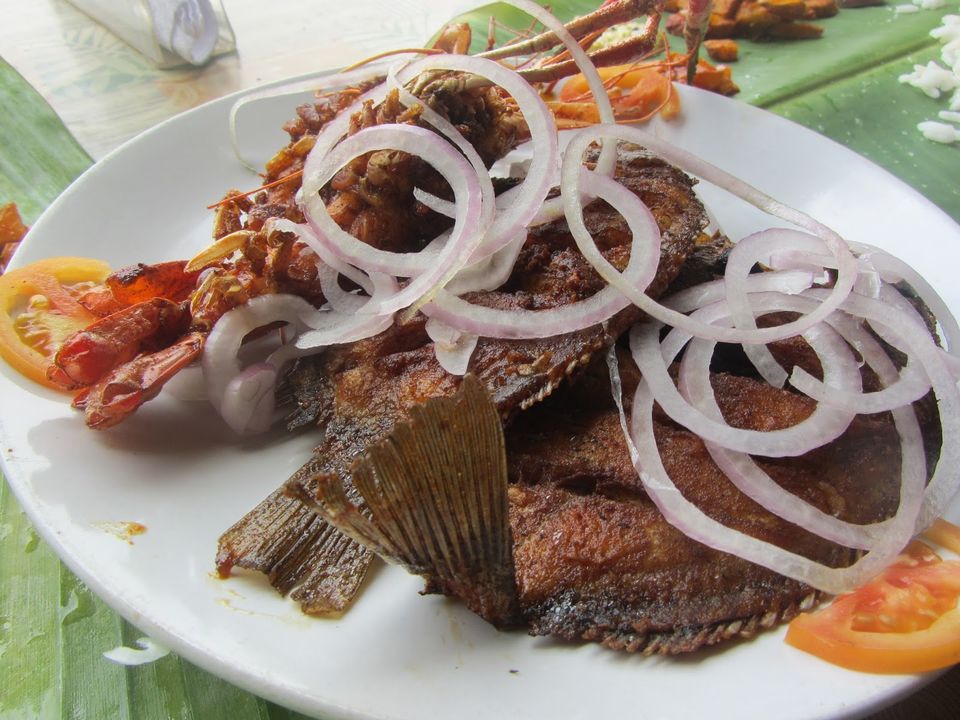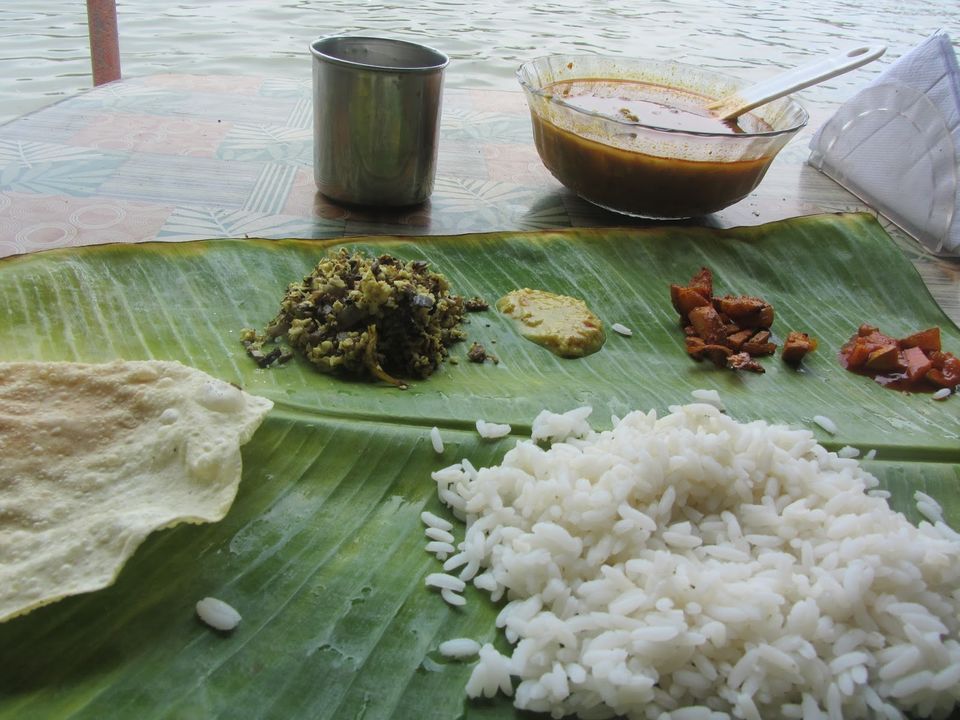 And hey look whom I met at the restaurant.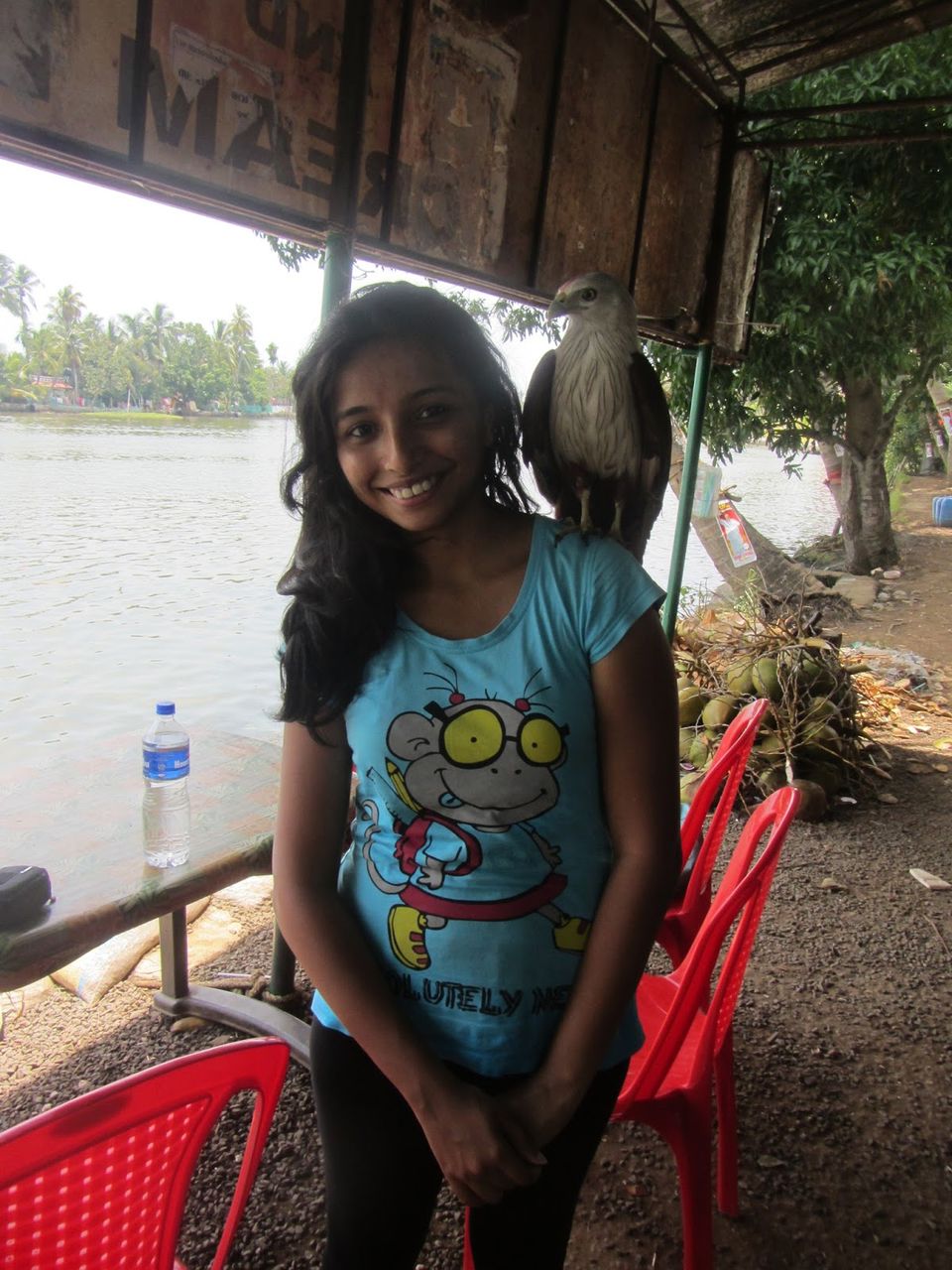 After the sumptuous meal, I got into the boat and head to the 2nd leg of kayaking. This time it was the less busier canals, narrower ones. There were houses on both sides of the canals and paddy fields behind those houses. I could see kids playing infront of their houses. There were different species of birds as well. One interesting thing I noticed was that almost all the houses had their own boats like how we owned cars/bikes. That was their main mode of transport. And the kids here row these boats at very young age of 7-8. I was awestruck when a small boy passed beside me in this boat and parked it in front of his house and gave me that stare which made me die a little inside because I was still struggling to balance on my kayak.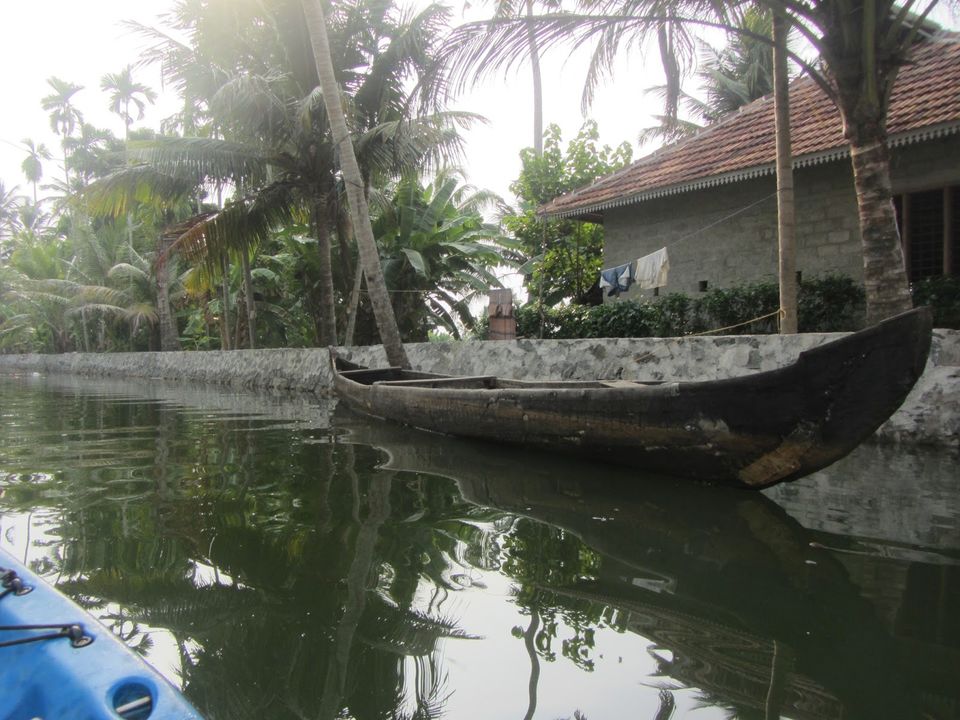 The third leg of kayaking was in even narrower canals. By now I was pretty comfortable with my kayak and had come in good terms with the killing pain in my shoulders and upper arms. The beauty here made me forget everything. It was surreal, a different world altogether.
These areas flood during the rains and the government provides alternate accommodation to these people during those times. What was more disheartening was that the locals wash their clothes and utensils in this water hence polluting it. I even saw many shampoo cans, plastic covers and other waste thrown in the water. That broke my heart. This beauty needs to be preserved for generations to come.
While returning on our boat, I saw that there was election campaigning going on. I explained Martin how elections took place in India. And he told me about how it was in China. I spoke a lot to this guy. I always wanted to know if the Chinese food we eat in India was anywhere near to the authentic Chinese food. He said that the Chinese food here doesn't even remotely taste or resemble like the food in his country. He told me that he watches Indian movies and the last movie he watched was PK and that I resembled Anushka Sharma and I could not control my laugh. I swear he mistook Anushka for someone else.
Thus after enduring all that pain, I still completed my 8 hours of kayaking and covered almost 6 kms. This is an accomplishment that I will cherish for years to come.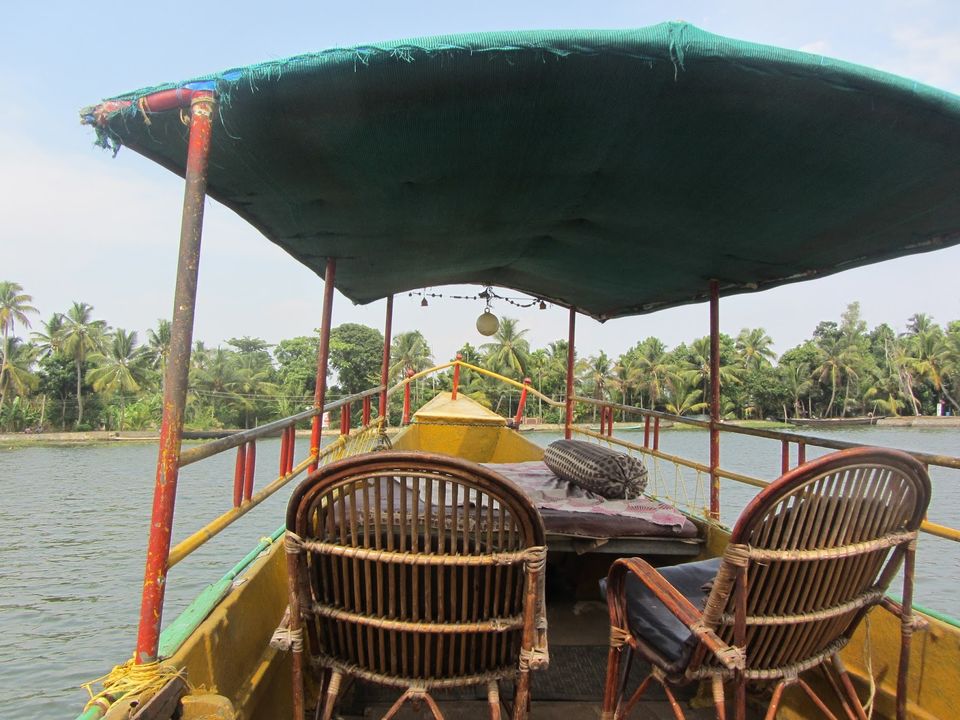 There was another very important takeaway from this trip. When I came back to my dorm, to my horror my leg was tanned in a very peculiar way, with a proper line differentiating my normal skin and tanned skin. I would never mind a beautiful even tan but this was weird. I thought when I go back home, I would be made fun of for this but I discovered a new me. I was flaunting my double shaded leg across Bangalore. It did not stop me from wearing shorts, people stared but when they asked I had an awesome experience to brag about. From this I learnt what it actually meant to be comfortable in ones skin. My legs gave me goosebumps every time I look at them, It assured me that I am capable of doing anything if I really made my mind.
Like they say, tan fades away but memories stay forever.