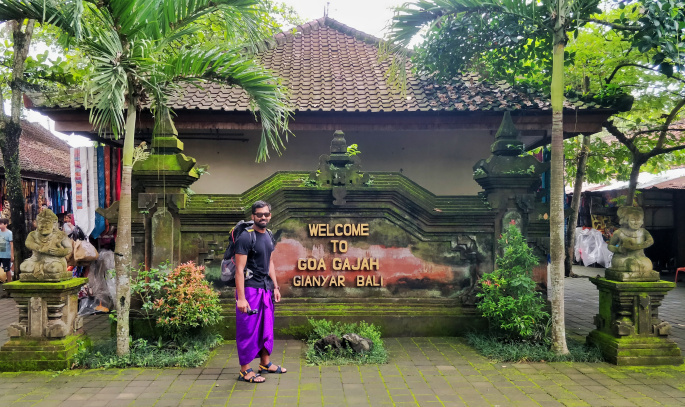 PREPARATION BEFORE TRAVEL :
Tickets: My travel partner for this trip was Ankush Yadav, a friend from the office. We booked our flight a month ago from Kuala Lumpur to Bali, Indonesia, return flight cost us 540 MYR (9K INR)/person.
Visa: In Indonesia, Indians don't need a Visa. It's Visa on arrival. When I arrived on the Airport it was too crowded that was the biggest queue I have seen for immigration.
Stay: I booked my stay at Bread & Jam Hostel, after doing research and reading reviews. The dorms were clean and the staff was really helpful. I liked their common area which was full of creativity.
I decided to travel in the night right after my office as I wanted to start fresh in the morning and explore Bali. By paying one night extra for the stay you can start your day early. I have booked my day tour for Nusa Penida island with Bali-adventure. Thanks to Air Asia the flight was late by 1 and half hour so reached Bali at 2 AM. Usually in South East Asia Grab application is there to book cabs but at Bali airport, it will not work for some reason and private cabs are very expensive but at 2 AM morning, you don't have many options so I paid 100k IDR for just 2 km distance. A tip here is download GoJek when you go to Bali and you can easily book a bike for 5k IDR for which I paid 100k IDR. After reaching hostel we took rest for some time and woke up at 5:45 AM to leave for Nusa Penida tour at 6:30 AM.
Day 1 - The tour guy picked us up from my hostel in his cab and take us to Sanur port which is 40 mins away. Sanur is the place from where you can get jetty to Nusa Penida or Lombak, both are beautiful islands near Bali. There are a couple of local shops where you can have tea and breakfast. It will take about 40-45 min to reach the Island and the journey is beautiful. Make sure you sit at the top of the jetty to enjoy the view on the way.
Angel's Billabong & Broken Beach - The tour guy took us here in the cab from the jetty point. It's a rock formation on southwestern cliff edges. First time in my life I saw the blue water and believe me it was spectacular with the view of mountains.
The broken beach is a natural hilly arch-like rock formation. Set over the crashing waves of the open Indian Ocean, Broken Beach is a great spot for travel photographers and panoramic view seekers.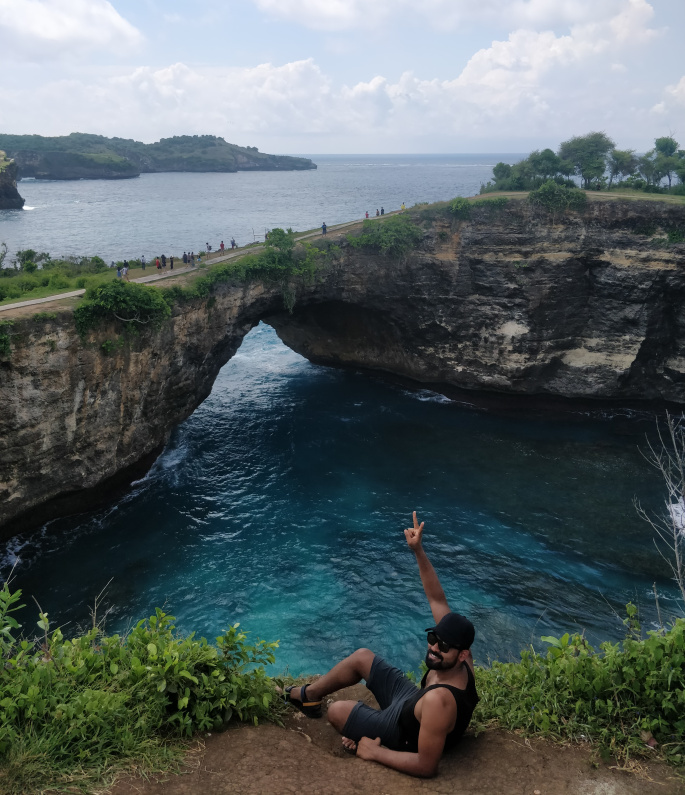 Kelingking Beach - It's a hidden beach in the village of Bunga Mekar, on the southwestern coast of Nusa Penida island. You can enjoy one of the most breath-taking views over the hills. The site features a limestone headland covered in green, against the deep blue waters of the open Indian Ocean. It was crowded and everyone wants to capture this beautiful sight from a man-made the platform and a tree on the hill. The view left me mesmerized and I closed my eyes to capture it in my memory. I didn't want to leave the place but we had to.
We left for our sponsored Balinese lunch in one of the local restaurants. Food was average and was in less quantity. Because people in southeast Asia eat less comparatively to Indians.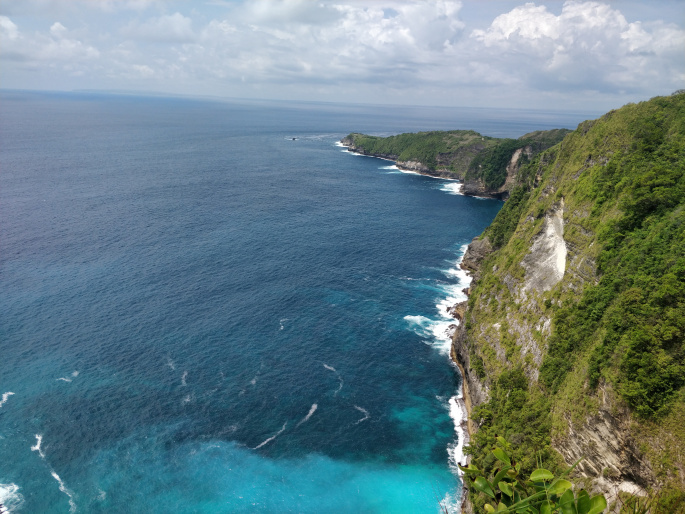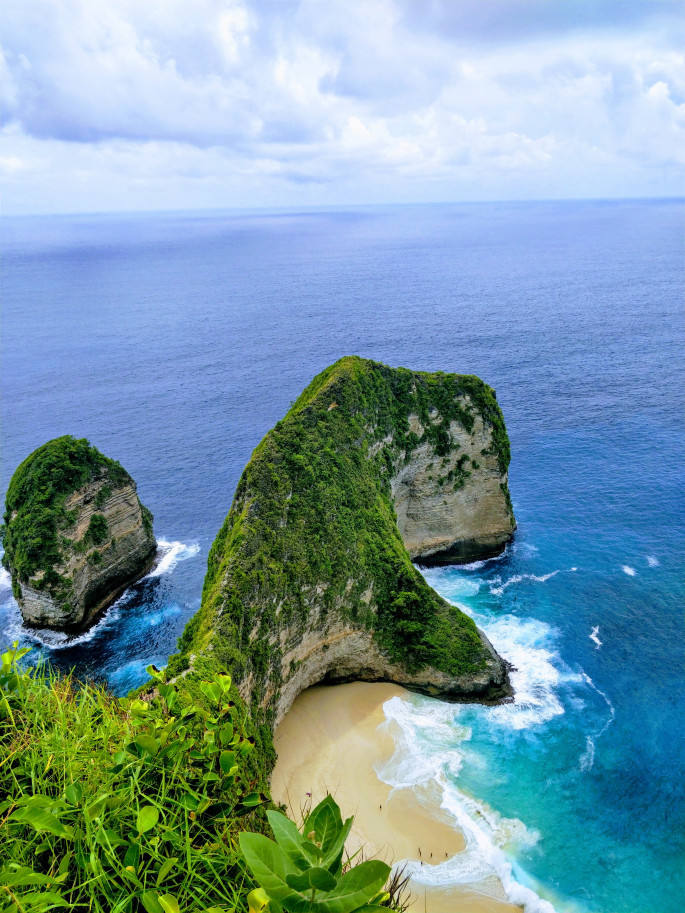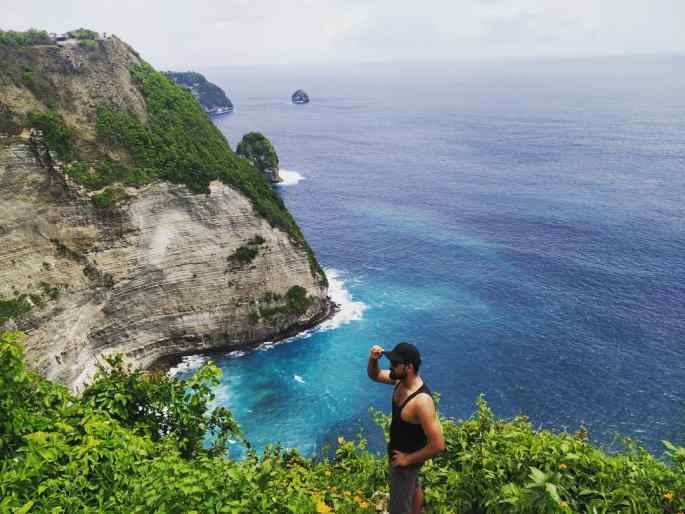 Crystal Bay beach: After our lunch, we went to this beautiful beach. Weather was pleasant now as the sun got away into clouds and it was about to rain. There are changing rooms on that beach but we changed our clothes outside as it was crowded. I ran straight into the water, it was a great relief. The waves were moderate. One can swim near the coast easily. Snorkeling wasn't included in my package but I do recommend doing snorkeling here.
We went to our jetty point again and by this time it was raining heavily. This boat journey was special as I sit just at back with the view of blue water. Usually, they don't allow to sit there but I convinced them. As the boat was moving and the splashed water was touching my face, the feeling was just out of this world. We reached our hostel got to freshen up and left to see nightlife in Kuta Bali.
Nightlife in Bali: If you want to enjoy the nightlife in Bali the Kuta and Seminyak is the place to be in. As the sun goes down the streets will get filled with travelers and local selling goods on the streets. There are plenty of bars and shops on both streets. We explored Kuta on the first day. The day was hectic with early morning leaving for Nusa Penida and coming in the late evening so now we wanted to eat like anything and the best way to satisfy that hunger is to have Indian food. We went to a place called Spice Mantra this is the best Indian restaurant you will find in Kuta. Food is on bit expensive side. A panner dish will cost you 100k IDR(500 INR) and a roti will cost you around 20-30K IDR(100 -150 INR). After dinner, we explored the streets of Kuta. Be aware of locals who will be offering massage but in reality, they are pimp and will offer you 'Boom Boom' which means massage with sex.
Day 2
Garuda Wisnu Kencana Cultural Park(GWKC): We rented a scooter from the hostel itself in 80k IDR(400 INR) per day. Our plan was to explore south Bali so the first destination on the list was GWKC Park. As Bali has more than 80% of Hindus so one can see many Hindu temples everywhere in the city. This park is huge and I recommend you book online tickets because the line of tickets can be long. Ticket price is 125K IDR(625 INR). One has to tie Sarong(lungi) to enter the temple. In the complex, there are various artworks explaining how Garuda and Vishnu are connected. Three major attractions are Wisnu, Garuda and Wisnu & Garuda main deity. It's the tallest statue in the city at the height of 120m.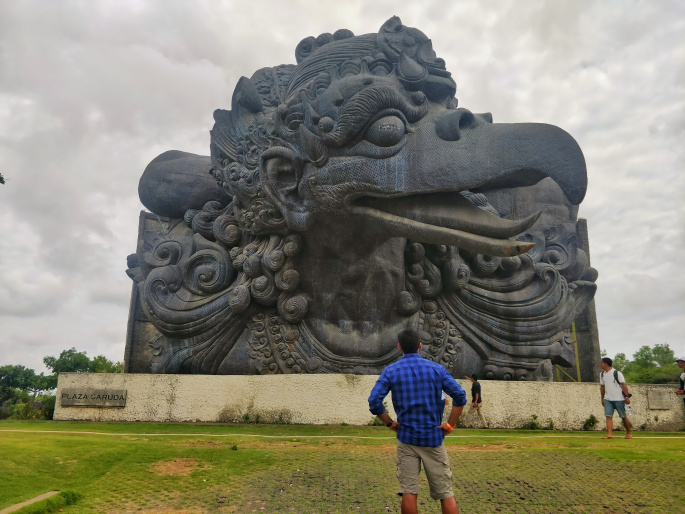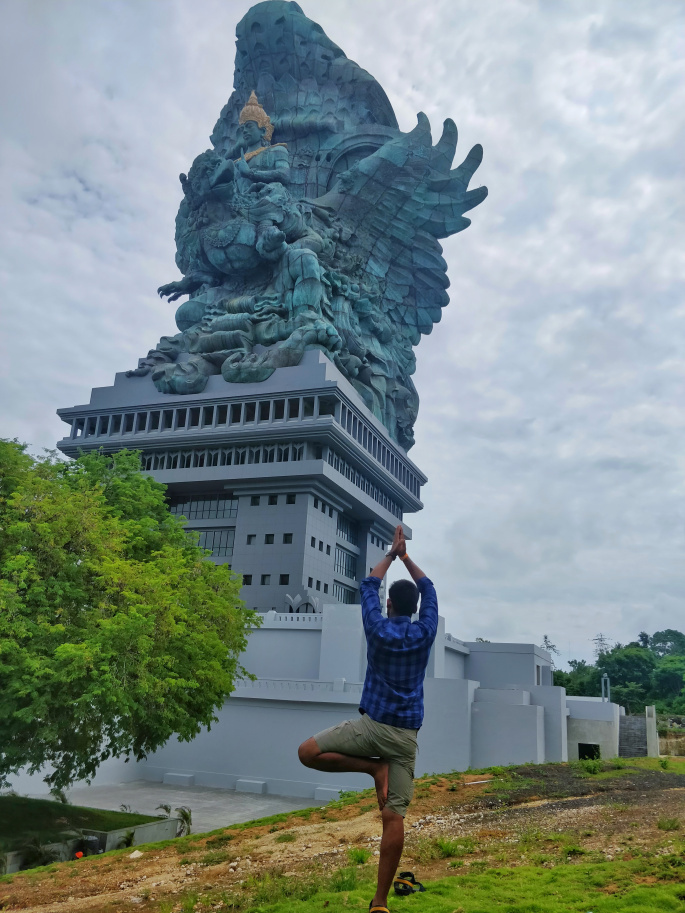 Padang Padang Beach: It's on the way to Uluwatu temple from GWKC park. There is a ticket for the beach(5K IDR) and as well as for parking(3K IDR). The entrance is quite unique for a beach we had to pass from a small cave and on the downside, the beach is there while at the top there is a temple. This beach is just beautiful and best for surfers as I saw many tourists with surfing board. Many foreigners were there just to get some tan. Water was pretty clean and the view was amazing.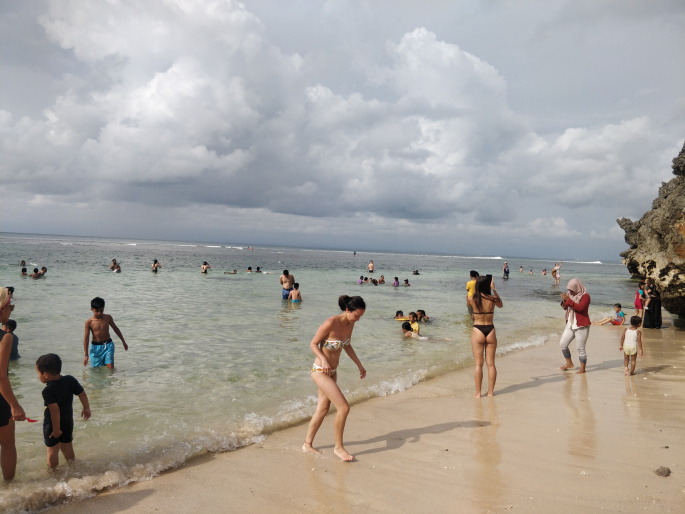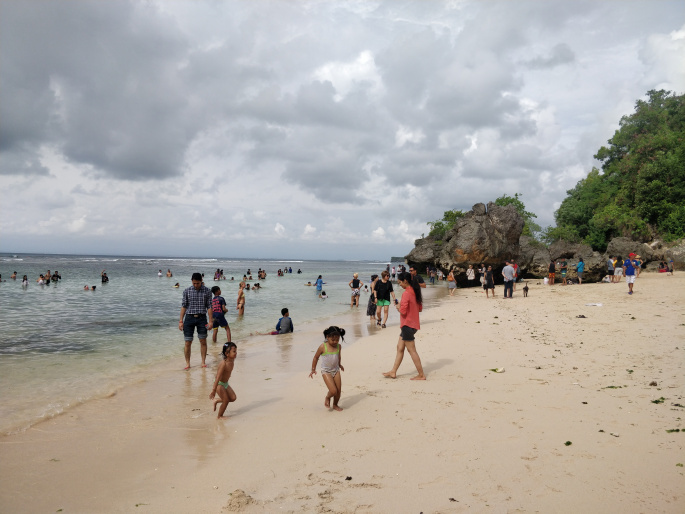 Uluwatu temple: We reached this temple at 5:30. Ticket price for entry is 30K IDR. One has to tie Sarong(lungi) to enter the temple. Temple was crowded as it is famous for sunset and for a traditional Bali dance performance. When we entered we saw a huge crowd on a counter, people were pushing each other to get something. When I went and asked and found out it's for a ticket for the traditional performance. So as a normal human tendency we thought this show must be amazing. After struggling for 15 mini got the tickets and believe it wasn't easy. The show was at 6:30 pm so we explored the temple. The temple is situated on a hill with the sea on the side and the view was just mesmerizing. We went to the top and visited the temple. The show was full of the crowd but we managed to get a place. They welcomed us all with a speech on secularism. This performance was about Sita kidnapping from Ramayana but in Balinese style. I will be uploading the video on youtube and share the link. The performance was in different style but as an Indian, I am familiar with the script and have seen many shows on Ramayana. One can see the dance show in Ubud in Saraswati temple which I did on Day 3. Sunset is one of the most beautiful as we were standing on a cliff in the temple and the sun was setting over the sea.
Day 3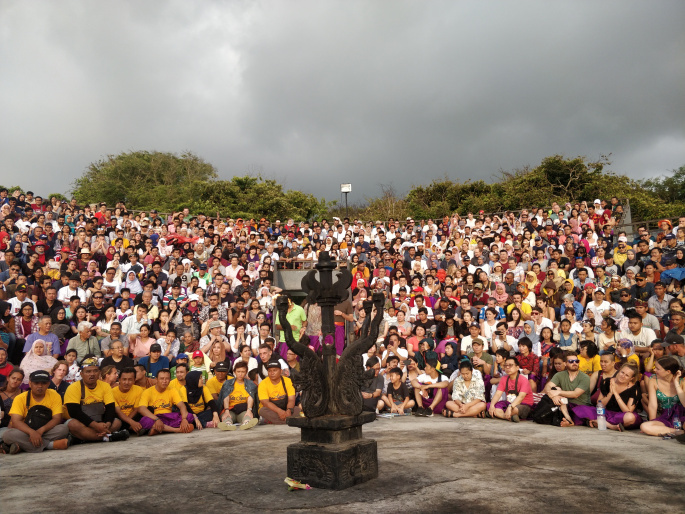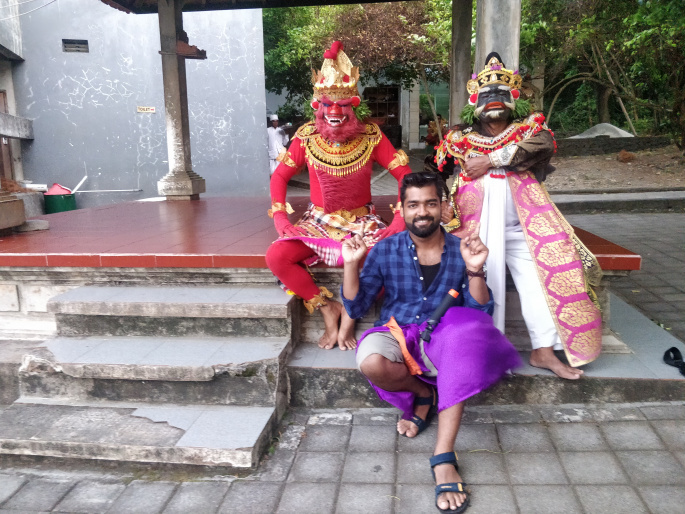 We started our day from Kuta on the scooter with all our luggage at the hostel was charging the same price for the rucksack as for a person. The first destination on the way was Tegenungan Waterfall
Tegenungan Waterfall: My love for waterfalls is not measurable so this one was on my list. Bali have lots of amazing waterfalls but all of them are in North Bali and due to time constraints I wasn't able to go there. Ticket for this waterfalls is 15K IDR. One has to take stairs to reach waterfalls, on the way there are man-made nests where you can have an amazing photo with waterfalls in the background. The view of the falls was just amazing and the tons of water was coming down from the fall because of that no one allowed to go inside the falls or to swim also. If you want to go up and see the waterfalls from the cliff you have to pay for an extra ticket of 15K IDR. One can try Bali swing here at falls also but we planned to do it in Rice fields of Ubud. This waterfall is a paradise for lovers as there are many spots where one can take a lovely couple of pictures.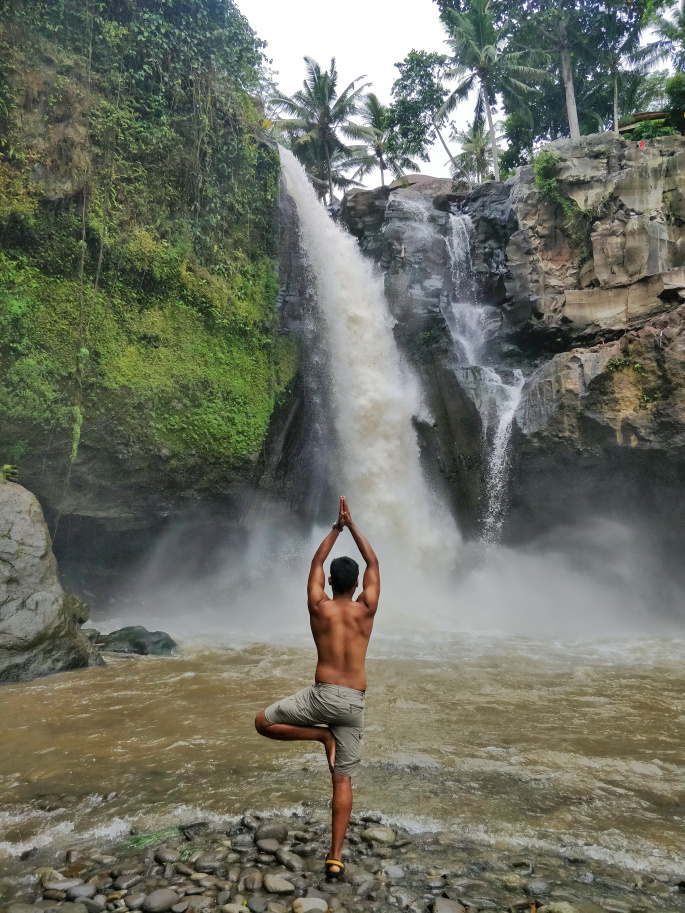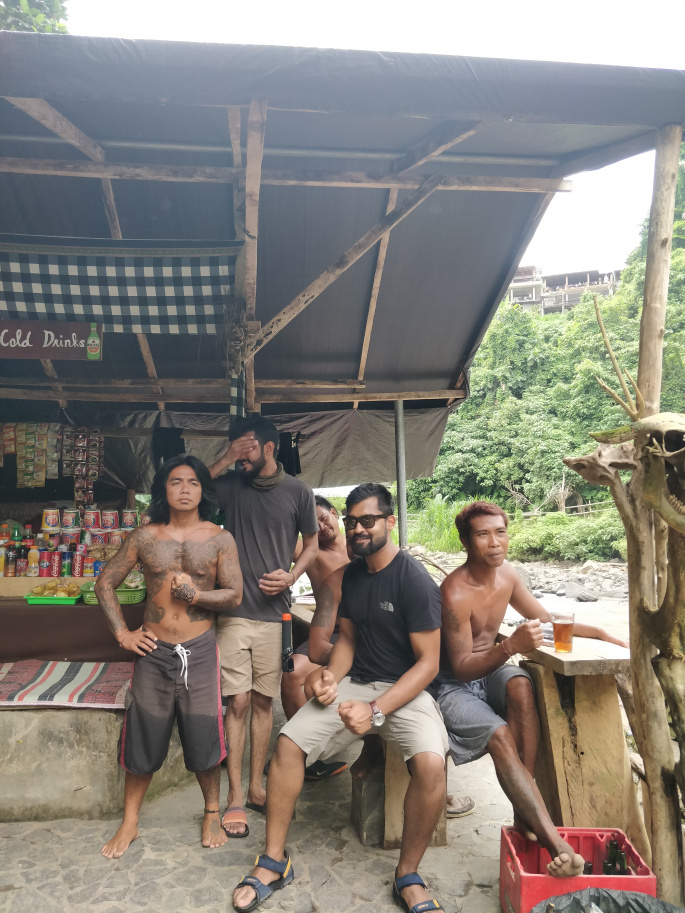 Goa Gajah: This place dates back to the 11th century, built as a spiritual place for meditation. Entrance fees are 20K IDR(100 INR)/person. It is located 6 km away from the center of Ubud. Cravings on walls and history of the place will leave you stunned. The temple entrance gate is from the mouth of the cave and can be through by one person only. On the left and right side of the cave inner side, there are some niches predicted as a place for meditation. However, visitors can sit or lay down over there. On the west alley, there is a Ganesha statue, and at the east alley, you can see three holy-phallus or Shivlings as they look like. On the back side of the temple, there is a big park full of lush greenery with a waterfall and a temple.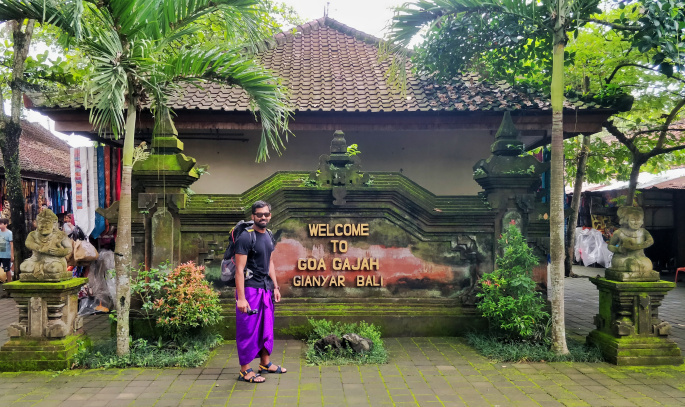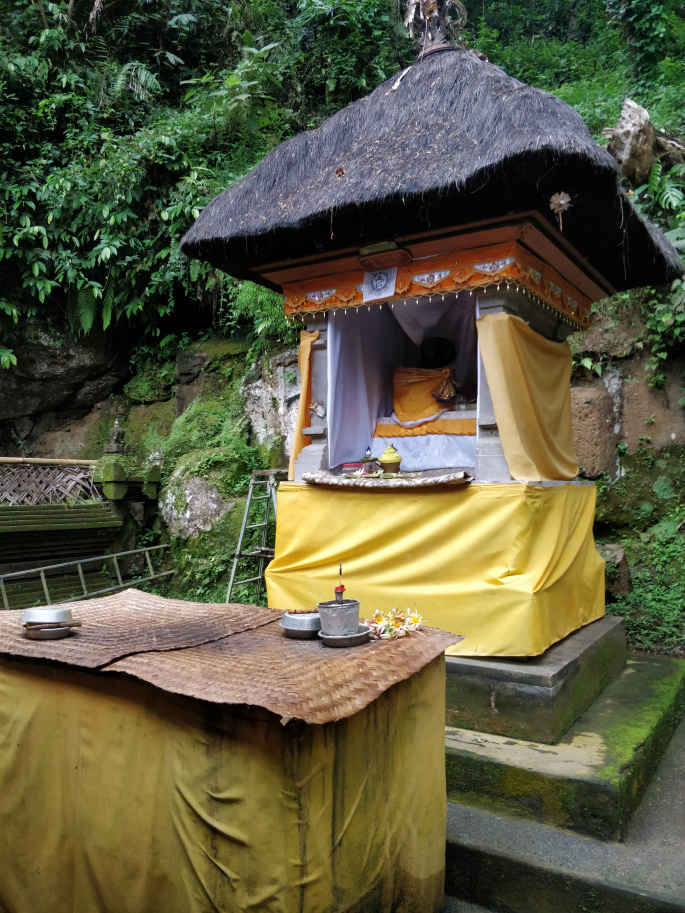 Cockfight & Gambling: On the outskirts of Ubud we saw a huge crowd inside a complex, We wondered what it is and went inside and I saw a cockfight ring with people betting on different cocks. Locals from in and around Ubud were there with their cocks. In the fight, these people use a special kind of knife which they tie on the cock's feet. so that one cock can easily kill the other one. We talked to some locals they explained us following, For every fight, the organizers will wait till the bidding amount will each 3 million IDR(15000 INR) then whichever cock will lose, the people who bet on that particular cock lose their money and the organizers will get 20% as a commission. People were playing some local gambling game also.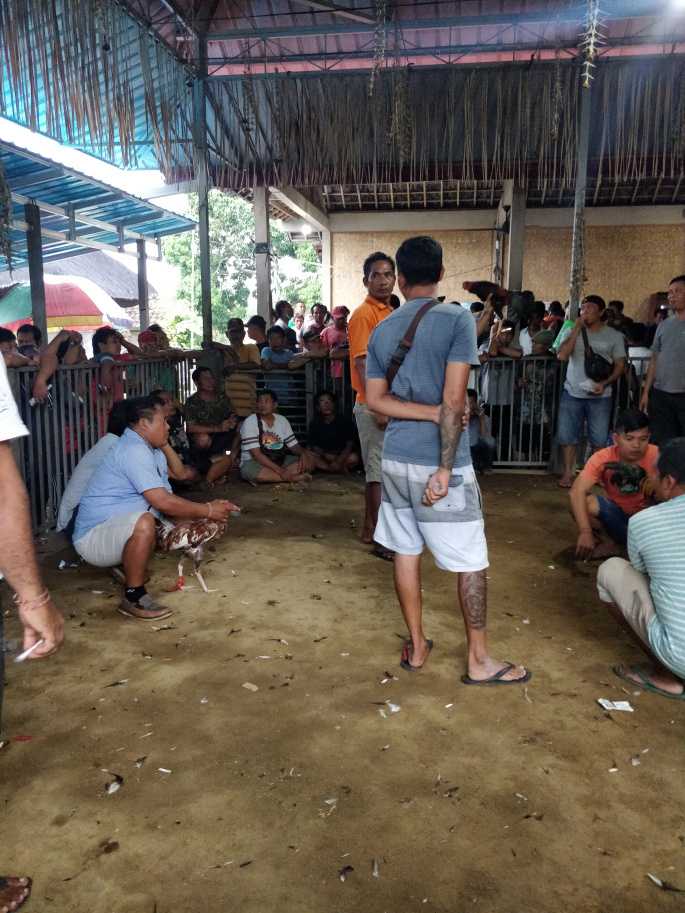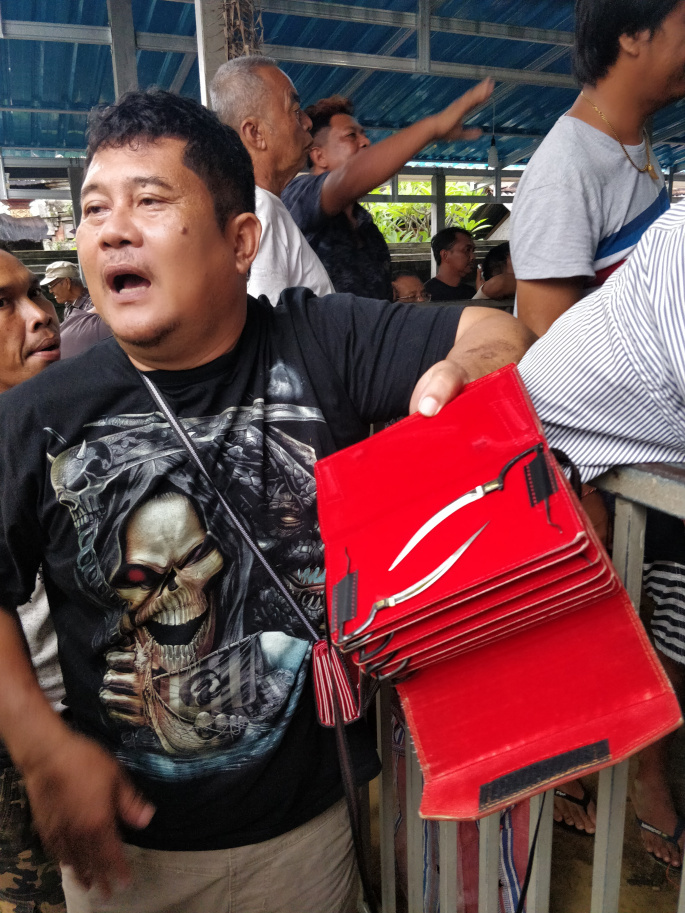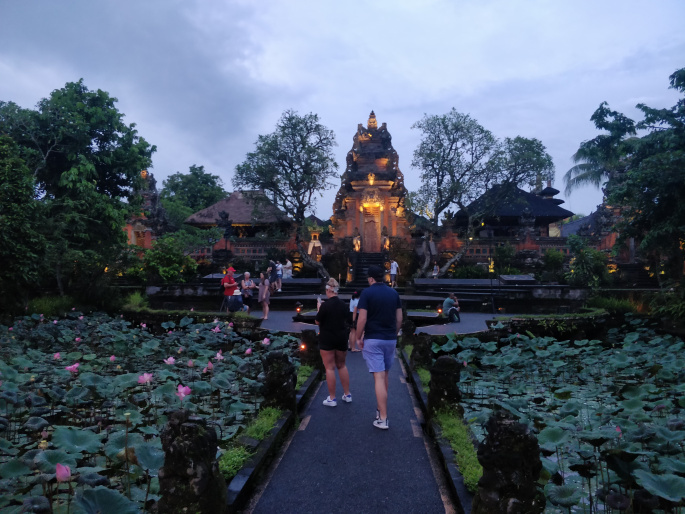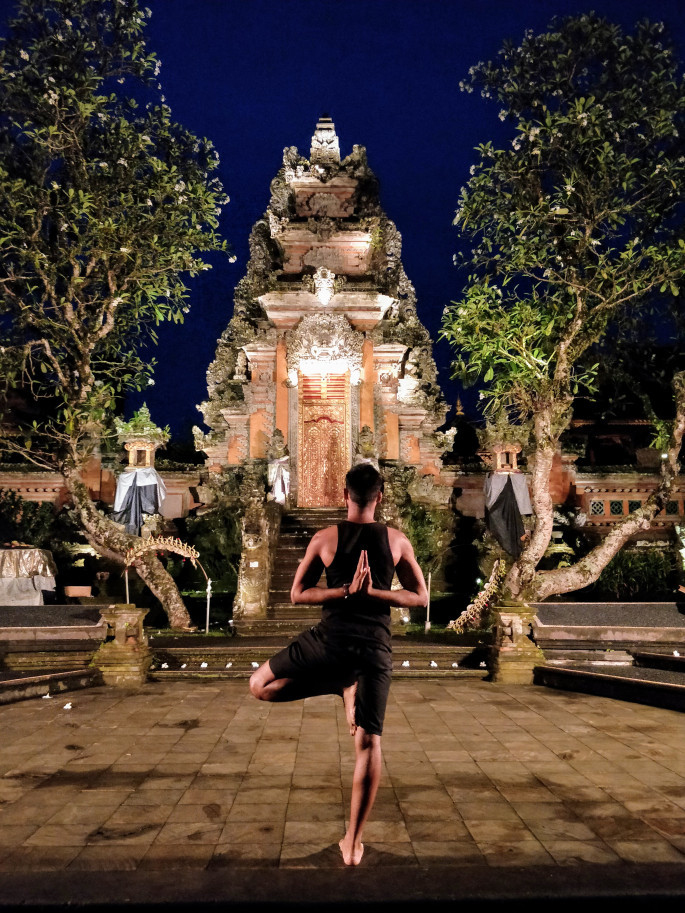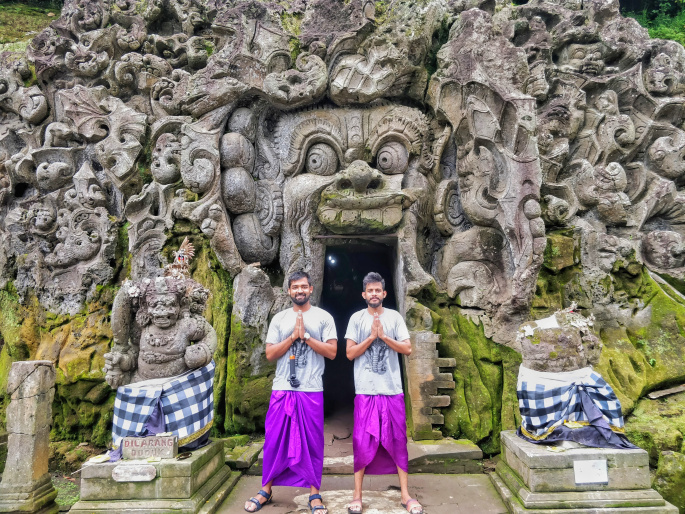 Day 4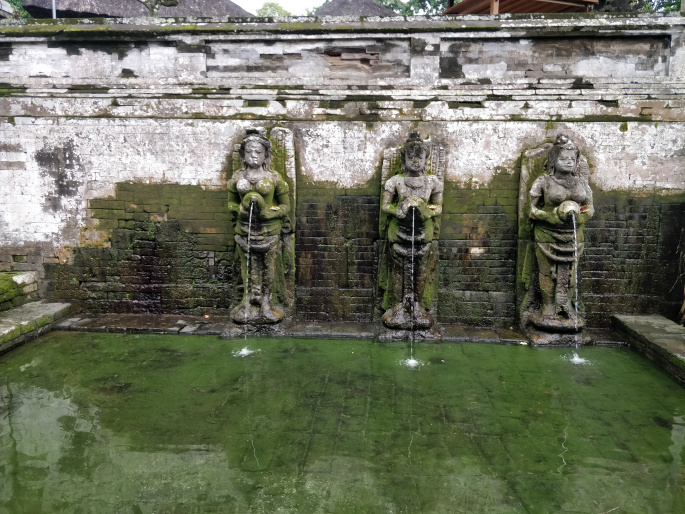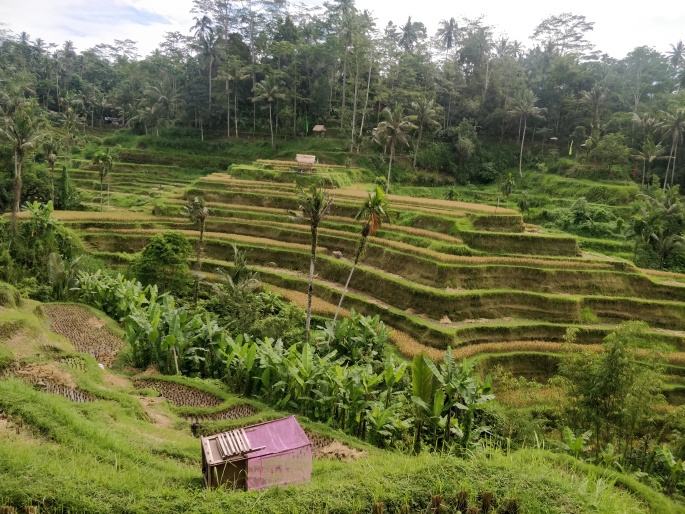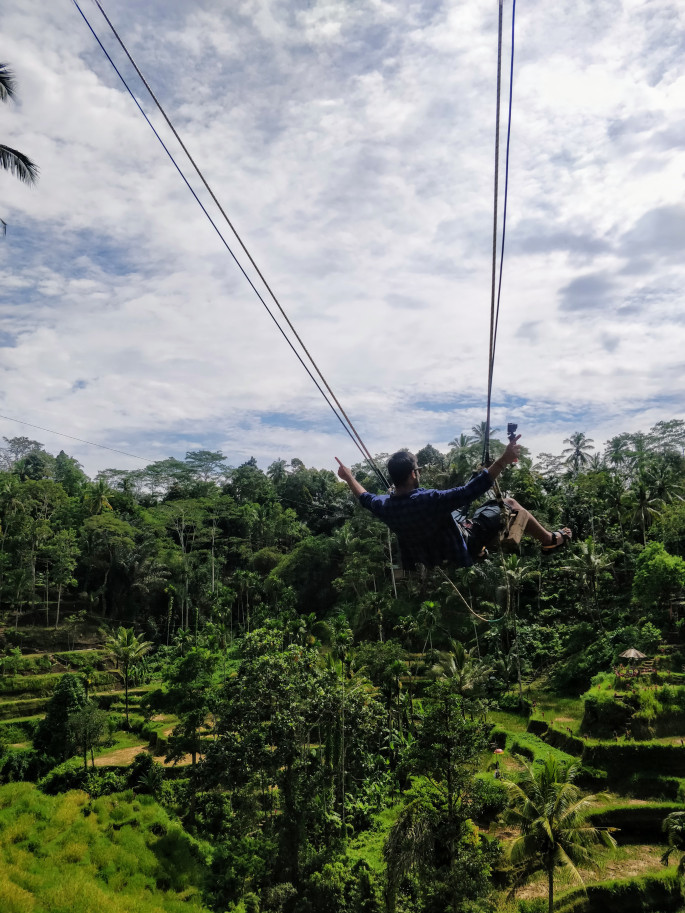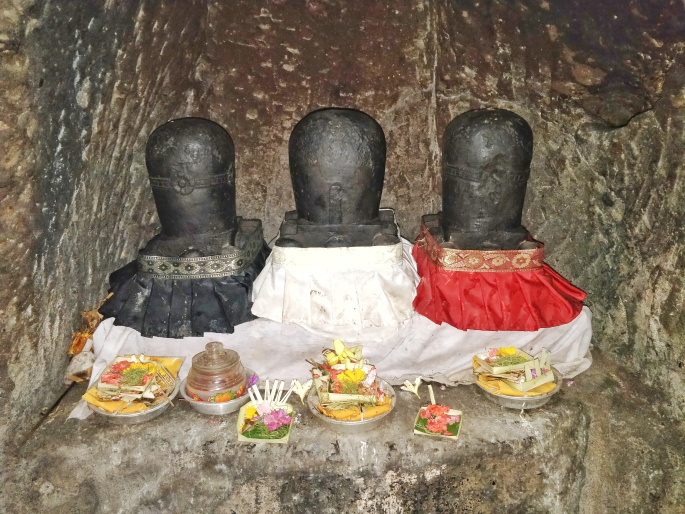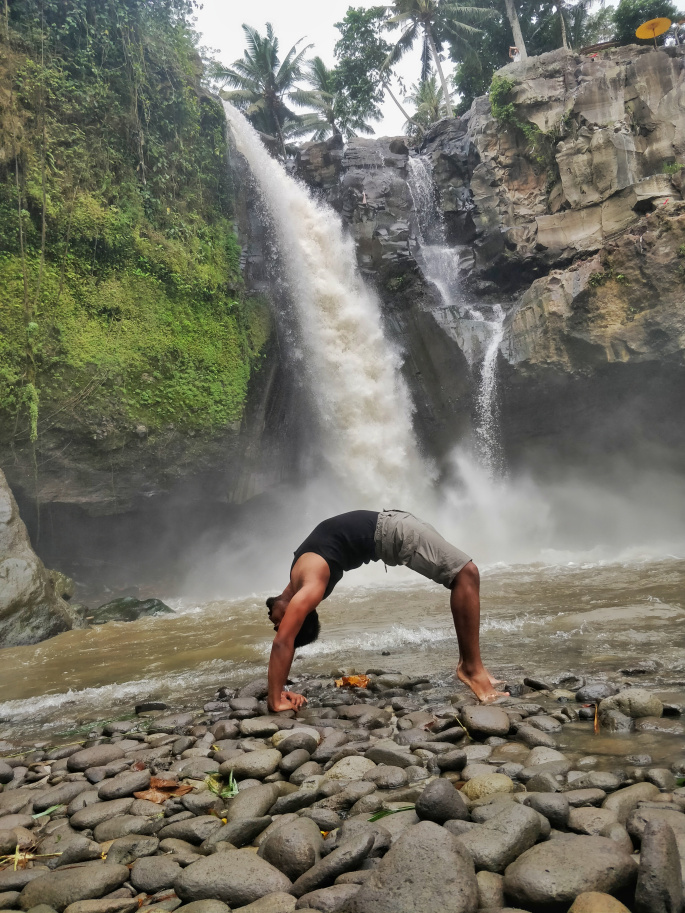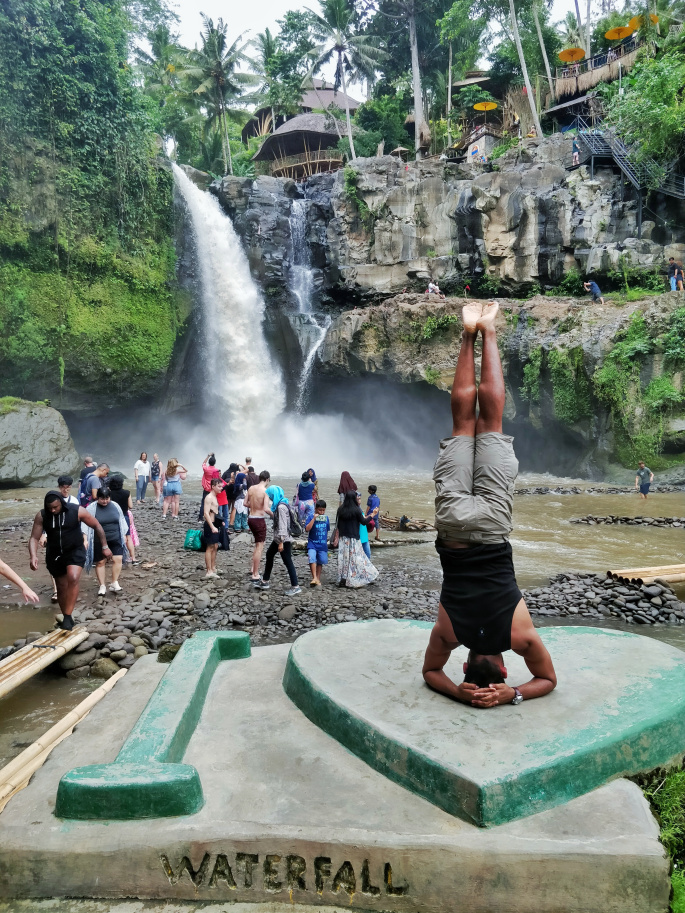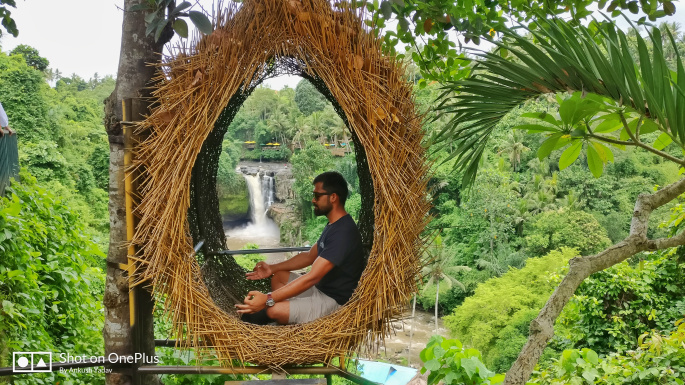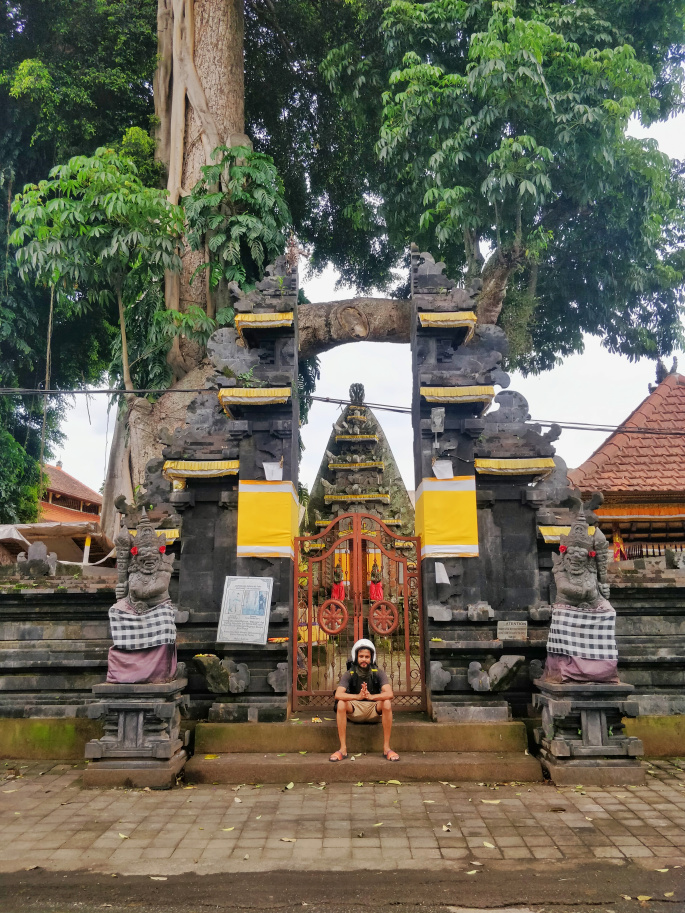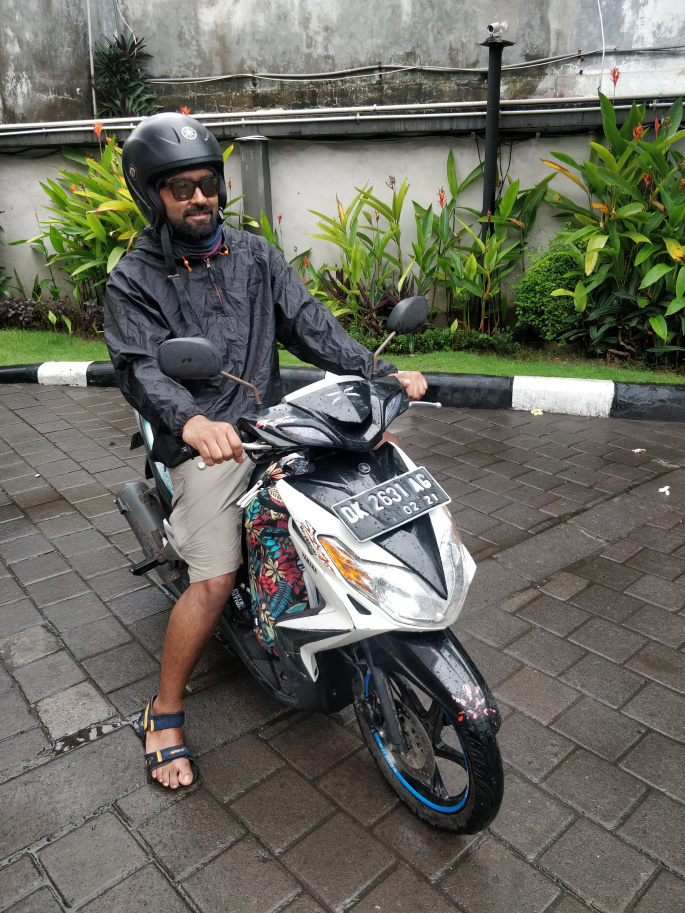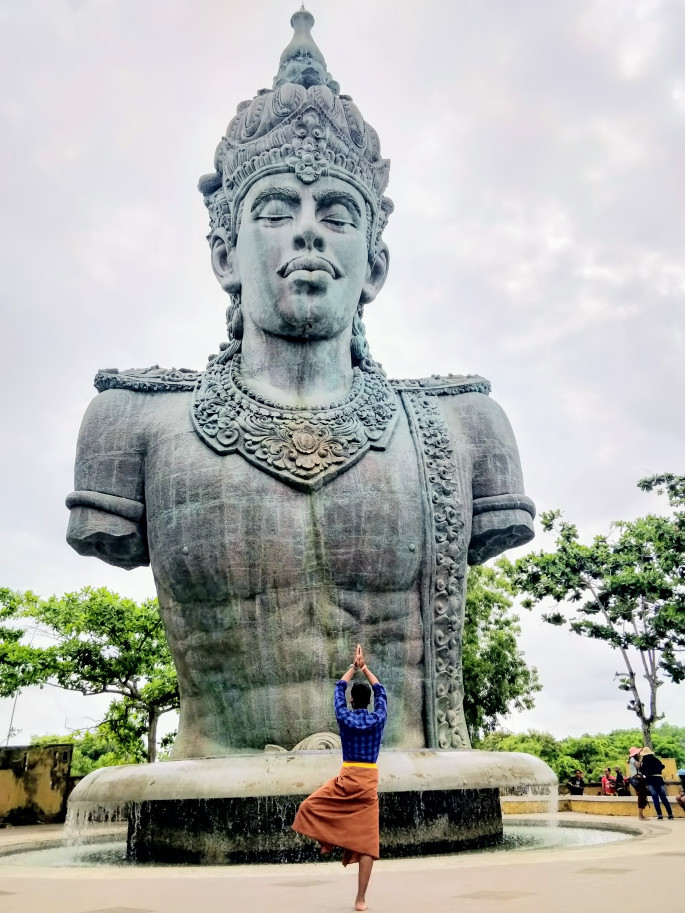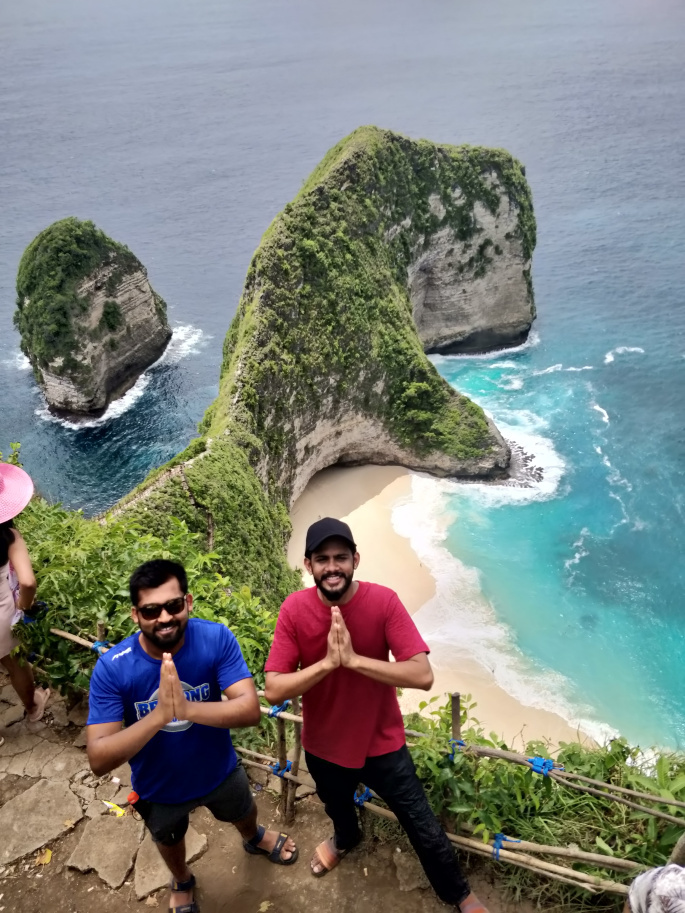 Saraswati temple & Traditional Balinese dance: We reached this place quite a late evening the place was already closed. We still haven't booked any hostel or stay in Ubud as we thought we will find it on the spot. We got to know there will be Traditional Balinese dance performance starting in another half an hour. Tickets for the show was 50K IDR(250 INR). Temple complex have a pond outside full of lotus flowers and candles on the way. There is a path in between which divide the pool into half and with the lights on Saraswati temple main gate it was looking beautiful. In the performance music and dance was a very unique and different experience. Indonesian girls dancing in traditional music played by men was a sight to watch. Will share the video link soon.
We found the hostel named Wayan's Family Hostel on HostelWorld.com but didn't book through it as last time I booked in Kuta I have been charged extra fees. So we went straight hostel and booked the place, built in Indonesian architecture with lots of plants, trees, birds, fishes. This is the place to be in if you want to enjoy nature while staying in the city.
Ubud night market & Warm stone massage: The night market in Ubud is very different from the one in Kuta and Seminyak. There are many handcrafted shops and lots of amazing cafes.
If you don't try Balinese Massage while you are in Bali your trip is incomplete. The price is as cheap as 80K(IDR) for full body massage. We tried the warm stone massage in Audry's Spa which includes half an hr body massage then they will put hot stones on the different points of the body. It was very relaxing and refreshing. Highly recommended.
We wake up early in the morning enjoy our free breakfast in the hostel. The owner's family was preparing for the festival. The best part of living in this hostel we got to see how locals use to live and what's their tradition is. We left for Tegallalang rice terraces for the famous Bali swing and to see the paddy fields.Tegallalang Rice Terraces: It's around 12 km from the city center. When we reached there we were a bit confused as there are many swings and it was hard to decide which one to go for. We asked some local people and went to the one at the top. Ticket price is 150K IDR (750 INR). I will recommend this place for 6 out of 10. For one tie experience you can do it but believe me it was not that adventurous at least not for me, but the view is amazing when you go for a swing.
Kopi Luwak: The famous Kopi made from poop Luwak (an animal) is worldwide famous for its unique taste and the method of preparing it. Coffee Luwak Alas Arum Agro is the place we went to explore this coffee. These people will explain to you how the coffee is made from animal poop to a cup of coffee. First, they will wash the poop and take out the beans, dry it then they will take out the seed and roast it. The last step is grinding and then a very unique cup of coffee. They will give 14 cups of different coffee and tea to trying them out and the Kopi Luwak will cost you 50k IDR. They will give normal coffee also to compare both the coffee.
These coffee farms are mistreating these animals by feeding them only coffee beans in a small cage all day long for more production which is not good practice. Humans are using every resource and animal on this earth to just fulfill their needs
Balinese massage: Influenced from last day Stone massage we went again in search of good massage but everyone was fully booked. So the tip here is to book your massage beforehand in the best centers. At the last, we went to the same place Audrey's Spa and we tried authentic Balinese massage, Manicure, Pedicure for the first time in life. After traveling so much and doing 3 longs run in the last 4 weeks (Check out for more detail) this was much needed.
We left for our hostel in Kota with as we had to return our scooter there. The ride was amazing we explored some places in between. After reaching the hostel we got freshened up and inquired for the cab and it was very expensive. As I mentioned earlier Grab don't work for Aiport. So we talked to some locals and they suggested GoJek app we booked too bike 5K IDR each and reached the airport. As it was Christmas the airport was decorated beautifully. A tip here does not carry any liquid in hand baggage which is more than 100 ml be it face wash, sunscreen or anything else. Security will keep it and you will not able to do anything about it.
Summary: Overall I enjoyed my 4 days in Bali and explored how much ever I could. Seeing a different tradition and different part of the world always fantasize me. Traveling on a scooter here and there exploring different parts was one of the best parts. Before this trip, I & Ankush hardly knew each other but after the trip now we are like brothers so travel brings you peace and many friends too. All the credits for all the yoga photos go to Ankush Yadav
Travel more to live more
Follow me on Instagram @ghumakkad_yogi for my travel stories and post about yoga and travel.