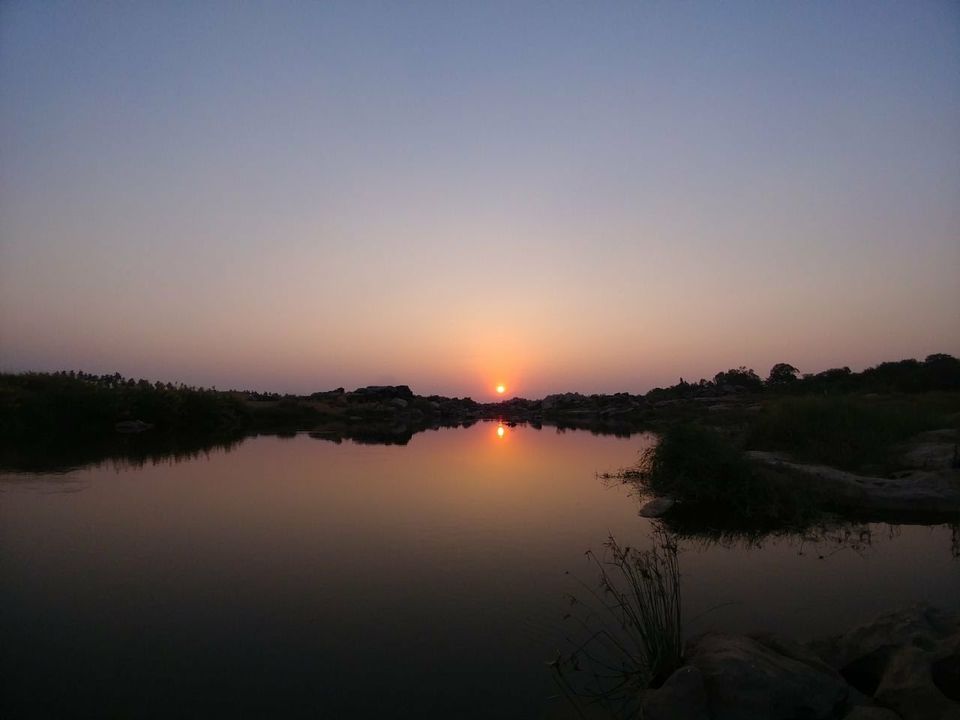 Picked our zoomcar from Mangalore, we drove to Shimoga on day 1 (our stop on way to Hampi). The drive of 4 h (208.2 km) is scenic at its best!
One can visit a variety of places around shimoga.
In shimoga, unfortunately we couldn't visit any of the major attractions due to a really tiring and long day!
Where we stayed: Royal Orchid Central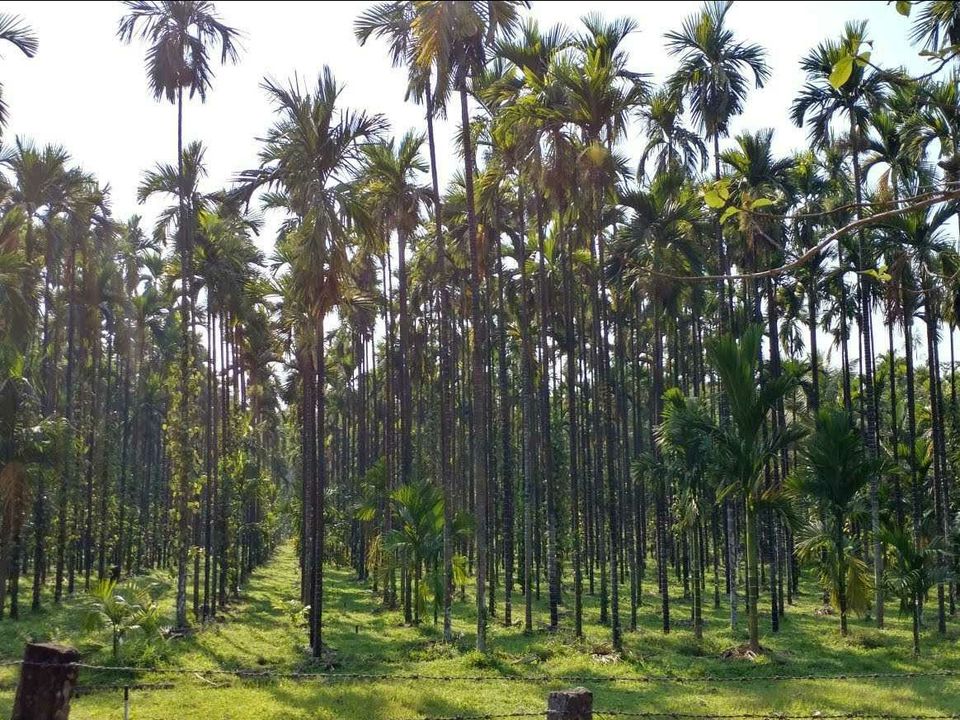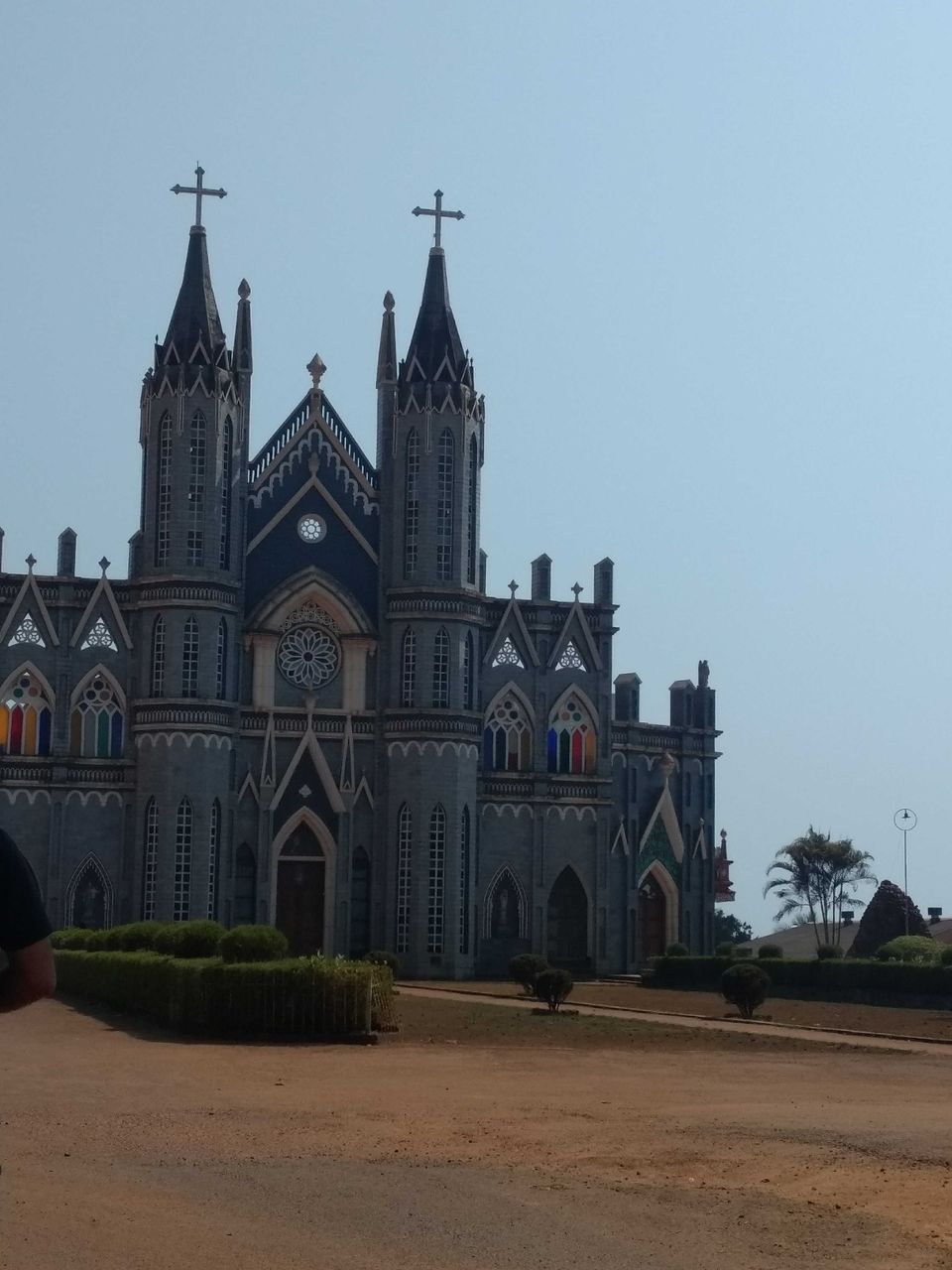 Leaving early morning from Shimoga, we left for Hampi - capital city of Vijaynagar Empire and also known as the City of Ruins.
Shimoga to Hampi is another 4 h 32 min drive (213.1 km).
Where we stayed : Mowgli Guest House. Among all other backpacking guest houses in hippie village (New hampi), this one topped them all.
The rooms are overlooking the rice fields, which offers a great view of the sunset (if you're planning to just chill on day 1).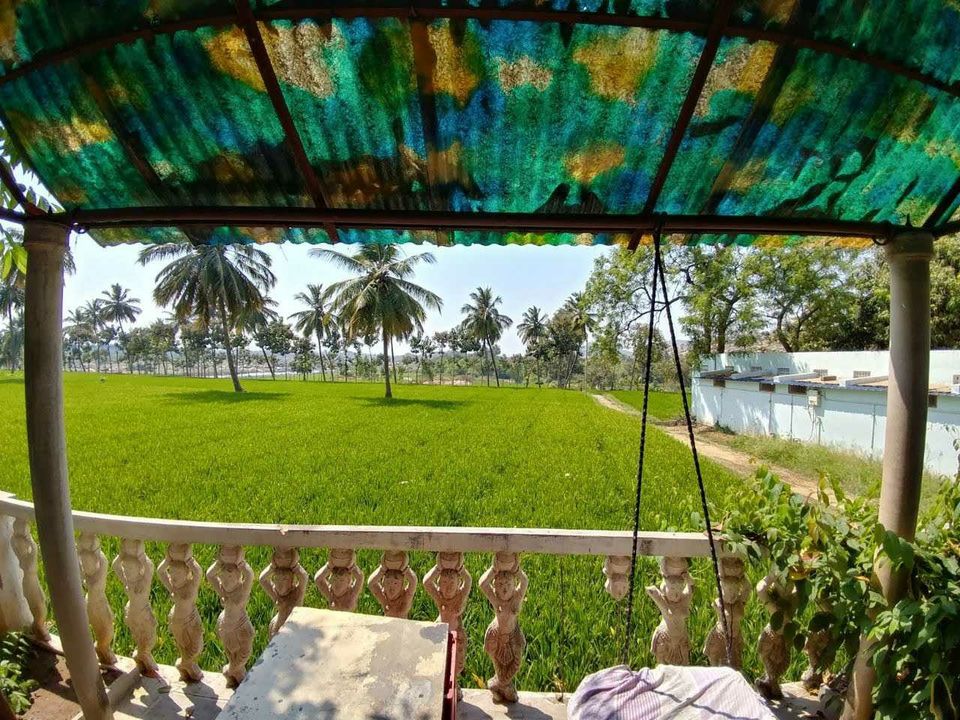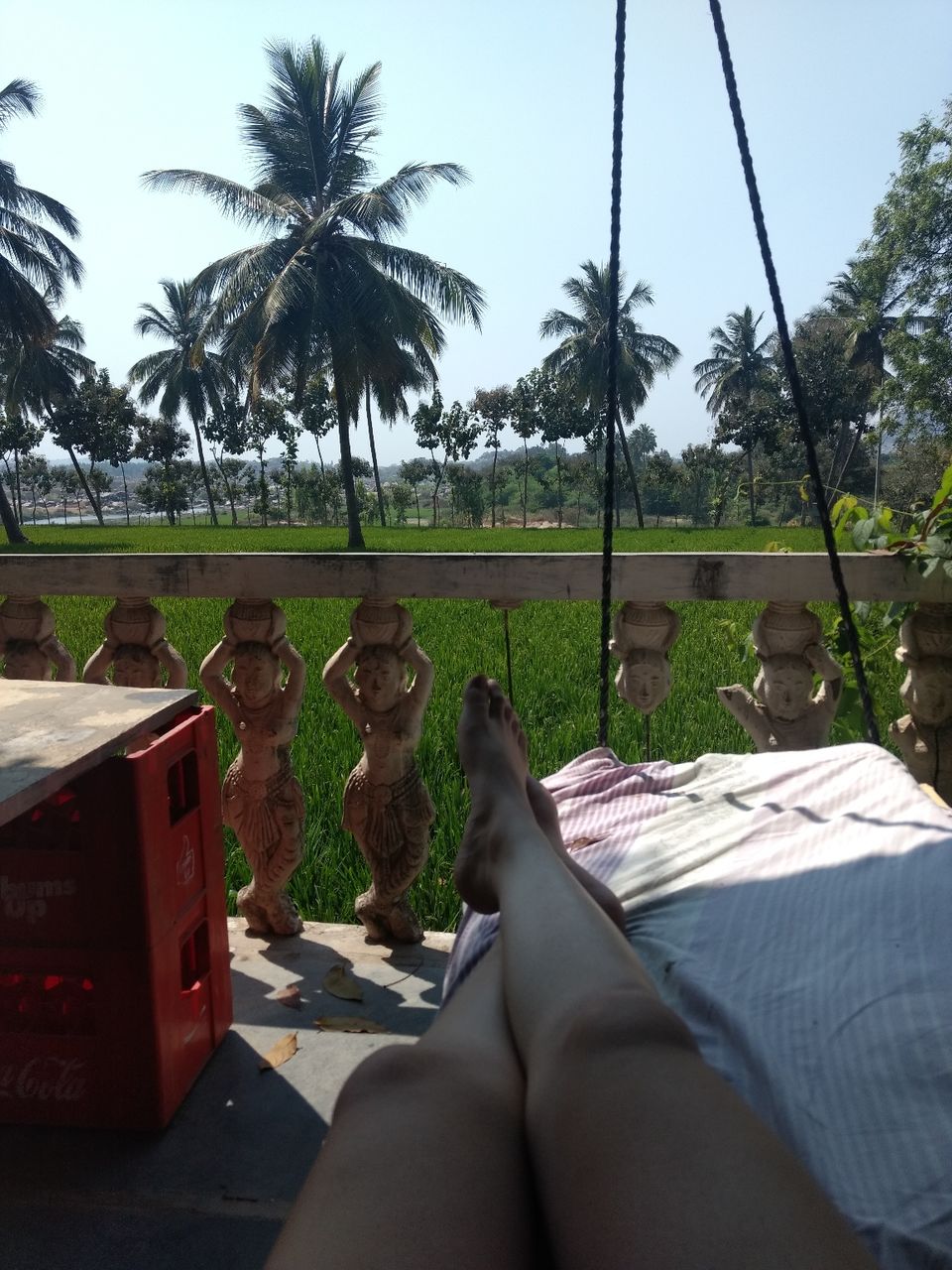 Once we settled into our rooms, an hour before the sunset, we left for a short trail near the Tungbhadra River. It was a 10 minute walk from our guest house.
A sunset worth watching!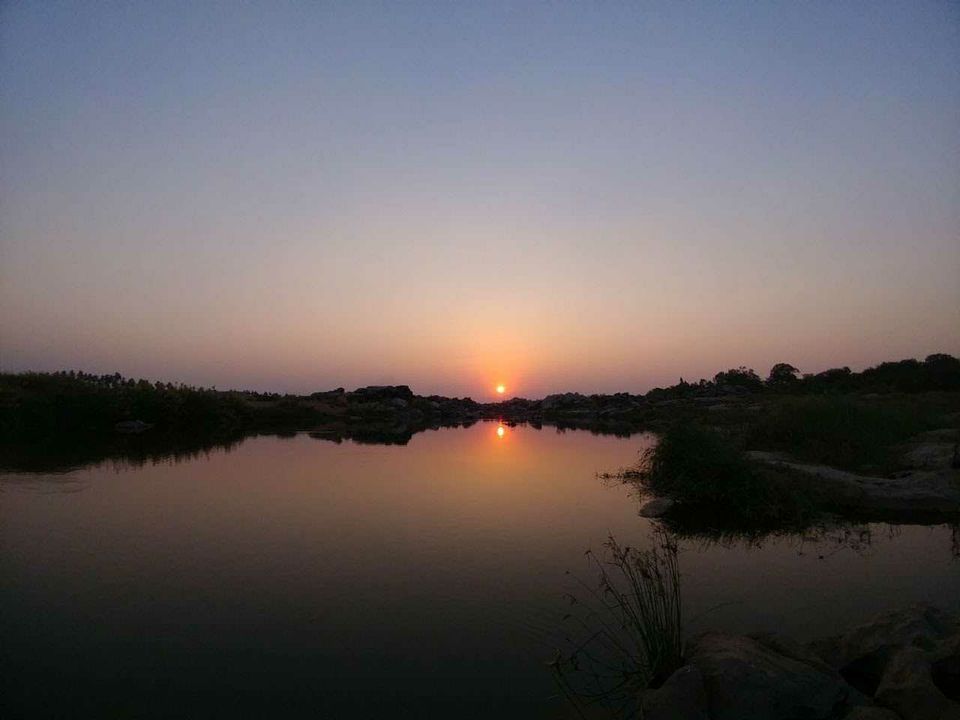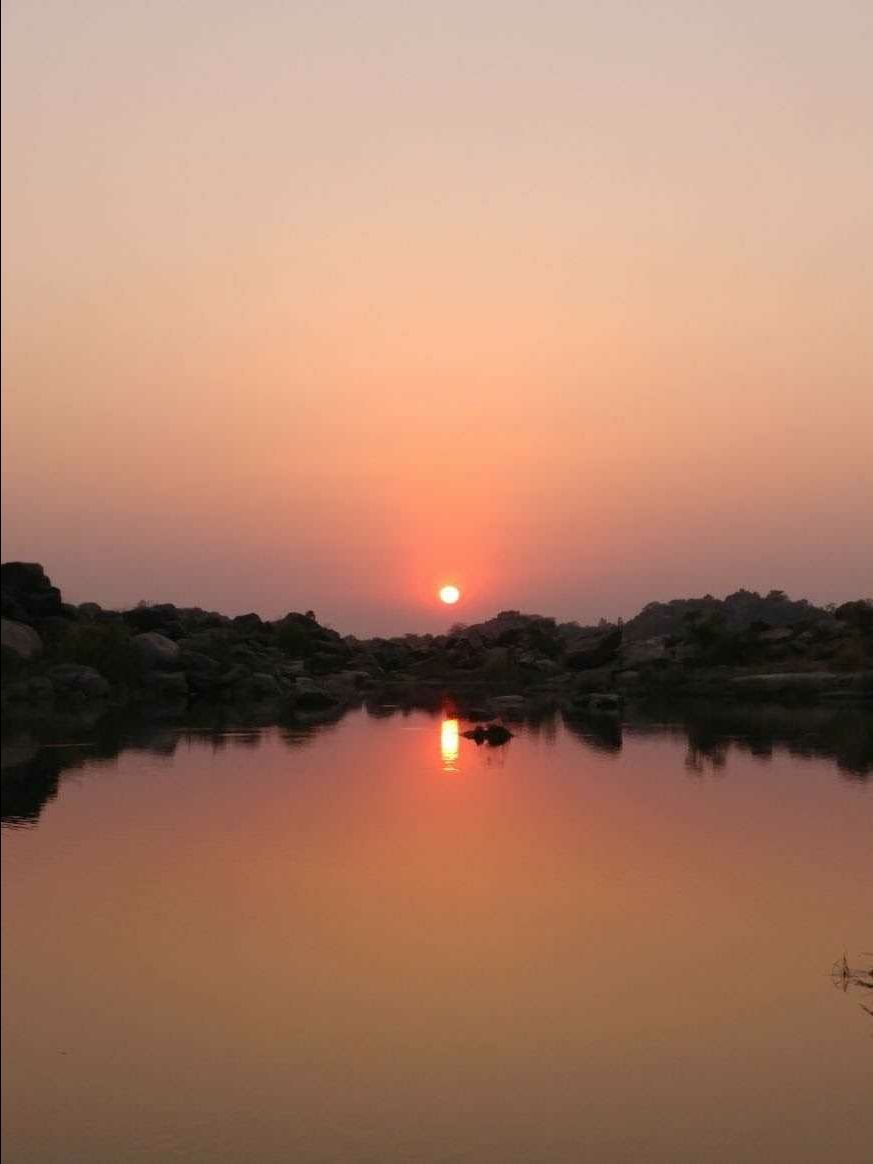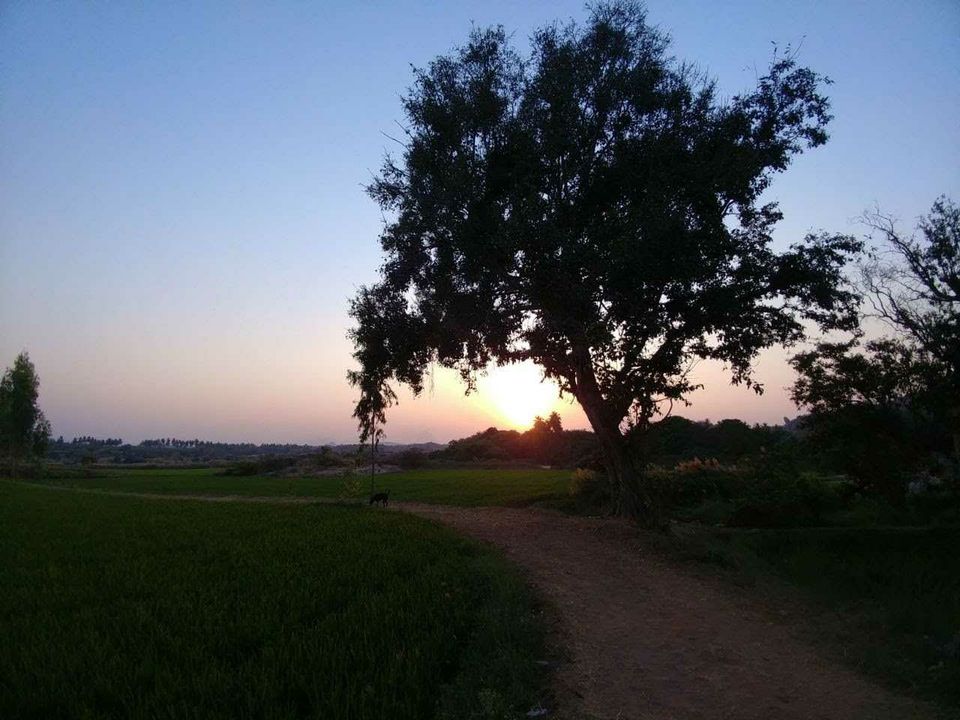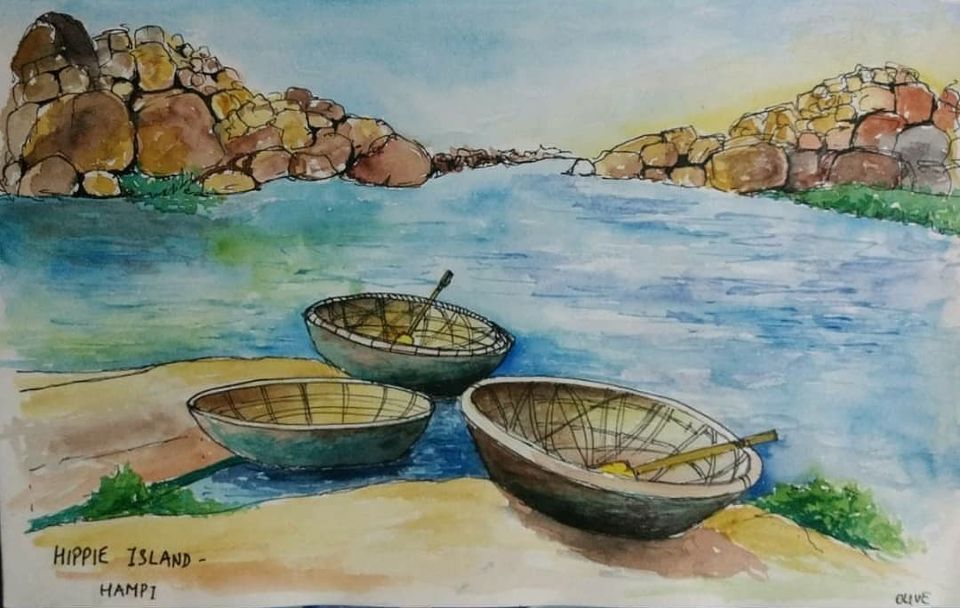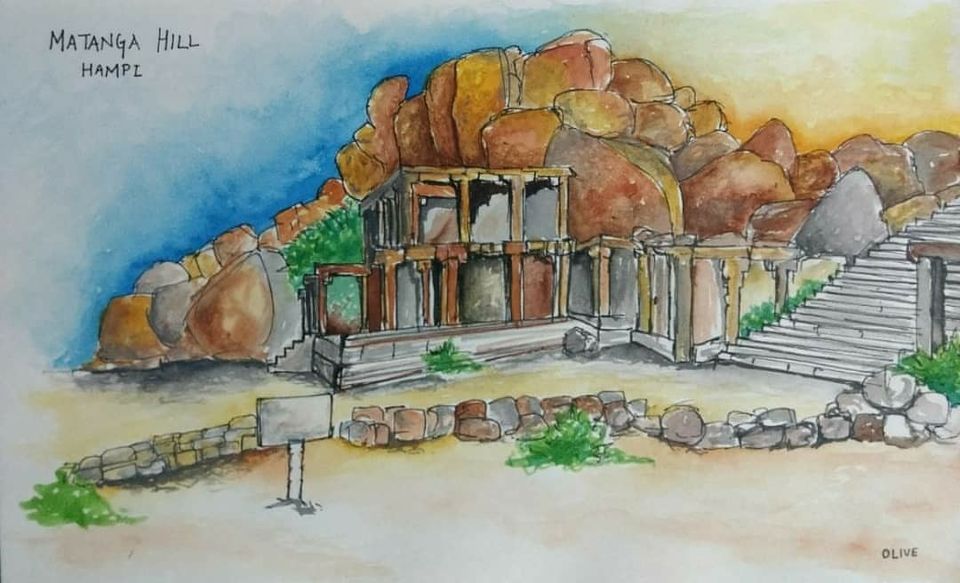 In the evening, after hopping from one Cafe to another in search for some good food and ambience, we stumbled upon #German Bakery. One of the best cafes if you are keen on having some good quality food at reasonable pricing.
Day three was all about exploring the ruins!
Starting from -
- The Chariot in Vittala Complex
- Virupaksha Temple
- Badavi Lingam
- Pushkarini (queens bath)
Hampi has innumerable attractions which one can explore either on foot or through local transportation.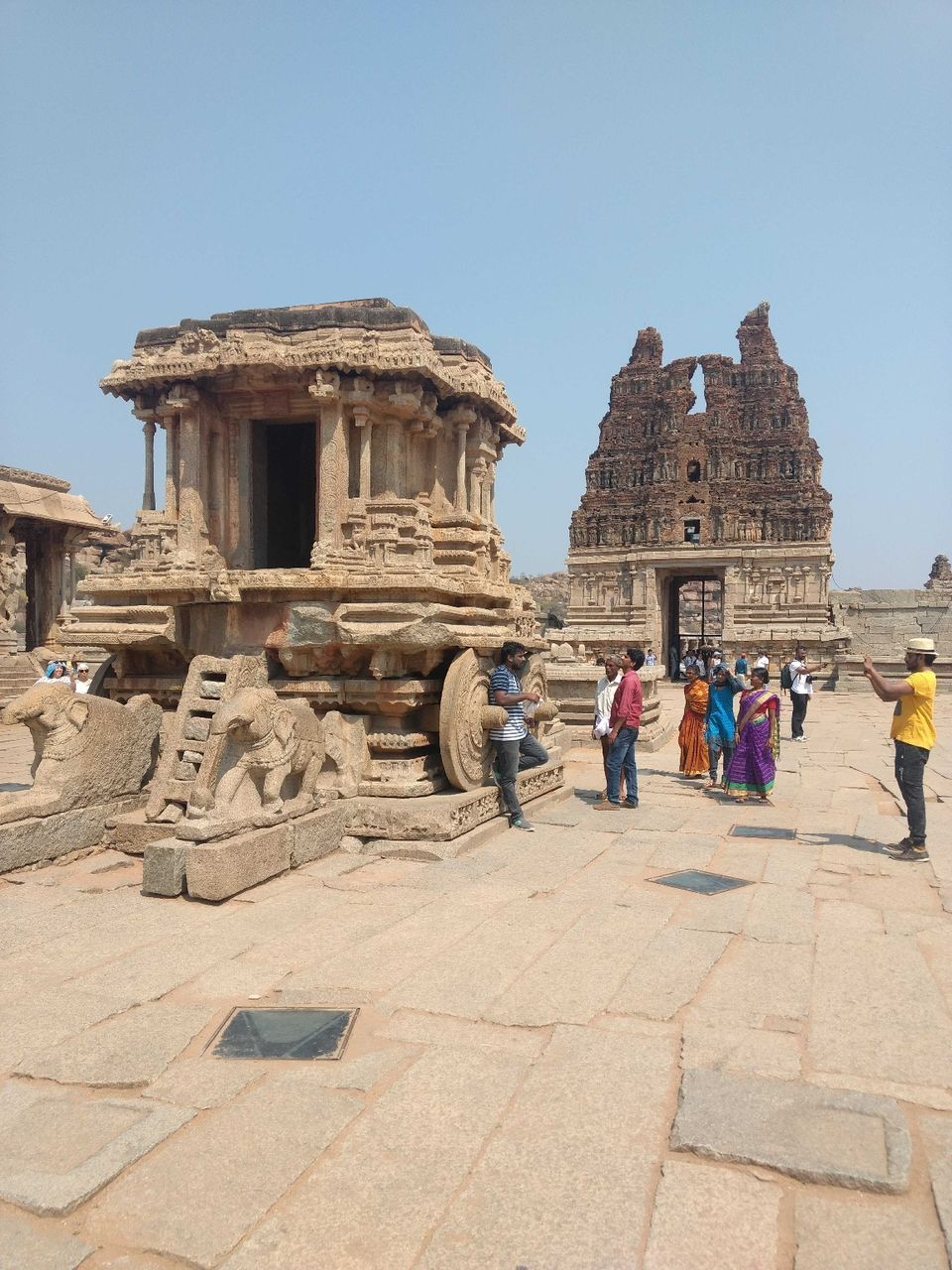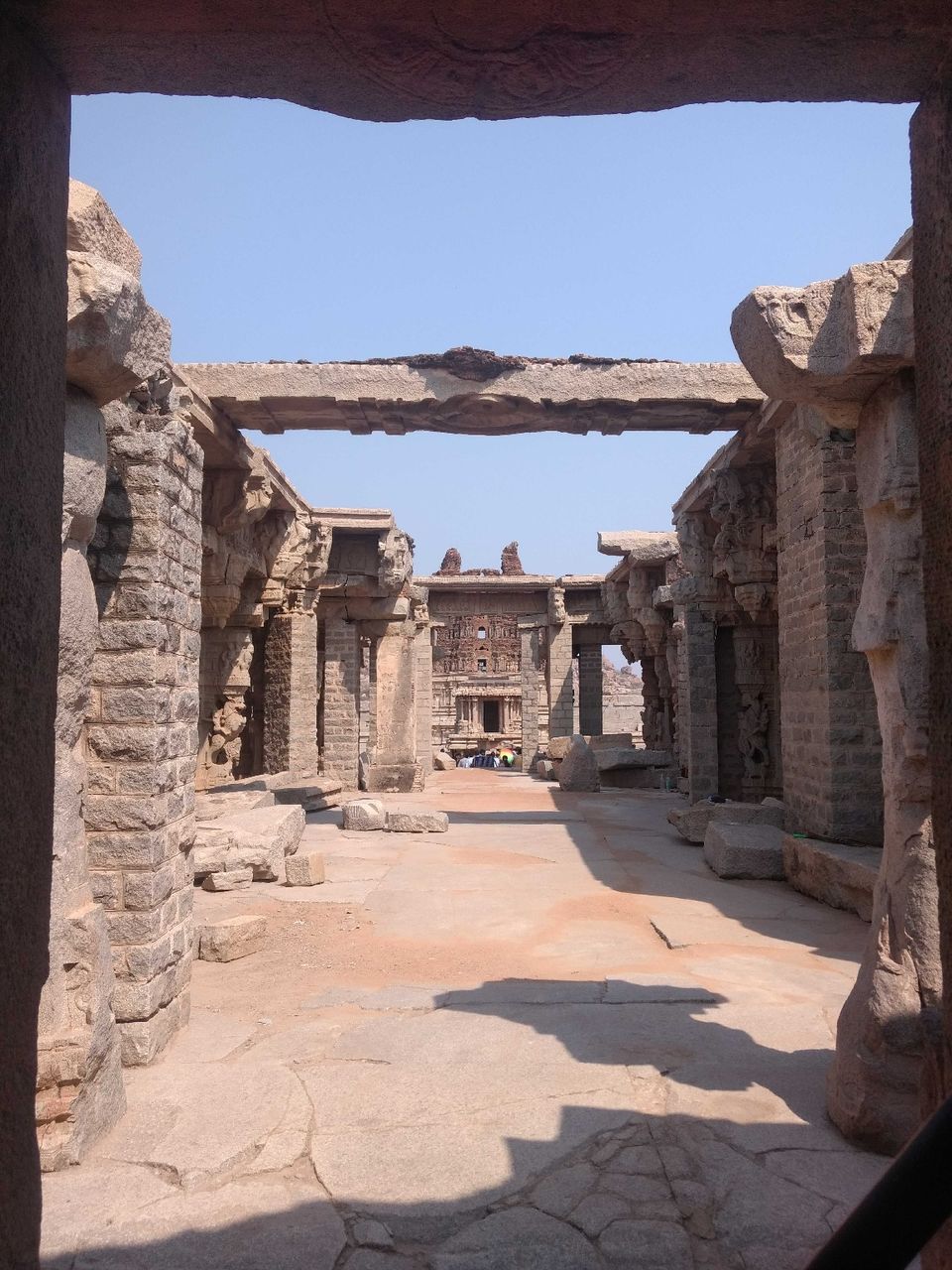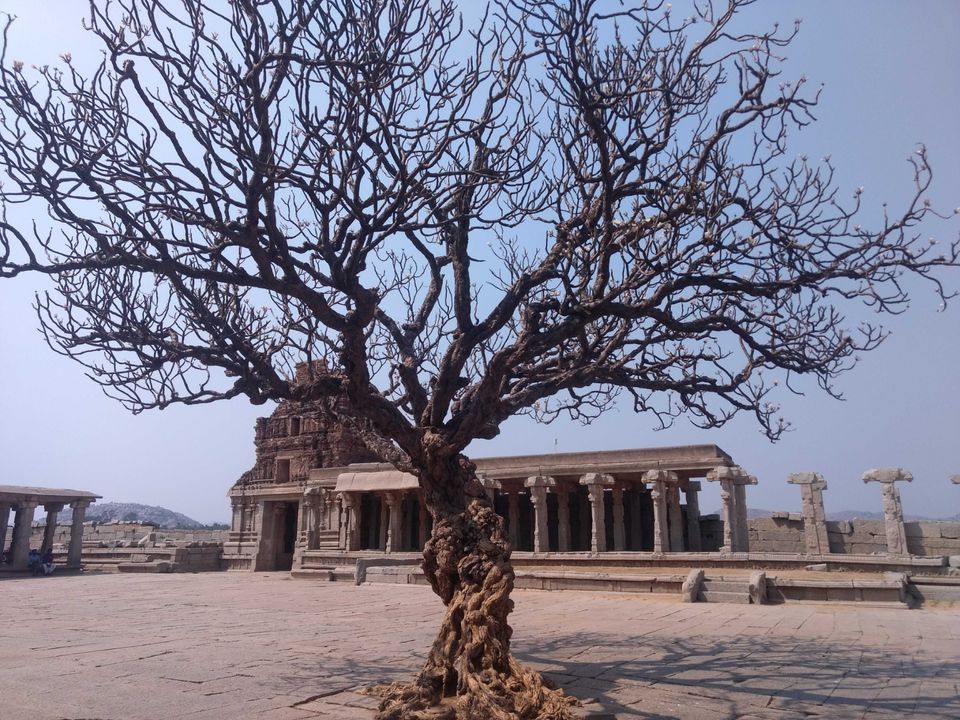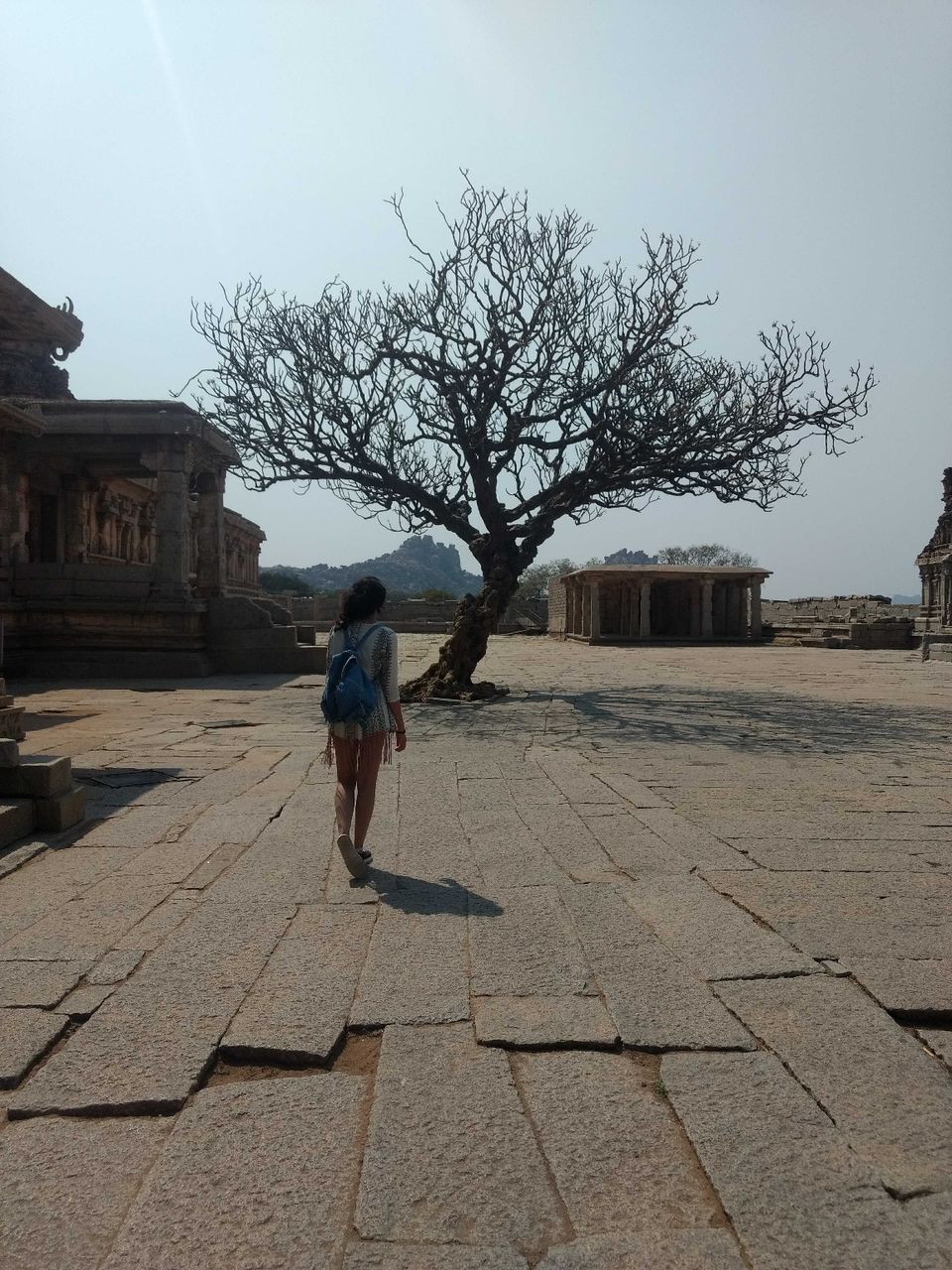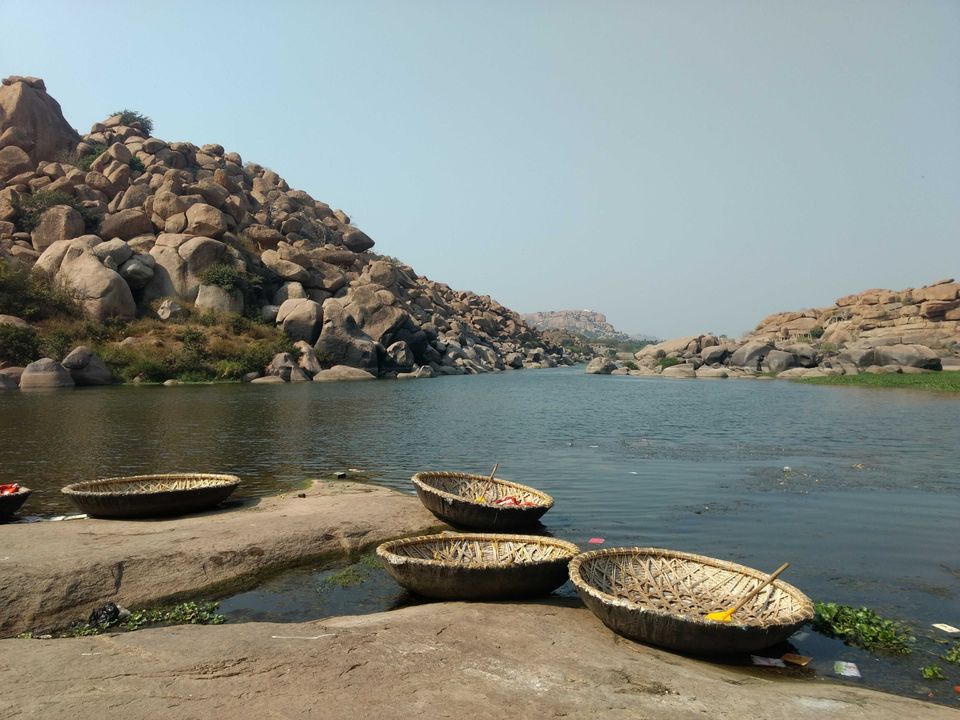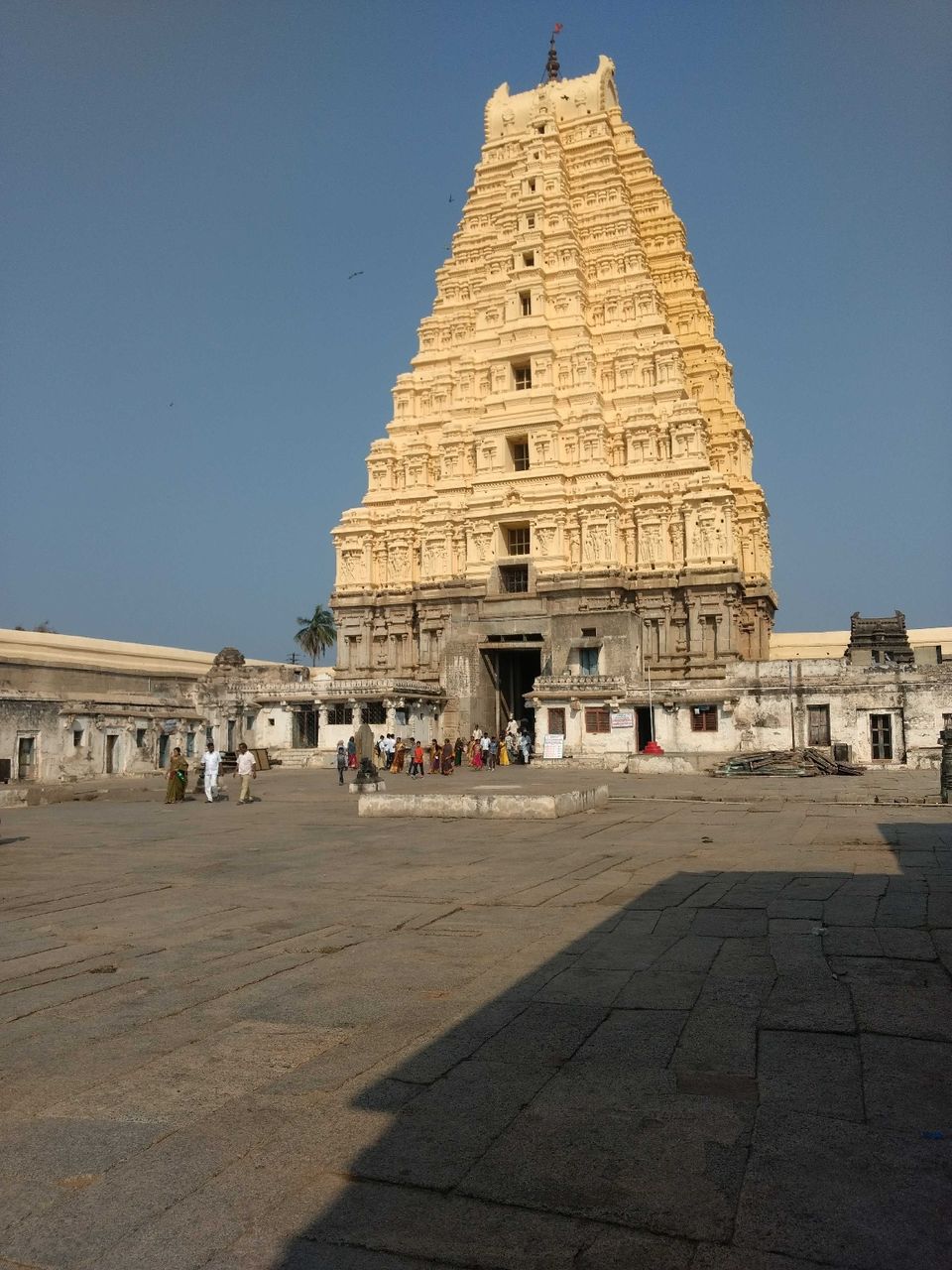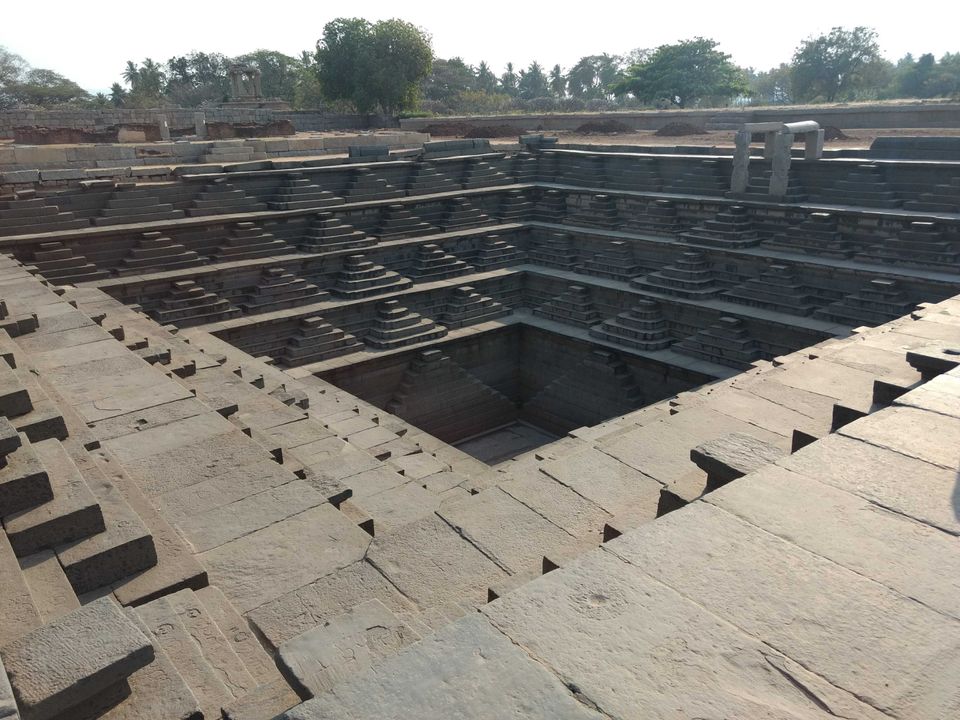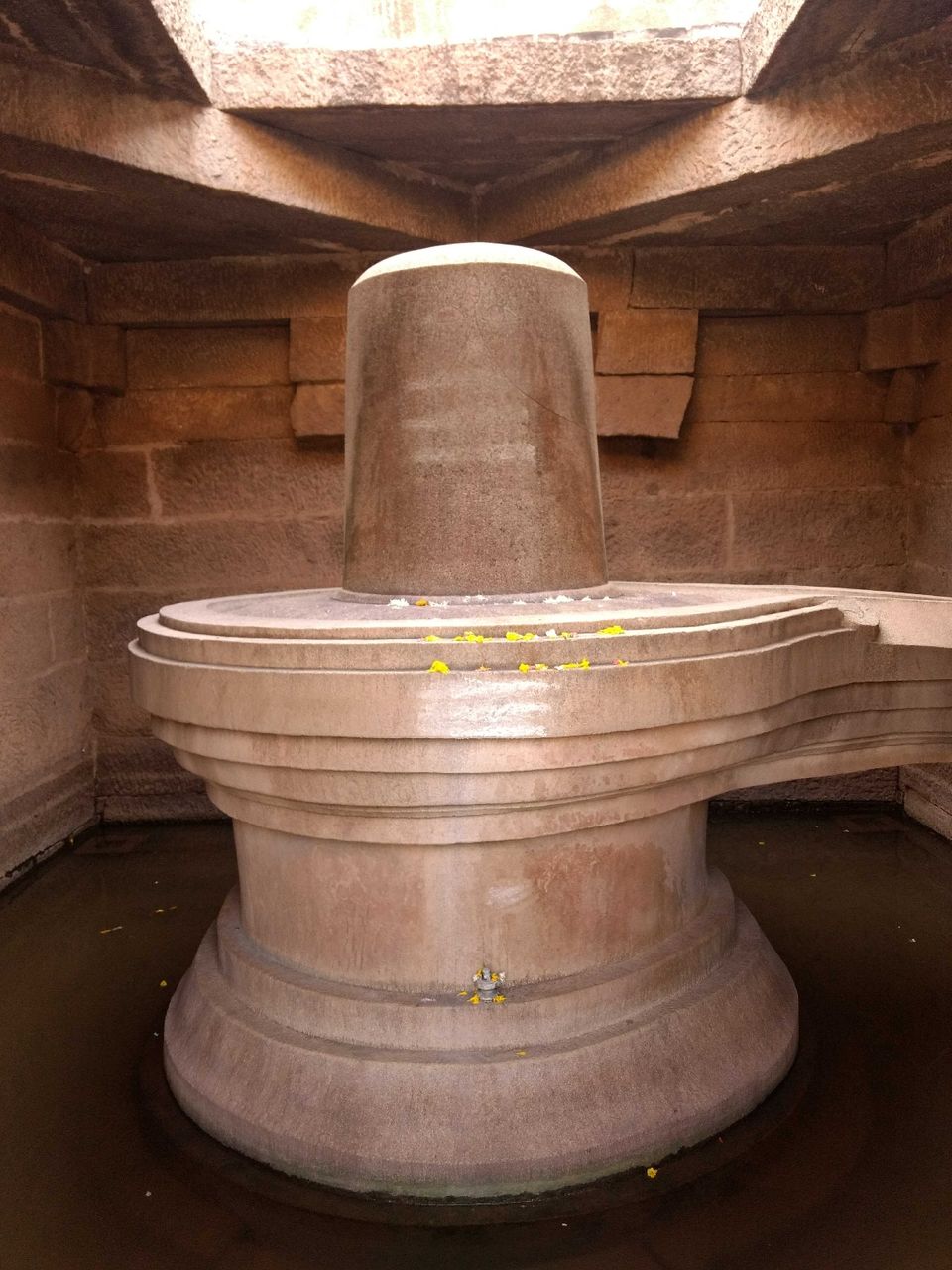 Our day started way early in the morning because we had to reach Matanga Hill, one of the highest points in hampi (known for its breathtaking view of the ruins and majorly for its sunrise and sunsets).
It's recommended to reach there atleast one hour prior to the sunrise, because it's a moderately steep trek and will take you roughly 40 mins to reach the top.  But trust me, it's worth it!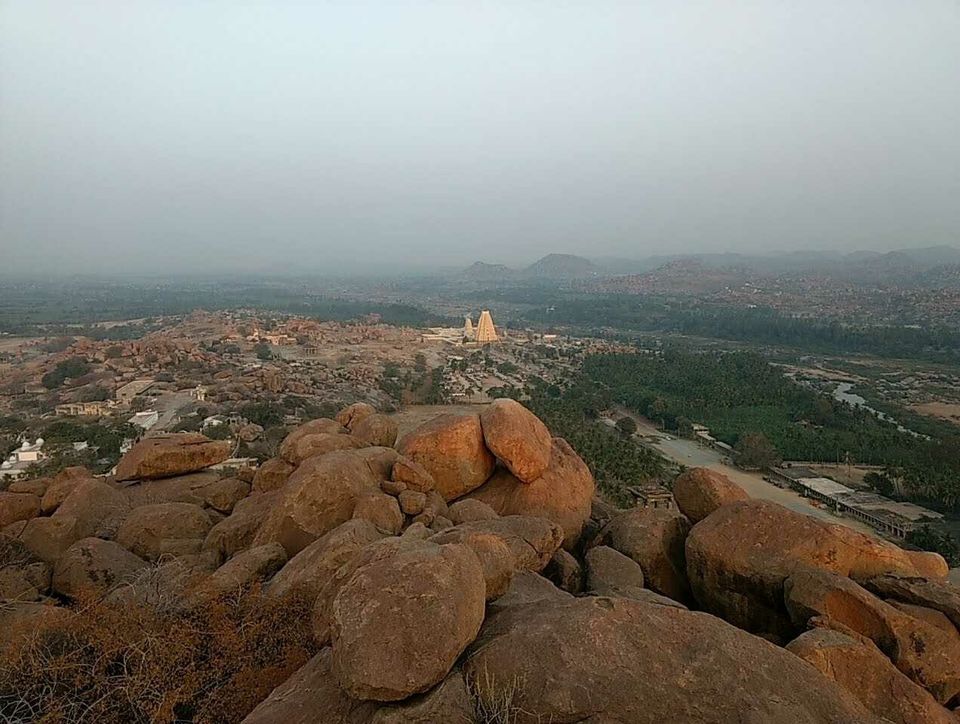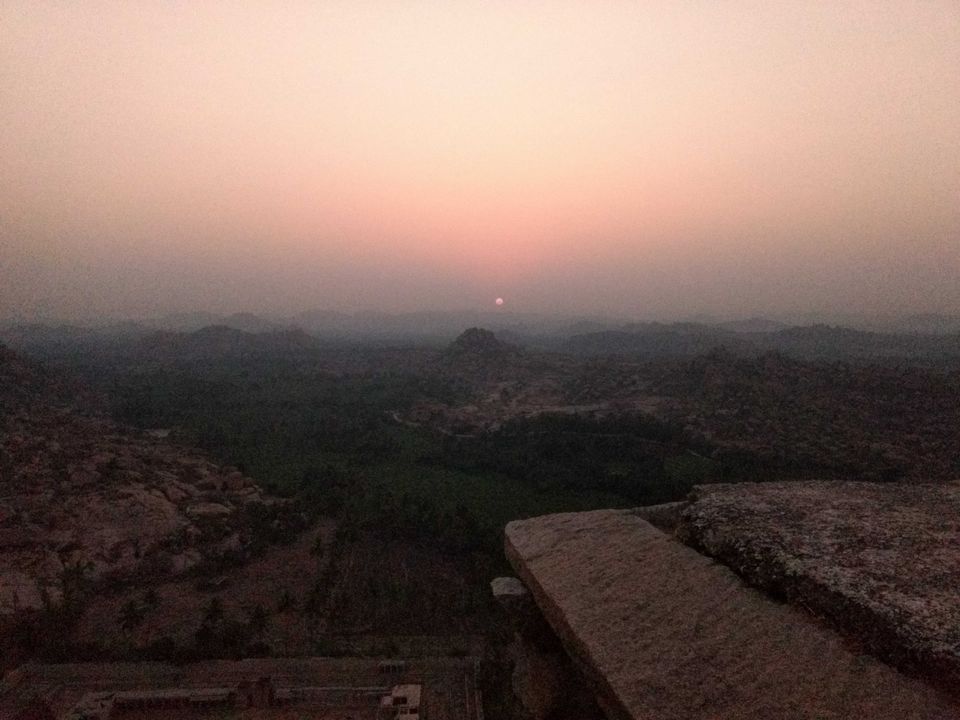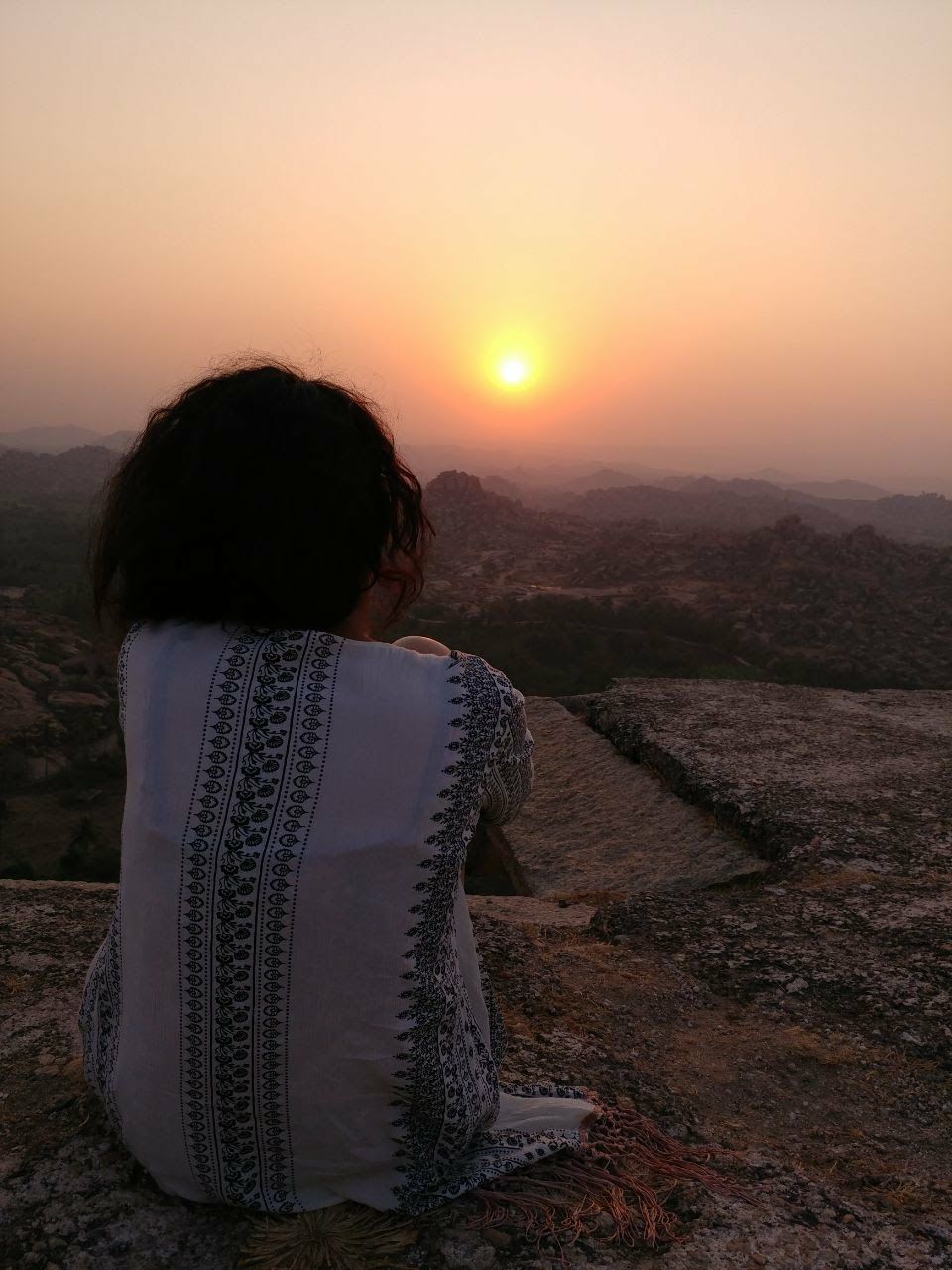 Day four was the longest of them all as we were now headed to South Goa!
A distance of (365.2 km) 8 h 11 min.
The route we took was pretty pleasing as it took us through the wildlife sanctuary, the roads are a little bumpy initially but once the hilly roads took over its a pretty smooth ride till you reach Goa.
As we entered South Goa we planned to stop by the very first beach - Polem Beach.
Due to large tourist footfall, Goa beaches are usually packed with people, but Polem remains untouched. We were the only people on the entire stretch accompanied by a doggo. No shacks, no disturbance.
(advisable not to go in the water due to absence of a lifeguard). 
Considering that it was my debut to the beaches, I wasn't disappointed at all! 
Where we stayed: Ciarins
Where to eat: Draupadi Bar and Restaurant. The food here is lip-smacking and is moderately priced.
One of the most eventful days in South. Starting with a heavenly sunrise in Hampi and completing our day witnessing a stunning sunset whilst dipped in the sea, what more can one ask for?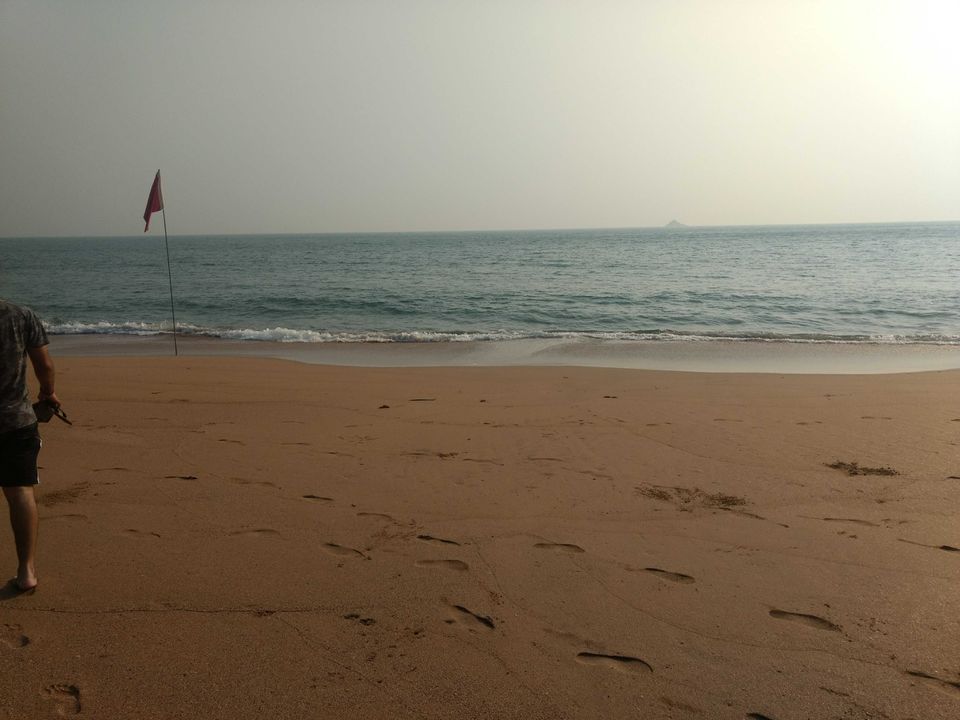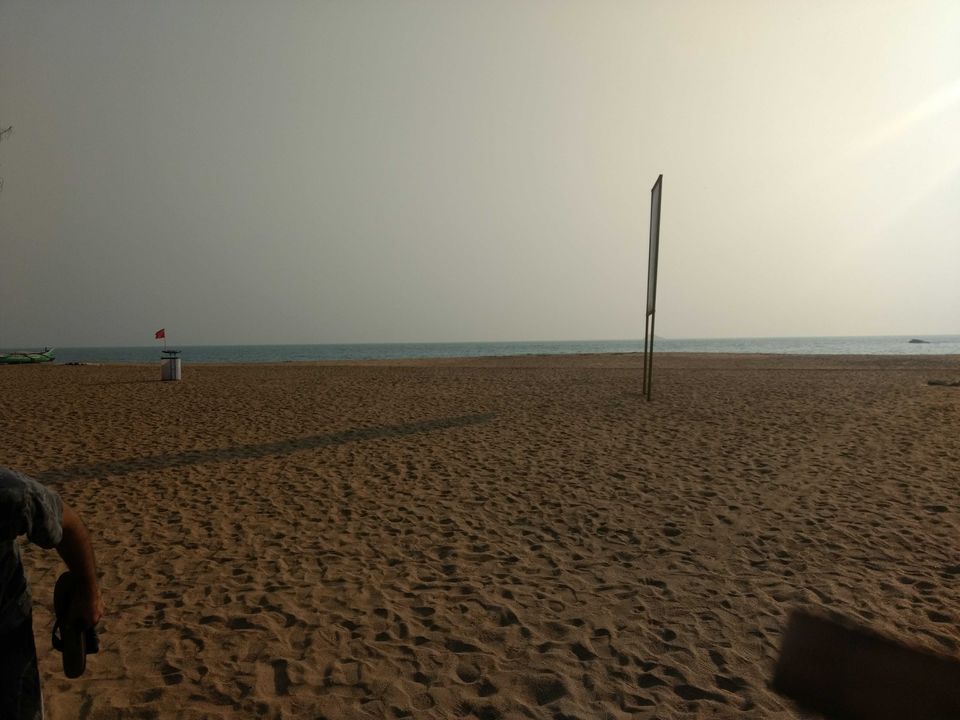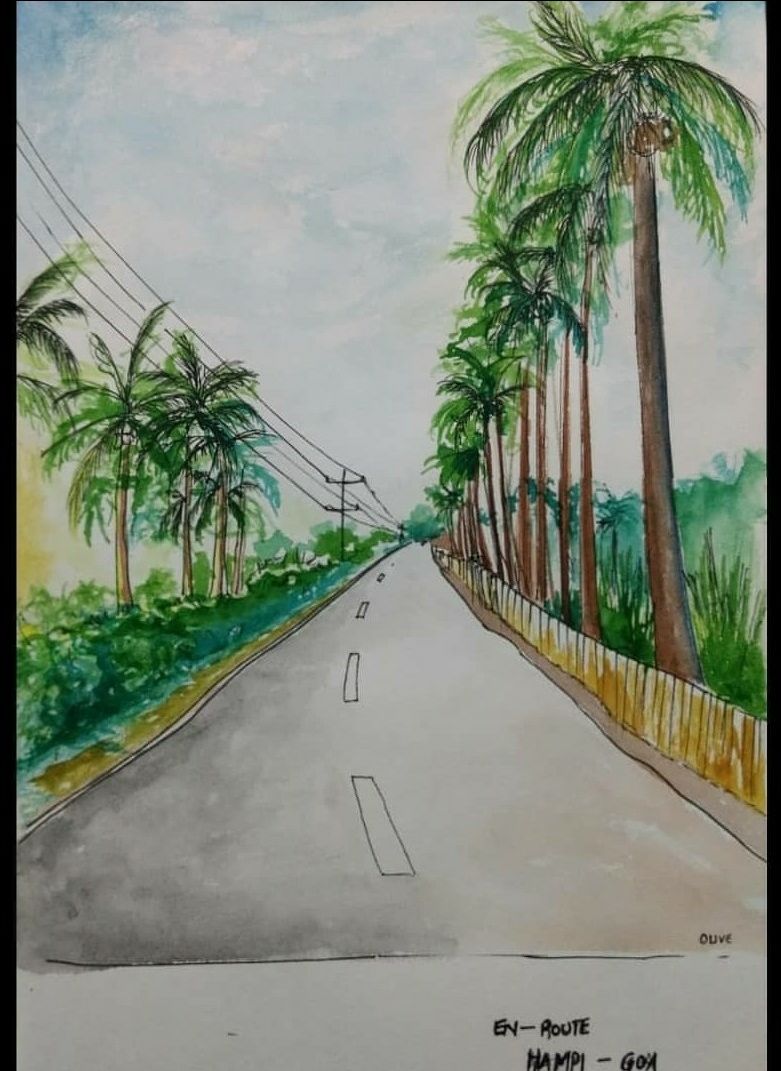 Another pristine stretch of beach located in South Goa.
White sand and clean water, agonda is a beach to enjoy a day dipping in the water, gorging on yummy food and cooling yourself with a drink!
Day five was all about lazing around!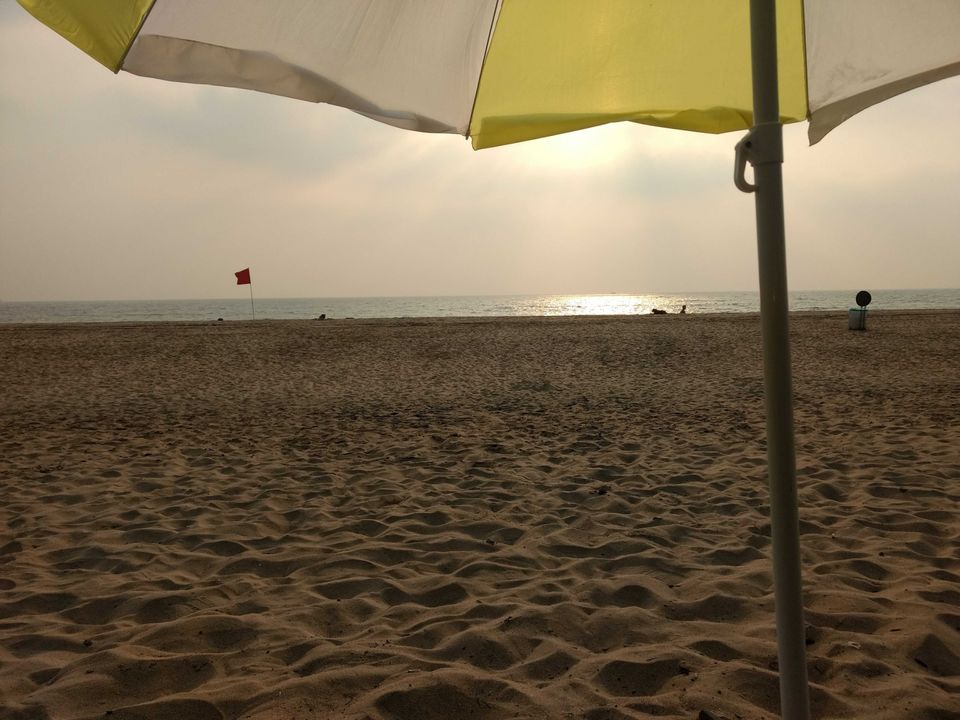 We decided to take a walk on the palolem beach on day six.
Palolem has a number of cafes lined up on its crescent shaped (1 mile long) stretch..
There's a cafe called - The Nest. It's a chill place to hang out if you want to relax by the beach. They have a small library, one can read books from the traveller's collections whilst enjoying a chilled beer and a cheese toastie!
Since, this was more of a de- stressing trip, we didn't do much in Goa and just chilled by the beach..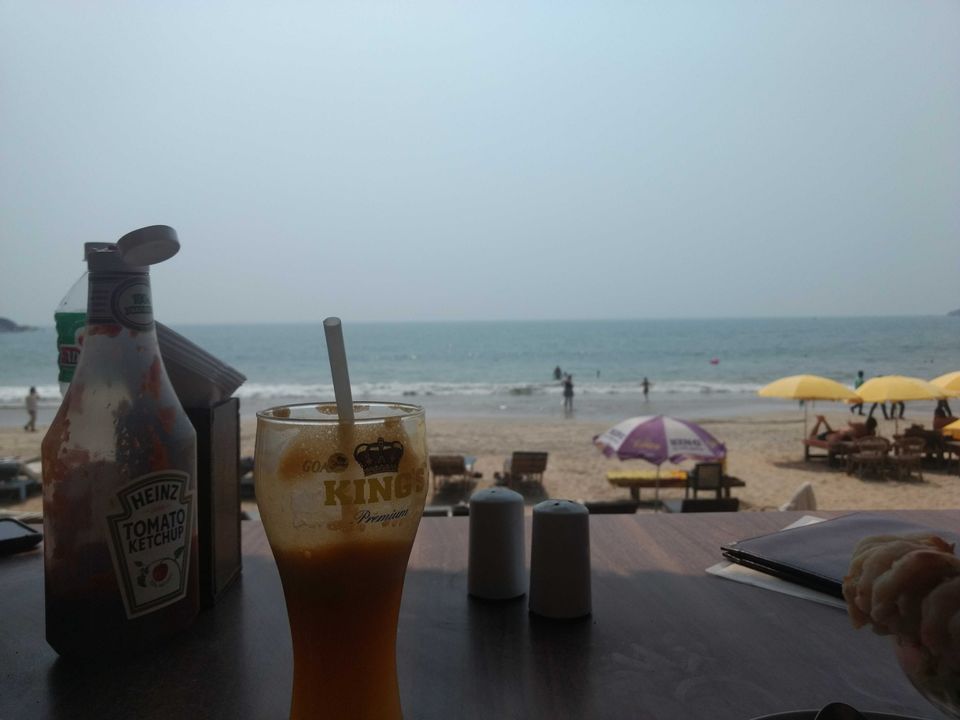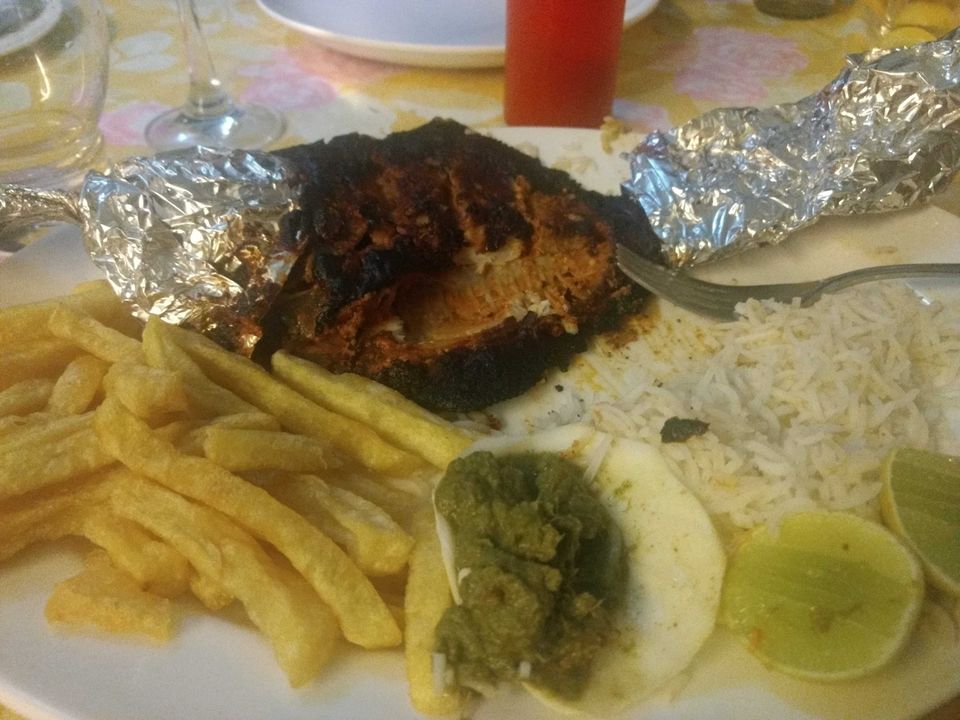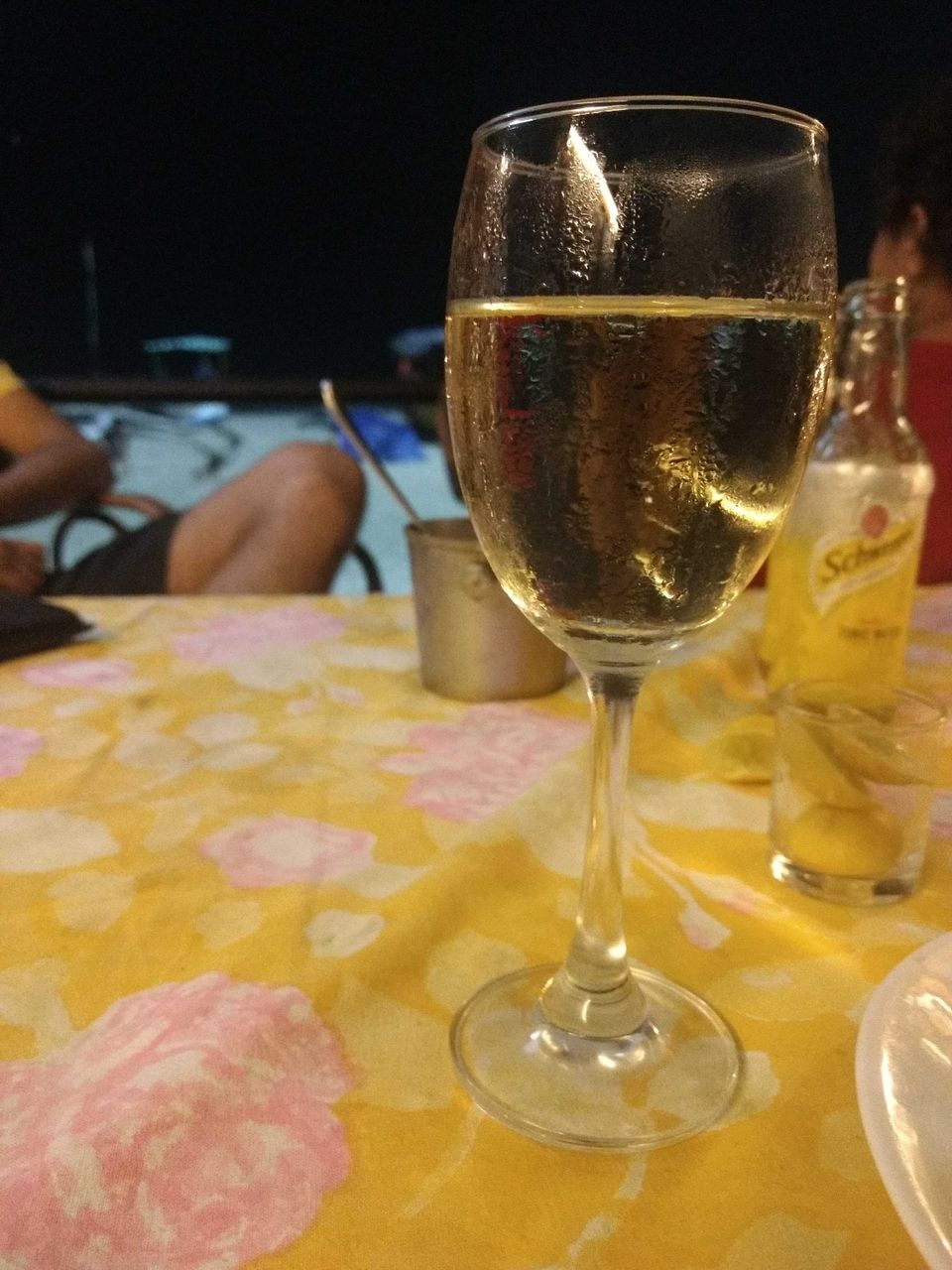 Checking out from Ciarins (Goa) at 11am, we left for Gokarna.
A distance of  (144.3 km) 3 h 35 min approximately.
Our stay was booked at Kudle Beach in Gokarna only 200 metres from the beach.
One can access gokarna by a car only till a certain point; here you park the car and walk about 500 metres to reach the beach.
We spent our first day on Kudle beach and decided to visit the other three beaches on the next day.
Kudle was a huge disappointment since the beach was  being used as a garbage disposing point. I kid you not we saw workers from the cafes carrying sacks filled with garbage and dumping them into the sea!
Hence, swimming in the kudle waters was a No-no for me!
There aren't many cafes where you can find good food on kudle so we had to make do with Little paradise Cafe just 5 minutes from out hotel.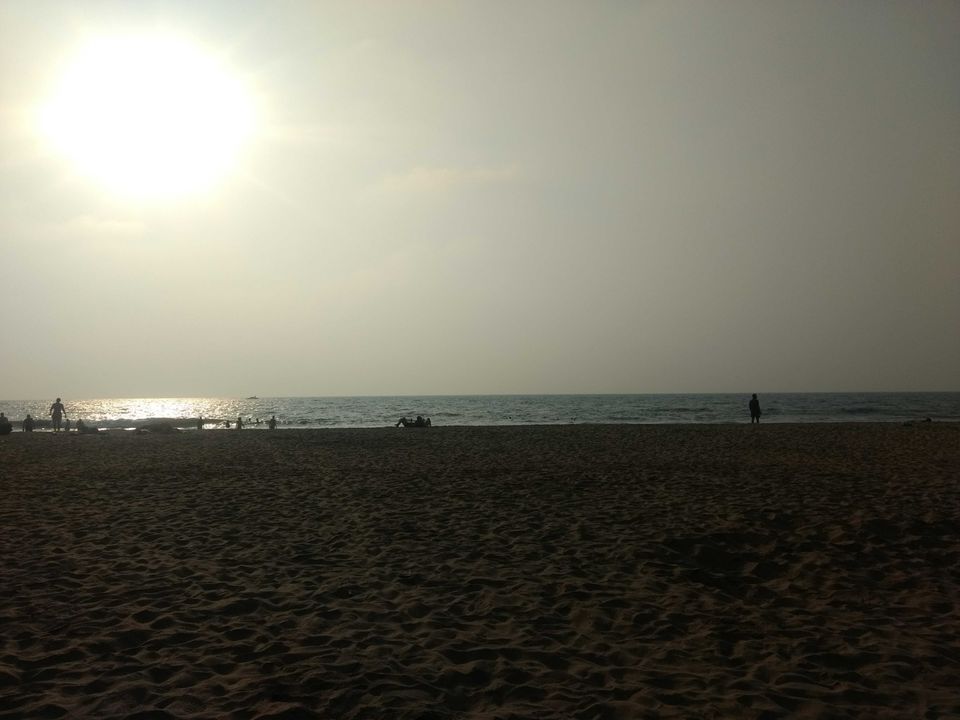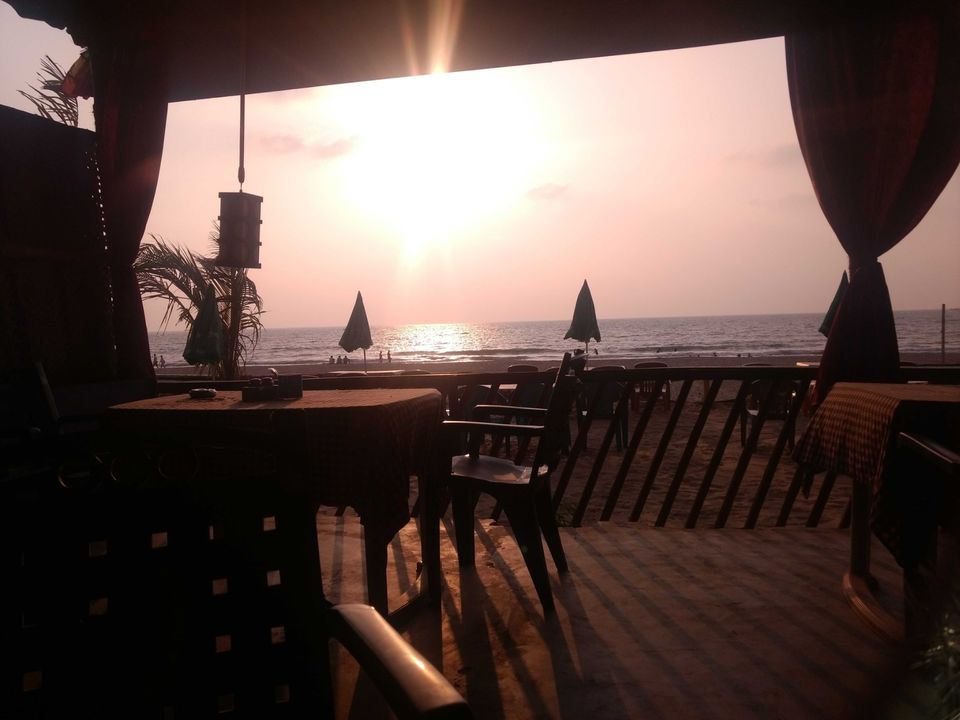 After the bummer that kudle Beach gave us, we chose to explore the rest of the three beaches that Gokarna had to offer.
Om Beach, Half Moon Beach and Small Hell Beach. These three beaches are accessible only by trekking or hiring the boat.
So we trekked to Om beach first and ate amazing lunch at Namaste Cafe. It's a pretty crowded beach and one can find more locals here.
This is one of the last beaches where you can find some cafes as on half moon beach and small hell beach one cannot find any shack! (due to the accessibility)
Next we trekked to half moon beach; I'd recommend that while approaching the beaches you trek and on way back hire the boat.
Trek is not so tough, make sure you are wearing a comfortable pair of shoes and you are good to go!
Half Moon Beach was a respite as compared to the horror that kudle Beach gave us. Due to lack of shacks and less crowd half moon and small hell beaches are pretty neat and one can take a dip here.
Ps. If you're lucky enough you might even spot some light green turtles here!
On our way back we stopped at Namaste cafe on Om Beach for dinner and trekked back to kudle.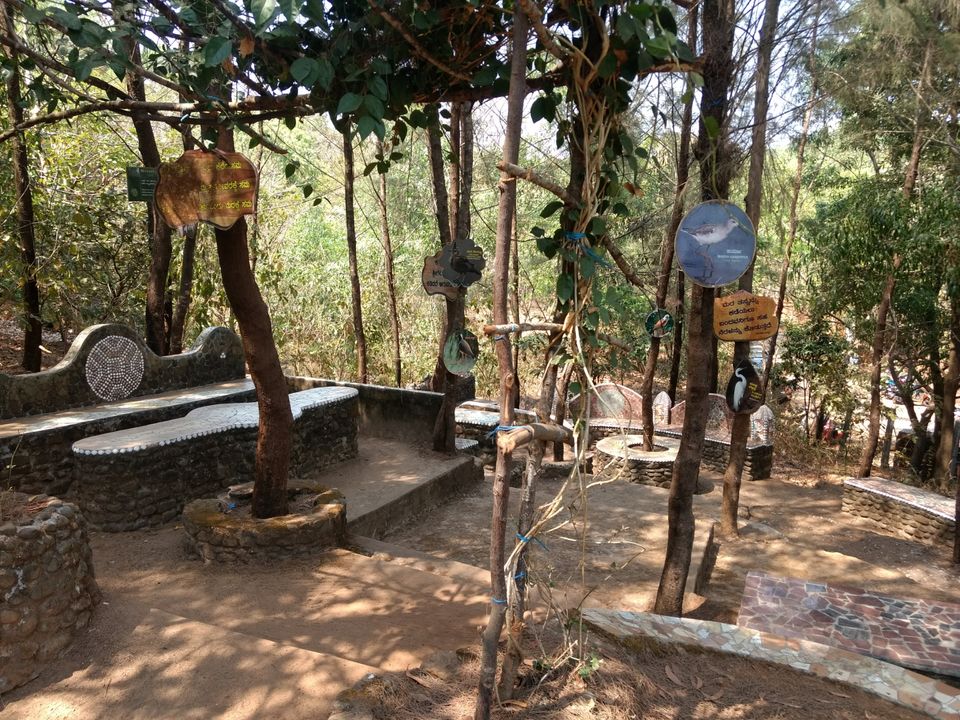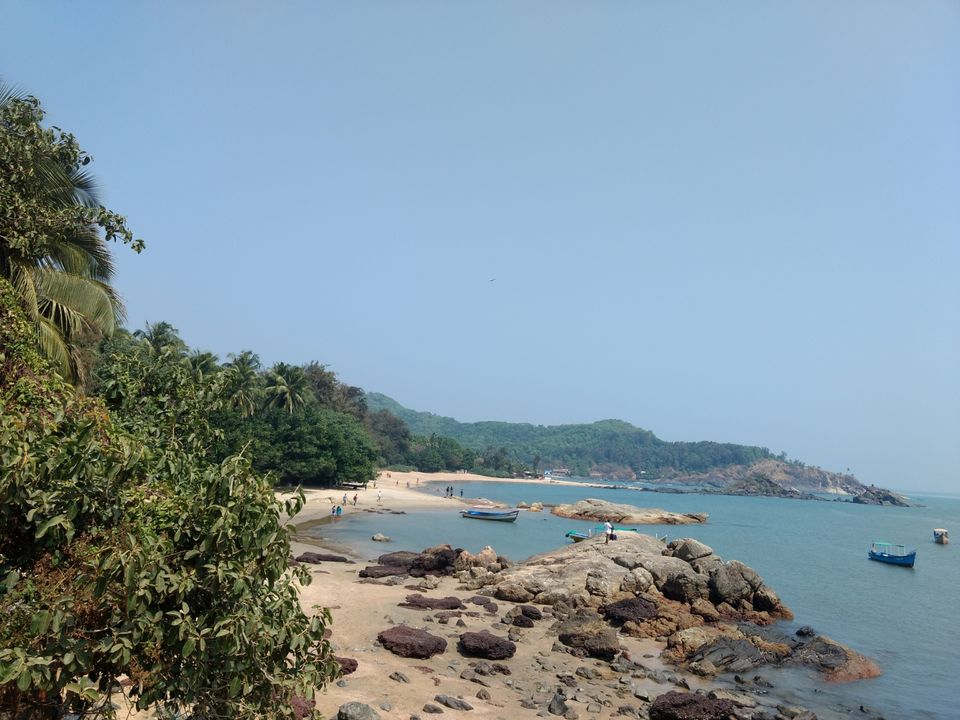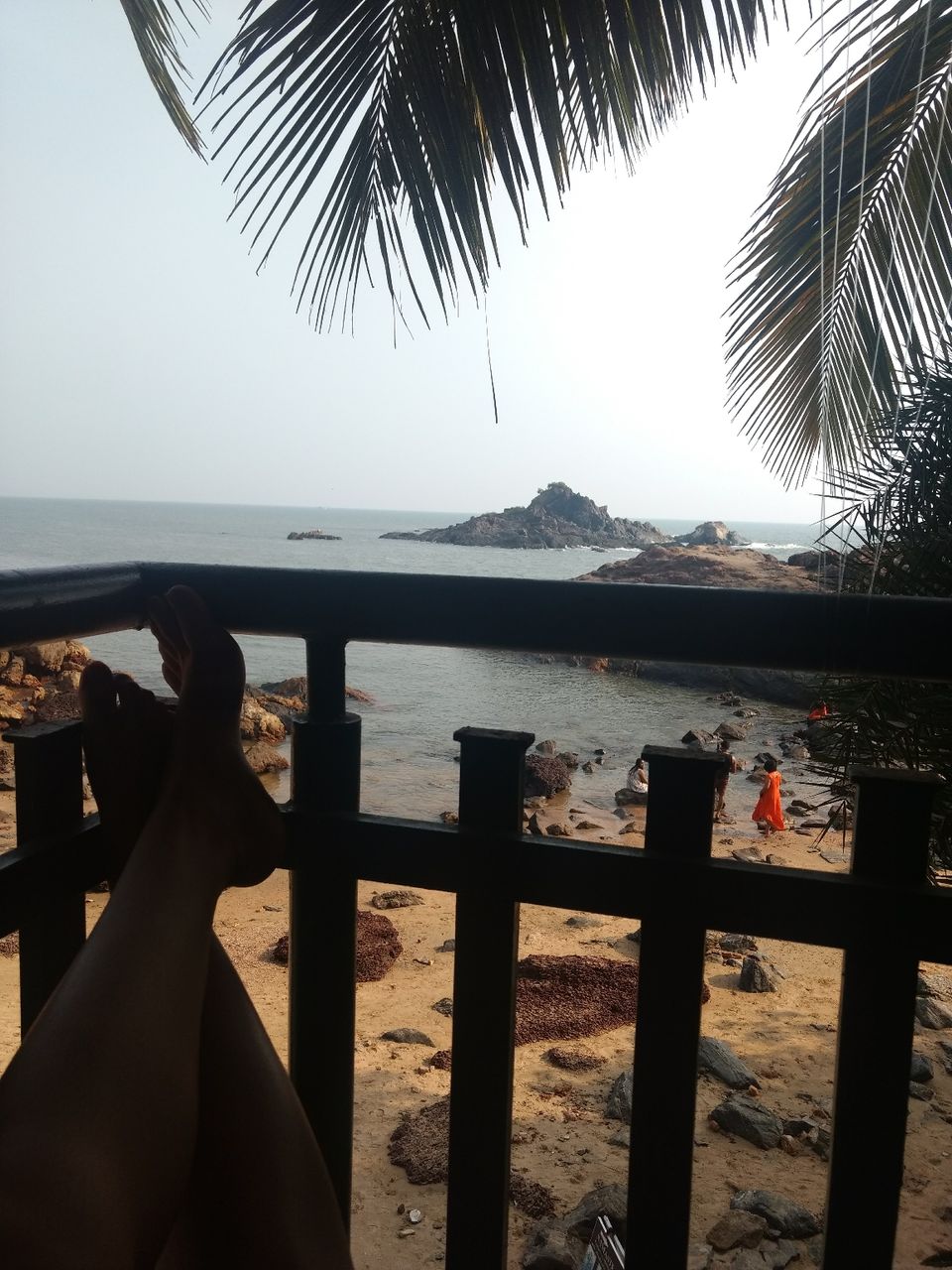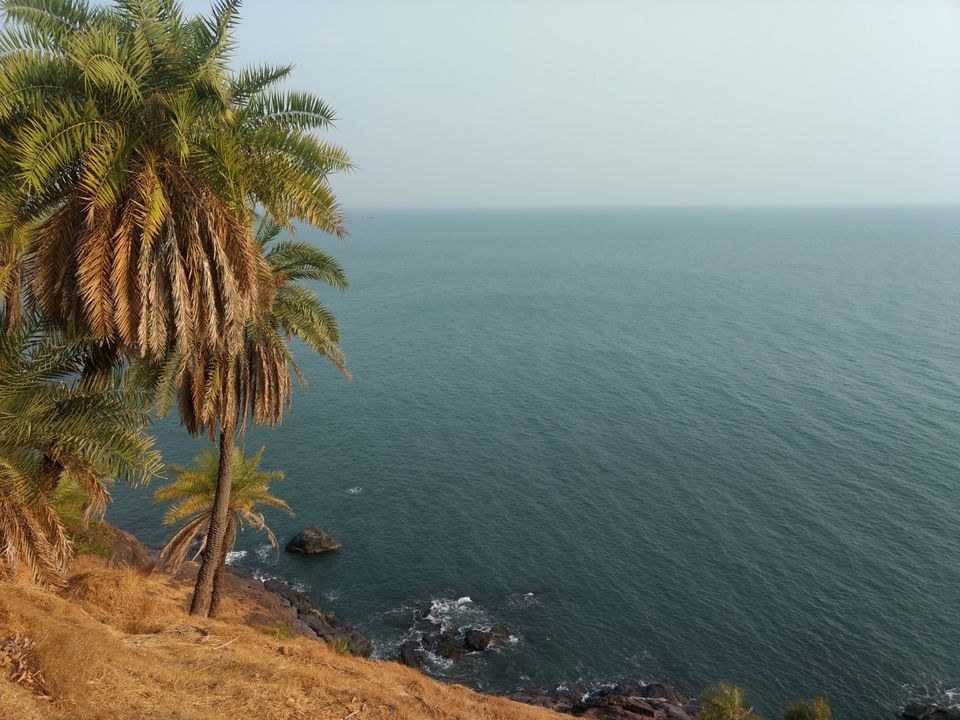 As we were approaching the end of our trip our last destination was Udupi.
Gokarna to udupi is a journey of 3 h 52 min (177.3 km).
There's a strech of Marvanthe Beach as you get closer to udupi, where on the left side there's a river flowing and on your right is the sea! The panoramic views compelled us to stop and take a look at the beauty!
Around noon, we decided to find a place where we could have lunch; we came across this place called "Mahalakshmi Fish Meals" right by the highway.
It's run by the locals and the only way we could interact with them was through broken English and mostly hand gestures.
Regardless of it, we ate one of the best meals on the entire trip to South and by paying literally nothing!
A MUST MUST TRY!
Where to stay: Hotel White Lotus, Udupi
Where to eat: Mitra Samaj, Sri Krishna Temple Complex, Udupi.
I was finding a place to eat in udupi when I came across this name "Mitra Samaj", one of the most recommended places here if one is interested in gorging on some authentic South Indian Cuisine.
The place is located in a complex surrounded by the temples of Udupi. All the attendants here have been working for more than 30 years and are extremely inviting.
Must have: Goli Baje, Mausambi juice and traditional filter coffee.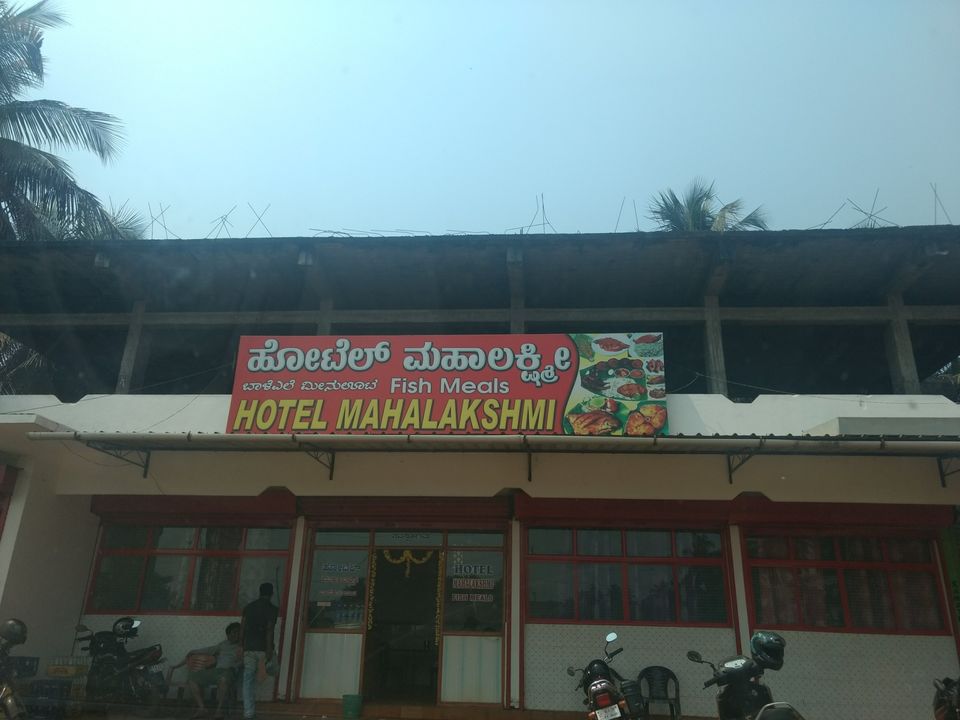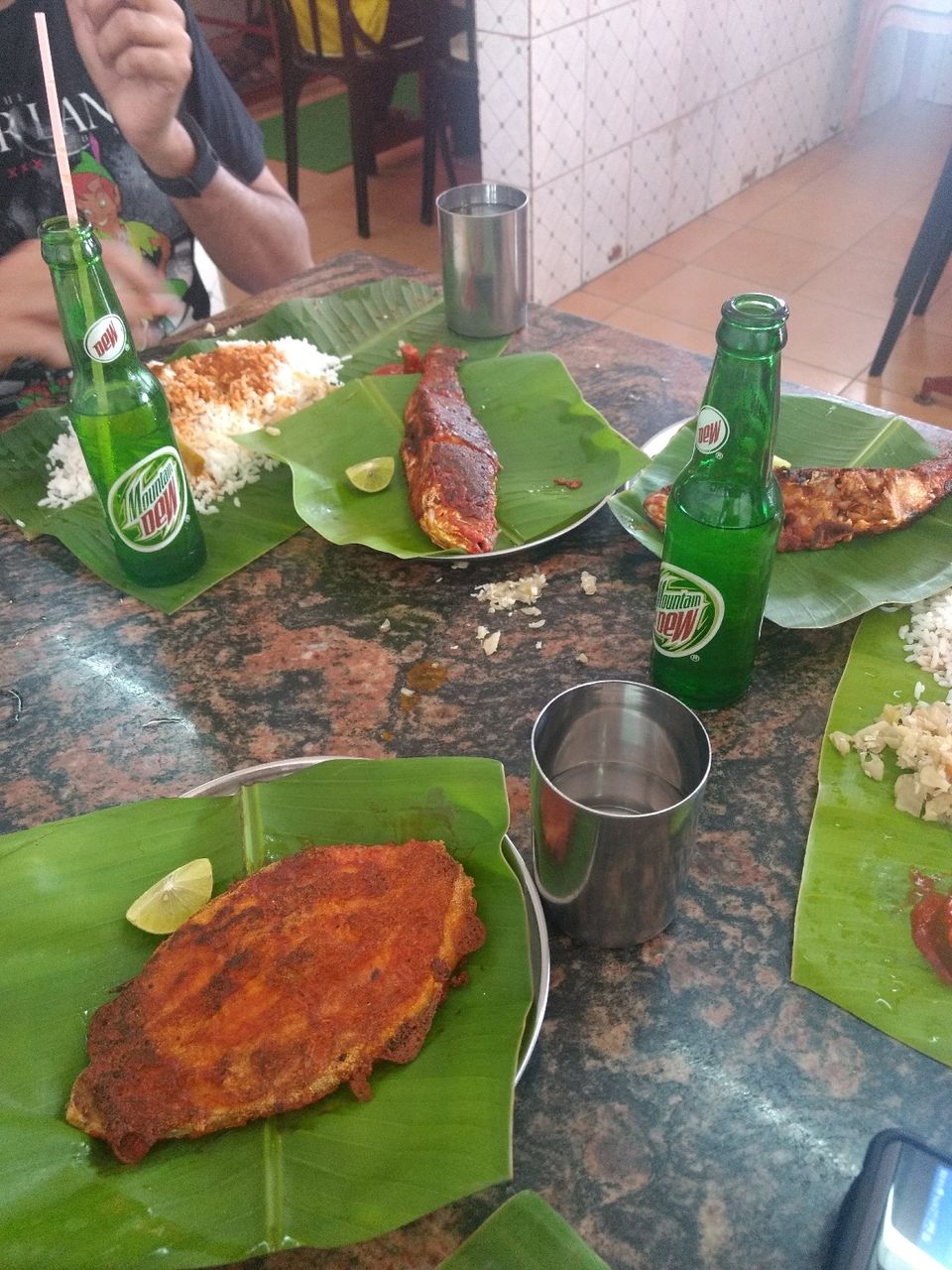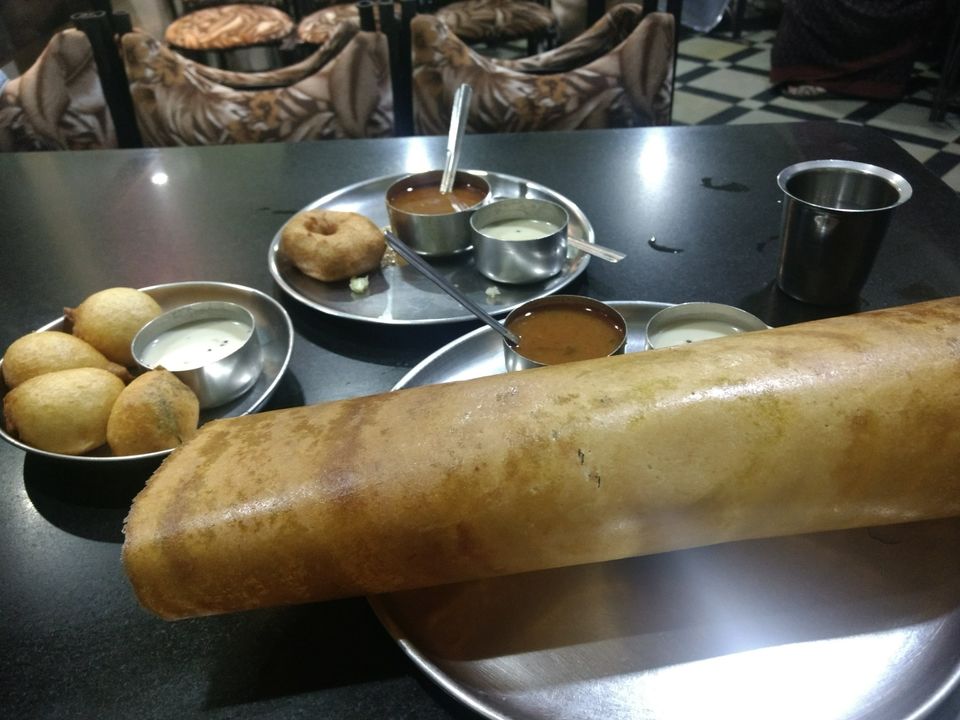 Our last day in Udupi we planned our visit to the St. Mary's Island.
St. Mary's Islands, also known as Coconut Island and Thonsepar, are a set of four small islands in the Arabian Sea off the coast of Malpe in Udupi.
The columnar basaltic (Volcanic) rock formations are the prominent attractions and are listed in one of the geological monuments of Karnataka.
The island is accessible only by the boat, which drops you there for an hour or two, you can have some snacks there in the cafe and explore the island.
Ps. It's loaded with sea shells, so you can sneak a few in your bag if you wish!
This 10 day itinerary got me exploring the beaches, mountains, islands and one of the best food adventures..