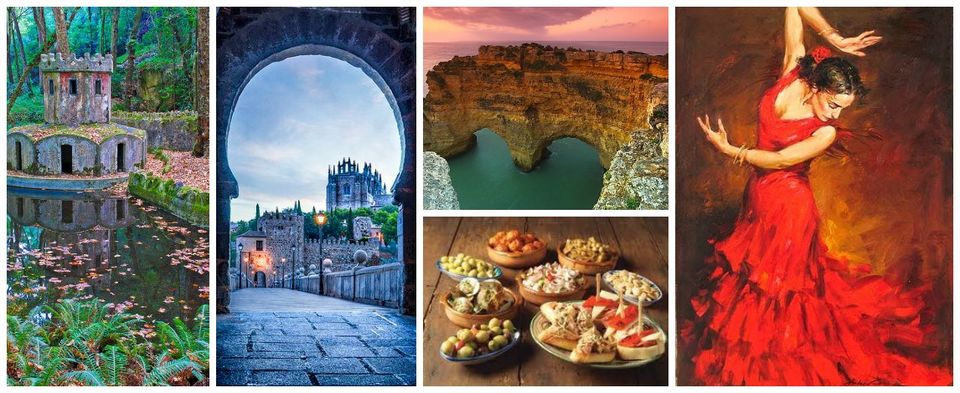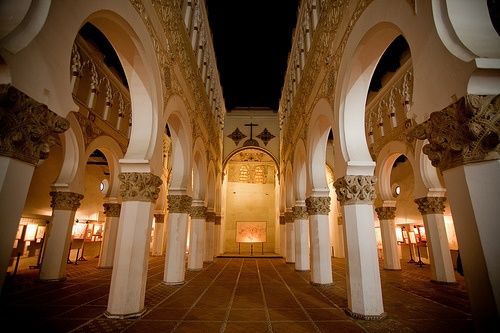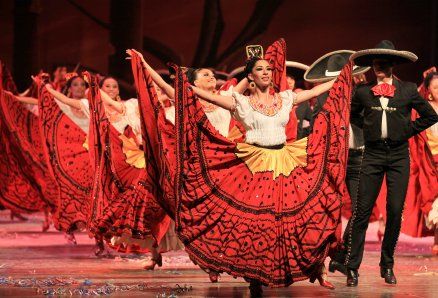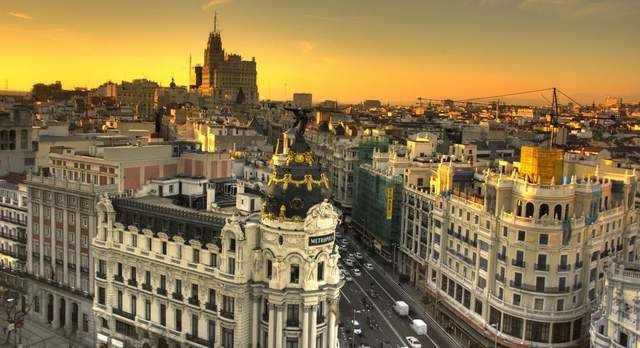 Soak up art and history in Madrid, Explore Toledo also popularly known as "Imperial City" and as the "City of Three Cultures". Discover Lisbon the hilly capital of Portugal, known for its cafe culture and soulful Fado music. Our trip will reach its next destination Sintra: The Centre of European Romantic Architecture; but there is more to it than just history and art Sintra remains embowered in seaboards and we are sure to explore the Disneyland for grown-ups, the seafood restaurants and the woodlands.
Gritty stretches as far as the eye can see, nestled snugly among golden cliffs, virtually deserted islands, and small coves sheltered by the rocks. The ocean, in every shade of blue and mostly calm and warm, inviting you for long swims and to indulge in water sports; this is Algarve our next jaunt.
The next city on our list is Seville, the sunny Spanish land of Tapas, Flamencos, Bizarre Architecture, Nightlife and Colors.
TRIP ESSENCE
 Tapas | Hop-on Hop-off Tours | Flamenco | Art | History | Architecture | Boardwalks | Sandy Beaches | Offbeat Spain | Romantic Portugal
CUSTOMISE YOUR TRIP
For those of you who are looking to getaway from the big city and want to do so with your friends or family, we could customized Getaways just for you! Weekenders and Longer Getaways alike. Your stays, meals, experiences and travel are aspects that we look into while designing your trip. You can choose your options from below and design an awesome adventure for yourself. Your travel plans, your way with your group of adventurers.
HIGHLIGHTS
- Diving head first into Madrid's nightlife with a pub crawl with a local
- See the works of Picasso Goya, Velásquez, Bosch among others at the famous Prado and Reina Sofia museums in Madrid
- Sightseeing tour, City tour, Hop-on Hop-off bus tour in the "City of Three Cultures" Toledo.
- Discover the beauty of Lisbon the capital city of Portugal on a half-day trip that covers all of the city's highlights.
- Roam through the surreal alleys of Sintra; the center of European Romantic Architecture.
- Soak in the sunlit Mediterranean climate, beach and golf resorts, whitewashed fishing villages on low cliffs overlooking sandy coves in Algarve.
- A guided tour of the best tapas in Seville, arguably the tapas capital of Spain.
ITINERARY
Day 1: Arrival in Madrid
We will land in Madrid by mid day. Settle into your hotel and relax. We have an exciting evening planned for you with a guided pub crawl of 3 popular bars and a club in Madrid – free shots, VIP entry, free beer and sangria are included! Madrid is Spain's nightlife capital and with an expert pub crawler, shift between techno and house to RnB and Reggae, underground club to cocktail bars. This is just an introduction to the amazing trip that lies before you.
Meals: Drinks as part of pub crawl (if opted for)
Experiences: Madrid nightlife 101| pub crawl (add on)
Stay: A centrally located B&B
Day 2: Toledo Day Trip
Travel to Toledo in the company of an official guide. Explore the city on your own, taking in its historic quarters and important monuments. Known as the City of 3 Cultures, Toledo was a place where Christians, Moors, and Jews lived together in harmony. The city itself is like an immense museum that's home to some of Spain's top monuments. Toledo is also known as the City of 3 Cultures, as for an extended period Christian, Islamic and Jewish residents lived together peacefully within its walls.
Its old Gothic and Renaissance architecture, and narrow streets and alleys, along with its well-preserved condition led to its listing as a National Monument, and as a World Heritage City by UNESCO.
Back in Madrid by evening, we head to the lively Mercado de San Miguel, one of Madrid's oldest and most beautiful markets. There are a variety of counters serving up a diverse array of delicious tapas and bigger plates, think of from caviar, oysters, chocolate and everything in between. Wind down like the Spanish do: with chocolate and churros. Tapas or finger food has been perfected to an art form by the Spaniards with each city, offering its own variations of tapas.
Meals: Breakfast
Experiences: Toledo Day Trip| Dig into delicious tapas at Mercado de San Miguel
Day 3: Madrid (Lisbon departure by night train)
After breakfast, take a guided walking tour of Madrid. We'll take you down medieval streets, across majestic squares and through 1200 years of history. The tour promises to be informative and engaging! See Madrid the way it should be seen: by walking from the heart of the city through both twisted medieval streets and down grand boulevards. You'll cover the famous must-see sights and secret places the tour buses can't go. After the tour, we make our way to grab some delicious lunch. Head back to the hotel for a little siesta time! In the evening, we will visit two of Spain's most magnificent museums: the Reina Sofia Museum and the Prado Museum. Between the two museums, you can see artworks by masters like Picasso, Goya, Velásquez, Rubens, El Greco, Bosch, among others. Leave for Lisbon at night.
Meals: Breakfast
Experiences: A fun walking tour of Madrid| Museum visit (optional).
Day 4: Lisbon
We will reach Lisbon by 7.30 am. Lisbon is famous for it's gorgeous and quirky hostels so we will be staying in one! We drop of our luggage at the hostel and head out to explore the capital city of Portugal through a fun guided walking tour. Lisbon's 3000 years of proud history has always been on the edge: where land meets sea and Europe meets Africa. The ancient Phoenicians recognised the great advantages of the location and all the great civilisations that followed have expanded the city well beyond its legendary Seven Hills. This is a city built upon exploration, conquest and adventure. It's no surprise the Portuguese led the Age of Discovery and laid the foundations for the world we live in, for Lisbon is known as 'the Queen of the Seas'. The untold riches of empire have left a legacy of incredible monuments and culture for the modern visitor – a legacy that was almost destroyed by the Great Earthquake of 1755 which sent philosophical shockwaves throughout Europe. It changed the face of Lisbon, politics and religion forever and this 3 hour walking tour explores its full impact and how the city rose from the ashes. You have the rest of the day at leisure.
In the evening, enjoy the flavors of Portuguese cuisine on a small-group gourmet Portuguese food and wine tour of Lisbon! Visit traditional eateries and taste some of Portugal's delicacies as your guide gives you tips on how to appreciate Portuguese wine and food. As you walk through the streets and visit the pastry, wine and cheese shops, sample some of the products and get advice from your guide on where to eat for the rest of your trip!
Meals: Breakfast
Experiences: A guided walking tour of Lison| Food tour
Stay: A boutique hostel in the hip Biarro Alto neighbourhood (8 bed mixed dorm; twin room available ta extra cost)
Day 5: Arrábida Day Trip
Discover the breathtaking scenery and delicious wine of Arrábida during a half-day or full-day tour from Lisbon. In the company of a private guide, leave the city behind and witness the wild beauty of the Portuguese countryside. Tour a wine cellar or two in the Arrábida region and lock your lips on several local vintages. Stop for stunning photo opportunities at locations including Palmela Castle, Arrábida Natural Park and at the Christ the King (Cristo Rei) monument overlooking Lisbon. Enjoy personalized attention from a private guide throughout.
Meals: Breakfast
Experiences: Arrábida day trip with wine tasting (Add On)
Day 6: Lisbon – Lagos (Algarve) (4 hours by bus)
Say goodbye to Lisbon as you make your way to the gorgeous beaches of the Algarve in Lagos. There is rich and beautiful history within Lagos' 14th century walls, from its fortress to picturesque churches like mediaeval São João Hermitage and the 17th-century São Sebastião. But that's all appetiser. People come here for a main-course coastal buffet featuring more than a half-dozen beautiful beaches. Quiet sandy coves are sandwiched between dramatic cliffs. The sandy 2.5-mile stretch of Meia Praia caters to every water sport imaginable. And when you've had your fill, you can digest your day with some of the best nightlife in the Algarve region.
You have the day at leisure at leisure to explore this beautiful town. Protruding south from Lagos, Ponta da Piedade (Point of Piety) is a stunning, dramatic wedge of headland and is worth a visit. Three windswept kilometres out of town, the point is well worth a visit for its contorted, polychrome sandstone cliffs and towers, complete with lighthouse and, in spring, hundreds of nesting egrets. The surrounding area is brilliant with wild orchids in spring. On a clear day you can see east to Carvoeiro and west to Sagres.
Meals: Breakfast
Experience: The pristine beaches of Algarve
Day 7: Algarve – Day at Leisure
One of the most picturesque parts of Lagos is its marina. The yachts and pleasure boats that moor here speak to the town's status as a place where leisure-seeking Europeans come to play. Visitors to the marina will find various boat tours including yacht cruises and deep-sea fishing trips. Also of note in the marina: Forte da Bandeira The town's Marina presents a lovely picture and this harbor is practically the first sight a visitor has of Lagos. Besides the boats that find it convenient as a permanent mooring it is usually full of yachts passing on the way or returning from the Mediterranean and the Americas. At the entrance to the harbor is the Forte da Bandeira which was constructed in the 17th Century to protect the port from pirate predations and English assaults.
In addition to its harbor and marina, Lagos has many attractive beaches with commensurately attractive beach-goers. The two most popular include Dona Ana and Praia da Luz, in the nearby village of Luz.
Attached to the famous 17th century Church of Santo António is a small museum of regional items, many of which are prehistoric. Here, you will find dinosaur and ammonite fossils, Neolithic tools, weaponry from the Age of Discovery and an exhibit containing artifacts found in Mozambique.
Meals: Breakfast
Experiences: Explore Lagos
Day 8: Lagos to Seville (4 hours 45 minutes by bus)
On an early morning bus, we make our way to Seville, arguably the tapas capital of Spain. Once you've settled into the hotel, make sure you get some rest because later at night we will set out on a food tour with a local expert in tow. Bursting with color, passion and sunshine, it's hard not to fall head over heels for beautiful Seville. One of Spain's most important cities since ancient times, Seville has been a Roman, Muslim, Jewish and Christian city– a melting pot of cultures whose lasting legacy is its incredible food. Today Seville is a dream come true for foodies.
On the 4-hour walking food tour delve deep into Seville's culinary traditions. You'll eat your way through three of the city's neighborhoods while learning about the different groups of people and civilizations who have made Seville's gastronomy so unique. Your local guide will take you off the beaten track and into eight family run food businesses where you will truly taste Seville. From Moorish and Jewish influenced recipes to the best Spanish ham and traditional tapas, you'll devour it all! And along the way you'll also explore some of the city's best kept secrets, from stunning hidden plazas to tiny alleyways where most tourists would never know to look.
End the evening in a local bar with a traditional flamenco performance! it is a form of Spanish folk music and dance from the region of Andalusia in southern Spain It includes cante(singing), toque (guitar playing), baile (dance) and jaleo, which refers to the vocalizations and rhythmic sounds of palmas (handclapping) and pitos (finger snapping) that encourage performers to excel.
Meals: Breakfast |Dinner as part of food tour (if opted for)
Experiences: Food tour with a local expert (add on)| Seville nightlife and flamenco
Day 9: Seville – Madrid (7 hours by train)
After an early breakfast we will leave for Barcelona and reach in the afternoon. The train ride in itself is an experience as Seville to Madrid is one of the most picturesque routes. It's a long journey but a beautiful one. You will reach Madrid by late afternoon and you have the rest of the day at leisure.
Meals: Breakfast
Experiences: Train ride from southern to central Spain
Day 10: Madrid return
Make your way back home, with a bag full of memories J
Meals: Breakfast
An exciting 10 day Northern Spain and Portugal holiday.
PRICING
WHAT: Southern flavours- SPAIN + PORTUGAL
WHEN: As per your travel dates(10 days/9 nights)
WHERE: Madrid – Toledo – Lisbon – Algarve–Seville–Madrid
HOW MUCH: Rates will depend on the itinerary and the time of travel
APPROX: Rs. 60,000 / USD 870 onwards +9% tax (per person)
WHO : info@theblueberrytrails.com / 8080122441
INCLUSIONS
- Meals mentioned

- Accommodation on a twin sharing basis at boutique stays
- All internal transport between cities by bus or train (as indicated against each day)
- All tours and activities except those which are optional/Add Ons.
EXCLUSIONS
- Flight charges to and from Spain
- Entrance fee at local monuments, museums which are not set out under "Inclusions".
- Meals not mentioned
- Local transport within the city
- Personal expenses such as beverages, tips etc.
- Any costs arising from flight delays, change in weather conditions, strikes etc. which are beyond our control
- Visa charges and processing
- Travel insurance
- What is not mentioned in "Inclusion"
*Please note: Activities are flexible and depend on availability.
REACH US AT
 info@theblueberrytrails.com/8080122441 for customised Spain & Portugal trip package from India.
CANCELLATION POLICY
Click here to see our terms and conditions & our cancellation policy: http://www.theblueberrytrails.com/index.php/component/content/article?id=71