Amanvana resort in Coorg is organizing a Spa Festival from Dec 8 to Dec 22, 2016. The 15-day long festival brings together some of the best and most rejuvenating spa treatments the resort has to offer. There are offers on some of the treatments as well. The festival will be a shining testament both to the power of massages to alter our mood and health, as well as the resort's sustained commitment to wellness through massage therapy. Amanvana promises a unique experience that is as soothing as it is refreshing. The treatments will be administered by a core team of masseurs who are well-trained and offer great service.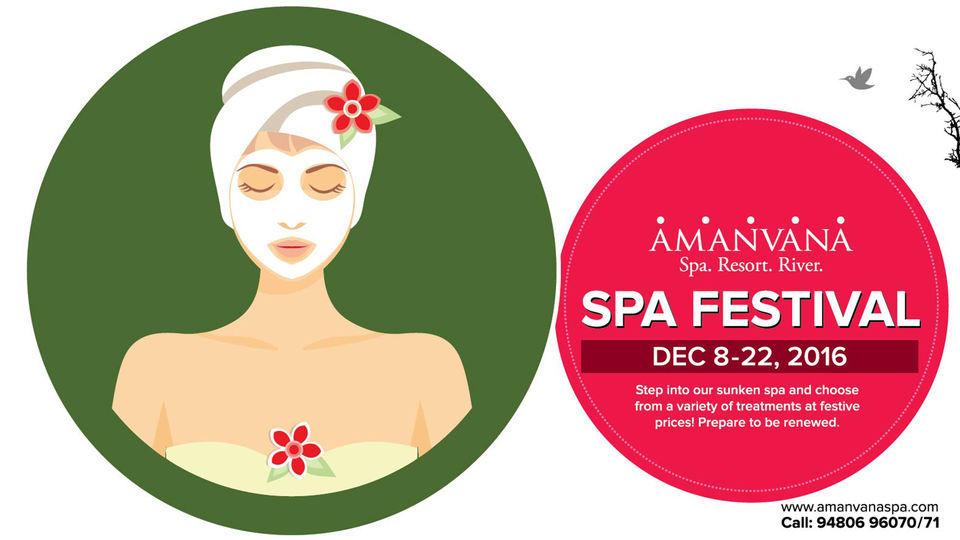 Amanvana has a sunken spa. This means the spa is situated a below ground level. One walks away from a well-manicured lawn with purple hibiscus flowers in the background and then begins the intriguing descent down the pink limestone steps. Walking down is reminiscent of the ancient Roman baths and aqueducts that were situated underground. Soon, one is standing in the enchanting environs of the Amanvana spa. The spa features soft music and a shimmering lotus pond. The masseurs are always at your service. The management and the staff have put together a meticulously designed menu of treatments. There are several interesting therapies to choose from.
One of the most popular is the aromatic coffee scrub with a soothing head massage. It improves circulations, makes skin smooth, and removes knots of tension in the upper body. The starting festival price is INR 2999. Another interesting treatment is the antioxidant vino-therapy facial and foot reflexology. This is considered the perfect facial to address premature aging. For those with tired feet, there's foot reflexology which involves massaging the reflect points on the feet and providing relief. The starting festival price is INR 2999. Other treatments include five nectar bath (starting festival price INR 2999), the oriental essence salt glow anti-ageing massage (starting festival price INR 3333), the Asian deep tissue body massage (starting festival price INR 3333), and the tempting chocolate fantasy that uses real dark chocolate (starting festival price INR 3699).
The people in and around Coorg can now enjoy 15 days of soothing, refreshing massages at Amanvana. The spa festival promises to delight the customers with its variety and uniqueness, and it may inspire them to come back for more!
Venue:
Amanvana Spa Resort
Post Box No. 21, Guddehosur, Kushalnagar, Coorg 571 234,
India Phone : +918276 279353 / 54 / 55
Mobile : 094806 96070 / 71
Dates: 8 – 22 Dec, 2016
For more details visit this link: www.amanvanaspa.com
About Amanvana
Featured in Salon International magazine, Amanvana is a charming luxury spa resort situated in Kushalnagar, Coorg. It features private bungalows on the banks of the River Kaveri, a sunken spa, sumptuous Coorgi cuisine, a pool, and a host of activities for couples and families. Each bungalow is a master class in minimalist luxury with a private courtyard, reading nook, lotus pond and stone-clad bathrooms with skylights. The resort offers adventurous journeys like the river trek and the eight-island trek, and is close to several attractive Coorg tourist spots.
Reference Article : https://www.prlog.org/12606404-spa-festival-at-amanvana-resort-in-coorg.html