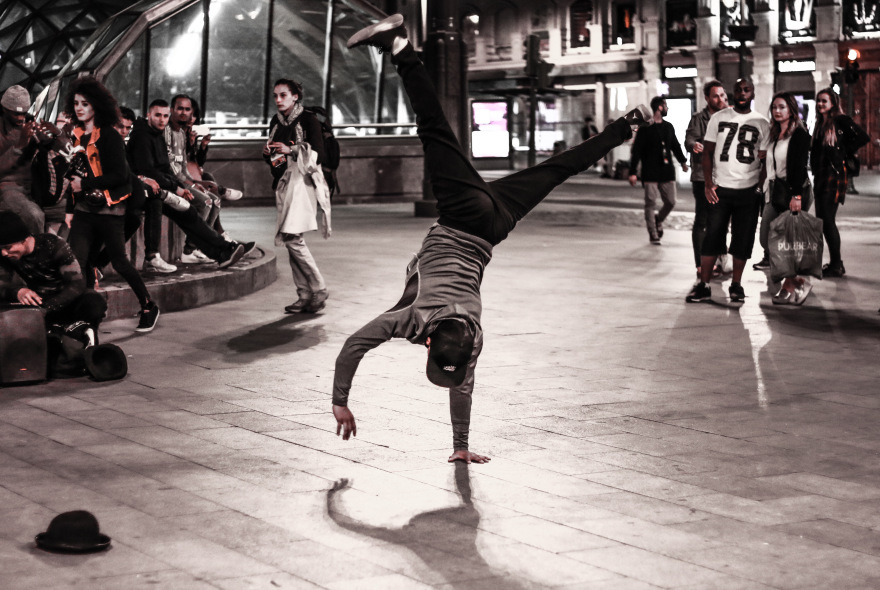 What is that first memory you have of the last place you visited? That first image which tells you, 'Hey, I've arrived'. For me, that image of Spain looks something like this.
Over the last few trips, I've preferred taking the metro over a cab to reach my accommodation from the airport. Not only has it been significantly cheaper, even faster in some cases, it has also done the job of putting me at ease with the surroundings, which of course, looked alien at first. I landed in Madrid late evening on the 26th of May 2016 and boarded the metro for Sol station with the intention of heading straight to my hostel - the earliest I could make it was post 11pm, and there was a good chance of getting our booked room denied to us as I had forgotten to inform them about our late arrival, way beyond the check-in time. I walked out of the underground station, and witnessed this.
And this.
And guess what I did - I walked closer to the spot, kept my luggage aside, took my camera out and began clicking, overwhelmed at Spain's way of welcoming me and my camera. That scene, completely unexpected, doubled my excitement for the trip and my mind ran wild with what the following few days could have in store. I rushed to the hostel, intending to drop my luggage and be back, only to realise how it was at the awesomest location it could be - only 50 meters away from this sight (we stayed at TOC hostel in Madrid and I strongly recommend it). And in less than 15 minutes, I was at the Sol again,carrying my DSLR in one hand and point-and-shoot in the other (yes, I travel to click). Here is what that night, and every other night there looked like.
And then there were two.
And then they pulled someone from the audience to dance along, and man was she good! I am almost certain they had themselves planted her in the audience, but conspiracy theories apart.
And my favourite picture in this set, for all the right reasons.
I clicked so many pictures, even changing lenses in between, that I almost felt obliged to put a little more than a couple of Euros in the hat. It took another day for the conversion rate to hit me, but by then, I had mentally put aside a budget for street artists for the trip. Not too sure if I managed within that, but looking at the pictures later, all I can say is it was worth it!