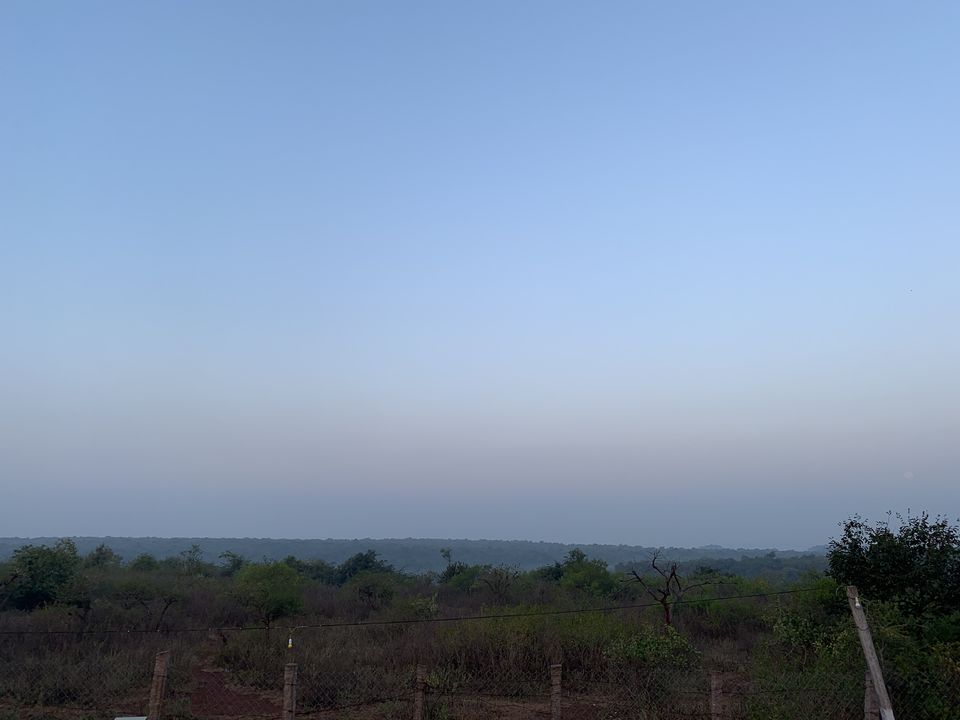 If someone would agree, unplanned travels are the best; of course, it has its own limitations though, in terms of hustling around for accommodation and the travel plans.
How it started?
When I was staying in Hyderabad, over a weekend, I thought of going for a ride somewhere nearby. One among the preferred destination was to 'Ananthagiri Hills' located near to Vikarabad. It is just 2 hrs drive (90 Kms) from Hyderabad. When my bike was eagerly waiting for me to take me somewhere, it was around 1 PM in the afternoon that I started. Although the original plan was to leave early morning, I had got some work by then and have not zeroed in on the destination. So, just packed my clothes for a night stay and rode my bike to Vikarabad. Certainly, it was a small and a pleasant ride. Upon reaching the destination at Anathagiri Hills, there was a check post before the entrance of the hills. To my utter disappointment, the cops did not allow any vehicles inside Ananthagiri Hills. COVID has been a spoilsport here too :( After waiting for a while, other riders were able to verse well with the cops, and there came a friendly cop, who still did not allow us, but had shown us an alternate way to reach the hills. Following his instructions, took that alternate way, which was an easy ~15-20 Kms away from this place. Thinking it to be the other side of the hill (in fact, rather calling a hill, I observed it is more of a forest), still suspected, I had enquired a localite, if the way leads to the hill. He said yes, but said, they do not allow outsiders and there is nothing much to say. Certainly, I did not want to turn back disappointed, the exploration vibes kept me moving forward. In mid-way was a small yet beautiful Siva temple with a big Nandi statue and many people were chattering around there. It was already 4 PM there, and so ignoring this spot, I went further up. To my dismay again, the curved road again reached the same spot as that of the check post that I came 1 hr back. The check post was in a roundabout which had 5 exits, of which two of the exits I had already covered, while they strongly deferred any entrance to one of the exits. With not much choice, I tried going to both the remaining two exits, but again, one was leading to the exit route, while the other exit was leading to only a resort.
Where to stay?
It was Haritha resort managed by Telangana Tourism that I reached at the top. Thinking if I had to stay or leave, I just went inside to enquire the prices, that they quoted were around sixteen hundred for a night stay. It was a good and a decent resort esp. for families. Looking at better options, I went straight to 'The GrassWalk Resort' which was actually in a near by village (Gudupally) and took around 30-40 mins drive by itself. Looking at the resort and the way the staff had responded to my enquiry in person, I felt totally not worth it for 3k bucks. Then, I moved on further from the place, and went on to check out the other option – 'Deccan Trails'. It took another 60 mins drive from this village to Deccan Trails which again was not in actual Ananthagiri Hills, but to some other village nearby. Upon reaching the Deccan trails, I felt much relieved and it was already 30 past 6 to arrive here. The service and the place were good. Especially if you are person who would be into adventures and hikes, or want to chill out with friends, then this is for you. They have a good hospitality, and nicely built camps inside a dense forest spread around 35 acres. Both the manager at the site and a staff named Mr. Kumar was so courteous and amiable. They also arrange the campfire and other facilities upon request. The place also had beautiful huts to spend time with your loved ones.
What to do?
The next day morning, after a decent breakfast at Deccan Trails, I had checked out and rode again to Ananthagiri Hills only to see what all are there. Did I tell you, that it is more of a dense forest, than a proper hill station? Yes! This time, I did not want to ignore that small place where people were roaming around, for that small Siva Temple.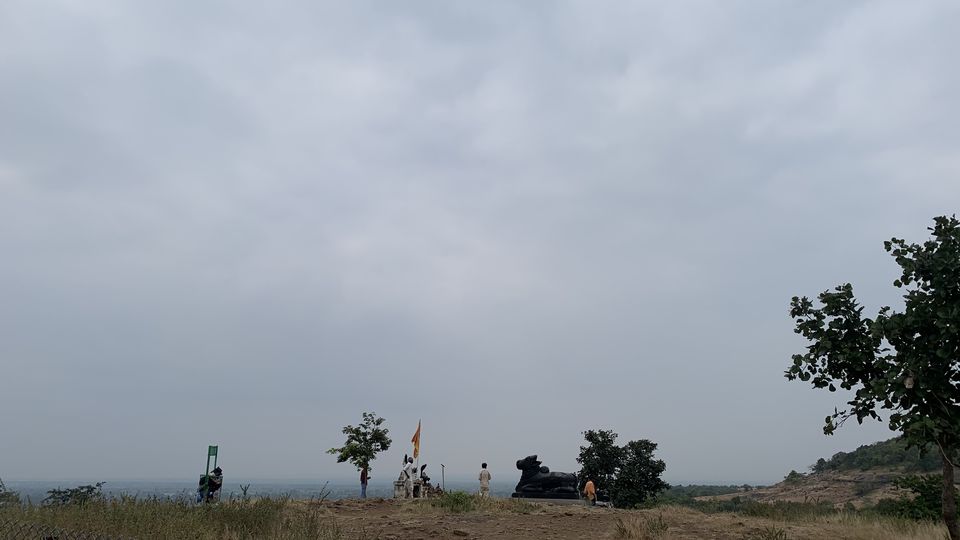 The temple gives a beautiful view of the valley, and I went further to realize, there was also a tiny trek (1 KM) in that place. It was leading to a watch tower to have a majestic view of the hills. The trek was at a beginner level, although at some spots, the path was slippery and steep. While on the way, was a waterfall / river that was flowing down, it was thin as it was all dried up. It happens to be the 'Musi River' that is originated from this place, and travels for 240 Kms to join Krishna river at Nalgonda District, and it also connects to Hussain Sagar Lake in Hyderabad. But yeah, seeing the thin size of the river, even wondered me ;)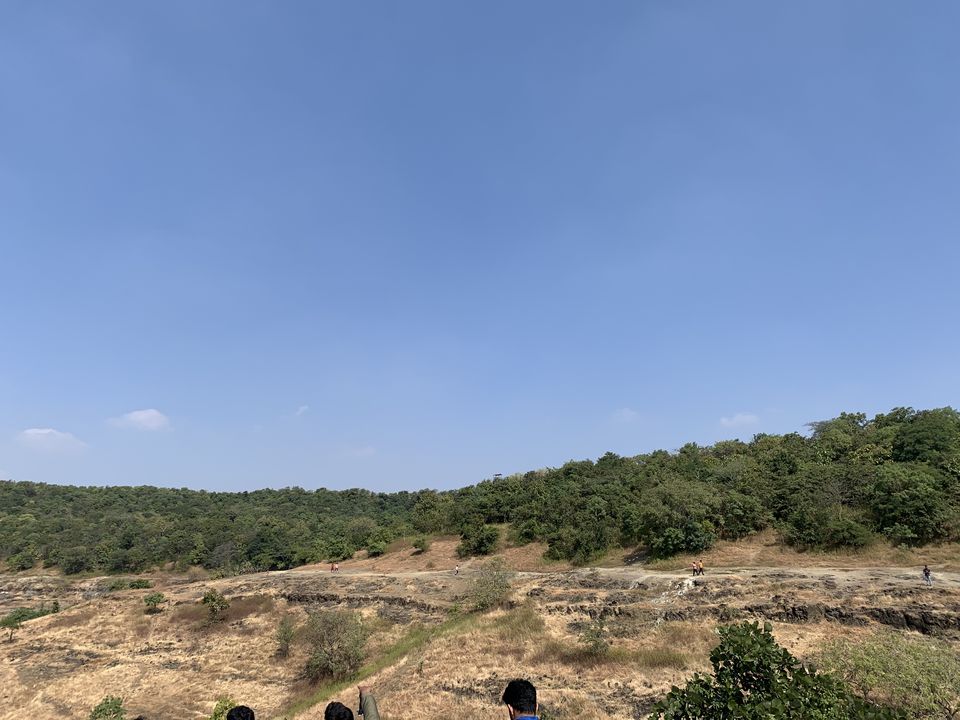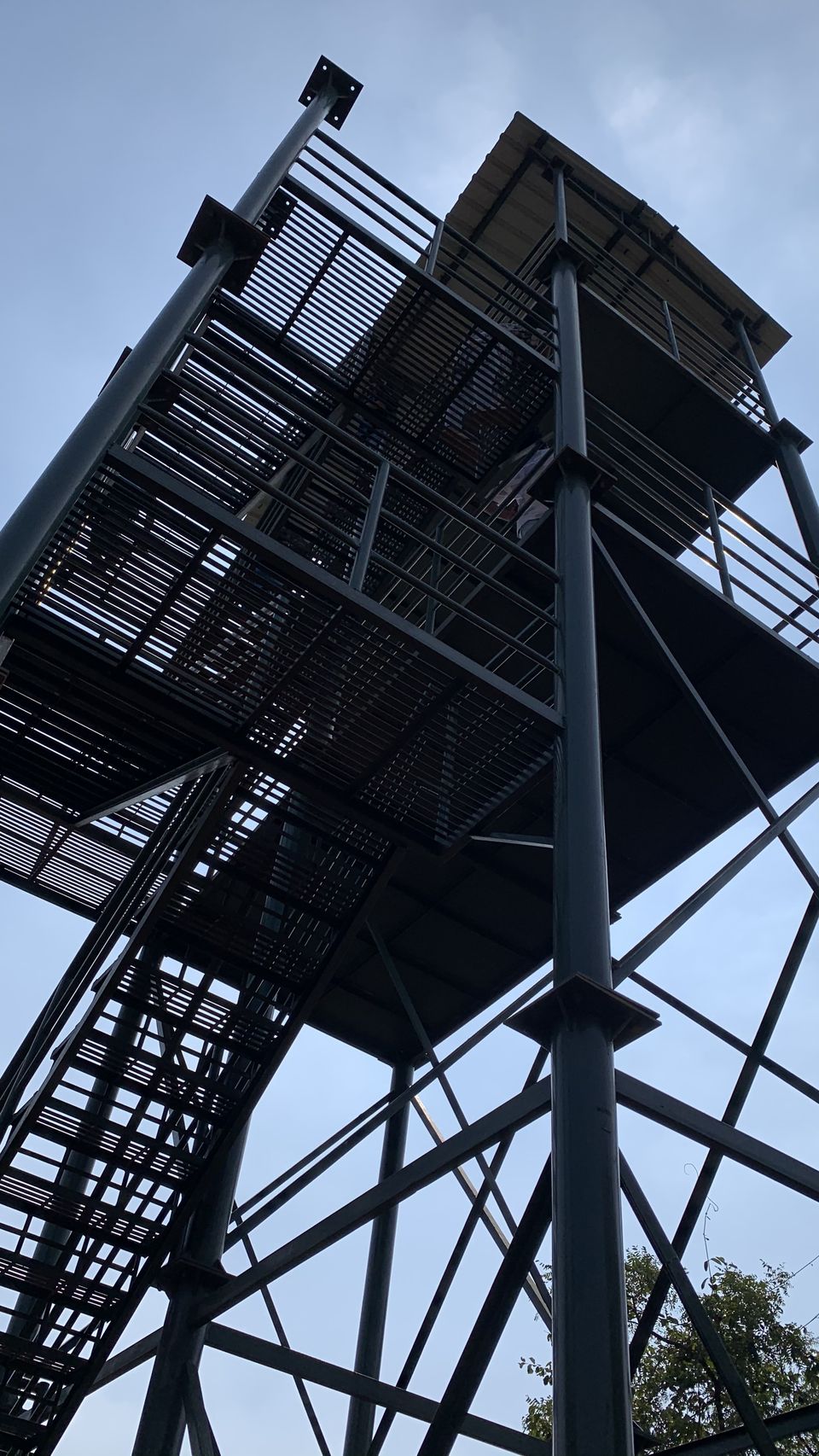 After reaching the watch tower at the top, I thought of going further deep down in the forest with the help of the Google maps, all alone walking, and apparently found another tiny statue, beyond which there were no paths to go forward. Nevertheless, the map showed the distance of last 350 Mts to connect to some main road, I risked myself to get into the bushes and finally came out of the forest, and realized, the exit took me to the main road.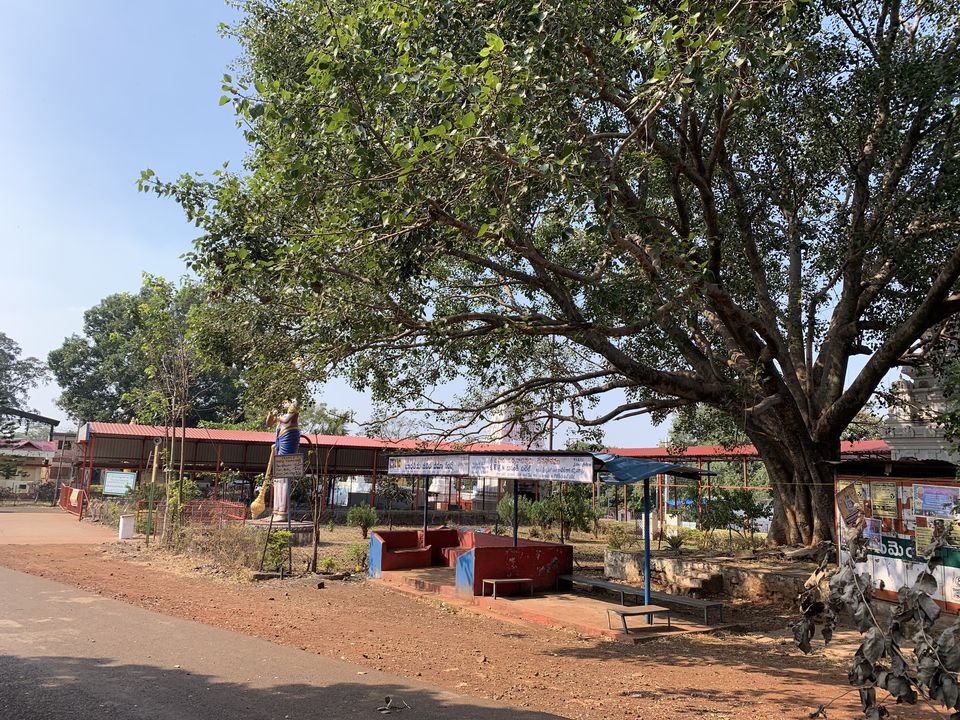 Riding my machine on to the next, I apparently stopped to see people waiting outside a temple, which had written (in Telugu) that it is closed. And this was the most popular spot why people visit Ananthagiri Hills, which is nothing but the 'Anantha Padmanabha Swamy Temple' or shortly called 'Ananthagiri Temple'. Although not quite massive when looked from outside, this dates back to 400 years, when some Nizam Nawabs visit this place to take rest post hunting. It was already 3 PM there and I decided to ride further to find one last activity as they said, is a famous boating there. Thanks to a guy whom I was about to offer a lift, who indeed told me that I was coming in the wrong route, and I turned my bike to reach on to 'Kotapally Reservoir', which is again ~15 Kms (30 min) drive from the temple. It was certainly a turn on in the trip, as they say, the best is reserved for the last :) I thought it would be a normal boating, but apparently, it happened to be a good Kayaking spot. Renting the small boat for just 200 bucks for 30 mins, this was the first time I tried kayaking myself.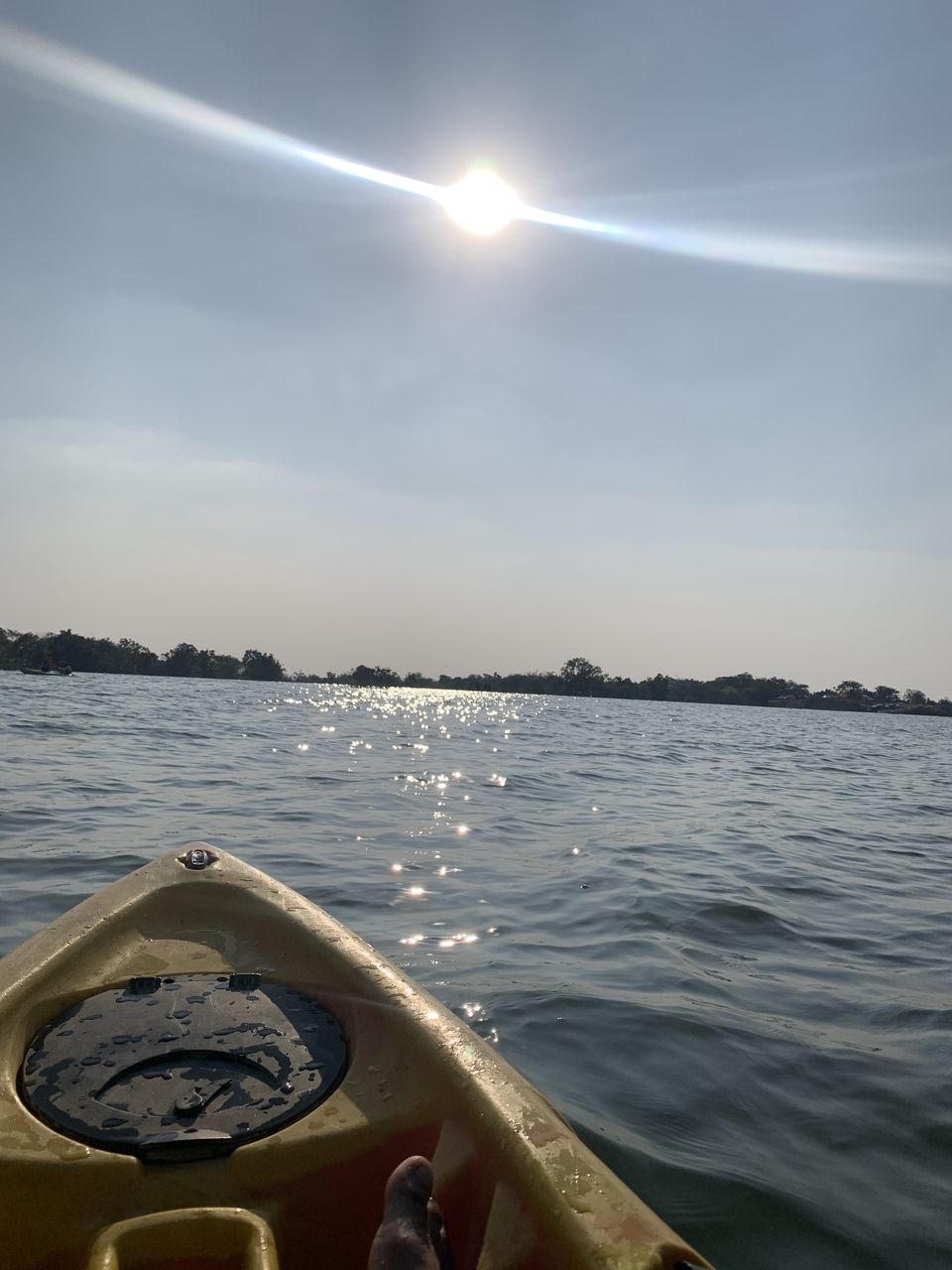 After this kayaking, had some options to eat maggi and other snacks at the place, and then I rode back to Hyderabad. On the way back, you could spot some cotton cultivations and other beautiful yellow colored flowers (not sure of name) to gaze by.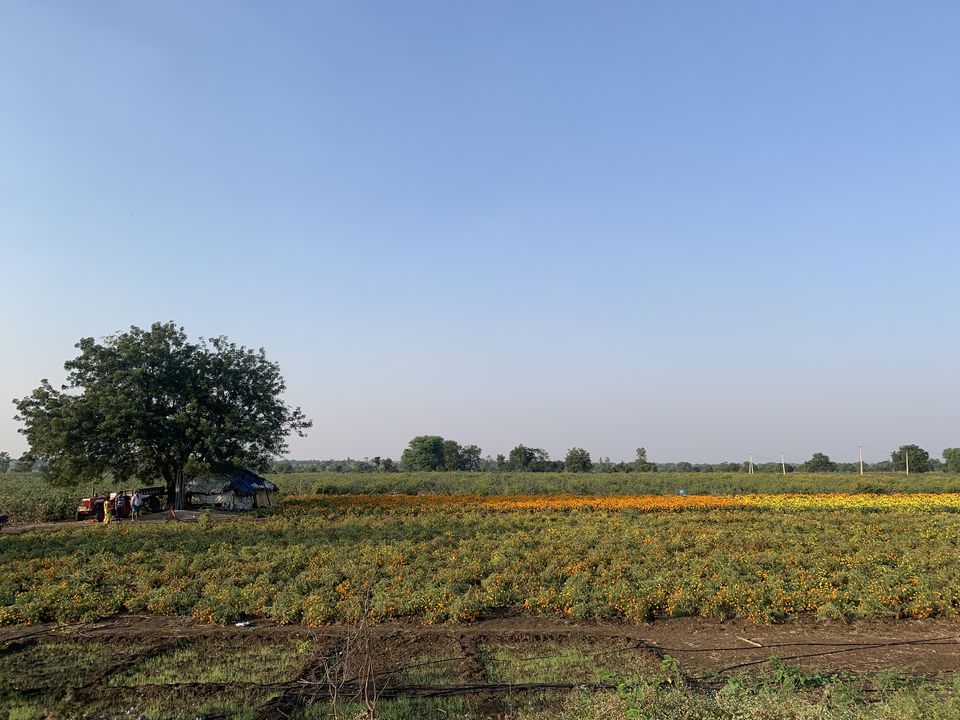 Note: Ananthagiri Hills is just a weekend drive and is more of a dense forest, less of a commercial hill station. You may club the travel with one day stay at Deccan Trails that has some adventure and fun zone activities with them, and is 30 mins before the hills. At the hills, there is only a historic Ananthapadmanabha Swamy Temple, a small Sive Temple that gives a beautiful valley view, adjacent to which is a tiny trek, a water falls which some times is dried up, and finally last but not the least, do not miss out the Kayaking at Kotapally reservoir.