Khari Baoli is a street in Old Delhi, India known for its wholesale grocery. It is the Asia's largest wholesale spice market selling all kinds of spices, nuts, herbs and food products like rice and tea. Operating since the 17th century, the market is situated near the historic Delhi Red Fort, on the Khari Baoli Road. The market is adjacent to Fatehpuri Masjid at the western end of the Chandni Chowk. The history of the spice market goes back to the days of the Mughal era.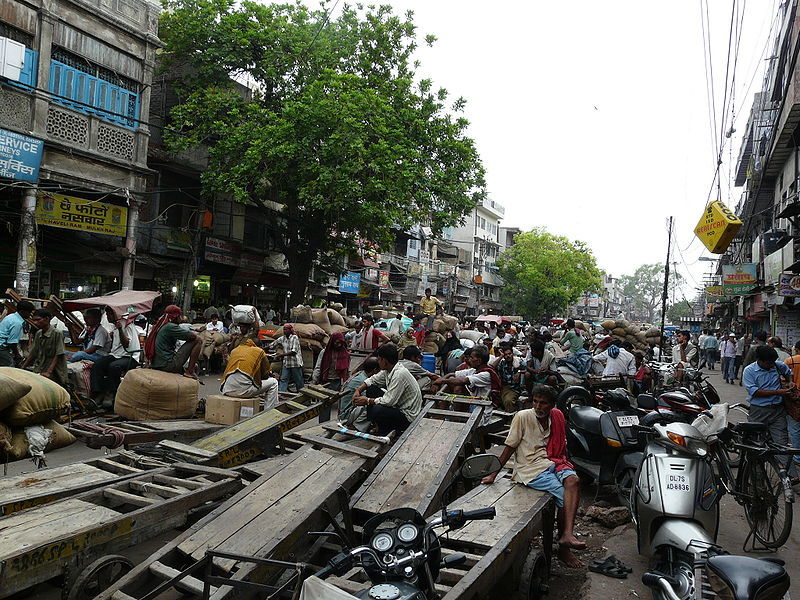 The Spice Market is a well-known locality for the high quality spices and dry fruits. It not only attracts the buyers or retailers but also many travelers, journalists and photographers for the colors it brings out and the lives tied around it. I had heard a lot about it, but didn't exactly have the time to visit the market, even after spending two years in Delhi. It was only when my friend from Germany dropped in to see me, did we plan to check out this local spice street, and his informative explanation triggered my curiosity to explore the same.
Tour to the Colorful Spice Market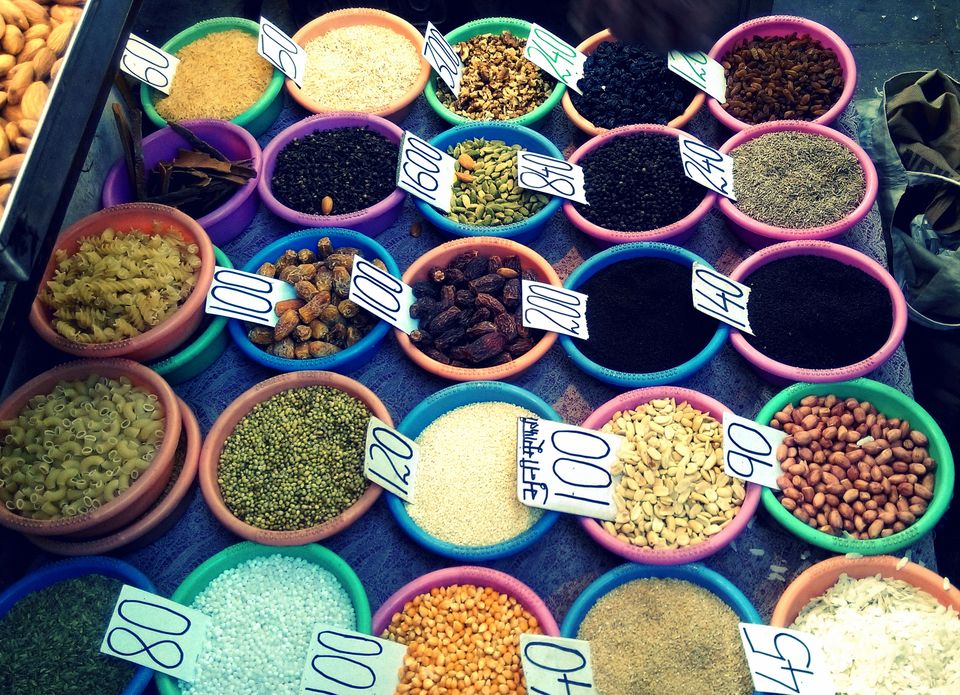 We set off on a Saturday morning. If one is using the metro to get there, the nearest would be the Chandni Chowk station (Delhi 6). From there it is easily accessible with a rickshaw, which would take 10 minutes, without taking into consideration the traffic jam (which is really bad). Old Delhi, as the name says it is very old looking, buildings constructed many decades back, almost falling apart unsystematic electricity extensions, wires and cables creating a hammock above your head with noisy people and intolerable horns around. The city is famous for its street markets and the world famous Jama Masjid and the Arabian food streets which attracts large crowds of people every day.
After bearing an irritating traffic jam, we finally reached the spice street. We could tell with the strong aroma of fresh spices that reached us and sent me sneezing two minutes later. The street was packed with people carrying sacks upon them across the shops. We started our walk from the main building which had multiple stores in it. As we walked in, I noticed that small dishes of various spices were placed in such an adorable manner on the counters for the buyers to try out. It was a range of chilies, black pepper, cinnamon, turmeric and cumin.
There was also a set of dry fruits, walnuts and almonds stacked under the spices. It was very hard to get a picture or two as the counters were occupied with customers, retails shop owners and the sellers were busy packing the bought goods and clearing bills. The spice market sells bulk goods and it's a whole-day job as we were told by the laborers of the building. The second shop was of chilli flakes. Sacks gleaming red hot were piled against the wall and again lot of interested buyers taking handful of chillies and examining it. I could never tell the good from the bad but they seemed to know it from the basics. The shop owner was beaming and looked as red as the chillies. He said the goods come down from Uttar Pradesh, Kerala and also Punjab. "The product chain is unimaginable madam, even I myself do not know where they are grown sometimes!" he said laughing.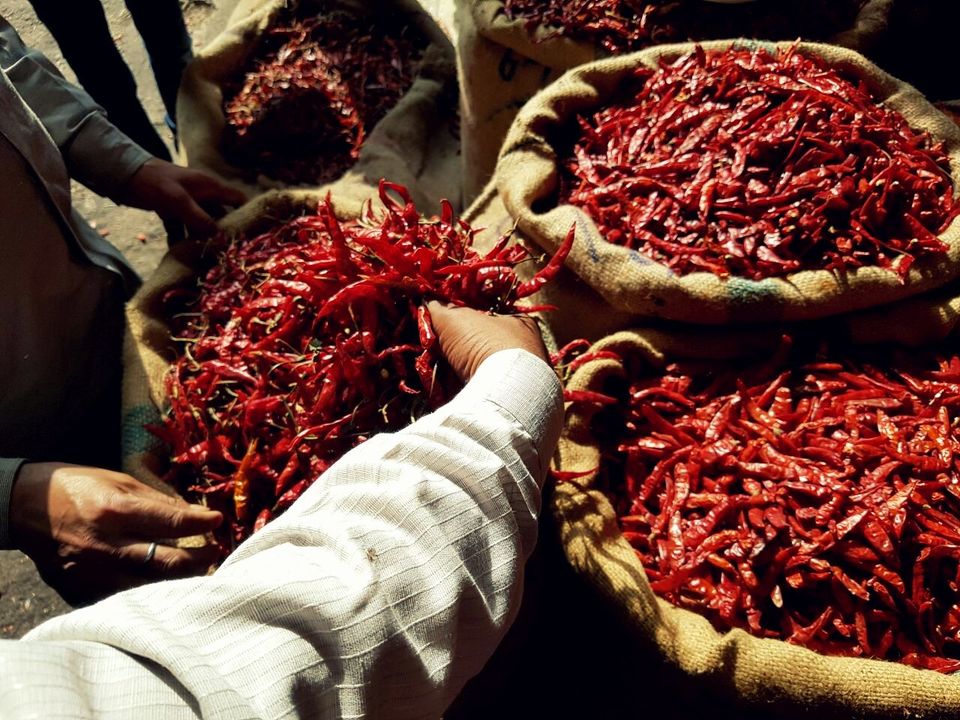 Meeting Chauhan
We visited some more shops in which I saw something extraordinary. It was cardamom but in silver! It also displayed the normal cardamom in green color and I was keen to know the difference. The seller was a cheerful person and warmly offered to explain to us which is which. Cardamom is used in India commonly as mouth freshener. One can find them easily at any restaurant or hotel, offered after a meal mixed with sugar. The thing about the silver coating is nothing but luxury. He told me that it is only to raise the quality of cardamom and it is similar to the silver coatings you find on most Indian sweets. His name was Chauhan and our conversation extended further. "I have been in this business since I dropped out of school" he said, acting really normal about it. "I think I didn't quite complete 5th grade, until I came here to help my father with the selling.
Our shop was not so fancy back then. We sold spices on the road. With God's grace now we are one of the leading sellers here." He allowed me to taste some dates while we were discussing. I was a little tired from being standing and walking and he offered me a chair as well and was so excited to share his story with me. "See, we got walnuts here, but these are not good at the moment. No good business for these." I asked him whether they get it from Kashmir and that I have friends who can get him high quality walnuts. "Oh yes, that's good. You said you are from Sri Lanka? You got the best cinnamon you know. Nothing can beat them really." He handed out his business card to me. "Call me on the walnuts matter, maybe we could work".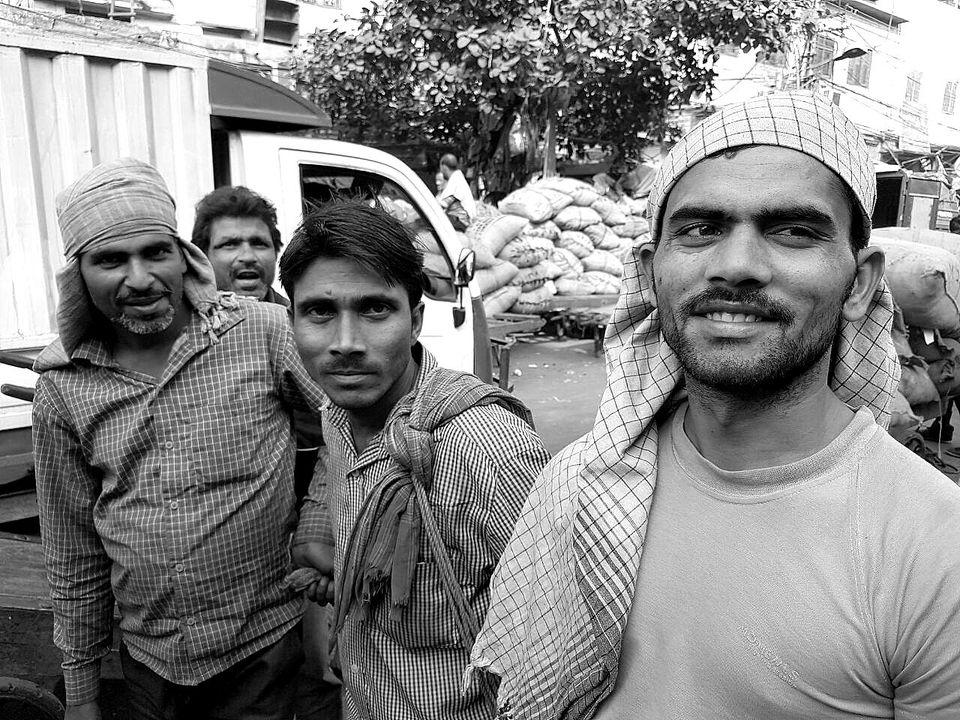 Struggle: Another Side of the Spice Market
I thanked him for the dates and hopped on to the next shop for which I had to pass by many day workers. A group of them were sitting on the road side, sipping black tea. They had long carry carts in front of them in which they normally carry 10-50 sacks of spices. Many were sleeping on the empty ones, shivering in the cold. They all voluntarily stood up when they saw me taking pictures, and I had the chance to talk to them. Some were really old people and I was not sure if they were really fit for a job of this nature.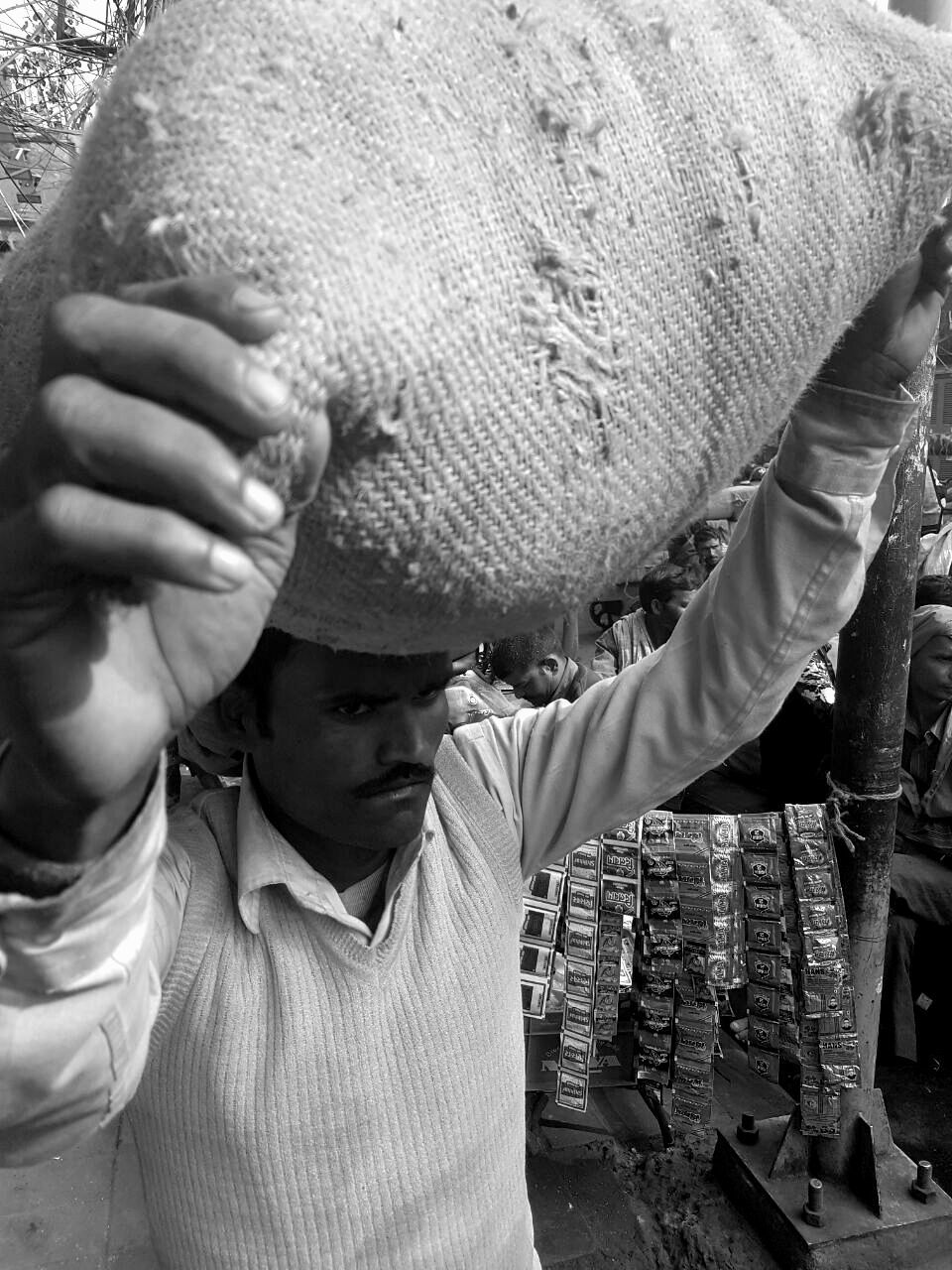 "Do we have a choice? No. I got 5 children, all still schooling back at home and my wife. Delhi is not a place to rest. And after all we got our pals here, got each other's backs" the leader of the team type person shared with me, looking tired but relaxed at heart. "This has become home for us now. If we don't come here, it is a day gone to waste. At least we chill and crack jokes here, we forget our miseries. Because we are all in the same tragedy, it makes you at least feel better", another man said.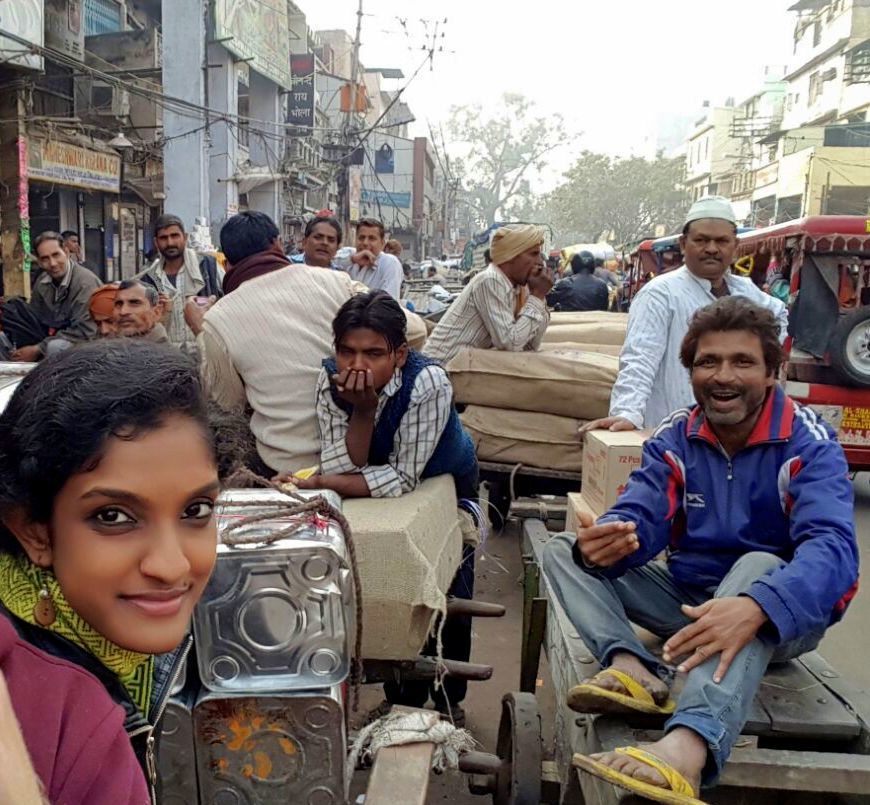 Indian dishes are all about spices and Masalas. People can never do without it. Spice market will always be an eminent feature of Delhi, as spices play a vital role in every function. Marriages, religious ceremonies, national festivals, and the list goes on where spices mark its presence for sure. Even though Khari Baoli is a long street and area, everyone seemed to know each other well. I assume they have all been here from years and have developed a bond among them.
The day at the spice market was an amazing tour for me. But it is a part of everyday life for many, and also a painful one at times. There is so much to learn and discover not only spices but the stories of people and how life is heavy, spicy and vibrant at the same time.