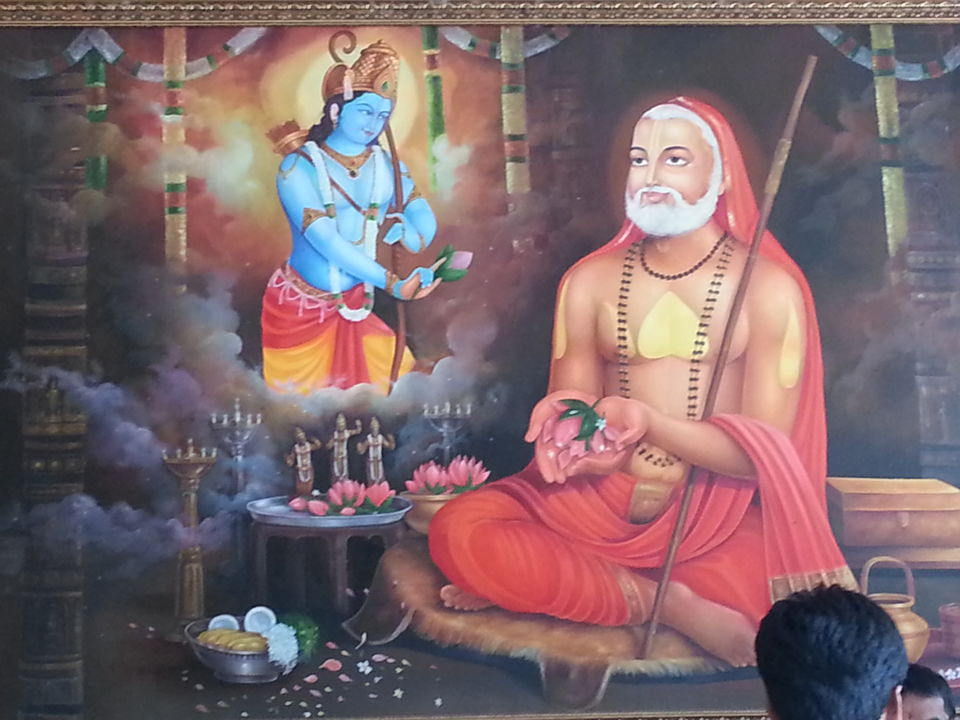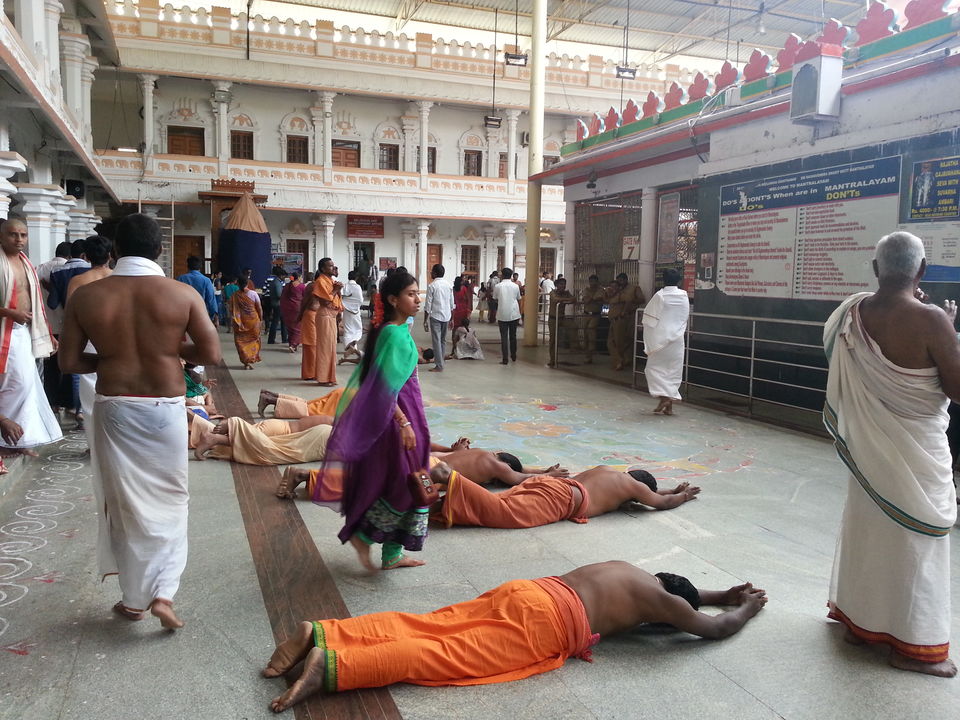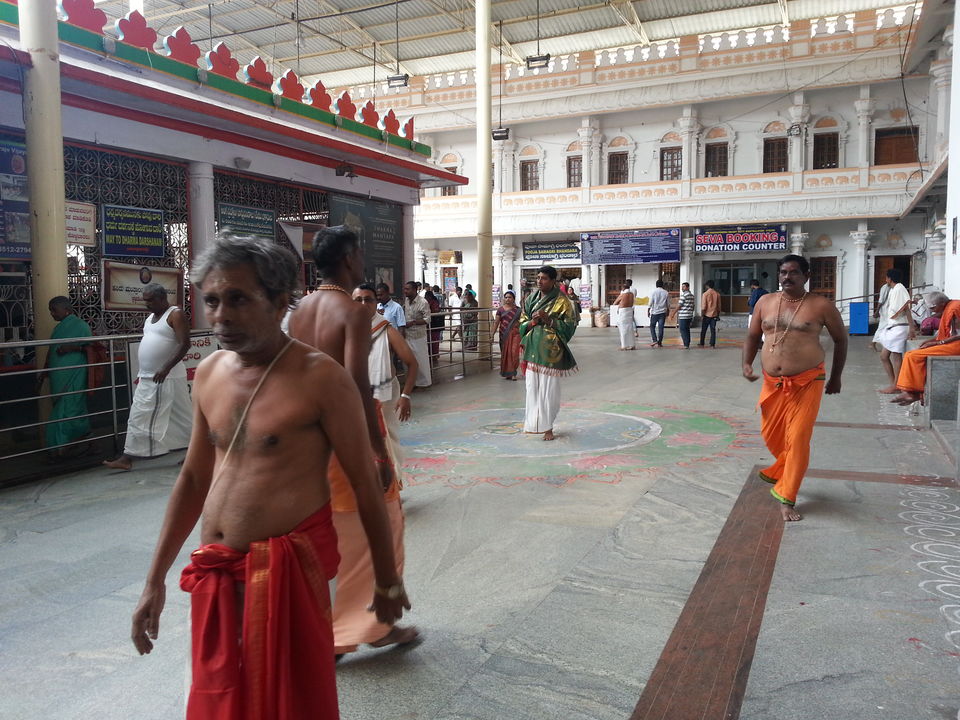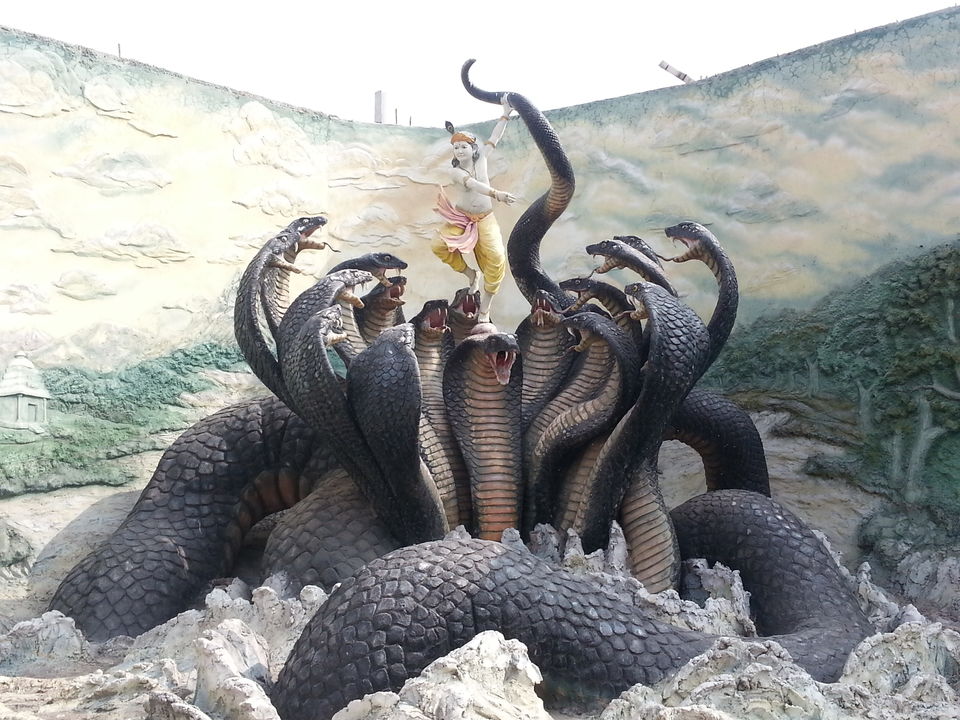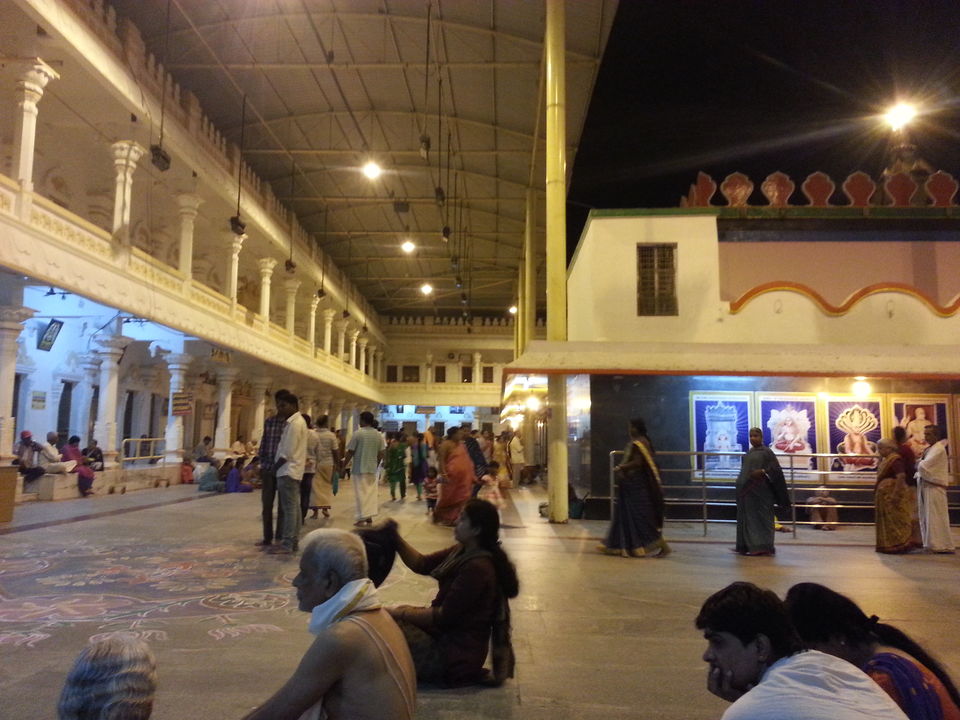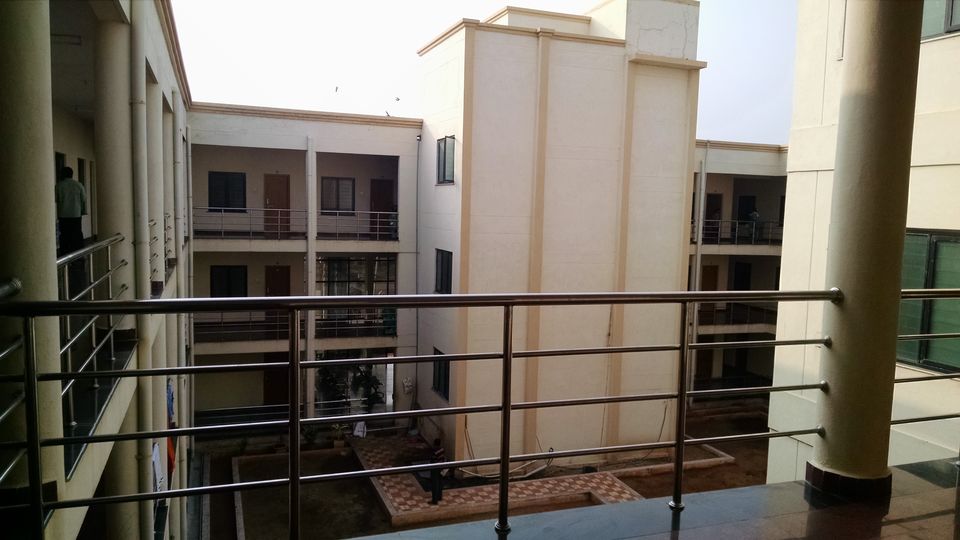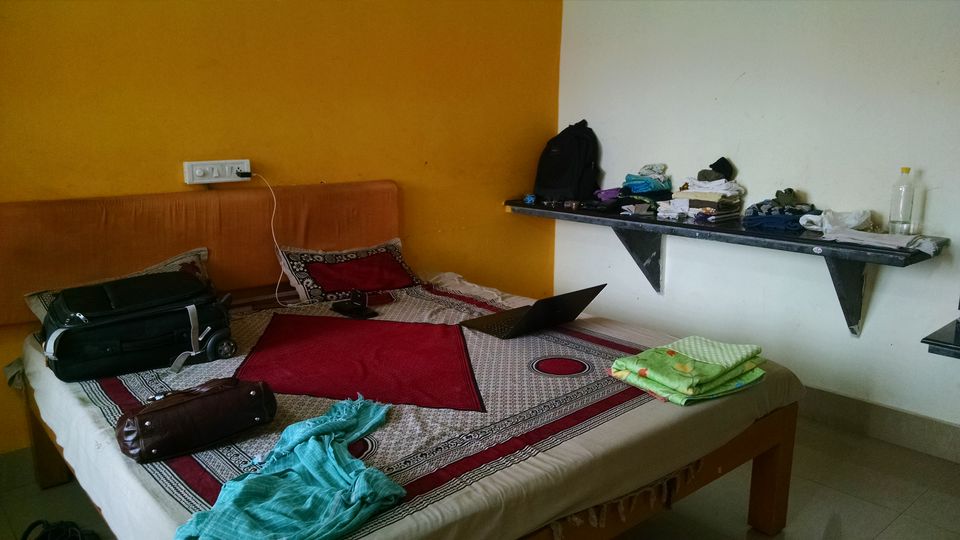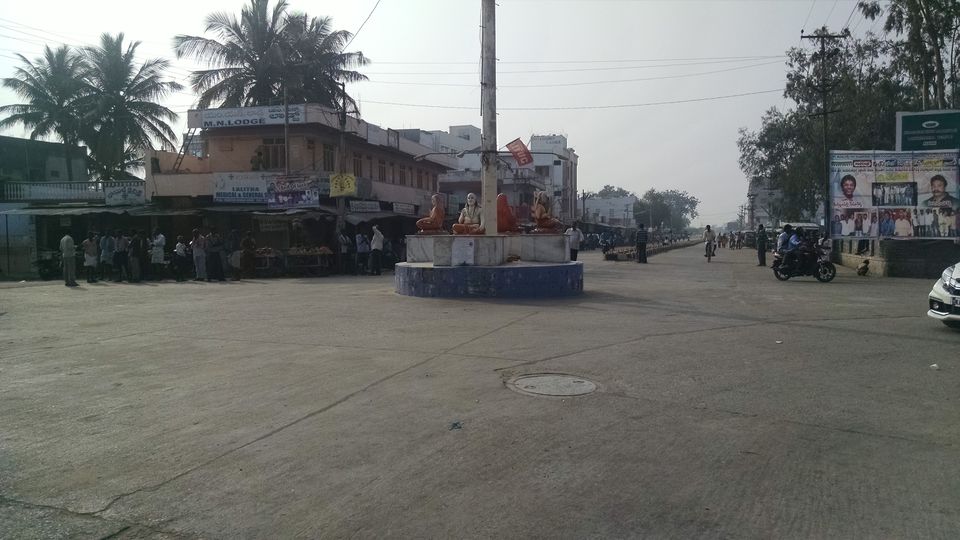 Mantralaya- literally translated means an abode of spirituality. Not many know this small village tucked deep in south Andhra Pradesh (now Seemandhra).
To know more about Mantralaya, we need to travel a little back in time, say about 300 years or so. A saint by the name Shree Raghavendra is the protagonist of our story here. A renowned saint, known to be a messiah of Lord Krishna, followed and revered by millions of devotees is said to be contained in a stone structure that is known as 'Brindavana' in Kannada. Moved by faith, his devotees converted the Brindavana into a shrine that is visible and functional today. People from various parts of the country flock to worship this saint who is still believed to be contained in the Brindavana.
Day One:
My father and I set out from Hyderabad at 23:30 via the Kohlapur express. Air conditioned compartment seats and an over night journey awaited us.The destination was Mantralayam Road, to which the train arrives at 05:30 hours. Duly obeying the Indian Laws of Time, the train reachd the station at 06:10. Cold and shivering, we descended the train onto a cold and surprusingly bustling platform. Amidst shouts of Taxis and Autos (which are available in plenty outside the station), my father and I boarded a share auto.
The journey began on a rocky and twisted road and continued for a duration of 25 minutes. The path was flanked by sunflower plantations, cotton plants and complete darkness for the first 15 minutes of the journey. The sun briskly appeared in a few minutes, making the path instantly beautiful and bright. On a cold December morning, the air whipped against our faces at an alarming rate. Surrounded and squashed by energetic villagers in a share auto, the cold air was a welcome guest. I strongly suggest travellers to carry plenty of wool at this time of the year when they plan on travelling to Mantralaya.
We got down at the main circle of Mantralaya (whose photographs I have attached) and made our way to a lodge by the name DVG 100 rooms. The availability of rooms at Mantralaya is pretty scanty if one doesn't have contacts in prior. We had fortunately booked a room in advance. The lodge resembled a hostel, with rooms set in line. The rooms are big, airy and clean. The downside being, no bedsheets and hot water. Fret not, hot water may not bless you from the taps but you do have angels in the form of maids getting you hot water on demand at a price of 20 per bucket.
After bathing and getting dressed as per 'temple requirements'(men are advised to wear dhoti and women in saree), my father and I left for the shrine which was a five minute walk from the lodge. A beautiful dharshan ensued and we both spent a fruitful couple of hours in the temple premises. The temple has a huge acreage with neat and clean sitting places made for meditation and worship.
We had our breakfast at a pure vegetarian Udupi Restaurant which had some good selection of south Indian cuisine (you wont find many non vegetarian restaurants there due to the presence of the temple). We came back and caught up on our sleep and went for lunch at a small roadside mess, 'Shree Raghavendira Mess' located just near the circle. We were served rice, dal and curd; the staple south Indian food at a very nominal rate of 40 per plate. That place is meant for people who truly love roadside food with no qualms regarding ambience and service quality. 
We had our second darshan from 16:30 hours to 19:30 hours. The whole temple was alight with incandescent lamps, warmth and devotion emitting from the very walls. The temperature was bearable, borderline sweaty. After getting  our empty water bottles filled with mineral water that is available at every second shop for a mere two rupees per litre, we came back to our room for evening coffee at a small shop near our lodging.
Dinner was a simple affair where we went back to restaurant where we had taken our breakfast. The restaurant was small and neat, a good place for tiffin and meals for folks who prefer simple to ostentatious. Order on the lines of Idli, Dosa and Vada.
Day Two:
After a good night's sleep, we woke up at 03:45 for our morning darshan, awaiting the angels who get hot water for bathing. The temperature was well below the average thus, the mere mental image of bathing in cold water seemed like a capital punishment. The helps start arriving at 04:00 sharp and provide the necessary at an impressive speed which made it possible for us to get ready by 04:45 and set out to the temple. The pooja being done and prayers being offered, we were served breakfast at the temple by 08:30. An authentic affair, we were served rice, rasam, sambar, curd and various other dishes on a banana leaf. The food was exceedingly delicious and not to be missed by any while visiting Mantralaya. 
We had our tickets reserved from Kurnool to Hyderabad. Kurnool is situated at a distance of 80 kms from Mantralaya and can be reached through bus. There are buses that ply directly between Kurnool and Mantralaya but they are less in number and frequency as compared to buses from Mantralaya to Yemmingur. Yemmingnur is a small town on the national highway, about 21 kms from Mantralaya. On reaching Yemmingnur, a large number of buses to Kurnool are available. We opted for the latter route since we had missed a direct bus to Kurnool from Mantralaya and reached Kurnool in a mere 3 hours, after changing buses at Yemmingur. The overall travel expenditure by bus was 200 for two people.
We reached Kurnool at 13:00 hours and our train was scheduled to leave to Hyderabad at 15:00 hours. We had our lunch at a restaurant named Gopi. the food quality was average and the cost was a little more than one would be willing to pay for food of that quality.
We waited at the Kurnool station for an hour. The facilities available at the station are non-existent as even bathrooms are under construction and the canteens do not provide any snacks or food that one might consider eating. We had booked ourselves chair car seats as the journey was just 5 hours.
The train stops at 13 stations in between Kurnool and Hyderabad with various vendors and hawkers selling food and other snacks. People who might have not had any lunch owing to the canteen at Kurnool station can heave a sigh of relief as they wouldn't have to suffer in hunger.
Kachiguda was scheduled to arrive at 19:30 hours and we reached at 20:30 hours and set out to Kompally on an auto rickshaw. Make sure to get into one that follows the meter charge as auto drivers tend to charge double or triple the rates in Hyderabad. For a distance 24 kms, we paid 250 rupees; it was a steal considering the rates at Hyderabad.
On the whole, this trip was very similar to a backpacking trip where one dines and travels as per the conditions available at spot. The darshan and pooja at the temple are worth visiting, the temple premises are beautiful and makes one feel at home immediately. Please be sure to book a room before you reach Mantralaya as room availability is very scanty in that part of the state. 
Shree Raghavendraaya Namaha!!