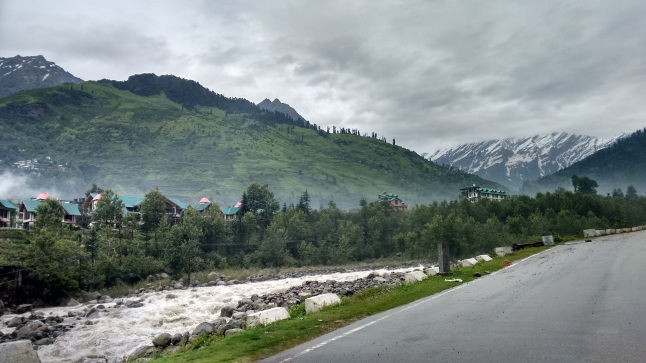 We had to start our journey today and I was super nervous.We started at 7 am the next morning. We had to reach Koksar in Lahaul valley by 1 pm and stay there overnight. We hoped it would give us some comfort on the motorbike and help us accustom to the altitude. It had rained the entire night and we feared encountering slush and potholes on our way. The morning was cloudy. Soon after we checked out, we were racing along Beas, against its flow towards Rohtang. I was scared till death and holding Kartike with all my might. The wind was chilly but as soon as we crossed Gulaba checkpoint, we witnessed beautiful green meadows on our way. The scenery was out of the world. I had seen this route earlier too, but on a motorcycle, you are a part of the view rather than watching it. I was mesmerized by green meadows, high rise pines, flowers of every color possible, herd of sheep being hoarded by mountain dogs. It was all too good to be true.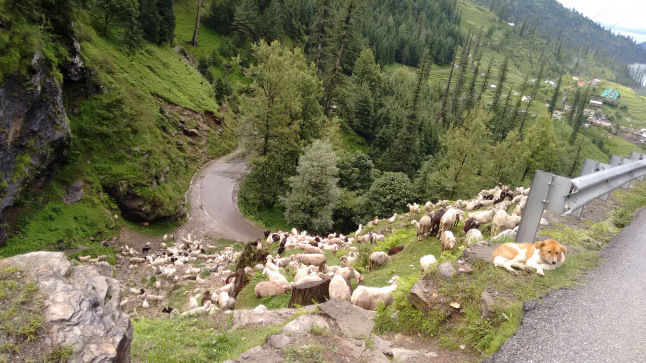 We reached Marhi at 9 and halted for breakfast. Marhi valley is at 10000 feet and offers panoramic views of the entire valley. This valley is also famous for paragliding but Green tribunal has banned all sort of human activity in order to bring about ecological balance and reduce the deterioration of the environment.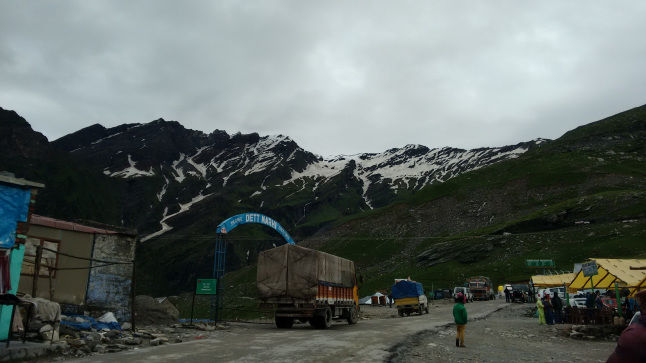 The wind was strong and it was difficult for us to stand steady. After clicking some pictures we had piping hot tea to soothe our insides and some omlet and aloo parathas. Without wasting much time we started for Rohtang. By this time we had become more confident and I had become comfortable on the bike and had started to enjoy the breathtaking beauty around me. Thr road was more or less quite smooth with few potholes on the way. We reached Rohtang taxi stand around 10 am. It was completely barren unlike the last year when it had looked like some sort of fair being held. Thanks again to the Green Tribunal, the sanctity of the Pass is much more than a party and picture snapping spot. It was much calmer, cleaner and soothing this year with hardly anyone to be seen. All recreational activities like photo shoots, climbing the surrounding mountains on donkeys etc. in the name of tourism have been banned.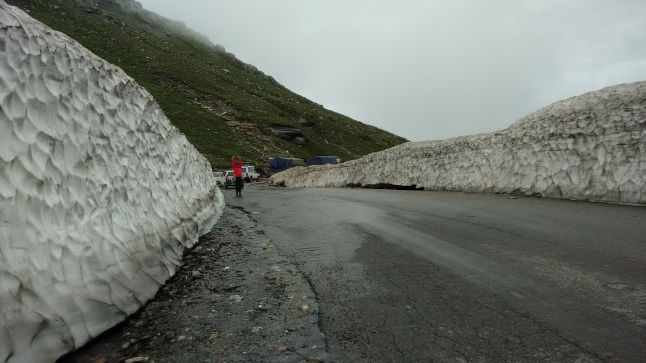 We halted for 5-7 minutes as the altitude change was rapid and we were facing slight breathlessness issues, due to extreme cold and rapidly increasing altitude (I am asthmatic). Soon after the sun showed up from the clouds and moods lightened up, confidences soared high and climate became warmer and bearable.
We crossed Rohtang like a cakewalk and the route post was literally like walking on a mudpie as we were riding in into pools of slush and mud throughout. It was extremely risky and we had to drive very slowly. Most of the times I had to walk along the bike rather than riding pillion as it was easier and I would not fall down in muck. It was more like a picnic as we were mostly walking and dragging the bike through muck, looking at the beautiful scenery around and chatting and munching on chocolates. The landscape was transitioning slowly from lush green alpine to mix of green and rocky. We were entering the Lahaul valley from Kullu valley. I had never seen nature so magnificent and splendid. I didn't know I was for more surprise as I would enter the Spiti Valley.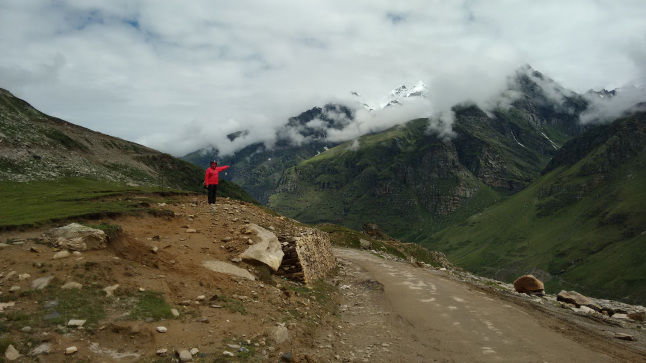 We reached Koksar after crossing some streams and puddles by 11 am and were welcomed by warm bright sunny weather which uplifted the mood instantly as for the last 2 days it was raining and cloudy. Koksar is a small settlement around 55 kms from Rohtang pass on the other side. We had booked a room in PWD guesthouse which was the last comfortable room we would enjoy throughout this trip. We immediately dumped our stuff in the room and took a stroll.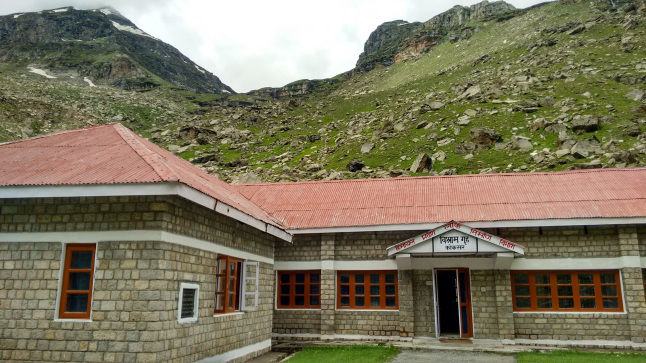 Koksar is not untouched by human activity and lot of construction projects are coming up. The town is on the banks of the mighty Chandra River. We crossed the river and located some dhabas which were the major halt points for truck drivers.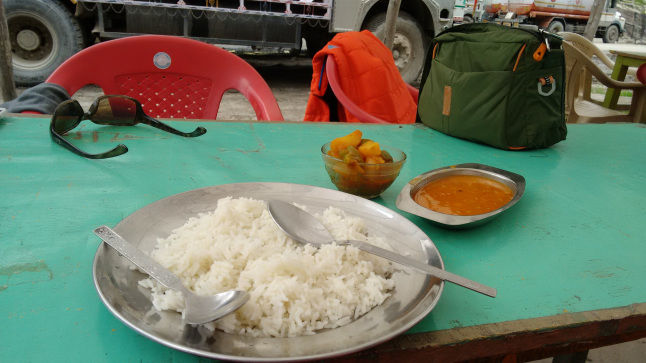 Lahaul Valley is majorly Hindu dominated and we saw the influence on food. I was surprised as I thought Lahaul Spiti would be thronged by Buddhists. The Dhaba wala explained to us that Lahaul was Hindu dominated while Spiti was completely Buddhist. Interesting. How we make our notions about far-fetched places until we visit them or read or learn about them. After a sumptuous meal of Daal rice and Aloo ki sabzi we roamed around, sat and chatted besides the river, captured some beautiful surroundings.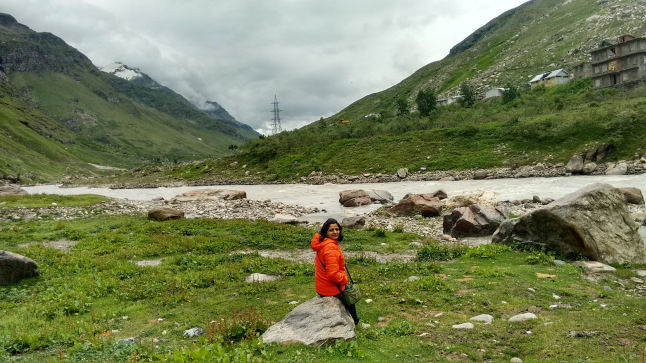 We took a nap for 2 hrs and stepped out again around 5 pm. We chatted with a local shop keeper and were amazed to learn how simple yet harsh the lives are for them. November to May the valleys are covered with snow and there is no way to connect with the rest of thw world. Food and other essentials need to be stalked. Old people shift to palces with lower altitudes. Many migrants go back to their homeland during the off season- Nepal, Tibet etc.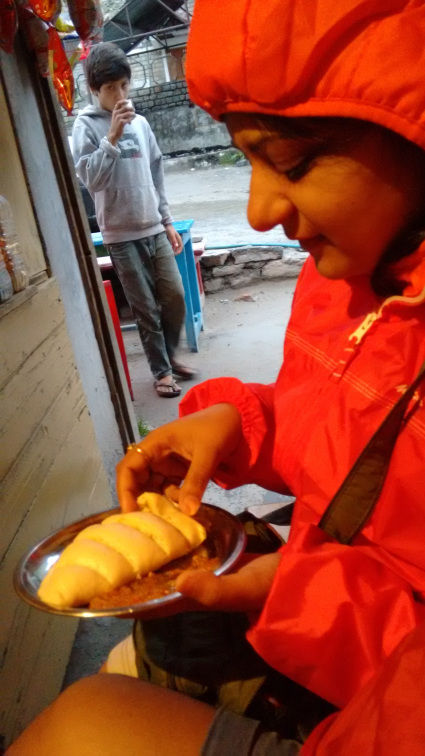 The owner was around 20 years old and had two younger brothers who were hopping around in the small set up. It was raining outside and the weather became very cold; so he offered us tea and Siddu momos to keep us warm. They were the best momos I ever tasted.
It was a beautiful day spent. We met a group of fellow bikers who were heading to Leh the next morning. They applauded our courage to heading alone to Spiti in such weather conditions as the road condition was extremely pathetic. It scared me a little inside but now that we had taken the plunge there was no pint getting worried.
There was no mobile network so we borrowed someone's phone to call the parents (Only BSNL networks work after crossing the Rohtang Pass). The room was sans TV. We played some songs on the phone, had some rum to keep ourselves warm and skipped dinner. By 10 pm we had retired to sleep as the next day was to be a long one. (12 hrs ride to Kaza). With lot of apprehensions I finally managed to get a not so sound sleep with the roaring sound of Chandra River in the background and weird dreams that the motorbike has fallen in the river and that we were lost in Spiti Valley while it had turned dark.
The alarm went off at 5 am and I was never so delighted to wake up.