Everyone has a bucket list and I have mine too. When I used to go through my bucket list, Spiti was right at the top. But for whatever reason I just could not tick it off from my bucket list. Finally, after quitting my previous job and before taking up my new assignment, I decided to take a months break and start ticking off things from my bucket list.
So with without much planning I ventured out to explore the nature in its purest form which can still be found in SPITI.
I charted out my route map and decided to explore the valley the way I love it i.e. on a bike. There is something about riding a bike in mountains, I don't know what but it just gives me a different adrenaline to push myself. On GPS it may show that it will take not more than 22 hours, but in real it can take up to a week to complete this entire circuit.
So with my bags packed, with sufficient fuel for the journey and with other required accessories for my ride I started my journey from Manali. Make sure you have enough fuel before you leave from Manali as there are hardly any petrol pumps on this entire route.
The minute you leave Manali and make your way up the hill you will be left in complete AWWW! The view is just breath taking and with every turn on the road you will want to capture it in your camera.
As I went up the mountains my excitement also reached a new level. I always wanted to drive through Rohtang Pass as the name was fascinating for me - ROHTANG!
I never knew what it meant before I reached there. Rohtang basically means "Ground of Corpses" due to number of people who lost their lives while crossing it! But that should not stop you from exploring this beautiful valley.
This video might just wake up the wanderer in you :)
Make sure you carry right accessories if you are planning to explore Spiti on Bike. I made a huge mistake of not carrying the right shoes for my trip and it was a disaster on first day.
Also, after crossing Rohtang, make sure you read each and every instruction board. You will find many bikers on this route and most of them would be traveling to Ladakh. So you may think that they are also going to Spiti and you will start following the troop. There is a really small right turn at Gramphu which you can easily miss if you are following other riders. Just to be sure about the route download an offline map on your phone and I can tell you that will be the guide you will need on this route. Once you cross Rohtang, you will have no network on your way till the time you reach Chicham.
I wanted to reach Batal on first day but due to diverging from my path, I could only reach till Chhatru. I decided to leave early from Chhatru as one fellow rider whom I met at Chhatru warned me about the rising water levels of the water crossings which tends to increase as the sun comes out.
I told you there is something about riding through mountains and one of the things is about making new friends on your way. I met 4 bikers who were also going to Chandrataal and over a drink we shared our stories. They were really good riders and hence they left a little late after me.
I reached the first water crossing and I can tell you, you will need an extra hand to cross this "treacherous" water crossing. I was lucky enough that they were right next to me while crossing it. If they wouldn't have been there I would have got stuck there and don't know for how long. But as they say after every difficulty there comes the real beauty - don't know if anyone said this, if not, I made this saying :)
The view through the valley was incredible and my phone is full of pictures from this stretch of the ride.
Just look at this picture - it reminds me of the painting we used to do in early days of our school.
I reached Chandrataal and you do have to walk a few miles before you reach "Lake of the Moon". With lack of oxygen you might feel dizzy. Have chocolates if you are feeling dizzy - my friend recommended me this option and it surely worked. The first sight of the lake was mesmerizing!
We sat here all day long and few of them did take a dip in freezing cold water, they absolutely went bonkers after seeing blue water as they were from UP :)
We left from Chandrataal and headed towards Chicham. The roads to Chicham has their own ups and downs. On one hand the view is beautiful but on the other hand the roads are not that good. However, the view takes over the roads and that is what kept us going :)
The roads after Chicham is fairly well constructed and that is the time you will start enjoying the ride. The view just keeps getting better as you approach Kaza.
There are 2 routes to reach Kaza - Make sure you keep checking with the locals to stay on the right road which has just been constructed and hence you will not find it on your maps. This route will surely save lot of your time as you will be able to explore Kibber and Key Monastery before you reach Kaza.
I had always seen pictures of Key Monastery by other travelers and I always wondered when will I see it. I can say it is the most peaceful place you can be at. The kids here are just wonderful and we did make our own cricket team here :)
We reached Kaza and this is the place to be. You will find good cafes, live music, really fresh food which will help you to relieve the hecticness you would have experienced before reaching here. I would definitely recommend to go to "The Himalayan Cafe", this is where all the action is.
After enjoying some live music and good night sleep, we ventured to explore the 3 most beautiful places that Kaza has to offer i.e. Langza, Komic (Koumik) & Hikkim.
We traveled to Langza to see the highest buddha statue that the valley has to offer.
We then traveled to Komic which is the highest village in the world that can be reached through a motor-able road.
You will also find world's highest restaurant here and the food here is incredible. They use only organic food items and that is why it has been named as "The Organic Kitchen".
After Komic, it was time for us to explore the best place in the entire valley and the place which has fond memories in my mind - Hikkim. Hikkim has the highest Post Office in the world and that is what it is known for. People of this village are the purest souls I have ever met. It is not a big village but it will surely leave a big place in your heart.
You can also meet the highest post man in the world Mr. Rinchen Chherang, who still post messages on wall, Not on facebook though :) You will be lucky if he agrees to click a picture with you. I was lucky enough I would say.
You can also post a letter to your loved ones. I posted a letter to my parents, expressing all my love that I have for them.
Once you leave the village you will find a small tea stall right outside the village. You should definitely have honey lemon tea here and I can assure you it will be the best one you will ever have.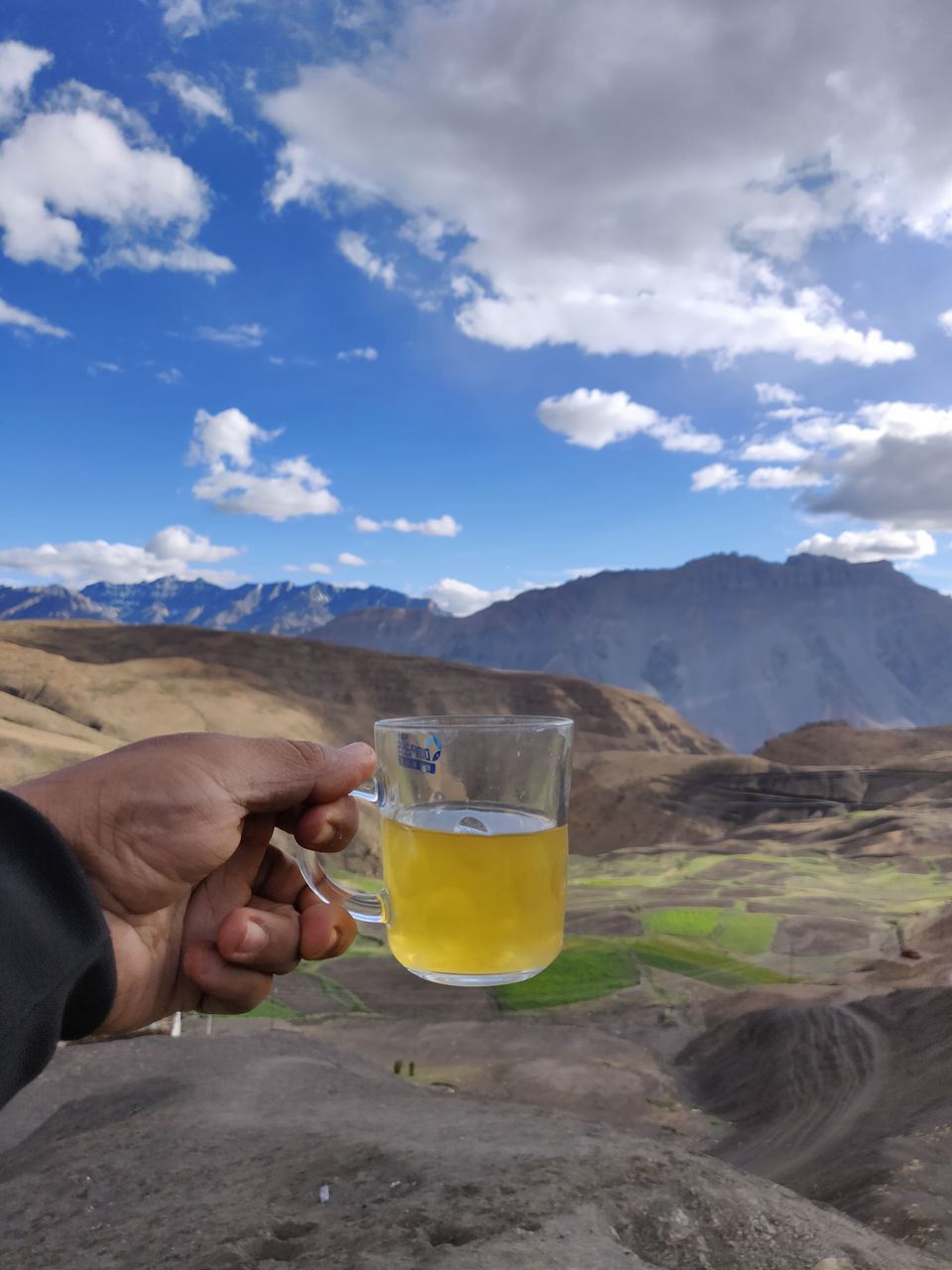 After spending a night at Kaza we headed to our next destination "Mud". A village that offers the most scenic view. Village were people are self sufficient by growing their own food and the only income that they generate is from travelers, so avoid negotiating the price for the room or food :)
The view from my room was worth a million. You can sit here doing nothing and still be occupied with nature and I can bet you on this.
The food here is delicious and fresh. Even the regular rice and aloo mutter will taste extra ordinary. It's may be because of the different spices that they use or because of the freshness of vegetables. Whatever it may be, it will surely taste great.
After Mud, we headed to the last pit stop of our trip "Chitkul". But even before we reach Chitkul we had to go through other interesting places. The first one was "Dhankar Gompa" - Place where His Holiness Dalai Lama stayed during 1984. You can also check the cave where Dalai Lama meditated and it is quite fascinating to see that.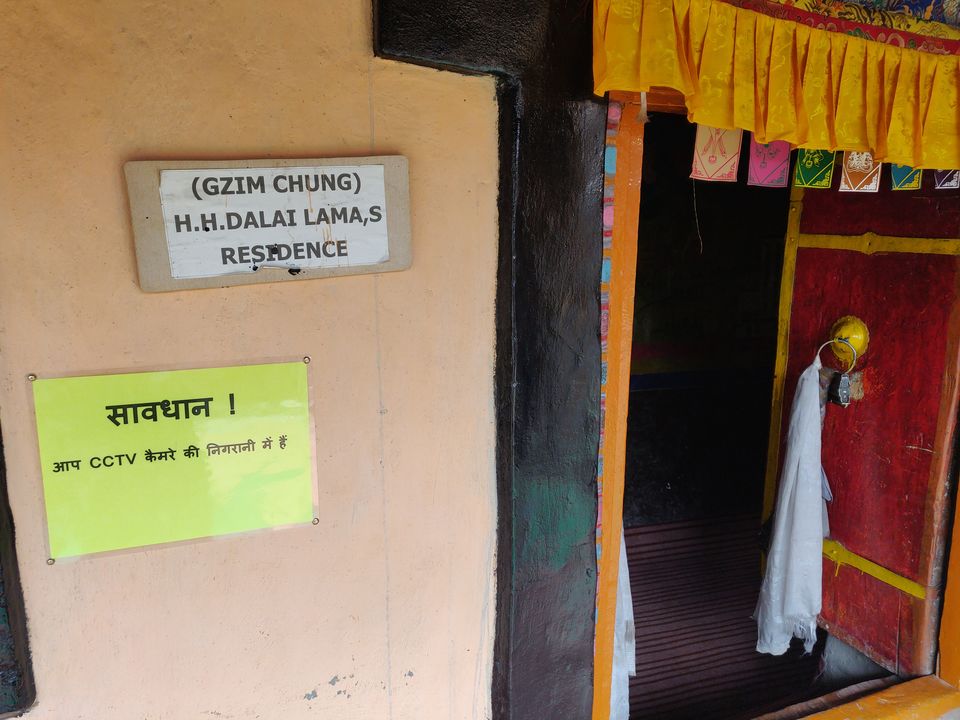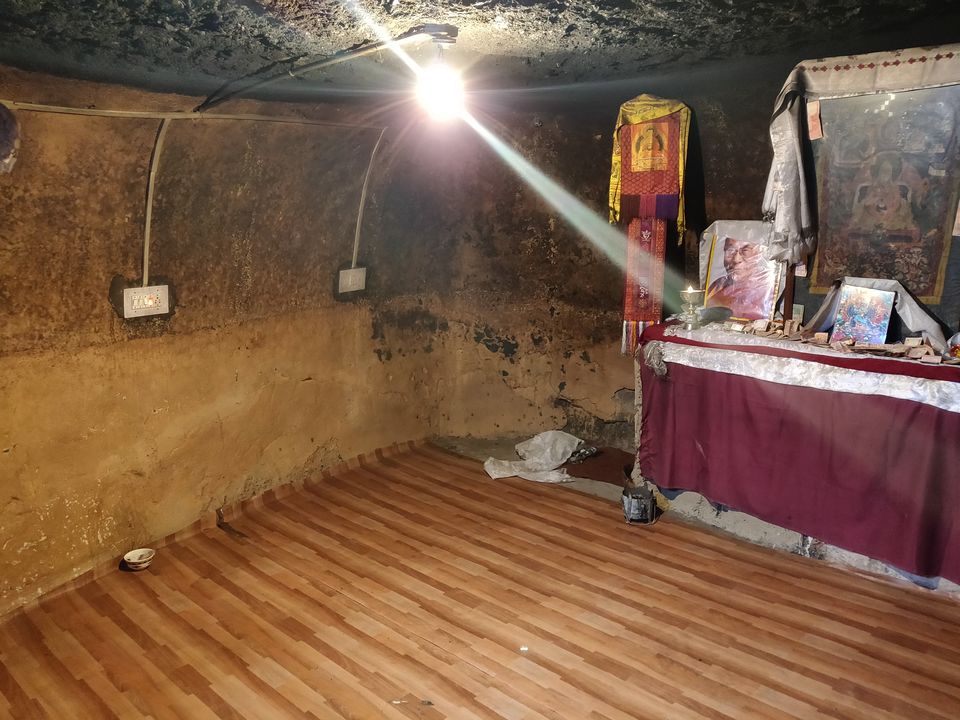 After Dhankar, we had to take a break at Nako as the route from Mud to Chitkul is really long and being the only rider I couldn't finish it in one stretch. The break turned out to be really good. For the first time I got to eat Tibetian Sandwich which was delicious and also the view of the valley was breath taking.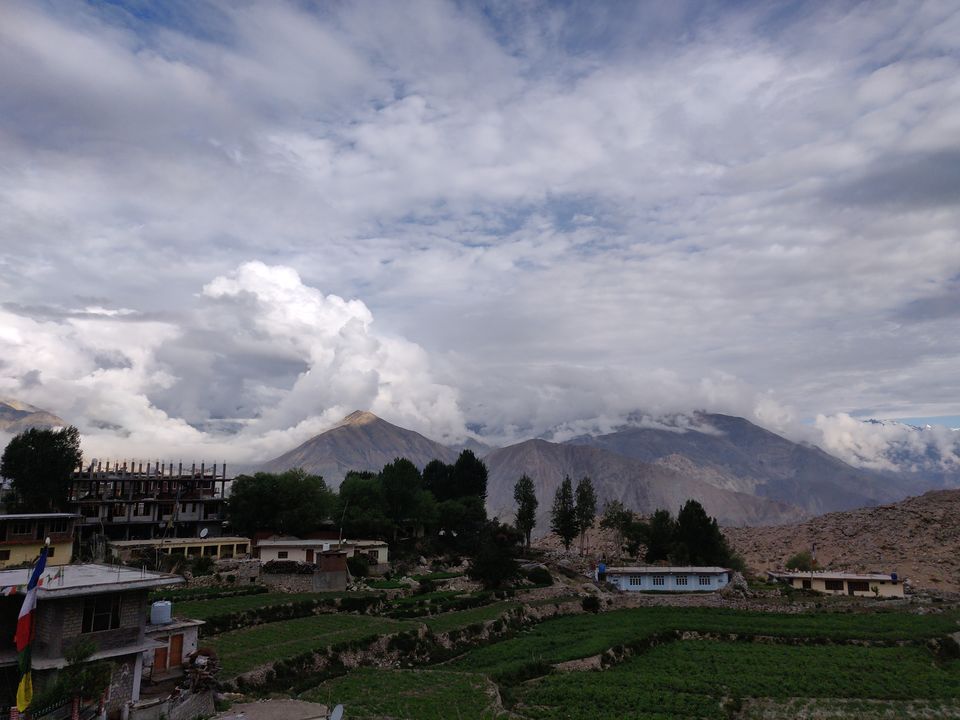 And after Nako, the most exciting part started. We headed to Chitkul better known as Last Village of India before Ind0-China border. Reaching Chitkul wasn't easy. Met with couple of accidents, burned my leg, going through Zig Zag roads at a really slow speed which took me really long to reach Chitkul.
But the below pictures will tell you why going through all the pain is all worth it :)
To have a best experience of Chitkul you must stay at Zostel. The food here is amazing and it is the best place where you can meet new people and make friends for life time. I met few of them and knowing how they travel is just unbelievable. I met Mihir Umarye, the person who knows how to travel. A goan who was a data scientist in Bangalore, who gave up his job for his love of travelling. He has been traveling for last 8 months now. An avid trekker and most of all a great person to have conversation with. You should definitely check out his Insta Feed (below)
He taught us how to take amazing pictures in dark and that too on your regular smart phone which was incredible.
Below are the pictures from our Zostel Stay. Zostel here is really well maintained - it's clean, serves really great food, great hospitality, good beds and most of all the best common room.
You can actually go for a small trek near by which leads you to the last check post before the Ind0-China border. After that there is no habitation for next 60 kms and you will be in a danger territory. Stay at Chitkul was really amazing and If possible I will surely surely surely go back. After Chitkul, it was a long and rough journey back to Manali. With construction sites all along the way, the faces were full of dirt before reaching Manali.
Manali is a beautiful city and the view at night is just incredible. If you have to spend few days in Manali make sure you stay at Old Manali.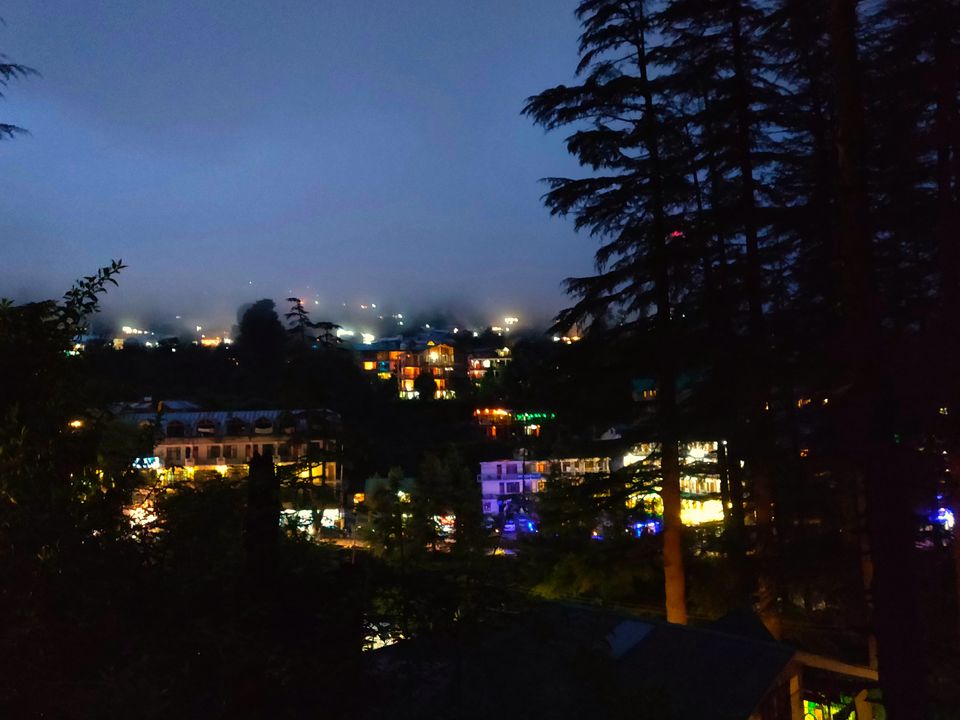 There are really good cafes to explore and the walk up the street is really amazing. You can sit here for hours, talk to new people, explore different cuisines and much more, No one will ever ask you to check out.
There are so many other stories I have and I cannot express it in words. Traveling through Spiti helped me realize many things and I got to know myself better. It is an experience I will never forget and journey which is worth remembering every single bit of it.

Before I start the next journey, it's time to say "Keep Traveling, Keep Exploring"
Until next time - The Tripster!