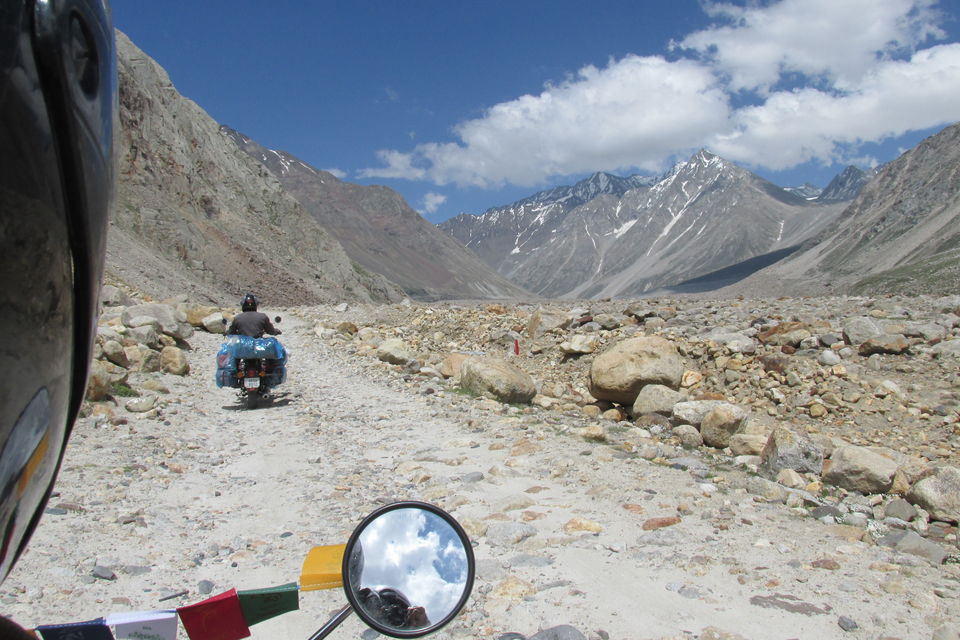 Spiti Valley a cold desert mountain valley is located high in Himalayan mountains in Himachal Pradesh. Spiti Valley is considered to be undiscovered so I decided to discover the Spiti as I like to visit places that are not much crowded. For reaching to Spiti Valley one has to reach the village Kaza. I with my two friends decided that we should go for a bike trip. We didn't done any bike trips before that long, so this required a quite searching.
Spiti can be reached from two sides one from Shimla and other from Manali. The road from Manali opens in June. So, after a extensive searching regarding the place we made our plan from Manali - Kaza - Manali as we had a time limit.
Also only BSNL mobile networks work in the Spiti Valley. You should own at least one BSNL sim.
The whole trip is summarized in a video below:
The route to Spiti from Shimla is as : Shimla – Narkanda – Kinnaur Valley – Tabo – Kaza
From Manali it is as : Manali – Rohtang Pass – Gramphu – Chatru – Chota Dhada – Batal – Kunzum Pass – Losar – Kaza – Tabo
I started my trip from Ahmedabad, took a flight to Delhi. The adventure started from Ahmedabad itself as our flight got cancelled luckily we were able to book other flight on the same day thanks to GoAir. I with my friend reached New Delhi around 12 noon. Our bus to Manali from Delhi was at 22:30. We managed to book a hotel near airport where we passed our half day.
The ISBT bus stop from airport is around 25kms, we took airport metro from Delhi Airport to reach ISBT
Reaching ISBT bus stop : For catching metro from airport one has to reach aerocity metro station which can be easily reached by shuttles operating at airport. Catch metro from Aerocity to New Delhi and change from New Delhi to ISBT. The bus stop is just outside the metro staion,you can reach easily as it is mentioned every where. We reached ISBT bus stop at around 21:00 hrs. where we met our second friend. We had our meal in McD and boarded our bus at 22:30 hrs. The bus was Tata Himgaurav HRTC which was not good as Volvo.
After a continuous journey of around 14 hrs by bus we reached Manali at 11:30 AM. Our hotel was booked in advance. The hotel was named as Khusboo resort and was 3 to 4 kms from Manali ST bus stop. The hotel was good. So, we reached our hotel at 12:30 PM. We got freshed and next task was to hire bikes and booking hotels for Spiti Valley. As I searched earlier about the rent of the bikes and situations regarding hiring bikes, this helped me a lot.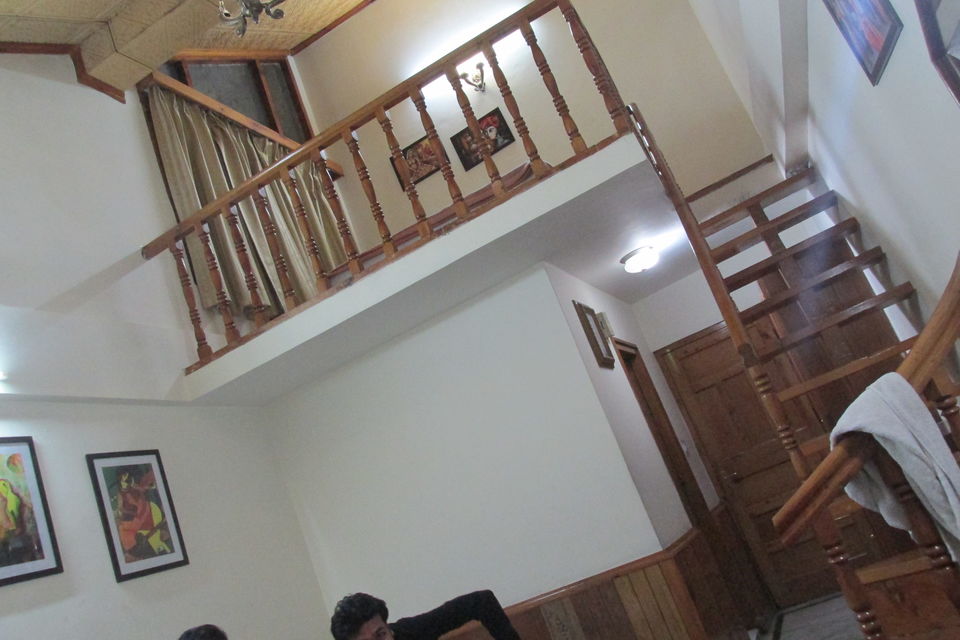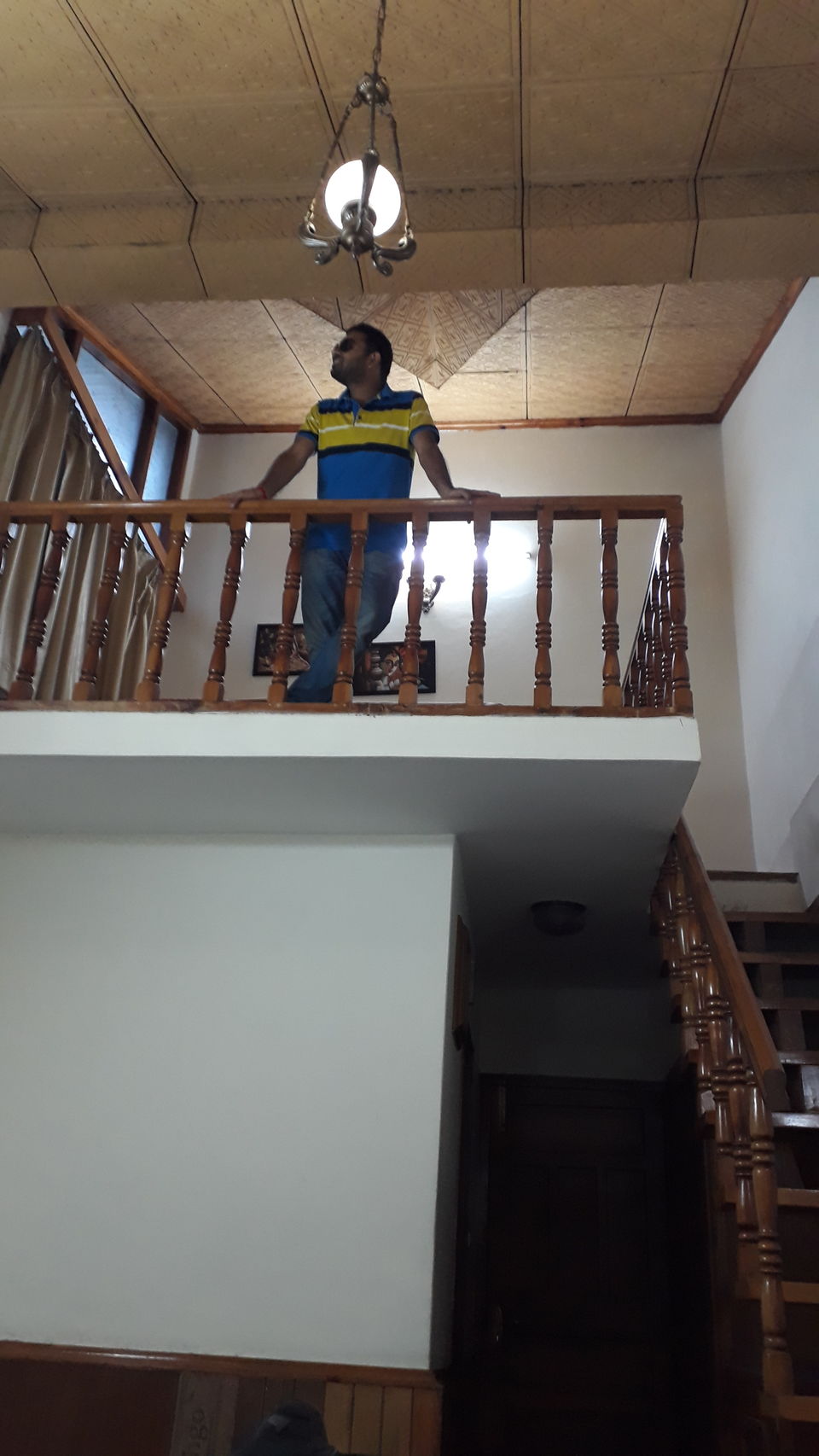 We talked with a tour operator who made our trip easy. The tour operator charged us Rs 10000/- per person, the charges included the bike rent for 5 days and accommodation in hotel for 5 days including meals i.e. breakfast and dinner. As we are 3 persons so we opted for 2 bikes.We discussed about the condition of roads and how to reach the Spiti Valley with our tour person. He told us that Spiti is totally offroad and you should have taken one more day extra. Hearing about the offroad we got excited thinking of much adventure we would get.
Permit required for crossing Rohtang Pass : Also, important to note that every vehicle crossing the Rohtang Pass has to take permit. Permit can be booked online only before two days. Our tour operator done the permit part. You can easily get the information regarding the Rohtang crossing permit, just google it.
Acessories for bike ride : After booking our bikes we required some accessories for riding the bike. Firstly we buyed a 5 ltr. CAN for carrying the petrol. Other accessories includes gloves that can prevent from cold, ropes for tieing our luggage,tarpaulin to cover the bags as the road to spiti is filled with dust and water crossings. We didn't buy the water proof boots which was the mistake, so do carry one pair of water proof boots.
Finishing the accessories part, we spent some time in the mall road of Manali which was very much crowded. We had our dinner in some restaurant in Mall road and went to our hotel. We needed to sleep early as next day we have to leave early for spiti.
Manali to Kaza (203 kms)
We woke up at 4 in the morning. The excitement of the trip helped us getting up early. The worst thing happened was the rain,it was raining early in the morning. We waited till 6 AM hoping rain to stop,but no luck. So, we decided that we should start our trip in rain as we have to reach Kaza in time. We tied our luggage on the bikes and were ready to roll. Luckily the rain stopped at 7:30 AM. We planned for leaving at 5 but due to rain we managed leaving at 7:30.
Firstly we got our both bikes filled with petrol approx 13 ltrs and one CAN 5 ltrs. As on the road to Kaza you will not get any petrol pump.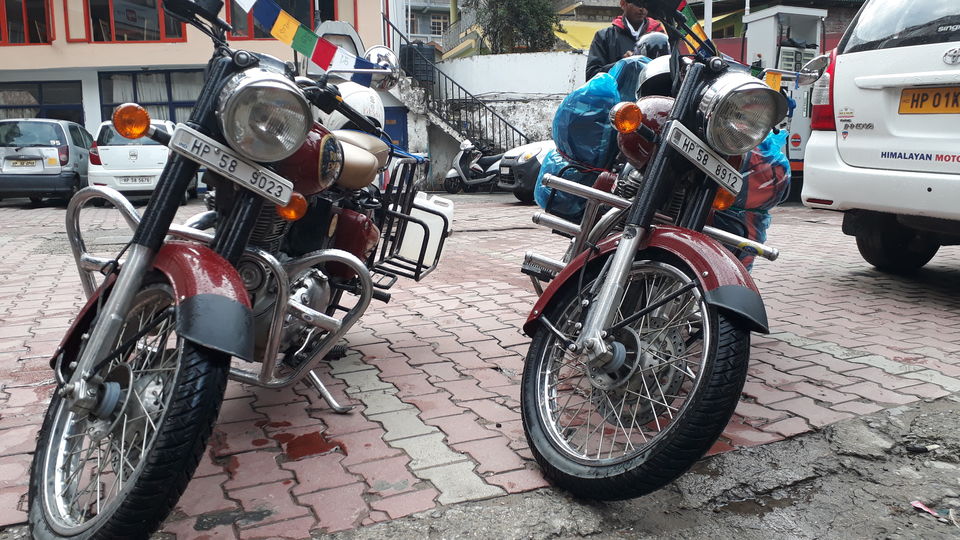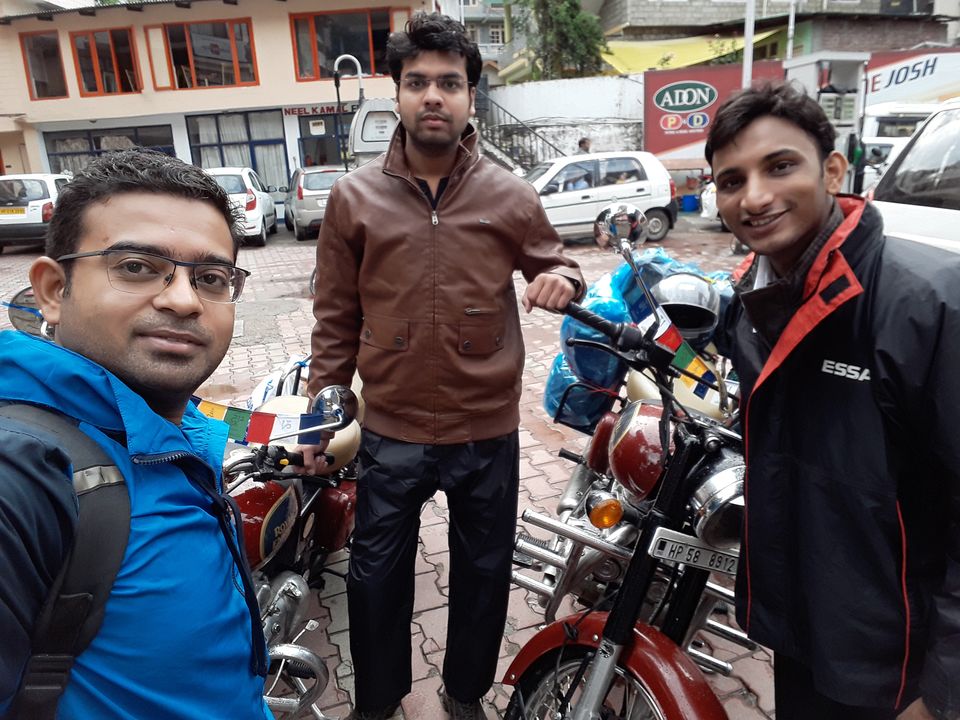 Petrol pump is only available at Manali and Kaza.
Towards Rohtang Pass (53 kms from Manali)
We started our journey from Manali at 7:45 AM and reached Rohtang Pass around 10:30 AM. We took some time reaching Rohtang Pass. The road to Rohtang is well maintained and smooth.
Permit Check: The permit for crossing Rohtang pass is checked at Gulaba which is 20 kms from Manali and 33 kms from Rohtang pass. There was rush at the check point as all tourists were heading to Rohtang Pass. So, try to leave as early as possible from Manali to avoid jams.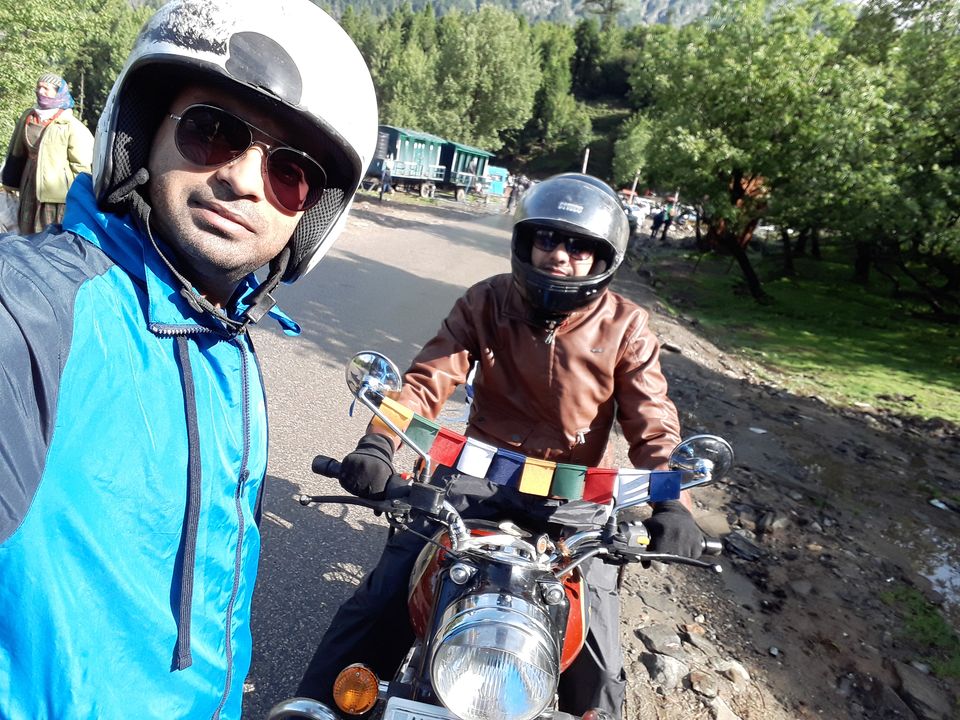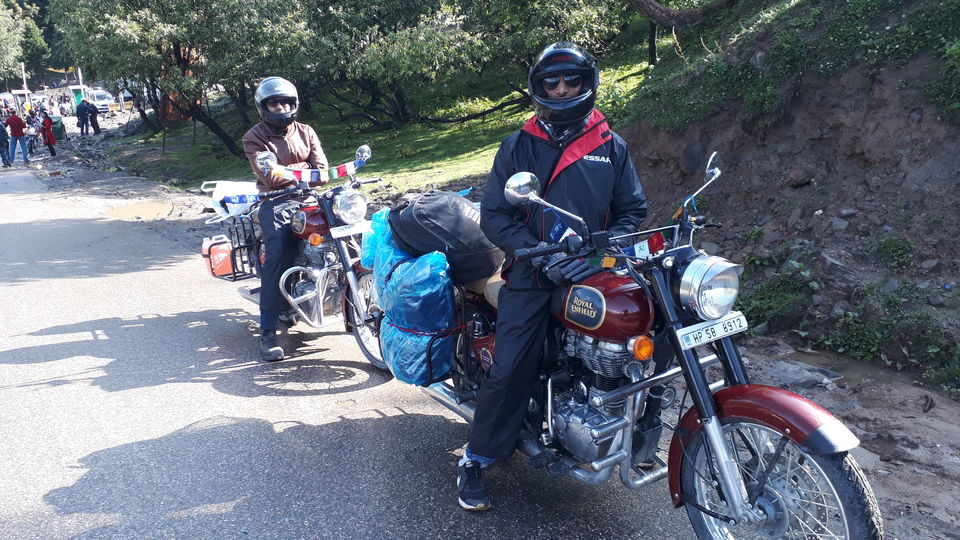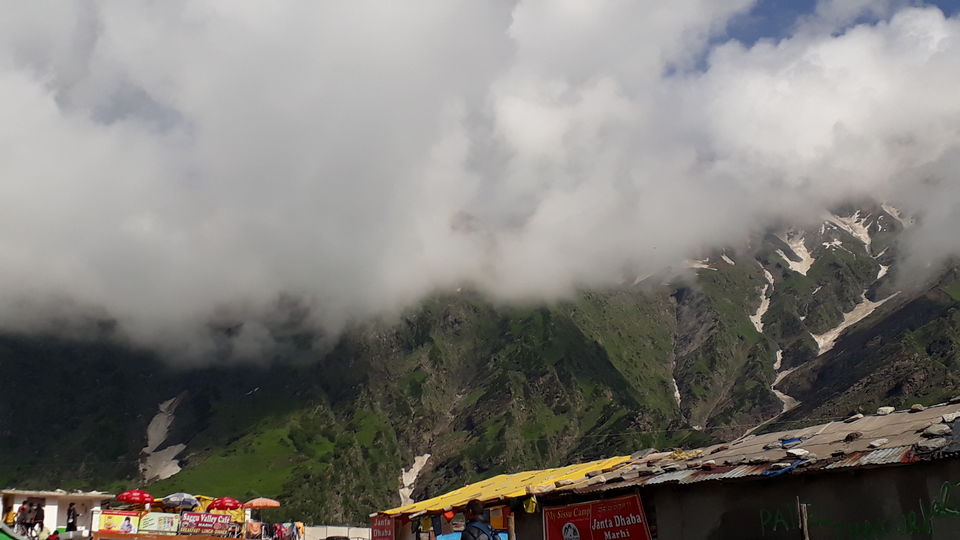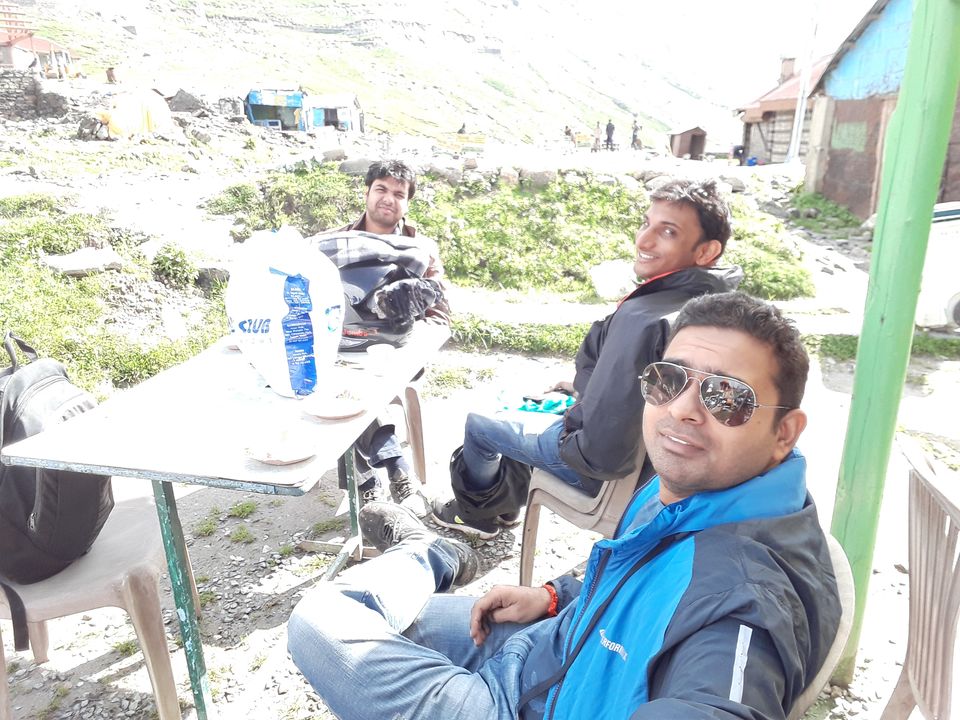 We took some photos, selfies, videos and spent some time on Rohtang pass and left for further travelling.
Rohtang to Gramphu (15 kms)
Next place after crossing Rohtang pass comes is Gramphu which is about 15-20 kms from Rohtang pass. For Gramphu you have to turn right on Manali Leh highway 15 kms from Rohtang pass.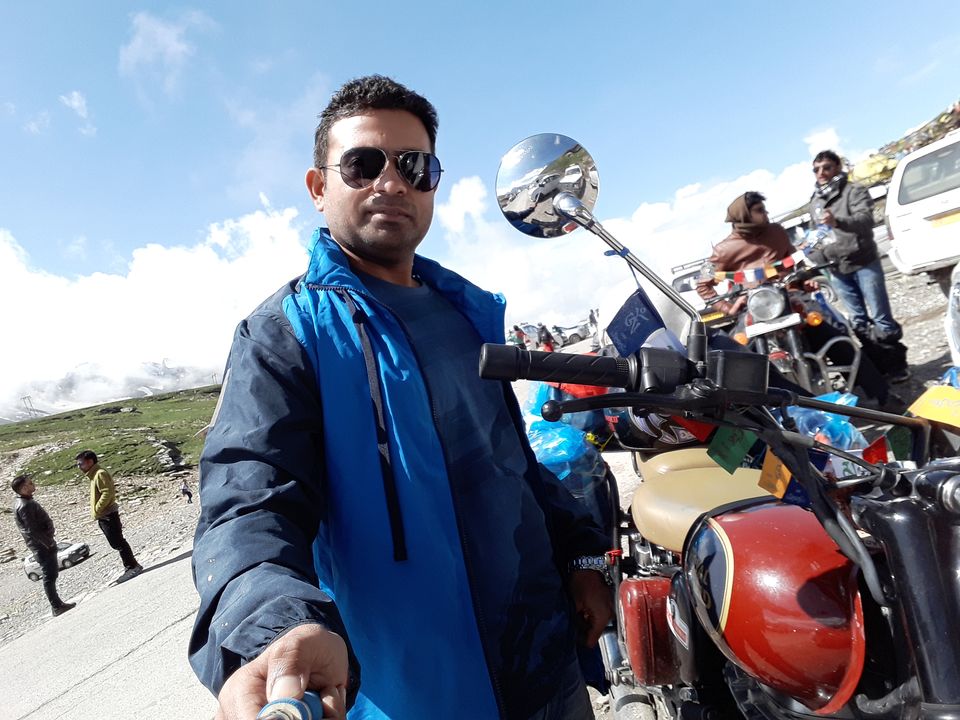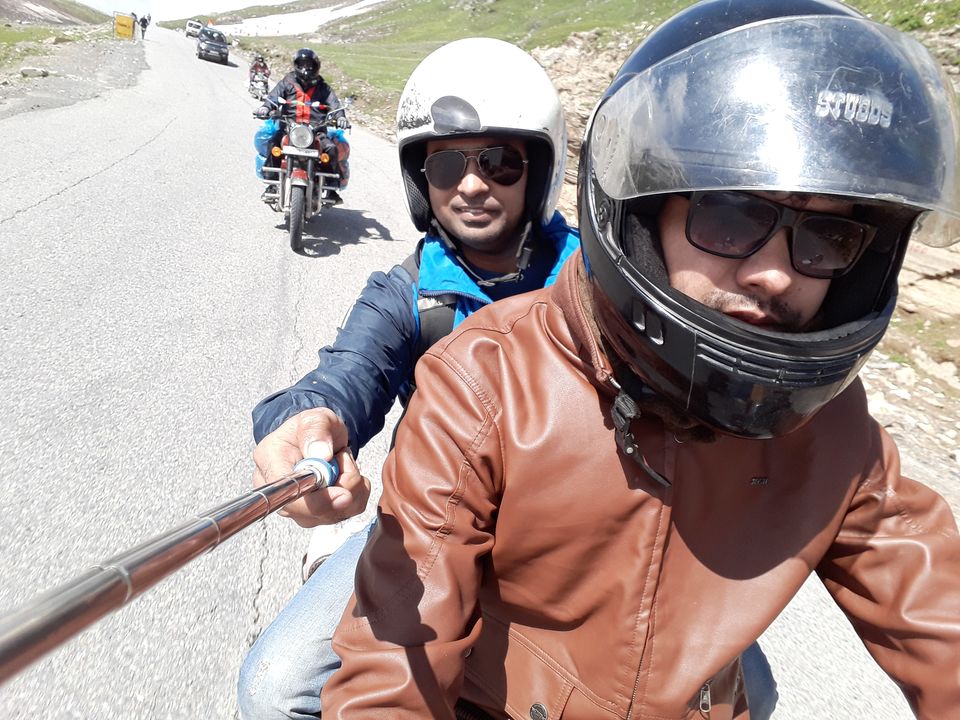 After crossing the Rohtang the road condition worsens and becomes too bumpy. The real off road trip adventures starts here. You will meet many bikers on this way as it's the main Manali-Leh highway.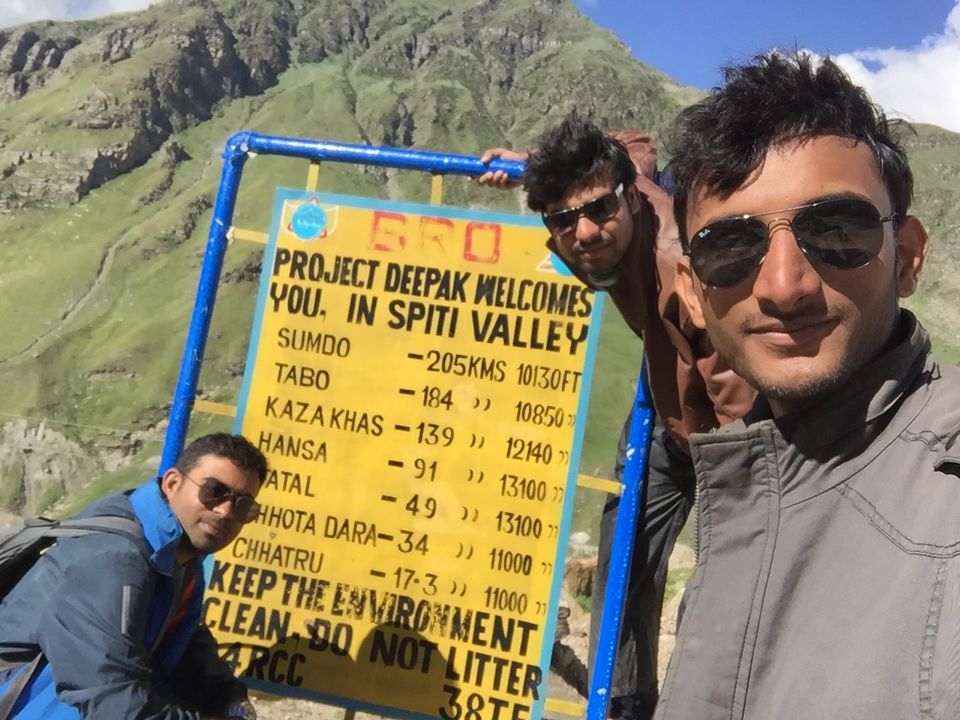 Gramphu to Chhatru (15 kms)
The road from Gramphu onwards is too adventurous. We planned to reach Chhatru and have our lunch there. The road to Chhatru from Gramphu is bumpy, filled with stones, pebbles and full of water crossings, as I remember we met across 15 water crossings. The cold water from mountains coming directly to roads, some of these crossings are dangerous and you have to be cautious.
This is the place where you remember your water proof boots, as we didn't carried any. Our shoes get wet every time we crossed the water and have to empty the water from it after crossing. This costs us time loss. I would say there is no road or almost no road.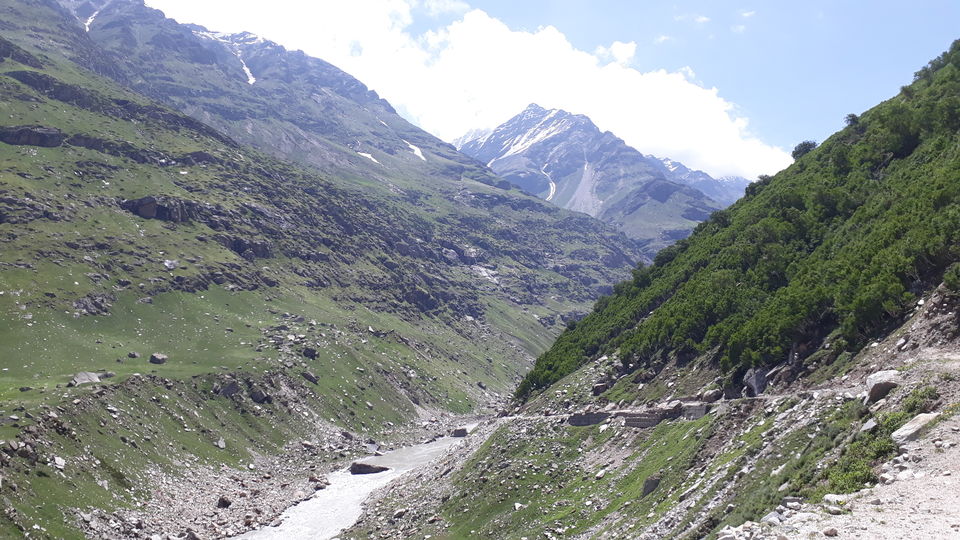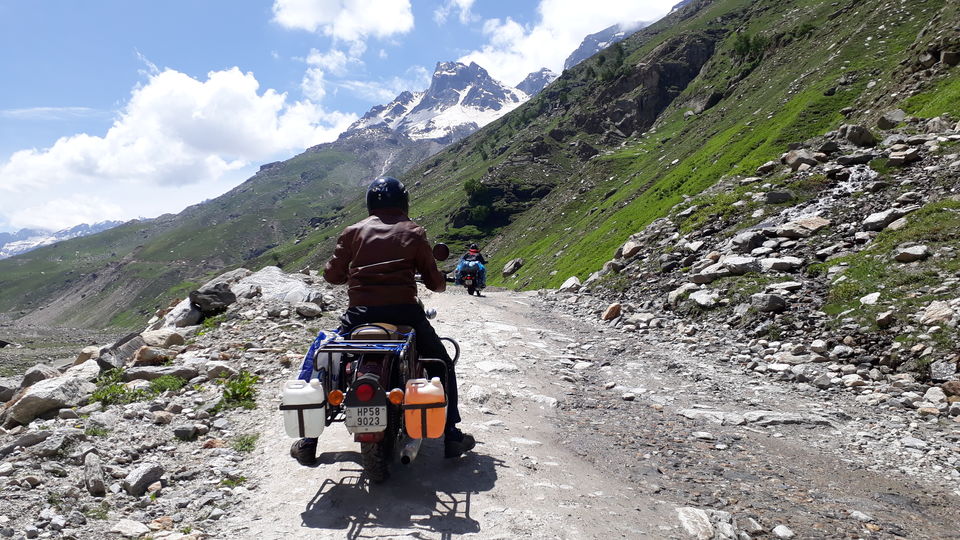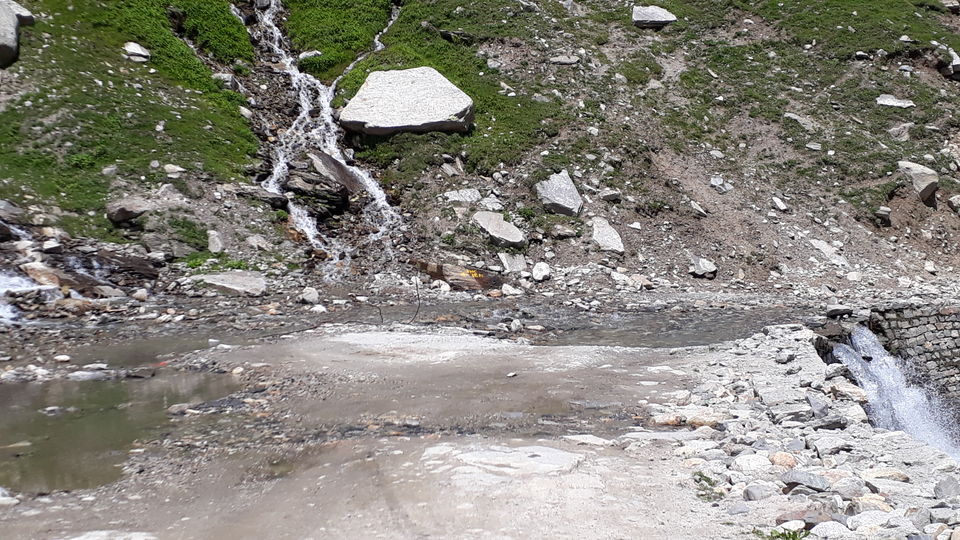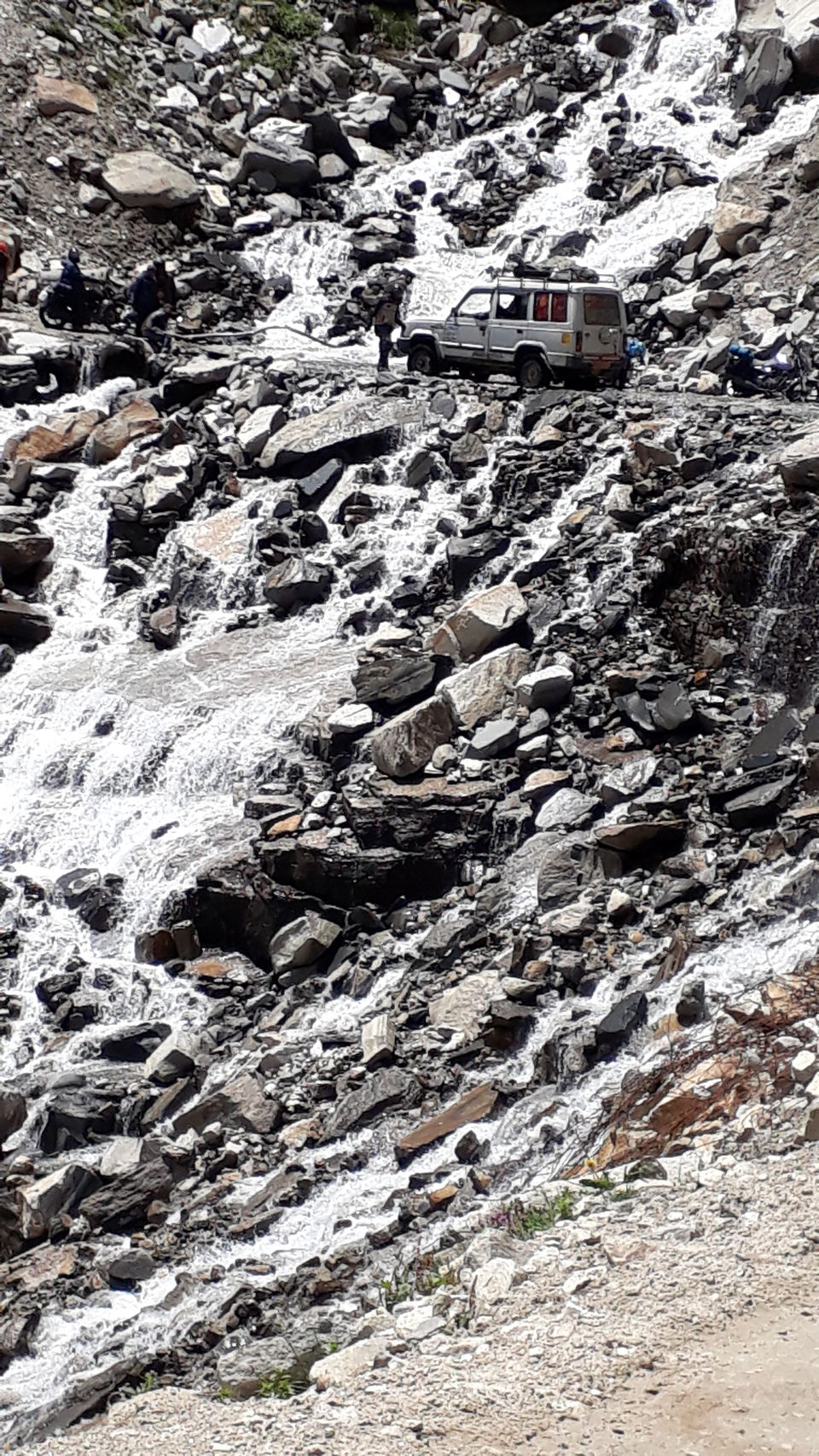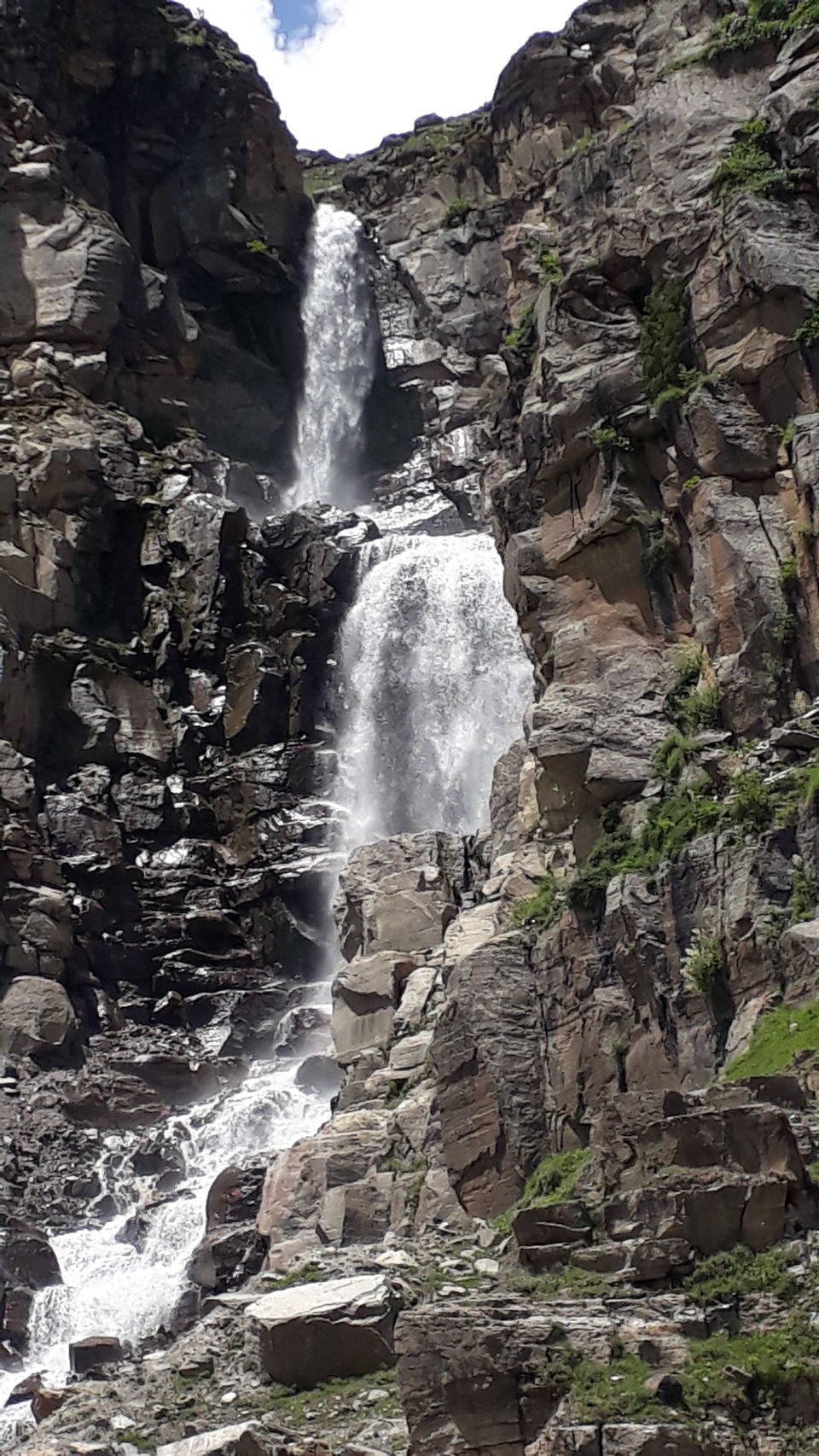 We reached Chhatru at 1:00 PM and took lunch there. Chhatru is a small place with two three dhabas.
Also there is place to stay if anyone wants to stay at night or for stoppage. Government Accomodation. PWD Rest House is also availabe in Chatru.
Chhatru - Chota Dhada - Batal - Kunzum Pass ( 50 kms)
After lunch we resumed or travelling. Our next target was to reach the famous Kunzum Pass as soon as possible, which was 50 kms from Chhatru.
Chota Dhada : It is 17 kms from Chhatru. The road to Chota Dhada is also full of water crossings, also you will meet the river flowing on roads. One should be carefule while crossing as it can cause you trip down in water. The road condition remains the same.
Batal: It is 16 kms from Chota Dhada and also the place where peoples can stay in tents or dhabas, who do not want to cover the entire distance in one day to Spiti. The Chandratal lake is 17 kms from Batal.
If you have Chandratal on your itinerary then you should go Chandratal first as it will save some same day travelling. If you had a itineraray from Manali to Manali then I will suggest you to visit Chandratal lake first. Then onwards journey to Kaza and back to Manali as the road is same.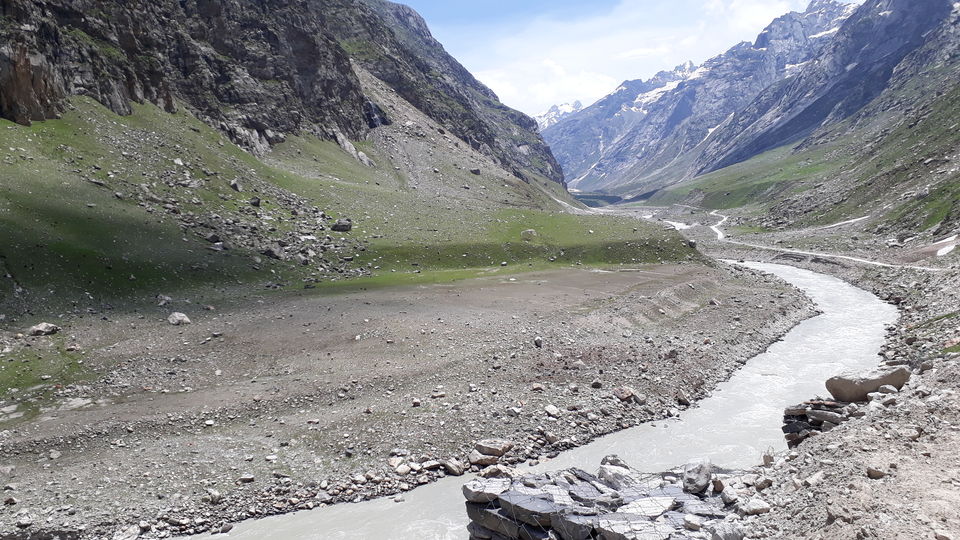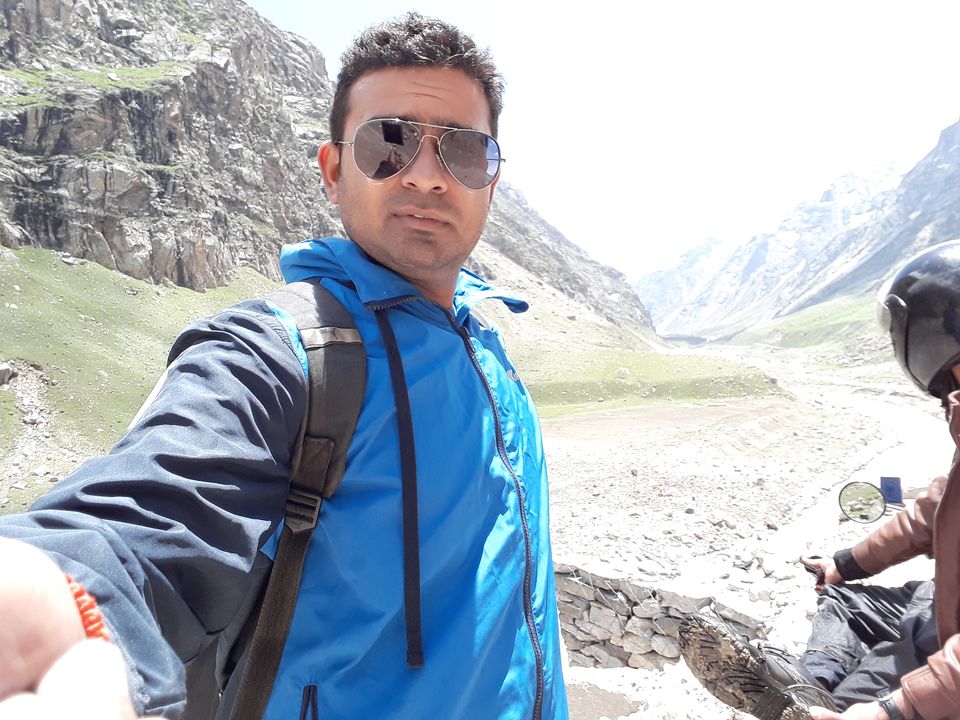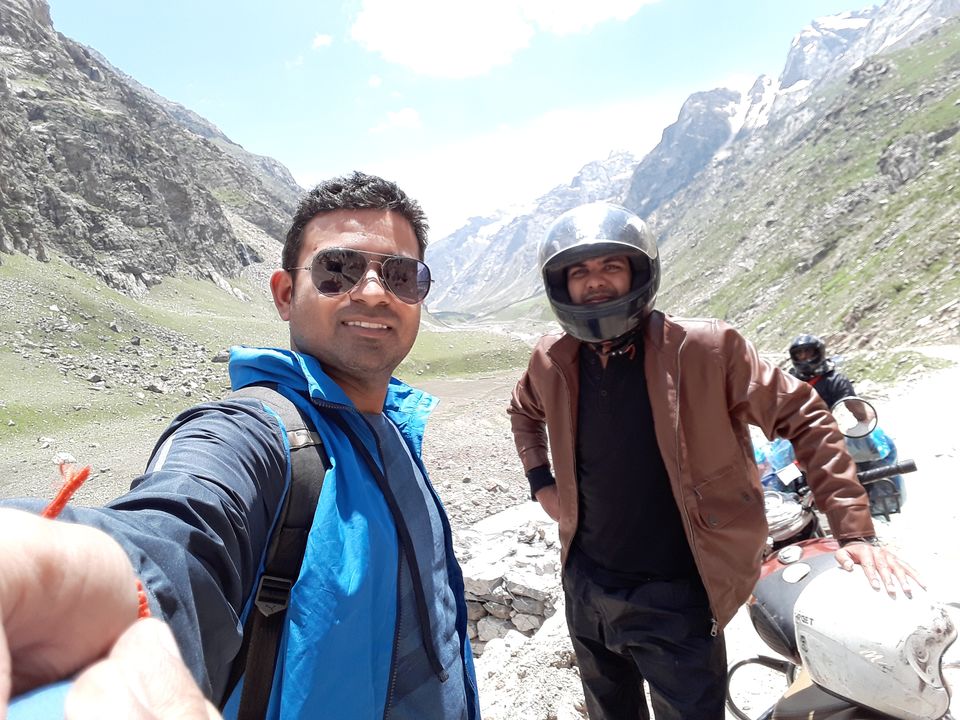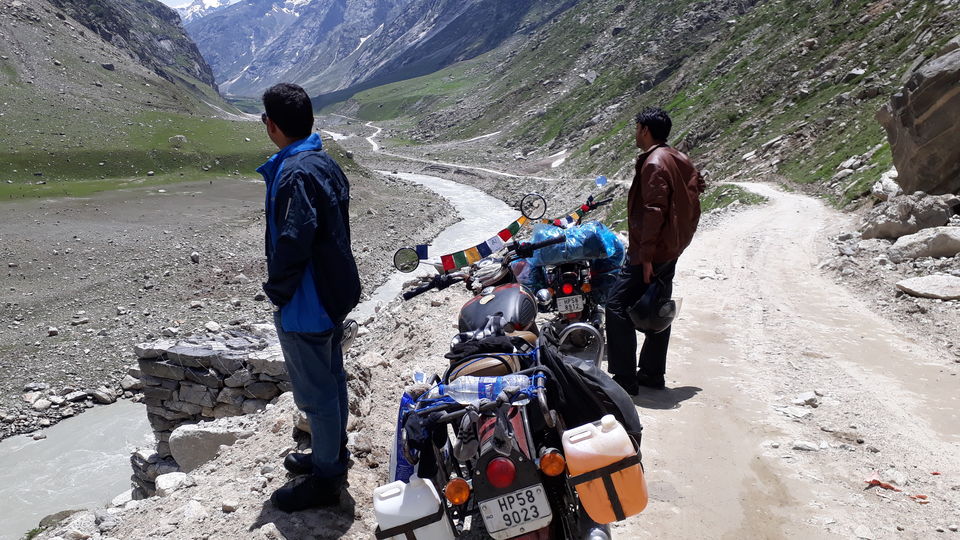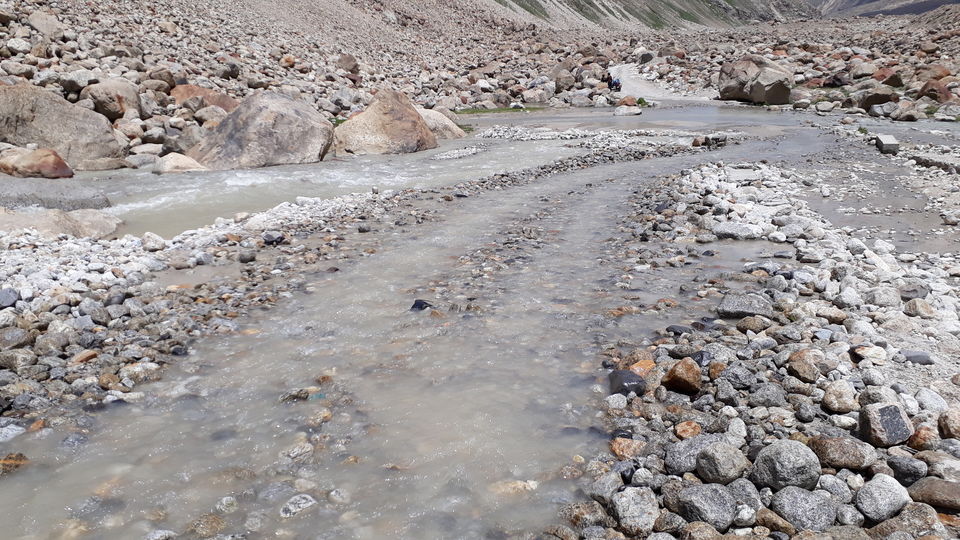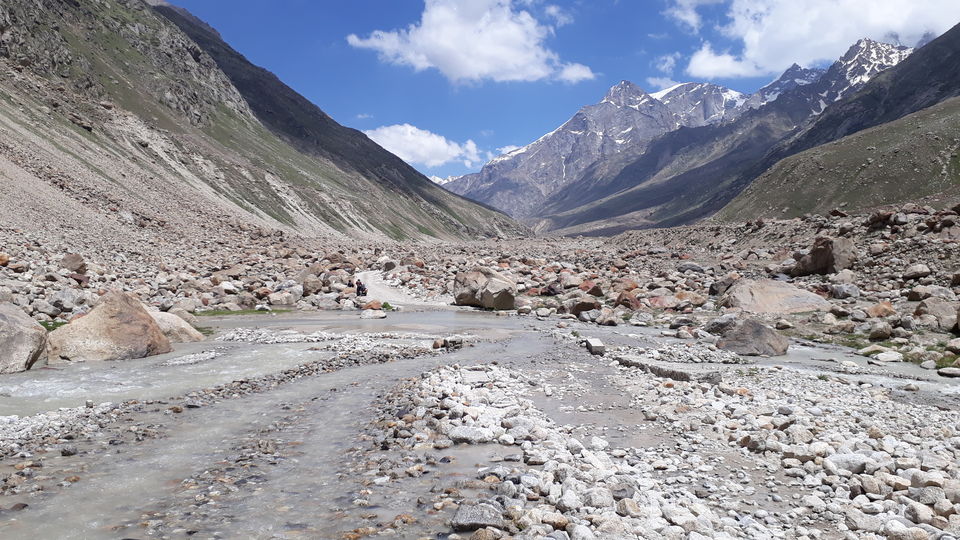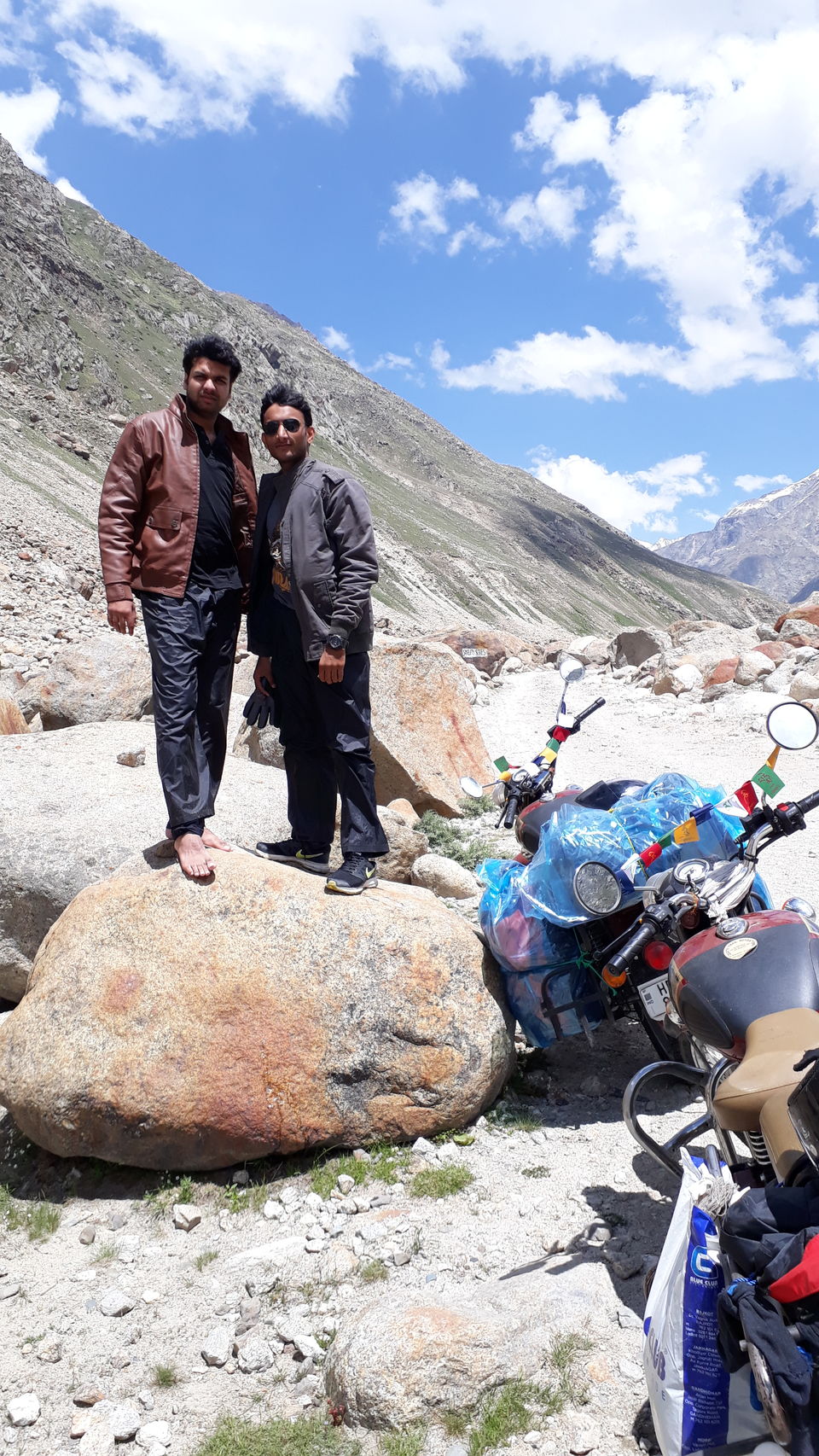 Batal: It is 16 kms from Chota Dhada and also the place where peoples can stay in tents or dhabas, who do not want to cover the entire distance in one day to Spiti. The Chandratal lake is 17 kms from Batal. Also after Batal there are almost no water crossings but road reamins the same.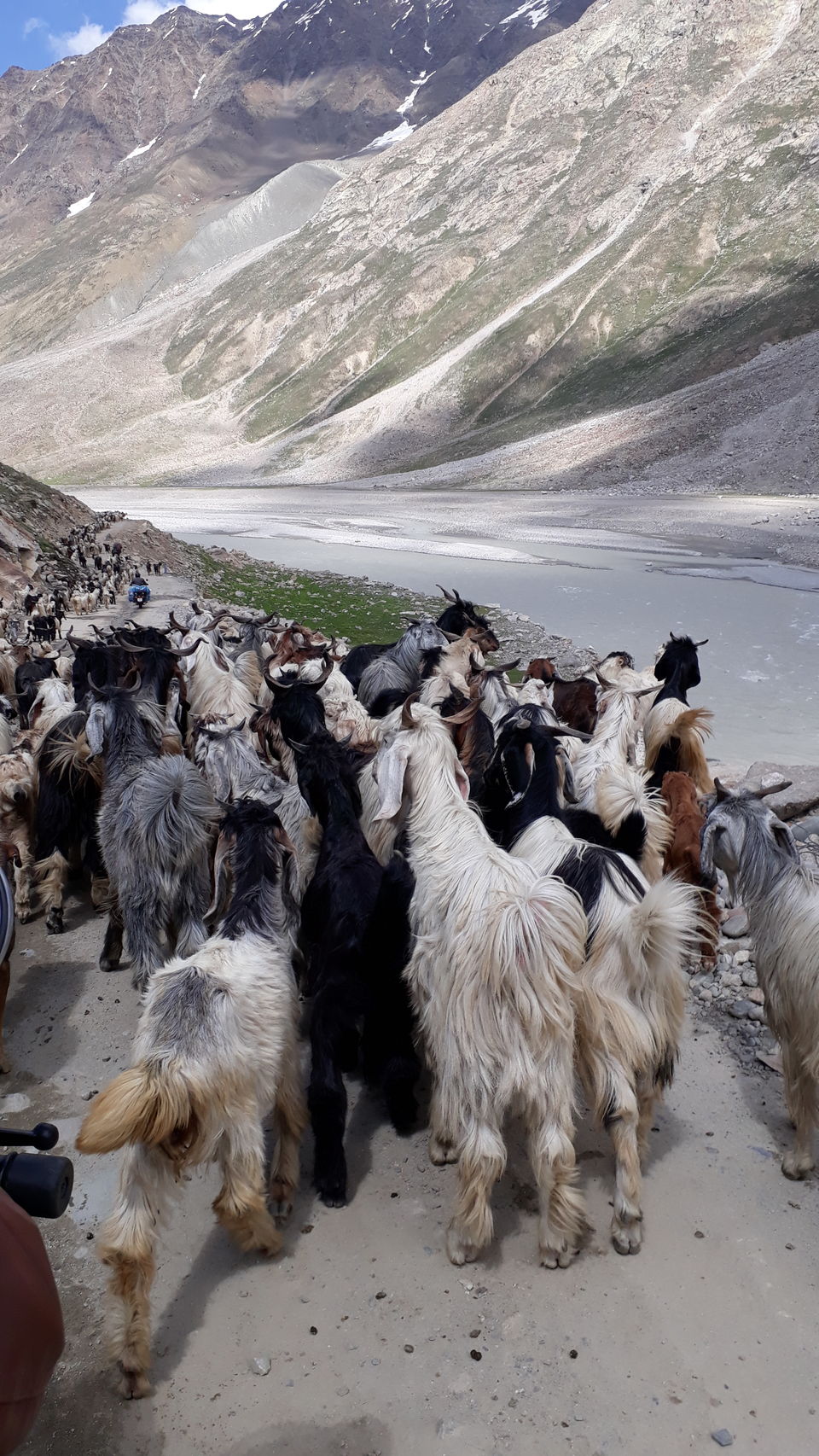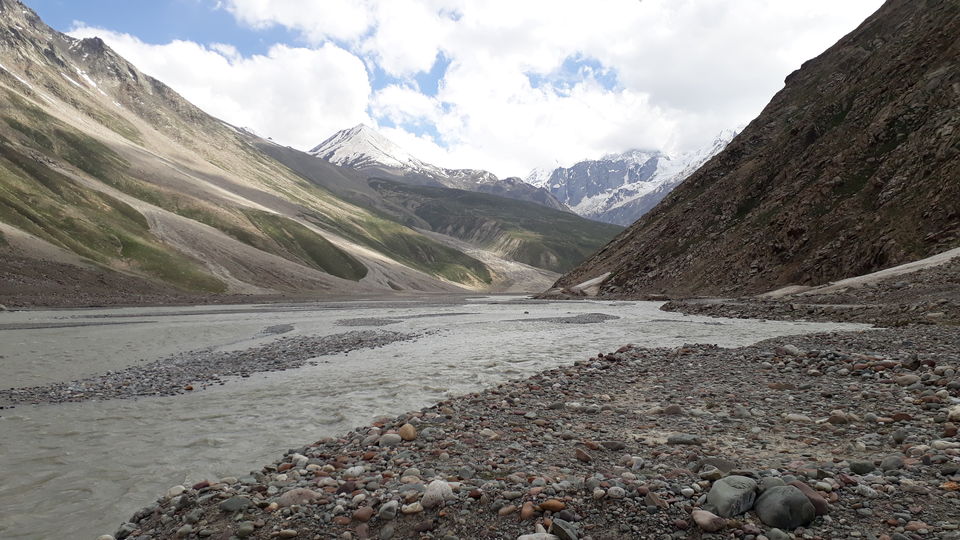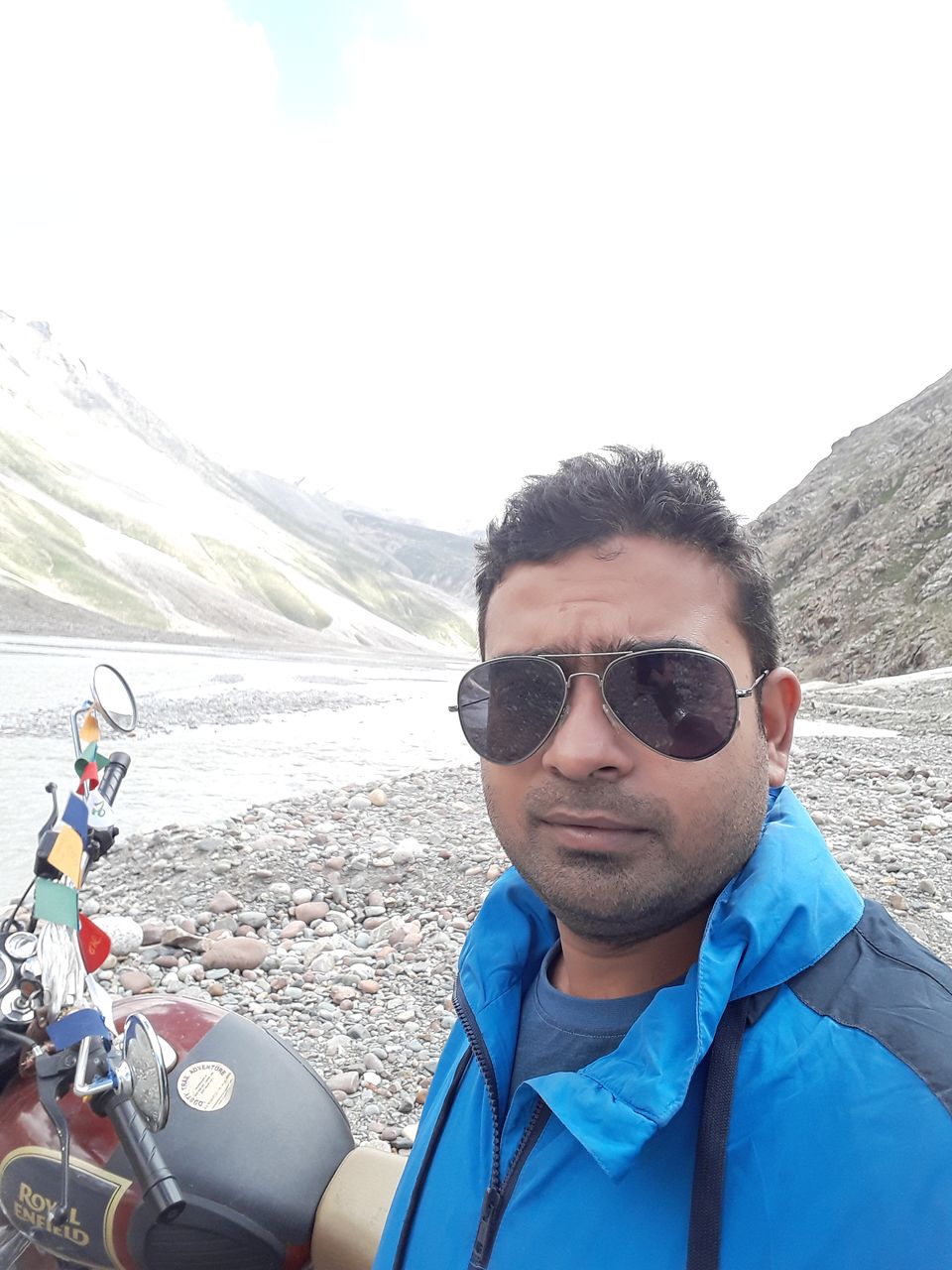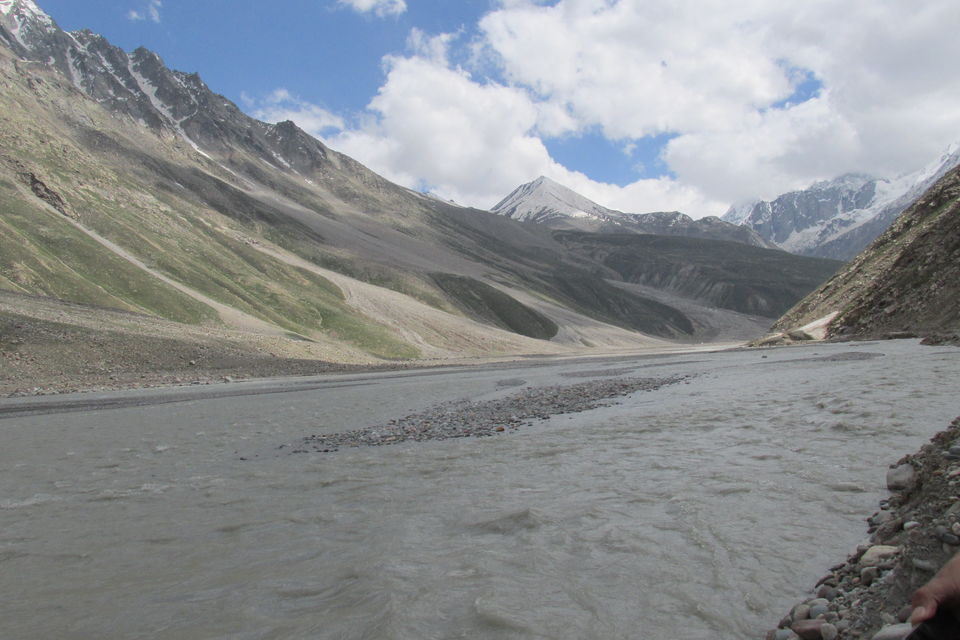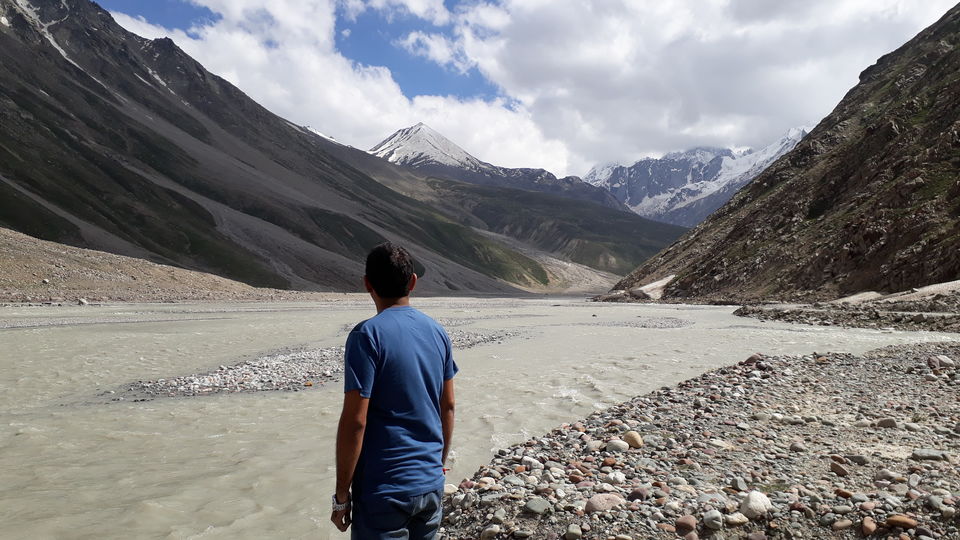 If you have Chandratal on your itinerary then you should go Chandratal first as it will save some same day travelling. If you had a itineraray from Manali to Manali then I will suggest you to visit Chandratal lake first. Then onwards journey to Kaza and back to Manali as the road is same.
Kunzum Pass : It comes after the 23 Kms from Batal. On ascending to Kunzum pass from Batal you will meet one road going to Chandratal and other to Kunzum pass.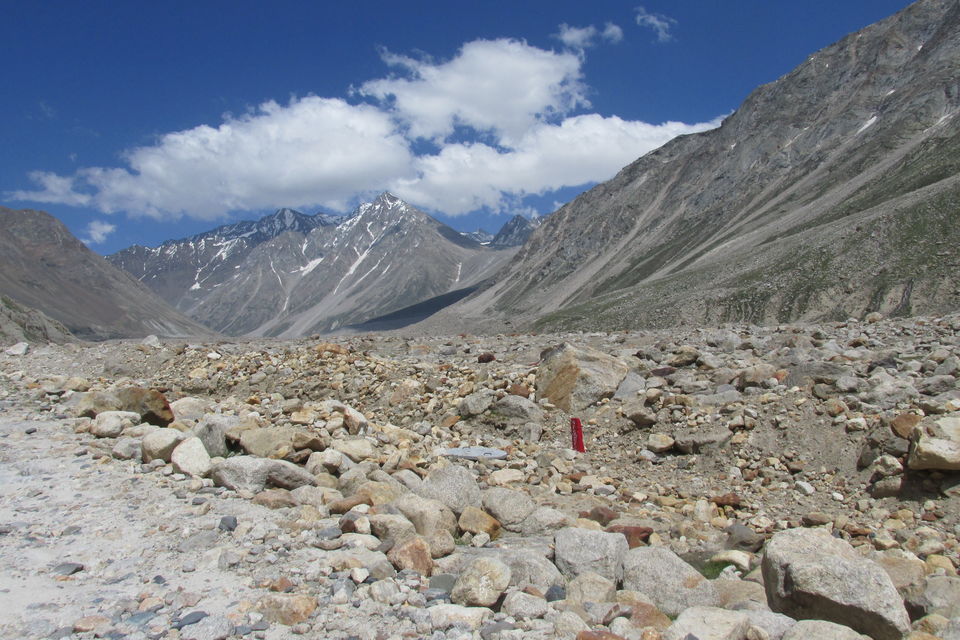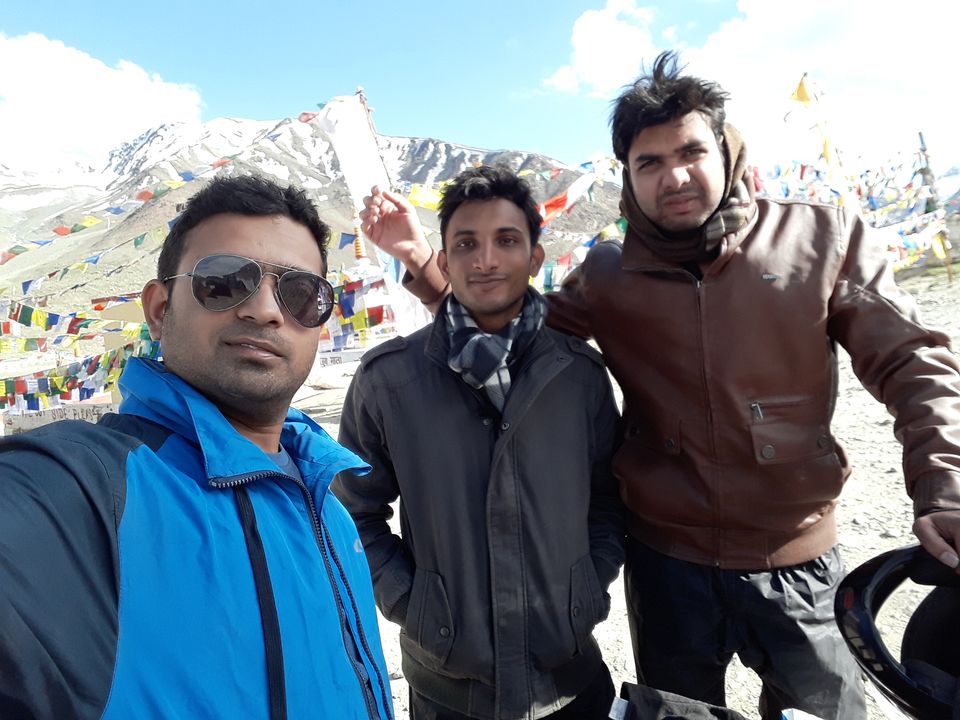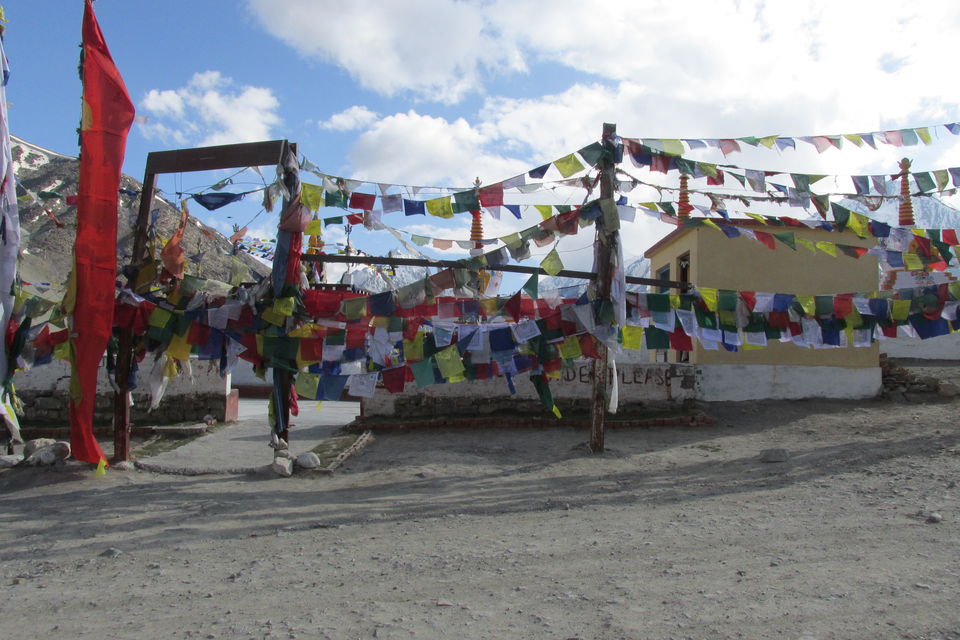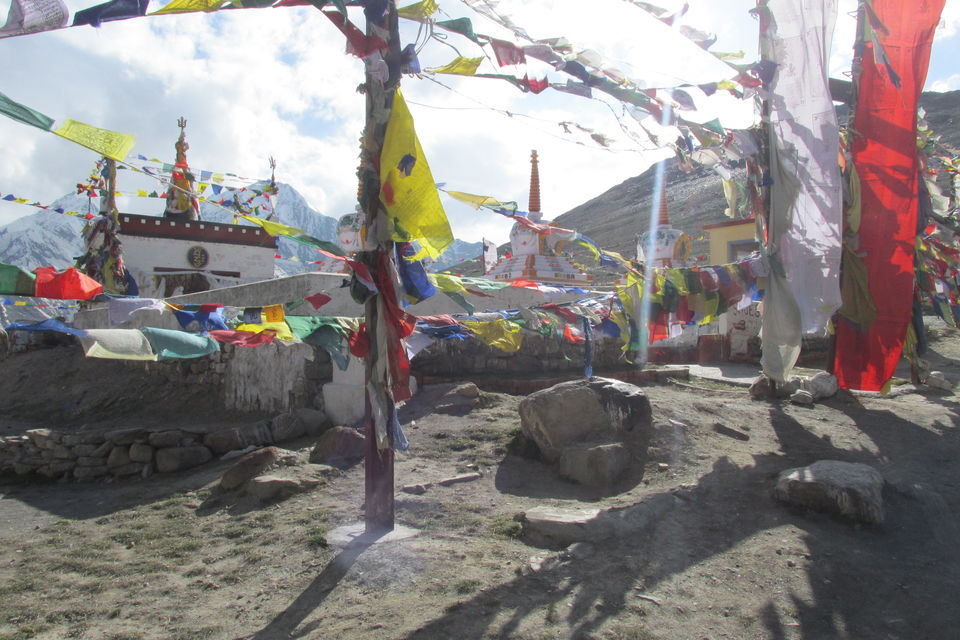 Kunzum Pass is a high mountain pass (15060 ft) the eastern Kunzum Range of the Himalayas some 122 km from Manali. It connects the Kullu Valley and Lahaul Valley with the Spiti Valley of Himachal Pradesh, India. It is on the route to Kaza the subdivisional headquarters of Spiti.
We were riding bike continuously without a break and reached Kunzum Pass at almost 4:30 PM. We were a bit exhausted reason the bumpy road. We spent some time in Kunzum pass clicking pictures and videos and left for Kaza as we have to cover next 78 kms to reach Kaza.
Losar (20 kms) :
The next place after Kunzum pass is Losar, after Kunzum it is descending only and road gets better with distance. Enjoy the nature's view while travelling. Losar is the gate to entering Spiti Valley, you got to fill the entries at the check point while entering Losar. We reached Losar at 6:00 PM.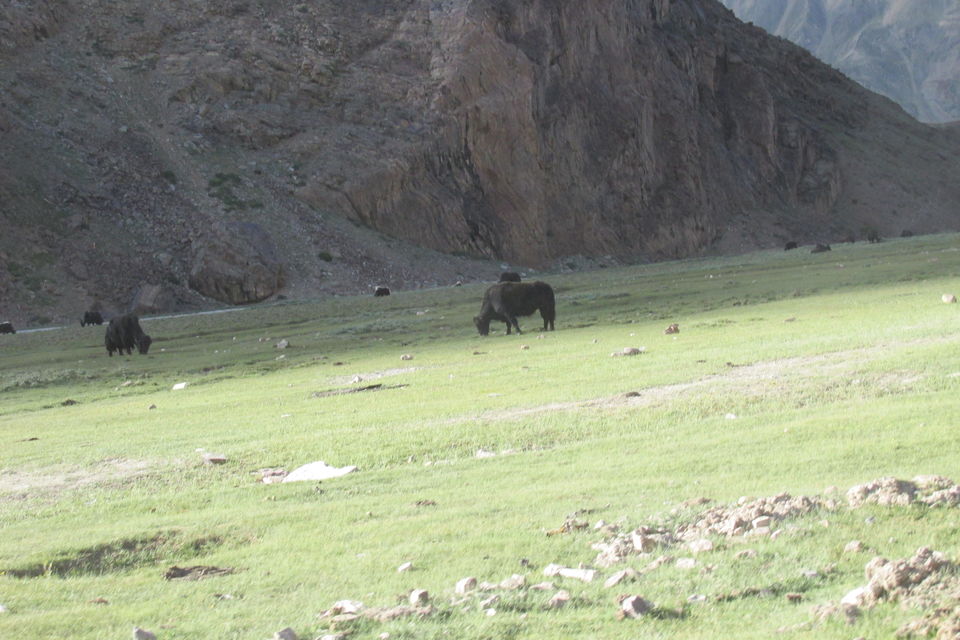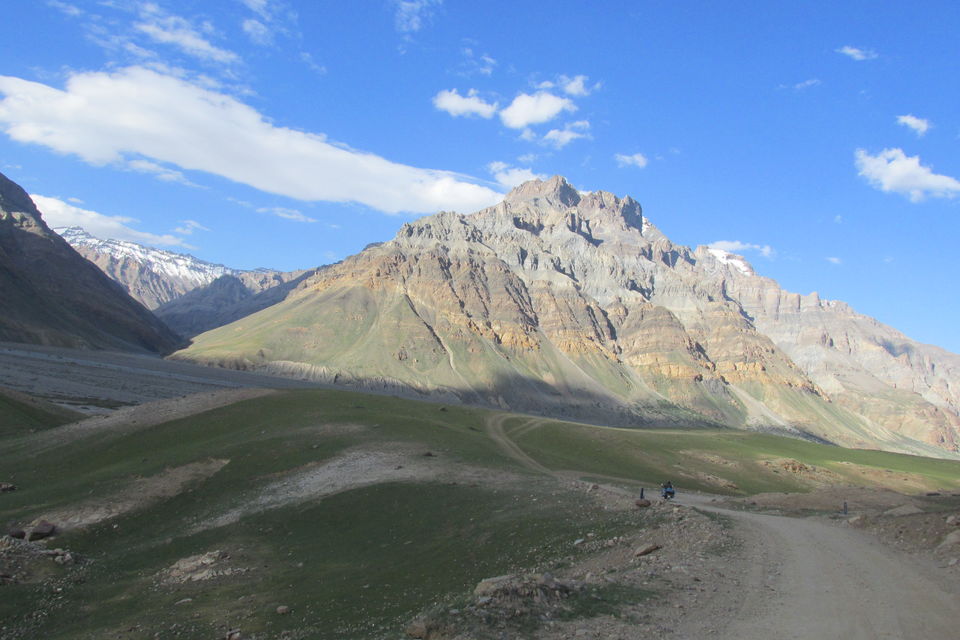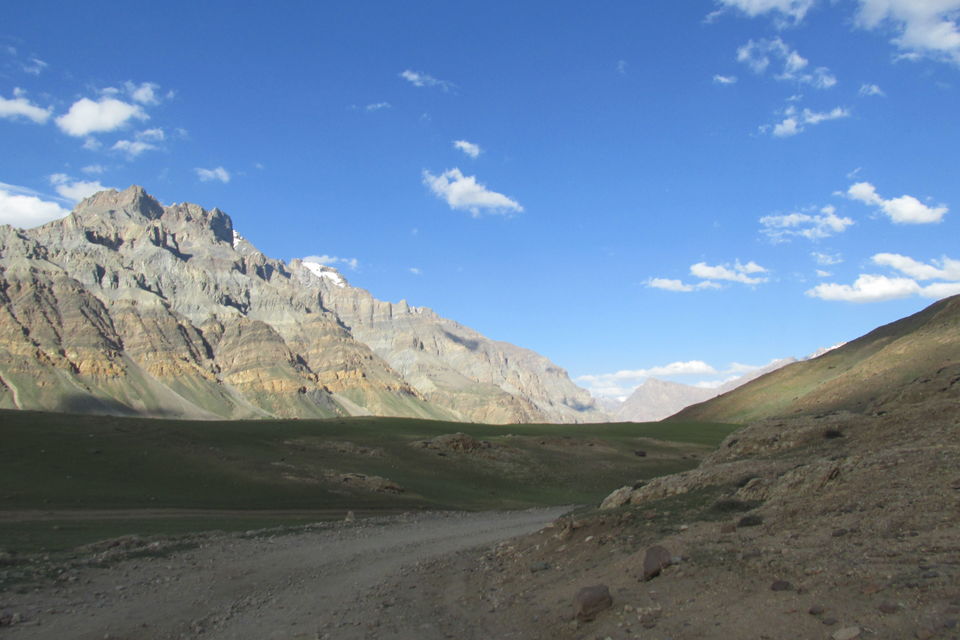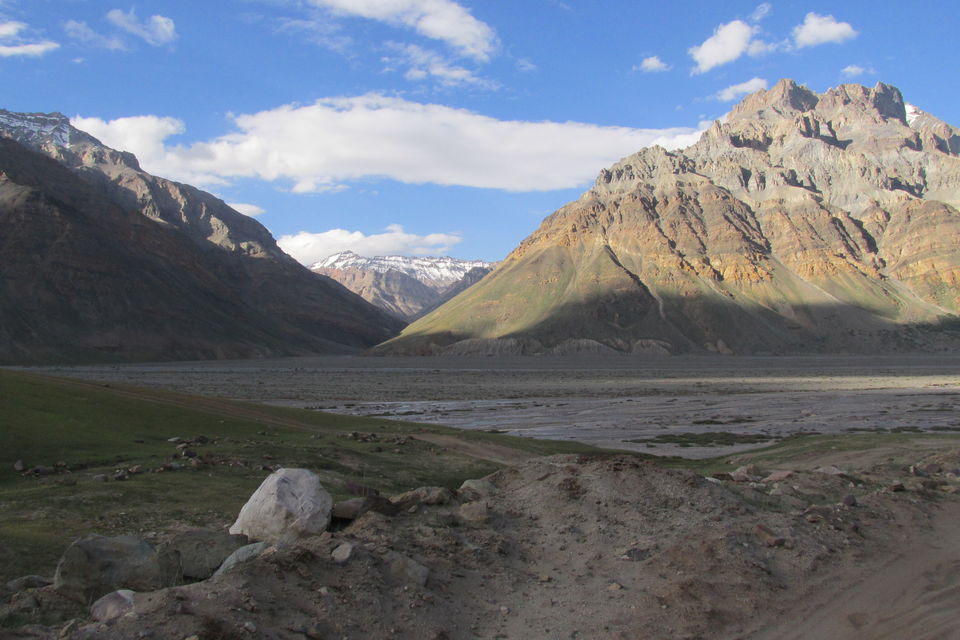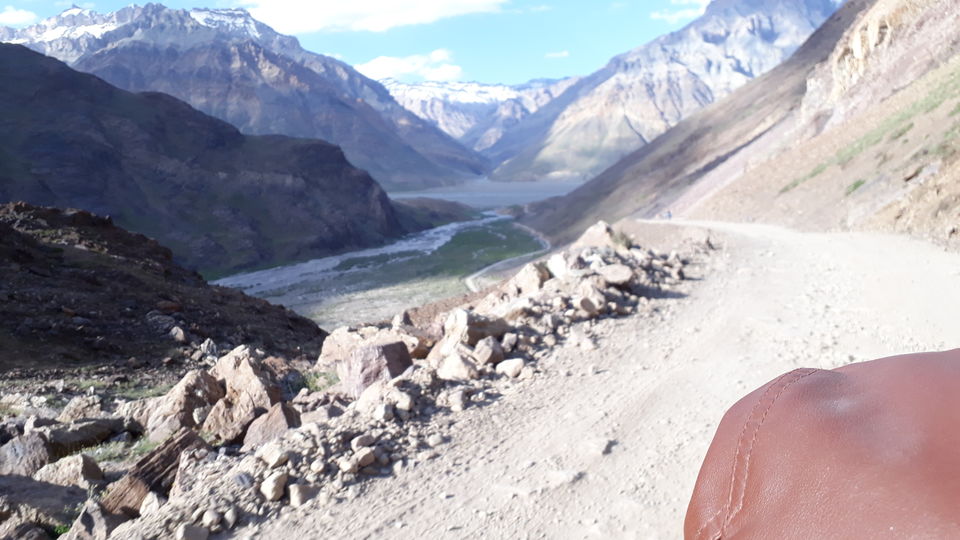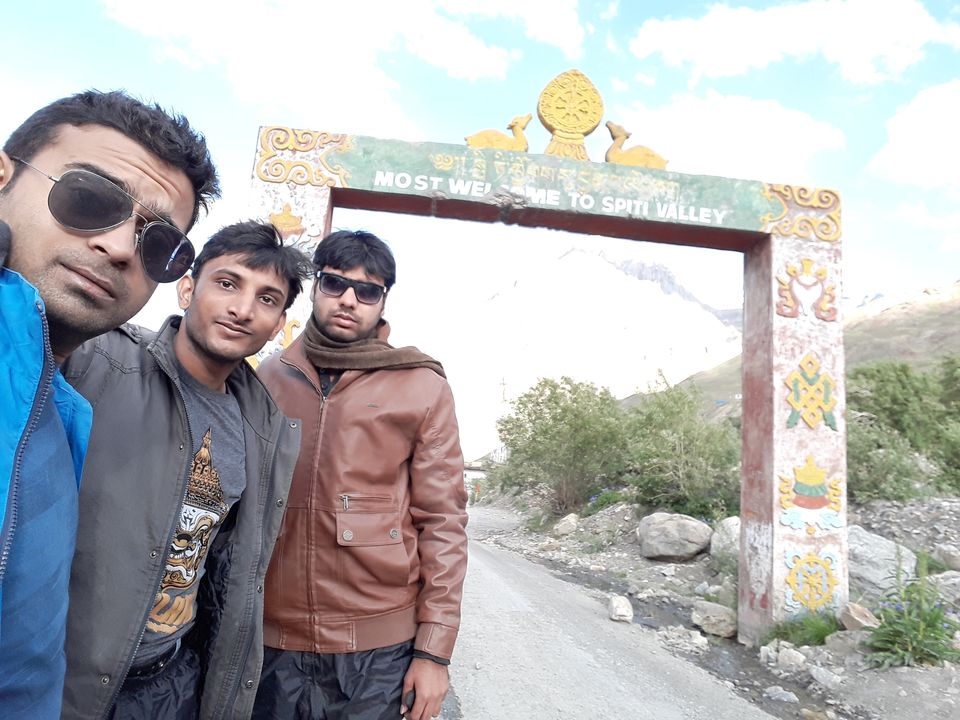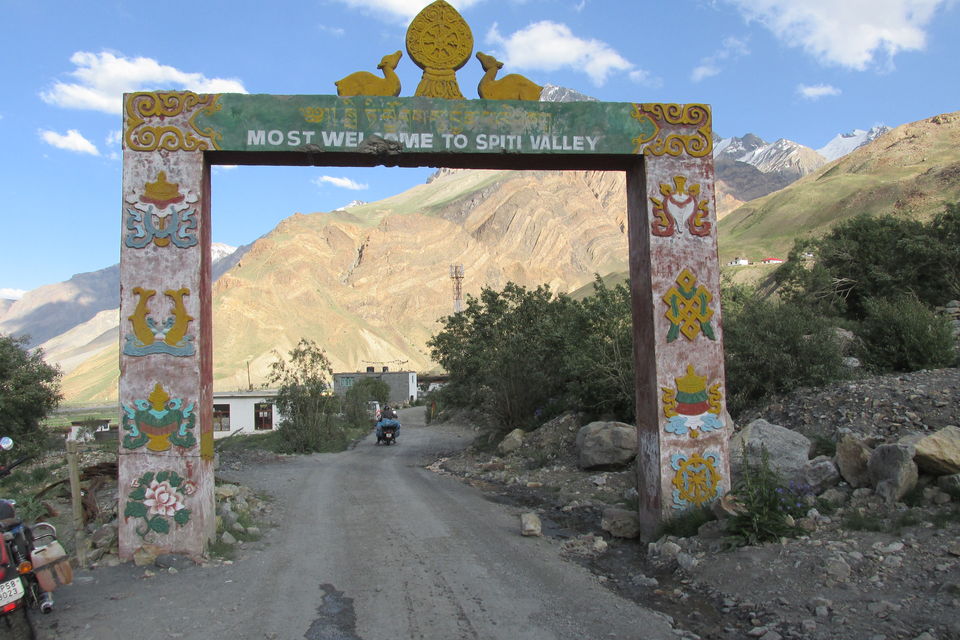 Losar is a small village in the Lahaul and Spiti District of Himachal Pradesh in northern India. Spiti Valley is an extension of Ladakh and is a cold desert region. Losar is situated at an altitude of 13,400 feet above sea level. Losar has very few accommodation and food options. The village houses have over the time been converted to home stays and guest houses to meet the needs of the travellers. The accommodation options are generally very basic with just a bed and bathroom. The food options are also generally very basic consisting of Chowmein, momo, dal, rice, chapati and vegetables. We stopped at Losar to have something to eat and for tea.
Kaza ( 58 kms ) :
Our destination Kaza was about 58 kms from Losar. Without wasting any time further we resumed our journey. It was started getting dark as we left Losar at 7:00 PM. The road is full of picturesque view also becomes better with distances. To our delight the last 20 kms of road is fully maintained and smooth to ride. We reached Kaza at night, it was 9:00 PM, searched our hotel there and made ourselves comfortable there after check in. We unpacked our luggage and were very much exhausted as it was almost 14 hrs of travelling. The hotel we stayed is named as The Delek House.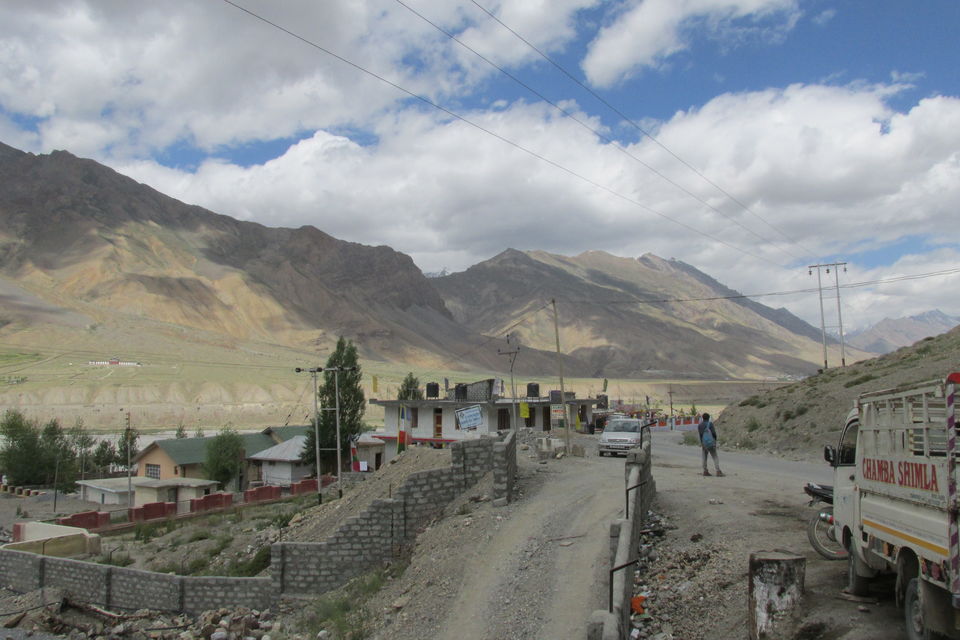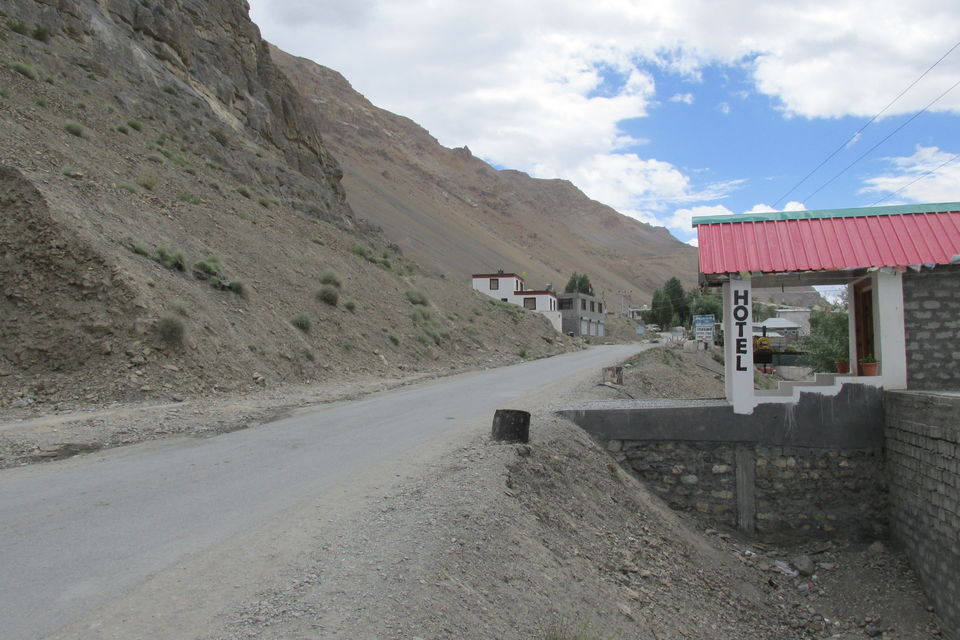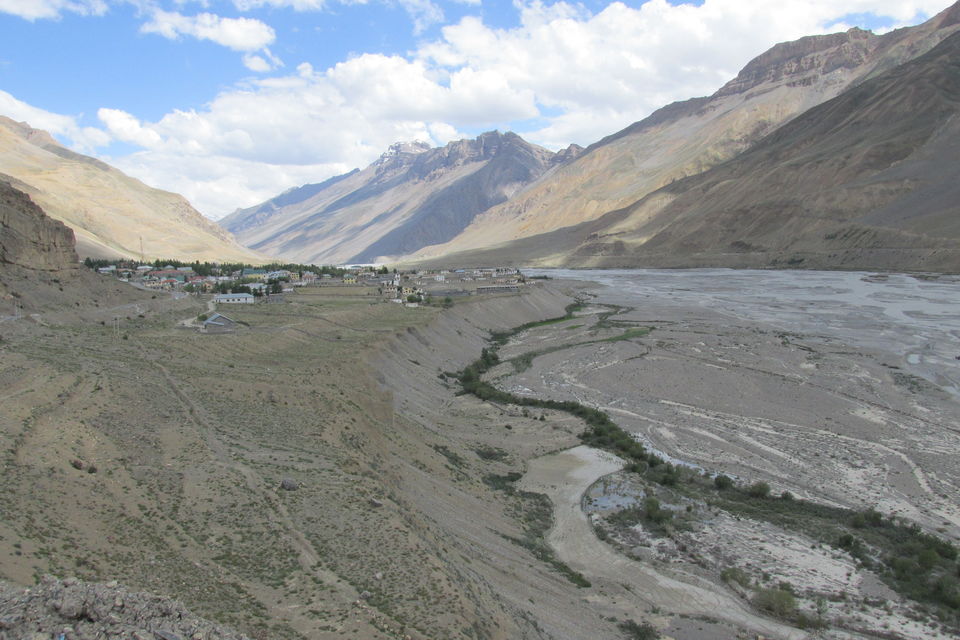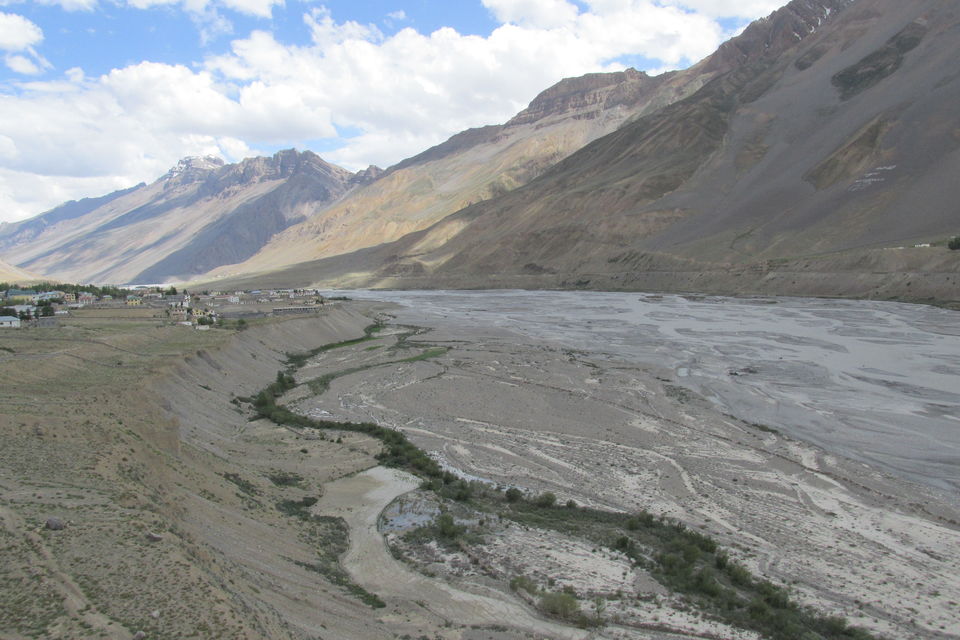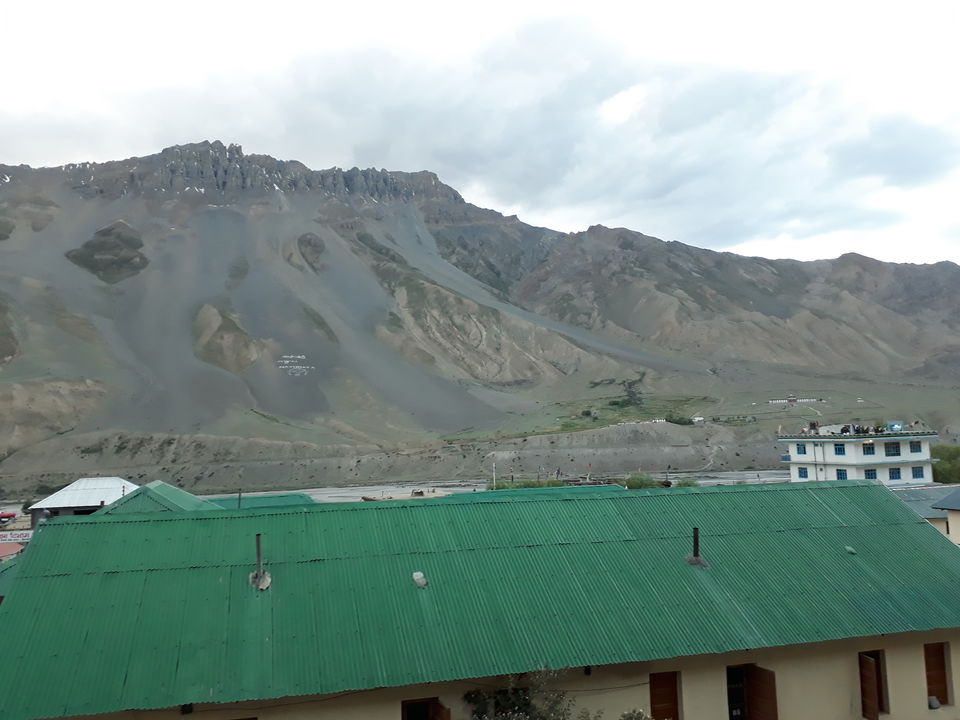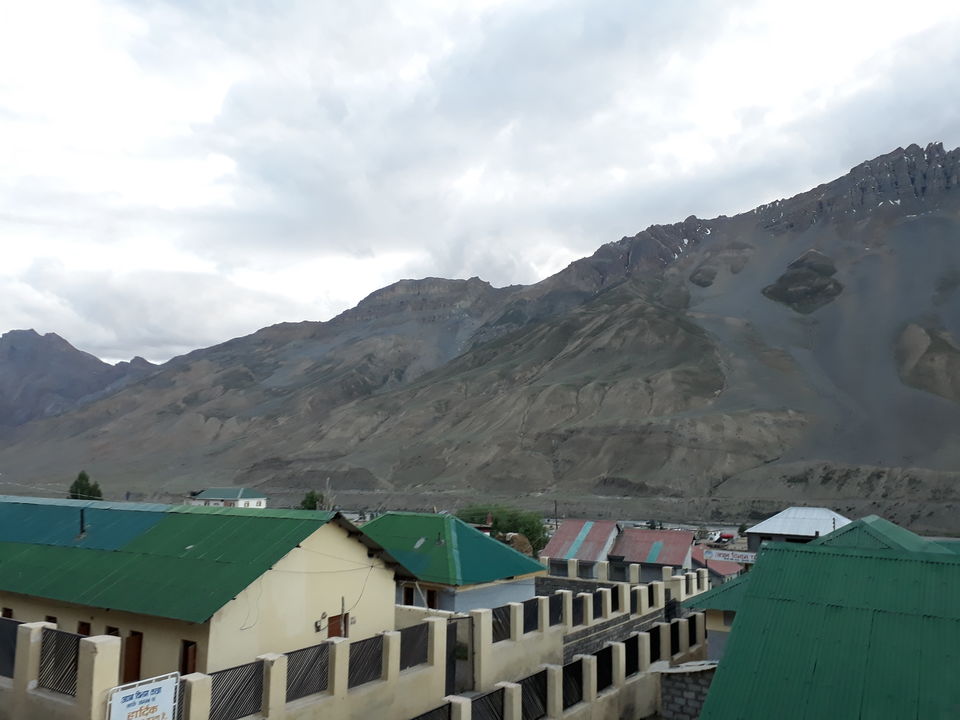 Kaja is the subdivisional headquarters of the remote Spiti Valley in the Lahaul and Spiti district of the state of Himachal Pradesh in the Western Himalayas of India. Kaza, situated along the Spiti River at an elevation of 11,980 ft above mean sea level, is the largest township and commercial center of the valley .
Visiting tourists Spot of the Valley ( Ki Monastery, Kibber Village)
This day we planned to visit the nearby tourist places of Kaza. The mornings are early as you can see the daylight at 4:00 AM. We woke at 9 in the morning and got ready to visit places. We had our breakfast at around 10:30 AM. Our breakfast and dinner was included in the hotel cost, so we do not have to search for place to have break fast.
After having breakfast we left the hotel at around 11:00 AM. The next thing we had to do was to refuel our bikes and to search shop for bike servicing. As, we had travelled almost 203 kms the previous day, bike required some servicing and some general check up. We refueled our bikes by the petrol pump in Kaza. The bike servicing took almost 3 hours. You can find the bike servicing shop near the petrol pump and one shop in the main market near Hotel Osho.
We had lunch in our hotel and left for Ki Monastery at around 3:00 PM
Ki Monastery ( 15 kms from Kaza ) :
The first place we visited was the Ki Monastery, it is also called the face of the Spiti. Ki Monastery is a Tibetan Buddhist monastery located on top of a hill at an altitude of 4,166 metres (13,668 ft) above sea level, close to the Spiti River. It is the biggest monastery of Spiti Valley and a religious training centre for Lamas. The road in and around Kaza is smooth and you will enjoy riding. The nature's view and valley view is very much beautiful.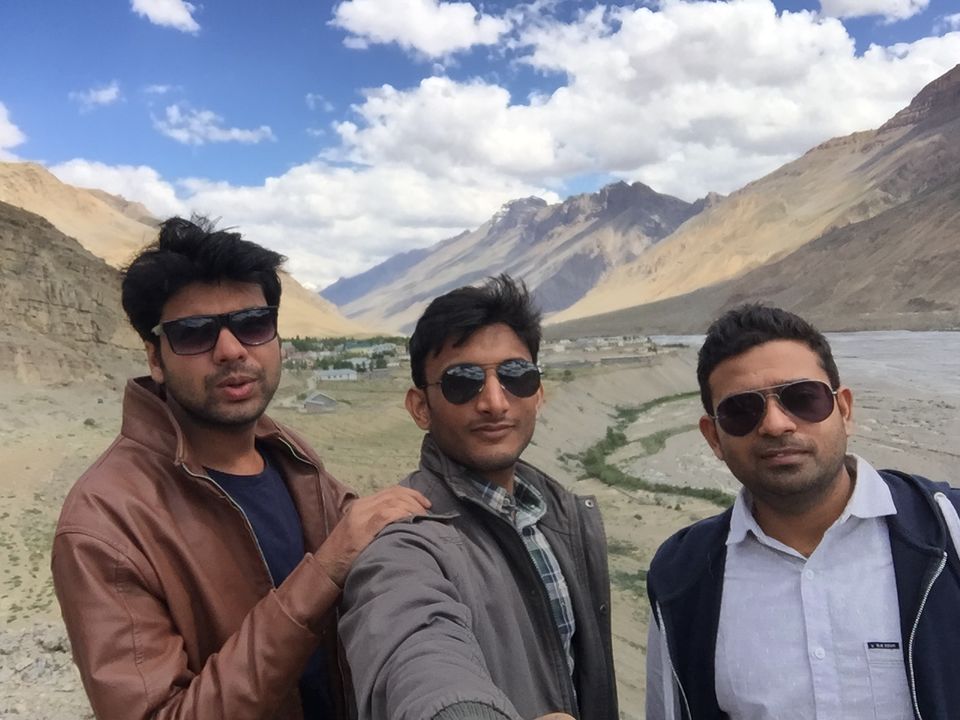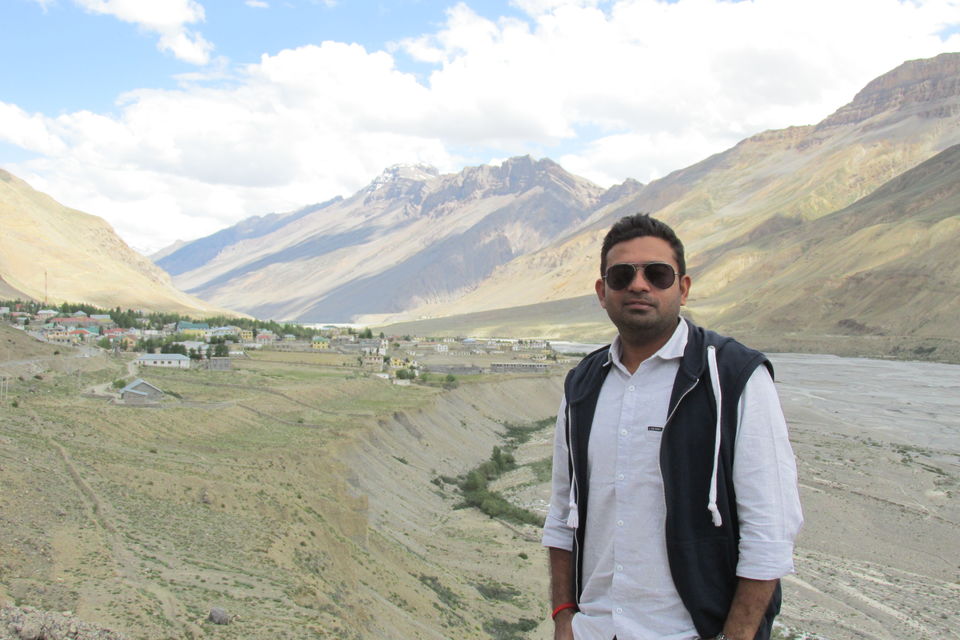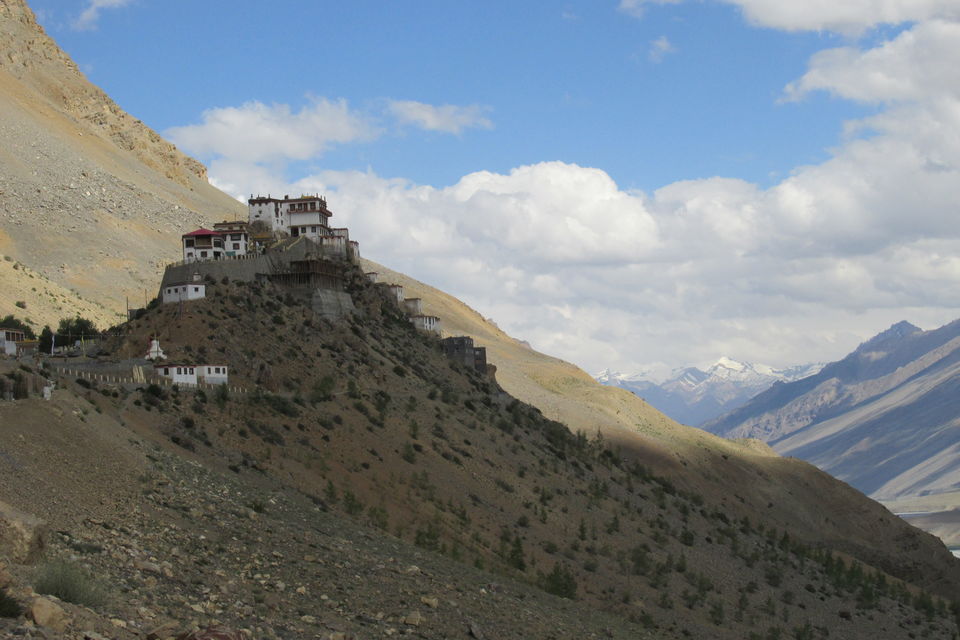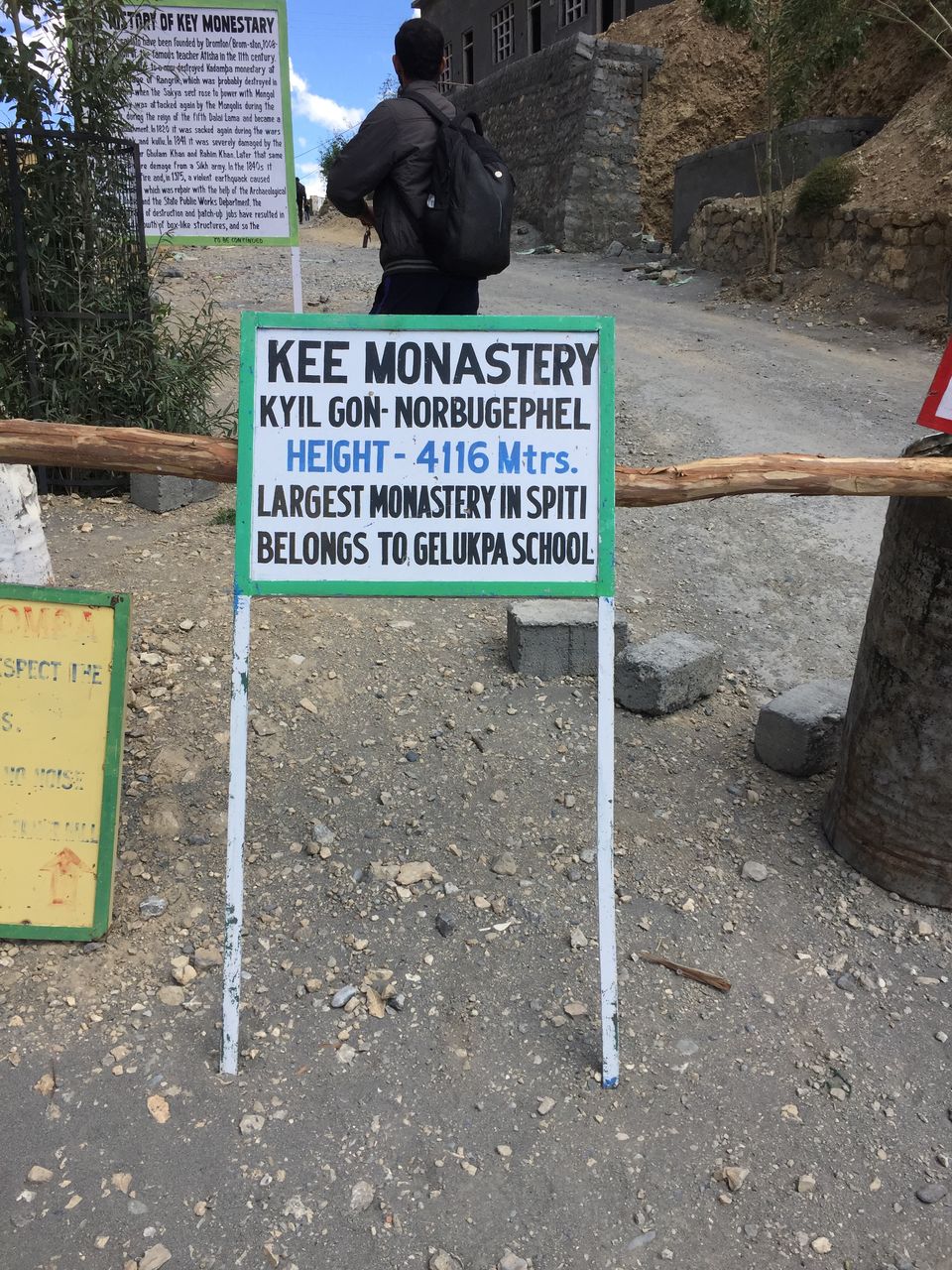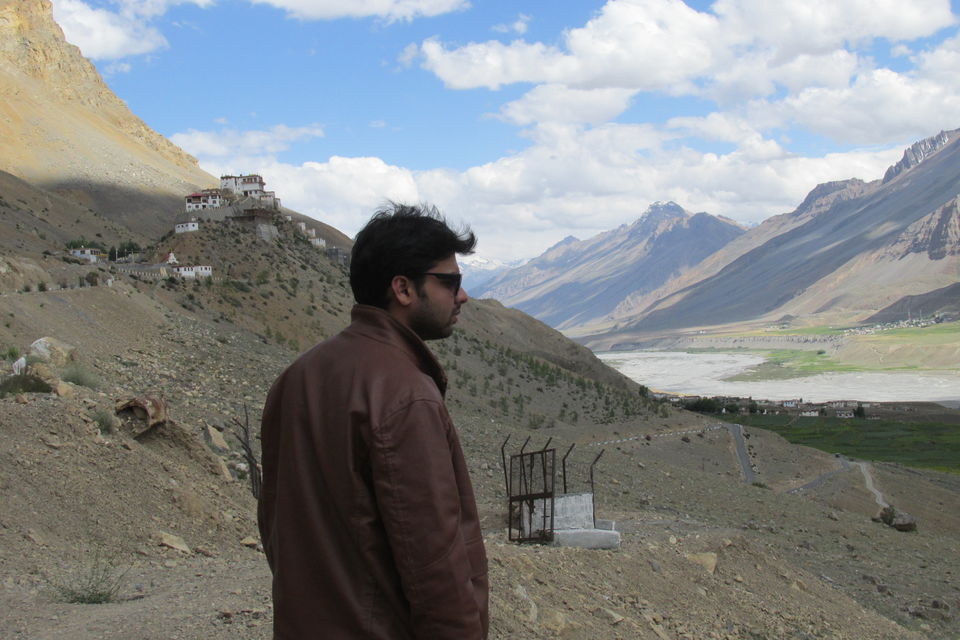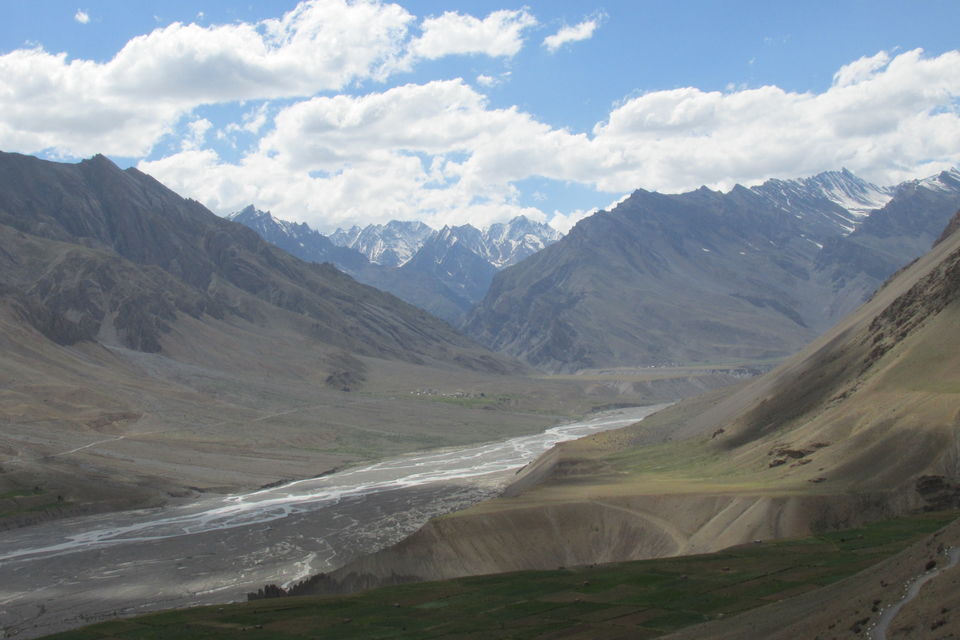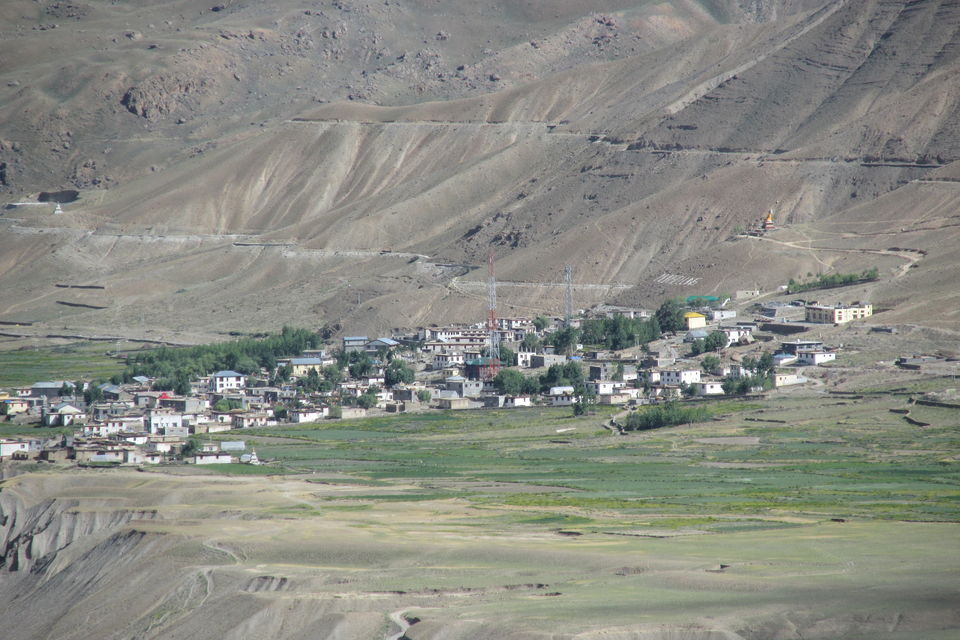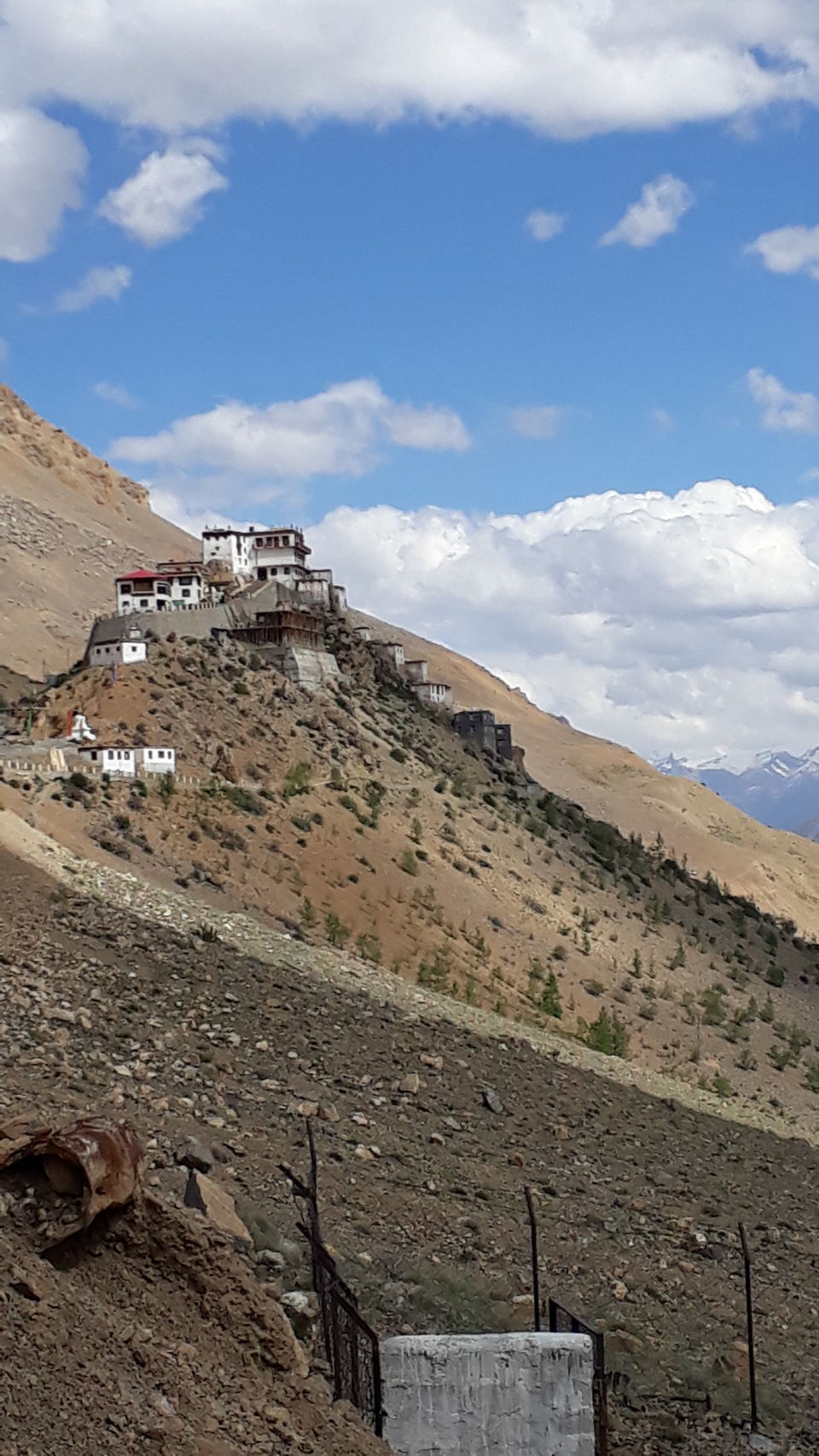 Enjoy the peaceful environment here. Its a big monastery, you will enjoy the picturesque valley view from here. We spent sometime in the monastery and left for Kiber Village.
Kibber Village ( 19 kms from Kaza ) :
Ki Monastery comes in the link road towards Kibber village so, after visiting the monastery we travelled to kibber village. It is 4 kms from the Ki Monastery. Its a village which is around 14000 ft above sea level. This scenic village is situated in a cold desert, surrounded by picturesque mountains, barren landscape, and green meadows. Also homestays can be found in the village. The village is not so big comprising 80 houses. We visited the villages clicked the pictures and got back to Kaza.
After visiting the beautiful monastery and the village we headed back to our hotel. Enjoyed the riding with awesome views of the valley and weather. Reached back to hotel around 7:00 PM. Had our dinner in the hotel and slept with the memories of the day.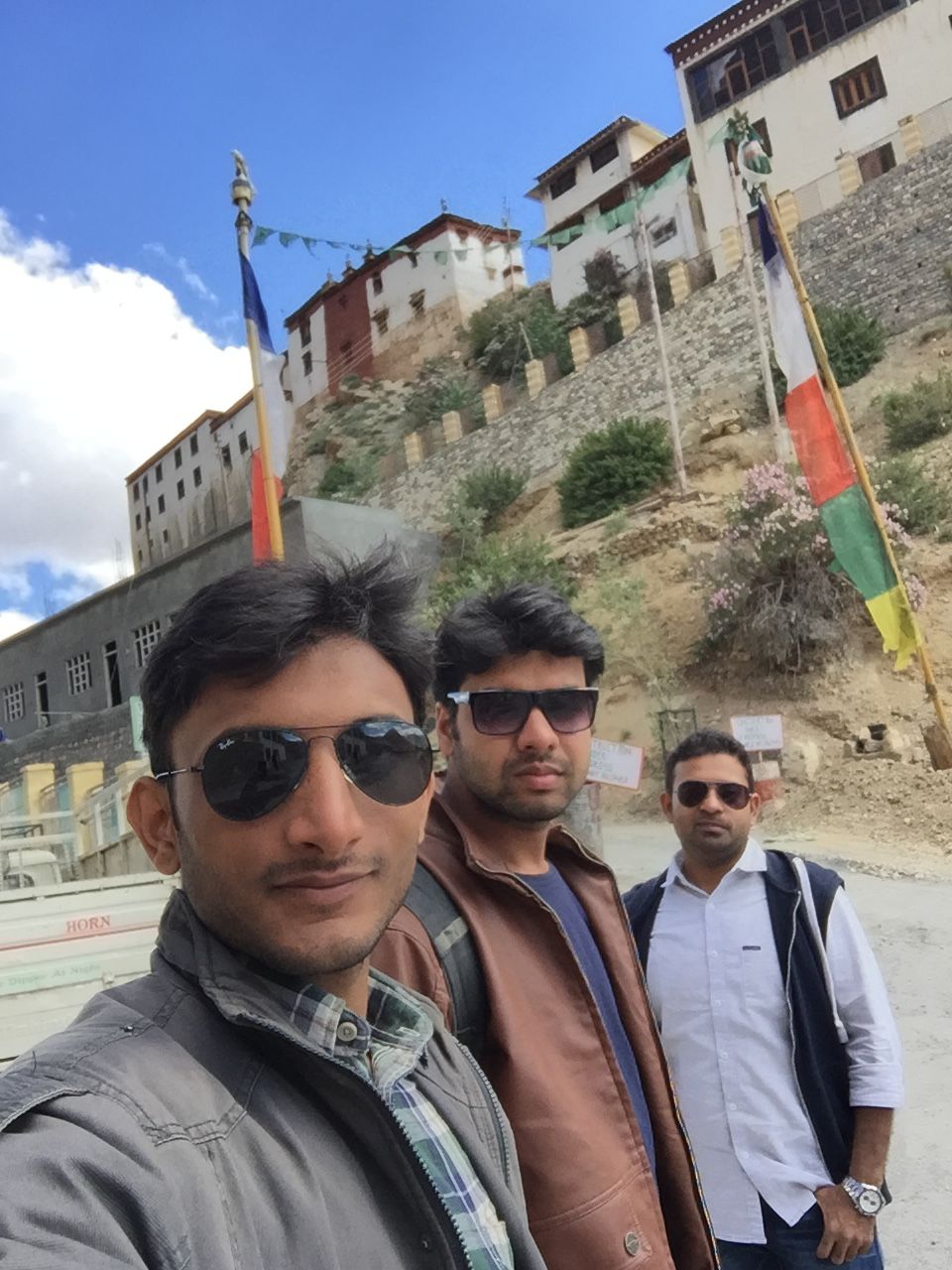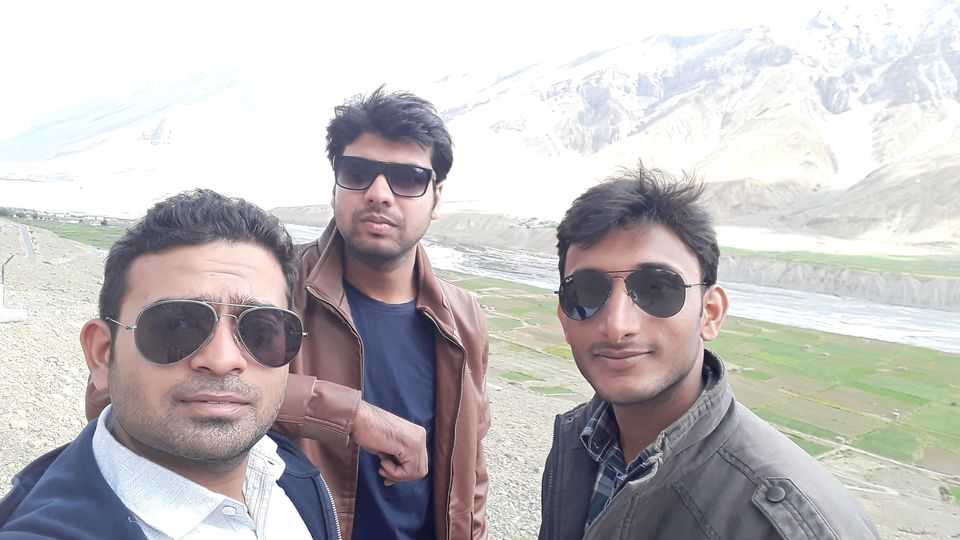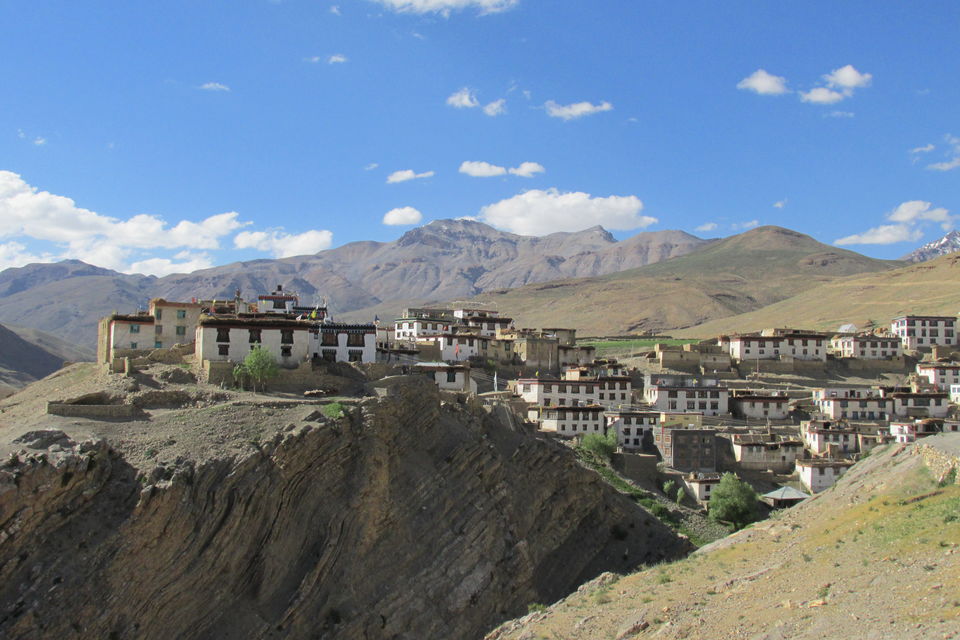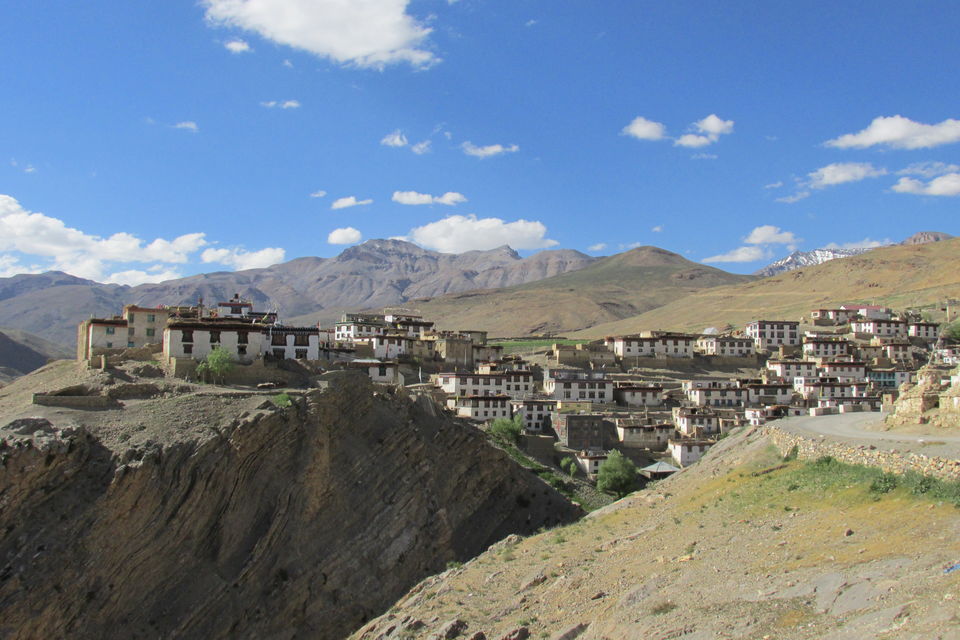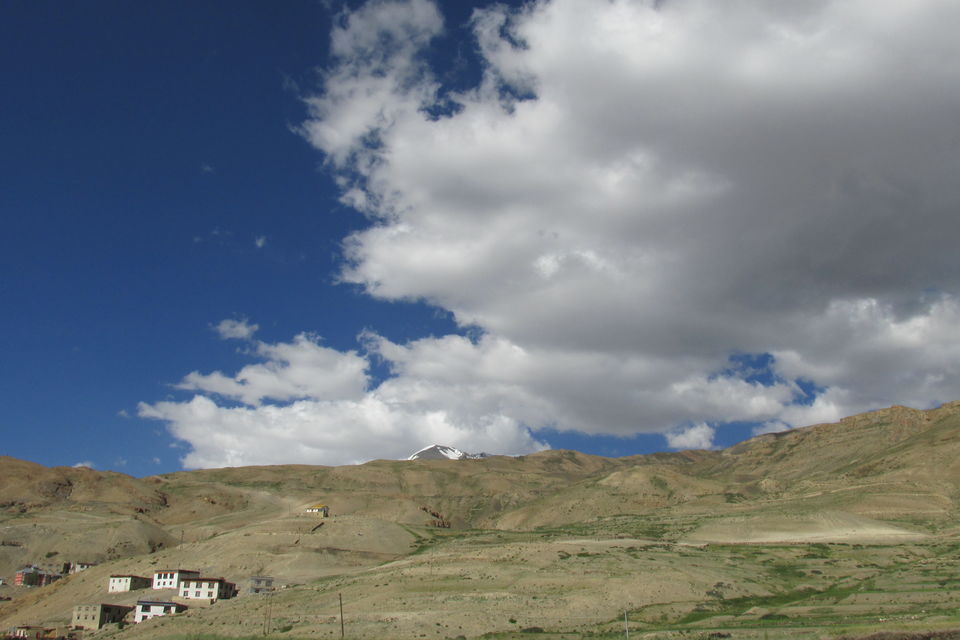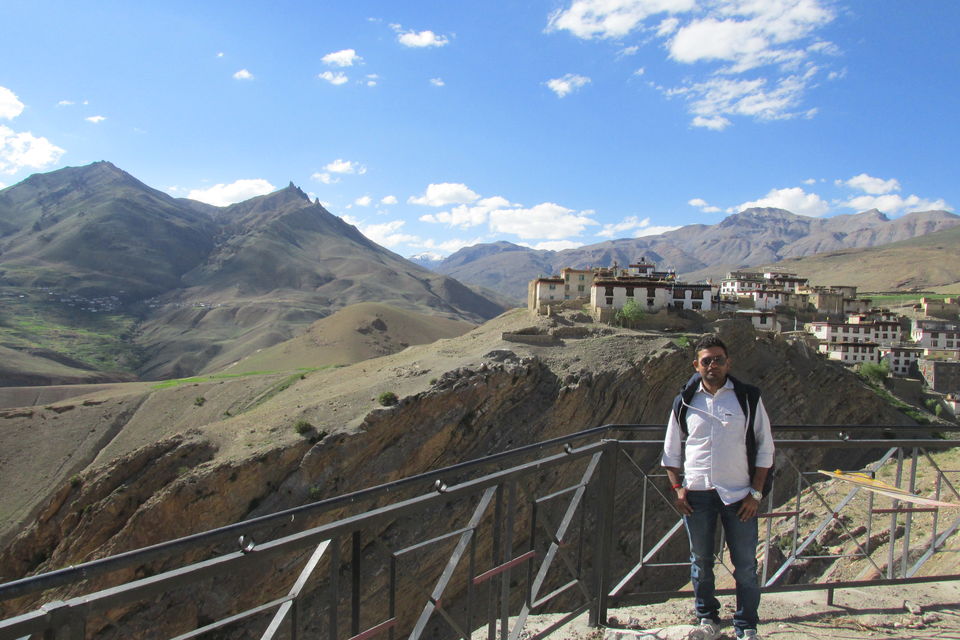 Visiting tourists Spot of the Valley :-( Langza, Komic, Hikkim Village and Dhankar Monastery )
The next day we planned to visit the villages on the mountains top. We woke up at 9 in the morning and left from hotel at 10:30 AM after having the breakfast. Enjoy the peace and calmness of the villages away from chaos and any mobile networks. Langza, Komik and Hikkim are connected, either you can go to Kaza -> Hikkim -> Komik -> Langza or Langza -> Komik -> Hikkim -> Kaza. We opted for Langza -> Komik -> Hikkim -> Kaza
Langza Village:
We reached Langza around 12 Noon. It's a beautiful village situated at an altitude of around 14000 ft. It is also called the fossil village. It is almost 14 kms from Kaza, one has to ride uphill for Langza. This picturesque village is blessed with ancient monasteries and buildings of the prehistoric era. It is surrounded by green pastures, snow-clad mountains and barren landscapes that awe-struck every person who visit this stunning location, which is certainly one of the best places in the whole Spiti Valley. The magic of nature at Langza village leaves everyone speechless.
The main attraction in the Langza is the statue of Lord Buddha which can be noticed from at least a km away.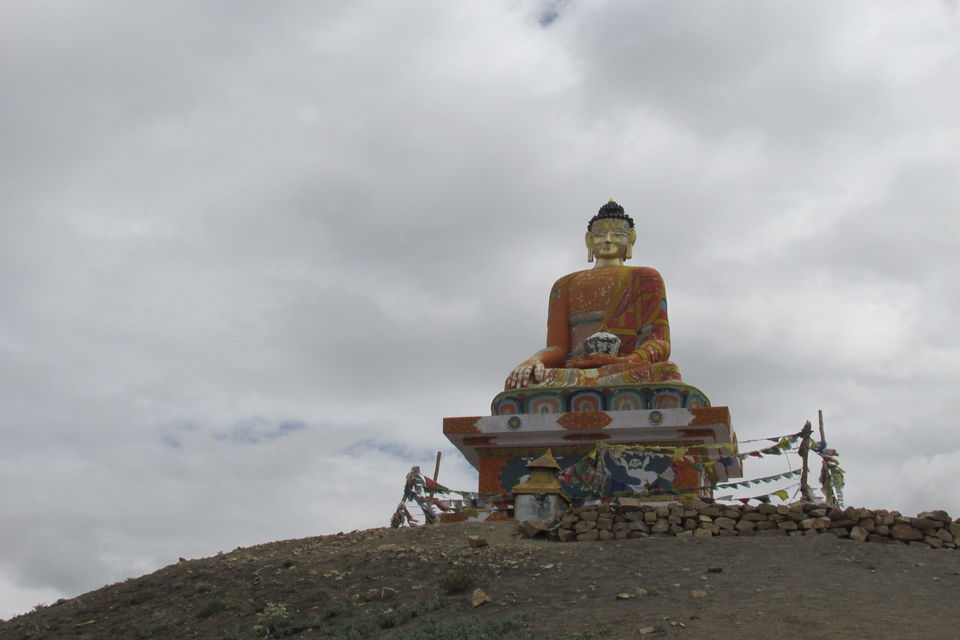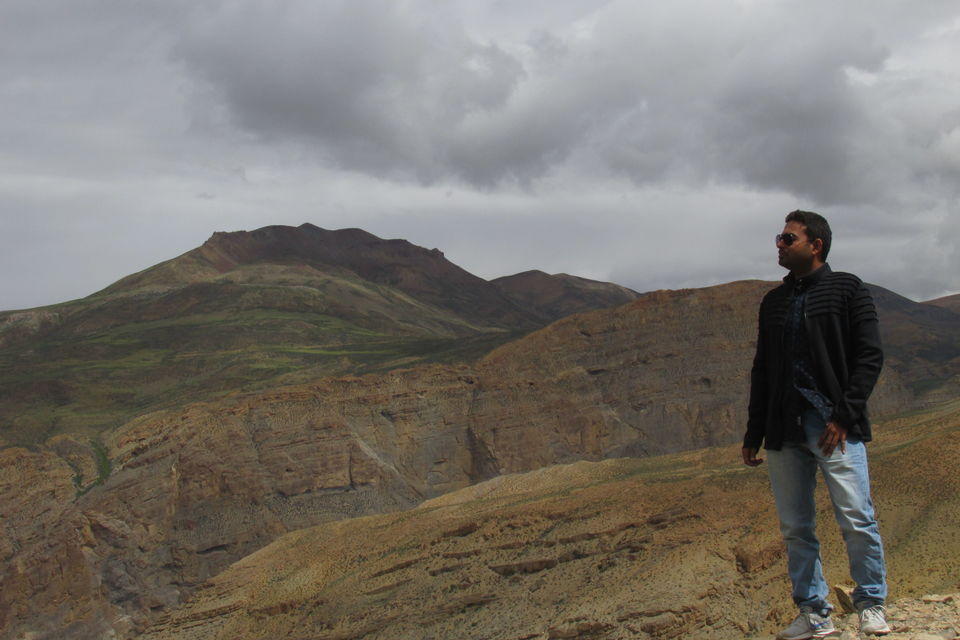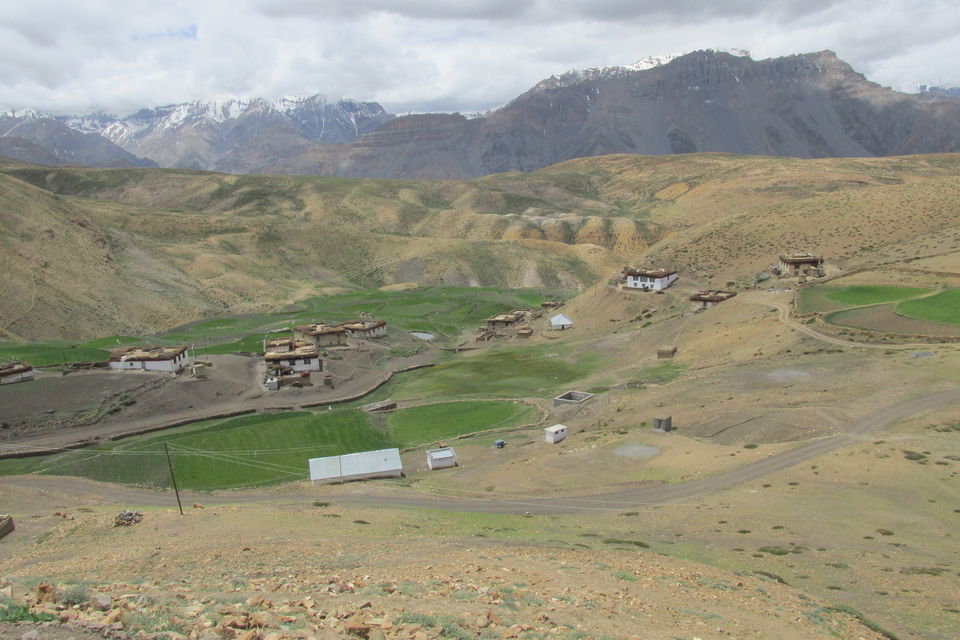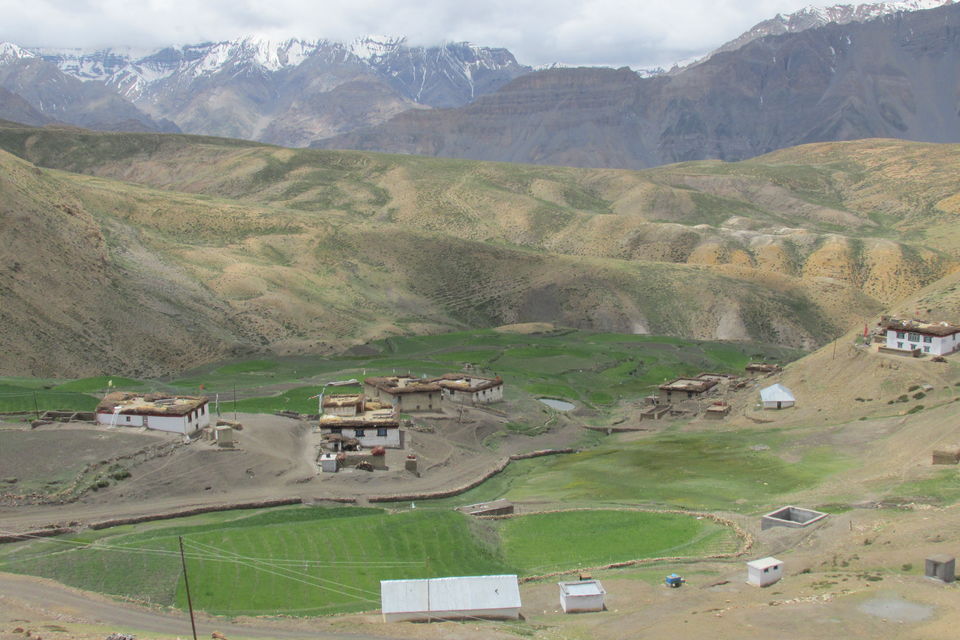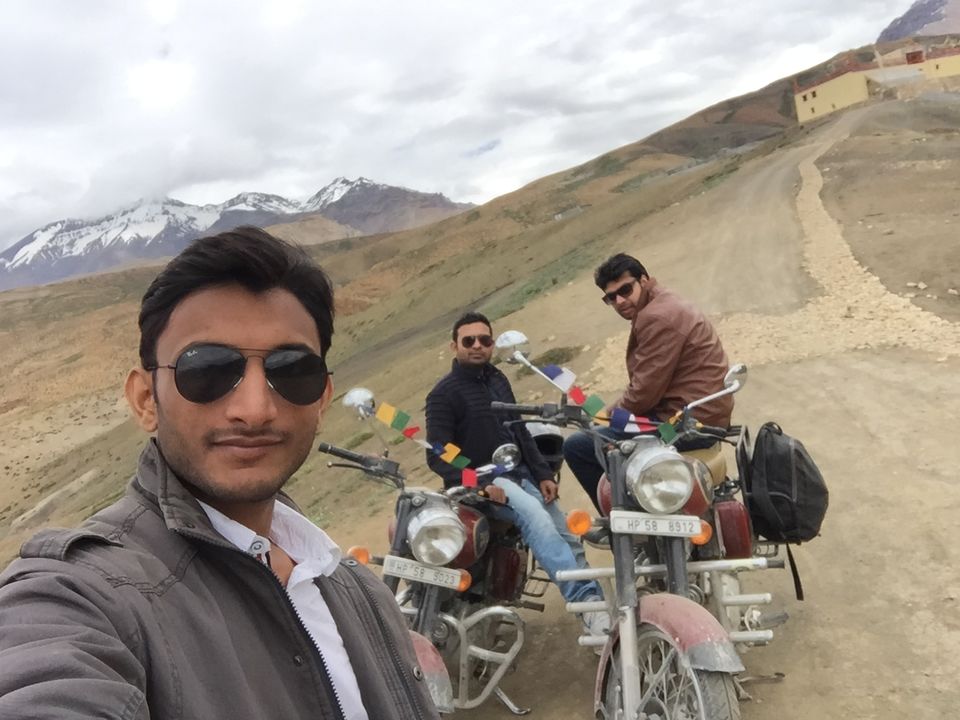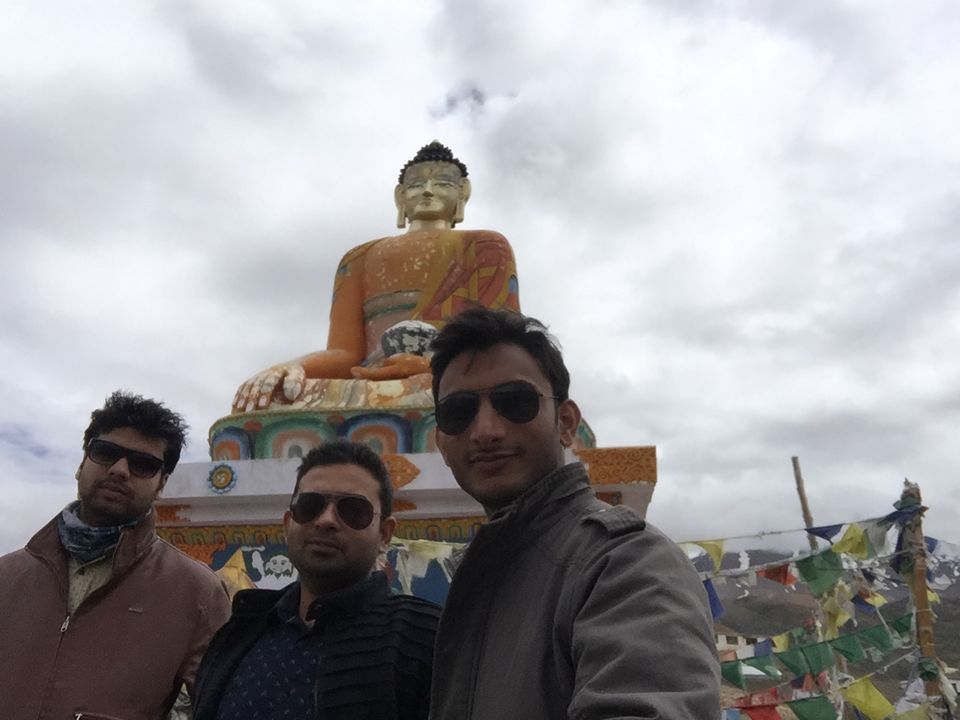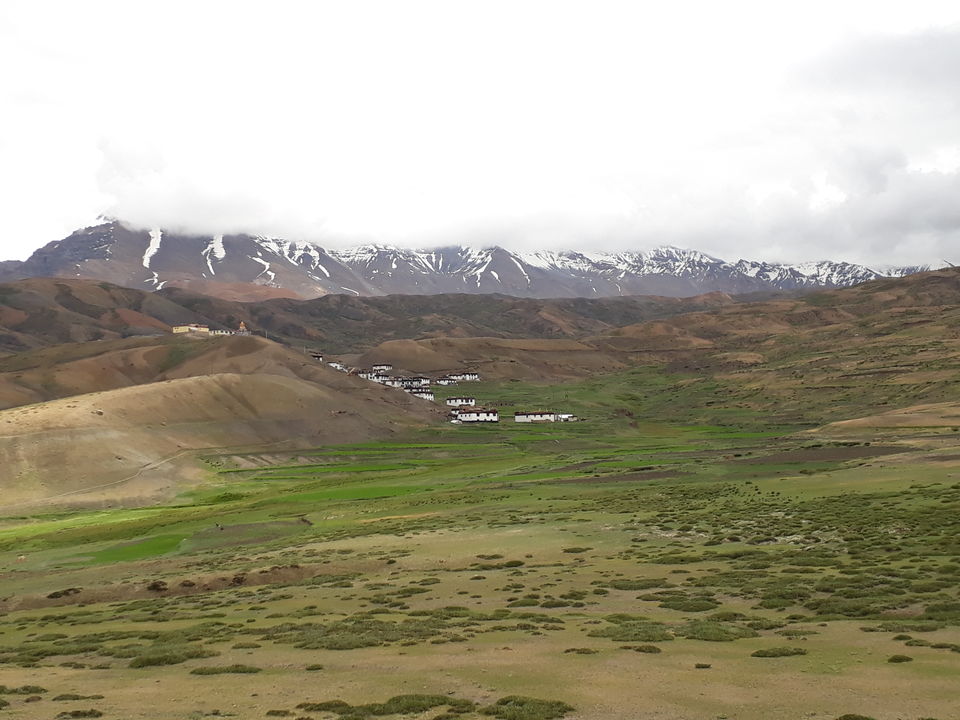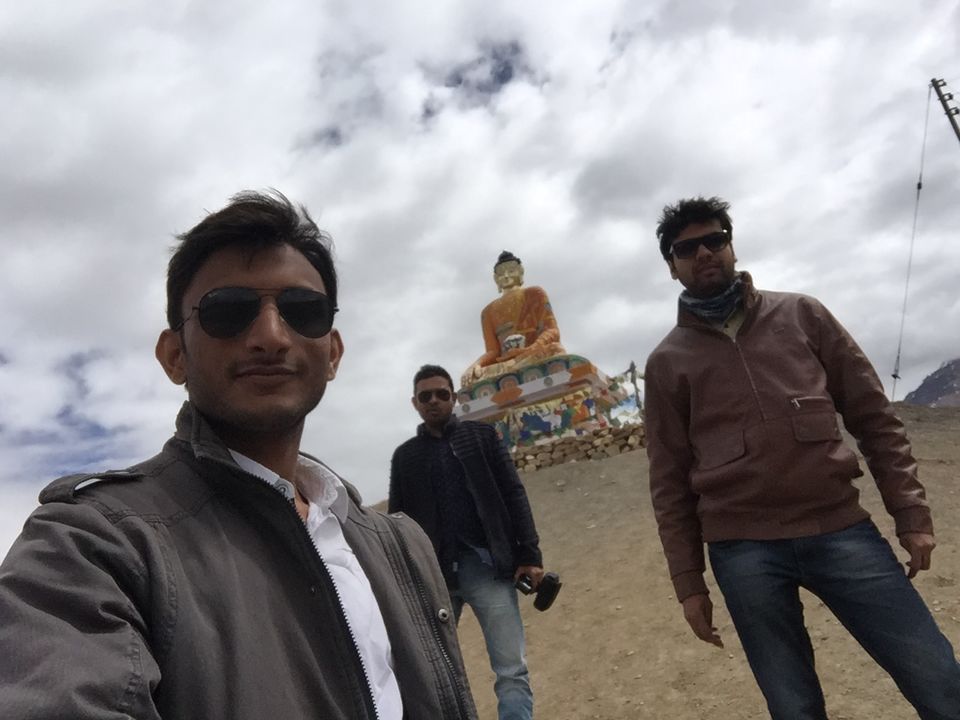 Further the village have fossils,one has to search for them in order to see. Overlook of the valley, an ancient monastery, and mud houses can be seen. Also the village have high altitude lakes which can be reached by 3-4 hours of trekking. Generally people avoid these treks. We didn't opted for the trek to lake.
Komik Village ( World's Highest Village with a motorable road ):
Next we visited the Komik Village which is 9 kms from Langza. Komik village is the world's highest village with a motorable road situated at 15000 ft above sea level. Komik Village attracts tourists who simply want to get drenched in its breathtaking beauty and charming festivity. All you need to do is come and explore the delightful vistas of this scenic valley. The village monastery is situated at the entrance and is 500 years old as per the villagers.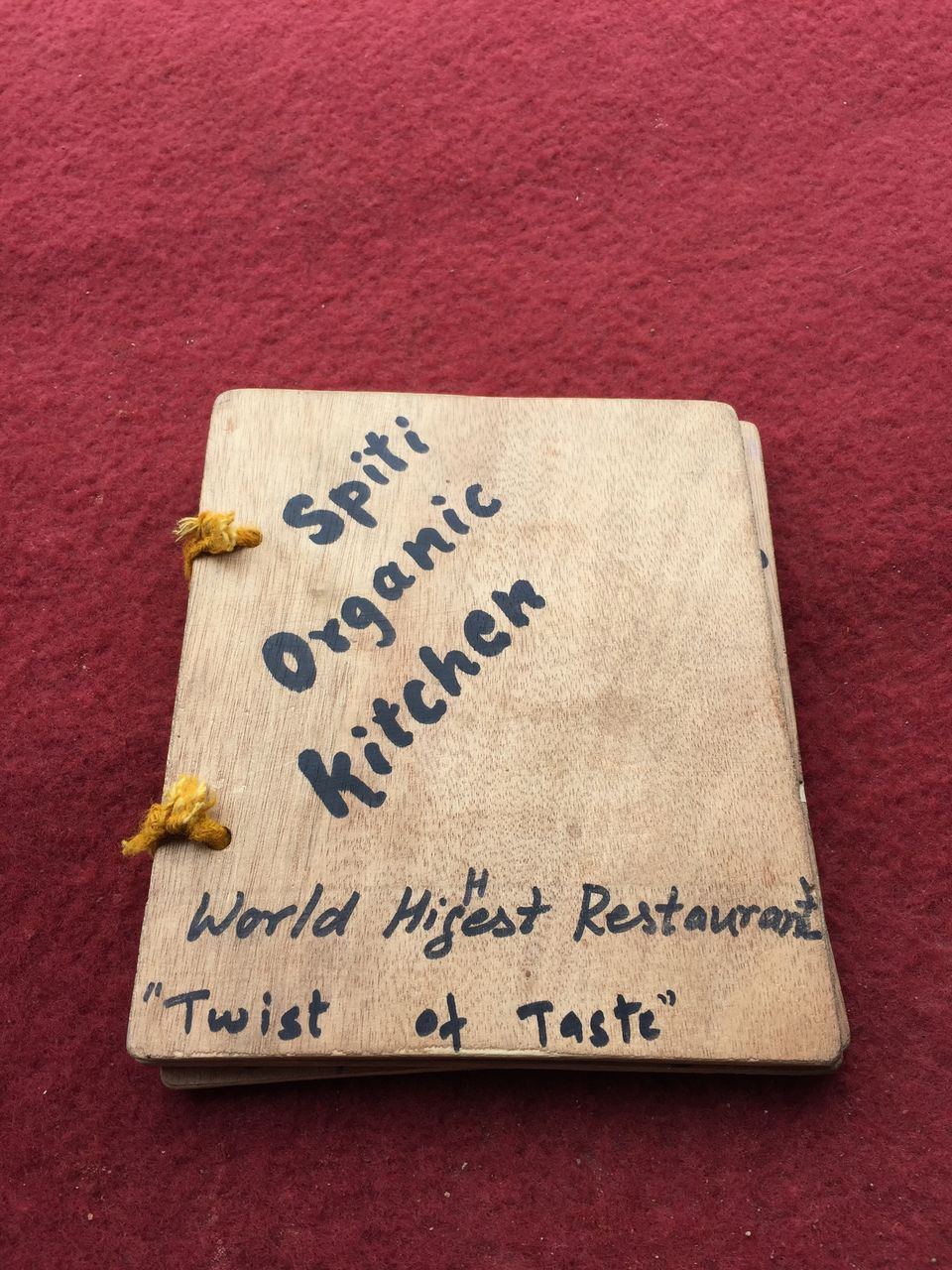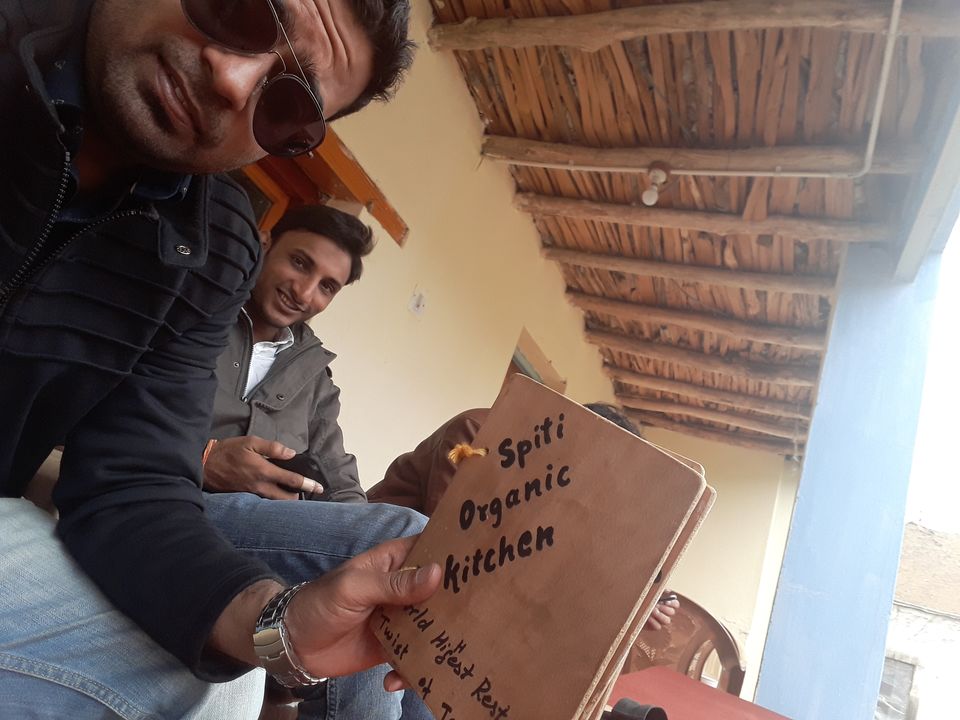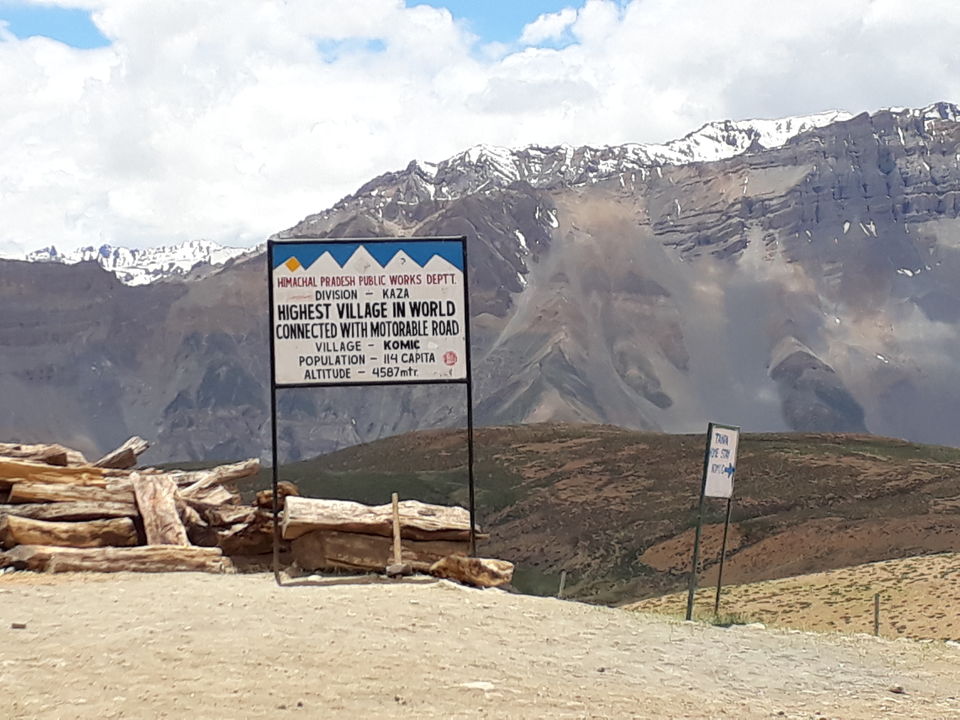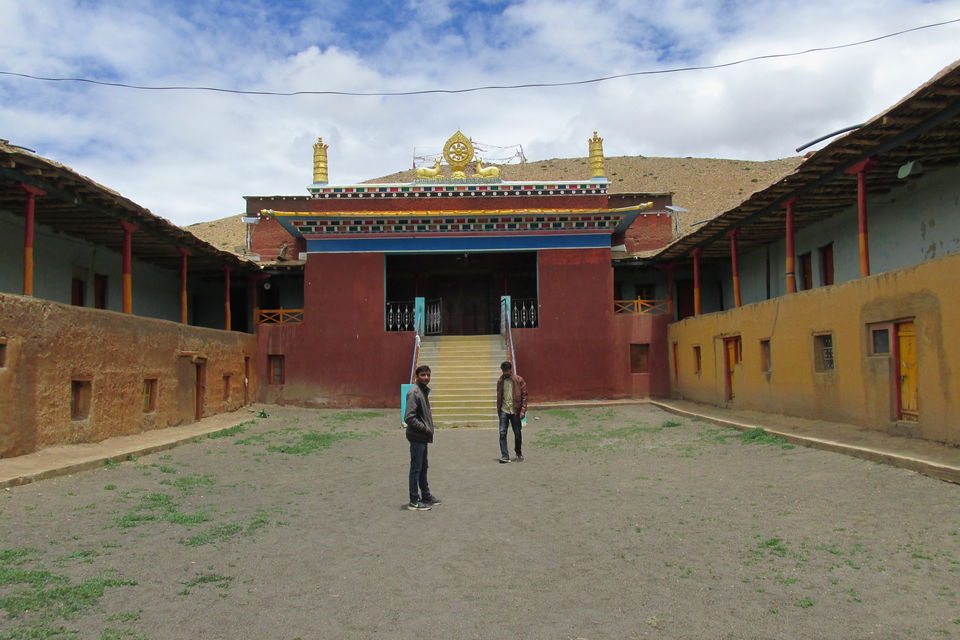 There is also a restaurant near the monastery, they call it as world's highest restaurant.We had some snacks and left Komik after an hour of relaxing there.
Hikkim Village:
It is just 3 kms from Komik Village. This place has the highest Post Office in the world. We left the village around 2 PM.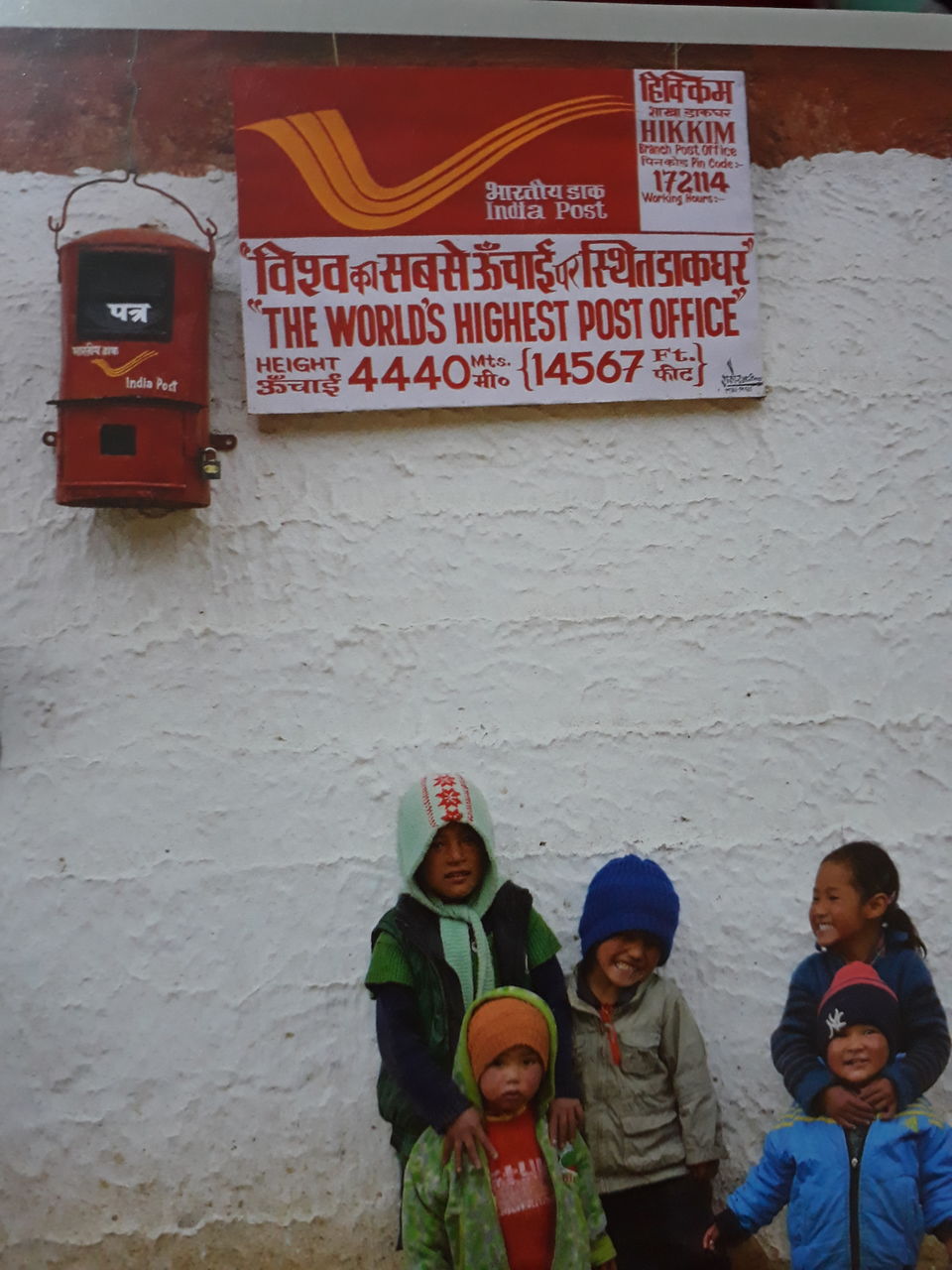 Kaza is about 24 kms from Hikkim, we left for Kaza and reached Kaza around 3 PM. As we had time left so we decided to go Dhankar Monastery which is 56 kms from Kaza and is in enroute to Tabo.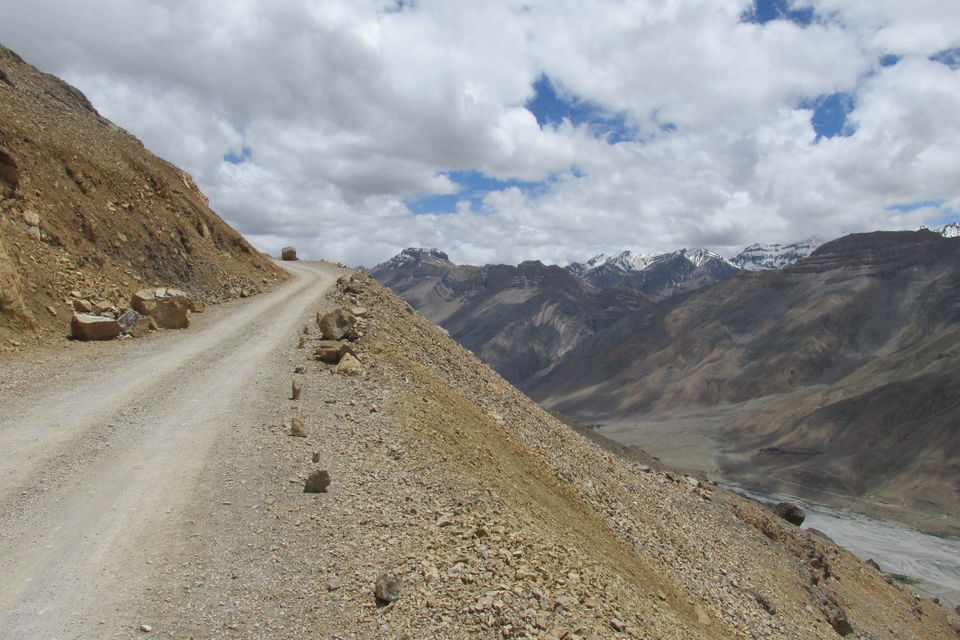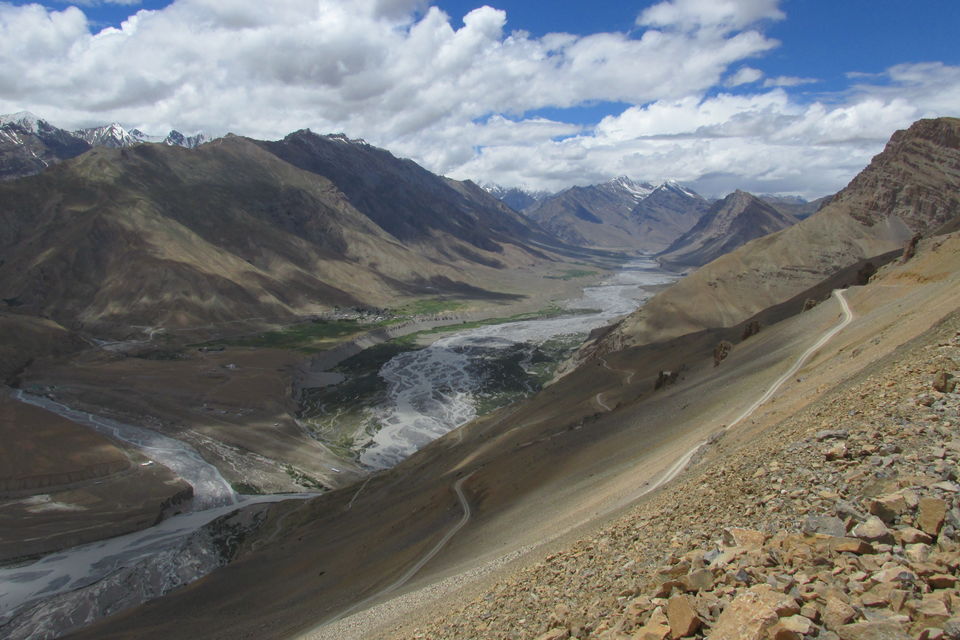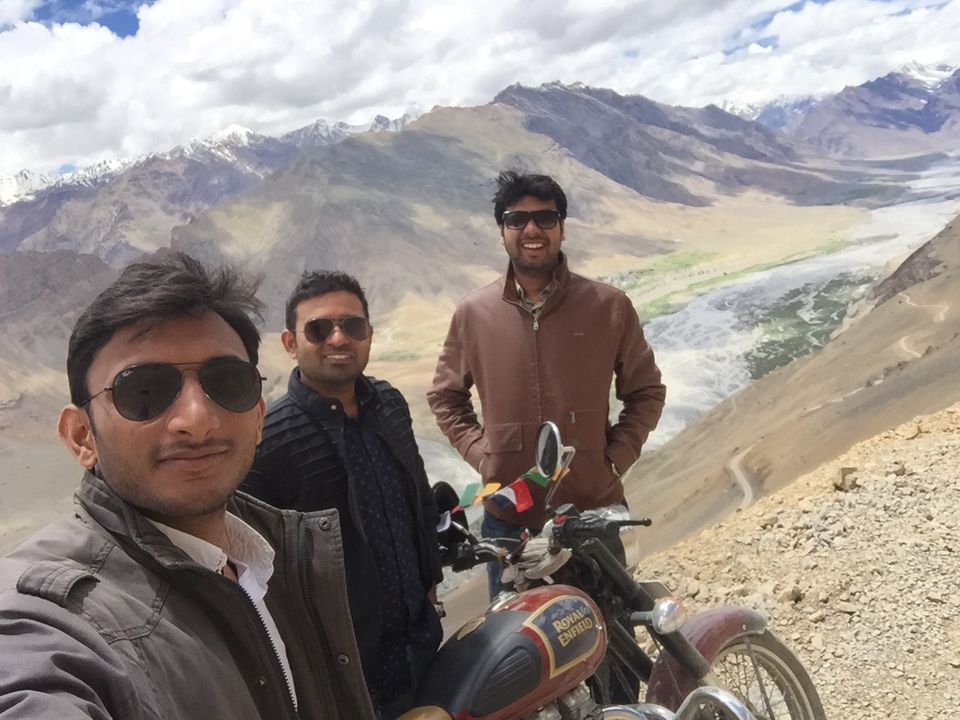 Dhankar Monastery :
Dhankar Monastery is situated in Dhankar village which is 30 kms from Kaza. We reached Dhankar at 4:30 PM. The road to Dhankar is smooth and well maintained, you can easily ride bike at 50-60 km/hr. Dhankar village comes in enroute to Tabo. As we do not had the much time so we dropped our plan of Tabo and visited Dhankar instead.
If you have the plan to Tabo also, then you should try to stay at least one day there as it is 50 kms from Kaza. Stay one day in Tabo and cover the sight seeing of nearby places i.e. Dhankar Village, Dhankar Lake, Pin Valley and places in Tabo.
Dhankar village used to be the capital of Spiti Valley. The whole place is picturesque. The village had the ancient Dhankar Monastery. The monastery complex is built on a high spur overlooking the confluence of the Spiti and Pin Rivers – one of the world's most spectacular settings for a gompa. In recent years, due to the deterioration of the building, some sections of the gompa have been abandoned and a new gompa has been built further down. The whole view of the village is awesome one can say. Above Dhankar is a fresh water lake about 1.5 km from the village at a height of 13500 ft acting as the source of water supply for the village. If you want to visit the lake then you have to trek for 1.5 kms as it can't be visited by bikes or vehicles.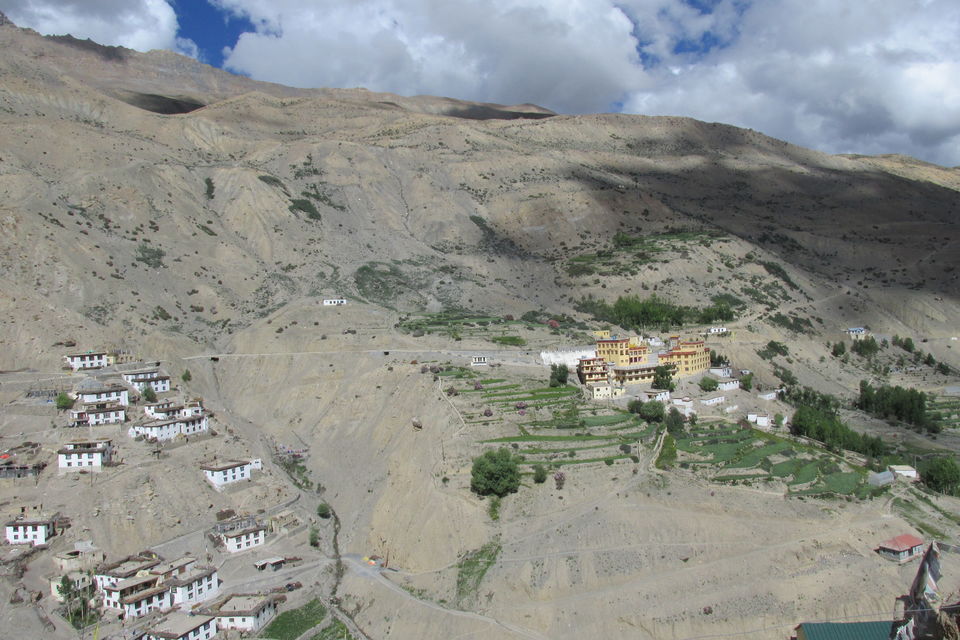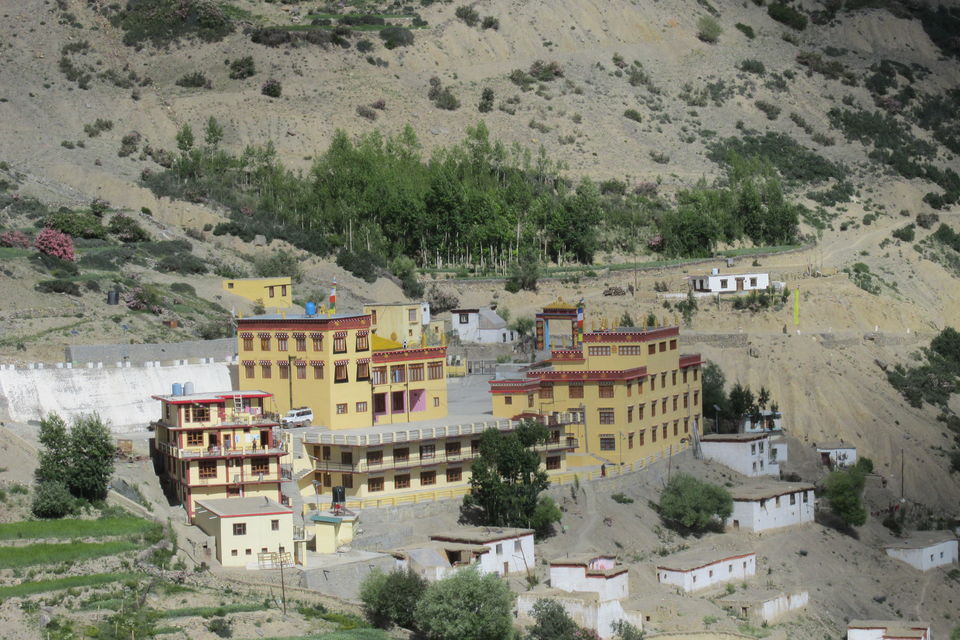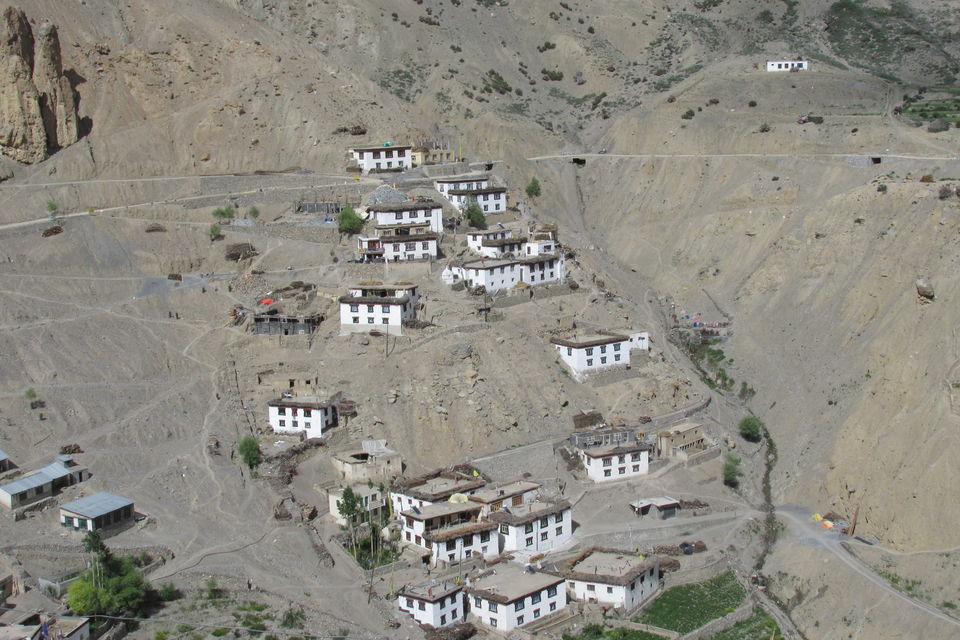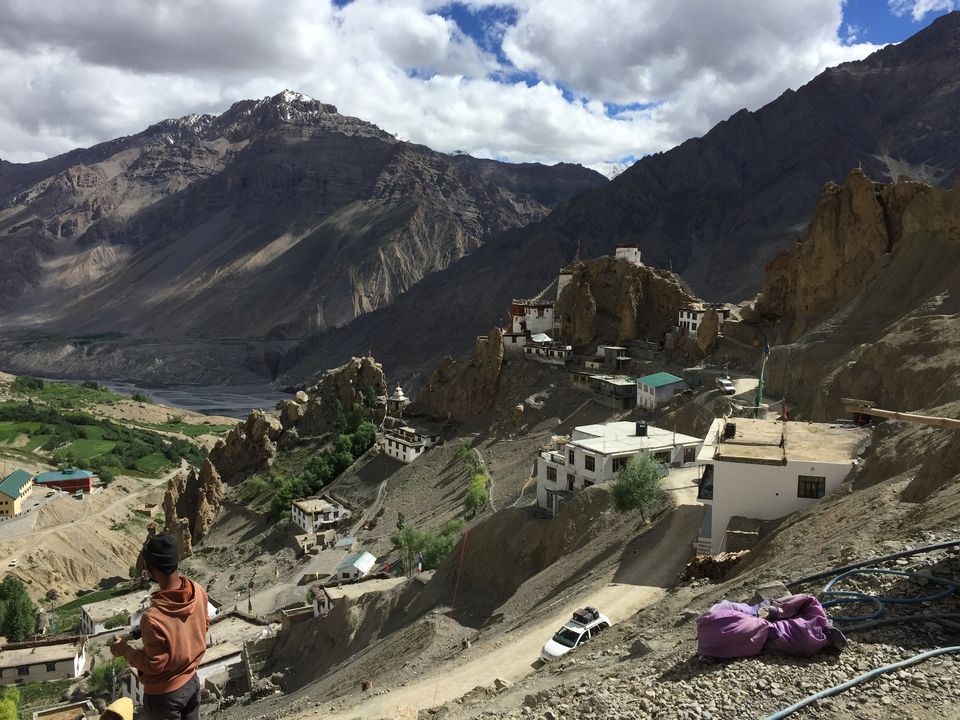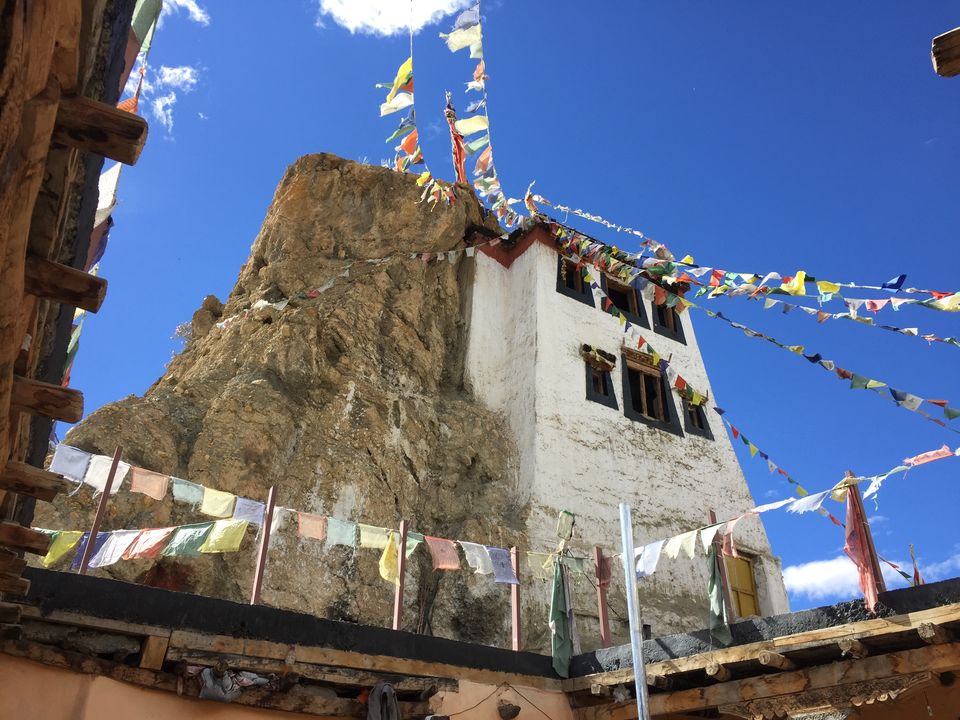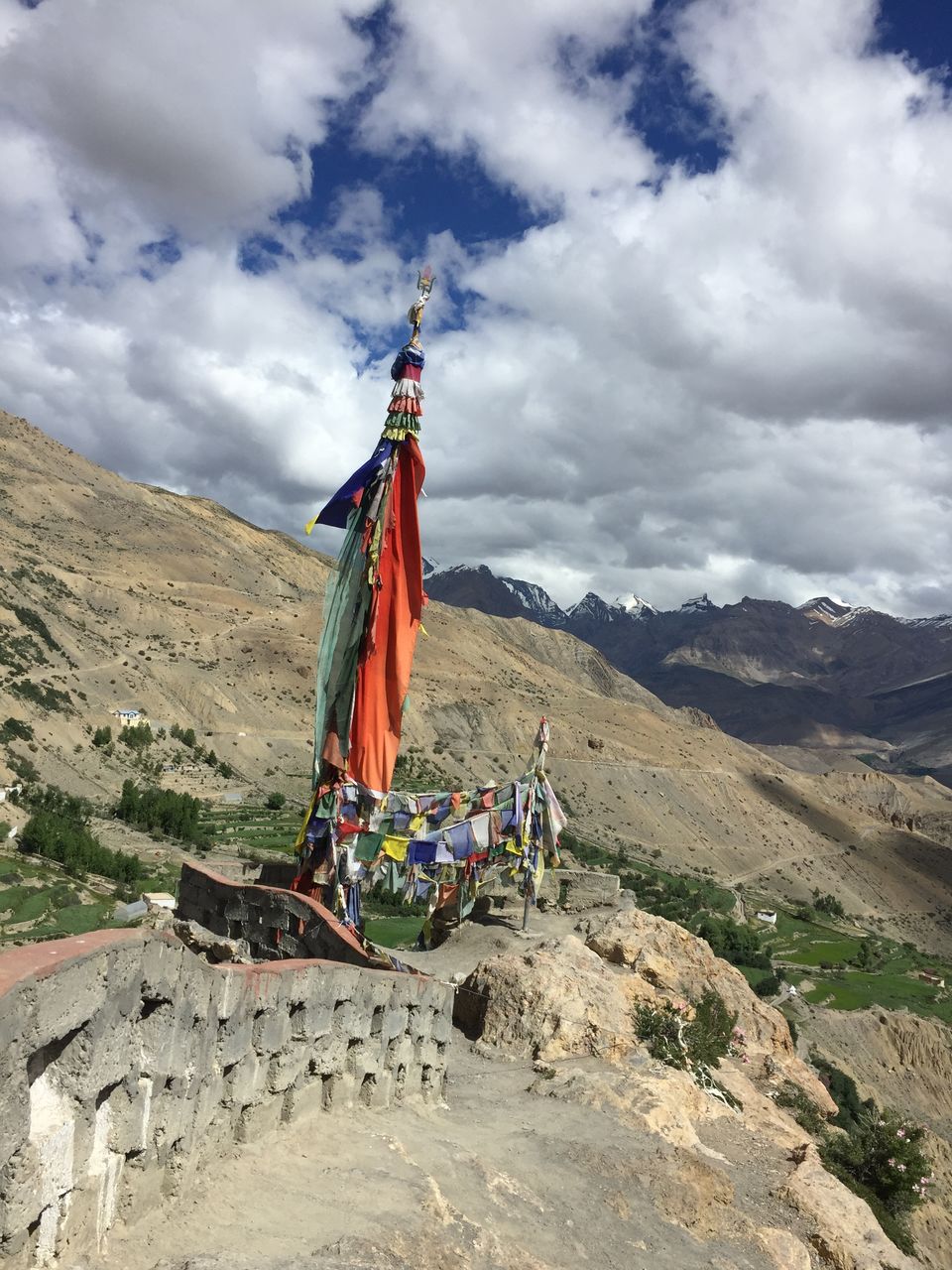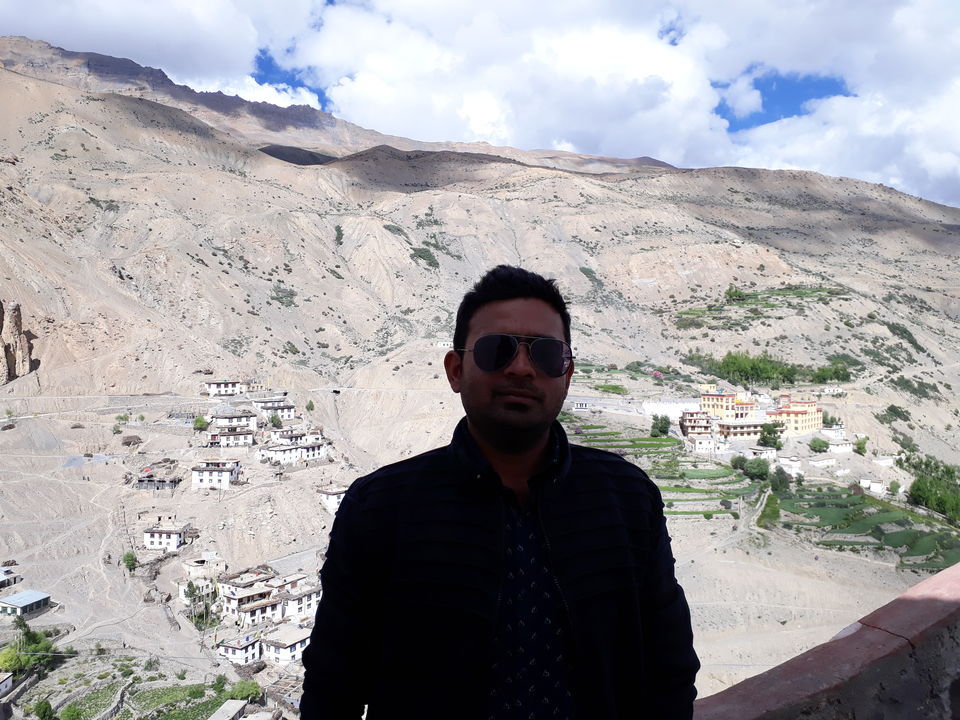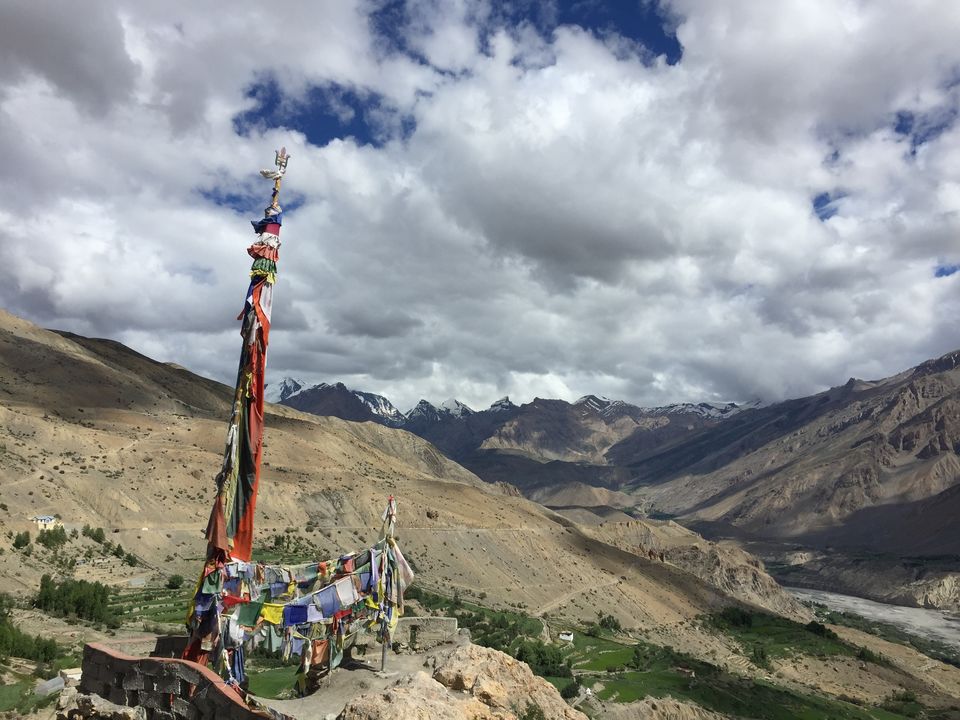 On returning from Dhankar we visited the Kaza market. It was 8 PM. Market is quite a busy place and you can find many tourists from different countries shopping and hanging out. It has many shops and you will get almost everything you want. We did shopping taking back some of the items as a memory of Spiti Valley. After this last visit of the day we came back to our hotel. This was the last day of ours in Kaza and we have to leave for Manali the next day.
KAZA -> MANALI
Nobody wants to leave such a beautiful place but one had to. We packed our luggage and tied on our bikes and with the great memories of the valley we left for Manali. This time we had in our mind the condition of road so we started our journey around 7:30 AM. We got our petrol tanks fully filled up at the petrol pump in Kaza. On the way we were thinking that we should have stayed at least 2 days more, as we left some places left for visiting. Also, we didn't planned for Chandratal lake which comes in route to Manali. One day is needed for Chandratal. We wiuld visit again the valley having this in mind we continued or journey. We did our breakfast in Losar and lunch in Chhatru.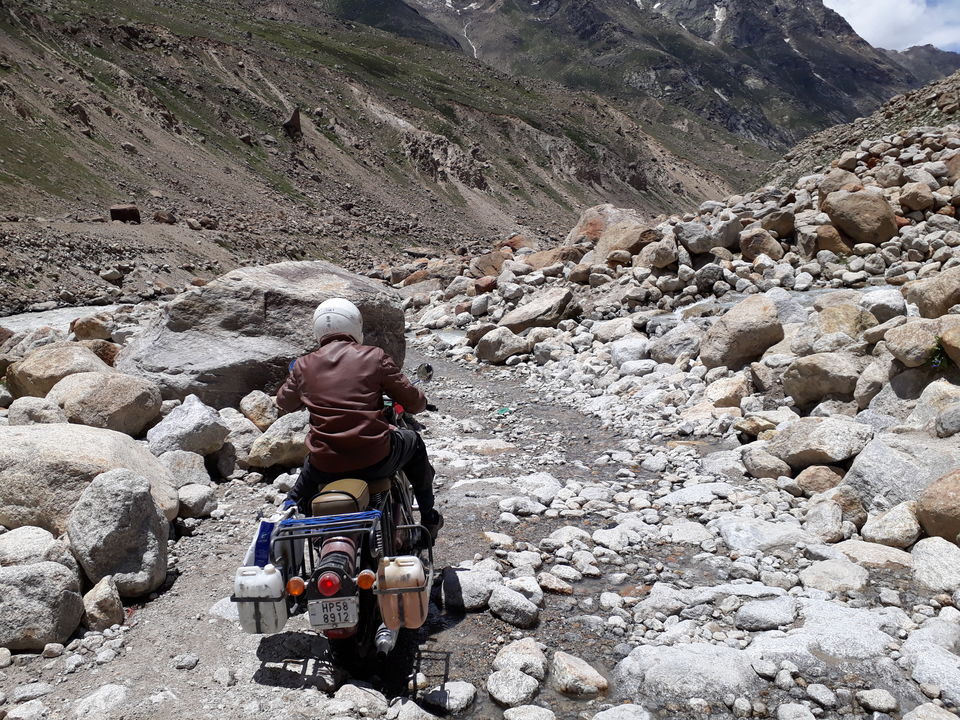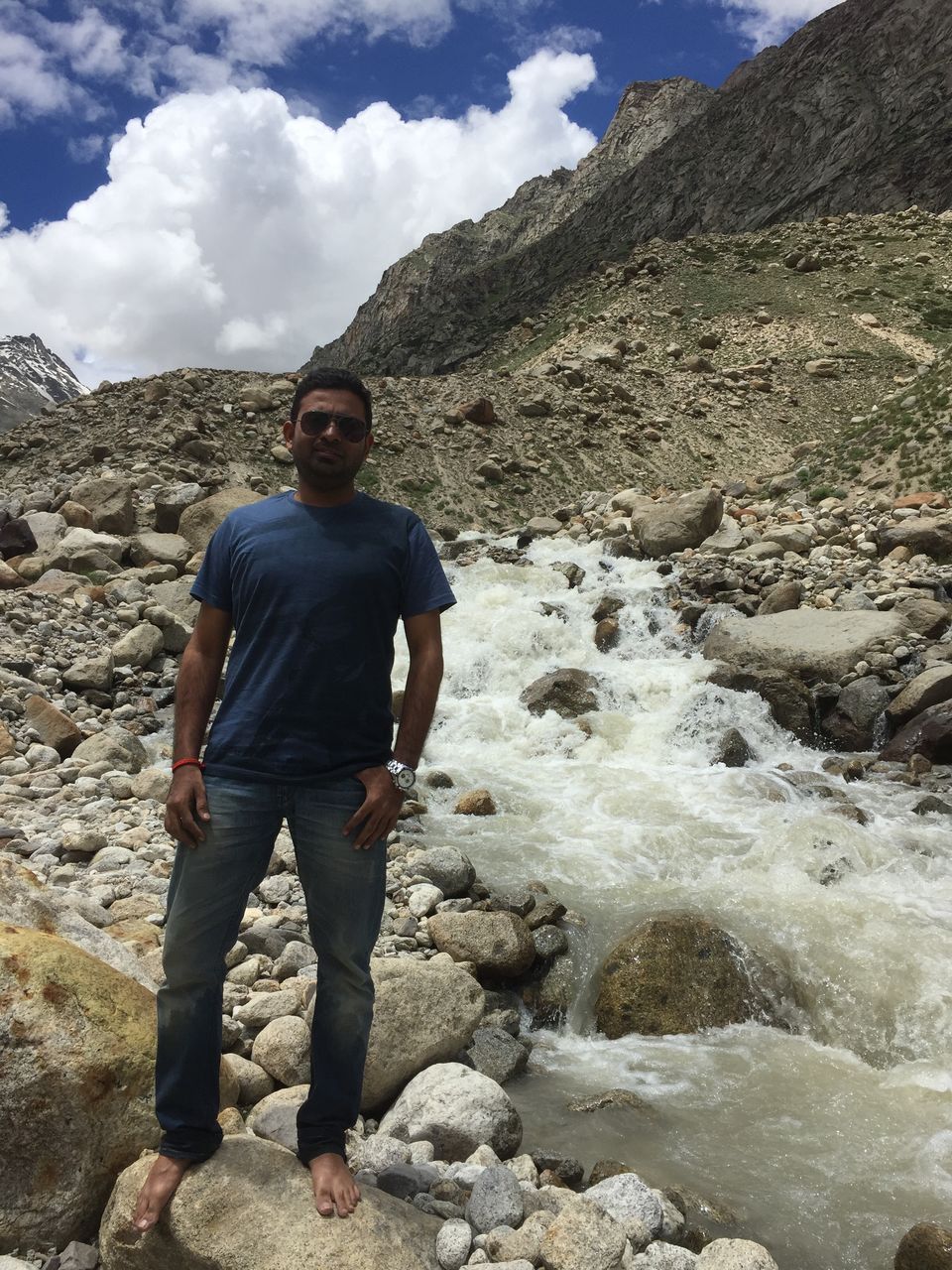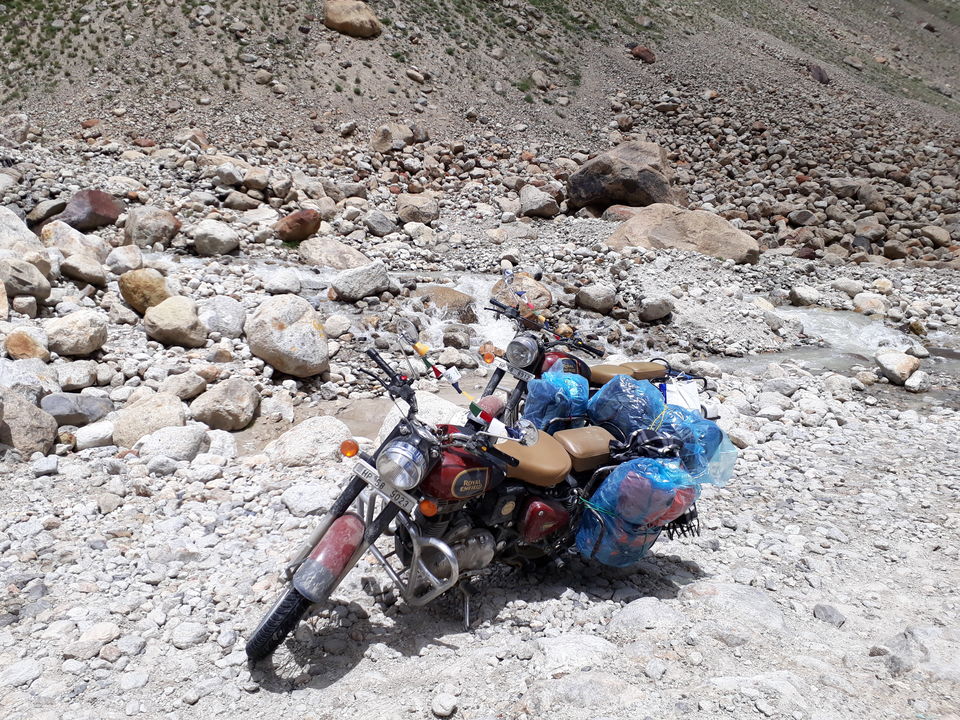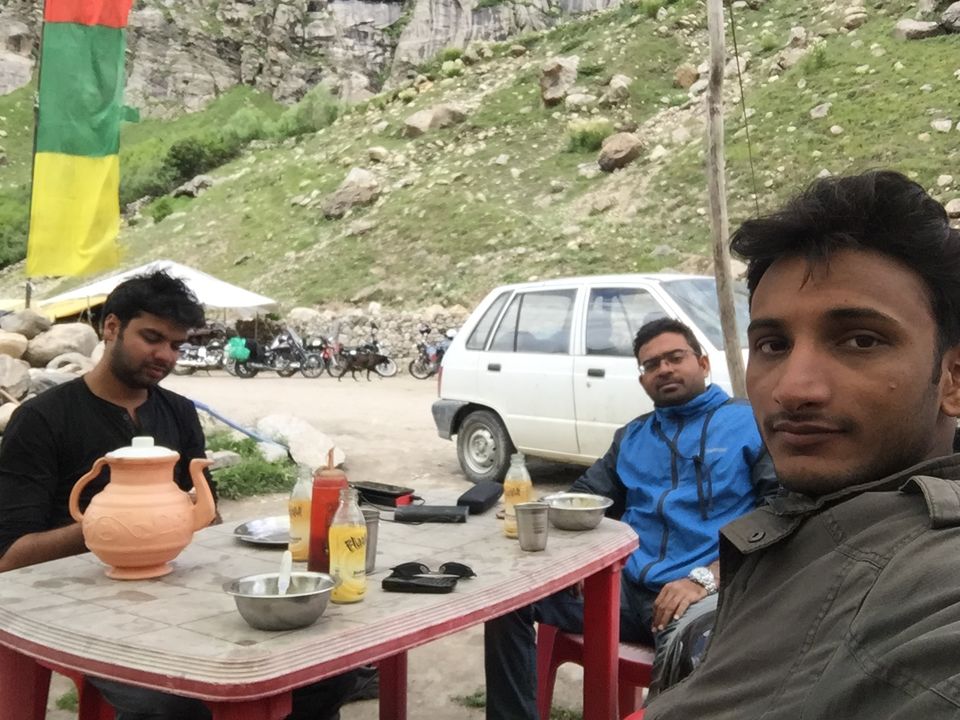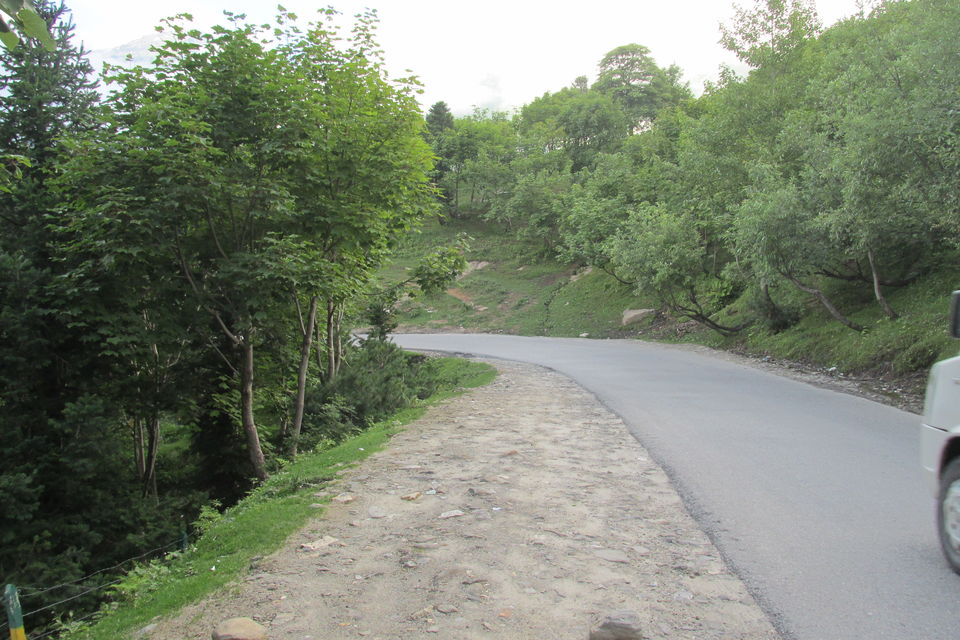 On the way back we found that the water in the water crossings which comes on the road to Manali was increased very much. One Innova got stucked in the water crossing. After the help from passing by vehicles only it got out. We reached Rohtang around 4:30 PM, the view of the Rohtang this time was mind blowing, it was covered with clouds and we were travelling in the clouds. Clouds were on the Rohtang pass road. We enjoyed that moment
Reached Manali at 8:00 PM, we had our bus at 10 PM to Delhi. After reaching Manali we handed our bikes to the tour operator and left for bus stand near the Mall road. Boarded our bus and with the sweet memories, we left to our places.
DELHI
This was the end point of our trip to cold desert mountain valley Spiti Valley. We left for our workplaces from Delhi with a promise to meet in next trip. I left for my home to Kanpur.
Frequent searches leading to this page:-
spiti valley bike trip, manali to spiti bike trip, spiti valley bike tour packages, spiti valley tour packages