Imagine a winter wonderland where the trees glisten with snow and the forest around you is beautifully dotted with log cabins. Imagine stepping into a glass igloo, nestled in the middle of this magical place, and being enveloped by the warmth of the log fire. Imagine husky safaris, mushroom and berry picking sessions, canoeing and kayaking and fishing trips in a beautiful land that offer more than you can believe.
Where can you find this, you ask? At Kakslauttanen Arctic Resort in Saariselka, Finland, which is the land of Santa Claus and Northern Lights. This resort is one of the most instagrammed properties in Finland and it's worth all the hype around it. Winters, autumn or summer – this place offers something different every season. And obviously, there is that chance of sighting the northern lights and checking that off of your bucket list!
You can visit this wonderland all year round, except May! Each season has a different highlight, and different kind of activities and accomodation on offer.
Summer Visit - For the midnight sun
What is the midnight sun?
Midnight sun is a phenomena where the sun doesn't set at all during the summer months. Finland experiences this for about a month between June and July. But for four months between late April to end of July, there is light throughout the day. During these months, you can view the sun in the sky for about 23 hours a day.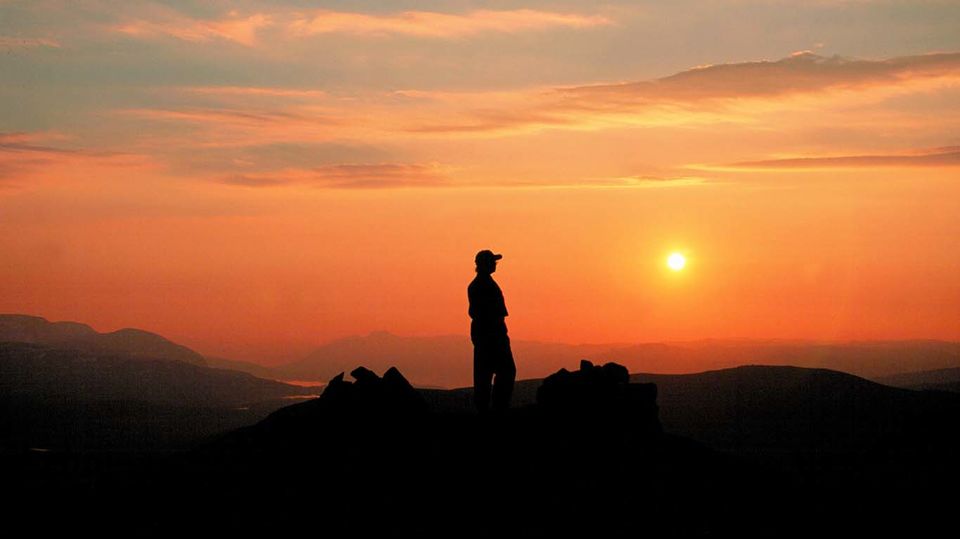 Activities on offer
Yes, the sun is there throughout the day, but that doesn't mean it will be hot! The weather in summer is just ideal, with warm days and cool nights. If you are visiting in the summer season, Midnight Sun spotting is a must do. Other than that there are numerous activities to pick from while at Kakslauttanen –
Husky Farms and Husky Hikings – Visiting the husky farm and meeting some cute little puppies is an ideal way of spending a relaxing hour. For the more adventurous ones, you can also hike in the arctic wilderness with the loyal companionship of a husky dog.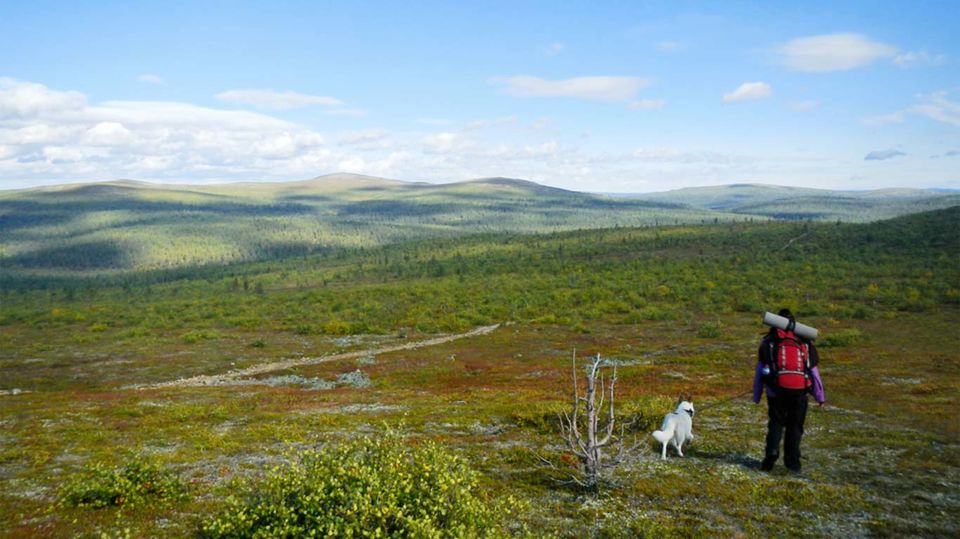 Horse Safaris – The green landscapes in the summer months are perfect for an exciting horse riding experience. Roaming the fields on a Finnish horse might just make you feel like a cowboy or a cowgirl!
ATV Safaris – On an All Terrain Vehicle (ATV) you get to see the rugged terrain of the Lapland. For the adventorous traveller, they also have the option of spotting the Midnight Sun on an ATV!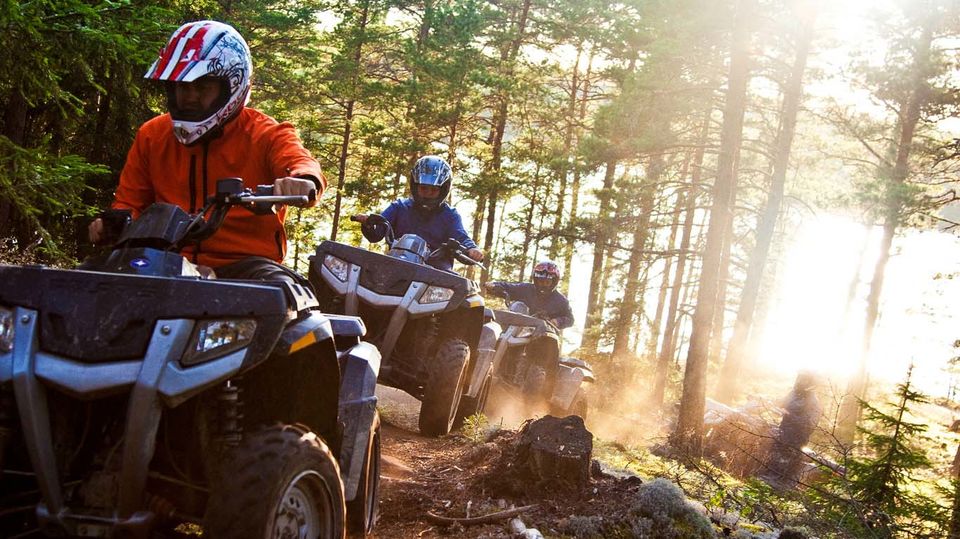 Canoeing and White Water Kayaking – You can either canoe softly down the river or throw caution to the wind and kayak straight down the rapids. One can experience the thrill of whitewater kayaking on the Juutua River or have a calming canoe ride on the Lutto River.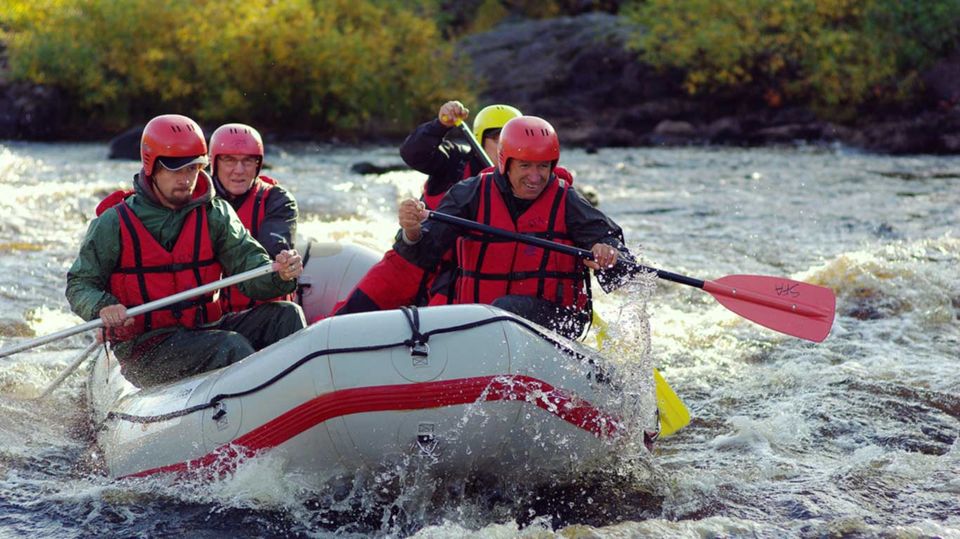 Mushroom and Berry Picking – Finland is not just the land of the Northern Lights or the Midnight Sun. It also has natural treasures – berries and mushrooms. During summers, because of the 24 hour light, these are packed with vitamins and are really tasty. You can go picking them around the resort and store as many as you want.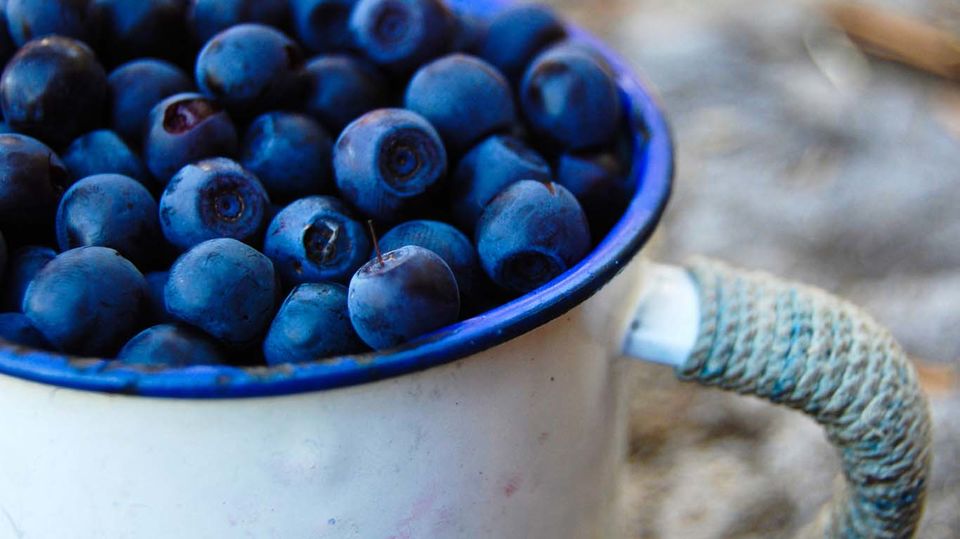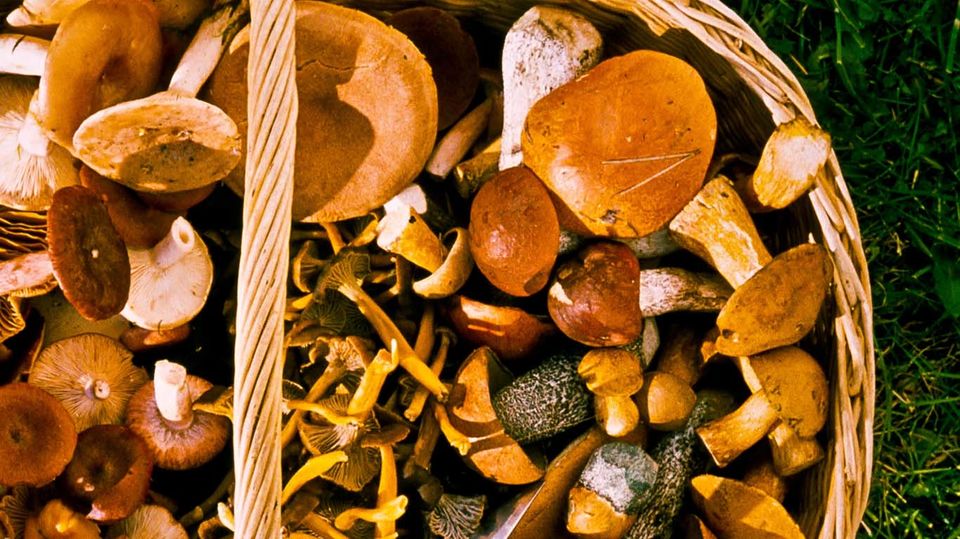 Mountain Biking – In the vicinity of Kakslauttanen, there are dozens of well-marked biking routes, both for beginners and active cyclists. Rent a bike from the resort and get cycling.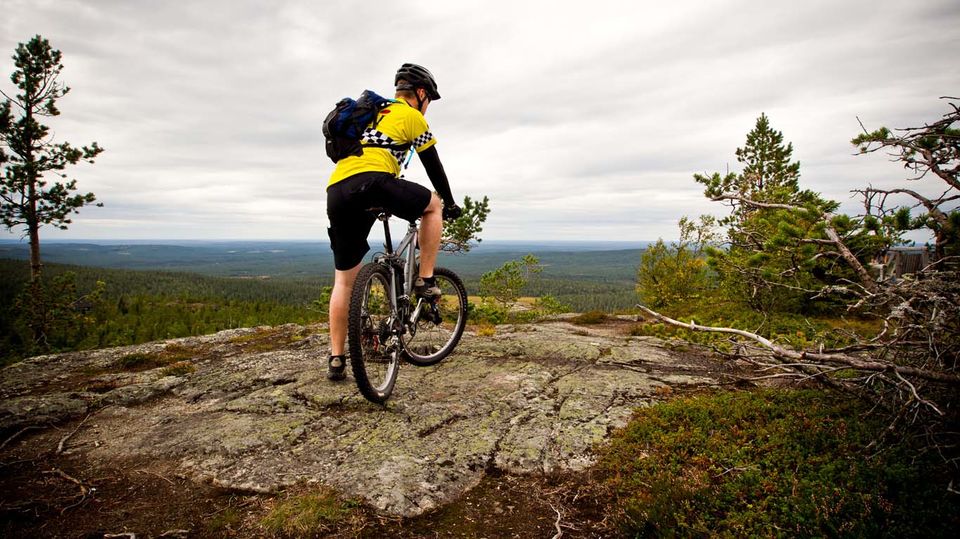 Hiking – You won't find a better place than Kakslauttanen anywhere in Finland. You can trek to your heart's content here. Also, the water here is so fresh that you can drink straight out of the mountain streams without a care in the world.
Gold Panning – Gold mining has taken place around Kakslauttanen for centuries. If you chose to go gold panning, you can try your luck at striking some gold as well! Maybe you will be lucky to mine enough gold to make a ring for yourself? Or your loved one!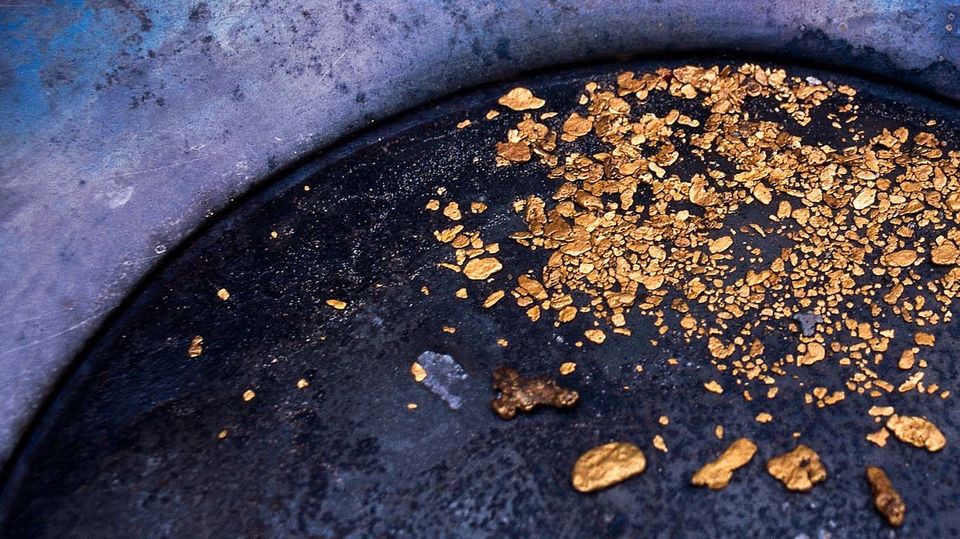 Accommodation in summers
During the summers, the resorts only opens up its log chalets and queen suites.
Log Chalets are for one to 10 people and are made from kelo pines, trees that once stood tall and proud in the surrounding forests. Each log chalet comes with a fireplace and a sauna.
Price for 1 night (double occupancy) - Rs. 14,000 onwards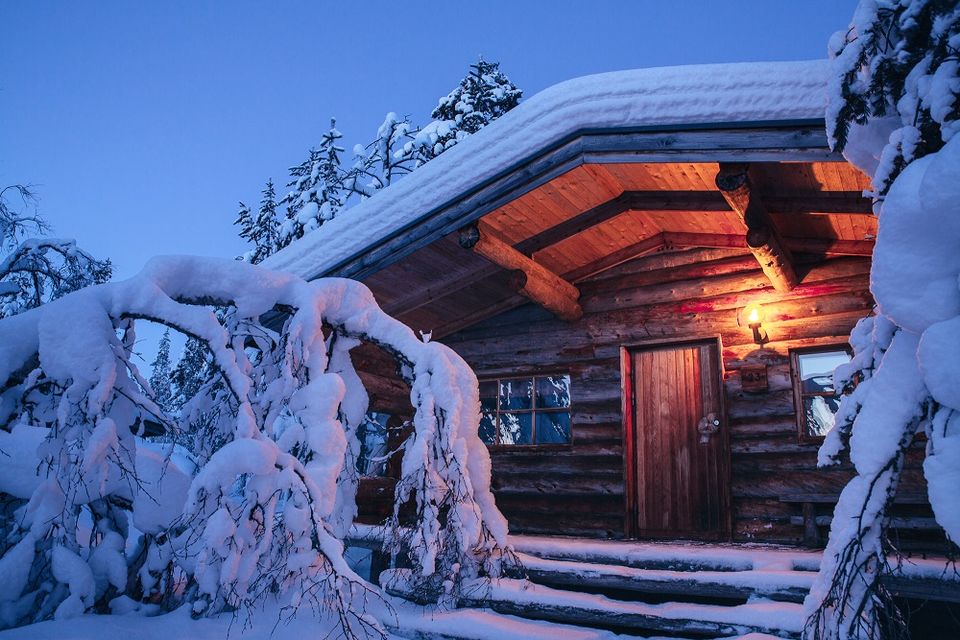 A Queen Suite is best for couples. It's a spacious log chalet with a bath tub and a sauna. But the truly exquisite feature is the outdoor jacuzzi on the terrace, where the couples can spend some quality time with each other!
Price for 1 night (double occupancy) - Rs. 54,000 onwards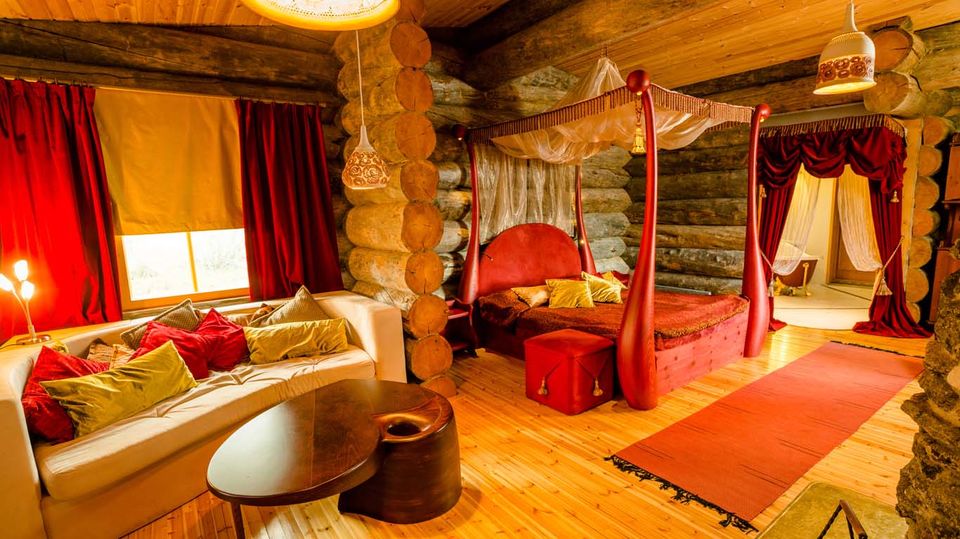 Autumn Visit – For Ruska and northern lights!
What is Ruska?
During the first three weeks of September, nature is ablaze with the colours of the falling leaves – called Ruska in Finnish. The surrounding forests are all brown and orange and this beauty is unmatched. This is also the perfect time to spot the northern lights.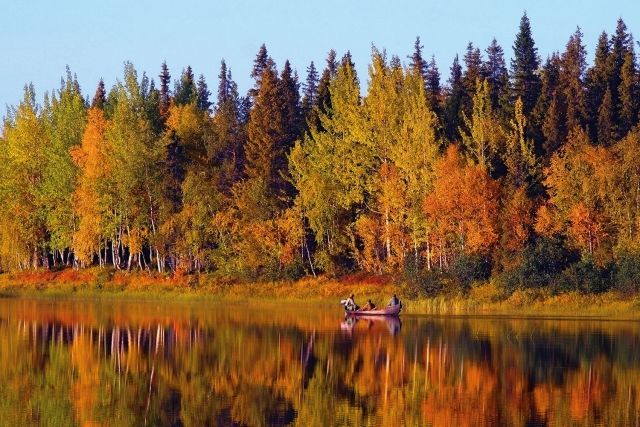 Activities on offer
During autumn, you can indulge in most of the activities that are offered in summer. The one major addition, however, is the northern lights.
Chasing The Northern Lights – The magnificent aurora starts at the end of the summer season, as soon as the nights get dark again. The resort organises trips to help you chase these lights! You can do so on horseback, horse-pulled carriages or even ATV's!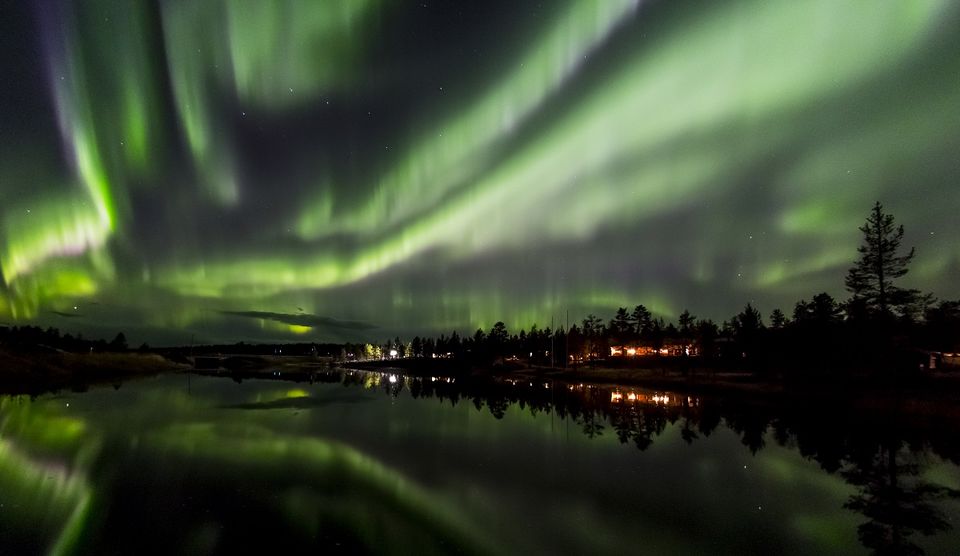 Accommodation in autumn
In addition to the log chalets and queen suites, glass igloos and kelo glass igloos are opened up as soon as autumn sets in.
Glass igloos are iconic igloos of Kakslauttanen that give you a chance to see the northern lights while snuggled inside your warm igloo. They can sleep up to two people. The two-people igloos have shared showers while the four-people igloos have an ensuite shower.
Price for 1 night (double occupancy) - Rs. 36,000 onwards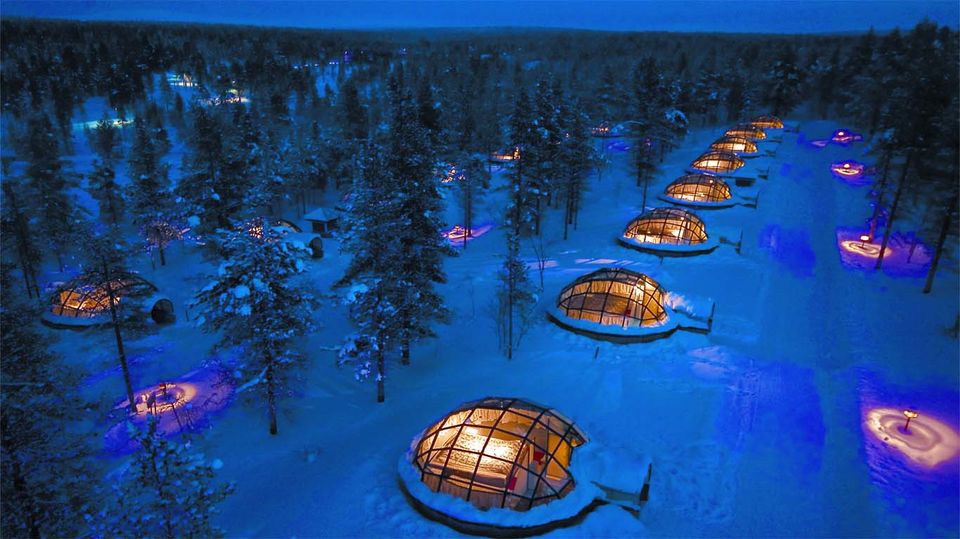 Kelo glass igloos provide the coziness of a log chalet, combined with the panoramic views offered by the glass igloos. Up to six people can sleep in these igloos and they come equipped with a private sauna, a fireplace and a kitchenette.
Price for 1 night (double occupancy) - Rs. 53,000 onwards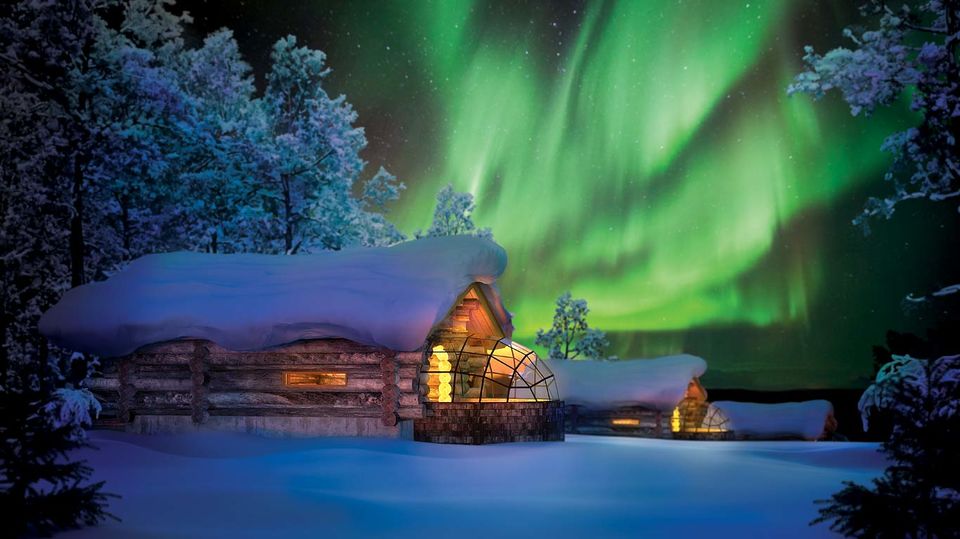 Winter Visit – For the northern lights and the reindeers!
What are northern lights?
The bright lights of the aurora are basically collisions of electrically-charged particles from the sun that enter the earth's atmosphere. And Kakslauttanen provides some of the best views of this magical phenomena in the northern hemisphere.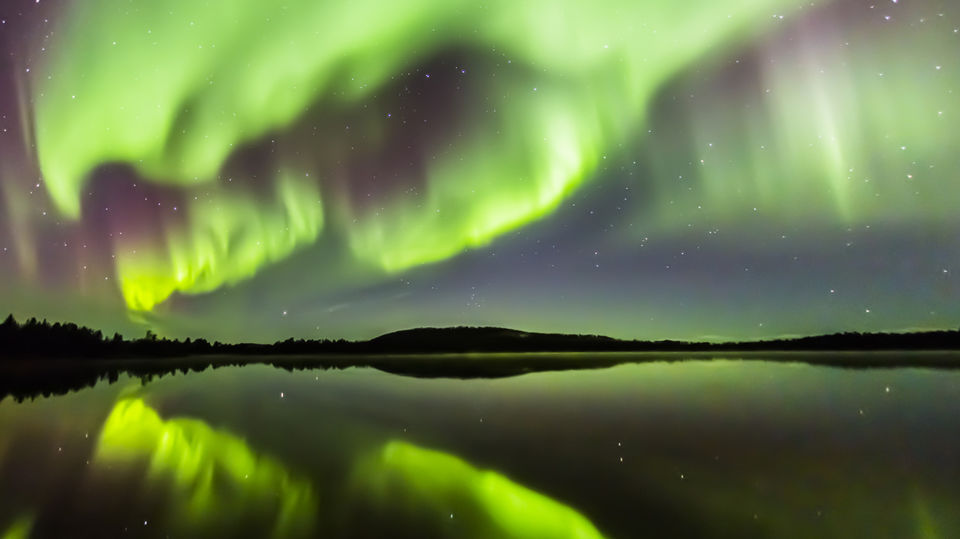 Activities on offer
The resort offers exciting activities in winter. First, the entire landscape changes as it is covered in snow, with the blue lights of twilight twinkling away! It's a magical time in this wonderland.
Northern Lights or Aurora Hunting – During the winter months, you can get a sight of these lights from the warmth of your igloos. But imagine a experience when you are chasing this natural phenomena. You can do this on a horse-drawn or reindeer-drawn sledge or even a panoramic one pulled by the snow tanks. Or perhaps you would like to experience this magic on skis? The choice is all yours!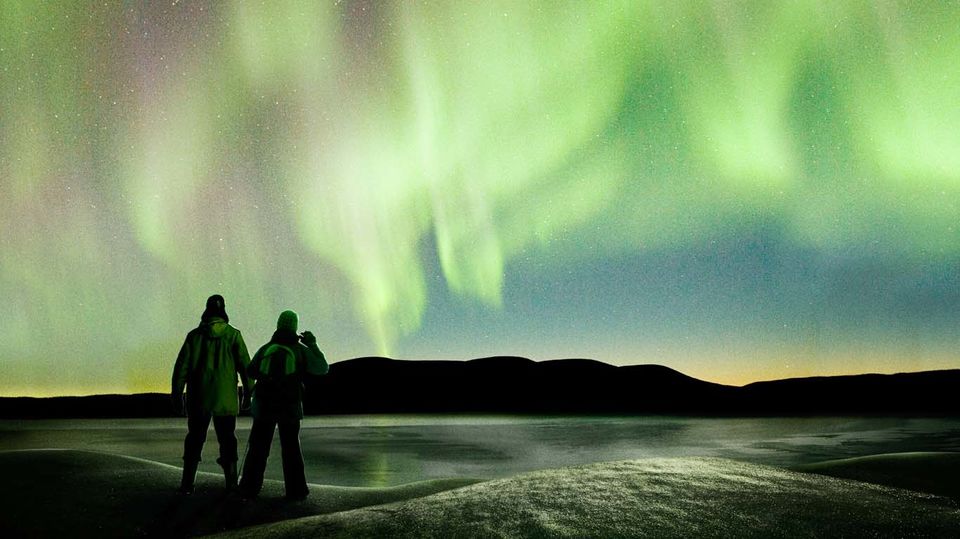 Husky Sledging – During winter, you can sledge through the snow-covered lands on husky sledges. You can spend time with these gentle loyal companions and also experience them in their most natural habitat.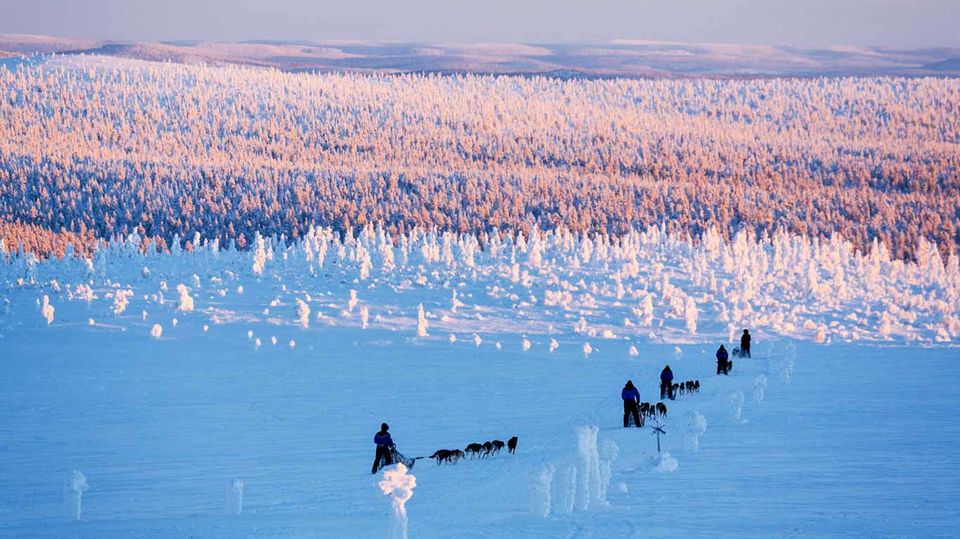 Reindeer Safaris – This experience is a must-do while at Kakaslauttanen. This safari is a relaxing trip where you experience nature, while being hosted by local reindeer herders. You can chat with the locals, get to know all about these creatures of magic and fairytales and enjoy a nice ride on a reindeer-pulled sledge.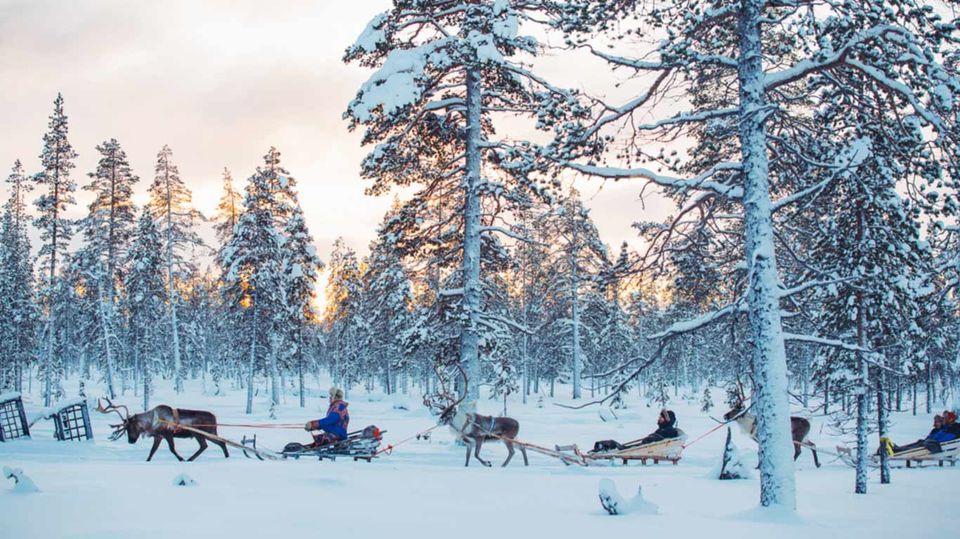 Snowmobile Safaris – This is the fastest, loudest and most adrenaline pumping way to get around the winter landscape of the area. You ride down the snowy forest and enjoy the frost-covered trees.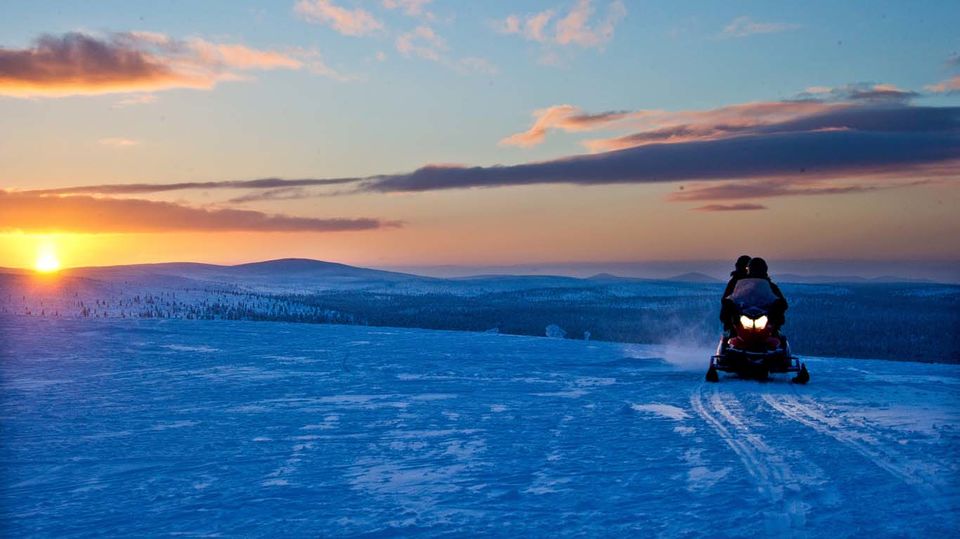 Snow Tank Safaris – Pulled by indomitable snow tanks, these panaromic sleighs are the best way to enjoy the surrounding landscape without facing the chill. This is the best way to enjoy the winter wonderland, without the fear of freezing to death!
Skiing – Saariselka has been ranked as one of the best destinations to ski in Europe. At Kakslauttanen, you can take a quick skiing course and then go on and feel the rush of the winter wind as you ski down the slope of a snowy hill!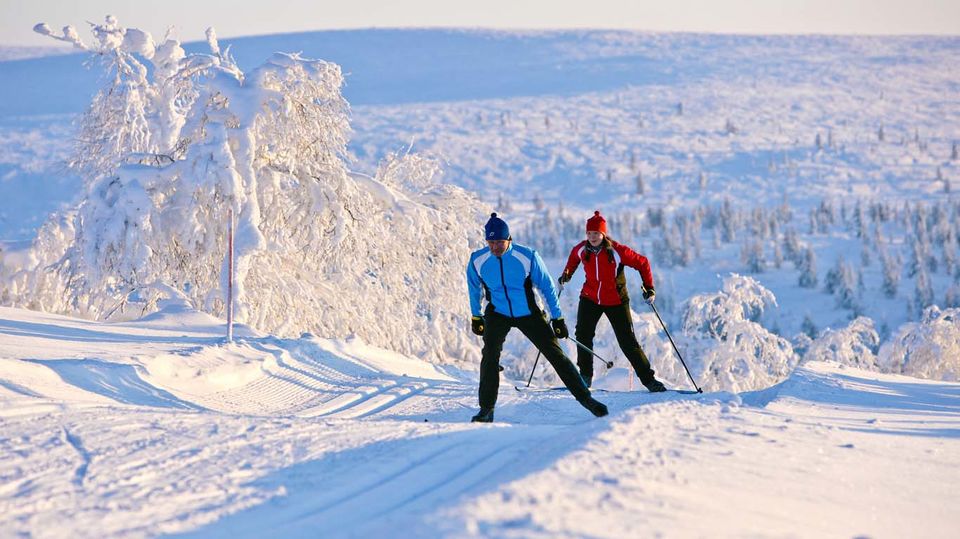 Accommodation in winter
In addition to the log chalets, glass igloos, queen suites and kelo glass igloos, the unique accommodation provided by Kakslauttanen in winters is the snow igloo!
Sleeping in a snow igloo is truly an unmatched experience. You will sleep as cozily as ever and won't be able to hear a single sound from outside. It can be minus 40 degrees outside, but inside you will warm and comfortable.
Price for 1 night - On Request.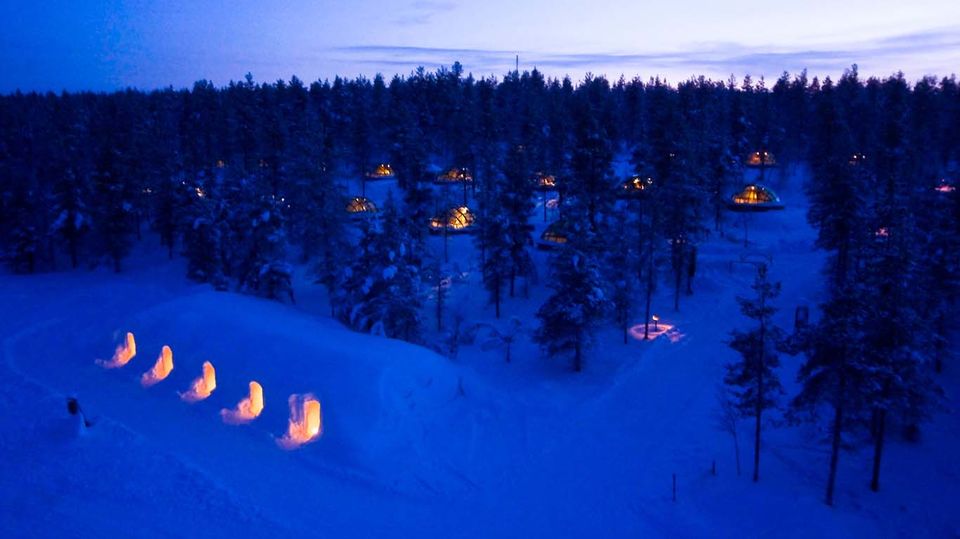 Other activities
Apart from the seasonal activities mentioned above, there are other things you can do while at Kakslauttanen.
During summer and autumn, you can go on fishing expeditions in the nearby lakes. And during winter, you can experience the thrill of ice-fishing.
Other than this, you can visit Northern Norway, Inari Island and visit the Urho Kekkonen National Park.
You can also visit the Santa Village, situated just a 5-minute ride from the resort. Santa's home is an idyllic red chalet, situated at the end of a beautiful walking bridge. You can meet Santa as well! Just remember to schedule an appointment in advance, as he is busy making presents all year round! Near Santa's home is Santa's 'Celebration House'. It is the largest wooden chalet in the area, which can accommodate upto 250 of Santa's most important guests.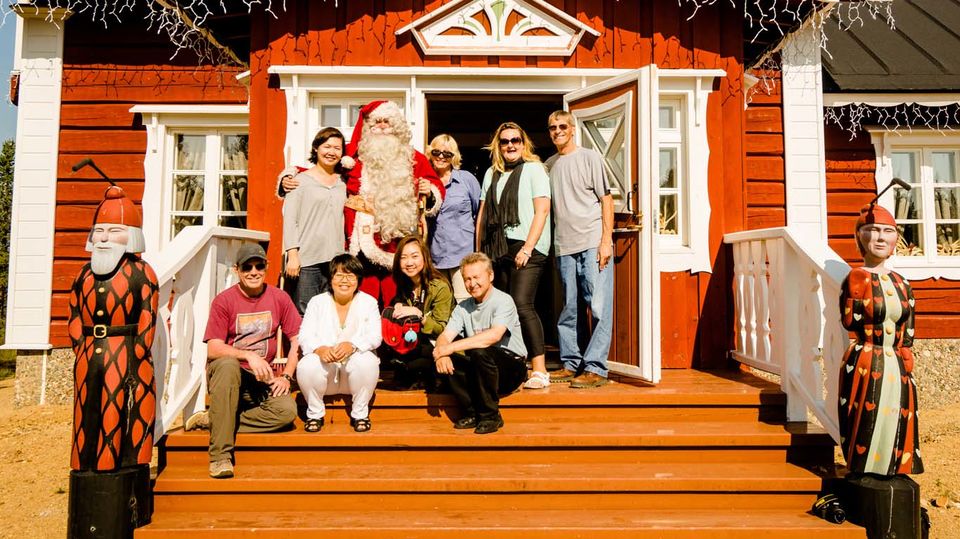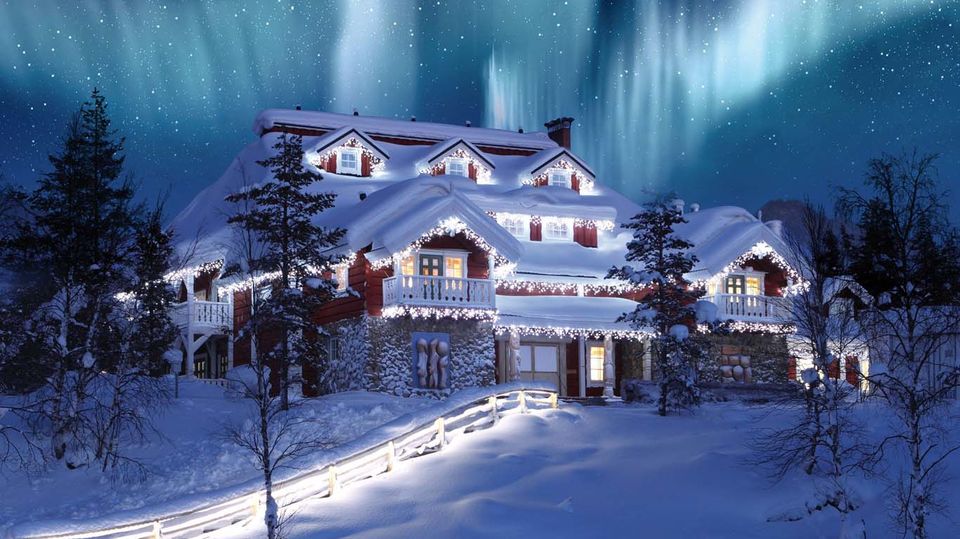 Other accommodations
Other than the accommodations mentioned above, there are two very unique accommodations on offer at Kakslauttanen – The Wedding Chamber and The Gold Digger's Chalet.
The Wedding Chamber is a traditional Finnish home that has been there for centuries. It is beautifully crafted from wood and is constructed in a manner that it appears hidden, surrounded by the forest. There can't be a more apt love nest for newly weds, specially when you have sauna and a bathtub in the cabin itself!
Price for 1 night - On Request.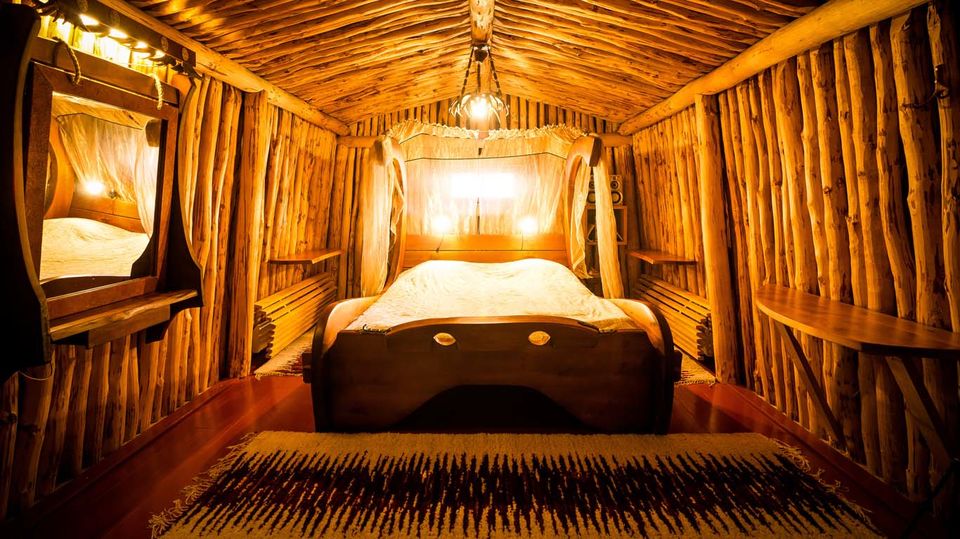 The Gold Digger's Chalet is a unique house built on the banks of the golden river. It's peaceful and quiet and perfect for people who are looking for a calm vacation. There are gold mining sites nearby, but not close enough to disturb your quiet time.
Price for 1 night - On Request.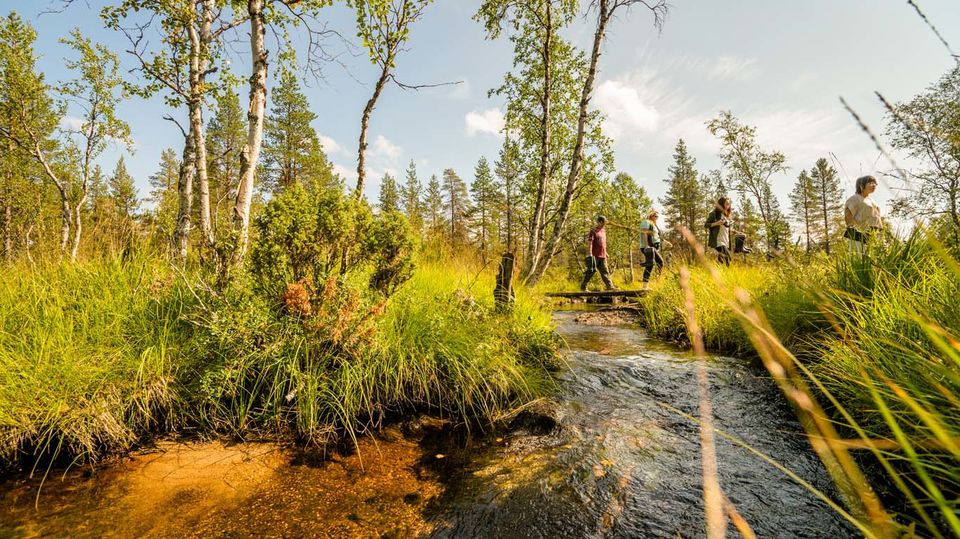 Have you visited the Kakslauttanen Arctic Resort or been to Finland? Write about your experience on Tripoto now!
All images are sourced from the Kakslauttanen Resort's official website.
In association with Kakslauttanen Arctic Resort.