Sri Lanka, formerly named as Ceylon by Europeans, is an island country lying in the Indian Ocean & between the Bay of Bengal and the Arabian Sea. Sri Lanka is well-known as a treasured island in South Asia for its charming beauty of untouched beaches, breath-taking mountains as well as plenty of mysterious ancient ruins dating back for thousands of years.
Proximity to the Indian subcontinent has facilitated close cultural interaction between Sri Lanka and India from ancient times. They say, since most of the time Sri Lankan kings married Indian princesses they incorporated Indian culture, still preserving the unique Sri Lankan identity. Hence, may be this is the reason that in my trip to Colombo, I never felt that I am in another country.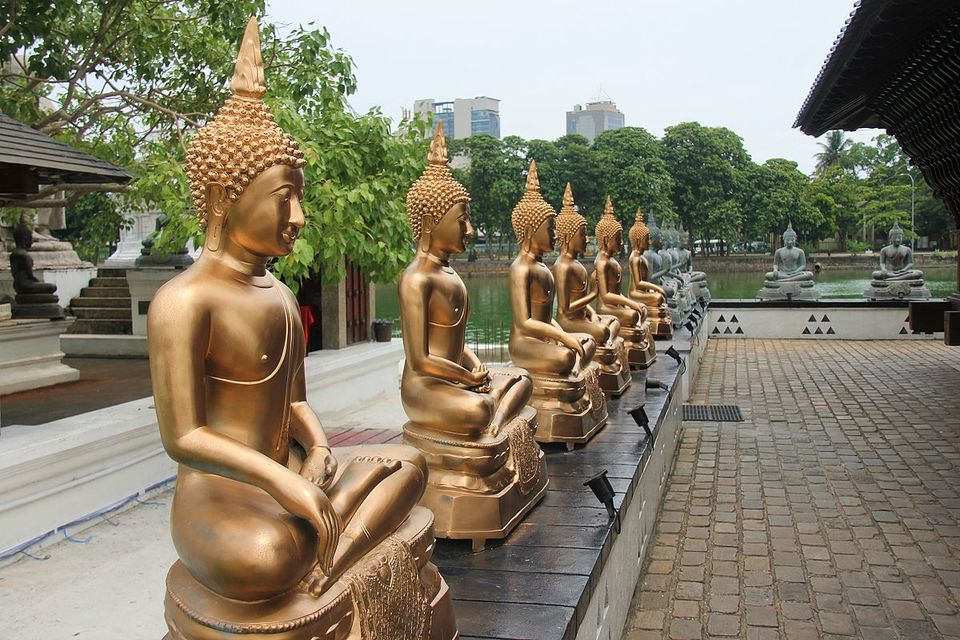 Airports;
International airports;
1. Bandaranaike International Airport, Katunayake
2. Mattala Rajapaksa International Airport Mattala
3. Batticaloa Int'l Airport , Batticaloa
Visa;
Getting a Sri Lanka Tourist Visa can be an easy task if you apply online. Indian passport holder can apply for an ETA ( Electronic Travel Authorization) and you will be allowed to stay in the country for up to 30 days in total.
Best time to visit Sri Lanka;
The best time to visit the west and south coasts is between December and April, while on the east coast the climate is at its finest from May through to October. So plan accordingly.
Few places to explore;
The Sigiriya Rock Fortress is derived from two words - 'Simha' meaning Lion, and 'Giri' meaning Mountain. It is located in Matale District. It is a UNESCO World Heritage Site. It consists of a citadel and has ruins of palaces, the Lion Gate, gardens, moats, the Mirror Wall, and many beautiful frescoes. Legends say that Sigiriya was called Alakamandava - the city of gods, built by the Hindu God of Wealth - Kubera. Kubera was known to rule Lanka before Ravana took over.
The Pidurangala Rock is also called the Sister Rock of Sigiriya as both the rocks are just a few kilometres away from each other. It has a temple at the base called Pidurangala Vihara, a huge reclining Buddha statue, and tourists have to climb up for a scenic view of the land and the Sigiriya Rock. Hike up and experience Sun rise or Sun set.
The Minneriya National Park is almost 190 kms away from Colombo, and 20 kms from Sigiriya. The national park is famous for its herds of elephants migrating for food, water and shelter, and forming a 'gathering' that can be witnessed. The dry season is the best time to visit this place, as the majestic elephants migrate to the Minneriya Tank for water. Apart from elephants, the national park is also home to several mammals, birds, reptiles, and different kinds of plant species.
Many Kings ruled the central plains of Sri Lanka from Polonnaruwa 800 years ago. It was a thriving commercial and religious center. The glories of that age can be found in the archaeological treasures. You'll find the archaeological park a delight to explore, with hundreds of ancient structures – tombs and temples, statues and stupas. Visit Gal Vihara, Lankatilaka Budhhist temple, Rankot Vihara, The Royal Palace of King Parakramabahu, The Vatadage etc.
Sri Dalada Maligawa or The Temple of the Sacred Tooth Relic is a Buddhist temple in the city of Kandy and a UNESCO world heritage site. The temple is located in the royal palace complex which houses the Relic of the tooth of Buddha in a golden chamber. In ancient times, the relic has played an important role in local politics as it is believed that whoever holds the relic holds the governance of the country. The temple which houses the Sacred Tooth Relic of the Buddha is one of the holiest shrines in the entire Buddhist world.
Just 6 kms away from Temple of Sacred Tooth Relic, we have Royal Botanical Gardens in Peradenia which is very well known for variety of Orchids. This garden also includes a suspension bridge, Queensland trees, large fir trees, giant bamboo of Burma, Coco de mer of Seychelles, spice garden etc.
The oldest and largest tea center over 27000 acres in Nuwara Eliya in Sri lanka. The estate presents tea and rubber plantation. Visitors can take a tour around the factory to learn about the tea making process.
One can notice slanting plains, majestic against the backdrop of hills from the Central Highlands. Lush green with mountain peaks - some of them being Kirigalpoththa, the Great Western Mountain, Kikiliyamana Mountain, Thotupola Mountain, Konical Hill Mountain, Single Tree Mountain - among which the highest peak Pidurutalagala is clearly visible from Moon Plains. As no personal vehicles are allowed, one can rent jeeps to reach to the top.
The temple is built on the site where Sita Devi was believed where Sita was held by Devil King Ravana. The temple premises also have Lord Hanuman's footprints and the river Seetha from where different deities were recovered.
Galle is the place where Portuguese made initial landing in 1505. Galle fort or Dutch Fort is a fortification built by Portuguese and were very basic. Then in 17th CE, it underwent extensive modifications by Dutch making it more architectural and historic monument to illustrate European influence over South East Asia. Later, Dutch lost Galle Fort to British in 18th CE. Many modifications were made to strengthen the walls during World War II. Therefore, Galle Fort is a great fusion of European and South Asian architecture and history and a must visit.
One of the most famous Buddhist temples in Colombo and is located on the banks of Beira Lake. In the late 19th century, Hikkaduwe Sri Sumangala Nayaka Thera set up the Gangaramaya Temple. It is a perfect blend of Indian, Thai and Chinese architecture. It's both, the place of worship and center of learning. The temple hosts the Sri Jinarathana Training Institute which consists of almost 40 training centers.
Apart from touristy places, one can also indulge in some activities like ;
1. Ella Rock Trek
2. Magic Train Ride - Nanupoya to Ella
3. Galway's Land National Park
4. Stroll around Gregory Lake
5. Bendota Beach
I will close this blog by asking ' If you have ever to visit Sri Lanka, which part of Sri Lanka you will not miss and why ? Leave the comments down. Also, I hope this blog will help you .