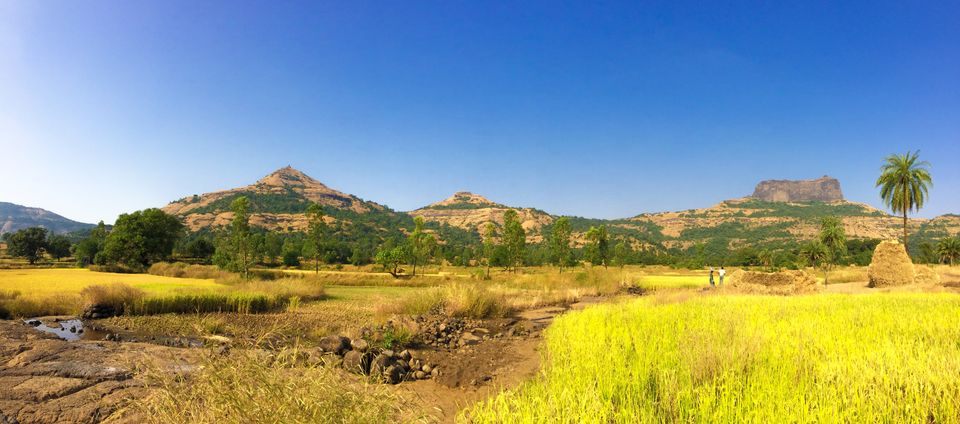 Harihar fort also known for its 80° steep staircase to heaven is a fort once under the empire of Shivaji Maharaj, stands tall with the height of 3674 ft./1120 metres.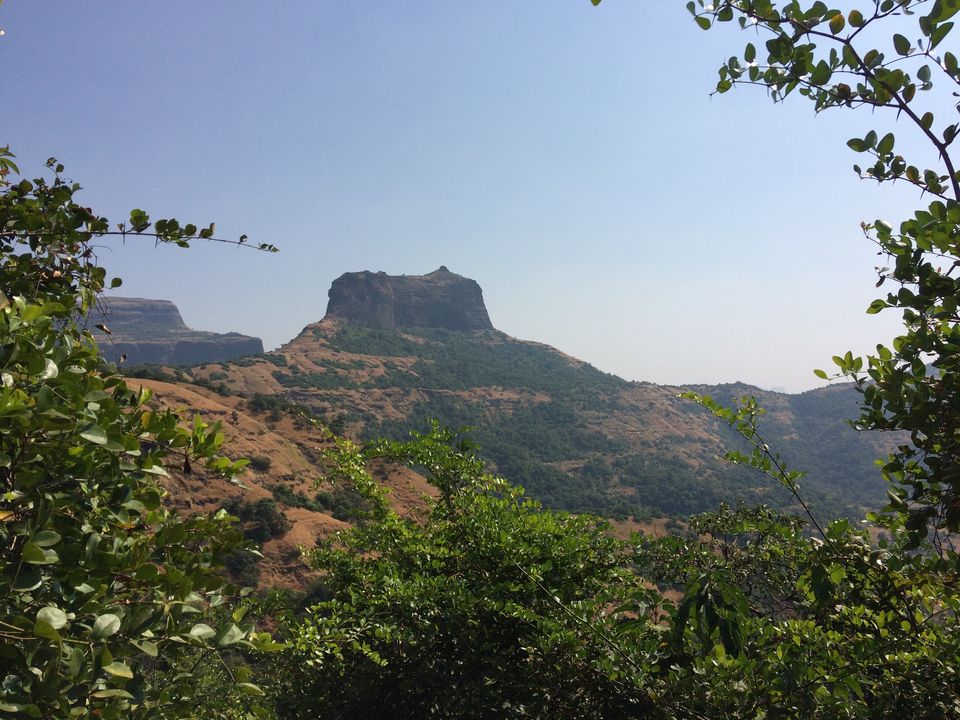 Being a general boggie traveller it surprises me every time I travel from general compartment. Such journeys gives transparent view of different people and culture. The steep rock staircase was on my mind for a very long time but for some or the other reason it was always backtracked. November 6th, I finally decided to conquer Harihar fort but the only problem was there were no fellow trekkers to accompany me on this trek. Being a adventurous soul I decided to trek it solo. This was not my first solo trek earlier I did a solo Kalavantin Durg trek. November 9th, the date I decided to visit Harihar fort and all the research began.
Reading many blogs on Harihar fort the only concern on my mind was to catch on morning bus to Nirgudpada , base vilage of Harihar fort, which was at 8:30 am. In accordance to that I had to board a late night train to Igatpuri earlier that day that is 8th November.
Finishing my packing I headed to Thane station and got my general ticket to igatpuri for Rs. 75. Late night there were only two trains from Mumbai to Igatpuri. I decided to catch Mahanagari Express which was headed to Varanasi via Igatpuri and was scheduled at 12:45 am. I was too early for the train and hence decided to pass my time on platform itself. This reminded me of 'An hour at railway station' :p I could write a entire blog on that hour. Finally with slight delay of 10 minutes (itna toh expected hai Indian railways se :p) train arrived. The crowd rushed towards the door. "apne ko ghai nahi thi". I was the last one to board the train. Frankly speaking this general compartment was stinking really bad but after an hour got used to it. The train was heavily crowded as it was a holiday season and many of them were headed to their respective villages in north. People were sleeping wherever there was space. I had no choice but to stand near the door. The cold wind was blowing me out and adding to it the temperature went down rapidly. I forgot my pullover again. uughghh!! "talent toh kut kut ke bhara hai". The cold breeze was sort of killing me. Finally after two and half hour journey I reached Igatpuri at 3:15 am. The station was no less than a haunted one with no one around.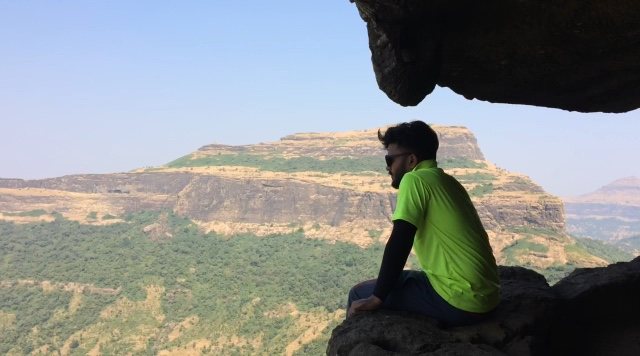 The ST bus from Igatpuri bus stand was at 8:30 am and I had nearly five hours to spare with nothing to do on a haunted station :p. I went near station master office and asked them if any waiting room was available but unfortunately waiting room was not for general ticket traveller. But the station master was good enough he allowed me to spare my five hours in waiting room. The waiting room was too cold to sleep, I was cursing myself all the time for not bringing the pullover. Time passed and passed and finally it was 6:00 am I had successfully killed two hours two more hours to go. The station got a little busy by 6:00 am and all vendors were opening their stalls. I had a much needed garma garam chai and a plate of idli and medu vada which was unexpectedly good. Further I decided to head towards igatpuri bus depot which was at 10 minutes distance from igatpuri railway station. It was still dark at ST depot even at 6:30 am. I confirmed about the 8:30 am bus to Nirgudpada (base village of harihar fort).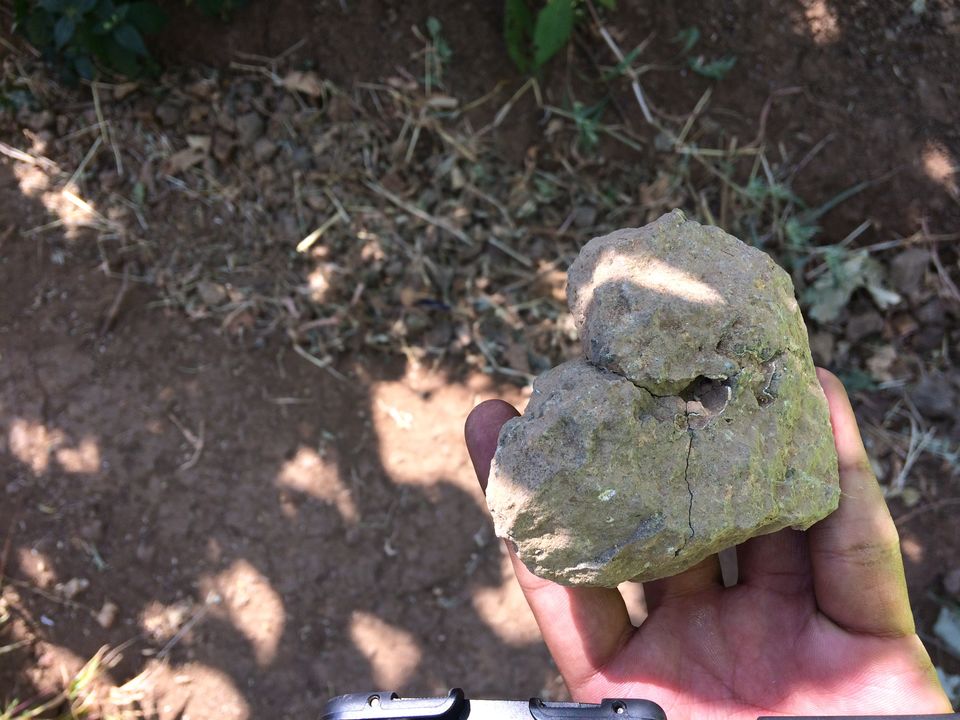 Note: One has to catch ST bus to Trimbak via vaitarna Reservoir. Nirgudpada is around 2:30 hrs from Igatpuri bus depot.
Roaming for few minutes on depot I decided to taker a power nap as it was a long day ahead. A hour of sleep was much needed one. The ST depot showed different scenarios and I was quietly observing it for another hour. The excitement to trek the 80° stairs to heaven were not letting me sleep. At 8:30 am the ST bus to Trimbak arrived via Vaitarna Reservoir arrived which had a halt at Nirgudpada, base village of Harihar Fort.
Note: Try boarding 8:30 am bus if you are planning a one day journey as next bus is at 11:30 am.
At last I departed to my destination in lal dabba (ST Bus), favourite mode of transport while trekking. It took me around two and the half hours to reach Nirgudpada which costed INR 50. The lady conductor was very supportive and with little chit chat arrived at the destination.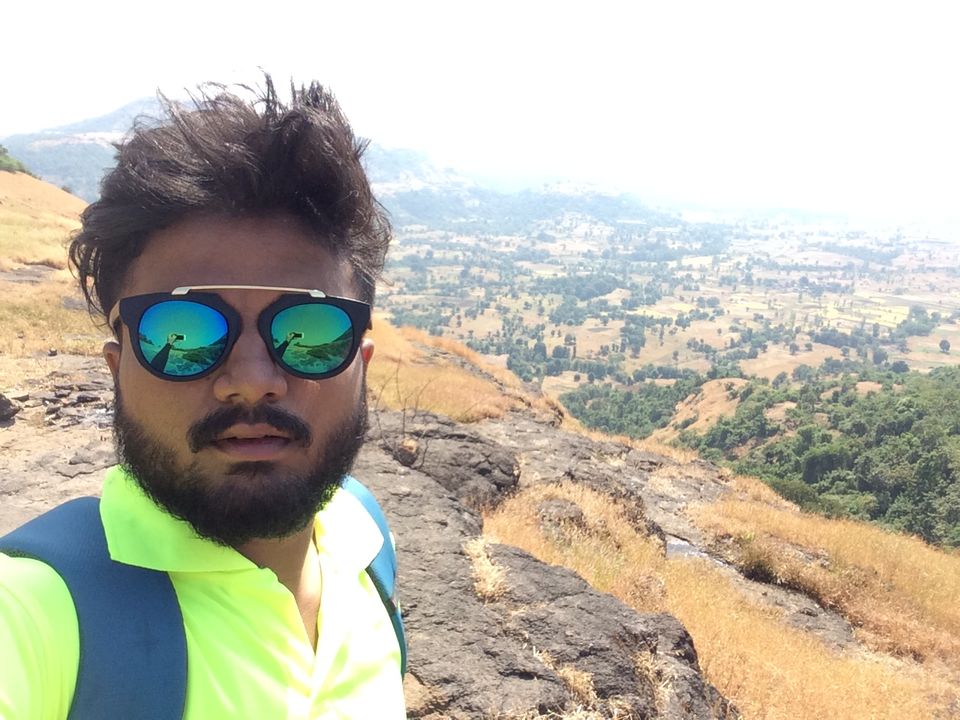 After reaching within no time I started trekking. Asked the local shop about the route and came to know that there are two routes to reach Harihar fort. One was a direct route to the mountains and second was a long route crossing two mountains and then reaching harihar fort. "Dimaag ka keeda jaaga and I decided to take the second route of crossing two mountains. With jus a cup of tea and a plate of idli and medu vada I started my trek. The beginning trail is perfectly marked till the top of first mountain, the route is normal like all other. The beauty of the scenery goes on increasing as you ascent the to the top. It took me around a hour to reach the top of first mountain. Here comes the tricky part, after a certain time hiking at the top the trail suddenly disappears and there is no path to go from first mountain to second mountain. Lost! Lost! Lost!. I lost my way. There were no trails leading to the second mountain. The dream of climbing the Harihar fort was gradually going down. :( and to the top of that the place was surrounded with long grown up grass.
NOTE: One must take utmost precaution while walking in grass bushes as these are home to many snake species.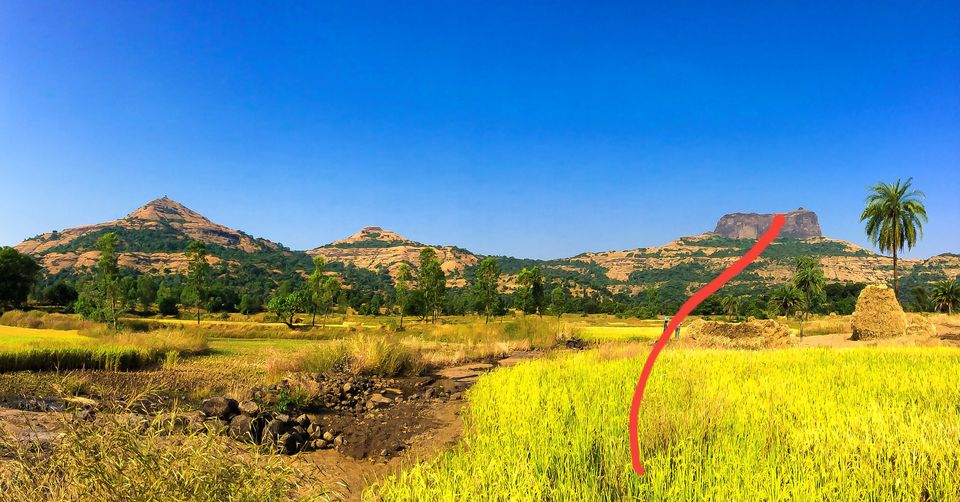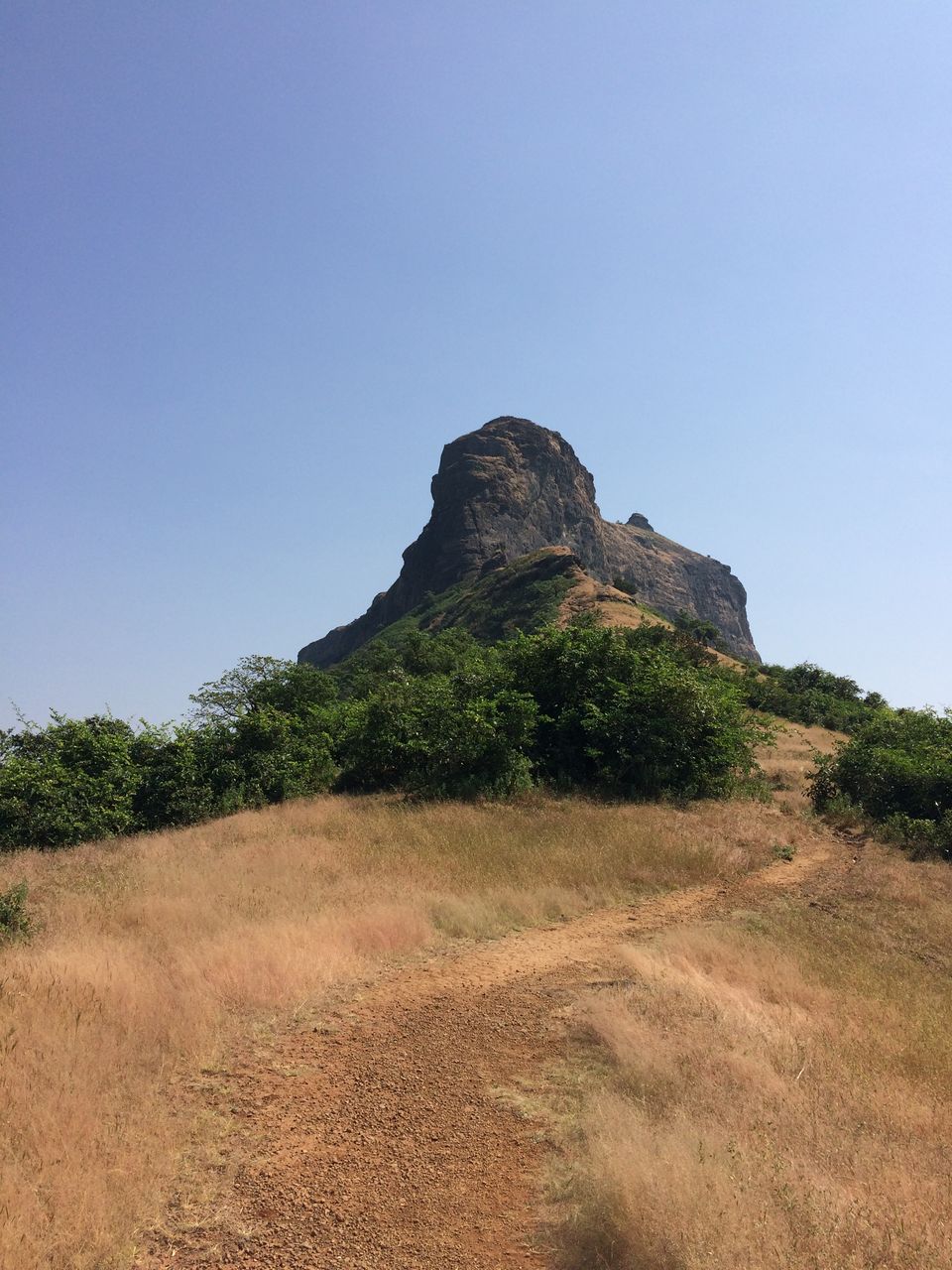 I was taking my all chances in finding the route but with no success. It was not possible to reroute considering the time factor. I sat at the corner with the view of Vaitarna Reservoir thinking what I should be doing. At one point I thought of heading back and visiting some other day again but before going back I decided to give a last try in searching the route. I guess the fate was written and I found the route. It was hidden in grown bushes. "Jaan mein jaan aayi" But this had cost me a hour and I was way back on schedule. It was already 12:30 pm and I had to catch the last bus from Nirgudpada to Igatpuri which was at 4:00 pm. Once I was on the second mountain I kept on my right. I literally was running towards the fort. Finally after hour of hiking I had a sight of 'staircase to heaven'. The 80° steep staircase was beautifully standing tall.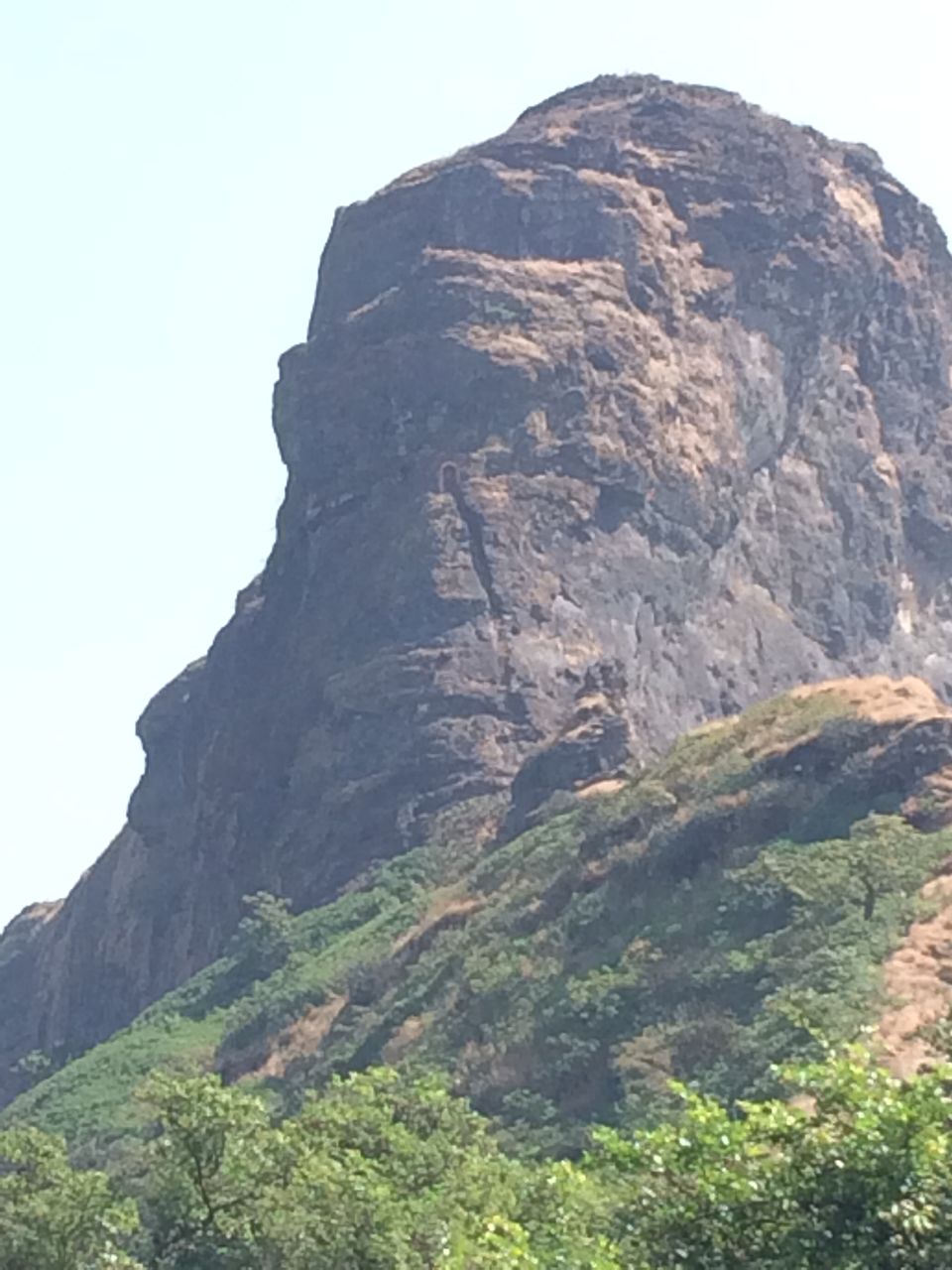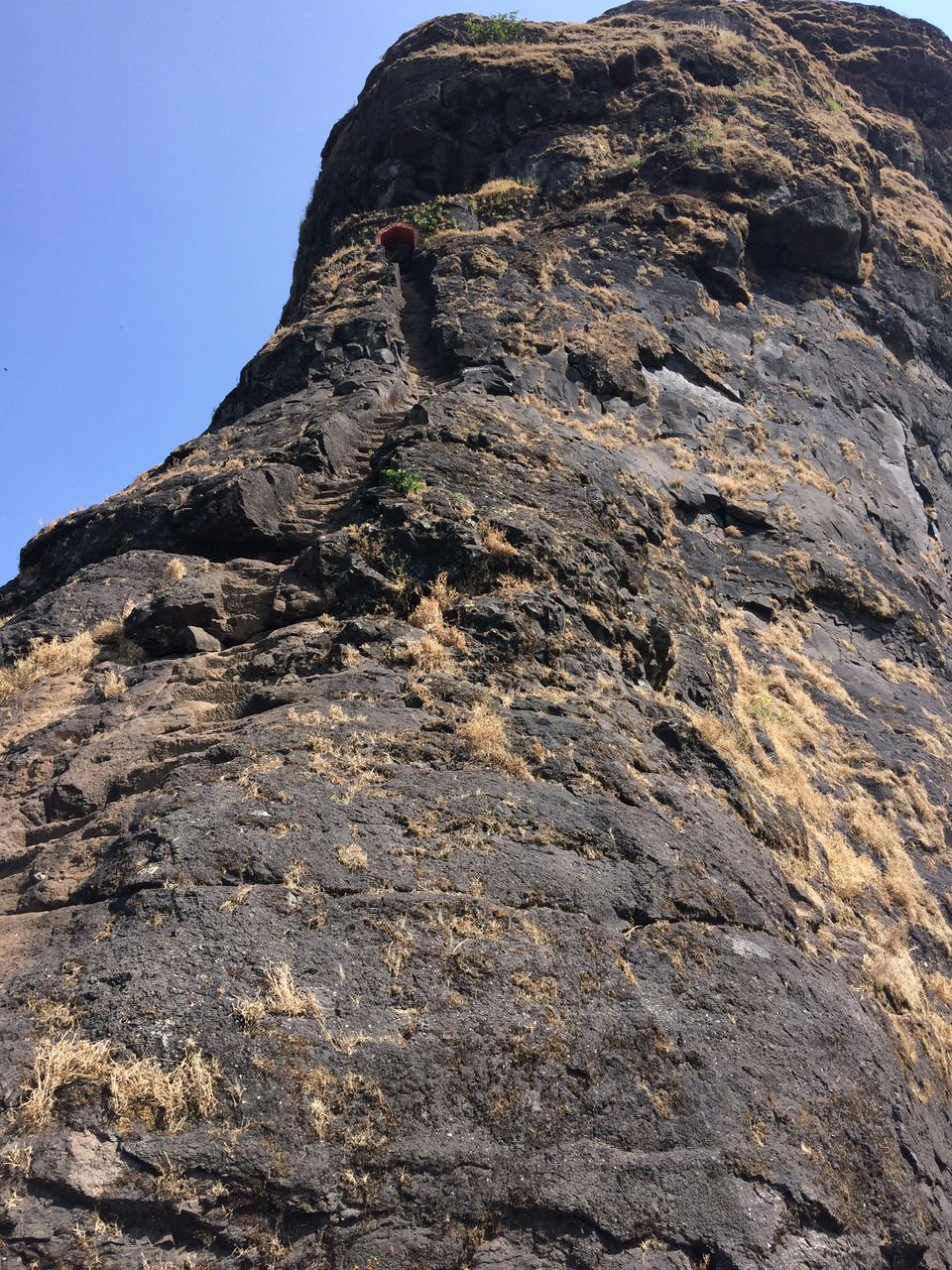 Before climbing I rested for few minutes as I was running for the last hour. "Agar kisi cheez ko shiddat se chaho toh puri kayanat usse tumhe milane mein joot jati hai" may be this is the reason that even after getting lost and being tight on schedule still I was going to climb the stairs.
These stairs are the only entry to the fort which was a masterpiece of architecture to secure the fort from all the sided. Brilliant! After passing the stairs there were some caves and few minute trek led to the actual fortification. A half hour trek was still remaining to reach the top of the fort. After almost three and half hours of trek I was on the top of Harihar Fort. The feeling of standing where once Shivaji Maharaj stood and ruled swarajya is truly mesmerising.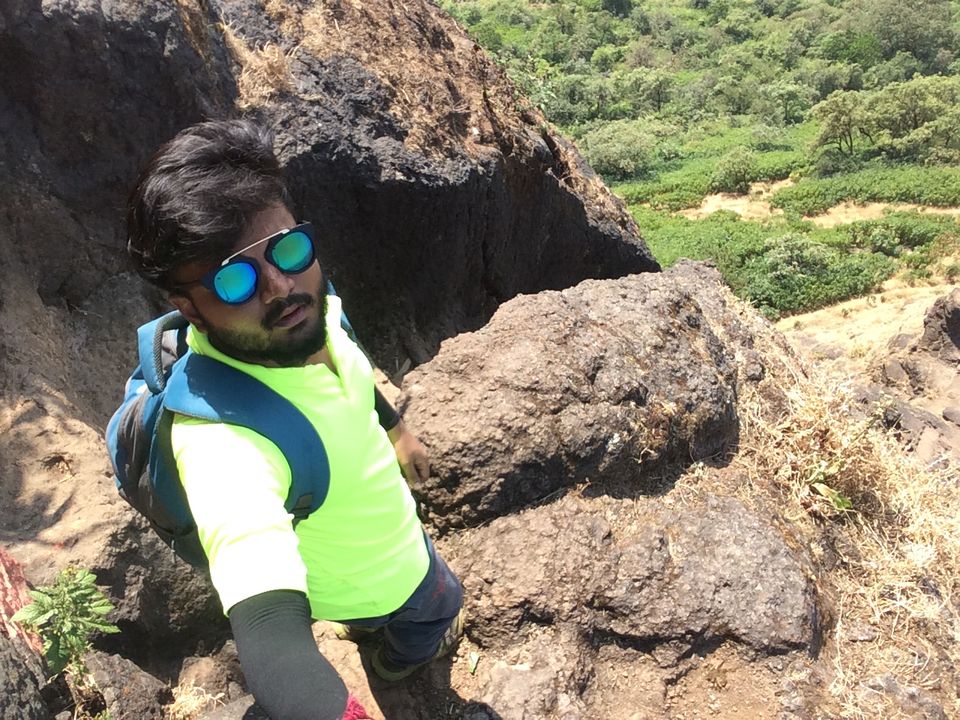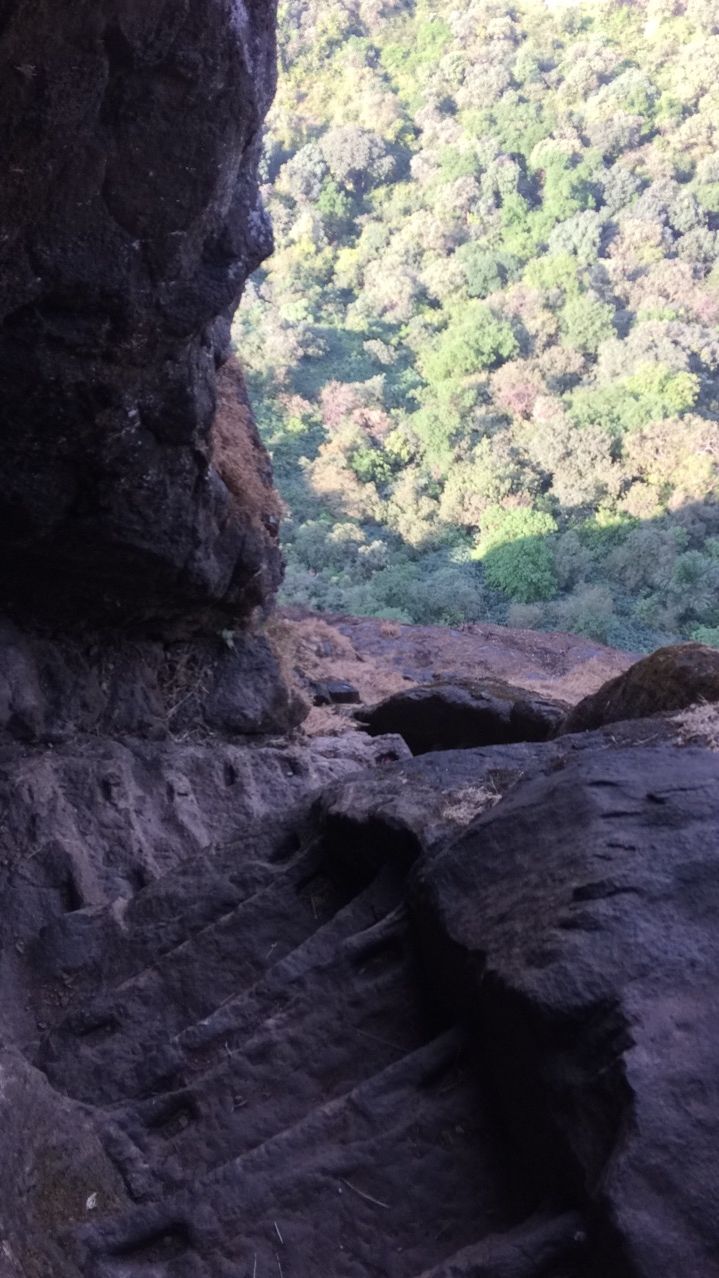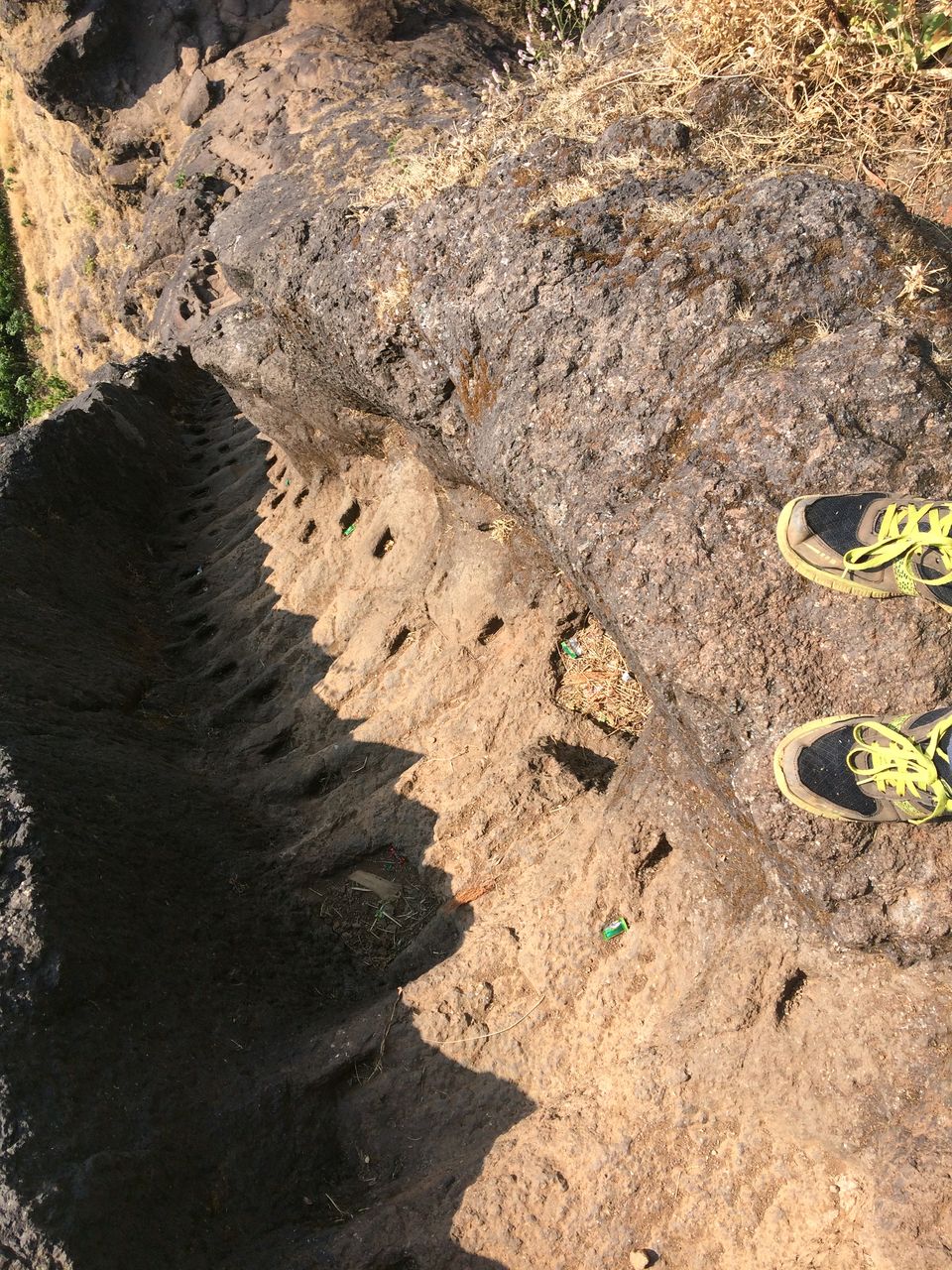 It was already 2:30 pm and I had no time to spare on the top. Clicked few pictures and videos and started my descent. I only had one and half hour to catch the last bus. I took the shorter route which was the primary route for the trek while descending. No sightseeing nothing I was just running to catch the the only bus to Igatpuri depot. It was 4:15 pm, I thought I missed the bus but luckily the bus was back on schedule time too :p "bachgaya". Waiting for few minutes I could see the lal dabba comimg from very far. Tired as hell boarded the bus and got to know the bus is till Ghoti which was 10 km before Igatpuri. Ticket price till Ghoti was 41 INR. Took a power nap and reached ghoti at 6 pm and got a connecting bus to Igatpuri which costed 10 INR. I was happy to see the Igatpuri bus depot but was missing the fort too. Few minutes walk led me to Igatpuri Railway station and had a garma garam vada pav and tea and took my general ticket to Thane station worth 70 INR. Unfortunately all the trains were jampacked and had no space even to board. Tapovan express arrived at 7:30 pm and I pushed myself into the compartment. No place to sit even on floor. Ahhh! another two and half hours standing. I was watching the train move on google maps may be a way to distract myself from the lower back pain and was encouraging myself "bass thoda aur". Reached Thane station at 10:00 pm.
Finally the dream of climbing the 80° steep staircase to heaven was completed. To be frank I was shit scared to solo ascent the Harihar Fort par kehte hai na darr ke aage jeet hai (not sponsored by mountain dew :p but if anyone reading it from PepsiCo offers are welcomed :p)
I won my fear :)
Thank you, If you read it till here honorary award will be mailed to you. :p :p
Enjoy the video