For many of us, our Dad is our first hero. What if a man decides to follow his dad's steps ? For a man, whose dad re-wrote the history books by capturing almost half of South Asia and built an engineering wonder, Is it possible for his son to match his charisma, yet add a personal signature to it, is that not a tough ask ? Even if he constructed such marvel, will it stand defying time ? This structure is a living testament to the rich legacies of a forgotten Chozha dynasty and about an Indian king called Rajendra Chozha 1 (1012 AD-1044 AD), son of Raja Raja Chozha who replicated the temple his father constructed in Tanjore.
Well, everyone who had travelled to the southern part of India called Tanjore, knows about 1000-year-old big temple called Brihadeeswarar Temple, but how many of us know that there is an exact replica of this temple situated very close to Tanjore. Yes, i am talking about a temple called Gangai Konda Chozhapuram. This temple along with its counterparts (Tanjore Big Temple and Darasuram Airavateswarar Temple) comes under the UNESCO World Heritage Site known as "Great Living Chola Temples".
Myself along with my brother decided to go to some place to just kill away the time. He had completed his engineering and we went to his college for his convocation (Yes, my brother is no exception, he comes from India and doing an Engineering is an absolute compulsion - You throw a stone randomly in India and the chances are that it hits an engineer 9 out of 10 times). After the boring convocations, we both decided to travel to some random place we haven't been to. We just took a local bus and moved along centers. We took a bus from Tanjore to Kumbakonam and from there took a local cab to reach Gangai Konda Chozhapuram.
The replica of the Tanjore Big Temple is now standing tall for almost close to 1000 years exactly like its peer and has an even more special history attached to it.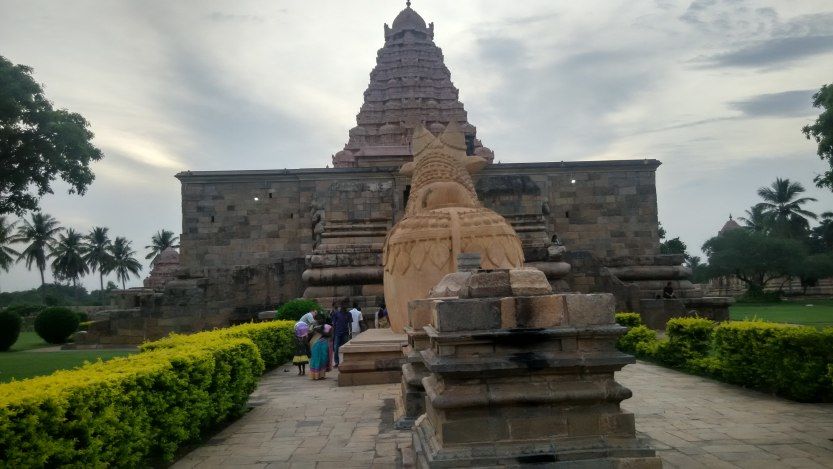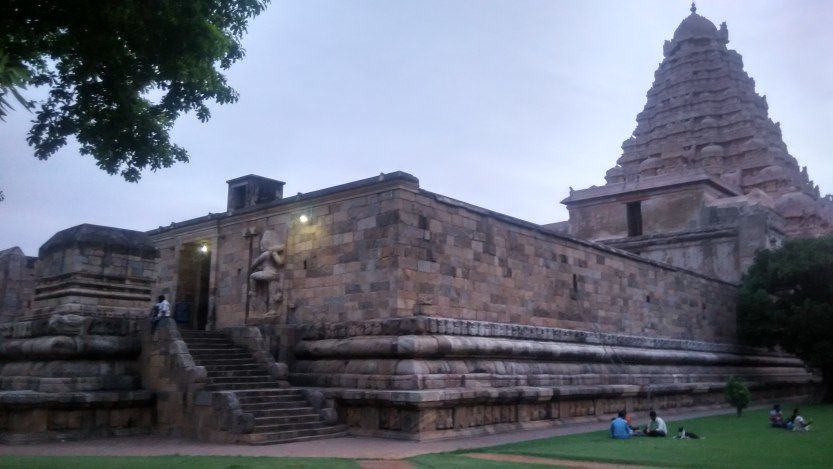 Chozhas in their golden time had controlled many parts in and around south India, Sri Lanka, Bangladesh, parts of Malaysia, now parts of Singapore,Cambodia and parts of Thailand (even today the Thai kings are crowned with hymns of Thevaram (a Tamil devotional song to Lord Shiva).
This grandeur temple is constructed by Rajendra Chozha at 1020-1025 AD and it took him 9 years to complete this architecture marvel. The stones and water are believed to be brought from Ganges basin and they built this temple as a symbolic gesture of their victory over the northern parts of India. Hence it got its name, Gangai Konda Chozhapuram (Triumph over Ganga by the Chozhas)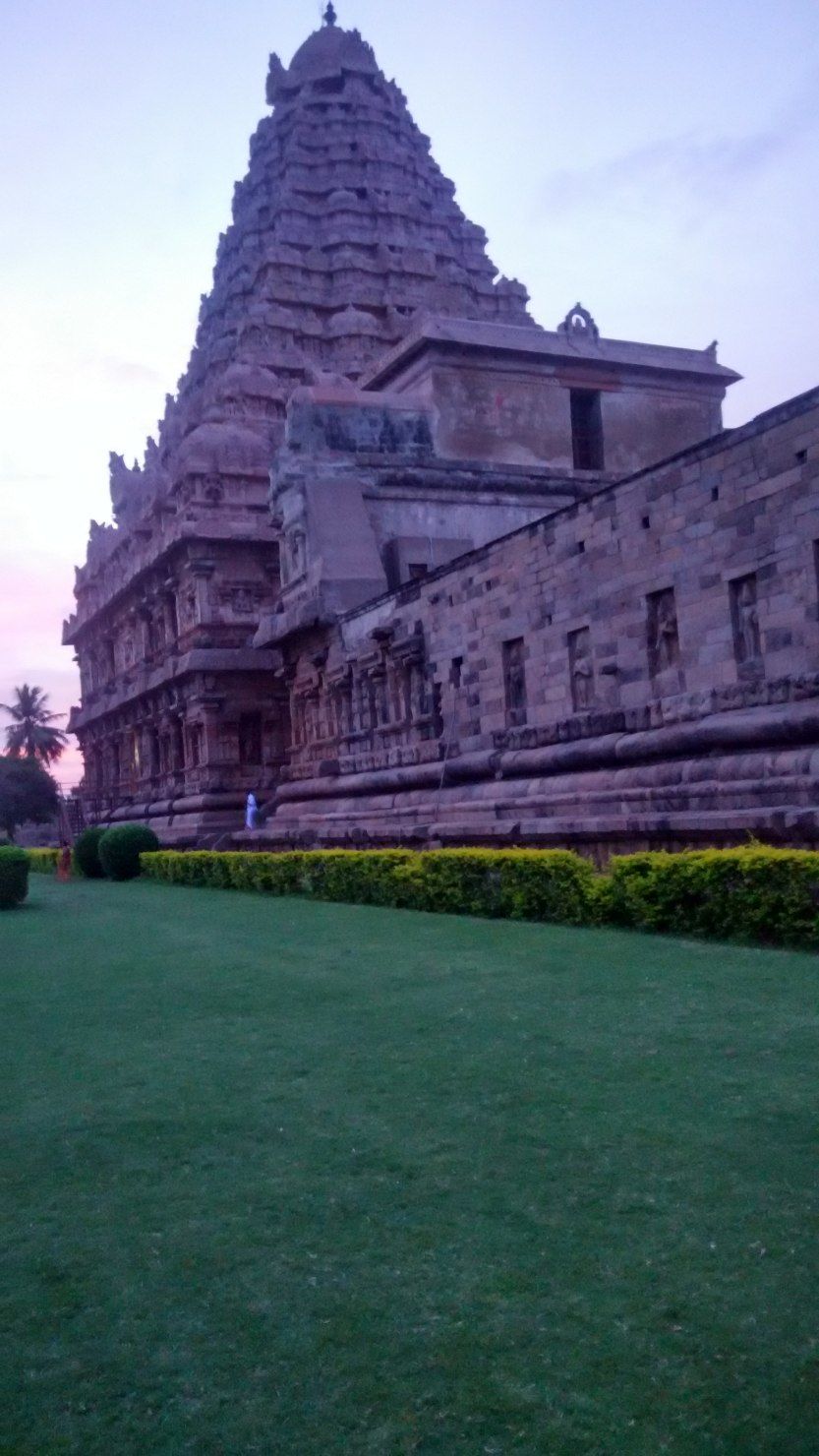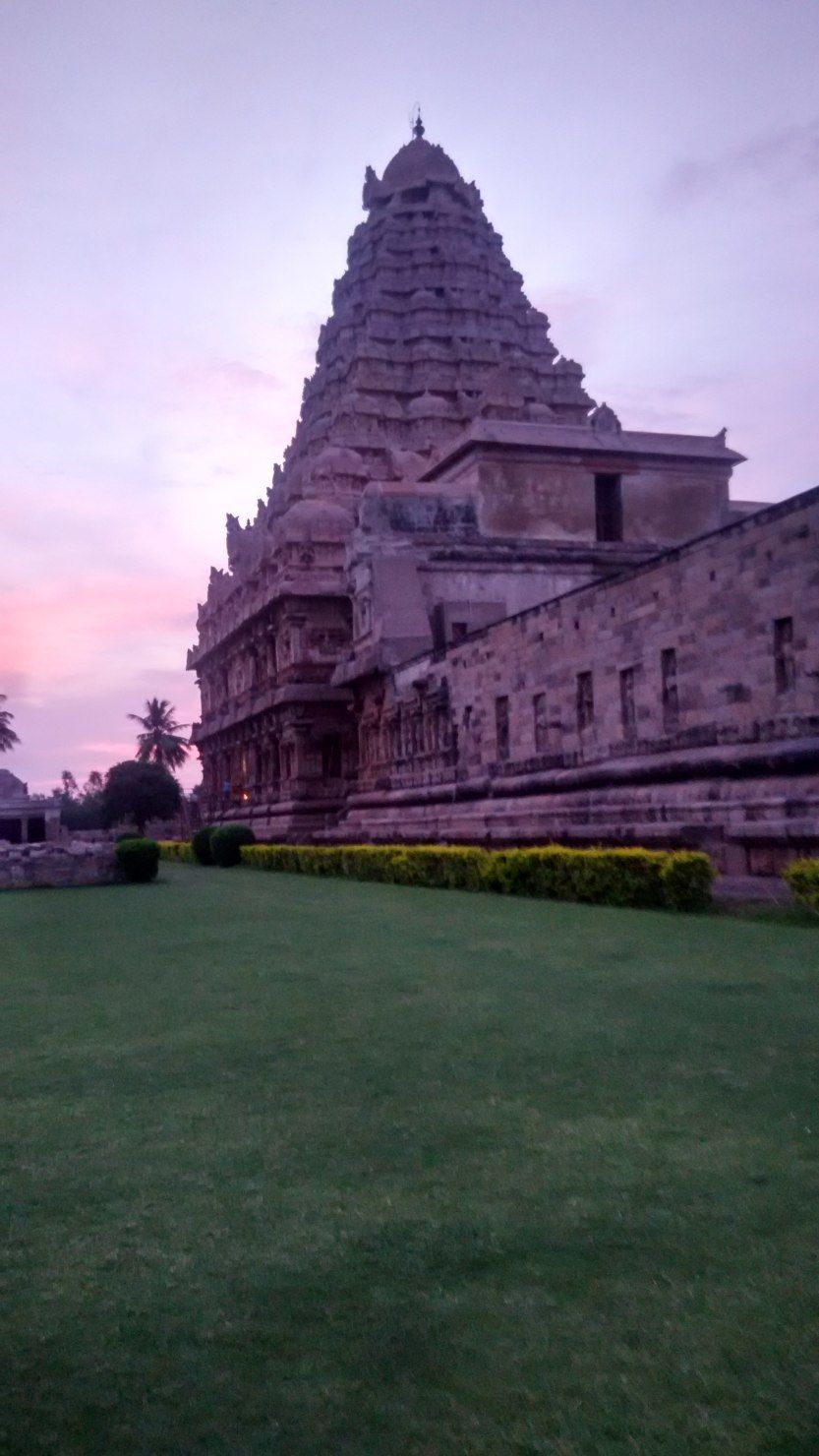 It is said that the granites all the way from North of India was brought to the South Of India through Elephants, Horses, and Donkeys. The majority of the constructions materials were shifted and moved by these animals as there were no transportations at that time.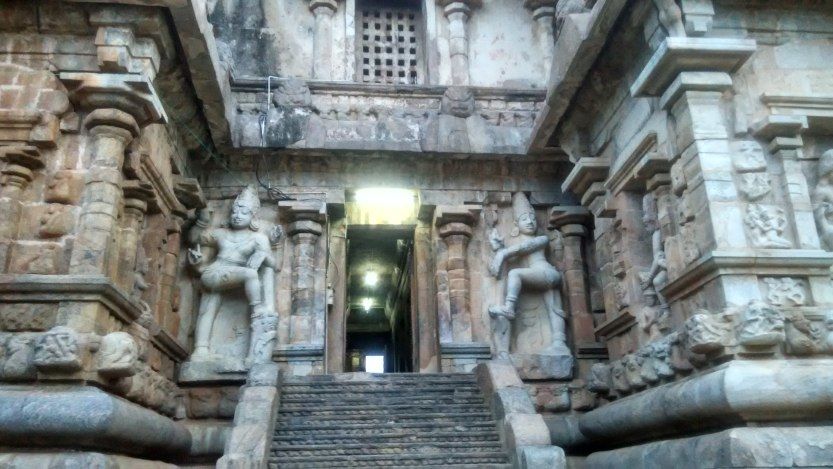 Situated at 10 km outside Jayamkondan town, lies this temple quite and untouched.It is quite hard to believe that this exact place thousand years ago was the epitome of trade,prosperity and was the capital city for Chozhas for more than 250 years.
Archaeological Society of India (ASI) record that there was a major catastrophe that hit this area several years ago brought down the civilization which led to the downfall of this region. This place was the capital of Chozhas at Rajendra Chozha's time. The archaeological society of India has unearthed many sites around this temple town and villages surrounding Ariyalur. Recent excavations reveal major palaces leftovers and ruins that belong to the Chozha dynasty. Yet this great temple stood against nature and time. Only the outer gopuram (temple tower) has been destroyed and only the base of the structure remains now. The ruined stones were later sent to build the Anaicut nearby (which is a small check dam) across River Cauvery.
As soon as we enter, we can see the semi-destroyed temple tower. One can only imagine, how perfect it would have been if the tower has held good. Nevertheless, you can see the perfect line from outside. From outside, straight inside the temple gate, you can see the inner temple tower along with the Bull Statue followed by the main God (all in one straight line).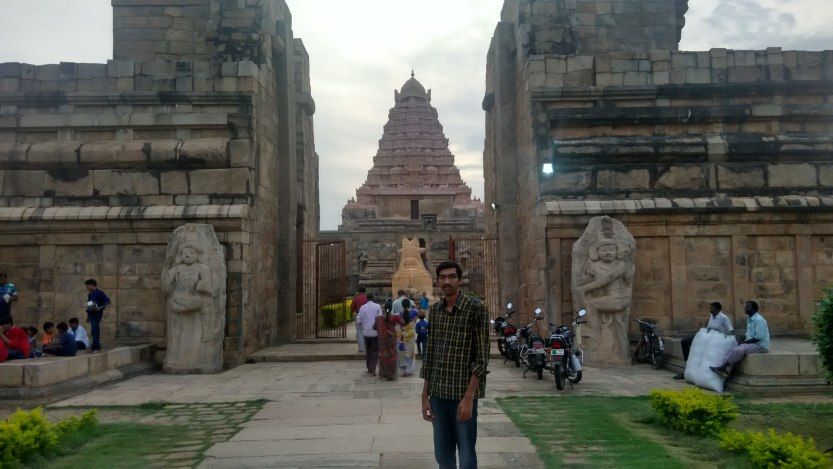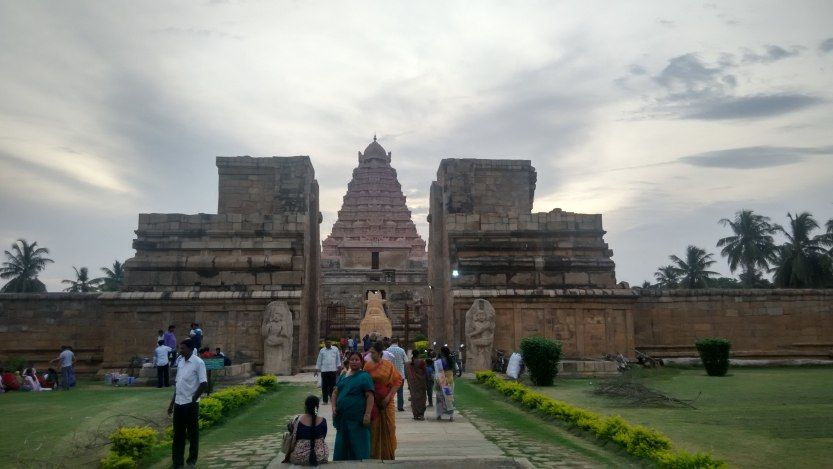 The main attraction is the huge Nandi Statue (Bull) and is made up of one single granite. I will give the size of this temple and leave it to your imagination. The temple is made by placing 153 blocks of granites (adjacent to each other) and is 175 feet high and 95 feet width.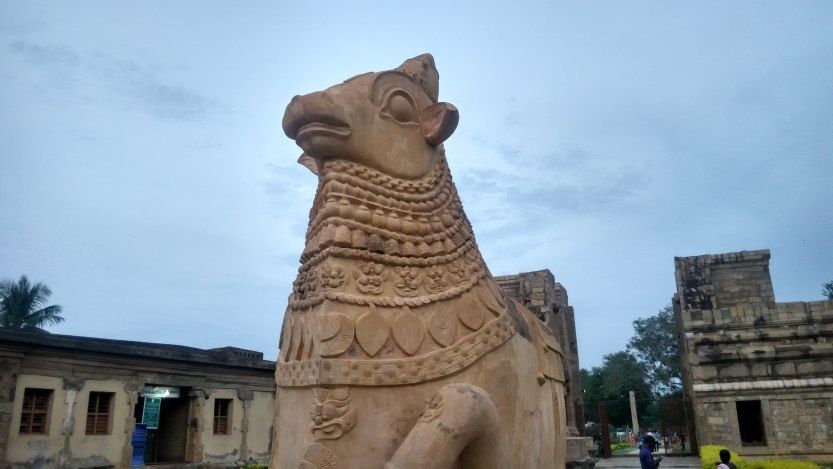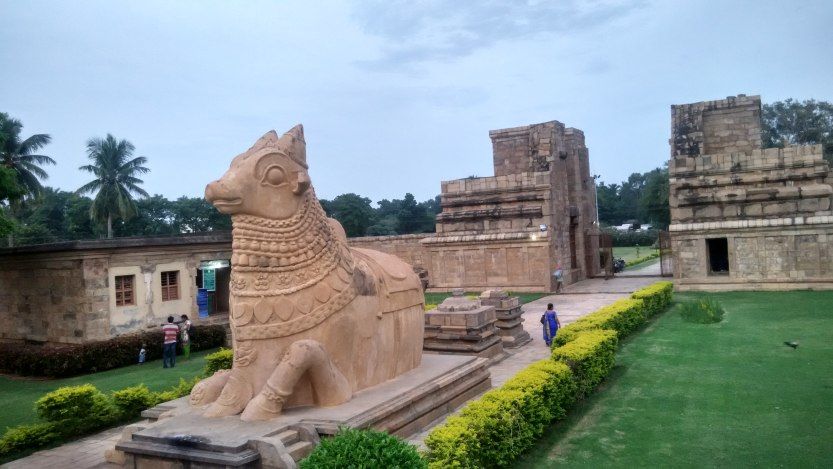 Similar to Brihadeeswara Temple, there is a huge granite monolith (which weighs several tonnes). It is said that the huge granite was moved atop by raising a slope and then moved to the top of the tower with the help of the elephants.
After the Bull Statue, at the entrance of the main sanctum, we can see a sculpture called as Dura Baragar who are the soldiers guarding the main deity. This statue is also made up of a single rock.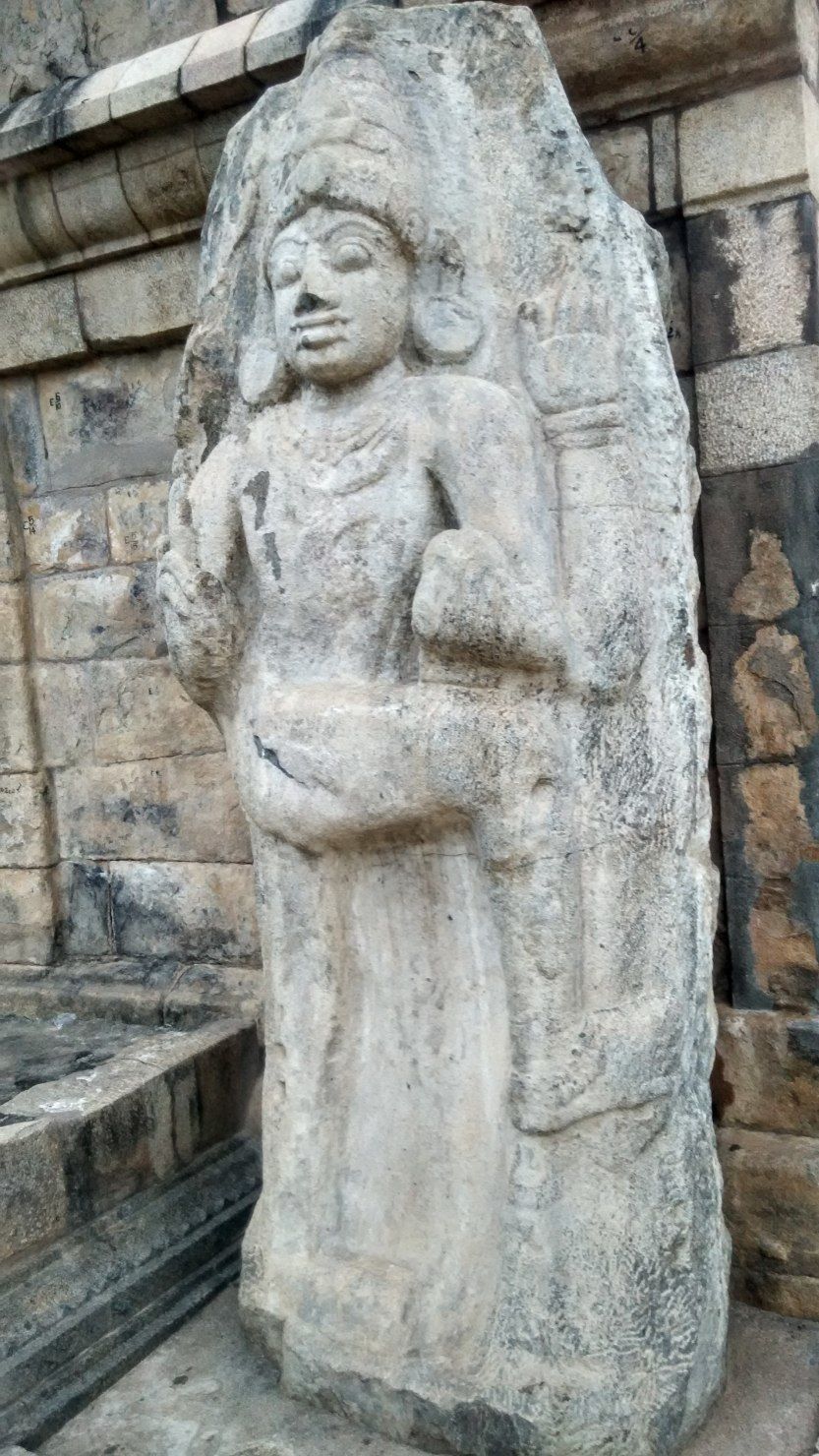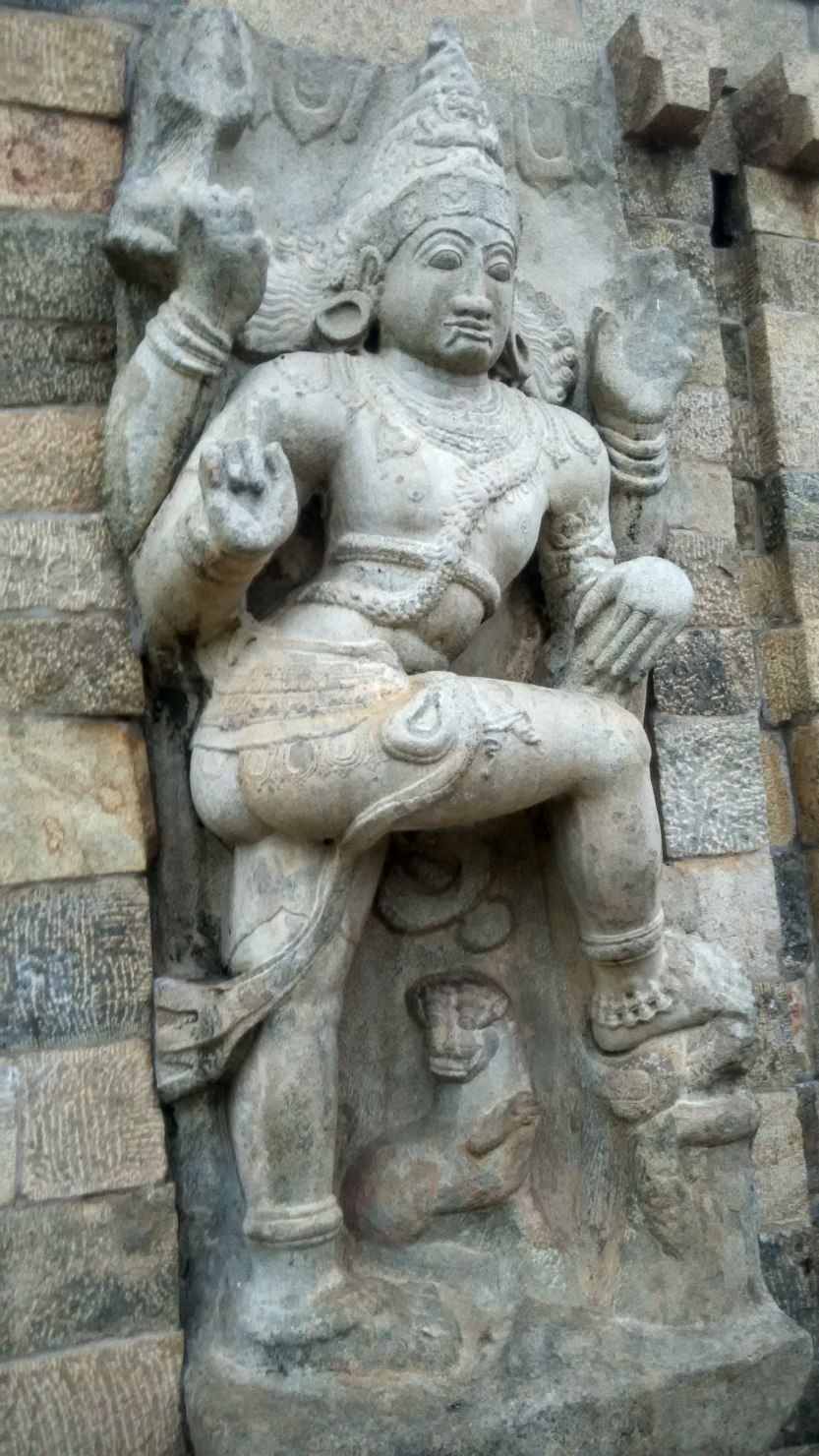 You can see a lot of Tamil and Brahmi inscription in the walls of the temple, but there is an interesting fact attached to it. The inscriptions display their valour, war strength, their culture, their generosity and other hero stones. It is also said in the inscription that there will not be any consecration for this temple and until today, it still holds good. It is said in the inscriptions that there would be re-incarnation of a Chozha king and once he is reincarnated, only then the consecration takes place.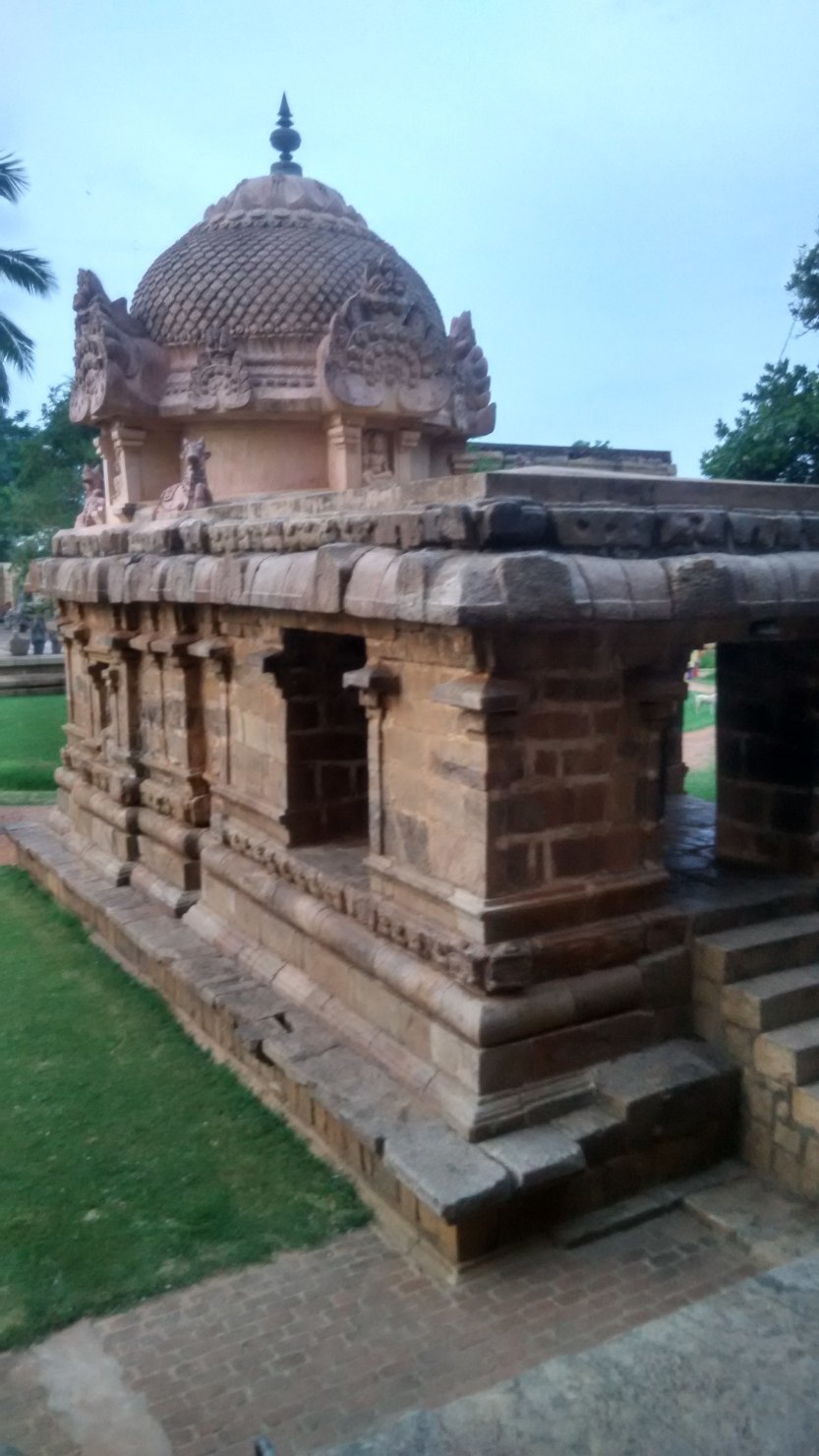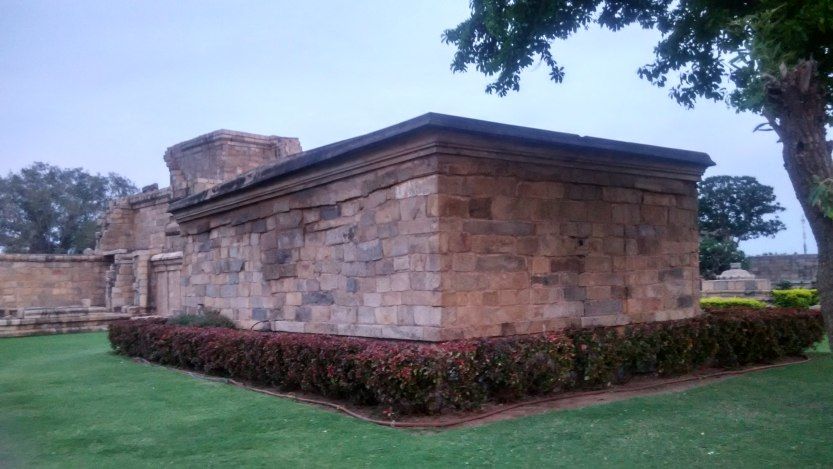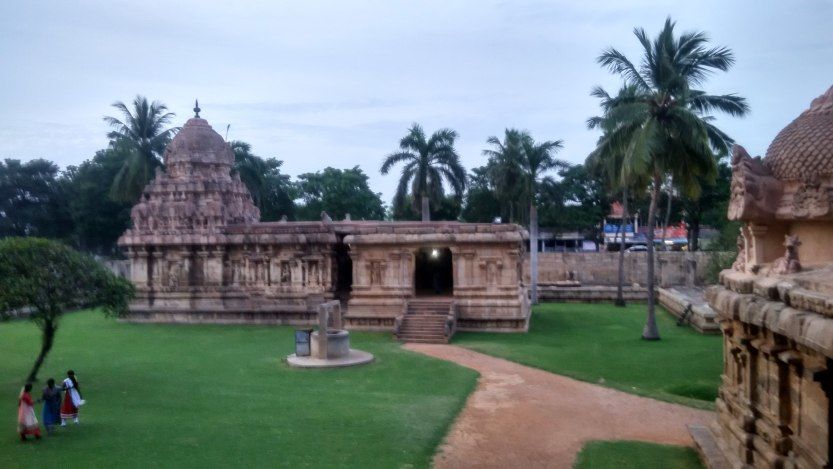 To the north of the temple lies a huge Lion monolith called as Simhakeni (Lion Well). According to the history, this is a well and it is believed that Rajendra after the victory of the Ganges, brought water from Ganga and poured into this well to sanctify it. While some others say that this is also a subway to escape if there is a war. This subway is believed to be connected to the Big Temple in Tanjore and other routes to the coast in order to escape via sea.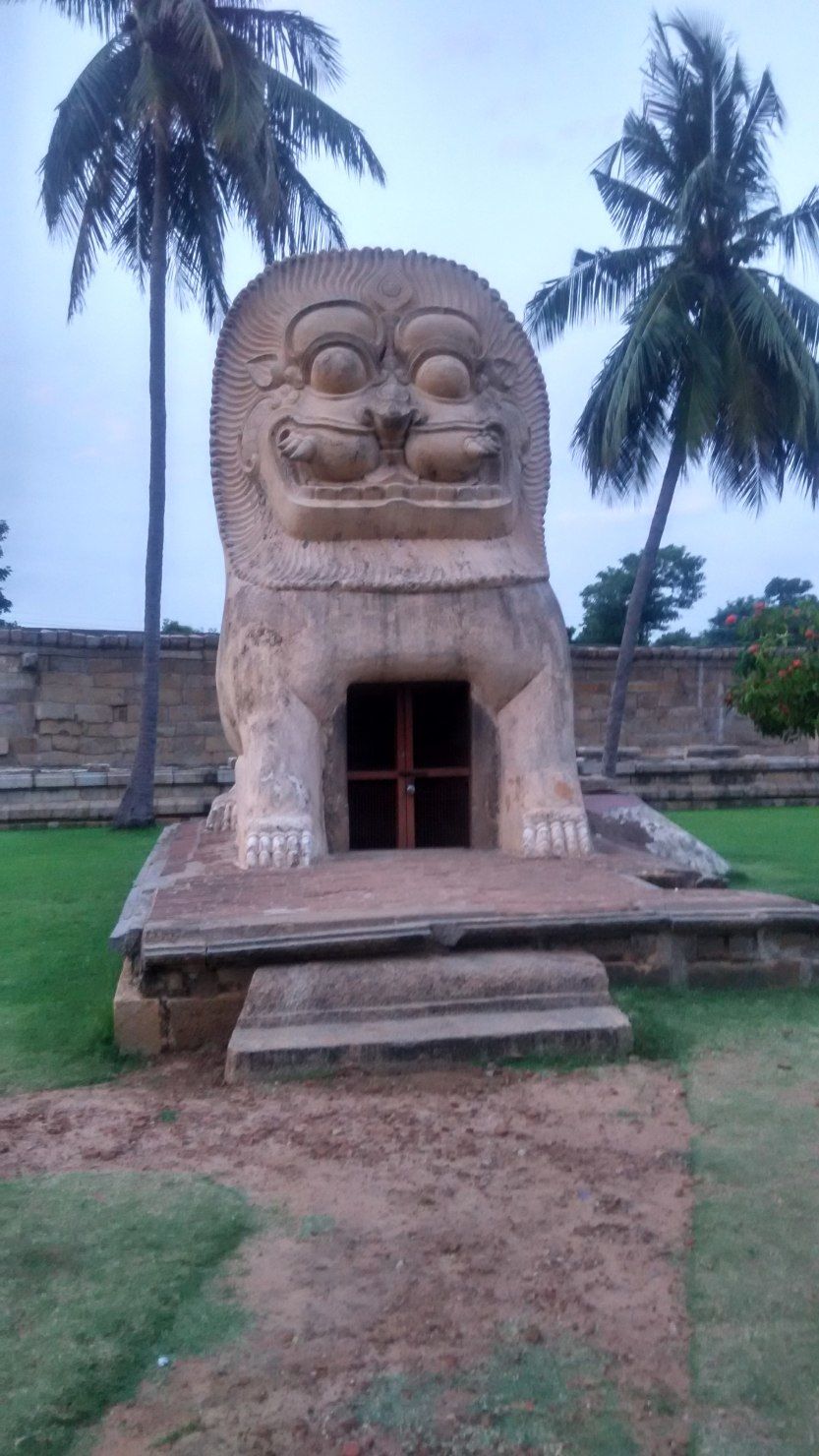 Chozhas were great patrons of art and architecture which is quite visible. The trademark Nataraja statue shows their skill, the Tanjore Arts and Museum justifies it, this temple acts as a testimony to it. It feels like I have travelled back time with some time machine and could very well understand how our ancestors would have once lived a rich life.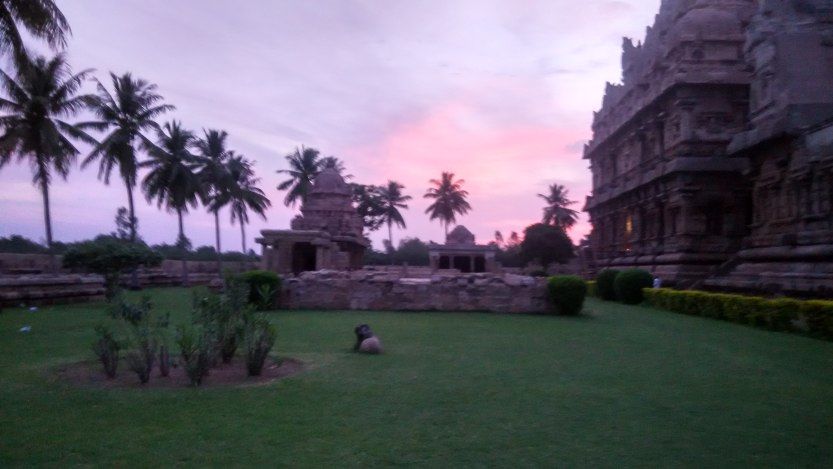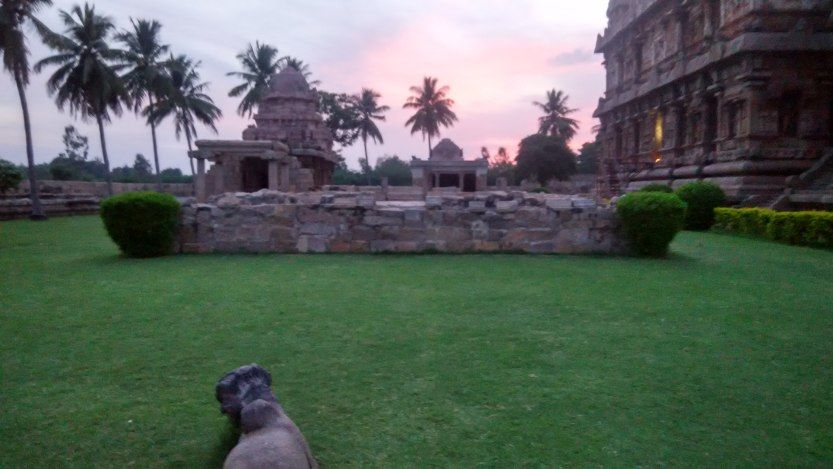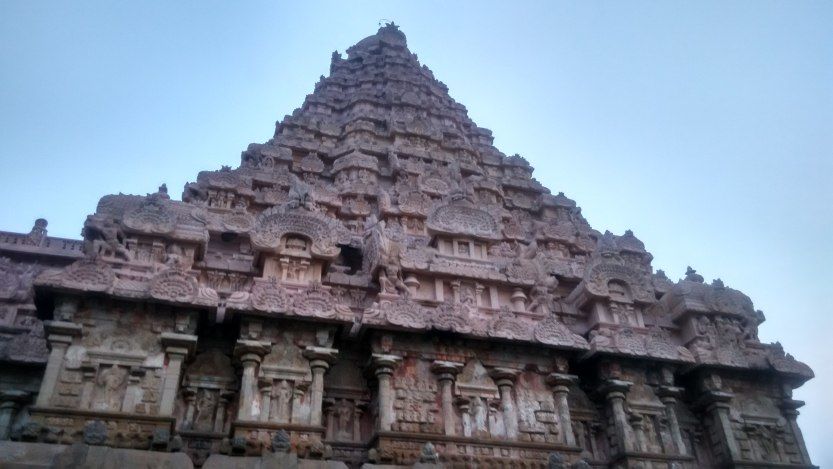 The ancient civilizations still amaze me on how developed we were and how we had lost our uniqueness and ethos by trying to mimic the West.
By Location- about 10 KM from Jayamkondan village. 40 KM from Kumbakonam and 80 KM from Tanjore, Tamil Nadu, India.
Nearest Railway Station - Kumbakonam. There are cabs available outside Kumbakonam Railway Station and Bus Stand to Gangai Konda Chozhapuram.
Nearest Airport - Trichy International Airport. 110 KM to Gangai Konda Chozhapuram.
Nearest Metropolitan City - Chennai, formerly known as Madras is the capital of Tamil Nadu and is 255 KM far from Gangai Konda Chozhapuram.
Temperature can become very hot and sultry in the summer and hence wear light cotton clothing and keep yourself hydrated.
Travel with locals and experience the hospitality and don't miss the traditional Tamil food served in a big plantain leaf.
You can collect souvenirs if you have a chance to visit Tanjore. Tanjore paintings and Tanjore Dolls and Tanjore Silk Sarees are quite famous. It is quite expensive as well and gives a run for its money. One local doll called Tanjore Thala Aati Bommai (dancing doll that moves its head the same way as a Bharatanatyam dancer) is a unique showpiece you can get and gift your friends back home.
Tanjore hosts a variety of places and you can combine your visit to nearby Tanjore and Kumbakonam. There are close to 100 big temples in and around this place. Tanjore also has the Asia's oldest library,palaces,museum and art gallery. So head out and have a wonderful historical journey which is waiting for you.
Cheers,
The Wanderer.
This blog was originally published on 'Whispering Mountains…'