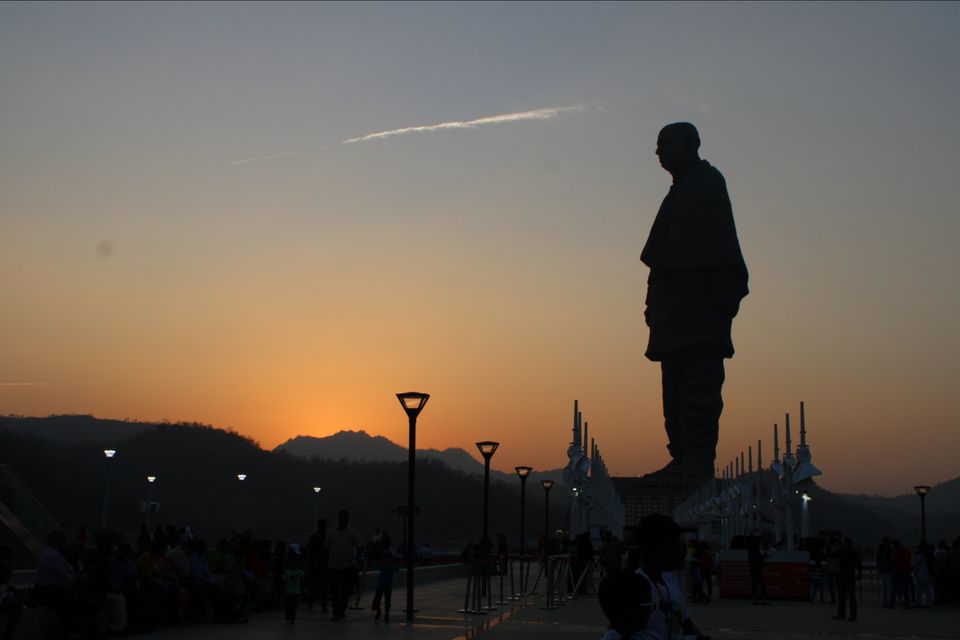 Gone are the days when they talked about statue of liberty now we indians can proudly say that we have one taller than any statue in the world. Welcome to Statue of Unity. This 182 meter statue is the word of mouth for quite a few months. And YES SOU is attracting every wanderer's eyeballs . This statue is situated on the banks of sacred Narmada river which flows in the rift valley between Vindhyachal and Satpuda mountain ranges. So this place offers a whole bunch of natural beauty and the statue of Sardar Vallabh Bhai Patel is making this mesmerizing. If you go there don't forget to have a spellbound sunset view.
It is one Full day trip, i would suggest you to bring your water bottle (to stay hydrated throughout the walk) and get some healthy food items with you. Because you actually need to walk a lot. But trust me this trip is gonna be your life's best trip. the very first thing is that it is closed on Monday as all the monuments and museums of the world.
HOW TO REACH THERE - It is 90 kms away from Vadodara and 200 kms away from Ahmedabad. Nearest railway station is Vadodara. You can take bus from both of these cities to Kevadia colony (nearest town). It will drop you exactly in front of the ticket window (Bharat Bhawan).
HOW TO BOOK - You can book online ticket by www.soutickets.in or you can book ticket at ticket window. but it is better to book an online ticket because i reached there at 12:30 pm on saturday(on a long weekend) and viewing gallery quota of the day and express tickets were exhausted. only entry tickets were available.
ENTRY TICKETS - There are 3 categories-
1. Express Ticket - It will cost you Rs 1000/- but it is like V.I.P. ticket. you will bypass long queues. you don't have to wait for viewing gallery. so its a good one. If you can put on some money than definitely book in this category. It includes Viewing gallery, Valley of Flowers, Exhibition, Statue of Unity, Audio Visual Gallery and Sardar Sarovar Dam, Sunset View.
2. Viewing Gallery Ticket - 350 Rs. for Adults and 200 rs. for ( 3-15 yrs.) child. It includes Viewing gallery, Valley of Flowers, Exhibition, Statue of unity, Audio Visual Gallery and Sardar Sarovar Dam. It basically includes everything as was in express ticket. the difference is the queue. you can consider this ticket also there is queue at two places one is ticket window and other one for viewing gallery.
3. Entry Ticket - This is the basic ticket which actually includes everything (Valley of Flowers, Exhibition, Statue of unity, Audio Visual Gallery and Sardar Sarovar Dam) but viewing gallery. so this ticket is worth buying. I was late (12:30 pm on a saturday) so i got this ticket but i was fully satisfied, because it covers basically everything but viewing gallery.
4. Bus Ticket (Hop On Hop Off) - This service costs you 30 rs. and its mandatory. I just loved their bus service because they have Mercedes and Volvo buses. you need not to wait for buses because they have ample of them so they are already waiting at stops. Best thing is they do not push people in buses. almost time last seats are empty. There are guides available in buses they are gonna tell you everything about that place in Hindi, English and Gujarati.
Main Attractions :-
1. Shrestha Bharat Bhawan - It is the place where you will start your journey. You can park your own vehicle and can get entry ticket and ticket for boating and helicopter(2900 per person) from here.
2. Statue - It includes statue, exhibition, cafeteria and souvenir shop. This statue is built by 70000 ton cement, 18500 ton reinforcement steel, 1700 ton bronze and 6000 ton structural cement. In the pedestal part of statue there is an exhibition gallery. This place is unexplainably awesome. You can actually meet Sardar patel through memoirs, photos and watching small video clips on screen dedicated to Patel's life journey here. There are photos of Sardar Patel's life journey, his struggle for independance of our country and his standalone work towards uniting 550 Provinces.
Food Court - In the food court there is a subway, Coffee cafe day and Vadilal shop, Honest (Food chain of Gujarat State). Besides these joints there is a pav bhaji shop and punjabi food shop & they sell food at a very reasonable price. Subway sells food items at their nominal price rate. CCD offers tea for 30 rs. and coffee for 70 rs. you can get samosa in 10 rs. there are many more options like this, One can have Thepla, Bhakarwadi, Khakra(neednot to mention that you are in Gujju state). Thumbs up for canteen.
3.Valley of Flowers - While approaching towards Dam, you will notice flowers on both the sides of the road as well as on the banks of River Narmada. Authorities have developed a Valley of Flowers. And on the top of that, There is a particular selfie point where one can click pictures.
Sardar Sarovar Dam :- It is a dam which restricts Narmada river's flow to generate electricity i.e. the Hydel Power. There are 6 reversible turbines. One can see the pictures of commissioning the dam and You can even do boating in the upper part of the dam.
Sunset Point:- Now there comes the best part, Climb Up & Sit there. Keep Calm & Witness the Sun setting down. Its reflections in the Holy River Narmada, Surrounding natural beauty, chirping sound of birds and the sound of flowing water of river Narmada make the view worth mesmerizing. Don't miss it out Folks, I repeat just don't miss the Sunset.