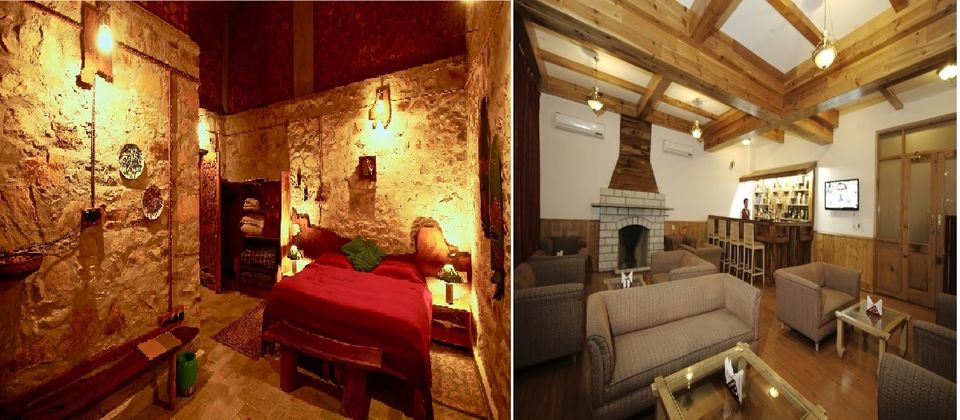 Tirthan Valley or Banjara Valley is one of the rare unexplored gems in India that sits peacefully in the lap of nature, hiding so many treasures. And what's an untouched place to explore without the perfect stay to complement its beauty! If the less taken trails of Tirthan Valley are on your bucket list, here's a list of the best stays around it that bring travellers closer to nature, one stay at a time!

If you too long to wake up to the view from a hilltop, the pleasing fragrance of the cedars and the distant noise of gurgling river, this is the ideal retreat for your next vacation. Kudrat Luxury Stays is a surreal boutique homestay in the Bandal Village, 5 km from Gushaini. Spot fifty shades of green amidst the falling cedar dust, sitting at the Deodar wood corridor of this luxury homestay, while you sip on a cozy cup of tea in the lap of nature.
Starting Price: Rs 7500 per night
Entering this place is followed by a feeling of warmth washing all over. Cedar-wood walls and furniture give a rustic sense of cosiness, but don't miss the cat caressing your feet. The common room/dining hall is perfect to meet other guests, and bond. If it is cold outside, the tandoor inside keeps everyone warm, as Sheena, a damn good storyteller, and Aditya, a seasoned PUBG player keep you hooked and left feeling at home.
Starting Price: Rs 1800 for two
Sitting in the lap of nature, the Gone Fishing cottages lie in the eco-zone of the Great Himalayan National Park. It is located on the bank of Kalwari stream and is surrounded by lush green forests and majestic peaks. It is ideal for travellers who appreciate rustic charm and modern facilities. If a place surrounded by scenic views, designed with woods and stones with an earthly beauty is your thing, then Gone Fishing Cottages is the place for you.
Starting Price: Rs 6000 per night
This one adds to the flawless beauty of Tirthan Valley. Possibly the closest property to the River Tirthan, Trishla Resort has spacious gardens that let you enjoy the scenic valley with fragrances and naturally pleasing sounds of nature while basking in the sun and sipping on your cozy tea with loved ones. The staff of this resort is well-known to be very hospitable and friendly.
Starting Price: Rs 3,900 per night
Situated in the ecozone of the Great Himalayan National Park, For A While is among the most comfortable hotels and resorts in Tirthan Valley. With a friendly staff and mouth-watering delicacies, this hotel has the power to steal hearts. Once there, you would not want to leave. For A While is an unbeatably cozy retreat, perfect for a getaway from the hustle bustle of regular mundane life.
Starting Price: Rs 8,480/- per night
JJ Resort is a fan favourite during winters. As snow whites change the colour of the valley, JJ Resorts make sure they use it to the fullest. The place feels very homely with beautiful interiors, a cordial staff, quick room service, and peaceful surroundings. There are good reasons why this soulful stay away from the city life has become one of the most charming weekend getaways near Delhi.
Starting Price: Rs 3,000 per night
                                                                -O-

With nature's surreal beauty at full display, Tirthan Valley has worked its charm on travellers and locals for ages. For all it's worth, these amazing stays are doing their best to deliver the best possible services in this environment that suits both the visitor as well as the surroundings. If I have missed any of your favourites, do mention in the comments below. And while you're at it, travel responsibly and let the place maintain its true values!

Tell us about your views in the comments below or here on Tripoto.
Get travel inspiration from us daily! Save our number and send a Whatsapp message on 9599147110 to begin!