Having spent the first day of the new year in Siem reap, against the backdrop of the admirable Angkor Wat, sipping coffee all day long, reading and something, it was now time to leave this country and go back to Thailand, for the final leg of this trip.
We'd booked a direct bus from Siem Reap till Bangkok, which would stop at the border to get our visas and exit stamps. Little we did we know then that we would be stranded at the border again! (last time though) and that the process would be so time consuming and annoying.
As we queued up for the bus, I could see that in no possible manner, could these many people fit into the vehicle that had just drove up. Underestimating the people that wanted to go to Bangkok, the company had sent an old small van from the 1980s to transport what seemed like 50 people. Consequently they sent another one, and we got on the second bus. Having already delayed our start, I was getting a bit anxious at reaching late at the border.
The border is only about 2 to 3 hours from Siem Reap. It is a small town called Poi Pet and has fancy new glass buildings and casinos, but is nothing more than a dusty old town. One nothing was clear, this border was very different and looked very different from the Vietnam Cambodia border.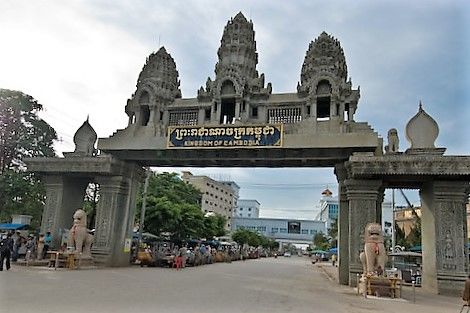 It was about noon now, and our driver had taken us Indians and a few Chinese aside as we were the only ones who needed a visa to enter Thailand. We had to pay him the equivalent of 2000 baht in USD and then we proceeded through the border to the Thai side to pay and get a letter that we were permitted to leave Cambodia. We waited in line for about an hour in the relentless heat as the driver's sincere attempts to bribe/coerce the guards had failed. After going up the stairs and standing in line again, this time inside though we were a bit relieved when we were at the immigration counter within 30 minutes.
The officials checked my documents and decided that I needed to have a print of my hostel booking. Pleading with them to accept the version on my phone, they said no and would only take print outs. The problem was that you could only get print outs at the Cambodian side.
I walked back through the now unbearable heat, for a good kilometer, to the Cambodian side and tried to get a print. After some searching around I succeeded and then made my way back to the Thai side. Waiting in line again for the same time, we were face to face with the official again. Smiling now, he gave us the approval letter.

Now having got the letter, we proceeded to the Cambodian side AGAIN, to get our exit stamps. Walking back, with our luggage, completely drained we waited in line for our passports. Having had no food since the early morning, we were getting restless and cranky, not to mention very hungry.
Finally having got our Cambodian exit stamps, we walked over the border again this time dragging our luggage, for the last time to the Thai side. And we waited again. Waited in line again this time to get our visas. We waited for another hour to get to the immigration official. Now having all the required documents, stamps and money we were clear to go. Except that they needed to give us a visa. They collected at our passports and an hour later, a very grumpy lady handed them back, with our second Thai visa within 15 days. If they'd given a month long multiple entry one in the first place, all of this would have been avoided.
It was now almost evening and as we made way to the parking where the bus was supposed to be, we saw that there wasn't any bus in sight. A man on the road told us the bus had left four hours ago. Indians and Chinese were the only people that had to go through all of this (Europeans and Americans did not face this) and the bus had left without us. And as such, we were stranded at the border again, this time due to no cause of our own.
A Chinese family who was also similarly stranded us, were trying their best in their limited English to get the tour company to arrange one more bus for free. Jumping in, we went to their defense as well, as it would guarantee us a place on the bus. Finally the guy and relented and sent for a minivan. By this time, some more Asian people had joined in and by the time the van left (which was an hour later) we had 3 Asian families and Gayatri and me in the van. This is how we reached Bangkok at midnight via Cambodia.
Tips –
1.Have all documents (tickets and reservations) printed for the Thai visa.
2.Be prepared to wait for a long time, so have a packed lunch
3.Have passport size photographs of yourself ready
4.Have 2000 baht ready at the Thai side for the visa
5.If possible, don't go by the land route.