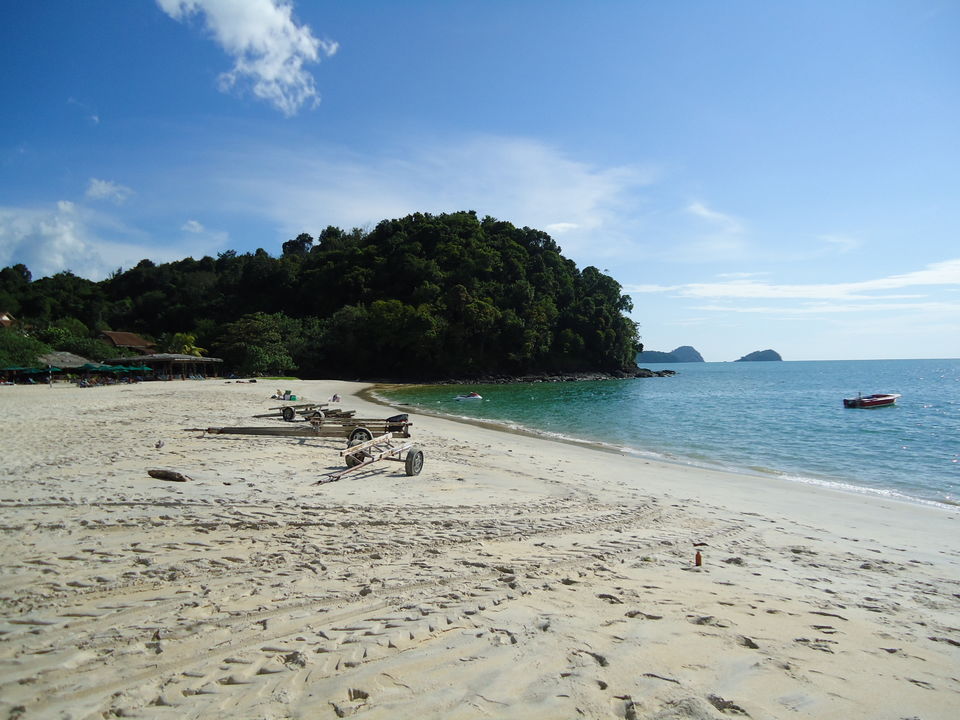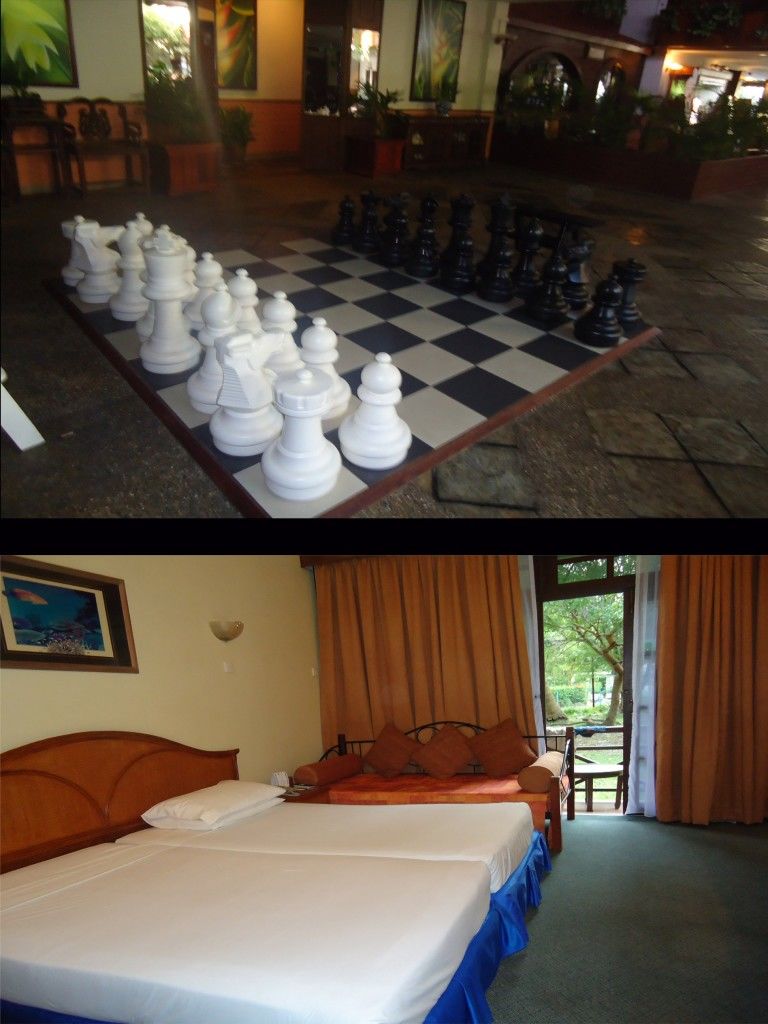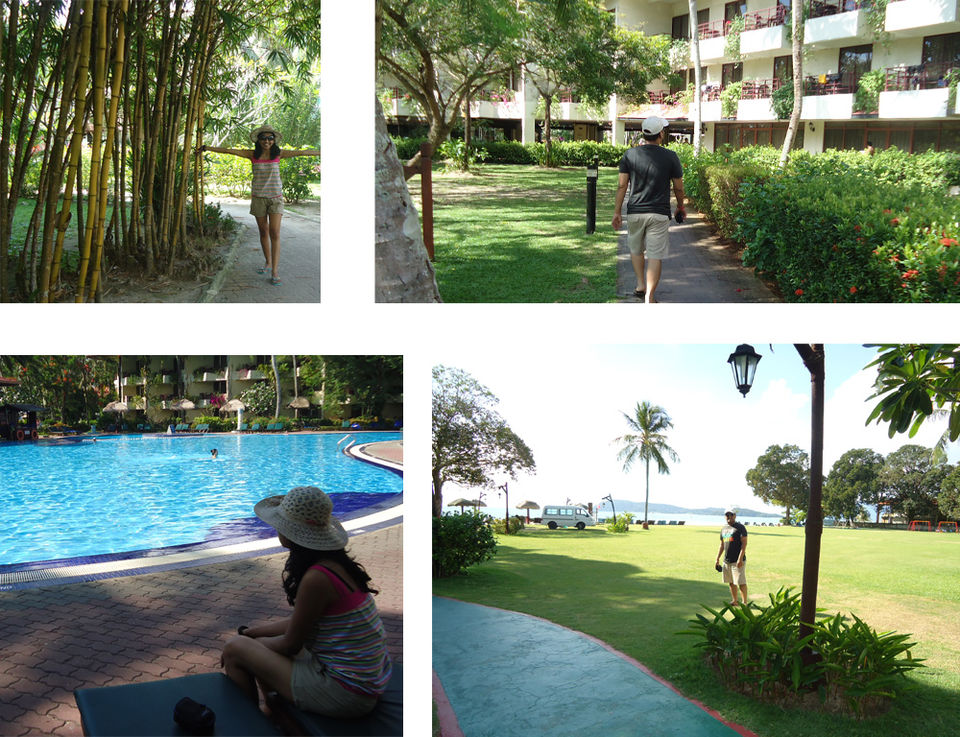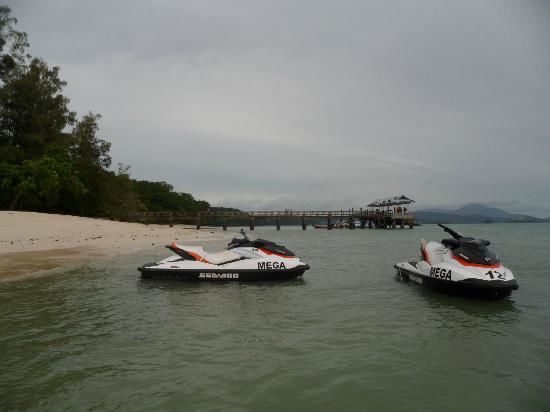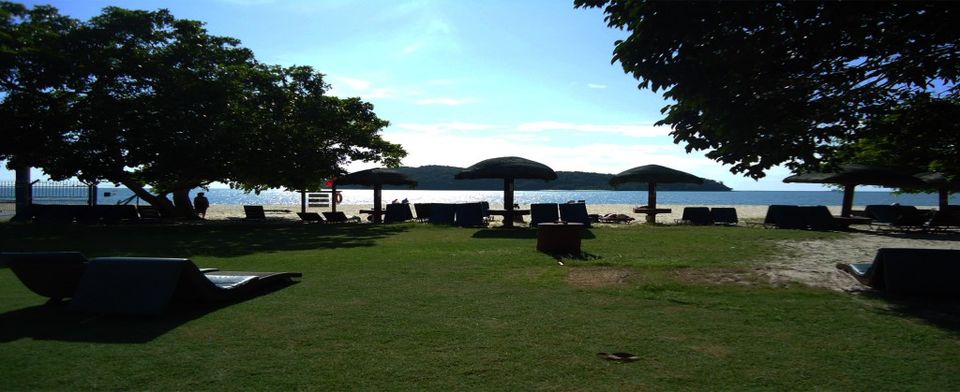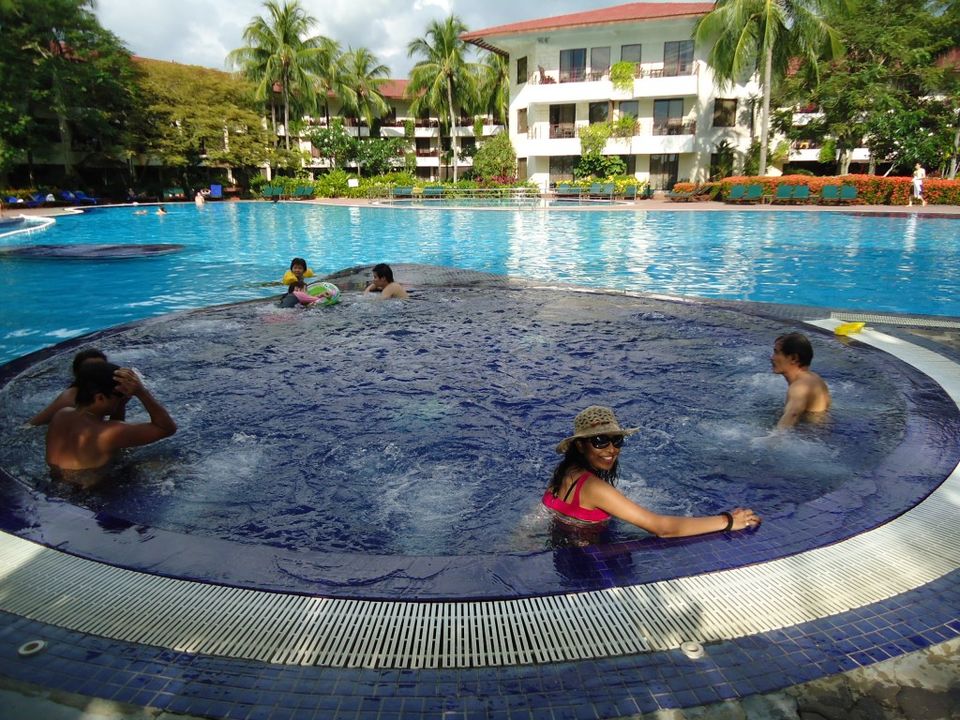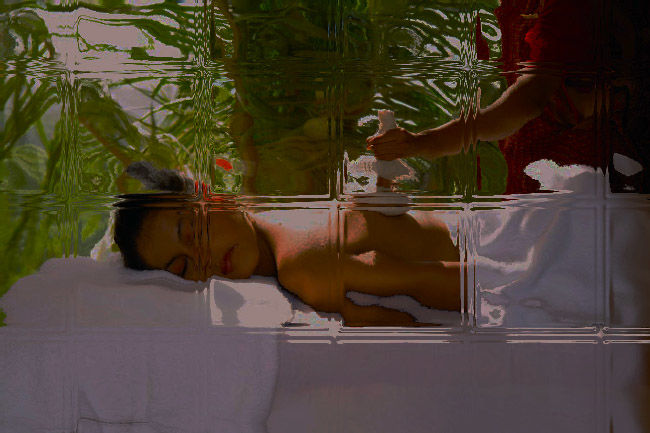 A whiff of fresh air and a dazzling sunny day greeted me warmly as soon as we came out of the Langkawi Airport. Although the temperature announced by the pilot said 32 degrees, it felt really hot after being congealed by Vadodara's winters. We wondered if it would remain this hot throughout our journey.
On my way to the hotel, almost an hour's drive, I enjoyed the lovely sight and scenic boulevards along the way. By the time I reached my hotel Holiday villa beach resorts, I knew that Langkawi would be like relaxing on the beaches, loads of water sports and yummy sea food to try.
My tour began with an awesome room being allocated to me. We were totally jet- lagged after waiting for 4 hours at KL airport early morning to catch our next flight. We knew the moment we entered the room that we were gonna fall asleep fast. We slept. We were up in 4 hours and felt fresh already. Too excited to explore, we hit the beach. The way to the beach was simply awesome. Green lush trees, pebbles, swimming pool, bar and lovely weather made it perfect. I witnessed, absorbed and captured everything that this beautiful island Langkawi had to offer.
On the beach:
Day 1: Yes, the best part of visiting any island is obviously hitting the beach. Our hotel had a private beach which meant we could have the entire bay to ourselves. Too fewer travelers in Langkawi was a lil surprising but it only made up for an awesome beach experience.  Trailing bare toes on the beach; me and my friends planned the day.  As we walked down the bay, our footprints trailed in the warm sand. It was the most beautiful locale; the tranquil sea, the private beach, the wet sand, the warm sun and eagles fluttering above us.
People were jet-skiing and parasailing. And we didn't wanted to be left out. So we first went jet-skiing. Mine was not first time. Yamaha jet-skis floated on the water. A friend took a test ride and we settled on it. 3 jet-skis and 5 friends; we went past the rough waters to the small island that we had seen from the beach. We raced and we skied. After 10 minutes of riding, I took the front seat to ride the jet-ski and it was indeed a thrilling experience. We rode for 30 full minutes. Less people and off season had made us happier. It was getting dark and para-sailing had to wait till the next day.
Wooden benches lay on the shore with huge umbrellas fitted. We settled down and ordered some beer. Sipping cold beer we sat staring at the beach. I felt as if the waves knew what I was thinking and was responding musically. My thoughts enveloped by the serenity of nature. We walked back to the hotel. On the way to the swimming pool was also a Jacuzzi. We all jumped in with excitement, ordered some more beers and vodka shots. We lay lazily in the hot tub chit chatting and letting the darkness take over us. We got out. Changed clothes. And hit the beachside bar and restaurant. We had some tiger prawns and grilled fish. First day had ended soon. I lay down on the beach gazing at the stars thinking of this quote that perfectly described my mind right now –
"For whatever you lose (like a you or a me) its always ourselves we find in the sea".
At the spa:
Day 2: Last day's beach fun had left us all tired and lousy. Coming up next was spa. Traditional Hair Cream Bath spa was my selection which was 1 hour long. It was a traditional deep conditioning treatment to moisturize hair including hand and neck massage to sooth and relieve stress.
I closed my eyes, stopped thinking and just felt. The light movement of the masseuse's hands on the neck relaxed the hell outta me. The dripping cream in the head was soothing cool. Each sense of my body was falling asleep. Her hands smoothly slid on my neck and shoulders, kneading my toughened muscles and rubbing away the strain off. The sound of the island waves thrumming in the background chimed clearly in my ears. I lay there winding down self in a pampering luxury for a long-term fix for muscle pain. I was all rejuvenated and the spa was my rehab. My massage ended and as I headed for shower, a splash of happiness intoxicated my face. I was about to leave when the masseuse offered me a glass of wine. I hesitated first; however she told me a glass of wine maketh a beautiful day end well. I accepted and sat at the beachfront, sipping wine, waiting for others to finish.
Originally published on Yummy Trip.