After a blissful few days in Ubud , I headed down to the more "happening" part of Bali (perhaps the most) - Kuta . I spent a blissful 5 days in South Bali doing the 1 thing I love the most - Surfing! And hence, there's not much for me to write here as I essentially was just surfing, eating and partying my way through in Kuta!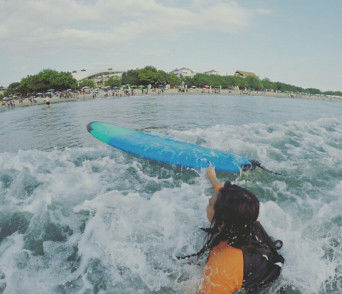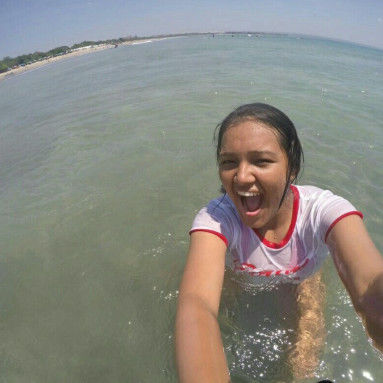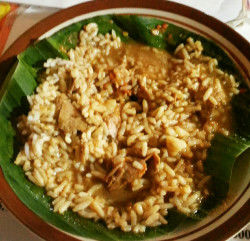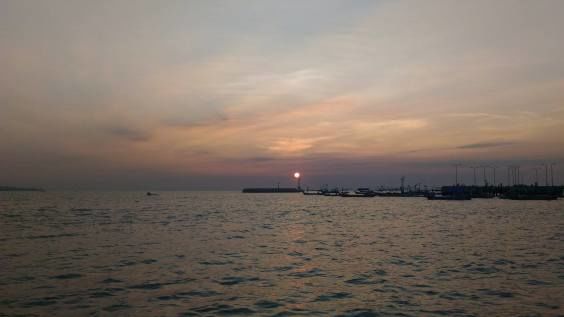 One of my main reasons for choosing Bali for my trip was because it's synonymous with Surfing. Whether you are an expert or just learning how to surf, South Bali can accommodate it all. Kuta, Legian, Canggu, Uluwatu, all have plenty of surfing spots. What makes Bali so unique apart from the warm waters, is that it offers waves year around in a variety of different breaks for all skill levels. From reef breaks, to beach, there are ample opportunities for surfers to progress. You can choose from several surf schools, camps, and private coaches based on what you need.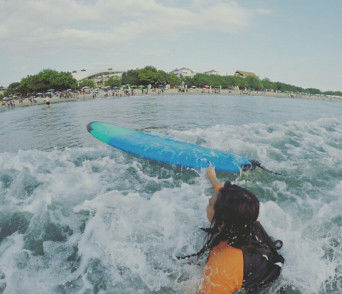 I woke up every morning and headed to the Legian Beach where I surfed for 2-3 hours every morning. I was able to get help from Pulau Biru Surf at the Legian Beach , it's a local Surf Camp led by Balinese Surfer guys. They rented me their surfboard and helped me out in the water with the wave breaks and the "do's and dont'"s of surfing in Bali. They are a group of 3 guys who run the camp and take Beginner to Intermediate surf lessons throughout the day and offer board rentals for an extremely reasonable rate.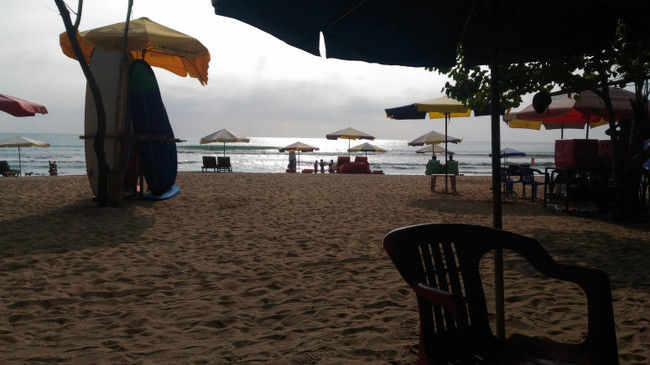 My first day was pretty tough considering I was surfing after a few months, and it took me a while to adjust to the waves, but Day 2 onwards it got better. I was able to try out different boards as well and gain a better understanding of the swell all thanks to the guys at Pulau Biru!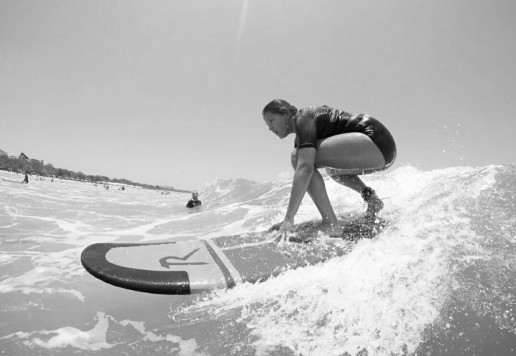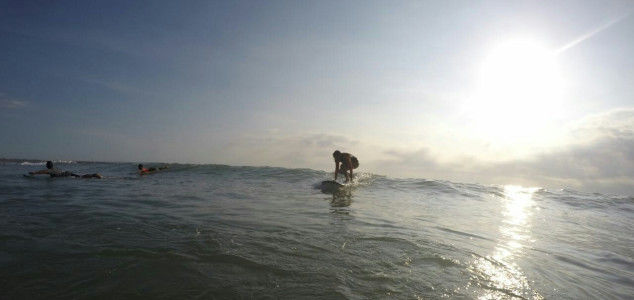 That feeling when you stand up on the board and you are able to ride a wave - it's one of those unique feelings that nothing else can give you and that's what's so addictive about surfing. It's fun, it's empowering in a way. It'll exhaust you but it's the good kind of exhaustion, out in the sun in the water and the waves .Once you start with it and experience it, it's hard to let go.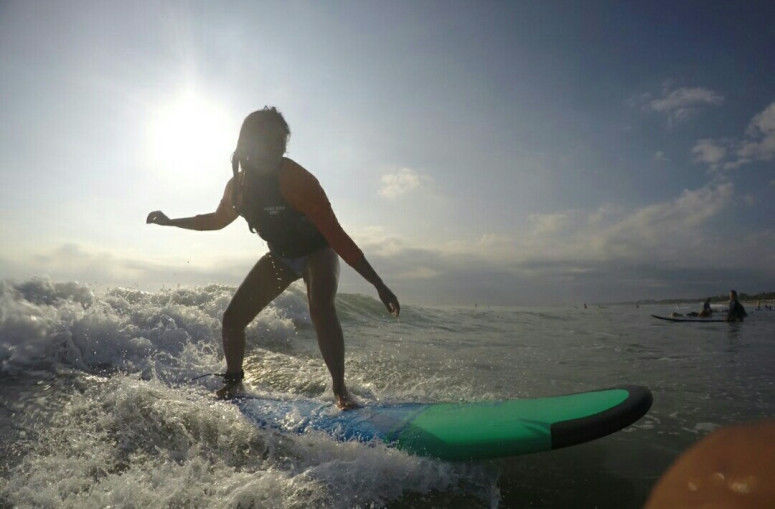 I spent all my 5 days in Kuta being hosted by a fellow couch surfer who I ended up becoming very good friends with by the end of my trip. I stayed at her place in Uluwatu. South Kuta is pretty well connected despite quite a bit of traffic, so we ended up driving around South Bali on our bike. While surfing at Legian beach, I explored a bit of Kuta there- went to the Poppies lane (famous for shopping), drove down a few beaches ,got a tan, ate ate and ate more.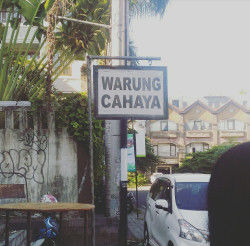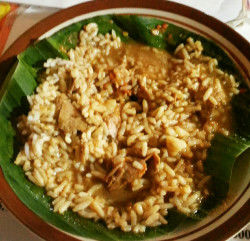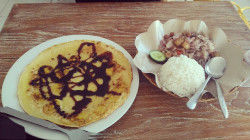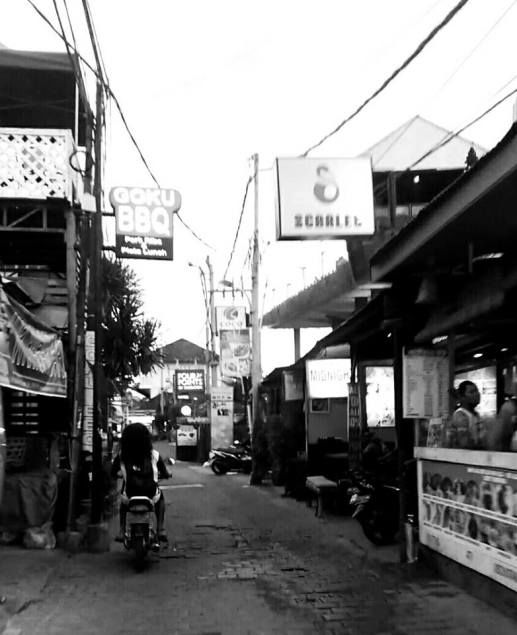 Kuta is pretty crowded considering it is the surfing and the partying hub in Bali. There are countless number of pubs in Kuta and Seminyak buzzing with energy from dusk to dawn, where you can catch beautiful sunsets like the one at the Rock Bar in Jimbaran. You could pub hop in the bars of Kuta the entire night and still not be done.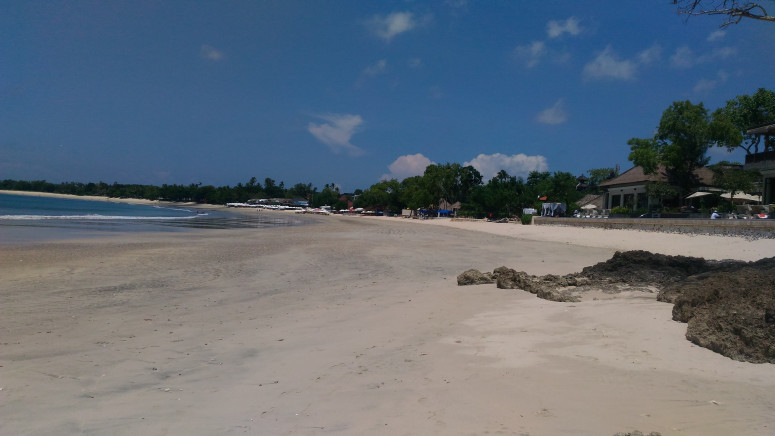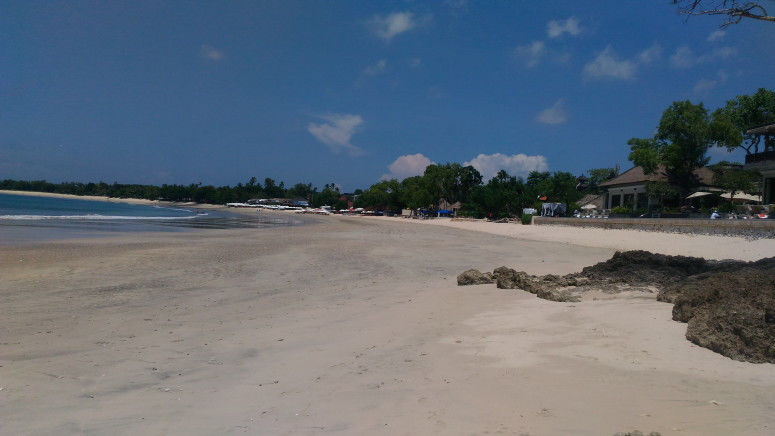 My favorite beach in Kuta was the Jimbaran Beach for the pristine white sand and azure blue coloured water and the Legian Beach for the surf. The Jimbaran beach is relatively less crowded and very ideal for a golden tan in the sun and a cool swim in the water.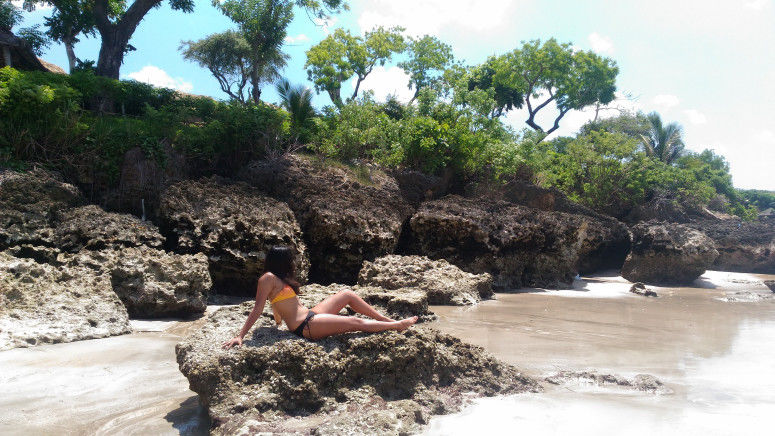 The coastline of Bali makes it amazing for a beautiful beach hop. A couple of beaches that one could drive to other than Jimbaran - Legian,Kuta Beach,Padang Padang,Echo beach , Balangan and the Seminyak Beach! (I can go on)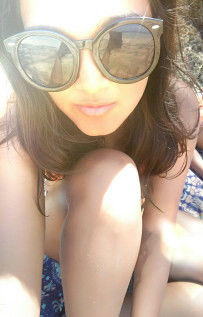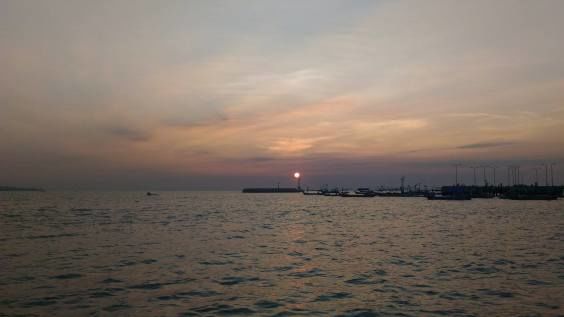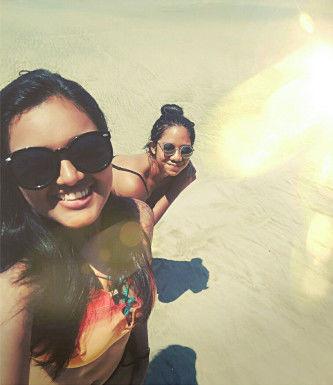 I also visited the famous local Jimbaran Fish Market with my friend and we handpicked some jumbo prawns and squids and headed over to the grill right next to the market to get it cooked. Having barbecued seafood facing the Jimbaran beach on a Friday morning just seemed like the most ideal way to spend the day.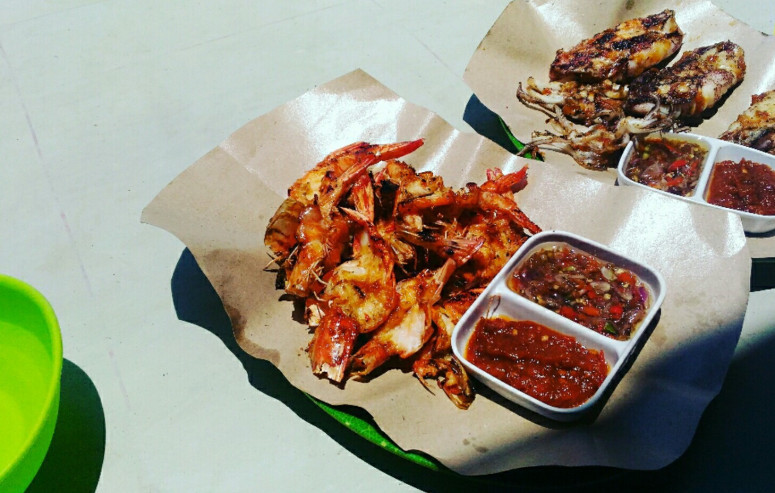 Apart from the surf and partying, theres a bunch of temples you can visit in South Bali- Tanah Lot and the Uluwatu temple being the favorite.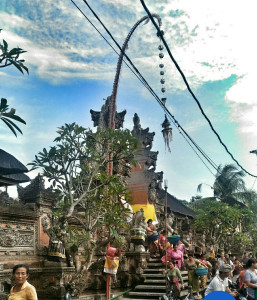 Unfortunately I spent my last night in Kuta visting Canggu, and I say its unfortunate because if I had visited Canggu before, I would've come there everyday. Infact what makes me want to go back to Bali is that I want to go back and just stay in Canggu for a while. It's a place that has the "Bali vibe" all over it.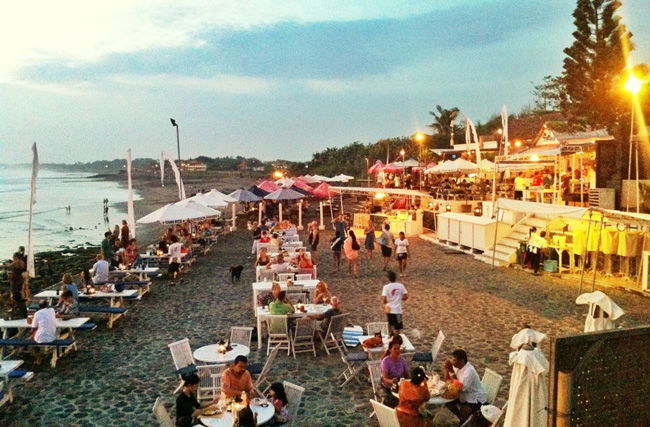 It's been referred to as 'The Brooklyn of Bali' for its eco, vego, and organic food, drinks and bars popping up across the coast, fuelled by the countless ex-pats who seem to be making Canggu their home. Canggu is home to some classic surf breaks including Batu Balong and Echo beach.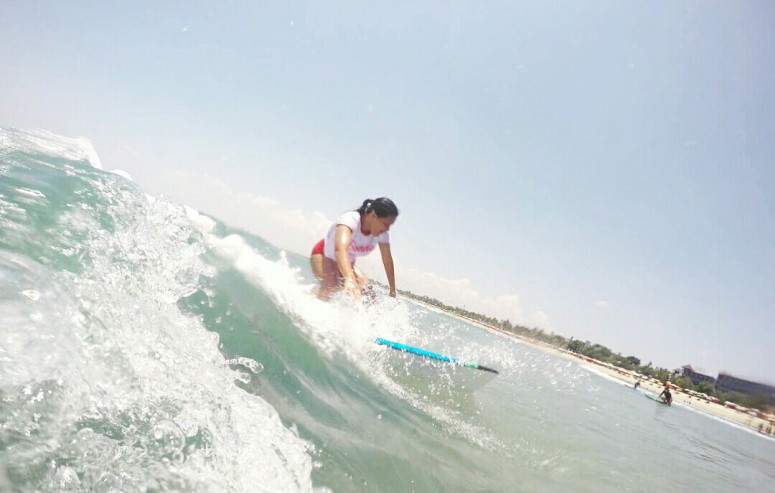 You are spoilt for choice when it comes to dining. I spent my night at the Old Man's Bar at the end of the beach with a few friends.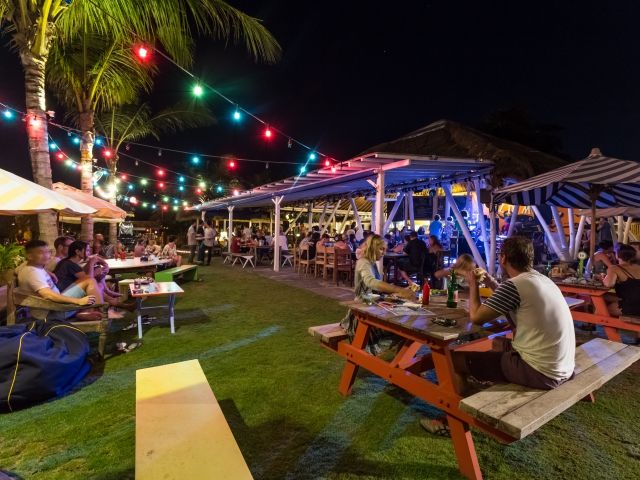 Superb view, chill vibe, great music, amazing people, sand in my flip flops , we ended up having a blast at Old mans'. A few more drinks down and a couple of other clubs in Kuta, we ended up in a local reggae bar in some part of Kuta at 4am)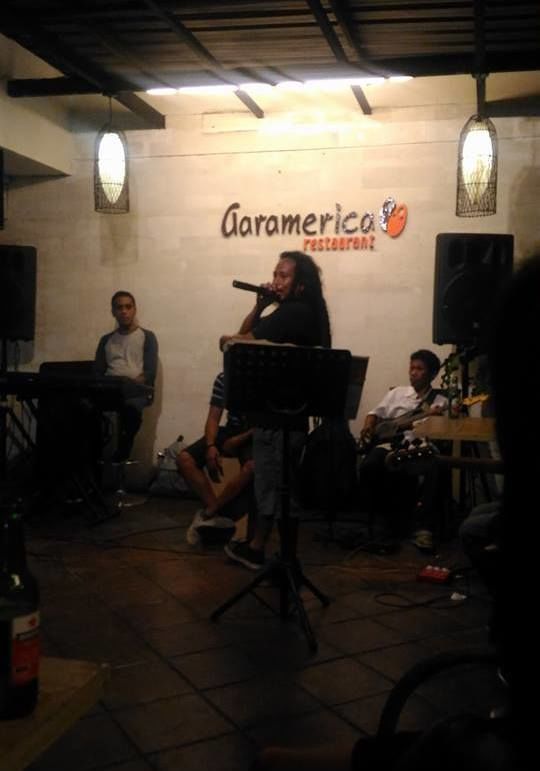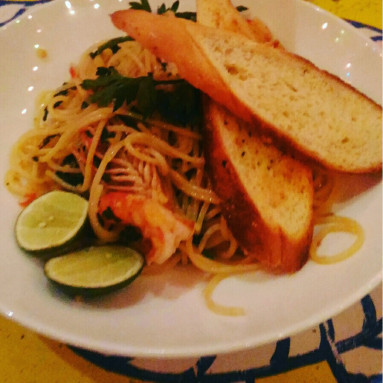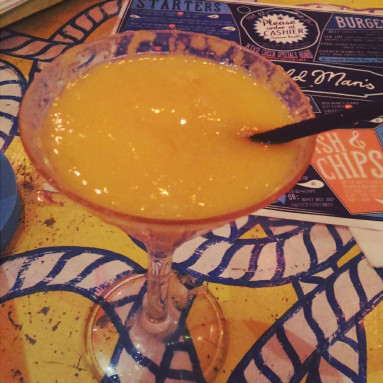 My time in South Bali was filled with fun,love,adventure,stories that I can't stop writing about if I began and so much more doing all the things I love! It was quite a contrast to my time in Ubud, but then that's what's travelling about- Different shades of life. And I enjoyed every bit of it!
Kuta is your quintessential urban beach town , pulsing with energy as the sun begins to set, so just kick back and soak it all in, and you'll be in for a damn good time!
You can follow me on Instagram for more!
This blog was originally published on 'Loving Lost'
Frequent searches leading to this page:-
Bali honeymoon package cost, Bali honeymoon packages from Chennai, Bali honeymoon packages from Kerala, Bali honeymoon package from pune, Bali honeymoon package cost from India, Bali honeymoon places