Travelling to Scandinavia, and Sweden, is often regarded to be a costly affair, but it certainly doesn't have to be. Did you know that "allemansrätten" gives locals and travellers alike the right to camp out in nature for free?
Sure, Sweden offers a wide range of luxury hotels with all the extras. But are dimmed lights and wake up calls really preferable to waking up to the sun rising and the birds humming? Is a "rain shower" and room service really better than taking your morning bath in a lake with crystal clear water, to cook breakfast eggs on an open fire, and pick your own berries for desert? Nature sure offers many luxurious trimmings too, exclusive trimmings no amount of money can buy.
But just as hotels may have curfews, nature has a few rules too. But they are all pretty common sense, and easy to follow.
● You are allowed to access any land, except private residences, the immediate vicinity (70 meters) of a dwelling house and cultivated land.
● You can put up a tent.
● Campfires are allowed.
● You are allowed to collect flowers, mushrooms and berries.
● Driving on private roads is allowed unless there's a sign saying otherwise.
● Swimming in lakes is allowed.
● You can access any beach as long as you stay away from private residences.
● You are allowed to catch fish in the five big lakes and along the entire coastline.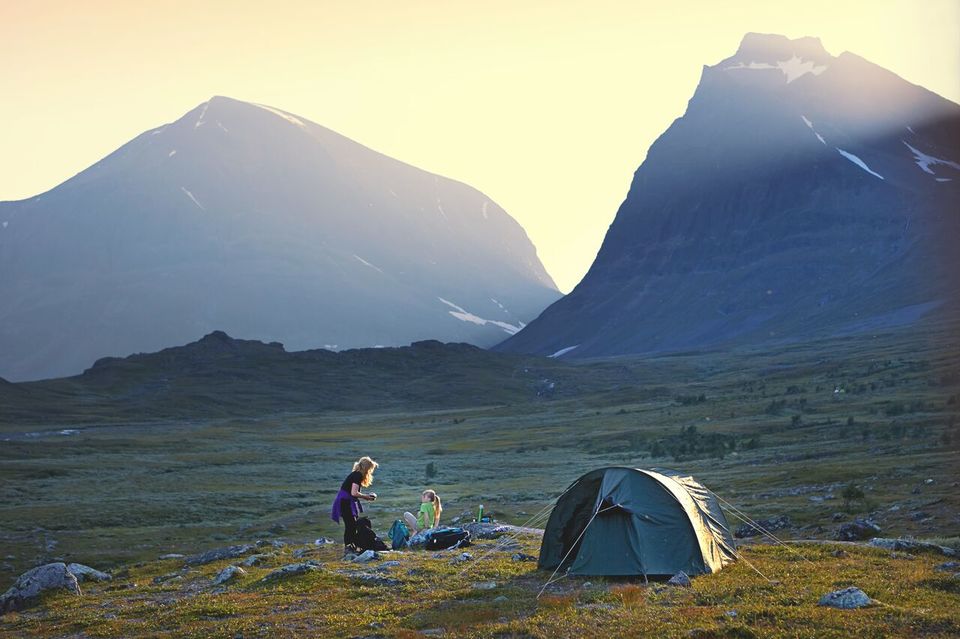 These rules, and the freedom to roam, does not only apply to the Swedes, but every visitor coming to Sweden – making the lush countryside an exotic destination in its own right. And while camping in nature is free, and has the potential to shave quite a few dollars off a holiday budget, one doesn't really do it for the savings – but the experience.
To explore the Swedish countryside, whether it's by foot, skies, bike or canoe, is an adventure in its own right – in that the traveler himself decides his own journey. Of course it can be wise to follow a map, or the special signs signaling hiking trails, but it is also allowed to simply follow the hum of the blackbirds (just make sure you have a compass in your pocket). The blackbird is the national bird of Sweden, and the traveler who wish to impress the locals along the way, might want to learn the Swedish name for blackbird, which is koltrast.
Taking advantage of "allemansrätten" can not only provide exotic experiences for the adventurous, it also gives the traveler an authentic look into the Swedish lifestyle. In all of Sweden's 25 counties, from Värmland to Uppsala, is spending time in nature the most natural thing on earth. And the freedom to roam, which came a part of the Swedish constitution in 1994, is of course applicable to all counties, at all seasons.
For those who are not adventurous enough to take on the Swedish landscape on their own, it is also possible to hire a tour guide to show one the ropes. A good person to reach out to, is Rut Folke, a Stockholm resident who loves showing tourists around the countryside surrounding the capital. She is one of the government's 200 official mushroom advisors (yes, there is such a thing!), which means that she educates the Swedish public about which mushrooms they can and cannot eat. She frequently holds courses, even in English and German, for tourist group who want to up their mushrooming skills. And there are few things more Swedish than picking mushroom. So for any tourist who wish to go native, this is the way to go.
When Rut Folke brings a group mushroom picking on private land, she will always ask the landowner beforehand. Because of the freedom to roam, she doesn't have to ask, but she considers it a courtesy call.
" They never say no. On the contrary, they seem to appreciate that we let them know ahead," she says.
But as a tourist, you only need to notify your airline, pack your passport, backpack and hiking boots – and the Swedish landscape will be there waiting for you, free for you to explore.