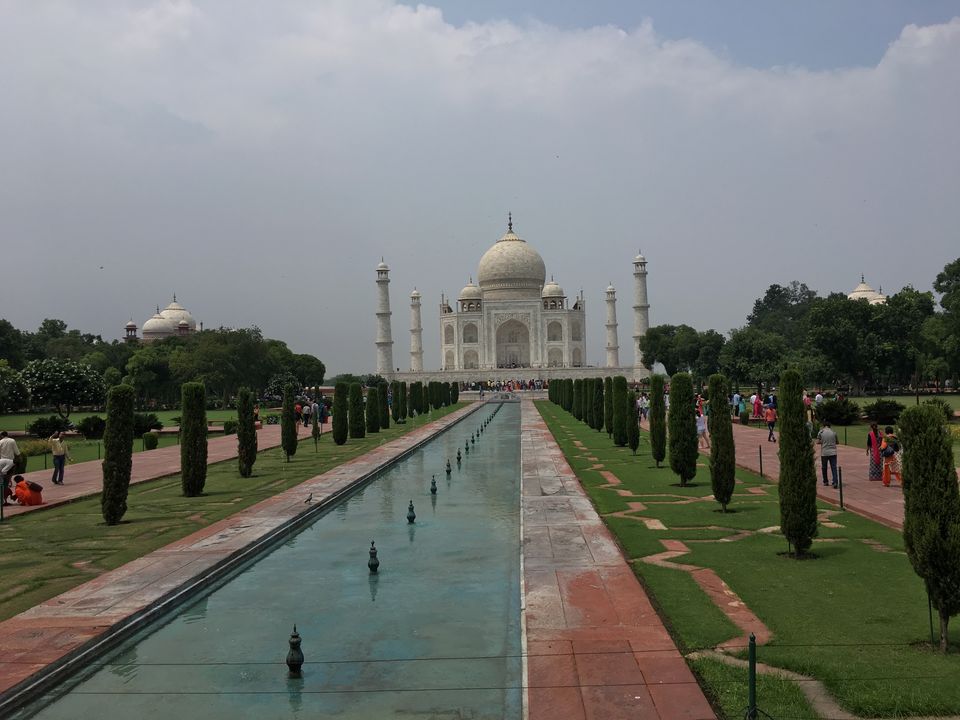 Taj Mahal,Being one of Seven Wonders of the world and India's most magnificent architectural beauty which is also and UNESCO world heritage has been travelled and photographed by worldwide tourists.because of work and short time in hand i have been to Agra several times but never get to visit Taj Mahal.finally i planned to drive to Agra specially to see spectacular Taj Mahal and mighty Agra Fort if time permits.it was long weekend and i decided to include Agra with Mathura and Vrindavan to utilise the weekend off.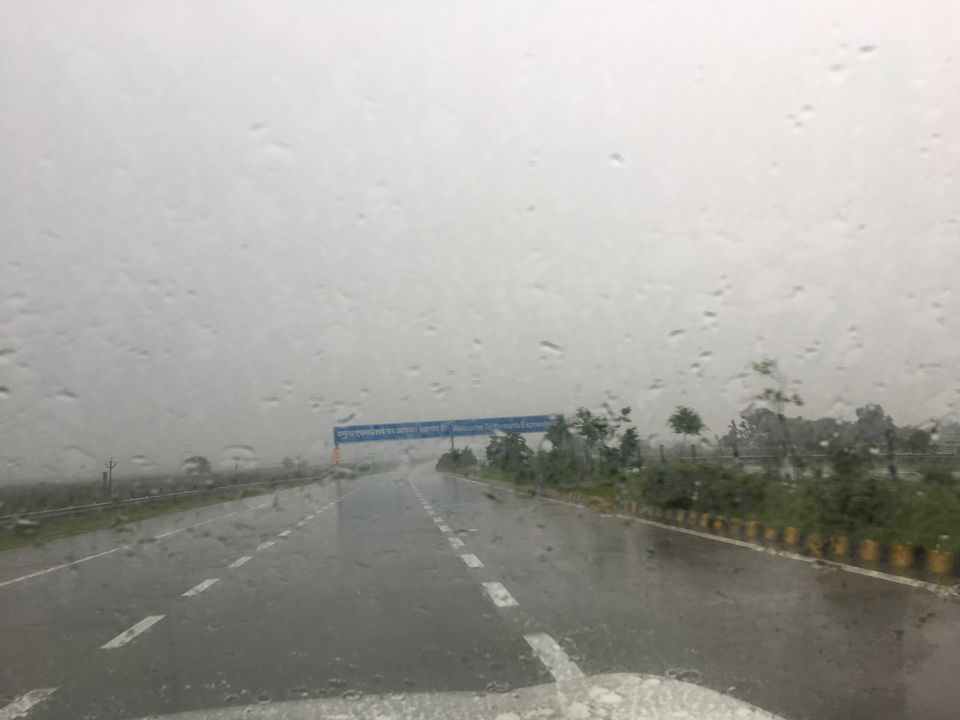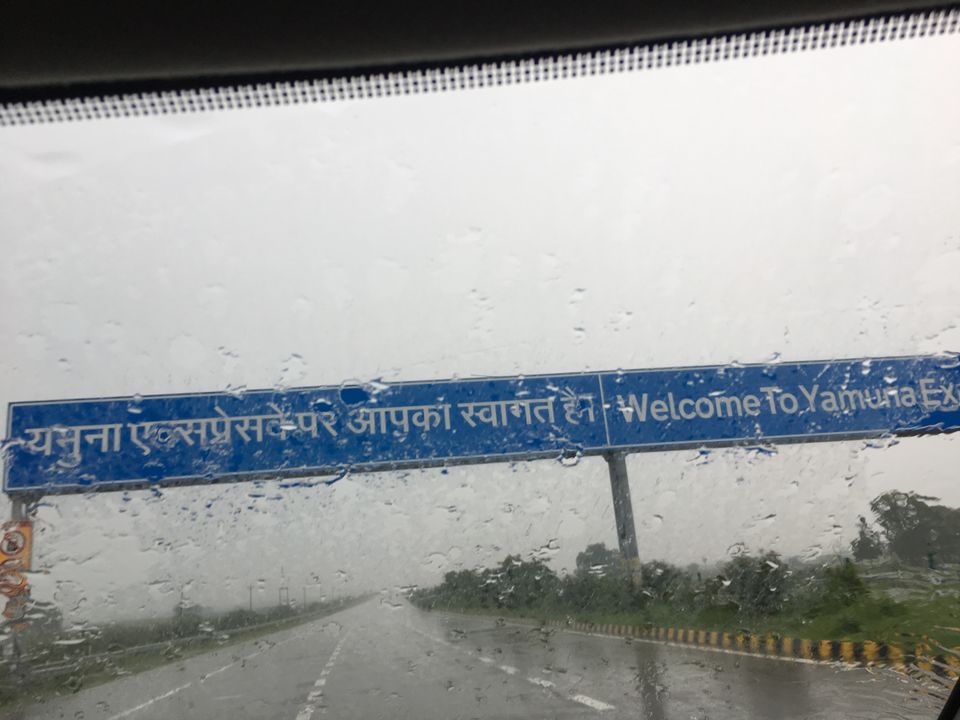 After a 6 hours drive through rains, sludge and long traffic on the highways and a memorable drive on well known Yamuna expressway in between i reached Agra in late evening and checked in to this Hotel Amar located on Mall ,Fatehabad road few kilometres away from Taj Mahal (1-2 km) .the hotel which is one of oldest properties of city blended with modern amenities is at perfect location right in the heart of Agra city and is easily approachable with big open parking.rooms were big and comfortable with supportive staffs at font.as i was tired and with long day ahead next morning went to bed early after having dinner.
Having breakfast i walked up to Taj Mahal at eastern gate as one can enter in to Taj Mahal through three massive gates namely western,eastern and southern gates with eastern gate least crowded and had small queue .i could not wait to witness breathtaking building when i got a glimpse of it from series of entrance gates and yes it was like daydreaming with my eyes wide shut open.the most beautiful architecture of the world and widely knows as "symbol of love" built by the Mughal emperor Shah Jahan as a memorial to Mumtaz Mahal,his third beloved wife.the beauty of Taj Mahal has been personified,portrayed, mentioned and described by renowned writers, poets as well as artists from all over the world.Mumtaz Mahal died while giving birth to her 14th child and in her memory a mausoleum or tomb has been constructed by heartbroken emperor to show his gratitude and love to his wife.it took 21 years to build it completely and soon after completion Aurangzeb the son of Shah Jahan overthrow and imprisoned his father in the Agra Fort and he spent his remaining life gazing his wonderful creation from the windows of Fort until he died and buried alongside Mumtaz in 1666.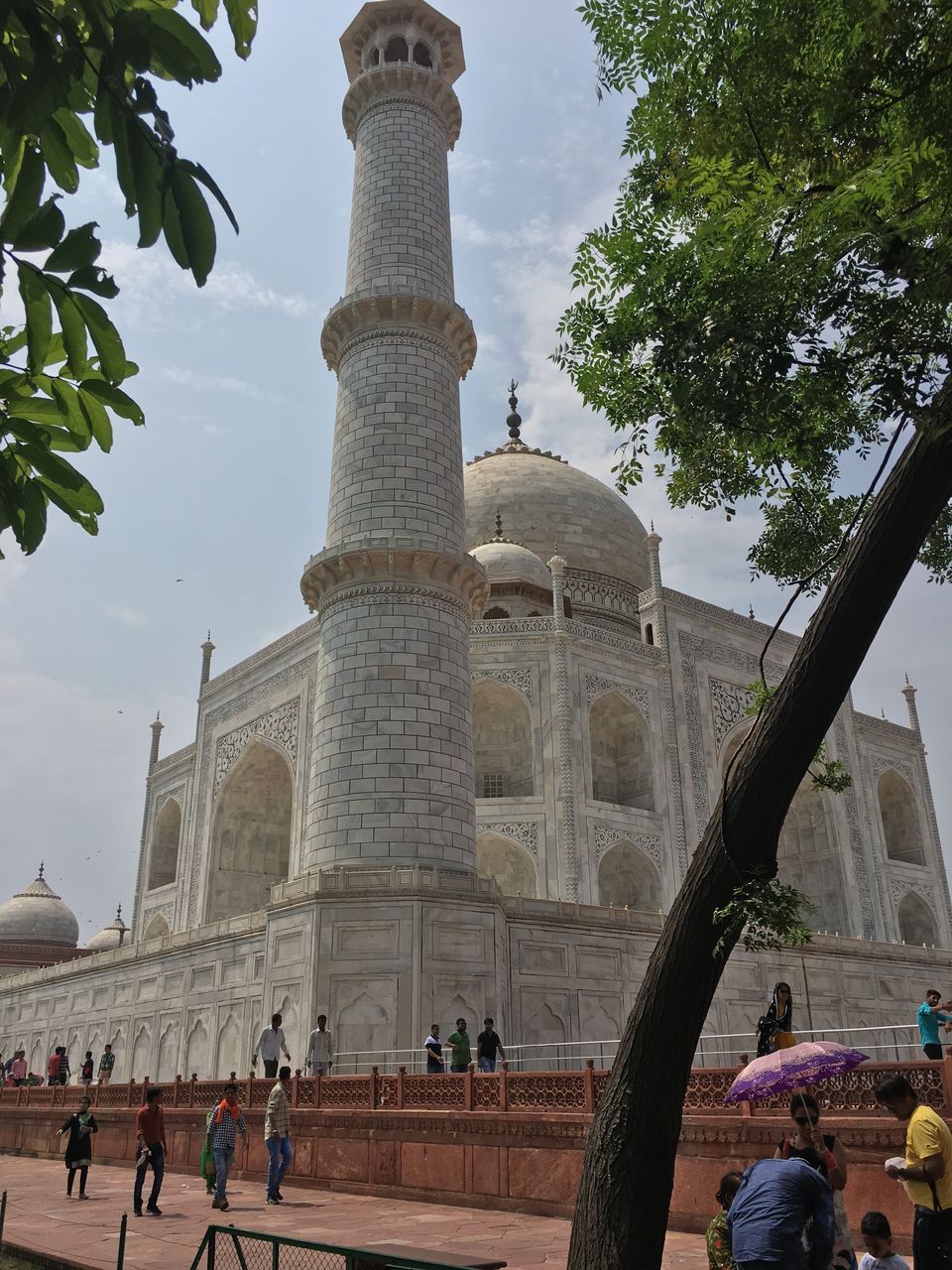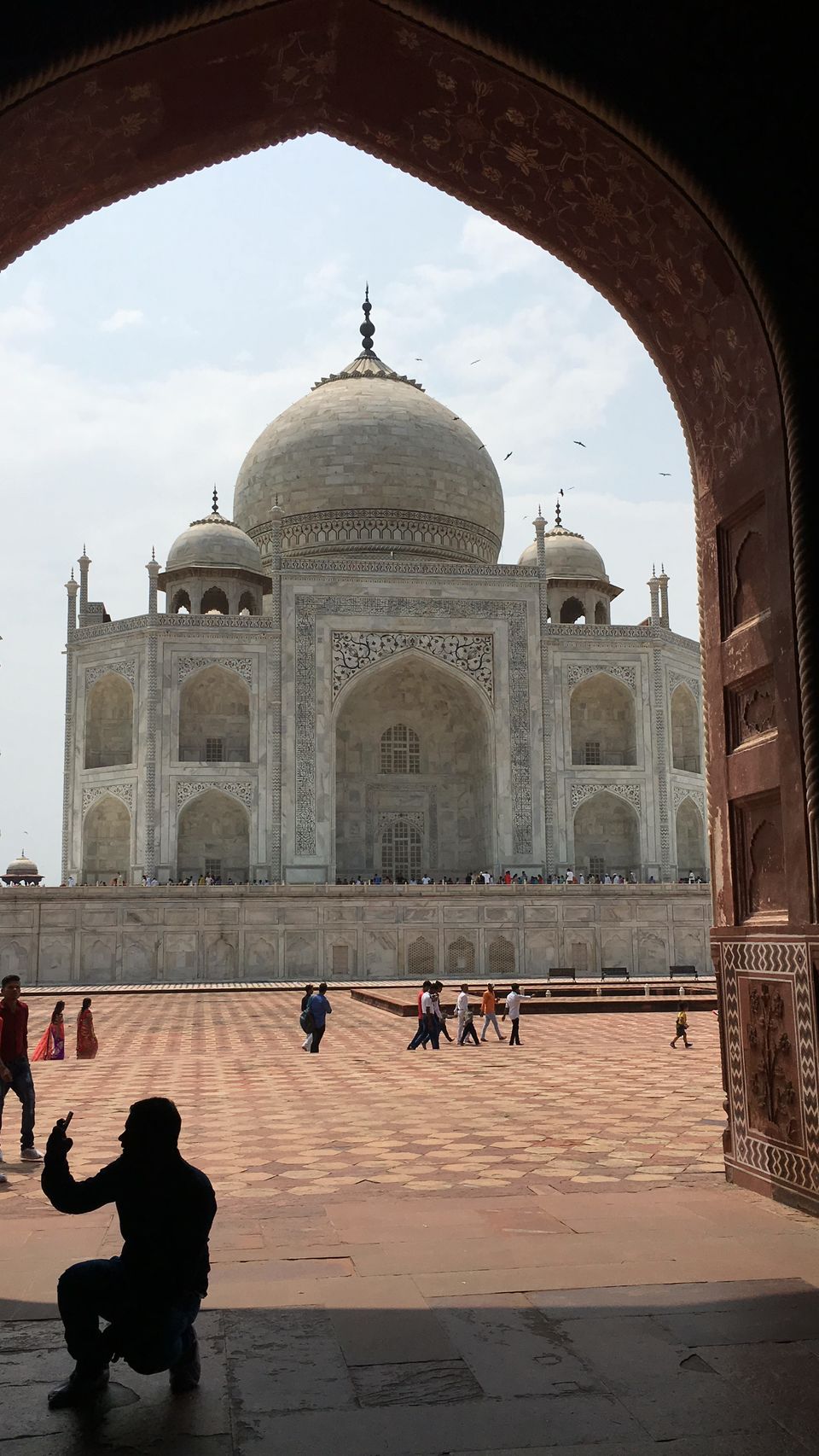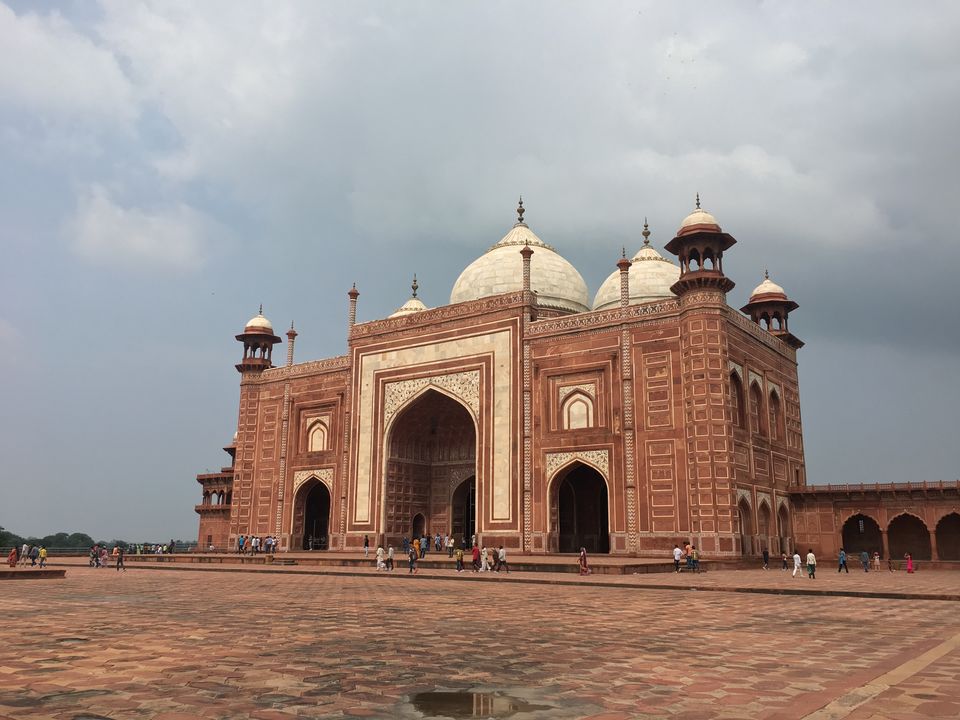 Talking about its structural design Taj Mahal is a white marble four faced symmetric rectangular monument sits on marble platform with sky at the backdrop and river Yamuna at its back to create a picturesque image.at the corners there are four tall minarets to make it more presentable and majestic structure.there are engraving of Quran quotations with flowers and numerous patterns all over the white walls of faces.to add its beauty there is beautifully maintained garden on both sides of marble canal and small trees along its sides which acts as a leading line from entry gate to the main structure with hundred of trees ,plant ,flowers with fountains at the centre. the mortal remains of Mumtaz and Shah Jahan buried down below the main Tomb.the complex houses two symmetric red sandstone Mosque on the west and east of main structure where muslims from the city gathers to pray on friday when Taj Mahal is closed for public.across river Yamuna opposite to Taj Mahal is Mehtab Bagh is Mughal Garden built by Emperor Babur which acts as viewing point and riverfront.being part of Taj Mahal complex the garden is perfectly aligned with monument and is of same width as of Taj Mahal.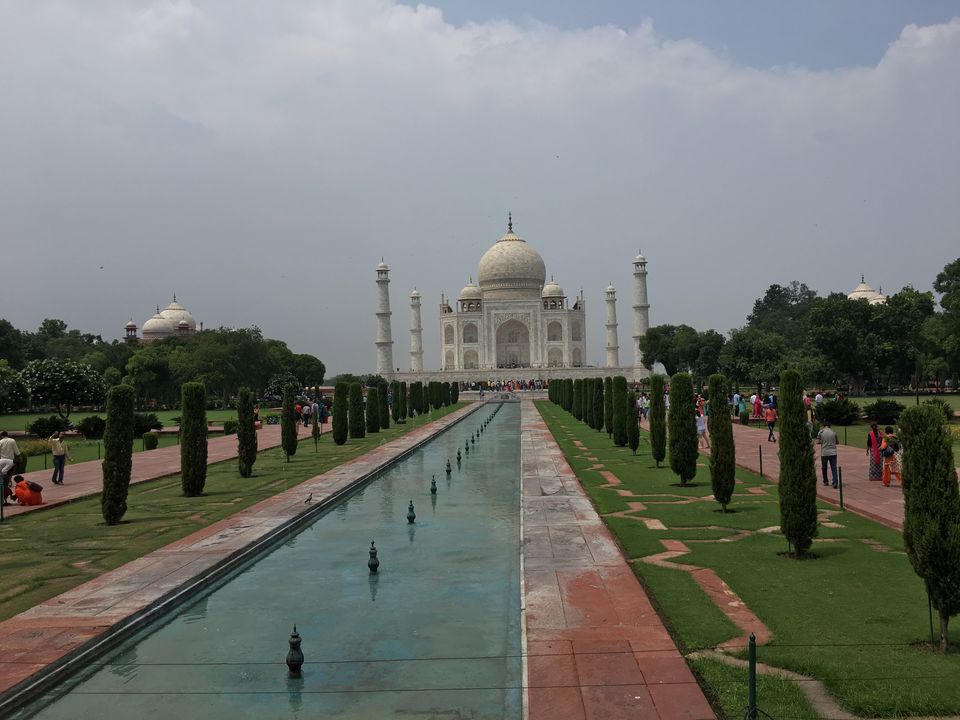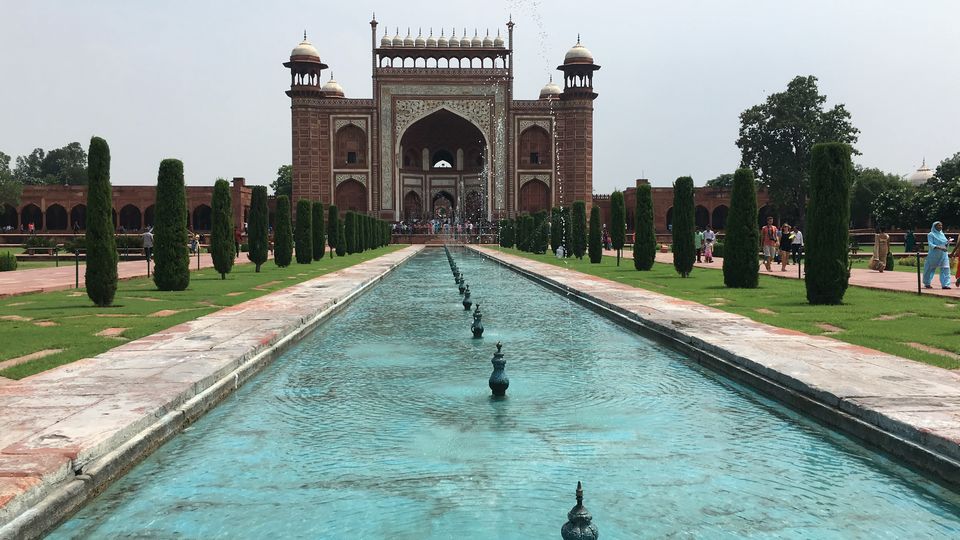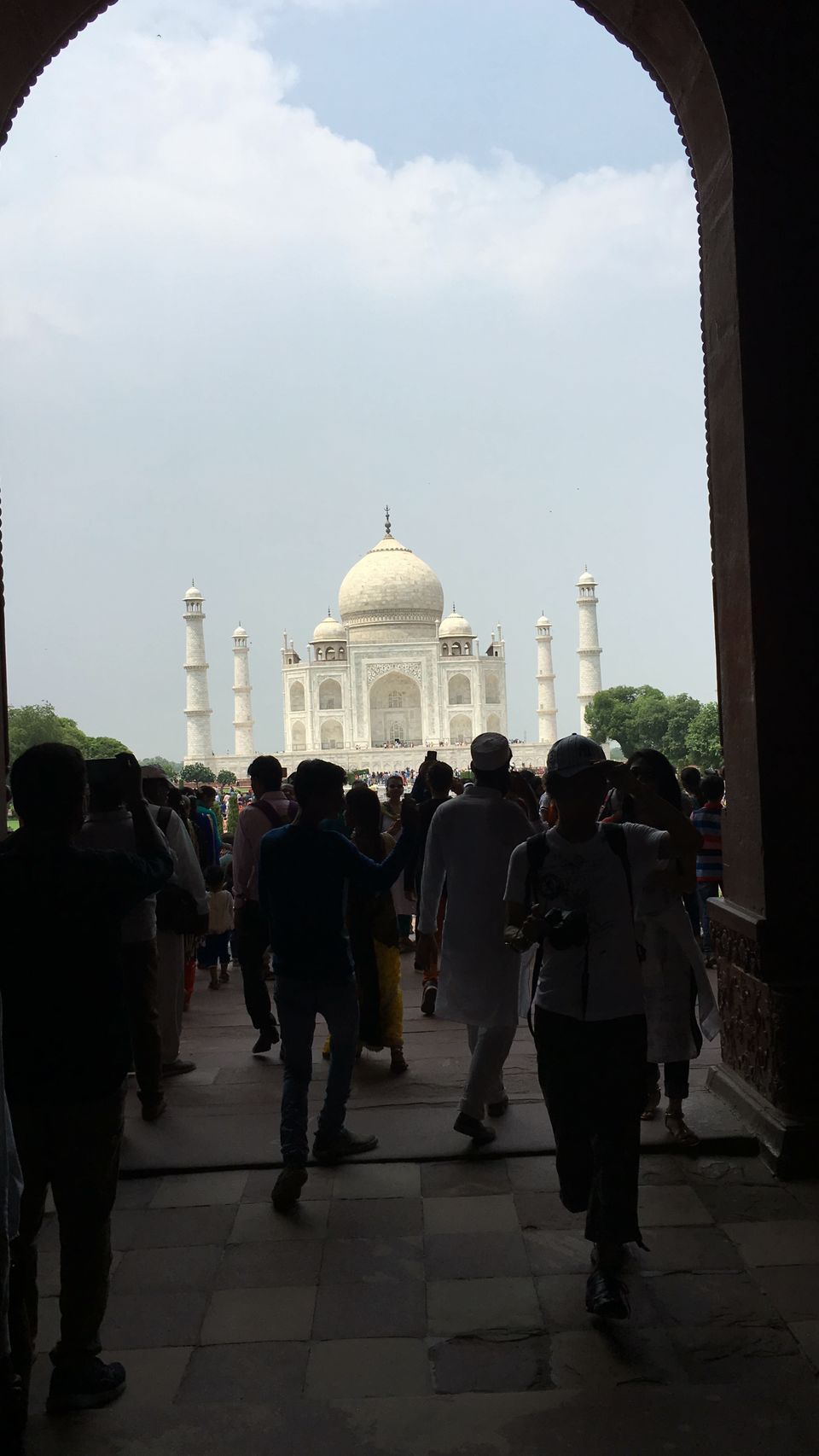 There were myths and stories about Taj Mahal as our guide told us about few of them.many travellers discovered and mentioned in their travelogue that Shah Jahan wanted to Black version of Taj Mahal opposite to white one in Mehtab Bagh before he gets imprisoned by his son Aurangzeb.another famous myth as everybody use to tell us in our childhood and even our guid told us is about chopping off hands of 20000 workers and craftsmen involved in construction of this masterpiece as ordered by Shah Jahan himself to make sure no other building in this world made so beautiful again but there are no historical evidences to this.
Undoubtedly it is one of most beautiful building made ever in the world.