Tala Kavery is located at Brahmagiri hill in Coorg/Kodagu district. Tala Kavery is considered as the birth place and source of River Cauvery. There is a temple on hill top which is visited by many pilgrimage. Not only is this place is considered holy, the place is know for its natural beauty. During Tula Sankaramana day which falls in mid of October, there is huge inflow of pilgrims to witness sudden upsurge of water in the pond, during a predetermined time.
The temple is dedicated to Goddess Kaveri Amma. Lord Agasthiswara is also worshiped here and it is believed that He acts as link between Kaveri River and Sage Agasthya and Lord Ganesh. Legends say that Cauvery River Origniated from Sage Agasthya's Container of Sacred Water. Lord Ganesha took avatar of a crow and sat on this container to drink water.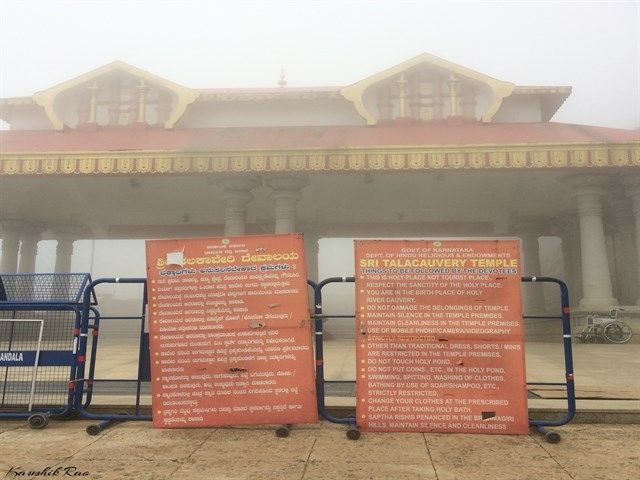 When the Sage realized this he tried to shoot it away but was unsuccessful, however the water in container spilled down. He suddenly realized that the crow had vanished and a small boy appeared there. Sage wanted to Kill the boy so he chased the small boy but without any success however suddenly the boy vanished and Lord Ganesha appeared before Sage Agasthya.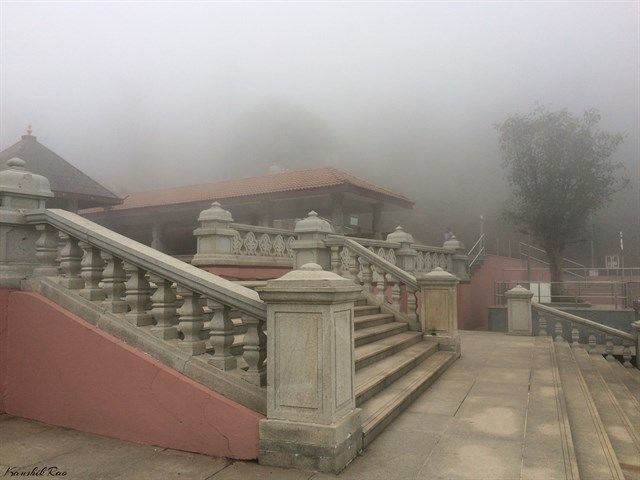 As a punishment he knocked his head himself and is believed that the spilled holy water began to flow as River Cauvery.
Inorder to go to Tala Kaveri, you will first need to reach Bhagamandala from Madikeri which is also is a pilgrimage place is situated at foothills of Bhramagiri Mountain. At this place, River Kaveri is joined by two tributaries, the Kannike and the mythical Sujyoti river. It is considered sacred as a river confluence and is also known as Triveni Sangam
At short distance from the Triveni Sangam in Bhagamandala is Sri Bhagandeshwara temple, where Bhagandeshwara (Ishwara), Subramanya, Mahavishnu and Ganapati idols are worshipped. During 1785–1790, this area was occupied by Tipu Sultan and he renamed Bhagamandala to Afesalabad but in 1790 King Dodda Vira Rajendra took back Bhagamandala back into an independent Kodagu kingdom under the 1792 treaty of Srirangapatna.
Distance between Bhagamandala to Tala Kavery is around 8 KMs which is a steep uphill. A beautiful road surrounded by dense forest, hills and fog welcomes you as soon as you enter Tala Kavery route from Bhagamandala. We suggest you finish temple visit and triveni sanama visit at Bhagamandala first and then proceed to Tala Kavery.
This place is covered with fog most of the times and is a sight to watch. One may climb uphill to Brahmagiri hills from temple to enjoy cool breeze and beauty of nature. We began our journey from Madikeri to Tala Kavery via Bhagamandala (46 KMs). Please make sure you have sufficient fuel in your vehicle as we were able to locate only one fuel station en-route i.e before Bhagamandala.
The drive from Madikeri to Tala Kavery is absolutely marvelous. There is dense forest on either side with few villages. Chirping of birds make the drive enjoyable. Once you are at the hill top you will be mesmerized by the beauty and get lost in the nature. Try to reach early because once you reach the place you wont like to leave the place due to the beautiful weather.
It will be an amazing experience to have super hot tea with Maggi in any of the shops near temple. You can also buy some home made wine and spices which are made in Coorg on your way back to Madikeri. Please not that it will get extremely foggy during late evenings, so please plan your descent accordingly.