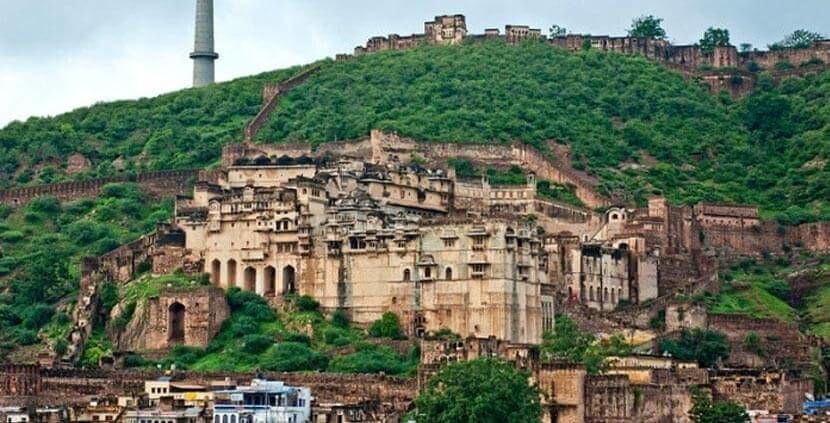 The Taragarh Fort crowns the crest of a steep hill overlooking the bundi city a massive structure which force the people to get in shocked!!!!!!!!! …… Really it is a Taragarh fort which increases the brand value of bundi city and it purely describes the Rajputana culture in Rajasthan or we can say it speaks the level of royality in rajasthan with curved roofs topping pavilions and kiosks, a profusion of temple columns and ornamental brackets, and typically Rajput motifs such as elephants and lotus flowers. Garh Palace spills pictures down the hillside. it was made up of hard, green-tinged serpentine stone, This stone lend itself to fine carving Garh Palace was embellished by superb paintings .It offers a panoramic view of the city of Bundi situated in Nagpahari of Aravalli ranges.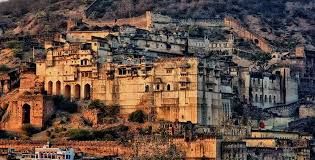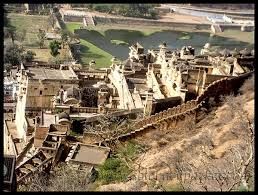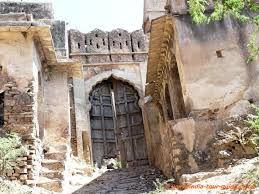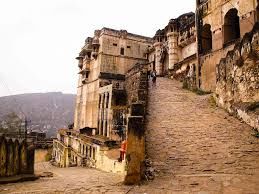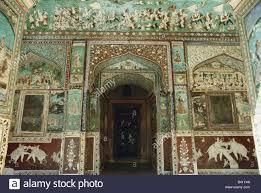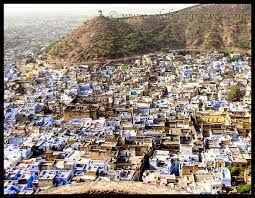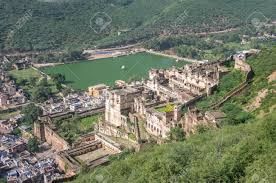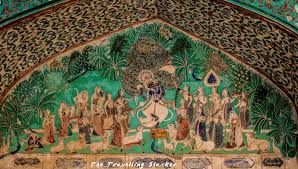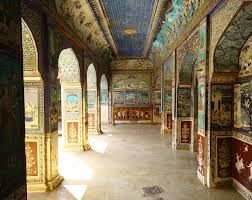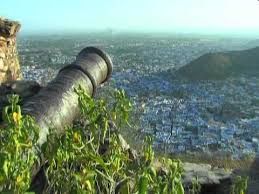 The themes they cover include scenes from religious ceremonies, hunting scenes and other princely amusements. The colors are predominantly blue and green, with touches of deep red and yellow. These water tanks were built to store water and supply it to the residents during a time of water crisis. The water reservoirs have been fixed out of the rocky base of the fort. There is a Rani Mahal in the fort which is a small palace within the compound, and it is built for the wives and concubines of kings.
PAINTING IN FORT
The place is at its peak of beauty when the sun sets, and the entire city is immersed in the fading light of the setting sun. A visit to the Fort is an engrossing experience that provides essential details about our rich history and culture. There are three gateways to the fort, well-known as "Lakshmi Pol", "Phuta Darwaza" and "Gagudi ki Phatak" due to course of time it damages but still it is a pride for bundi city. During its heyday, it was renowned for its tunnels crisscrossing the entire hillside. . The largest of its battlements is the 16th century bastion known as the "Bhim Burj", on which was once mounted a particularly large cannon called Garbh Gunjam, or 'Thunder from the Womb'. The fort also has "Miran Saheb Ki Dargah".
Timings:-
Summers: 8:00 AM to 7:00 PM
Winters: 8:00 AM to 5:00 PM
Entry Fee:-
For Indians: INR 25 per person
For Foreigners: INR 100 per person
Also, one has to buy a separate ticket for carrying a digital camera, which costs INR 50; and a ticket for taking along a video camera, which costs INR 100.
How to reach …..
By Air
Nearest airport: kota city airport
By Rail
Nearest railhead: Kota Junction,
By Bus
Bundi is located on NH12 between Jaipur and Kota. The road conditions vary with rains and disrepair. There are frequent buses from Kota to Bundi and the journey by bus takes about an hour. A few buses run daily from Jaipur too and the trip takes 7-8 hrs. click it for previous featured…
instagram _mayank_012
Image Credit…GOOGLE