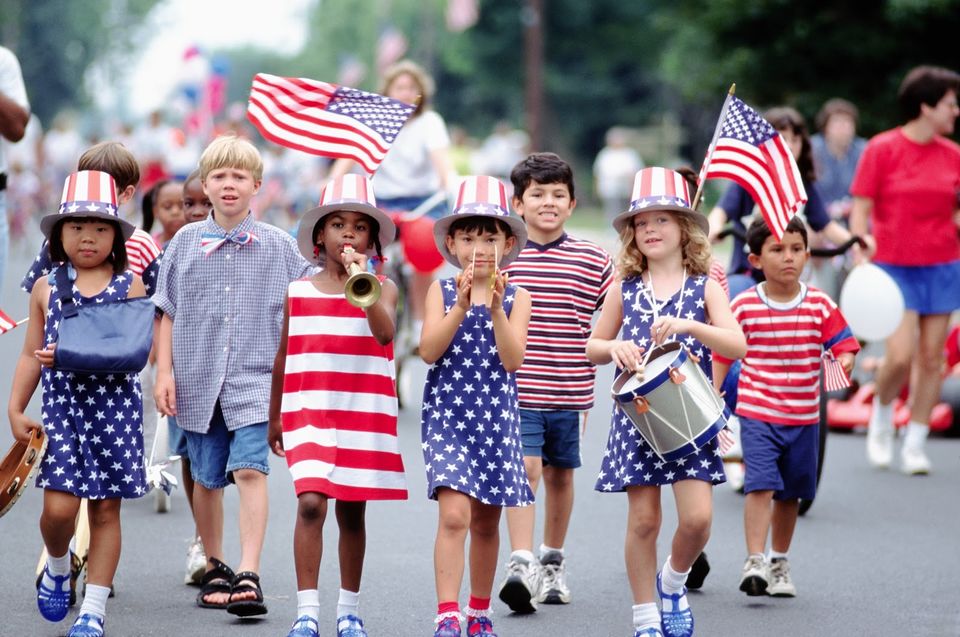 Have you ever been to America when everybody is celebrating the 4th of July? Have you ever had such experience while being in a teen travel camp? If not, be ready for the following events that may seem weird for those who came to America just for teen travel campers experience …
So, it's a Big Day, it is Fourth of July, the day of Independence of Americans from Britain. On this day, abundance of blue, white and red colors are expected to be seen, many fireworks and entertainment. And even if you are in the teen travel camp at the moment and far away from cities, you will probably be woken up to the music sounds and happy shouts.
· Blaring Bruce Springsteen is the first person who you are going to hear just after awakening. So, if you even weren't aware of the national holiday, now you do know about it. Or, as a variant, you may be awoken by a dozen of jcc y campers jumping on your bed and on you, and screaming "USA!"
· Don't be surprised when one day you realize that your popularity is suddenly and for whatever reason decreasing. Don't ask yourself a question if it is you or people, and why everybody today is unfriendly with you. Well, yes, you are right – you are not as popular today as you used to be yesterday, and the reason is simple – you are not American.
· Don't underestimate the process of flag raising. It is an extremely serious task, be sure. Every morning starts with the flag run up and millions of Americans swear fealty to their country at 7 am with a lot of enthusiasm. Does the flag seem to be a little bit higher today? Or a little larger? Well, again, you are right, it really is.
· Walmart is popular today selling red, white and blue goods. Don't feel confused when seeing running people to Walmart and buying everything that can make them fit to the holiday. You get it that you don't really "belong" here and there is a huge feeling of missing out. That's why you, as a foreign pal, also rush to Walmart and exactly the staff that is of the right colors. Your day is spent in looking for everything that you can see through the shades of American flag.
· Foooooooooood! Really, food in America is a worship point. So, just imagine food on the Fourth of July. Food is colored in all meals! Did you have any idea that American flag can be made even of pretzels? Oh, here you are, enjoy every bite of it.
· Does your accent attract attention and helps you get along with the teen travel campers? Nobody can resist the charm of the language of Harry Potter or the Queen? Well, stop hoping that it's going to be the same for teen travel campers' priority on the Independence Day. On this day it won't work. You are not their favourite counsellor in the teen travel camp. And be prepared for running away all day long, because your teen travel campers will do their best in their tries to get you into the lake. That is why the next point is:
· Deal with it. Live with it. And get over with it! No matter how fast you run, but anyway you will be into the lake with your all your head in it. Running cannot last for a long time, as your being thrown into the lake is a scheduled activity.
· It's a start of a display for the best firework! Nobody has doubts that you teen travel camp has the best display of firework among all other ones. So, you are standing by the lake, enjoying fireworks and taking pictures for your Instagram account, and suddenly you realize that fireworks over there is not yours and are bigger… hey, how can it be possible?
· To your surprise, the Fourth of July turns out to be not like it is shown in the film about aliens. You tell the teen travel campers that you are aware for 100% what the Independence Day means. But still you can't understand what those aliens were doing here… OK, everybody are celebrating independence, but aliens – what do they celebrate?
· Again and again – fireworks. Do you think that it is enough with the fireworks? Oh, come on, fireworks are never enough. Specially for you, here is another one. And one more.
· Did we mention Americans love for their flag? Well, we are going to talk about it once again. Because even for you, a patriot of your country, this is a completely a new level of love. Flags are everywhere. And what you see is just a tiny part of all the flags. They are EVERYWHERE and we mean it! Every five steps are followed with a flag waving on your way. So, just grab your own one and move on with it. One moment you will realize that you are walking with a small flag and chanting "USA" together with your teen travel campers.
· History lessons were thoroughly selected in English schools, and you start understanding that. Well, frankly speaking you have never known about such day as Independence Day in the US. But now you see that it's not just a party, but much more that any foreigner could even imagine.
· Be ready to being asked by those who live in teen travel camp a question that may seem to you weird: "Are you celebrating US Independence Day there in your country?" Again, just live with it. This is inevitable question.
· Fireworks. What? Again? Yes, and again. And Katy Perry with her of the same name song. And lots of hugs with each other, and a high-spirited mood on some reasons: you survive this day; that was the greatest day of positive emotions; and tomorrow you are going to be again the most popular counsellor with your one and only British accent.
Happy Independence Day!