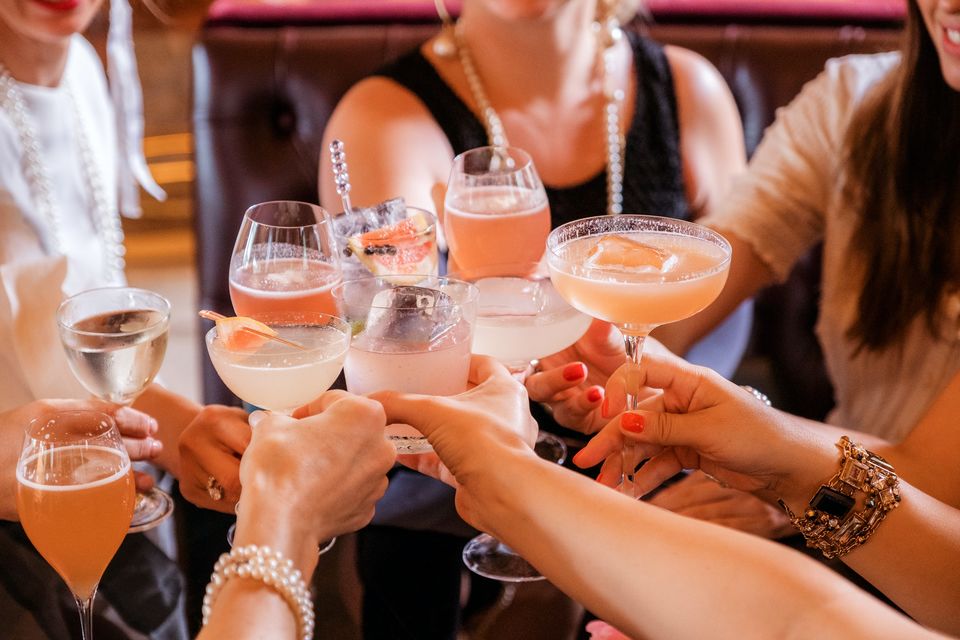 Things are gradually opening up, and despite the timing restrictions, we all want to step out once in a while and have an evening out with friends. Offices are gradually opening up. And after a long day at work, wouldn't it be a good idea to head for a drink? And then there are weekends to have a good relaxing brunch with your tribe. Mumbaikars, take notice. Here are some of the best destinations in town where you could head to for those "good times".
1. Aer, Four Seasons Hotel
One of the most iconic addresses in the maximum city to have a drink, this open air rooftop lounge offers the best view of the city and the sea from the 34th floor. With a wide selection of wines, spirits and cocktails, coupled with lip-smacking food, this place is perfect for a "sundowner" literally!
Cocktails for two start from Rs. 2000.
2. Koko
If you're in the mood for some sake and Japanese whiskey, then Koko is where you can head to. And Koko's bar nights are the talk of the town. This plush bar and restaurant has the best variety of Cantonese and Japanese cuisine, coupled with the best of the spirits and mixers from the Far East. Koko's cocktail menu uses diverse ingredients like matcha tea, seaweed, Thai chillies etc. They also have one of the widest collections of wines. The Sunday Sakura brunch is the perfect opportunity to sample the delights of Koko and will definitely leave you craving for more.
Cocktails for two start from Rs. 1000
3. Woodside Inn
This is a gastropub located in Colaba and Bandra, that has a little restro vibe, which is quite endearing. And the menu matches the fab vibe. Be it the craft beer from the local breweries and the ales, or the sangria and the cocktails, Woodside's bar has the very best of it all. That coupled with the lovely European styled food, promises a wonderful experience for the guest.
Cocktails for two start from Rs. 1000
4. Bayroute
For a feel of the middle east in the heart of Mumbai, Bayroute should be your port of call. This BKC based bar and restaurant, is known to fuse some interesting concoctions and ingredients in the drinks. The muddled betelnut or tahini or even babaganoush as ingredients to create some signature Bayroute cocktails is unique in Mumbai.
Cocktails for two start from Rs. 750
5. Toast and Tonic
If Gin and Tonic is on your mind, then possibly the best place to head to in Mumbai is Toast and Tonic. Located in BKC, the commercial heart of Mumbai, Toast and Tonic boasts of a wide range of gin cocktails along with an amazing food menu made using local ingredients
Cocktails for two start from Rs. 1000
6. The Little Easy
As the name suggests, this bar and restaurant in Bandra is the place to chill with your tribe. With a wide array of beverages from the tap to the mixologist's shaker, The Little Easy is the place to be when you're in a mood for a good drink coupled with some easy snackable food stuff. And their Sunday Boozy Brunch, is a superhit where you can start of with a mimosa and end with a banoffee pie.
Cocktails for two start from Rs. 750
7. Craftbar
This Bandra based gastrobar prides itself for its crafted cocktails and brews, along with an interesting twist to Indian street food. A rustic and contemporary ambience further adds to the experience. Unique crafted cocktails like the 7 Islands Iced Tea, Pickled Gin, Slammer & Song etc are the signature of Craftbar.
Cocktails for two start from Rs. 950 (Rs. 600 if its during Craft Hours from 12 pm to 4 pm)
8. Butterfly High
BKC is not just the central business district of maximum city, but it's becoming the central party district of the city as well. And a destination that adds to this tag is Butterfly High. A place where you'll find the Billionaire Cocktail and the Kadipatta Tadka Mojito on the same page, alongside modern Indian, Continental and Asian cuisine. The interiors are a brilliant fusion of wood and psychedelic colors, none of which look out of place.
Cocktails for two start from Rs. 800
9. South Bombay Bar
This Worli based bar imbibes the true spirit of Bombay. With signature cocktails that are named Tipsy Chowpatty, V.T. Martini, Girly Worli and Gateway of Juniper among others, how much more quintessential SoBo (South Bombay) can one get. And coupled with modern Italian food and light bites, your Saturday night is sure to get rocking at the South Bombay Bar.

Cocktails for two start from Rs. 800
10. 1522, Bar and Kitchen
When one of Bangalore's iconic addresses comes to Maximum City, you can be assured of only the very best of experiences. They serve a range of experiential cocktails that have been named on famous Hollywood flicks, that has some really interesting ingredients like fig jam, date syrup and the like. And with a terraced setting overlooking the city, you are assured of a lovely time.
Cocktails for two start from Rs. 850
So, where are you heading to next weekend? Ofcourse, please maintain all social distancing and Covid protocols if incase you are stepping out to chill!
Do let us know which of these places you have visited. And if there are other places that you know of, feel free to write in the comments.